Pages 168-183
Survey of London: Volume 42, Kensington Square To Earl's Court. Originally published by London County Council, London, 1986.
This free content was digitised by double rekeying and sponsored by English Heritage. All rights reserved.
CHAPTER XI - The Alexander Estate
The subject of this chapter is a district of some twenty acres west of Gloucester Road, bisected by the Cromwell Road (fig. 68). Today it is covered with large houses raised mainly between 1870 and 1883, though sections have undergone major post-war rebuilding, most conspicuously with hotels.
This land belonged historically to the Alexander estate in Kensington, the name being taken from the family which owned it when it was first developed for building. The origins and descent of this estate are traced in volume XXXVIII of the Survey of London. (fn. 1) It was divided into several separate geographical entities. One such consisted of the area described in this chapter; another was the neighbouring district east of Gloucester Road and north of Cromwell Road, now covered by Queen's Gate Gardens. The development of Queen's Gate Gardens and its environs (c. 1857–75) is discussed in volume XXXVIII of the Survey, while the history of the other large holding owned by the Alexanders, their Brompton estate around Alexander Square and Thurloe Square, is given in volume XLI of the series. (fn. 2)
Anciently, the portion of the land described in this chapter which lies south of Cromwell Road was part of Daniel's Field. By 1773, when Harris Thurloe Brace was its freeholder, it had been divided into four; Courtfield Road and Ashburn Place represent the lines of this division. The whole was in possession of Samuel Hutchins of Brompton, nurseryman, scion of a prosperous family of farmers and market-gardeners in late-eighteenth- and early-nineteenth-century Kensington. (fn. 3) By 1843 this southern section was in the hands of William Attwood, a large-scale market-gardener. To the north of Cromwell Road (then no more than a footpath) a four-acre field called The Butts also belonged to the estate. This in 1843 was tenanted by another market-gardener, William Rubergall. (fn. 4)
Before Development, 1857–70
All this land remained in horticultural use until the 1860s. Meanwhile Henry Browne Alexander, the estate's free-holder from 1831 until his death in 1885, had together with neighbouring landowners begun from 1857 to develop his adjacent property to the east between Gloucester Road and Queen's Gate with high-class houses. Doubtless he intended to do the same in due course with the fields west of Gloucester Road. But in 1863–4 a complication arose in the shape of the plan to build the Metropolitan and District Railways through two separate portions of his estate. Under the terms of the relevant Acts, Alexander suffered more than other freeholders in South Kensington, as the lines hacked off a sizeable piece of his Brompton estate near Thurloe Square for the building of South Kensington Station, and reduced his holdings here by cutting diagonally through a corner of the land south of the future Cromwell Road and requiring a site for the next intended stop on the line, Gloucester Road Station. Against these plans Alexander and his agents remonstrated in vain. The necessary land was duly purchased under compulsion, and Gloucester Road Station opened on 1 October 1868 (pages 328–9). (fn. 5)
Though the railway may have delayed residential development on Alexander's land here, it offered compensating advantages of access. Its promotion brought Alexander into collaboration with the neighbouring land-owners, Lord Kensington and Robert Gunter, in a scheme of 1866 to extend Cromwell Road westwards from Gloucester Road so as to serve as an artery for all three estates. (fn. 6) This joint initiative appears to have been followed by co-operation between Alexander, Gunter and their representatives. As in the Queen's Gate district, therefore, the character of development hereabouts was by no means clearly defined by property boundaries; many builders working on the Alexander estate may be found working simultaneously on adjacent estates.
On the land untouched by the railway north of Cromwell Road, Alexander agreed in 1864 to provide the site for a new church to serve Queen's Gate Gardens and its district. This was St. Stephen's, Gloucester Road (Plate 141), built in 1866–7 to designs by Joseph Peacock and described on pages 384–7.
By 1868, therefore, a railway, good main roads, and a church already existed, offering a sound infrastructure for fashionable Victorian speculative development.
The Layout and Character of the Estate
Development proceeded in earnest from 1870, the year in which the Metropolitan Railway Company surrendered their unused land to Alexander under the terms of their purchase. (fn. 7) Despite the survival of some of the estate papers, notably a complete series of building agreements, the policies and methods of the freeholder and his agents have largely to be surmised.
H. B. Alexander by 1870 was very experienced in questions of estate development. But he was approaching the age of seventy, lived in Barnes away from his Kensington properties, and was perhaps not intimately interested in the progress of building. The tenor of development here suggests that he was content to go on largely with the tried and trusted methods already used in the Queen's Gate Gardens area. In the mid-Victorian period it was common to allow experienced builders of high-class speculative housing a fair degree of freedom, extending to matters of elevation and sometimes perhaps even to aspects of estate layout. As far as can be discerned, the layout here into streets and plots was the work of George Pownall, a safe and reputable surveyor. Well versed in estate development in South Kensington since the early 1850s, Pownall had been regularly employed by Alexander in connection with Queen's Gate Gardens. He drew up the building agreements on Alexander's behalf and probably supervised the progress of development, but nowhere is his hand obtrusive. By 1880 he had been superseded by another well-established architect-surveyor, Michael P. Manning, of Manning and Simpson. (fn. 8)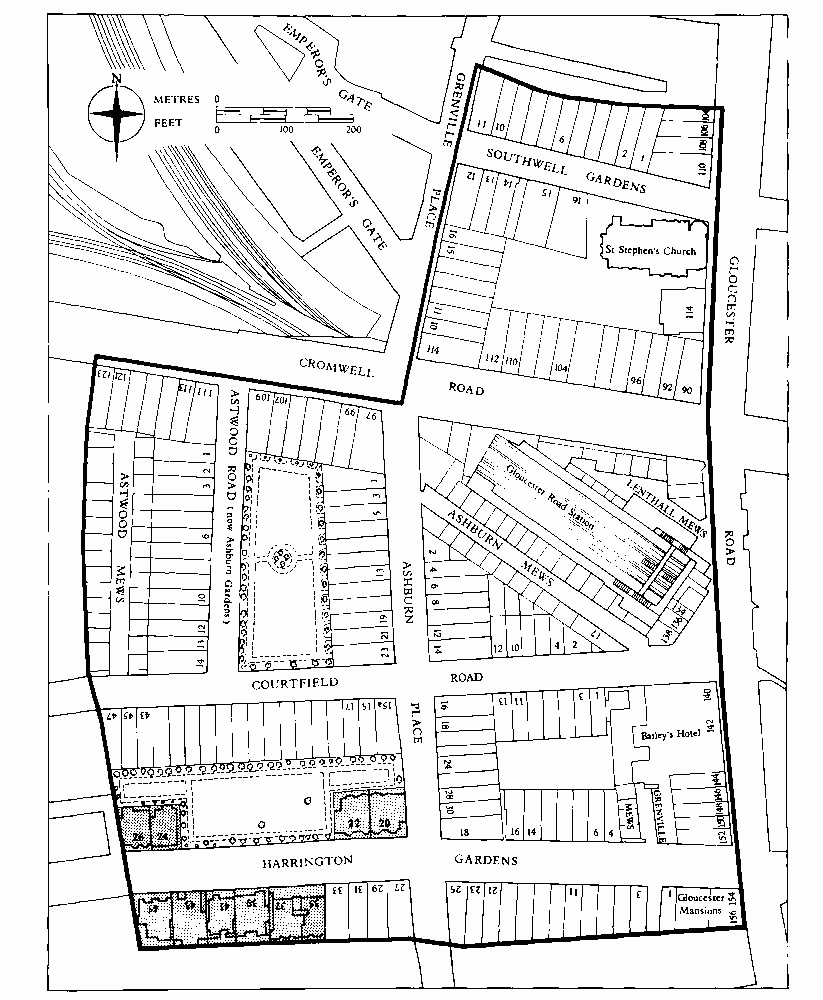 The terms and length of leasing seem to have been orthodox for a mid-Victorian residential estate of high standing. One distinction between this part of Alexander's holdings and others previously developed lay in the size of builders' 'takes'. When the Queen's Gate Gardens area was laid out, builders had taken large plots of land, but west of Gloucester Road the property was divided into smaller pieces among a greater variety of builders. In the case of the two blocks between Courtfield Road and Harrington Gardens, several different undertakers were involved after a single building firm (Aldin and Sons) had agreed to develop almost the whole but had failed to do so.
The layout (fig. 68) was generous in its provision of communal gardens, four altogether being provided, one north and three south of Cromwell Road. In two places, at Nos. 1–23 (odd) Ashburn Place and Nos. 15A–47 (odd) Courtfield Road, these gardens led to a change from orthodox house-planning, whereby the principal fronts were turned towards them and the back extensions turned, somewhat unsatisfactorily, to the streets (Plate 72a, 72b). Private gardens were practically non-existent, as on neighbouring developments of similar date. Approximately one stable was built for every two houses, the stabling with the exception of Astwood Mews cleaving to the less eligible districts close to the railway and the Gloucester Road frontage. There were a few shops in Gloucester Road next to the station, but no pubs; the prime site at the south-west corner of Gloucester Road and Cromwell Road was symbolically occupied by an estate agent's office. Gloucester Road could also offer Bailey's Hotel and St. Stephen's Church, for those in need of a physical or spiritual haven.
The development coincided in date with the gradual demise of the long-serving classical Victorian house-front, already debased by 1870. It is instructive to see this collapse, and the uncertainty which ensued, reflected in the architecture of the estate, more especially through the stipulations of the building agreements. The first agreements drawn up by Pownall called for fronts of white Ipswich, Suffolk, gault or Beart's patent bricks, the characteristic facings of the high-class Italianate houses of Queen's Gate Gardens. The example of that development was explicitly followed in all the housing built up to 1875. (fn. 9) In that year a change of policy appears in the building agreement for Bailey's Hotel, which was to be built of red brick with Bath stone dressings. (fn. 10) Thereafter the alternatives of white or red brick were often, but not invariably, offered. (fn. 11) Meanwhile the architects and the builders themselves had begun to vary their style of front within what was allowed by the Estate. J. T. Wimperis tricked out the conventional format with touches of Gothicism and Frenchness at Nos. 118–126 (even) Gloucester Road of 1872–3 and, it seems, at Nos. 104–112 (even) Cromwell Road of 1875–6 (Plate 71c, 71d), while Walter Graves adopted a more frankly Gothic formula for J. R. and W. H. Roberts at the demolished Nos. 97–109 (odd) Cromwell Road (Plate 71b). An overtly 'Queen Anne' style of architecture arrived only in 1876–8, with Nos. 2–14 (even) Ashburn Place, also built by the Robertses. This did not immediately displace previous styles, and at the east end of Harrington Gardens a confused or half-hearted version of French domestic architecture trickled on into the 1880s. Harrington Gardens, however, also boasts the happiest and liveliest of all South Kensington's ventures into 'Queen Anne', if that is the right epithet for the flamboyant style of Ernest George and Peto's houses here, started in 1880. These are of sufficient note to be considered apart in the chapter that follows.
North of Cromwell Road
Development began first in the compact part of the estate north of Cromwell Road. Houses were built here on the west side of Gloucester Road, the north side of Cromwell Road, the east side of Grenville Place, and on both sides of an entirely new street, Southwell Gardens, formed in 1871–2. The principal undertakers here were the builder John Wilkins of Westmoreland Street, Pimlico, and the architect-surveyor Thomas Cundy III, who had previously been working together in Cornwall Gardens immediately to the north. Cundy was the surveyor for the Cornwall Gardens estate and from 1871 was a resident there (pages 151–2); he had also been involved in the development of Stanhope Gardens nearby. Conceivably Alexander and Pownall delegated large responsibilities to the reliable Cundy for laying out this whole quadrilateral, which included a communal garden to the south of St. Stephen's Church. Less is known of Wilkins. In 1881 he described himself as a Taunton-born widower aged fifty-seven. He was then living with his younger brother William (also a builder) in one of the houses he built on the estate, the present No. 5 Ashburn Gardens. (fn. 12) He died in November 1893 (worth a comfortable £38,495) at another of his houses, No. 114 Cromwell Road. (fn. 13)
No. 114 Gloucester Road
The first house built on the estate was to the south of St. Stephen's Church, No. 114 (formerly No. 74) Gloucester Road, erected for George Berkley, a civil engineer, by Higgs and Hill to the design of the architect H. E. Harwood. Tenders were sought in July 1870, Higgs's being for £4,484, and a ninety-year lease from 1870 was granted in August 1872. (fn. 14) It is a large house of slightly asymmetrical villa form with a stucco front on three storeys. Berkley also took land for building a stable in Lenthall Mews on the north flank of Gloucester Road Station in October 1872. (fn. 15) From 1875 Edward James Reed, naval engineer and M.P., lived here in succession to Berkley. (fn. 16)
Southwell Gardens, Nos. 104–110 (even) Gloucester Road, Nos. 10–16 (consec.) Grenville Place and No. 114 Cromwell Road
The church and the adjoining house provided the focus for the first speculative development on the estate. By an agreement of October 1871, John Wilkins took the whole of the north side of a new road to be formed immediately to the north of the church, with plots backing on to the estate boundary with the already existing Cornwall Mews South. (fn. 17) This 'take' logically extended Wilkins's area of development on the Broadwood estate in Cornwall Gardens southwards on to Alexander's land. A terrace of eleven houses was to front the new road, soon to be named Southwell Gardens. A further four houses, now Nos. 104–110 (even) Gloucester Road but at first Nos. 20–17 Southwell Gardens, fronted Gloucester Road. All are in an exceedingly dry style of white brick with sober stucco dressings, including a dentil cornice between the fourth and fifth floors (Plate 70b). A minimal accentuation is given to the three middle and two end houses with projecting quoined fronts and pediments over the central windows on the first floor.
These houses were built in 1871–3. The first leased were Nos. 3 and 4 Southwell Gardens, taken from Alexander in May 1872 by two ironmasters, William Randolph Innes Hopkins and James Innes Hopkins respectively. (fn. 18) Nos. 1 and 2 were assigned by Wilkins to the architect Thomas Cundy III. (fn. 19) It is possible therefore that Cundy designed the whole ensemble. Leases of Nos. 5–10 Southwell Gardens and of Nos. 104–110 (even) Gloucester Road were granted directly to Wilkins. No. 110 is a substantial corner house with a forty-eight-foot frontage to Gloucester Road (Plate 70b).
The south side of Southwell Gardens was undertaken by Wilkins in 1873–4, followed quickly by the east side of Grenville (at first Greenville) Place, the road formed at this point along the western boundary of Alexander's property in lieu of the previous Attwood's Lane. (fn. 20) Since the Metropolitan Board of Works thought this street too narrow for five-storey houses in relation to the Metropolitan Railway Company's land opposite, where building was proceeding at the same time (page 340), these houses were limited to four main storeys above ground. In Southwell Gardens, Wilkins arranged five houses in two blocks, Nos. 12–14 and the double-fronted Nos. 15–16, with fronts not unlike those on the north side of the street. In Grenville Place, the similar Nos. 10–16 (consec.) followed on in 1874–5 together with the corner house, now No. 114 Cromwell Road (Plate 70a, 70c). (fn. 21)
To judge from the status of its early inhabitants, Wilkins probably did well from the houses of Southwell Gardens. Two Members of Parliament lived there in the 1870s: James Maden Holt at No. 11 and the more colourful Edward Jenkins, 'advanced Liberal' and champion of the 'coolie', at No. 20 (now No. 104 Gloucester Road). (fn. 16) In the 1881 census, half the heads of households were in the legal profession. They included F. W. Maitland at No. 19 (now No. 106 Gloucester Road); then a bachelor of thirty, he was shortly to abandon the practice of the law in favour of legal history. (fn. 22) At No. 8 from 1873 to 1876 lived Leslie Stephen, the essayist and philosopher, with his first wife Harriet, W. M. Thackeray's daughter. He and Maitland became close friends, the latter not only writing Stephen's life, but becoming secretary in 1881 of the Sunday Tramps, the pedestrian society organized by him. (fn. 23)
Nos. 90–112 Cromwell Road
Thomas Cundy III was also involved in developing seven houses on the north side of Cromwell Road between Grenville Place and Gloucester Road. By agreements of July 1873 and June 1874, Cundy took the sites of Nos. 90–102 (even) Cromwell Road, together with seven plots for stabling to the south in Ashburn Mews, abutting on the south flank of Gloucester Road Station. (fn. 24) These houses also were to have the use of the future ornamental garden to be formed at the rear of St. Stephen's Church. Cundy's houses here are of white brick (Ipswich bricks are suggested in the agreement of 1873) with stucco dressings on five floors. Nos. 92–102 have canted bays at the front to second-floor height, while No. 90, the corner house with Gloucester Road, has a canted bay to full height on the return front. No. 102 is larger, with five bays. These houses (Plate 70c) are similar to those in Southwell Gardens, and it is probable that John Wilkins built them.
Westwards, the five houses at Nos. 104–112 (even) Cromwell Road were built in 1875–6 under an agreement with two surgeons, Cundy's neighbour James Sharp of No. 84 Cornwall Gardens, and Thomas Lawrence Read of Petersham Terrace, Gloucester Road. They too took a plot for four stables in Ashburn Mews. (fn. 25) The houses which they erected are among the most individual on the estate, exhibiting a pot-pourri of eclectic motifs given a French savour by crowning mansard pavilion roofs with oeil-de-boeuf windows over Nos. 104 and 108 (Plates 70c, 70d, fig. 69). The window-heads are filled with fish-scale ornament beneath relieving arches; similar decoration occurs on the porches. Some of these houses have been badly treated. It is likely that their architect was J. T. Wimperis, a close colleague of Cundy's and the designer of Nos. 118–126 (even) Gloucester Road nearby. In recommending Wimperis for a Fellowship of the R.I.B.A. in 1877, Cundy mentioned among his works 'Residential Houses of an important class in Cromwell Road'. (fn. 26) The builders were Cooke and Green of Blackfriars. (fn. 27) On receiving his leases of Nos. 104 and 106 in 1876, Sharp mortgaged them to Charles Dickens of Gadshill, Kent, the son of the novelist. (fn. 28)
Between Cromwell Road and Courtfield Road
The section of the Alexander estate between Cromwell Road and Courtfield Road today presents a broken-up and straggling appearance. West of Ashburn Place this is due to the intrusion of the enormous Forum Hotel, while the quadrilateral between Ashburn Place and Gloucester Road has always been difficult for building because of the diagonal line of the railway.
Next to Gloucester Road, the shape of development had evidently been determined by 1871, but for most of this land a layout was finalized by George Pownall only late in 1873. (fn. 29) Under this arrangement, two streets were formed running approximately south from Cromwell Road. One continued the line of Attwood's Lane on which Grenville Place was aligned and ran through to the Gunter estate to the south; at first this was called Grenville or Greenville Place, like the roadway north of Cromwell Road, but it quickly assumed its present name of Ashburn Place. Further west, Astwood Road (renamed Ashburn Gardens in 1909) terminated at a cross street parallel to the line of the original field quartering. This was originally to be called Wortley Road, but the name was changed in 1880 to Courtfield Road.
Nos. 87–95 (odd) Cromwell Road, Nos. 118–126 (even) Gloucester Road and Lenthall Place
Taking first the eastern portion of this land, the angular siting of Gloucester Road Station (discussed on page 168) left two ineligible triangles for development. Gloucester Road itself, upon which the station fronted obliquely (Plate 131a), was the logical place for shops and trade, while mews were planned parallel to the long sides of the station as a buffer against noise and smoke from trains. The northern mews, a pokey cul-de-sac, received the Cromwellian name of Lenthall Mews (now Place). The southern and better one, Ashburn (at first Greenville) Mews debouched at one end into Ashburn Place and at the other into Courtfield Road.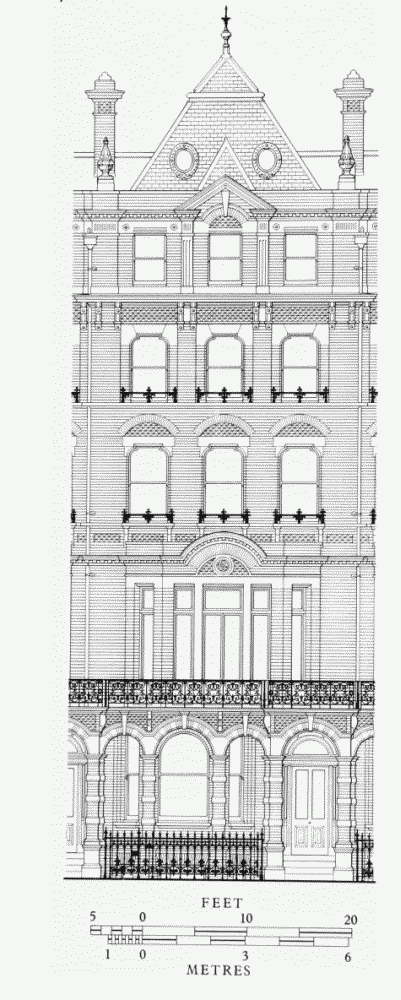 The first agreement for building here was taken in June 1872 by William Bennett Rogers and Henry James Chapman, estate agents of Pimlico. (fn. 30) This was for the short block of shops at Nos. 118–126 (even) Gloucester Road, with a return to Cromwell Road. The corner premises at No. 118 (now demolished) were taken by Rogers and Chapman as the offices of their estate agency business, which was active in the neighbourhood. Their architect was J. T. Wimperis (for whom Rogers later acted as an executor) and their builders Aldin and Sons, in other words Charles Aldin junior and William Aldin. (fn. 31) They were the successors to Charles Aldin, the builder who had done most to develop the Queen's Gate Gardens district for H. B. Alexander in the 1860s before dying unexpectedly in 1871. The younger Aldins never enjoyed the great success of their father and, despite large intentions, in the event built only modestly on this section of the estate.
Construction of Nos. 118–126 Gloucester Road took place in 1872–3. The buildings are of white and yellow brick in the uncertain, transitional, faintly Gothic idiom adopted in these years by architects bored by Italianate but not yet au fait with the Queen Anne style (Plate 71c). They bear a marked resemblance to Nos. 104–112 (even) Cromwell Road, also attributable to Wimperis. Only Nos. 120–126 now remain; No. 120 was in continuous occupation as A. C. Cooper and Company, pharmaceutical chemists, until 1972 when the business was taken over. The surviving original shop front bears Cooper's name cut in stone, and is complemented by two bronze gas-lamp standards in front of the shop.
By agreements of October 1872 Lenthall Mews was divided between George Berkley, the first owner of No. 114 Gloucester Road, who took stabling on the tight south side, and Aldin and Sons. (fn. 32) In Lenthall Mews the Aldins built stabling backing on to Cromwell Road and later numbered 87 and 87A in that road. (fn. 33) West of this James Sharp and T. L. Read, the developers of Nos. 104–112 (even) Cromwell Road opposite, in 1877–8 filled up the awkward sites at Nos. 89–95 (odd) Cromwell Road with three houses and a shop, in part over the railway; No. 95, at the corner with Ashburn Place, was dignified with a corner turret (Plate 70c). The builder here seems to have been C. G. Keogh. (fn. 34)
In 1921 Nos. 87A and 89 Cromwell Road became the premises of the Rawlplug Company Limited which developed from Rawlings Brothers, a motor garage in Ashburn Mews. George Rawlings was involved in making electrical wall fixings for the British Museum and in 1919 developed his fibre plug as the least destructive way of making a firm fixing. By the Second World War, the company was represented all over the world. The Cromwell Road premises were given an arcaded frontage in brick with stone dressings. The company acquired the adjacent properties with a view to office development, but on being refused permission, sold out and moved to Kingston-upon-Thames in 1966. (fn. 35)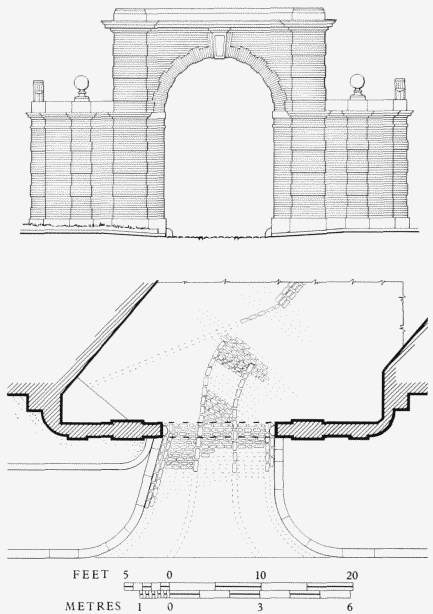 At the time of writing (1985), of the buildings originally erected on the sites discussed in this section of the text only Nos. 120–126 (even) Gloucester Road survive.
Ashburn Mews, Nos. 2–14 (even) Ashburn Place and Nos. 2–12 (even) Courtfield Road
Ashburn Mews (at first very briefly known as Greenville Mews), the stabling built on the south side of Gloucester Road Station (Plate 73c, fig. 70), had been projected no later than the summer of 1873, when Thomas Cundy III and John Wilkins took a run of plots on its north side to serve their houses north of Cromwell Road. (fn. 36) Most of the other plots on both sides were taken in 1875 by William Watts of Motcomb Street, the builder then developing Ashburn Place. (fn. 37)
South and west of Ashburn Mews, there remained a compact triangle of land between Ashburn Place and Courtfield Road. The frontage facing Ashburn Place was taken under a building agreement of May 1875 by Robert Upperton junior of Brighton, who intended to build a sculptor's studio in the awkward north corner for his own use and four or six houses on the remaining site. The specification permitted the use of red brick. (fn. 38) Having got no further than the erection of fences, Upperton sold his rights on the land in June 1876 for £600 to John Robinson Roberts and William Henry Roberts, builders, of Notting Hill, whose activities on the Alexander estate are described in further detail below. (fn. 39)
The fronts of the seven houses which the Robertses erected here in 1876–8, (fn. 40) Nos. 2–14 (even) Ashburn Place, followed the conventional pattern of a three-bay front with projecting porch and two-storey canted bay (Plate 73a, 73b). They were, nonetheless, the first example of commercialized Queen Anne on the Alexander estate. The materials appear to have been yellow brick with red brick and terracotta dressings. A photograph of No. 12 (Plate 73a) published in Neubauten in Grossbritannien (1892) gives J. R. Roberts as architect for this and two other houses built by him (No. 30 Ashburn Place and No. 73 Harrington Gardens). (fn. 41) This is presumably a misinterpretation of his role.
The remainder of the triangle, fronting Courtfield Road, was taken in November 1879 by James Sharp, encountered above as a developer on the north and south sides of Cromwell Road. (fn. 42) To accord with the adjoining houses, he was permitted here to use red facings and moulded red-brick ornamental details, with roofs of Broseley tiles as an alternative to slates. Six houses, Nos. 2–12 (even) Courtfield Road, were built by Aldin and Sons; they were leased to Sharp in December 1880. (fn. 43) This left a little corner site unoccupied between Courtfield Road and Ashburn Mews for which in 1882–3 the architect Arthur Cawston and the builder B. E. Nightingale, acting for an unknown client, built an unexpectedly flamboyant little stable block in Queen Anne style, No. 17 Ashburn Mews, with a high French roof at one end and a leadcovered cupola at the other (Plate 73e). (fn. 44)
All the buildings in this section have been demolished.
Ashburn Gardens, Nos. 1–23 (odd) Ashburn Place, Astwood Mews and Nos. 97–123 (odd) Cromwell Road
For this area of the estate, agreements to develop were made in 1874–5 between H. B. Alexander and four separate builders. Pownall's layout here had provided for a short road with a residents' garden along its east side (fig. 68). It was originally named Astwood Road after the Buckinghamshire village where John Thurloe, Cromwell's secretary of state and wrongly reputed in the 1870s to have been an owner of the Alexander estate, had lived for a time; (fn. 45) the present name of Ashburn Gardens dates from 1909. Behind the west side of this road was planned Astwood Mews, debouching at its south end into Courtfield Road but not carried up to Cromwell Road.
The whole west side of Ashburn Gardens was taken in July 1874 by John Wilkins, the builder already busy on the north side of Cromwell Road in Southwell Gardens and Grenville Place. (fn. 46) Wilkins agreed to build thirteen houses and eight stables in Astwood Mews behind. The houses were to be equal to those then being built by Wilkins in Southwell Gardens, which they closely resemble (Plate 71a). Fourteen houses were actually built, and leases granted in three blocks in 1876 and 1878. (fn. 47)
In Cromwell Road, the sites west of Ashburn Gardens were taken by William Jackson, the veteran South Kensington builder, by an agreement of July 1874. In addition, Jackson took two contiguous plots in Astwood Mews. (fn. 48) He was already working on the adjacent Gunter estate (see page 206), and was thus able to build a regular terrace of ten houses with matching corner houses between Courtfield Gardens and Ashburn Gardens, all started in 1875. (fn. 49) Seven of these, Nos. 111–123 (odd) Cromwell Road, were on the Alexander estate. They are built of white brick with stucco dressings, to match Thomas Cundy's houses in Cromwell Road in external character, as specified in the building agreement. The internal finishings were to resemble Jackson's previous and wellappointed houses in Queen's Gate. The corner houses have generous segmental bows occupying most of the thirty-three-foot frontage and rising to the full height of five storeys. The other houses have canted bays to the second floor, or to the full height on every third house (Plates 71a, 89c). They were mostly leased to Jackson in 1876–7. (fn. 50)
Between Ashburn Place and Ashburn Gardens the frontage to Cromwell Road was taken initially in October 1874 by David Tildesley, a builder from St. John's Wood, who also agreed to build some stabling in Astwood Mews. (fn. 51) But all the building was in fact done from 1875 onwards by John Robinson Roberts and William Henry Roberts, of Acklam Road, Notting Hill. The Robertses were to be major builders on this portion of the Alexander estate. In 1881 John Robinson Roberts was living here at No. 103 Cromwell Road. He was born in 1841 at Blyton, Lincolnshire, the son of a bricklayer. He died in May 1898, his effects (including house property) being valued at £101,478. At the time of his death, he was living in Barkston Mansions, Barkston Gardens. In 1897 he had become proprietor of the Barkston Gardens Hotel, and was described as a 'well known property owner in South Kensington'. An obituary referred to him as 'a large hearted man, … highly esteemed in the Masonic fraternity'. His partner W. H. Roberts had died in 1884, aged forty-one. (fn. 52)
The leases for the seven houses, Nos. 97–109 (odd) Cromwell Road (now demolished), were granted severally to the Robertses at Tildesley's direction between 1875 and 1877. (fn. 53) Although the building agreement specified conventional white brick and stucco, the Robertses introduced a belated note of the Gothic Revival in the exteriors using red brick with terracotta balustrading, dressings of red Northfield sandstone, and polychromatic splayed voussoirs over the window heads (Plate 71b). The carving on the front was by Seale of Walworth. An article in the Building News gives Walter Graves (1848–1909), an architect prolific in South Kensington and Earl's Court but first met here, as the designer of these houses and praises their interior decorations, giving an unusually full account of 'off-the-peg' taste in the years of the Aesthetic Movement. (fn. 54) The extent of Graves's responsibility for the interiors must be in doubt, as he was in New Zealand between 1875 and 1880. (fn. 55) The clerk of works was Maurice Hulbert, afterwards a prolific designer of smart town-houses in his own right.
The houses were planned with a dining-room, a transverse staircase behind and a billiard-room at the rear on the ground floor, and a square drawing-room at the front and grand 'ballroom' at the back on the first floor. The corner house inspected by the Building News had probably been finished off to a specially high standard as a 'show house'. The decoration of its entrance-hall included a pointed fanlight with stained glass by a Mr. Gibbs (possibly Alexander Gibbs), panelled dados with tiles below and stencilled patterning on an olive-green ground above. The ceiling was also decorated. Facing the stairs in the inner hall beyond was a fireplace framed in panelled oak and with its jambs and head filled with light blue Minton tiles. The dining-room was ornamented with a frieze to the dado bearing emblematic panels of 'Fish, Flesh and Fowl'. The Jacobean oak chimneypiece incorporated painted tiles by the same Mr. Gibbs in blue. The deep cornice and frieze displayed flowers and fruit. On the ceiling, a 'blush of salmon tint' was overlaid with a reticulated pattern in light grey, ornamented at the intersections. The writer praised the correctness of design of the iron balustrade to the stone staircase. On the first floor, the ballroom ceiling was plastered 'in a Renaissance or Elizabethan style, though the deep coved cornice is of the Jacobean type', and tinted in light pink, green, blue and gold. The folding door was decorated in 'delicate tints of salmon, blue and drab colours' and the panels filled with devices and flowers painted 'in a naturalesque manner' by one Leopold Hossowski. In the drawing-room were cornice medallions of the Four Seasons. 'We were informed', adds the Building News, 'that every feature was specially designed, and that the common error of vulgar repetition in the decoration has been avoided.' The prices then asked by the builders were £10,500 for a long lease of the corner houses and £7,500 for the others. (fn. 54)
On the west side of Ashburn Place, William Watts of Motcomb Street, a builder previously active in Queen's Gate and Queen's Gate Terrace nearby, agreed in March 1875 to build the twelve houses, since demolished, known as Nos. 1–23 Ashburn Place, along with some stabling in nearby Astwood Mews. (fn. 56) Watts was also charged with laying out the roadway in Ashburn Place and making the communal garden behind his houses. He began building immediately but by the middle of 1878 had completed only five houses and covered in five more. His agreements were extended and varied by revised arrangements. (fn. 57) Leases of Nos. 1–17 were issued to Watts or his nominees in 1878, but he died in 1881 and his executors received leases of Nos. 19–23 only in 1883. (fn. 58) These houses all presented their best rooms to the garden side, with shallow canted bays rising to third-floor height at the five-storey houses. On the street side an irregular appearance was given by two-storey projections across most of each frontage and narrow four-storey extensions behind them (Plate 72a, 72b, fig. 71). At the time of the census of 1881, only Nos. 3–7 appear to have been occupied, by a banker and two barristers. (fn. 59) In June 1884 tenders were published for alterations to Nos. 21 and 23 for the Siamese Embassy. The houses remained in this use until 1964. (fn. 60)
Of the houses discussed in this section, those west of Ashburn Gardens, namely Nos. 111–123 (odd) Cromwell Road, Nos. 1–14 Ashburn Gardens and the stabling of Astwood Mews, survive. (fn. 61) The most characteristic alteration here is at the south end of Astwood Mews, where the two stables facing Courtfield Road were transformed in 1913 into private residences with 'motor houses' by Aldin Brothers. They preserve their mullioned bay windows, wooden porch hoods and rough-cast rendering in a Domestic Revival style. East of Ashburn Gardens, the remaining houses were all removed in about 1970 in preparation for the building of the Penta (now Forum) Hotel.
Between Courtfield Road and Harrington Gardens
The main feature of the estate's layout south of Courtfield Road (fig. 68) was the formation of the east-west roadway now called Harrington Gardens. It continued the line of Harrington Road, already in existence east of Gloucester Road, and was indeed at first called Harrington Road West. Like Courtfield Road, it ran on to the west through Gunter property, thus making the boundaries between the estates here easy and imperceptible.
Pownall provided for two residents' gardens even in this quite small portion of the estate: a modest garden, now removed, behind the houses on the site of the present Gloucester Hotel, and the larger one behind and between Nos. 22 and 24 Harrington Gardens, accessible also from Ashburn Place. Houses built on the south side of Harrington Gardens seem also to have had a right to these gardens. To allow for stabling behind the Gloucester Road frontage, Ashburn Mews was continued south of Courtfield Road under the name of Grenville Mews, and a further tiny mews was planned on the same line south of Harrington Gardens, against the boundary with the Day estate.
Building agreements for this whole area were made in 1874–5, but in many cases construction was not started till later in the decade, and remained unfinished until the early 1880s.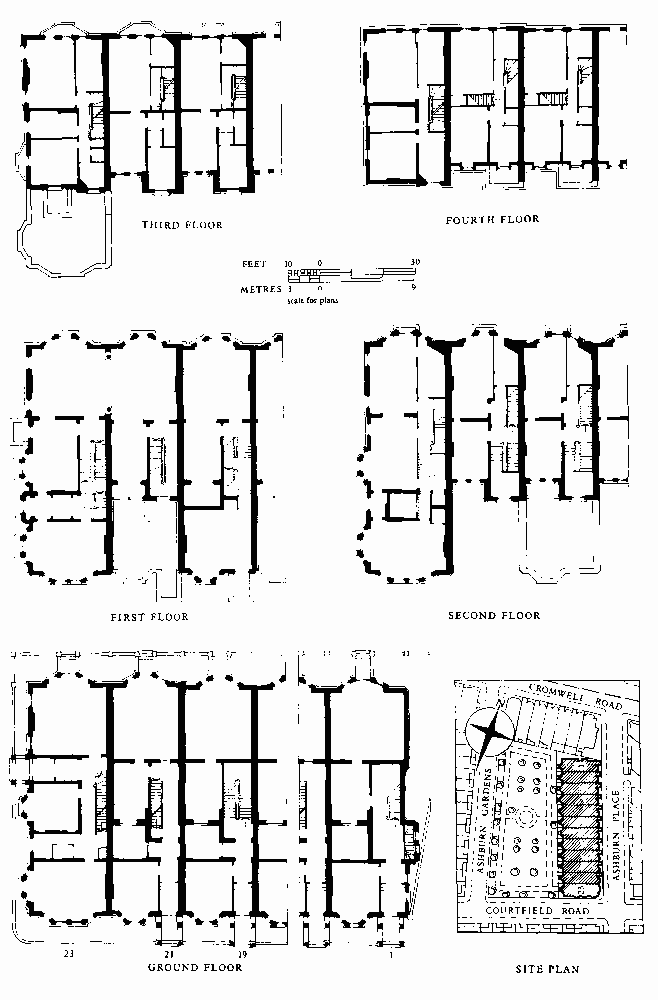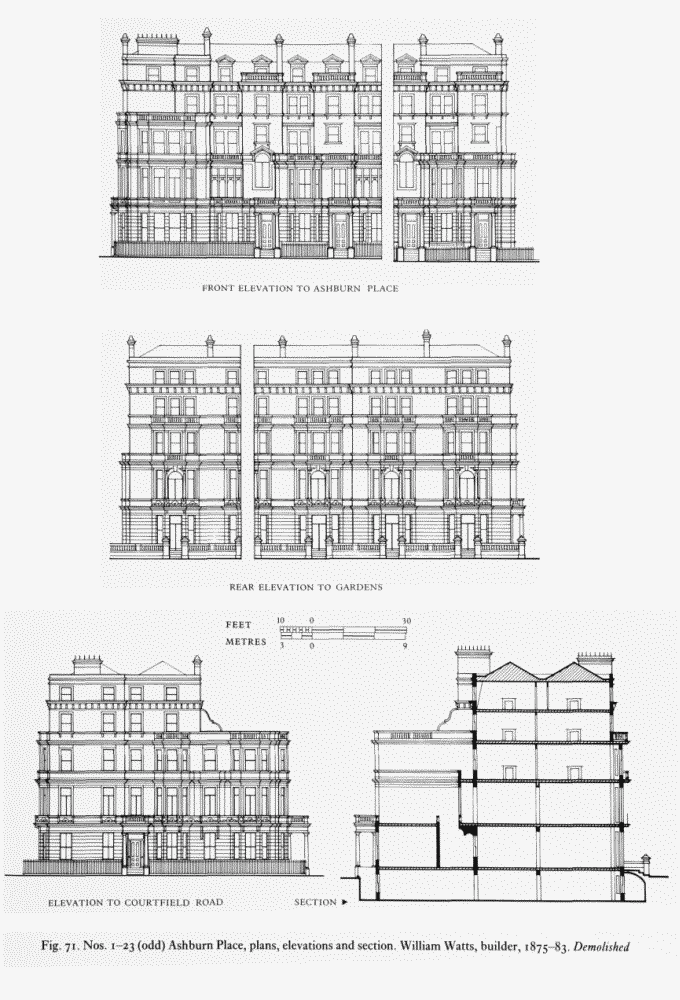 Nos. 16–30 (even) Ashburn Place, Nos. 1–47 (odd) Courtfield Road, and No. 18 Harrington Gardens
The original undertakers for all these sites were Charles Aldin junior and his brother William, who in 1874–5 promised to build houses on the whole of the land between Courtfield Road and Harrington Gardens, both east and west of Ashburn Place, excepting only the sites of Nos. 4–16 (even) Harrington Gardens. (fn. 62) In the event their efforts were confined to the comparatively modest group of houses at Nos. 1–13 (odd) Courtfield Road and to the building of Bailey's Hotel and the rest of the commercial frontage facing Gloucester Road (Nos. 144–152 even), for which they signed agreements at the same time. (fn. 63) Exactly why the Aldins drew in their horns cannot be said, but in another of their speculations at Roland Gardens nearby, the impetus of their work faded after 1873 and their houses proved slow to let. (fn. 64) This may have induced them to go cautiously on the Alexander estate.
The houses undertaken by the Aldins at Nos. 1–13 (odd) Courtfield Road were built expeditiously enough, being started in 1876 and leased to them or their nominees in 1877–8; (fn. 65) they have since been demolished. There followed a hiatus. Then in 1879 or 1880 J. R. and W. H. Roberts, fresh from finishing Nos. 2–14 (even) Ashburn Place north of Courtfield Road, stepped in to replace the Aldins. They began by extending the Queen Anne manner of these previous houses southwards, at Nos. 16–30 (even) Ashburn Place (Plate 73b) and No. 18 Harrington Gardens, on the corner. These houses were started in 1880 and had all been leased by May 1882; they too have all been demolished. (fn. 66)
West of Ashburn Place, the Robertses in May 1880 concluded a revised agreement with Alexander whereby they took over from the Aldins the whole remaining south frontage of Courtfield Road on the estate and built the houses now numbered 15A–47 (odd). (fn. 67) This lengthy terrace is the only section of their work on the estate to survive. It adopts the same 'back-to-front' planning used by William Watts further north at Nos. 1–23 Ashburn Place, with the handsomer elevations facing the gardens and the lesser rooms turned to the street (fig. 73). The houses are distinguished by arcading at first-floor level linking the 'back' extensions on the north side and attempting rather unsuccessfully to conceal the menial service rooms on this side. The paired extensions on the north side were ornamented with alternating triangular and ogee pediments, some of which have been lost. The interiors included mosaic floors in the entrance halls and some 'aesthetic' plasterwork. The main stairs rose from the far end of the hall back towards the entrance. The design of these houses may be firmly ascribed to Walter Graves, architect of the Robertses' previous Nos. 97–109 (odd) Cromwell Road. They were built in 1880–2 and promptly leased. (fn. 68)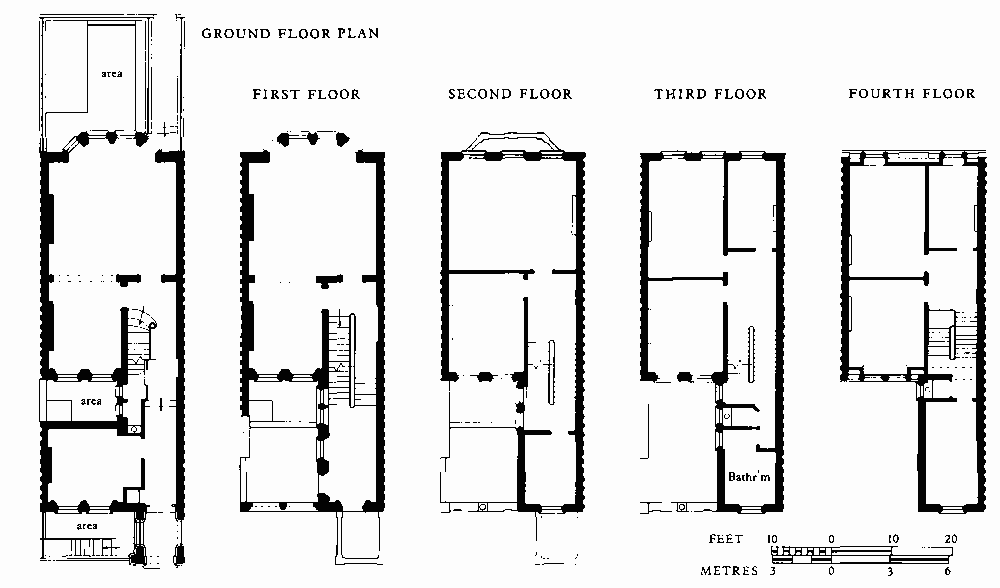 Nos. 1–33 (odd) and 4–16 (even) Harrington Gardens and Nos. 154 and 156 Gloucester Road
Under the original agreements for this portion of the estate, the long thin strip along the south side of Harrington Gardens, bounded southwards by the estates of the Day and Gunter families, was taken in 1874 by another of South Kensington's experienced builders, John Spicer. (fn. 69) For many years Spicer had been building on Gunter property to the south, and in effect his undertaking to build here unified his enterprises west of Ashburn Place by taking them up to the line of Harrington Gardens. His site office in these years lay just across the estate boundary at No. 29 Ashburn Place on the Gunter estate (page 208). In the event, Spicer himself did not build here. Instead, development was directed by John Floyd Gibbs, the principal of a marble-works and stonemason's firm of Knightsbridge and a large supplier of fireplaces for houses hereabouts. (fn. 70) Between 1874 and 1880 Gibbs stumbled slowly westwards from No. 5 to No. 33 Harrington Gardens. (fn. 71) Most of these houses have polished granite columns to the porches and are dressed with a degree of eclectic novelty on an Italianate body (Plate 73d). The use of naturalistic plant ornament in moulded stucco, especially on the level of the second-floor balconies, indicates a belated affinity with a certain aspect of the Gothic Revival.
Gibbs seems to have had difficulty in finishing some of these houses. Tenders were advertised for completing No. 13 Harrington Gardens in July 1879, the lowest being for £2,546. In 1883 the National Freehold Land Society was engaged in alterations and repairs to Nos. 15–21, and an unspecified 'residence' needed similar work, under the direction of the architect W. H. Collbran. (fn. 72) West of Ashburn Place, Gibbs was able to build only four of the fifteen houses originally scheduled. In March 1880 these needed to be 'rectified' before they could be leased. A further nine were then to be built by Christmas 1882, but these never materialized. (fn. 73) Instead, Alexander concluded new agreements to build on the remaining empty plots on both sides of Harrington Gardens. (fn. 74) These agreements mark the point at which the old style of terraced house gives way to the social and artistic innovations of Ernest George and Peto at Nos. 20–26 (even) and 35–45 (odd) Harrington Gardens. These important houses are discussed in the next chapter, along with similar houses designed by George and Peto in Collingham Gardens nearby on the Gunter estate (pages 187–91).
On the north side of Harrington Gardens, Gibbs also agreed in September 1875 to build Nos. 4–16 (even), between Ashburn Place and Gloucester Road. (fn. 75) Here too he got badly behind. The second of two extensions was granted to him in December 1878, at which time three of the seven houses were built up to the second floor, but improper materials had been found in the walls, which were not thick enough. (fn. 76) In March 1879 Gibbs assigned his interest in Nos. 4–16 to William Willett, then finishing a speculation in Cornwall Gardens nearby. A new building agreement sanctioned the use of red brick, but Willett adhered to old-fashioned white or grey when he finally built here in 1881–2. (fn. 77) The houses have been demolished, but original drawings for them remain; (fn. 78) they suggest that none of Gibbs's work was incorporated in what was finally built. They bore a close resemblance to Willett's surviving houses at Nos. 12–19A Wetherby Gardens (1883–4), being in the French style with the fifth floor treated as a mansarded attic. High pavilions crowned the end houses, which had generously pilastered fronts. The plans (fig. 74) provided for a dining-room, library and gentleman's room on the ground floor, a capacious drawing-room facing the front and a boudoir or billiard-room on the first floor, two bedrooms on each of the second and third floors and four in the attic. There were water closets at four levels, and one of the principal bedrooms had a built-in bathroom attached. There was no back stair. It may be that James Trant Smith, the architect of Willett's very French Cornwall Mansions in Cornwall Gardens, designed the houses. The leases of Nos. 4, 6 and 10 were granted through Willett to the first occupiers. The last of these was James Bailey, who took No. 4 as a private residence, conveniently close to his hotel, in July 1885. (fn. 79)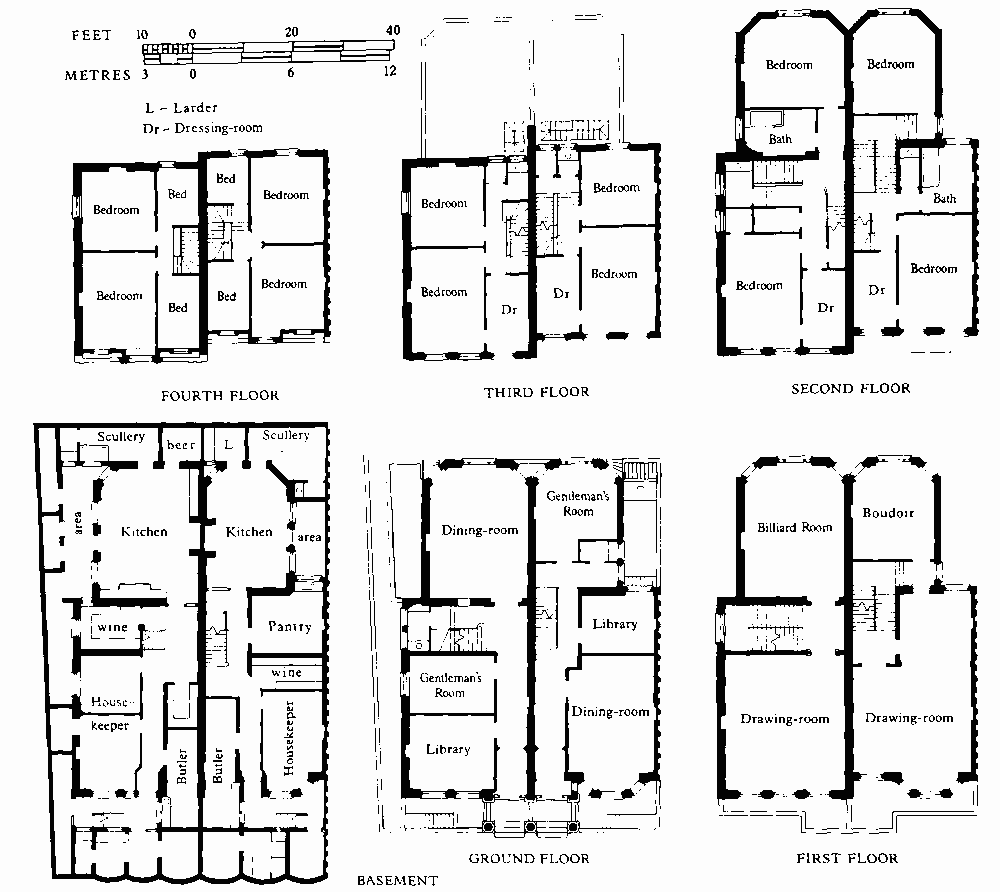 At the south corner of Gloucester Road and Harrington Gardens is Gloucester Mansions, Nos. 154–156 (even) Gloucester Road, with which are linked lower buildings behind along Harrington Gardens. This site formed part of John Spicer's original 'take' of 1874 from Alexander, and was to contain two houses with shops, and some stabling behind as a short, southward continuation of Grenville Mews. (fn. 69) The stabling, with a strong mews arch and flanking two-storey wings facing Harrington Gardens in answer to the front of Grenville Mews opposite (Plate 96b), was built by Gibbs in 1876. (fn. 80) By a fresh arrangement of February 1881 the corner site was given over to Joseph Offord, a coachbuilder already established opposite at Nos. 150 and 152 Gloucester Road, for a large shop with 'residential chambers in flats above'. The shop was to be used for display of coaches, but not for building or repairing them. The specification was for 'good hard red brick'. The building was designed by W. H. Collbran, whose name is recorded on a stone with the date 1881, and built by Martin, Wells and Company. (fn. 81) Collbran also occupied part of the shop premises as an estate agent, architect and surveyor. The red brick and the heavy cast-iron balconies, following the undulations of the projecting bays, give this five-storey building a forceful character. Two of the flats numbered in Gloucester Mansions were regularly tenanted by artists, whose studios may have been in the low flanking building at No. 1 Harrington Gardens next to the mews arch, also included in Offord's lease. Among painters resident here were Herbert Hughes-Stanton and Julius Olsson. (fn. 82)
Bailey's Hotel and Nos. 144–152 (even) Gloucester Road
For the frontage of Gloucester Road between Courtfield Road and Harrington Gardens, as for almost the whole of Alexander's land between Courtfield Road and Harrington Gardens, the original developers by agreements of 1874–5 were Charles Aldin junior and William Aldin. (fn. 83) Here, directly or indirectly, they honoured their undertakings. The most important building here in Bailey's Hotels
From an early stage in the development of the estate, it was intended to build a substantial hotel on the south corner of Gloucester Road and Courtfield Road. A plot of 75 feet by 126 feet was reserved for the purpose in a building agreement made by H. B. Alexander with the Aldins in March 1875. (fn. 63) It was to be not inferior in construction to the Buckingham Palace Hotel, Buckingham Gate, and would 'in all respects be conducted in the most respectable manner'. In addition, the Aldins were to build houses and shops on the adjacent sites down to the corner with Harrington Gardens. Behind the frontage they were to lay out Grenville Mews.
Associated with the hotel from the beginning was James Bailey (1840–1910). Born at Mattishall, Norfolk, as the son of a farmer, he came to London around 1860 and apparently began business by taking a small hotel in Glucester Road. This was probably the Harrington Hotel built by Charles Aldin senior at No. 25 Gloucester Road, although Bailey's name is not recorded in this connection. He is said to have enlarged the premises, presumably extending into the adjoining houses. In 1886 Bailey purchased the South Kensington Hotel in Queen's Gate Terrace, in which Aldin had been financially involved. (fn. 84)
The first part of the new hotel building was started by the Aldins in November 1874 and leased in May 1876. Its architect is unknown. It was extended along Courtfield Road in the following year. (fn. 85) In 1881, nine recently erected stables in Grenville Mews were demolished to make a garden and enlarge the hotel, including a single-storey bow on the ballroom in the centre of the garden façade. (fn. 86) The curtailment of the mews, with its noise and smells, would have been a boon for the comfort of Bailey's guests. The garden would have looked through to the adjoining garden behind the houses in Courtfield Road, Ashburn Place and Harrington Gardens; its site is currently occupied by the Bombay Brasserie. Grenville Mews was further diminished in 1883 for the benefit of extra hotel bedrooms, but its southernmost section and the ornamental archways at its north and south ends survive. (fn. 87)
The hotel (Plate 74a) is of red brick on five floors, with a mansarded attic forming part of one of the enlargements, although now much altered. The adjoining shops are of four storeys in the same simple style. Many original features survive in the interior, notably the entrance hall, with marbled columns and rich classical plasterwork, some of it grained, and the impressive staircase with a broad open well and stained-glass windows. In 1890 further improvements were made, with an 'American elevator' or 'ascending room' and electric light. By this time, the hotel contained over 300 apartments. (fn. 88)
At the time of the census of 1881, Bailey, his wife and five children were living in the hotel. There were then thirty-five resident staff and a variety of guests, including Americans who although notoriously critical of English hotels provided much of Bailey's clientele. A guide for Americans abroad published in 1891 praised the 'cosey, homelike atmosphere, which is enhanced by the rich and substantial surroundings', commending the wine stocks ('Because the bar, with its glitter of glass and brass does not obtrude itself, let it not be supposed that wine is eschewed'), the fire-precautions ('Bailey's Hotel is American-like in the particulars of its fire-escapes and preparations for extinguishing a fire'), and the sanitation ('The sanitary arrangements bear the closest inspection'). The same guide records Bailey's room charges in dollars. The winter rates were a dollar per day for single rooms, a dollar and a half for double rooms, four dollars and a half and upwards for suites, and four dollars per week 'for each member of the canine race'. According to advertisements, the hotel was situated in 'the healthiest and most fashionable part of London'. (fn. 89)
In 1895, Bailey was elected M.P. (Unionist) for the Walworth division of Newington. He had sold his hotels to Spiers and Pond Limited in 1894, becoming managing director, apparently until 1898. He was also on the boards of Harrods and D. H. Evans, and active as a Kensington vestryman from 1878 to 1894, in which year he purchased the Shortgrove estate near Saffron Walden, Essex, for £60,000. He held his seat until 1906, and was Deputy-Lieutenant for Norfolk and a Justice of the Peace in Essex. He was knighted in 1905, and died in 1910 at his London house, No. 58 Rutland Gate. (fn. 90)
The hotel is now owned by Taj International Hotels. It was nearly lost to redevelopment in the early 1970s, but the Town Planning Committee of the Royal Borough of Kensington and Chelsea declared in 1974 that 'it would be a great loss to the Borough if this hotel, with its historic associations, were to be demolished'. (fn. 91)
The Estate since 1900
Bailey's Hotel provided a nucleus for a growing number of hotels in the vicinity, occupying converted houses. In 1914 there were fourteen hotels in eighteen houses, all in Cromwell Road and Harrington Gardens, where Gibbs and Spicer's north-facing houses were evidently unpopular. Most of these establishments were described as 'private hotels'. Through the inter-war period the number of hotels did not increase, although by 1939 twenty-five houses had been taken over. The electoral registers show that many of these hotels were residential, with up to twenty-one inhabitants per house. There was only a negligible difference between these and the increasing number of 'residential chambers' and houses divided into five or six flats. From 1929 to 1939, the latter increased from nine to fifty-six, so that by the time of the Second World War less than half the terraced houses on the estate were in single private occupation. (fn. 92) A comment on these changes appears in the records of St. Stephen's Church, Gloucester Road. In 1929 a Grant in Aid was sought because 'the conditions in this Parish have changed considerably in the past 12 years and instead of the houses being occupied by individual householders they are now mainly used as Hotels and Boarding Houses with an ever changing population or are converted into flats of an inexpensive nature.' (fn. 93)
Bomb-damage on the estate during the Second World War was not extensive, the main exception being at the north-east corner of Courtfield Road and Ashburn Place. The first modest token of post-war rebuilding occurred here in the shape of the present No. 14 Ashburn Place, which stands isolated amidst cleared sites at the time of writing (1985). It is a block of twelve flats in dark purplish bricks, and was designed in 1958 by Leonard Manasseh and Partners. (fn. 94)
Among the many post-war works of housereconstruction and subdivision in the area covered by this chapter may be singled out the remodelling of the rear of No. 11 Southwell Gardens as No. 17A Grenville Place for Mr. and Mrs. Eric Dodd in 1957. The architects were James Stirling and James Gowan. (fn. 95) The small interior space was designed with much bold woodwork detailing, sliding glass partitions and a spiral staircase. The exterior was rendered with horizontal bands, conforming to Wilkins' adjoining houses.
Up to the early 1960s, the Campbell Estate (as the Alexander Estate was known after it passed in 1905 to Sybil, wife of Lord George Campbell. (fn. 96) ) still owned most of the property south of Cromwell Road, excepting Gloucester Road Station, Ashburn Mews, Lenthall Place, Bailey's Hotel and the frontages to Gloucester Road as far as Harrington Gardens. Between 1962 and 1964 all this property (apart from No. 39 Harrington Gardens) was sold to cover estate duties. (fn. 97) Many of the original ninety-year leases were then about to expire.
As a result of these sales and of the rise to prominence of Cromwell Road as the foremost traffic artery between London and the west, various plans began to be laid for major rebuilding south of Cromwell Road. In particular, plots were assembled for the building of two large new hotels, encouraged by Government subsidies. The freeholds of Nos. 97–109 (odd) Cromwell Road and Nos. 1–23 (odd) Ashburn Place were purchased by Grand Metropolitan Hotels in 1962, and a design for a hotel, embassy and flats, in two tall blocks with a bridge link to the B.E.A. Terminal across Cromwell Road, was prepared by Guy Morgan and Partners. Although granted conditional planning permission, this scheme was abandoned in favour of a twenty-five-storey hotel with 914 bedrooms designed by Richard Seifert and Partners and built in 1971–2. (fn. 98) It was at first called the London Penta or plain Penta, but is now the Forum Hotel. Vigorously modelled with diagonal masses (Plate 74b, 74c), it forms a conspicuous landmark and has perhaps excited more comment than any other building of its type in Kensington. 'it is an example of corkscrew-twist planning', complained The Architectural Review, 'of a building which occupies so large an island site that its main bulk can be placed out of alignment with adjoining properties. … What the passer-by sees is an apparently chaotic pile, forcing its way upwards through successive layers of low-level impediments … The lack of any intelligible relationship between the podium and the main building serves to underline the incongruity of this kind of development.' (fn. 99)
A better-mannered building but no less characteristic of its period is the Gloucester Hotel, which took the place of the block west of Bailey's Hotel at Nos. 16–30 (even) Ashburn Place, Nos. 1–13 (odd) Courtfield Road and Nos. 4–18 (even) Harrington Gardens in 1972–3. This is a 'low-rise' building of 561 bedrooms, clad in mosaic and tile, designed by Sidney Kaye, Eric Firmin and Partners and built by Sir Robert McAlpine and Sons on behalf of the Rank Organisation. (fn. 100) It caters in great measure for business functions and 'get-togethers', and is suitably planned for this trade, with large foyers and conference rooms.
The land adjoining Gloucester Road Station remains vacant in 1985. At the time of writing, redevelopment is in prospect for the whole rectangle bounded by Gloucester Road, Courtfield Road, Ashburn Place and Cromwell Road. This scheme, designed by Chapman Taylor Partners (acting jointly for Land and Central Securities and London Regional Transport) provides for the partial reconstruction of Gloucester Road Station to allow better interchange between the District and Circle lines and the Piccadilly line, for shopping with flats above towards Courtfield Road and Ashburn Place, and for an office block in the triangle to the north-east of the station in prospect for the whole rectangle bounded by Gloucester Road, Courtfield Road, Ashburn Place and Cromwell Road. This scheme, designed by Chapman Taylor Partners (acting jointly for Land and Central Securities and London Regional Transport) provides for the partial reconstruction of Gloucester Road Station to allow better interchange between the District and Circle lines and the Piccadilly line, for shopping with flats above towards Courtfield Road and Ashburn Place, and for an office block in the triangle to the north-east of the station between Gloucester Road and Cromwell Road. (fn. 101)
North of Cromwell Road, the original buildings survive in all essentials. After the sale of freeholds here, all the houses between Southwell Gardens and Cromwell Road were gathered into a single holding by Edward Pinelas, who sold to Lamington Properties for £9.5 million in 1973. In 1977 this holding was bought by Regional Properties in the expectation of development, but permission for 18,210 square feet of offices on Cromwell Road was refused. A legal dispute ensued over compensation claimed because of permission previously agreed, and a settlement was reached in January 1982. (fn. 102)