Pages 184-195
Survey of London: Volume 42, Kensington Square To Earl's Court. Originally published by London County Council, London, 1986.
This free content was digitised by double rekeying and sponsored by English Heritage. All rights reserved.
CHAPTER XII - The Work of Ernest George and Peto in Harrington and Collingham Gardens
Harrington and Collingham Gardens hold a special place in the history of the London house. Here, amidst acres of humdrum middle-class housing, sprang up two small developments which represent the extreme point of late-Victorian architectural individualism. These twenty-nine dwellings, Nos. 20–26 (even) and 35–45 (odd) Harrington Gardens and Nos. 1–18a Collingham Gardens, were built between 1880 and 1888. They are all from the designs of Ernest George and Peto, a firm which elaborated a rich and novel domestic architecture by grafting motifs from the old urban dwellings of northern Europe upon the stock of the plainer Queen Anne style. No bolder or better-preserved examples of this short-lived style remain than these handsome and picturesque houses (Plates 75, 76, 77, 78, 79, 80, 81, 82, 83, 84, 85 figs. 75–81 and folded drawing opposite).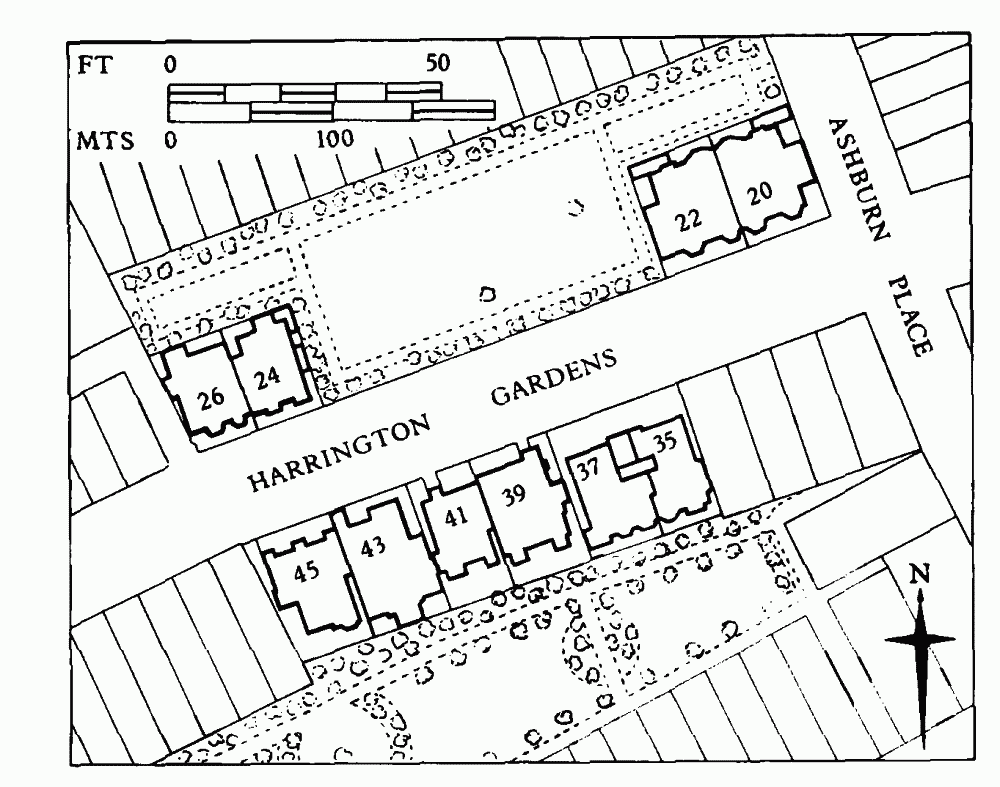 Like the Flemish and German street fronts which they imitate, the restless outline and varying materials of the houses hint that they were erected in casual but emulous sequence by individuals. In fact they belong firmly to the tradition of organized speculative development. In Harrington Gardens several houses were indeed built for special clients. But both schemes owe their success to welltried methods of collaboration between estate owner, builder and architect, and exhibit as many underlying qualities of uniformity as they do superficial signs of variety.
The story of these developments starts in Harrington Gardens on the Alexander estate. In 1874 the experienced builder John Spicer agreed with H. B. Alexander to develop a large take of land around Harrington Gardens (see page 179). This plan envisaged continuous development along the road's south side west of Ashburn Place. Opposite, on the north side, were to be just two pairs of houses, one at the corner with Ashburn Place and the other at the corner with Colbeck Mews. Between and behind these, on part of some land for which another building firm, Charles and William Aldin, had made a similar agreement, a communal garden was to serve tenants on both sides of the street, since the Gunter estate abutted close behind the intended houses on the south side and no garden there could be guaranteed. (fn. 1)
Neither Spicer nor the Aldins had made any progress with the section of their takes west of Ashburn Place by March 1880. H. B. Alexander gave them extensions of time, but in due course they must have sub-let their interests here. Later that year, new agreements were made for building the four houses planned on the north side (the future Nos. 20, 22, 24 and 26 Harrington Gardens) with Robert Palmer Harding of Queen's Gate and of Harding, Whinney and Company, accountants. (fn. 2)
Harding was doubtless acting in conjunction with the eventual builders of these and nearly all the other houses, Peto Brothers. This firm, whose operations were confined to the years 1872 to 1891, had several antecedents and connections germane to these developments. It was the building business of the sons of Sir Samuel Morton Peto, the great mid-Victorian public works contractor. Despite his failure in 1867, Peto seems to have retained much of his prosperity and his sons were comfortably brought up. Peto Brothers was started by two of them, William Herbert Peto and Morton Kelsall Peto. Both in due course retired from direction of the firm (M. K. Peto being replaced by Basil Edward Peto), but W. H. Peto continued his interest in Collingham Gardens and plainly had the biggest personal stake in the whole speculation.William Herbert Peto and another son, Samuel Arthur Peto (lessee of No. 24 Harrington Gardens), were both married to daughters of R. P. Harding. The lessee of No. 22 Harrington Gardens, Edward Vaughan Morgan of the Morgan Crucible Company, was also connected to the Peto family. (fn. 3)
Most vital of all for the character of the development was a fifth brother, Harold Ainsworth Peto (1854–1933). Having been trained in both building and architecture, Harold Peto in 1875 when aged only twenty-one became a partner with Ernest George, an architect with a growing reputation for advanced domestic design. The arrangement lasted until 1892, when Peto retired prematurely. It proved so successful and prolific that it put Ernest George and Peto among the foremost late-Victorian domestic architects. George, it is usually accepted, was the senior and more significant partner in matters of design; but Harold Peto is known to have been skilled in decoration and, later on at least, in landscaping. He also gave the firm many valuable social contacts as well as connections with the building world. As the link between Ernest George and Peto Brothers, Harold Peto is central to the development of Harrington and Collingham Gardens. He lived in houses of special elaboration in Collingham Gardens, No. 9 in 1885–9 and No. 7 in 1889–92.
The four houses agreed for by Harding in 1880 (Nos. 20–26) having been begun by Peto Brothers to designs by Ernest George and Peto, they in 1881 turned their attention to the south side of Harrington Gardens. Here they decided to build six large and ornate houses for individual clients. These (now Nos. 35–45) were to be contiguous but not arranged in a formal terrace. They were to have broad fronts, since the depth of plot to the boundary behind with the Gunter estate was small; this allowed special treatment for the façades. The first client was Walter R. Cassels, who in November 1881 agreed to build No. 35 as a speculation and the larger No. 37 for himself. These houses were erected, following tenders, by the builders Stephens and Bastow. Next in 1882–3 came No. 39 for the celebrated dramatist W. S. Gilbert, and No. 41 for Henry Coke, again both built by Stephens and Bastow; appropriately, No. 39 remains the most flamboyant and best-loved of the group. The last two houses, Nos. 43 and 45 (1882–4) were built by Peto Brothers for individual clients but as investments. They are therefore less ornate but have special plans and elevations.
In 1883 Ernest George and Peto with Peto Brothers built six stables on the north side of Colbeck Mews (Plate 96c), presumably meant for Nos. 35–45 Harrington Gardens. (fn. 4) Work also now began on the larger but more compact project of Collingham Gardens, a short distance to the west on the Gunter estate. It was put about that 'the architects having received many applicants for the purchase of the houses built in Harrington Gardens, which having been carried out for various clients were not for sale, suggested to Messrs. Peto Bros., the contractors, to take one of the few remaining open sites available as an investment, after the manner of those in Harrington Gardens. Some of the houses will consequently be for sale, others are built for private orders.' (fn. 5) The site appears to have come to them because of the death in January 1883 of John Spicer, who had evidently agreed with Robert Gunter to build here. (fn. 6) It was a simple rectangle bounded on the east by Collingham Road and imposed no special conditions upon the shape of the development. The houses were divided into equal groups facing east and west; the strip of ground between them was laid out as an ornamental garden and left open at the ends (Plate 79b, fig. 76).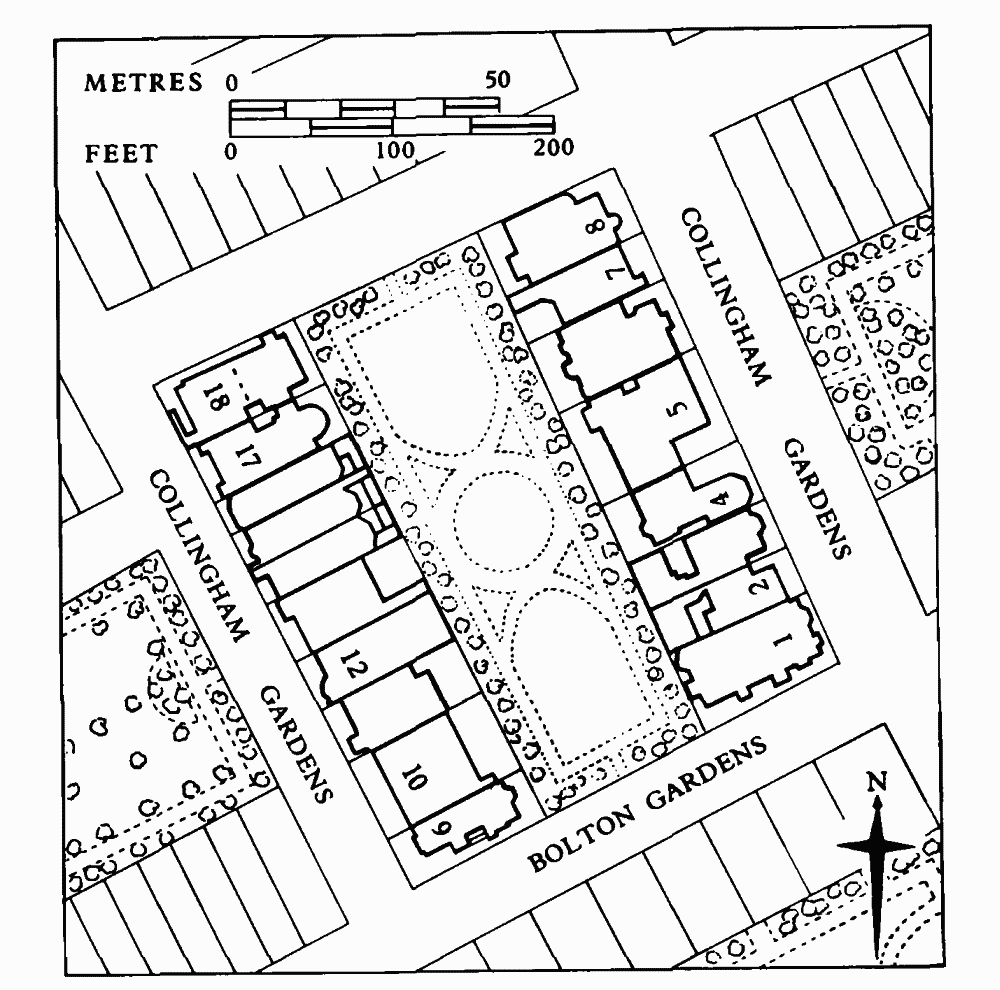 Building operations in Collingham Gardens ran smoothly from 1883 to 1888, and high-quality stabling was erected at the same time on the north side of Hesper Mews. (fn. 7) The two ranges were built from south to north, with the eastern sector slightly preceding the western one. A general design for both ranges probably existed from 1883 but was adapted as work proceeded.
In Harrington Gardens, where the speculative element was not great, Peto Brothers appear to have done well. On the north side, Nos. 20–22 cost about £18,000 the pair to build, and the smaller Nos. 24–26 about £11,000; (fn. 8) a little later, No. 43 opposite was available for £11,000, while No. 45 fetched 10,000 guineas. (fn. 9) By the end of 1884 all George and Peto's houses in Harrington Gardens were in occupation. Collingham Gardens by contrast, despite its equal aesthetic merits, appears not to have been such a happy experience. Peto Brothers enjoyed no quick success here in securing individual clients. Only five of their nineteen dwellings were leased directly, and several of these customers may have been investors rather than potential residents. The remainder were assigned to W. H. Peto, ten of them in August 1888. (fn. 10) All were under ninety-nine-year leases running from March 1883. Several houses remained empty for some years; No. 1 is an example, built in 1884, leased to Peto in 1885, offered on the market for £16,500 (a very high price), sub-let on long term in 1886 but apparently not permanently inhabited until 1890. (fn. 11) All this was a warning that in the later 1880s the market for the smart upper-class town-house was a waning one, especially in far-flung Kensington. Flats were the coming thing, and nothing like Collingham Gardens would ever be seen again. Peto Brothers never went in for another speculation of this kind, and it is perhaps not a coincidence that the firm gave up building altogether in 1891.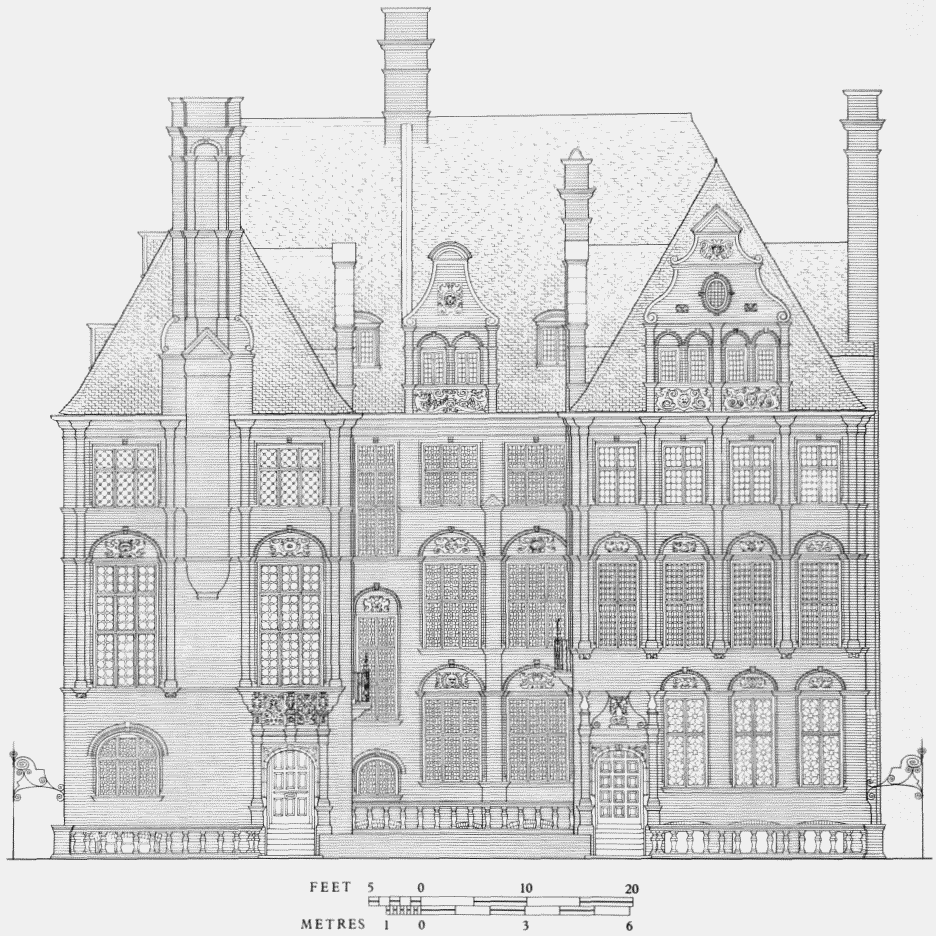 The style and architectural co-ordination of the two developments, at first sight a jumble of vernacular motifs from every country in northern Europe, fall on examination into a narrow range of effects. All display the usual accoutrements of the Victorian Domestic Revival in architecture, having red-brick or terracotta facings, big bays, chimneys and gables, wood-framed casements (sometimes in pairs without central fixed mullions), leaded lights and high tiled roofs. The earliest houses, Nos, 20–26, Harrington Gardens, adhere to the relative reticence of the indigenous Queen Anne style. This is thrown to the winds in Nos. 35–45, where the stamp of the great mercantile town mansions of Amsterdan, Bruges, Ghent, Haarlem, Lubeck and many another picturesque European port is plain to behold. Both Ernest George and Harold Peto had seen and sketched many such houses, but in no case was an exact precedent imitated. The central houses (Nos. 39, 41 and 43) have dominating gables covering most of each frontage, stepped, curved and straight respectively. At one end Nos. 35 and 37 are composed as one, stand back a little behind a forecourt and have projecting wings; at the other extremity No. 45 is treated in a chaster Jacobethan manner and has its roof-ridge parallel to the street (Plate 76a, 76b).
Clever though the treatment was, it did not meet with universal aproval. When George exhibited a drawing for Harrington Gardens at the Royal Academy in 1883 (Plate 76b), The Builder grumbled: 'Old streets do occasionally assume this kind of appearance of pieces of buildings in ever so many different manners all muddled together and they have a picturesque suggestiveness then, but to go about to make this kind of thing deliberately is child's play.' (fn. 12)
The gamut of styles is not much extended in Collingham Gardens, though some houses there (Nos. 7, 12 and 12a) are fronted entirely in terracotta. Two (Nos. 4 and 5) follow the lead of Nos. 35 and 37 Harrington Gardens in being grouped around a shallow court; others (Nos. 1, 9 and 17) explore the Costwold vernacular of Nos. 45 Harrington Gardens: more (Nos. 2, 3, 6, 7, 8, 12 and 12A) display some form of the tall elaborated gable so spectacularly used at Nos. 39–43 Harrington Gardens. There is particular sign of new thinking in the elevations of some later houses along the western range, Nos. 14, 15, 16, 18 and 18a.
A pleasing aspect in both developments is the architectural treatment of the backs. These are unencumbered with outbuildings, usually quite symmetrical and simple, and most frequently drawn together under a tall central gable. Tile-hanging, slate-hanging or the contrast between red facing bricks and London stocks performs the function supplied by ornament on the fronts.
The interiors generally eschew the orthodoxy of the ordinary upper-class house plan of the time without straying far from a clever set of formulae. In Harrington Gardens (fig. 79), Nos. 20–26 were each equipped with a drawing-room (with two bays), a library and a dining-room on the ground floor. The smaller pair had billiard-roods in the basement, the larger ones in the attic, and No. 24 had an inglenook to the dining-room. (fn. 8) In all the houses the stairs are of oak and there is much dark panelling contrasting with stone chimneypieces, white ornamental 'strapwork' celings and stamped leather or otherwise 'aesthetic' wall coverings. In style the decoration borrows from almost every school and epoch of the early northern Renaissance; it is most lavish on the highly carved friezes and arches of fireplaces. Often there are small panels of Holbeinesque painted glass and the porches have mosaic floors. The most richly finished houses here are Nos. 35–45, egregiously W. S. Gilbert's No. 39. Some houses (Nos. 35 and 37) have drawing-rooms on the first floor, but in general the broad-gabled style of house made upper rooms poky and brought the best bedrooms down to this level.
Collingham Gardens offers a slightly wider variety of plans (figs. 80–1). Some houses, like No, I with its thirtyfour-foot hall, are as generous as those of Harrington Gardens but others are smaller. Harold Peto's own first house, No. 9, dispenses with back stairs and has only two reception rooms, while some of the later houses, for instance No. 14, seem simpler and perhaps never enjoyed a high degree of internal finishing. Many plans here have been altered and the interiours converted into flats.
Several of the clients and first residents of both sets of houses were already living in South Kensington, often in houses no more than twenty years old. But it would be idle to assume that their alacrity to move was due to any special affection for the style of the development or dislike of stucco Italianate houses. No obviously aesthetic taste can be detected in any of the early tenants, with the possible exceptions of W. S. Gilbert and W. R. Cassels.
The publicity accorded to these houses in the architectural journals of the time includes some few details about the craftsmen who collaborated with Peto Brothers on those houses and about the materials used. At No. 39 Harrington Gardens, Lavers and Westlake supplied the stained glass, J. Starkie Gardner the ornamental brass panels fronting the radiators, and Howard and Sons carried out some decorations; (fn. 13) at No. 9 Collingham Gardens the 'art metalwork' was by Ellis and Rice, (fn. 14) while Jeffrey and Company supplied fashionable wallpapers at No. 39 Harrington Gardens and Nos. 1 and 4 Collingham Gardens. (fn. 15) As for materials, red Suffolk facings were specified in Harrington Gardens, but the cheaper Acton bricks were used in Collingham Gardens. Here, in contrast to Harrington Gardens, there is a liberal sprinkling of terracotta supplied by Doultons, with whom the Petos enjoyed a business link in the mid 1880s. (fn. 16) Most of the houses were coursed in standard brickwork but a few special ones are built with two-inch bricks.
Harrington Gardens
No. 20 (formerly No. 49) and No. 22 (formerly No. 48). This pair of houses at the corner of Ashburn Place (Plate 75b) occupies the eastern of the two plots north of the roadway agreed for by John Spicer in 1874. A new agreement for the site was made by H. B. Alexander with (Sir) Robert Palmer Harding in August 1880, and building took place in 1881–2 with Peto Brothers as builders. The leases were granted to the first residents, at No. 20 Harding himself, previously of No. 88 Queen's Gate, and at No. 22 Edward Vaughan Morgan of No. 1 Onslow Square. Together the houses cost about £18,000. Besides the usual dining-room, library and drawing-room on the ground floor, billiard-rooms were supplied at the tops of the houses. (fn. 17) The fronts are of red brick with only a few stone dressings; the style is Queen Anne not especially elaborated, with shaped gables (one now altered). The entrances are from projecting porches at the ends. The original row of four two-storey bay windows towards Harrington Gardens has been defaced by the curtailing of the central bays to a single storey. The houses underwent conversion into flats in 1978–9.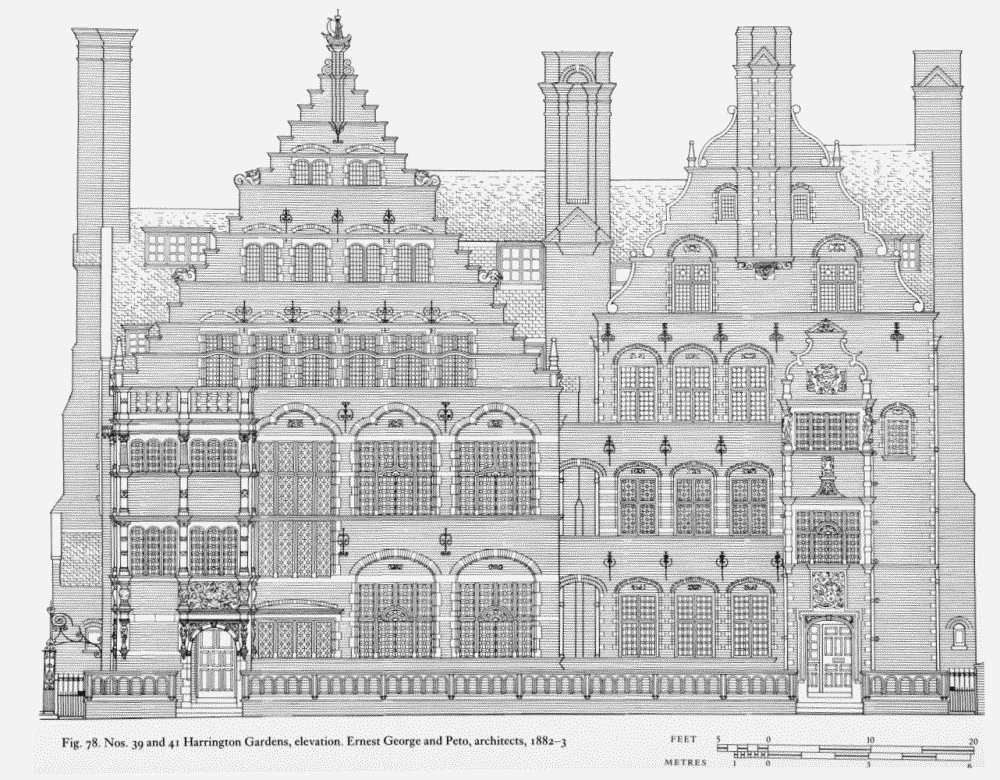 No. 24 (formerly No. 47) and No. 26 (formerly No. 46). These houses at the corner of Colbeck Mews were agreed for with Robert Palmer Harding in November 1880 and built by Peto Brothers in 1881–2 (Plate 75a). The original lessees and occupants were Samuel Arthur Peto at No. 24 and Arthur Ryle Harding at No. 26, respectively son-in-las and son of R. P. Harding. This was the smaller pair of houses and cost some £11,000. Billiard-rooms were planned in the basements instead of the attics, the porches were internal and the fronts were less articulated. Otherwise the arrangements (fig. 79) and style corresponded to those at Nos. 20 and 22. (fn. 18) An early photograph of the drawing-room at No. 24 shows the florid detailing and aesthetic wallpaper typical of the development (Plate 82a). The houses were converted to flats in 1978–9.
No. 35 (formerly No. 17) and No. 37 (formerly No. 18). These were the first houses built on the south side of Harrington Gardens to designs by Ernest George and Peto. They followed an agreement of November 1881 made by H. B. Alexander with Walter Richard Cassels of Queen's Gate, a literary gentleman and sceptical theologian whose independent means derived from the East India trade. Both houses proceeded immediately, were finished in about 1883 and leased to Cassels in June 1884. (fn. 19) They were built after competitive tender (from which Peto Brothers were excluded) by Stephens and Bastow of Bristol; their estimate came to £12,768, but the contract was later put at £13,272. (fn. 20) Cassels himself elected to live in the larger No. 37 and let No. 35 to Archibald David Robertson, a friend from the Bombay civil service and previously his neighbour in Queen's Gate. Cassels moved to No. 43 Harrington Gardens nearby in 1892.
Conceived as a single composition on a seventeenth-century Dutch of German model, the houses stand back from the road behind handsome iron railings and a paved forecourt, destined originally to hold myrtles and other plants in tubs (Plate 76a, fig. 79). Two bulky and asymmetrical wings project from a central core with a high hipped roof. Tiers of tall leaded casements dominate the front. The wing of No. 35 incorporates a vigorously modelled chimneybreast, whereas that of No. 37 depends upon windows alone. The backs are plain but elegant, with the chimneys and hipped roof prominent. The facing materials are red Suffolk bricks with a few terracotta panels on the front.
The interior of No. 35 contains well-preserved and typical features, such as turned wooden balusters and arches to the stairs, much panelling and ornamental fireplaces. The drawing-room overlooks the street from the first floor. Cassels' house, No. 37, is more elaborate. The oak staircase has carved wooden panels instead of balusters and incorporates beasts on the newel posts and at the foot. There are also painted glass panels and repouse reliefs in front of the radiators, both like those supplied at No. 39. The long drawing-room (here on the ground floor at the back) has a rich hooded stone fireplace at one end and lively strapwork ornament to the ceiling. The original colours were grey-green for the panelling and a green and gold paper above. The dining-room also survives in good condition on this floor, but Cassels' handsome library on the first floor (Plate 82b) has been partitioned. In the outer porch, a sgraffito panel depicts scenes of life in Merry England.
No. 39 (formerly No. 19). Special interest attaches to this house, built for the dramatist William Schwenk Gilbert. Since 1876 Gilbert and his wife had been living at No. 24 The Boltons. By tradition it was the money he made from the Gilbert and Sullivan operatta Patience (Produced in 1881–2) that induced him to build here. By March 1882 he and Henry Coke, the client for No. 41, were negotiating for sites with H. B. Alexander and John Spicer, the original taker of the ground. Harold Peto, whom Gilbert addresses without prefix in a letter of that date, was the probable intermediary. (fn. 21) Stephens and Bastow, contractors for Nos. 35 and 37, began building in May 1882 (fn. 22) Gilbert warned them he would move in in October 1883 'in whatever condition the premises may be' and reckon demurrage from that date. This he seems to have done, for in November Sir Theodore and Lady Martin and J. A. Froude 'seeing only open doors and workmen' and thinking this the prettiest of the new houses ventured to look in and were startled to find Gilbert in occupation. (fn. 23)
The façade partakes of a hearty flamboyance unexampled in previous town houses but perfectly suited to its owner (Plates 76b, 77a, 77b, fig. 78). A great stepped gable in nineteen stages surmounted by a ship controls the broad front, the latter interrupted by the staircase window and porch. The ship alluded to Gilbert's supposed descent from Sir Humphrey Gilbert, the Elizabethan seafarer, not to H.M.S. Pinafore, as at least one innocent supposed (Gilbert: 'Sir, I do not put my trademark on my house'). (fn. 24) The materials are red brick with stone dressings and there is leadwork to all the windows. Massive chimneybreasts occupy the sides, that to the west being engaged with the structure of No. 41. The back is symmetrical, with double-story tile-hung bays beneath and enveloping gable and a sundial in the centre (Plate 78).
Inside, the oak-panelled hall includes a floor-to-ceiling chimneypiece in carved stone fronting a blue-tiled inglenook in which Gilbert hung his hams (Plate 84b) Here also are panels of Holbeinesque painted glass supplied by Lavers and Westlake, but the stamped leather paper by Jeffrey and Company has gone. The oak stairs have steps made of single blocks and S-shaped balusters. The doors to the ground-floor rooms display suitable whimsical mottoes. (fn. n1) The dining-room, originally decorated by Howard and Sons, has a wooden overmantel and a ceiling with small gilt-edged panels between beams which rest on merrily carved corbels. The drawing-room at the back (Plate 84a) has a strapwork ceiling and hooded alabaster chimneypiece at the end as in No. 35, but here the fireplace is more richly sculpted 'after the manner of the sixteenth century' and the panelling is lower and of rosewood. Starkie Gardner's brass repousse panels serve as radiator grilles. Upstairs, the boudoir was at half-landing level. On the first floor were a billiard-room (again once decorated by Howard and Sons) and Gilbert's oak-panelled study or library. The study retains its corner fireplace, high pabelling and leather paper (originally coloured red and gold). Higher up were plentiful guest rooms, but Beatrix Potter's gossip of December 1883 that the house contained 'twenty-six bedrooms with a bath-room to each (fancy twenty-six burst water pipes)' was wholly fantastic. (fn. 25)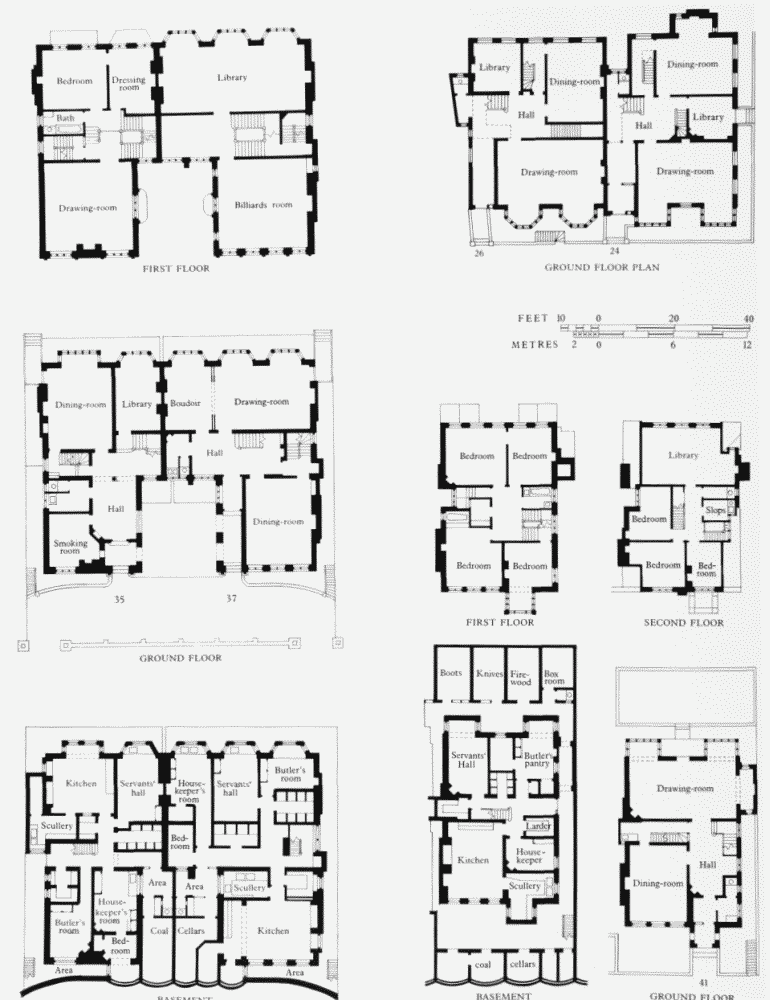 From the first, Gilbert installed electric lighting. In July 1883 he sought an estimate from R. E. Crompton and Company for installing Swan lamps. Seventy-seven were supplied, fifty-three for flexible pendants and twenty-four for brackets, with twenty-three extra because early filaments frequently broke. Power came from an eight-horsepower Crossley gas engine mediated through a Crompton-Burgin dynamo. Crompton's estimate came to just over £600. (fn. 26)
In 1890 Gilbert removed to Grim's Dyke, Harrow Weald (where Ernest George and Peto made alterations for him) and sold this house. It has been well cared for since.
No.41 (formerly No. 20). This house was built by Stephens and Bastow in 1882–3 along with No. 39, to which it is superficially joined and with which it shares stylistic elements. It is smaller than its neighbour, having a frontage of only thirty-nine feet. It cost about £6,000 to build. The client was the Hon. Henry John Coke (son of the first Earl of Leicester) who negotiated for this site in tandem with W. S. Gilbert at No. 39. (fn. 27) 'When Mr. Gilbert built his house in Harrington Gardens he easily persuaded us to build next door to him,' recollected Coke in his autobiography. He received his lease in July 1884. (fn. 28)
The front of Coke's house (Plates 76b, 77b, fig. 78) coheres well with Gilbert's despite the different levels. The brickwork, blocked stone dressings, decorative tie-bars, leaded lights, triple-storey porch and arched stone balustrade to the area are similar, but the gable is shaped not stepped, and is broken into by a chimney. The back elevation is like that of No. 39. The interior (fig. 79) conforms to the style of George and Peto's other houses here. The most attractive room is at the back on the ground floor, where the arch to the carved stone inglenook displays dancing putti in a frieze (Plate 83a).
No. 43 (formerly No. 21). An agreement for this site was entered into in May 1882 by Robert Owen White of No. 180 Cromwell Road and Gestingthorpe Hall, Essex, and Peto Brothers built the house in 1882–3, probably as a speculation on White's behalf. Ernest George and Peto told a prospective purchaser in April 1883 that it was available for £11,000. The first occupant, William Waring of Taverham Hall, Norfolk, obtained the head lease in April 1884. (fn. 29) Walter Cassels, previously resident at No. 37 Harrington Gardens, moved here in 1892.
At forty-eight feet, the breadth of No. 43 is almost as great as that of No. 39 and its front is spanned by a similarly wide gable, but in other respects it is simpler (Plates 76b, 77c). It depends for decoration on moulded brickwork in the North German manner rather than on stone dressings, and its casements have wooden bars rather than leaded lights. At the back there is a substantial central projection beneath a tile-hung gable. The interior, through perhaps less highly finished than others in the group, had an ample staircase, a panelled inglenook in the hall and an end-to-end drawing-room of characteristic elaboration at the back (Plate 83b). The house is now in flats.
No. 45 (formerly No. 22). This large house, the last of those designed by Ernest George and Peto here, breaks from the pattern of its eastern neighbours by adopting a more English or Jacobethan style and by having a high roofline parallel to the street. Along its front, which is of the usual brick with stone dressings, three square bays alternate with two small gabled recessions (Plates 76b, 77d).
Agreement for the site was made in May 1882 with William George Logan, a banker intimately connected with speculative building in South Kensington. The house was not apparently erected by Peto Brothers until 1882–4. (fn. 30) At one stage Harold Peto may have intended to live here, but in the event it was sold in January 1884 to Henry Pochin for 10,000 guineas and first occupied later that year by his daughter and son-in-law Charles Benjamin Bright McLaren, M.P., later first Lord Aberconway, who lived here until 1900. (fn. 31) Harold Peto was subsequently connected with other projects of the McLaren family. The house was handsomely planned, with a dining-room towards the front and a high-panelled, roomy drawing-room complete with deep inglenook and oriel over at the back. It has been converted into flats.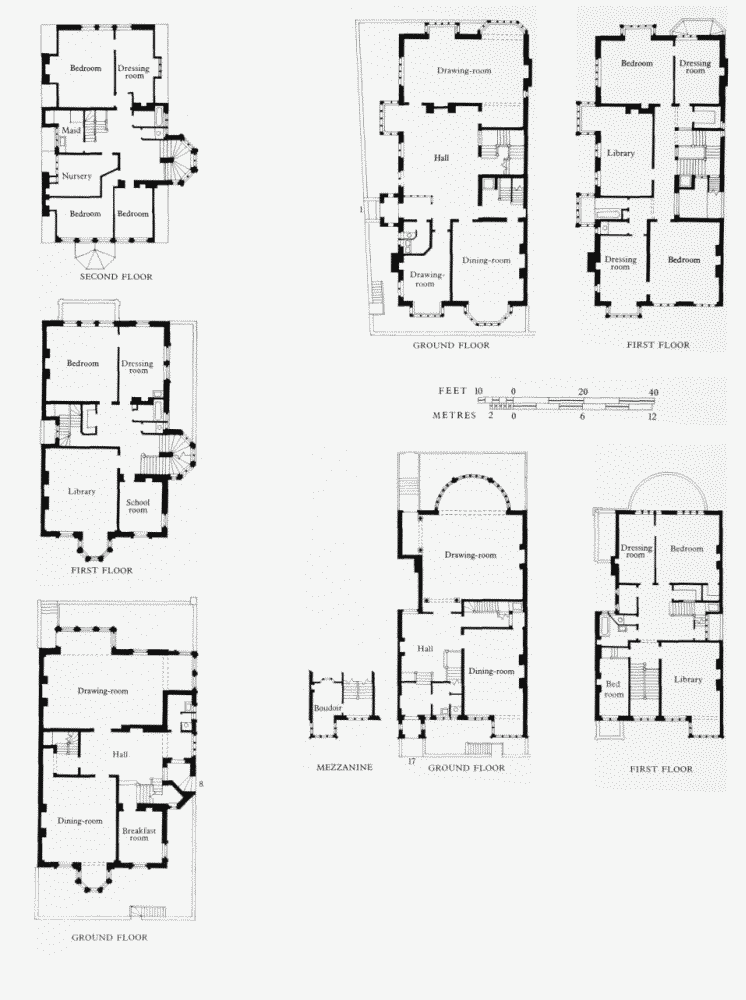 Collingham Gardens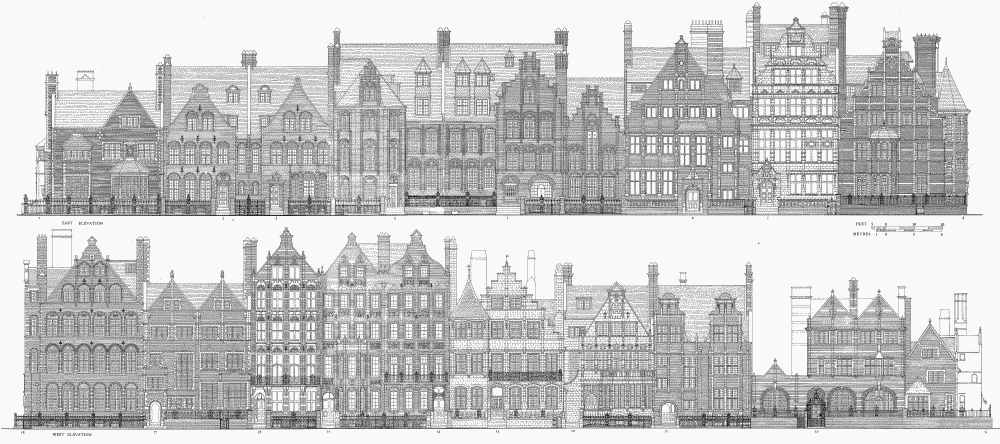 No. 1 is a large house of 1884, 'English in its composition and detail', (fn. 5) at the corner of Bolton Gardens and Collingham Gardens. The British Architect reported in 1886 that it was 'styled the House of the Seven Gables'. (fn. 32) It is built of thin bricks with buff terracotta dressings and has small straight gables and bay windows (Plate 80c). Within, there is a generous oak-panelled hall thirty-four feet long with a stone chimney, and a pleasant staircase with painted glass in the skylight. The main reception rooms were planned on the ground floor, but on the level above George and Peto provided a room which could be used either as a library or a bedroom, according to taste (fig. 80). The house boasted drainage, plumbing and ventilation up to the smartest contemporary standards, including 'shampooing apparatus' in the bathroom and lavatory. A long lease was to be had for £16,500, or it could be rented for £1,000 per annum. (fn. 32) Despite its attractions, it does not seem to have found an early occupant. The lease was granted to W. H. Peto in 1885 and the house may not have been lived in until about 1890, when Edwin Tate of the well-known sugar firm took up residence. (fn. 33)
Nos. 2 and 3 were built together as an informal pair, both having shaped gables, chequerwork stone dressings, casements with wooden sash-bars, and decorative iron ties (Plate 79c). They were erected in 1883–4; No. 3, probably the first house in Collingham Gardens to be occupied, was leased to its first resident, Alexander MacGregor, in March 1884, while No. 2 was taken from W. H. Peto by William H. Chesebrough, an American manufacturer of vaseline preparations, in 1885. (fn. 34) Originally the front gables of the houses differed substantially, but at an early date No. 3 was raised to allow more bedrooms and its gable given much the same shape as that on No. 2.
Nos. 4 and 5 form another pair of houses, this time arranged much like Nos. 35 and 37 Harrington Gardens, with asymmetrical projecting wings and a centre set back behind a court paved in mosaic (Plates 79b, 79c, 80c). The architectural treatment is Flemish, with moulded brick pilasters, panels over the windows and stepped gables; there are arresting stacked dormers in the roof. The houses were advanced enough in November 1884 for The Architect to notice an unusual plan at No. 4, where a low antehall and library came beneath an apsidally ended drawingroom, and the dining- and moring-rooms occupied an intermediate level at the back. (fn. 5) Later, another journal admired in one of the reception rooms 'the blue and silver talc wall paper … one of Jeffrey's most recent patterns, designed by J. D. Sedding', as well as the drawing-room's 'enamelled white woodwork, and terra-cotta and white paper above it'. As at No. 1, there was very good plumbing and a 'lavatory with shampooing apparatus'. The price of a long lease here was £8,000, or it could be rented for £600 a year. (fn. 32) Leased in 1886, the house was first lived in by the Misses Thornton and Miss Tilling. (fn. 35) The plan and some internal features survive.
No. 5 is much the larger house, partly because of an extra low wing (which has now lost its stepped gable) to the north. Here too the plan and some features survive, showing that the levels were split, with the drawing-room this time at the back on the half-landing. The wooden residence by March 1886, was the fourth Earl of Wilton, who fitted one of the rooms up as an organ-saloon replete with model organ and patent hydraulic engines. The house and its fittings were reputed to have cost him upwards of £25,000. (fn. 36)
No. 6 is the first of three houses at the northern end of this range which display tall Dutch gables and terracotta dressings, the ornament being concentrated in pilaster strips between the windows (Plate 79a, 79b). Though started in 1885, the house was not leased till 1888 and no occupant is known prior to Robert Hannay, who arrived in about 1889. (fn. 37)
No. 7, though now in flats, has an interest as the second house to be occupied in the development by Harold Peto. Begun in 1885, it was leased to W. H. Peto in 1888 and in the following year his brother Harold moved in from No. 9. He stayed only until 1892, the year of his retirement to the country. (fn. 38) The front, the only one on this side of Collingham Gardens to be faced entirely in terracotta, is flat except for a single-storey porch (Plate 79a). During Peto's time the interior was remarkable for its rich and dark-panelled rooms furnished with bric à brac and other objets d'art that betrayed their owner's predilection for the Northern Renaissance. The 'sitting room', a storey and a half in height, was especially luxurious, having old stained glass in the windows, a little music gallery and antique tapestries above the panelling (Plate 85).
No. 8, occuping a corner site, has a tall shaped gable to the east. Its longer front faces north and features an angular capped projection enclosing the stairs, with the entrance at its base (Plates 79a, 80c). An eccentricity is the small square balcony perched on the ridge of the roof overlooking the gardens (Plate 79b). This was an 'observatory' for the diversion of the client, Captain George Ernest Augustus Ross, F.R.G.S., F.G.S (fn. 39) The house was designed by 1884 but not started until 1885 and apparently not lived in by Ross until 1887. The interior (fig. 80) displays the motifs typical of Collingham Gardens, the bulbous oak balusters to the stairs having the most originality.
No. 9 (at first No. 10) occupies the south-west corner of the block. As Harold Peto's original house, it is naturally one of the more individual buildings in the development. Built in 1883–4, it is smaller and more reticent than its neighbours and adopts the Jacobethan style. (fn. 40) The materials are pink bricks with stone dressing and there were once green slates on the roof ' in the manner of old Susses houses' (Plate 80a, 80c). (fn. 5)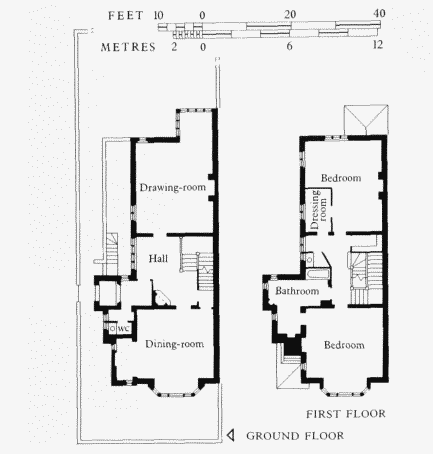 While amply fulfilling a bachelor's requirements, the plan (fig. 81) was not extravagant, having no back stairs and only two reception rooms. But the fittings and finishings were suitably aesthetic. There were 'good old bits' of German glass in the windows and antique tiles in the hearths. The dining-room had a stone-arched inglenook, a beamed ceiling, and walls covered with sixteenth-century gilt leather. The hall had a hooded stone fireplace, the drawing-room (Plate 84c) an ornate plaster ceiling and sandstone chimneypiece, and the stairs some vigorous Jacobethan detailing. The handsome ironwork details were made by the firm of Ellis and Rice. All the built-in features of these rooms survive. (fn. 41) Having lived here from about 1884 to 1889 Harold Peto moved to No. 7 Collingham Gardens and was succeeded by Mrs. Duncombe Shafto, widow of the first resident of No. 10. (fn. 42) A two-storey projection built out at the corner and the enlargement (in 1894) of the original hippen bay window to the drawing-room have not enhanced the appearance of the house. (fn. 43)
No. 10, now in flats, was built in 1884–5 and first occupied by Robert Duncombe Shafto. (fn. 44) Its style is distinguished by the use of round-arched windows on the ground floor and bands of stonework across the façade (Plate 80a, 80c). The single-storey wing to the north of the entrance, through part of the house as built, is not shown on Ernest George's perspective of this group and was probably not at first intended. The upper parts of the garden front are tile-hung.
No. 11 was not started till 1886 nor apparently lived in until about 1889, when Frederick Fleischmann became the first resident. (fn. 45) Its front is bold and original, displaying tiers of terracotta-dressed mullioned windows terminating in two high gables, the southern one projecting to allow bays to the rooms on all floors (Plate 81b). The house has been converted into flats.
No. 12 was built along with No, 11 from 1886, and first inhabited in 1888 by Abraham Joshua. (fn. 46) Surrounted by a straight gable, its front is faced in terracotta and has a prominent bay window on the ground floor lighting the dining-room (Plate 81b). The rear elevation has a similar bay for the drawing-room. Such of the interiors as survive are typical of these houses.
No. 12A (originally No. 13) had been sketched out by 1885, when Ernest George showed a drawing for it at the Royal Academy. The client was William Kemp-Welch of The Red House, Campden Hill, where Peto Brothers were then already working. (fn. 47) The original design, probably intended for the site of No. 12, resembles what was built in having a stepped gable covering the whole front and a capped projection at the north end but shows extravagant balconies and arches instead of the simple corbelled first-floor terrace actually erected (Plate 80b). As built in 1887–8, the front was of terracotta and the back of brick, where there is tile-hanging beneath a straight gable (Plate 81a). Kemp-Welch was granted the lease in 1888 but continued to live in Campden Hill and the directories record no occupant prior to 1806, when John Francis Ogilvy was in residence. The interior is now in flats.
Nos. 14, 15 and 16 were all built together in 1886–7. Since each of these houses has a restricted frontage they rise higher than their neighbours and resemble the Queen Anne houses of the Cadogan Square district. Their plans too are (or at No. 16 were) relatively conventional but the fronts boldly imitate the late-seventeenth-century North German street-style as practised in towns like Lubeck and Danzing (Plate 81c, 81d). Nos. 14 and 15 form a pair, having cut-brick details and panels and wooden sashes. No. 16 is more original: its front (now cut down at the top of the gable) consists of a broad bay recessed at the sides and has terracotta mullions and plate-glass windows. The houses were all leased to W. H. Peto in August 1888 and first occupied by Mrs. Nelson (No. 14), Leopold Hirsch (No. 15) and Eugene Pinto (No. 16). (fn. 48)
No. 17, a broader houses than its immediate neighbours, has a front somewhat in the English style of Nos. 1, 9 and 10 Collingham Gardens. The materials are red brick with stone dressings and plain leaded lights to the windows. It was built in 1887–8 and assigned to W. H. Peto who in 1890 granted a sub-lease of seven years to one William in 1890 granted a sub-lease of seven years to one William Heilgers; he in turn probably let it to the first occupant, the banker and collector Frederick George Hilton Price, who moved in about 1891 (Plate 81c). (fn. 49) Not long afterwards the bay window at the southern end was raised by one storey. The interior (fig. 80) has been altered but retains a typical staircase, some panelling and some fireplaces.
No. 18 (formerly Nos. 18 and 18a) was at first (as its appearance suggests) two houses. They were the last undertaken here by Peto Brothers, started in about August 1887 and leased to W. H. Peto a year later. The corner house, No. 18, was occupied by Edward Arthur Barry in 1891, No. 18a by William Lawrence Smith in 1890. (fn. 50) The site allows three fronts, each symmetrical. In character they are Dutch and late-seventeenth-century, with the vertical outlines accented by strong stone quoins which alternate with the brickwork at every angle (Plate 81c).