Pages 225-238
Survey of London: Volume 42, Kensington Square To Earl's Court. Originally published by London County Council, London, 1986.
This free content was digitised by double rekeying and sponsored by English Heritage. All rights reserved.
CHAPTER XV - The Abingdon Villas and Scarsdale Villas Area
The area shown on fig. 100 was built up between 1850 and 1864. It is less clear than usual where the chief impulse for development came from; nor is it apparent which of the two or three architects and surveyors whose names occur in the records had control of the architecture. The building operation fell into two phases, the first dying away in 1856 and the second resuming the work in 1861, but a common element was the participation of members of a local family called Nokes that had farming connections at Upminster in Essex: this participation was mainly in the person of the youngish George Nokes. The speculation may have been essentially theirs: they were, however, backed from the beginning by the London and County Bank, and this institution took a more positive role than was usual for mortgagees. The Bank was initially advised by surveyors belonging to the enterprising Rhodes family of Islington who were conceivably responsible for bringing the first building undertaker onto the scene. The Bank sold its interest in 1858 to other mortgagees, who, in association with George Nokes and other members of his family, completed the development.
The building leases under which the estate was initially laid out are silent on the role of George Nokes and the London and County Bank. The Bank was large and successful, and survived to become part of what is now the National Westminster Bank, but until 1856 its chairman was John Sadleir, characterized by the Dictionary of National Biography as 'Irish politician and swindler'. For these and other reasons it is difficult to be certain that the documents reveal the full story.
Early Use of the Land
Since at least the sixteenth century this area, reckoned as seventeen but in fact nearer eighteen and a quarter acres, had been known as Wattsfield. Until 1850 it was in wholly agrarian use and until 1810 was copyhold of the manor of Earl's Court. In 1593 it was owned by Robert Fenn and remained in that family until Sir Robert Fenn sold it, with its advantage of a westward abutment on Earl's Court Lane, to William Arnold in 1652. (fn. 1) The Arnolds kept it until 1673, when it was bought by John Greene, and it remained with representatives of the Greene family until at least 1755. (fn. 2) Rocque's mid-century map shows Barrows Walk bounding its eastern side, on the present line of Marloes Road. By 1810 the owner was Samuel Hutchins, who in that year bought the enfranchisement from Lord Kensington for £1,125. (fn. 3) It was at that time divided into four closes, as is shown on Starling's map of 1822, where the western half appears as one orchard and the eastern half as three closes, seemingly of pasture. As well as Earl's Court Lane and the former Barrow's Walk to west and east, Starling shows on the south side of Wattsfield the eastern half of what is now Stratford Road as a cart-track to the south-east corner of the orchard. In 1843 all four parts were described as 'market garden', (fn. 4) and are so shown on Daw's map of 1846. But after Samuel Hutchins's death in 1844 his widow had had the hedges grubbed up and all thrown into one in the year of Daw's map. (fn. 5) Whether or not the change hints at thoughts of a building enterprise (although 1846 was not to be propitious for that in London), a tenancy was given to the Atwood family of market gardeners (fn. 6) and it was four years later, with building activity in London on the increase, that the land was turned over to bricks and mortar when the Hutchinses sold out to speculative developers.
The Purchase of the Estate for Development
Some time shortly before August 1850 a William Nokes negotiated to buy Wattsfield from Samuel Hutchins's widow Sarah and her trustee. (fn. 7) Who and what he was is not known except that he was aged about 58, Essex-born and (it would seem) closely related to the Nokes family that was prominent as farmers, millers and Congregationalists at Upminster, where his sons James Wright Nokes and George Nokes had been born. (fn. 8) He was already a debtor, probably for some £2,709, of the London and County Bank, to whom he proposed the loan to him of the purchase price by rather puzzling means that purported at once to secure the loan and liquidate his existing indebtedness. The Bank obtained two surveyors' reports on the land, and agreed to advance £11,000. (fn. 9) It was lent, however, not to William Nokes but to his son George, aged about twenty-five, with whom the agreement with the Hutchinses was evidently concluded. (fn. 10) George Nokes's elder brother James Wright Nokes, who came to share the family's interest in the property, was a timber merchant, and by 1856 George Nokes also had a timber merchant's business in St. Pancras: in legal instruments he called himself builder, brickmaker or gentleman. From 1853 to 1859 he seems to have lived at Abingdon House, just off this estate, with his father and brother. (fn. 11)
The sale, on 18 October 1850, was made, however, neither to George Nokes nor to the Bank, but to one of the Bank's Directors and Trustees, James Rhodes of Clapton Square, Hackney, who thereafter, so far as the deeds show, disposed of the estate in his own name. The price was £10,500, or some £583 per acre. (fn. 12)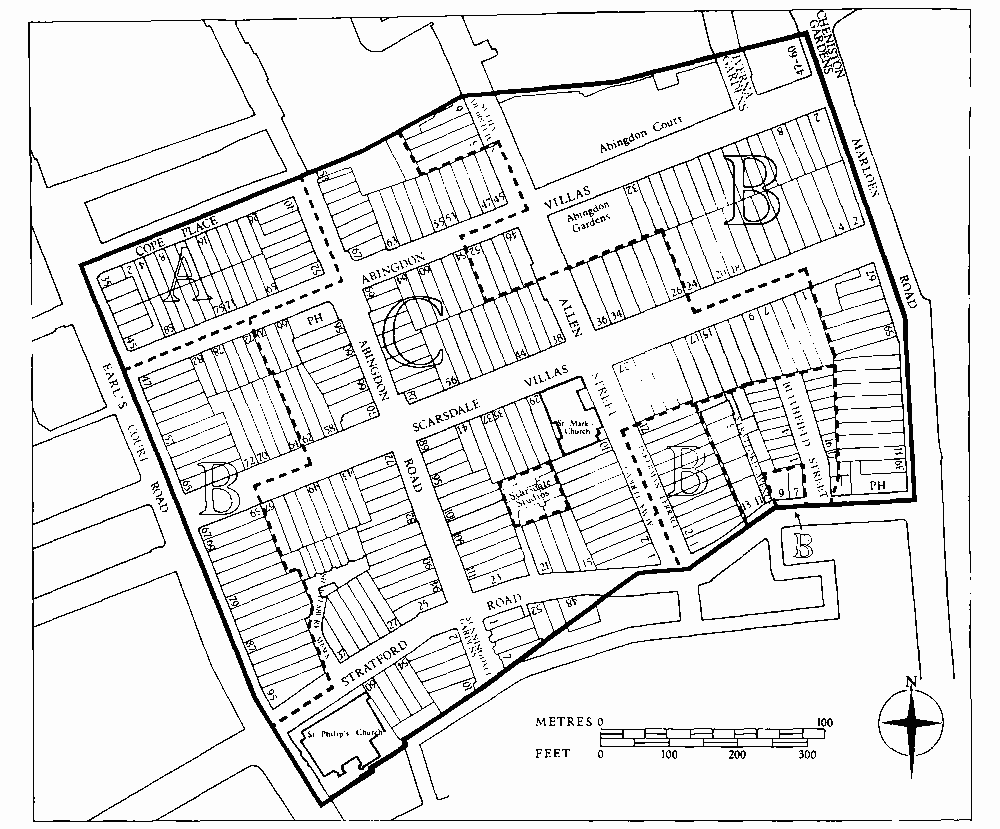 By a deed of the same date Rhodes was declared to hold the land only as mortgagee from George Nokes, subject to redemption by 18 April 1851 and thereafter with power to grant the land on 5-year agricultural or 99-year building leases. His receipts over and above the reimbursement of his loan were to be for the benefit of George Nokes but with allowance for all building expenses, which were to be debited to Nokes. (fn. 13) Also on the same day George Nokes and James Wright Nokes charged the estate as security for sums of £4,311 and £2,212 owing to George Nokes's solicitor, F. W. Dollman, (fn. 14) who had had dealings with J. W. Nokes eight years before. (fn. 15) Dollman thus acquired a continuing interest in the area.
One of the reports made to the Bank on the value of the land was by the architect C. O. Parnell, the other by a namesake (but not, it seems, a close relation) of the Director to whom the report was addressed, a James Rhodes of Islington. The latter can doubtless be identified with James Rhodes of Islington, builder and brickmaker and member of a family active in profitable land-ownership there. (fn. 16) Of the land in question Parnell observed that 'by a glance at the map it will be immediately seen that so important a portion of the Parish of Kensington must be of great value'. He thought the Union Workhouse recently built on the other side of Marloes Road would add to rather than detract from the value of the land. He agreed with James Rhodes of Islington that the land was worth at least £600 per annum, while Rhodes, doubtless because of his trade, was able to perceive great additional value in the brick-earth he detected on the site. (fn. 17)
It was not only the land the surveyors had to consider, however, but a specific development plan which came not from the Nokeses but from a 'Mr. Flower'. Who he was is uncertain. Possibly he was Henry Flower of St. George-in-the East, architect and district surveyor. Possibly he was the Arthur Flower who had an estate agent's business in New Bridge Street: if so, it may be noted that he probably lived, like James Rhodes the brickmaker, at Islington. (fn. 18) In any event he thereafter disappears from the records. His plan was conceived on generous lines, placing 150 'villas' on the site, as well as four public houses and twenty-five shops — the last at the northern end. James Rhodes of Islington thought this part of the estate too near poor property for the shops to prosper there, and suggested replacing them with twenty-five small houses. He also thought only two public houses would be licensed. In his opinion 'a man of energy and judgment with an abundant command of Capital' could obtain a ground rent of at least £1,005 per annum: Parnell's calculations showed £878 per annum. Each capitalized this at twenty-two years' purchase and deducted £2,000 from the resultant sums for the cost of roads and sewers. Parnell thought the development would take three or four years, Rhodes five or six 'provided no panic were to occur in the money market nor any thing happen to stop building'. (fn. 17)
These comments to the Bank on the potentialities of the site, the explicitness of the deeds executed in October 1850 on the powers of the mortgagee to develop the land, and, in due course, the unusual promptness with which the Bank through James Rhodes the Director put them into effect as soon as, if not before, the redemption date had passed, suggest that some at least of the impulsion for development came from Lombard Street. It was the Bank that in October 1850 immediately put a 'man in possession' as watchman, and its Directors were 'approving' applications for building leases so early as January 1851. (fn. 19)
By then the surveyor superintending the estate for the Bank was a Samuel Rhodes of Hammersmith, doubtless the surveyor who was elder brother of James Rhodes of Islington. (fn. 20) He made formal applications to the Metropolitan Commissioners of Sewers, nominally on behalf of James Rhodes the Director, to make the main drainage, and his name is attached to a layout plan which in variant forms was printed in 1851. (fn. 21) He was sometime of Plaistow (fn. 20) and therefore may have had some hand in bringing on to the estate the first substantial building undertaker, who was also of Plaistow.
Samuel Rhodes's plan shows some falling-away from the spaciousness of Mr. Flower's notion, particularly by the introduction along the outer frontages to Earl's Court Road and Marloes Road and elsewhere of terrace houses. Where 150 villas and twenty-five shops had been proposed, Samuel Rhodes proposed 209 houses (or, it may be in some instances, houses over shops), 130 of them terraced. No churches were provided. The present preeminence of Scarsdale Villas by reason of its superior breadth is already noticeable on the plan, where it appears (under the name 'Holland Road') as the only east-west cross-street, the present line of Abingdon Villas being broken between what are now Allen Street and Abingdon Road. This scheme in turn, as will be seen, was adjusted downward, in a way common to building enterprises meeting realities, to a still denser layout.
Whether it is to Samuel Rhodes that the first design of the houses is to be attributed is uncertain. In July 1851, the month when the first building on the estate got under way, he was replaced as surveyor by C. O. Parnell (fn. 22) (who as surveyor of all the Bank's property designed its head office in Lombard Street some ten years later). By September 1851 until at least the end of 1854 Parnell was, however, associated in the supervision of the Bank's Kensington estate with another architect, Thomas Cundy, who was either the father or son, Thomas Cundy II (1790–1867) or III (1820–95). (fn. 23) Whether Parnell or Cundy provided the unambitious architecture under the Bank's aegis, or the not very different elevations used after the Bank withdrew in 1858 must be doubtful.
Promptly upon the expiry of the period for the repayment of the loan in April 1851 the ground was advertised by Samuel Rhodes and the Bank's solicitors, in May, to be let on building leases, being 'well adapted for the erection of genteel residences'. (fn. 24) In July James Rhodes alone began to grant leases. (fn. 25) The first leases were like virtually all those that were subsequently granted by Rhodes for the Bank and by the later lessors in being for 99 years. The later leases were not to any significant degree backdated in the commencement of their terms, and gave expiry dates ranging through the 1950s and 1960s. With only trifling exceptions noted below all conceded the usual one year at a peppercorn rent.
So far as the leasing documents are concerned Nokes (and his relations) faded from the scene for more than two years, when he re-emerged as the building lessee nominally from James Rhodes in the eastern stretch of Abingdon Villas and Scarsdale Villas. He himself lent £1,600 in 1857 to the builders of some neighbouring houses to help finish them, (fn. 26) and in the same year he, or his family, seem to have bought £4,850-worth of freehold ground-rents from the London and Country Bank. (fn. 27) Nokes reappears from 1859 onwards as co-lessor in the leases granted by new mortgagees. By 1861, still a bachelor, and timber merchant, he had moved from Abingdon House to slightly humble-seeming lodgings in Earl's Court Road. (fn. 28) At a late stage in the development, in May 1863, he is found writing to the Metropolitan Board of Works for permission to form Shaftesbury Mews, rather in the tone of the man who determines what is done. (fn. 29) In that year he appears in the Court Directory at The Terrace and in 1865 moved to No. 2 Scarsdale Villas, where he died in 1876. On the census night of 1871 he and his wife had had no servant living in, and his will was proved with effects 'under £200', but this ignores the bequest to his wife of his equal share with James Wright Nokes and William Nokes in mortgage-encumbered but handsome freehold houses at Nos. 26–36 (even) Scarsdale Villas and in houses in Abingdon Villas and Shaftesbury Villas. (fn. 30)
The Development under the London and County Bank 1851–6
In January 1851 the Bank agreed to lease seven and a half acres of brick-earth somewhere on the site to a builder, Richard Anderson, at £450 per annum plus a royalty of 6s. for every thousand bricks over four million made in each year. (fn. 31) Soon the land was in use as a brickfield. (fn. 32) Between February and May 1851 several applications were made by Samuel Rhodes to the Metropolitan Commissioners of Sewers for leave to build the main drainage. (fn. 33)
First Building in Marloes Road and Earl's Court Road
The first leases were at each side of the property, fronting Marloes Road and Earl's Court Road. They conformed to Samuel Rhodes's plan for the outward-facing houses of the estate to be terraced.
In Marloes Road, at Nos. 37–67 (odd), called Devonshire Terrace (Plate 102a), the development was in the hands of a builder and brickmaker combining those trades in time-approved manner with the business of a licensed victualler. He was the Richard Anderson mentioned above, who had building interests elsewhere in the London area, made his own bricks here in Kensington on the terms just referred to, and initially seemed likely to play a larger role than in the end proved to be the case. Sometime of Plaistow, he may have been known to the surveyor Samuel Rhodes.
In July 1851 Anderson received nominally from James Rhodes his lease of the Devonshire Arms public house at what is now No. 37 Marloes Road, (fn. 25) the first building to be erected in the area under discussion. This was an immediate departure from Samuel Rhodes's layout, which envisaged a public house only in Allen Street near the northern edge of the estate (and whence it was removed perhaps because the proximity of a brewery and a rival tavern seemed unpropitious). When newly built the Devonshire Arms was said to contain 'a club room in front of the first floor', as well as 'an attractive bar', two parlours, a skittle-ground with carpenter's shop over it, and a large bowling green. (fn. 34) These last were on the west side, where part of Anderson's brickfield was also situated. (fn. 35) Alterations and additions were made by the architect Alfred Williams in 1878. (fn. 36)
In November 1851 Anderson acquired a small area westward where he built the present Nos. 7 and 9 Stratford Road (at first called Devonshire Cottages) in 1852. (fn. 37)
North of the Devonshire Arms Anderson was associated in his leasing agreement with another builder, George Stevenson, probably of Pimlico. (fn. 38) The five northernmost houses, now Nos. 59–67 (odd) Marloes Road, were begun in July 1851 and the rest by the following summer. (fn. 39) (The forward-canted line of the terrace perhaps reflects the abandonment, without finesse, of an early intention to turn Scarsdale Villas southward to enter Marloes Road where the terrace is now bent. (fn. 32) ) Of very simple design, Nos. 37–67 Marloes Road are united by a continuous iron balcony below the first-floor windows and a stringcourse decorated with guilloche ornamentation below those of the second floor. This feature is common to Nos. 47–65 (odd) Earl's Court Road, being erected at the same time by another builder. Generally identical throughout, the terrace has its earliest and northernmost houses, at Nos. 59–67 Marloes Road, distinguished by stock-brick fronts dressed with stucco from the houses to the south, which have their fronts wholly stuccoed, and also by the pilasters which at these five houses, as at Nos. 7 and 9 Stratford Road, mark the end and party walls. With its slate roofs unconcealed by parapets and its front doors unencumbered by porticoes this terrace seems pleasantly unassuming. It was, however, very slow to attract occupants, not filling up until 1859. (fn. 35) (fn. n1)
Anderson had raised money on his newly building houses from a widow in Brighton, George Nokes's solicitor, F. W. Dollman, a timber merchant in Chelsea, William Druce, and, chiefly, the owners of the Eagle Brewery in the Hampstead Road, John Edward Green and Edward Randell. (fn. 41) In November 1853 Anderson, described as licensed victualler, builder and brickmaker, of Plaistow Marshes, Blackheath and Wright's Lane (now Marloes Road), became bankrupt. Among his creditors were Edward Hughes, a builder of North Woolwich near Plaistow, the contractors Peto, Brassey and Company (for £1,881), and the brewers Green, Randell and Company (for £5,462). These last seem to have paid off other creditors and mortgagees in 1854 and acquired the Marloes Road property. (fn. 42)
At the time of his bankruptey Anderson was building twelve houses on the western side of his property, fronting the southern end of Allen Street, at Inkerman Terrace (Plate 102c, fig. 101), under an agreement nominally with James Rhodes made in July of the previous year. (fn. 43) Begun in May 1853, the work was suspended on Anderson's bankruptey and recommenced in 1854 by Barnabas Jennings and William Stephenson of Chelsea, builders. (fn. 44) Rhodes granted Anderson's former mortgagee, Dollman, a lease of the houses, under the name of Inkerman Terrace, dated in September 1854. (fn. 45) (This was evidently a backdating, as the Battle of Inkerman was not fought until 5 November.) Some appear in the ratebooks in 1855: all were occupied by 1857. (fn. 35)

The other first building activity had been in Earl's Court Road. Here James Rhodes for the Bank had Lansdowne Terrace, briefly called Foxley Terrace and now Nos. 47–65 (odd) Earl's Court Road, erected, together with Nos. 80 and 82 Abingdon Villas and No. 72 Scarsdale Villas, by Francis John Attfield, of Pembroke Square, builder (leases to him December 1851 and April 1852). Proximity to Pembroke Square was evidently thought an advantage and Attfield began with those houses most nearly opposite it, at Nos. 57–65. (fn. 46) Southward, Nos. 67–95 (odd) Earl's Court Road (formerly Earl's Court Terrace, Plate 102b) were built under leases from Rhodes to various builders in 1852–3, although unfinished in 1854: (fn. 47) again the first houses were near Pembroke Square. Nos. 67 and 69 were leased in October 1852 to William Adams of Newland Street, (fn. 48) Nos. 71–77 in November 1852 to Barnabas Jennings, (fn. 49) Nos. 79–87 in December 1852 to William Stevens of Pimlico and John Bracher of Chelsea. (fn. 50) and Nos. 89–95 in May 1853 to the same: (fn. 51) all these lessees were said to be builders. Adams was involved with Nos. 47–55 for Attfield and Samuel Goodacre of Chelsea with Stevens's and Bracher's Nos. 79–95. (fn. 52) These last were called 'of a convenient size and well built' by Parnell. (fn. 47)
All stucco-faced, these houses have at Nos. 47–65 the guilloche band already noticed at Nos. 37–67 Marloes Road, but their pillared porches make them look more Victorian. At Nos. 47–65 Earl's Court Road they were expected to let at about £50 a year each (fn. 34) and at Nos. 67–95 mostly at about £40 or (the end houses) £50. (fn. 47) Use as a shop or ostensibly for business was forbidden. (fn. 53)
The Sale of Building Land in 1852 South of Cope Place
The Bank soon began to sell off the freeholds of new houses (in effect freehold ground-rents) on the estate. In May 1852 it advertised for sale eighteen houses newly built or building in Earl's Court Road and Marloes Road. More significantly the Bank also disencumbered itself, in the same sale, of two acres of undeveloped building land at the northern margin of the estate where the report of James Rhodes of Islington had thought prospects less good than elsewhere. They comprised the present Nos.2–26 (even) Cope Place (formerly Emma Place), Nos. 40–52 (even) Abingdon Road (Plate 102d), Nos. 65–85 (odd) Abingdon Villas and Nos. 35–45 (odd) Earl's Court Road. This was put up for auction (with the recommendation of being 'only just out of' Kensington High Street) and sold off, nominally by James Rhodes the Director, in freehold lots between June and August. (fn. 54) The sale brought the Bank £5,286. (fn. 55) The smaller undeveloped portions were bought by builders, the larger by men not in the trade. One site, of Nos. 73 and 75 Abingdon Villas, was bought by the auctioneer himself. (fn. n1) The outcome was a block of mainly humble building, slightly different in appearance, particularly on the two-storeyed north and east fronts, from the rest of the area. It was erected about 1852–4, except for Nos. 4 Cope Place and 85 Abingdon Villas, perhaps of about 1857. Who the designer was is not known.
Nos. 40–52 Abingdon Road were very successful, all being occupied in 1853 and Nos. 65–75 Abingdon Villas were also successful with the public: Nos. 77–85 Abingdon Villas, on the other hand, for some reason remained unoccupied until 1860. (fn. 35) The thinness of the walls at Nos. 6 and 8 Cope Place troubled the District Surveyor. (fn. 61) J. J. Watts, the purchaser of the site of Nos. 35–45 Earl's Court Road, at first and perhaps half-punningly called the houses and shops there Wattsfield Terrace.
Building to 1856: the Departure from the first Layout
The year 1853 saw the first clear signs of the abandonment of Samuel Rhodes's ample layout of 1851. In may a run of four terrace houses at Nos. 64–70 (even) Scarsdale Villas was leased in carcase nominally by James Rhodes to the builders Jennings and Stephenson (fn. 65) where Samuel Rhodes had proposed semi-detached villas. In the same month Anderson began his Inkerman Terrace, (fn. 66) similarly replacing semi-detached houses. In July Jennings and Stephenson took leases of newly built terrace houses at Nos. 72–78 (even) Abingdon Villas, (fn. 67) which, like the humbler Nos. 80 and 82, built the previous year by Liddiatt as sub-lessee from Attfield, (fn. 68) were where Samuel Rhodes had intended terraces, but George Nokes then himself took building leases from James Rhodes of new terrace houses at the east end of Abingdon Villas, (fn. 69) where Samuel Rhodes had intended semi-detached houses.
In the end 323 houses were placed where Samuel Rhodes had proposed 209, and room was also found for two churches. Of this larger number of houses only twenty-six were semi-detached compared with Samuel Rhodes's seventy-eight.
By June 1853 it had also been decided to carry the line of Abingdon Villas through from Marloes Road to Earl's Court Road. (fn. 70)
Some hold-up in building was caused at Nos. 67–95 Earl's Court Road in 1854 by a rise in the price of materials, which required the London and County Bank to assume responsibility for the builder's credit, (fn. 47) but it is not apparent that this was a severe or widespread problem here.
Nokes, on his re-emergence as building lessee nominally from James Rhodes, was to create important ranges in the eastern thirds of Abingdon Villas and Scarsdale Villas. In Abingdon Villas these comprised what were Nos. 1–43 (odd) on the north side (now demolished) and Nos. 2–32 (even) on the south (with Nos. 34–44, now demolished). Working westward Nokes received his leases between May 1853 and August 1855. (fn. 71) At the surviving houses, on the south side, he modified the terrace arrangement by grouping the houses in fours, making them continuous at ground level only by the conjunction of their porches (Plate 104c).
Nokes subcontracted at least some of the work to a builder named Ward (who in turn obtained the stone chimneypieces from a mason called Kelsey). (fn. 72) The easternmost four houses on each side (Nos. 1–7 and 2–8) were erected by John Leverton, builder, of Bruton Mews (fn. 73) — an address Nokes also used for a short time. (fn. 74) The extension of the south side of Abingdon Villas and the north side of Scarsdale Villas right up to Marloes Road made a further departure from Samuel Rhodes's scheme, which had placed terraces along all the outward-facing frontages of the estate. Instead, a very 'London' vista of house-backs and gardens was afforded from Marloes Road.
This eastern section of Abingdon Villas was quite successful, filling up with occupants in the years 1853–5. (fn. 35) Here, and particularly in the building which Nokes and others proceeded to initiate as lessees in the next year or two, it may be thought the estate came nearer to architecture than elsewhere. Being the work of Nokes as lessee from Rhodes for the Bank this part of the south side of Abingdon Villas and of the north side of Scarsdale Villas perhaps show best what the intentions were for the look of the estate.
In July and November 1856 George Nokes took leases from Rhodes of the newly built Nos. 2–24 (even) Scarsdale Villas, on the north side (Plate 104d, fig. 102), (fn. 75) and probably in the following year began Nos. 26–36. (fn. 76) These houses in Scarsdale Villas were, with a single now-demolished pair at Nos. 1 and 2 Shaftesbury Villas, the only entirely semi-detached houses on the estate. The completion of Nos. 26–36 was much delayed and it was 1861–2 before new lessors granted the building leases. (fn. 77) These were to George Nokes's brother, the timber merchant James Wright Nokes, then establishing a presence on the estate. The actual builders may have been R. and A. M. Greig. (fn. 78) Despite this hiatus some continuity of architectural control seems to be manifested by the symmetry that was achieved. Two slightly different elevations were employed, one at the end and centre pairs (Nos. 2–4, 18–20, 34–36) and the other at the six intervening pairs: the former shows an effective treatment of the first-floor windows. For all the impressive width of Scarsdale Villas these south-facing houses were not particularly successful, taking three or four years to fill. (fn. 35)
Nos. 1 and 2 Shaftesbury Villas, built by Nokes in 1857 facing Allen Street on the northwestern part of what is now the Abingdon Court site, were even less successful. (fn. 35)
On the opposite side of Allen Street a short terrace, Nos. 3–6 Shaftesbury Villas, survives, with decorously designed fronts akin to some in Scarsdale Villas. These were built under a lease nominally from James Rhodes to James William Gray of Hammersmith, builder, of October 1856. (fn. 79) Two were occupied in 1857 and all in 1858. (fn. 35) Gray was for some reason conceded a two-year term instead of the usual one year at a peppercorn rent, but became bankrupt in September 1859. (fn. 80) Like almost all the houses built hitherto, they were fully stuccoed in front. A similar elevational design, but in brick and stucco, was used for another short terrace nearby, at Nos. 46–52 (even) Abingdon Villas. These houses were erected by the builders John Turner and Robert Sharpin of Bayswater, under a lease from James Rhodes of December 1856. They, too, were given more liberal terms than most, with a second year at half the full rent. (fn. 81) All four houses were occupied by 1858. (fn. 35)
In the previous month, November 1856, James Rhodes for the Bank had satisfied a desideratum on such an estate, conveying a site at its south-west corner to the vicar of St. Barnabas's, Addison Road, for the erection of a new church, St. Philip's Earl's Court Road (see pages 382–4).
The Change of Mortgage-ownership 1857–8
These transactions were the last effected here in James Rhodes's name. A lull of virtually four years followed before the development was taken up again by new mortgagees of George Nokes. Some change in the outward aspect of the houses is discernible, although it was not great or rigorous: the completion of the eastern third of Scarsdale Villas, for example, conformed generally with the existing houses.
A factor in this break in the development may have been the suicide of John Sadleir, chairman of the Bank, in February 1856, which brought in its wake the resignation of James Rhodes with some other Directors. (fn. 82) After the end of 1856 Rhodes was inactive as lessor and in December 1857 conveyed the undeveloped parts of the estate, in effect as mortgagee, to William Champion Jones, another Director. (fn. 83) (fn. n1)
By 1858 the Bank had sold ground rents for sums totalling at least £4,500 or perhaps £5,900 (fn. 84) in addition to making the sale at £5,286 in 1852 and probably receiving £4,850 from the Nokeses in 1857. In May 1858 the Bank sold its remaining legal interest as mortgagee of the still half-undeveloped estate, in the person of W. C. Jones, for some £8,889. George Nokes still owed £7,594 on the security of the property. (fn. 85)
The purchaser and new mortgagee was Edward Thomas Goldingham, a solicitor at Worcester, as trustee, however, on behalf of a physician in St. Marylebone, Marris Wilson, and a widowed lady at Cheltenham, Ann Brown. These two had, in the previous month, bought out some institutional mortgages from whom George Nokes had borrowed money on the security of his leasehold interest in Abingdon Villas. (fn. 86) With one exception — the provision in 1859 for the completion of Scarsdale Villas — it was 1861 before the development of the estate was taken up again. In January of that year George Nokes made some sort of conditional assignment — presumably by way of mortgage — of his remaining interests to Goldingham, (fn. 87) and in May Goldingham bought out other mortgagees of Nokes on behalf of Wilson and Brown. (fn. 88)
Unlike James Rhodes, Goldingham generally had Nokes, as well as Wilson and Brown, associated with him as parties to the building leases granted to complete the estate between May 1861 and November 1864.
By 1864, if not before, these leases were regularized to a rather unexacting pattern like James Rhodes's. Conversion of houses to shops or overt business premises without licence was prohibited, but otherwise the terms were not at all strictly drawn: no consent, only notice, was required for the assignment of leases. (fn. 89)
Goldingham's own firm handled the legal side of the disposal of the estate, Goldingham himself coming up to London as required and staying at an old-fashioned hotel in Covent Garden. (fn. 90) Later, in 1869, when the development was completed, another partner in the firm, H. G. Goldingham, took a lease of the Abingdon House previously occupied by the Nokeses, with a view to its redevelopment (see page 105), and in the same year a John Goldingham took a house in Sunningdale Gardens at the bottom of Abingdon Road. (fn. 18)
Building 1858 to 1864
The south side of the eastern third of Scarsdale Villas was built, east to west, in 1858–60 (Plate 103d). The building lessee was evidently George Nokes's lawyer, Dollman — at the site of Nos. 1–7 (odd) by virtue of a lease from Goldingham, Wilson and Brown in April 1859, at Nos. 9–15 in conformity with an agreement mentioned at that time, (fn. 91) and at Nos. 17–27 by virtue of a lease from Rhodes in 1854 simultaneous with that of Inkerman Terrace. (fn. 92) At Nos. 1–7 the builder was probably George Godbolt of Chelsea (fn. 93) and at Nos. 9–27 Robert Wallbutton of New Cross. (fn. 94) Conceiveably because the north side had 'gone' rather slowly the semi-detached arrangement was modified here. Terraces of four houses were placed at each end of the range, and the three pairs of essentially semidetached houses between them were linked by small recessed entrance-wings. The architectural congruity with the north side extends to a vertical grooving, round-headed under a moulding, that marks the party walls.
Like Nos. 2–24 Scarsdale Villas, Nos. 1–27 are all-stuccoed in front. In that respect they conformed with all the houses except Nos. 59–67 Marloes Road that had been built under the London and County Bank. Thereafter the new houses — all of them terraced — are, with the exception of Nos. 60–64 (even) Abingdon Villas, of exposed brick and stucco.
Many of them also have in common an architectural feature not found in the earlier houses. This, in varying versions, is an elaborate first-floor window dressing, sometimes incorporating a pediment and sometimes enriched with a mask-keystone to the architrave. It is general in Abingdon Road south of Abingdon Villas, the central and western portions of Scarsdale Villas and the south side of this part of Stratford Road. In the last-named street this rather coarsely utilized Classical feature is applied indifferently to white-brick and polychromatic brick fronts.
A lessee in Abingdon Road, Frederick Saunders, used it also at No. 14 St. Alban's Grove, built by him in 1864 on the Vallotton Estate. Adjacent, at Nos. 2–6 (even) Stanford Road, he used the round-headed vertical grooving referred to above and other features from Scarsdale Villas.
This window dressing was not a feature of the first fruit of the renewed building campaign. Opposite Inkerman Terrace an answering range, called Alma Terrace, was built in 1861 to an equally quiet design, but with exposed white bricks and pillared porches that make it look a little more unmistakeably of its date. The building lessees from Goldingham, Wilson, Brown and George Nokes were Francis Willis of Ledbury Road, Kensington, and Alfred Judd of Willesden, who took alternate plots. (fn. 95) William Stickland of Brompton, builder, may also have been involved, as Willis soon assigned the lease of No. 2 to him. (fn. 96) Four of the ten houses were occupied in 1862 and nine in 1863. (fn. 35)
The remainder of the area, mostly in or off Abingdon Road, and including the second public house on the estate, the Abingdon Arms, was built in 1861–4, under building leases from the four lessors to building tradesmen in the usual way. (fn. n1) The site of Nos. 69–87 (odd) Abingdon Road (formerly Abingdon Terrace, Plate 103a) and No. 64 Abingdon Villas, however, was sold in June 1863 by Goldingham, Wilson, Brown and George Nokes to the elder brother of the last, James Wright Nokes, timber merchant, then living in Abingdon Villas, who granted the leases. For this site to accommodate eleven houses, and also for a site for livery stables off Stratford Road, he paid them £1,897 10s. (fn. 124) The main mews of the estate, comprising ten stables (containing thirty-one stalls) and thirteen coach-houses, was constructed by a local builder, William Green, for J. W. Nokes north of Stratford Road, as Shaftesbury Livery Stables, later Shaftesbury Mews (see page 227). George Nokes told the Metropolitan Board of Works that this had long been intended and would 'supply a great want in this neighbourhood'. (fn. 29)
Perhaps consciously as complement to the Anglican Church accommodated here a few years earlier by the Bank, the four current lessors in December 1862 leased a site at the south-west corner of Allen Street and Scarsdale Villas for an unknown sum to a congregation of Scottish Presbyterians, who erected a church there (now St. Mark's Coptic Church, see pages 392–3).
Stratford Road (Plate 103b) doubtless takes its name from the farmer who in 1793 held the present site of St. Mary Abbots Hospital. (fn. 125) As has been seen, the eastern end was the first part to come into existence, as a cart-track. This developed into Stratford or Stradford Lane along the south side of Wattsfield. Stratford Road, however, was made to veer northward to enter Earl's Court Road opposite Pembroke Road, permitting the construction of a church and houses on the south side of the road. East of St. Philip's Church, Earl's Court Road, sixteen houses were built in 1862–3 where Samuel Rhodes's plan had proposed four semi-detached houses. (fn. 126) One happy contrivance was Sunningdale Gardens (originally Cleveland Terrace Gardens), continuing the line of Abingdon Road as two short terraces south of Stratford Road facing each other across a small garden (Plate 103c).
At Nos. 15–21 and 27–37 (odd) Stratford Road the respective builders departed slightly from the type of elevation usual nearby. Nos. 48–52 (even) also depart from the estate norm by showing polychromatic brick, perhaps inspired by the irregularity imposed on the plan of No. 48 by the angularity of the site. At Nos. 56–70 (even) Abingdon Road the porches are carried on square piers not columns.
Rather contrary to the trend of practice at this time in southern Kensington back gardens and even very small front gardens (or space for them) continued to be provided, as they generally had been since the beginning of the development.
Men and Money
In this whole development all but three of the lessees, as has been seen, were building tradesmen. Some twenty-three individual builders or partnerships have been mentioned as building lessees. Their 'takes' ranged from a single house to George Nokes's compact block of sixty-four. Three others have been mentioned as purchasers of building sites in the block sold off freehold behind Nos. 35–45 Earl's Court Road, and some nine more in other capacities: doubtless many more subcontractors were involved. The majority had Kensington addresses when they appeared upon the scene: of the others most had addresses in West London. Many of the mortgages raised by these building lessees were to private individuals, with the usual spinster, widow and clergyman well represented. Sometimes a similarity of surname suggests the mortgagees were related to the solicitors who witnessed, and presumably effected, the mortgage deeds. At Nos. 46–52 Abingdon Villas the building lessees, Turner and Sharpin, received financial help on mortgage from George Nokes himself. His brother, J. W. Nokes, as building lessee in Scarsdale Villas, Abingdon Road and Shaftesbury Mews made them security in 1861–3 for loans from his lawyer Charles Blake. (fn. 127) Rather unusually, at Nos. 57–87 Earl's Court Road in 1851–2 four different building tradesmen were financed by one mortgagee. (fn. 128) During its period of involvement the London and County Bank itself made loans for the work. In April 1853 it agreed to advance no less than £10,000 'required by the builders on the Kensington Estate', (fn. 129) although it is not clear who these were, if they were not the Nokeses themselves. A month later the Bank was approached by building lessees for a loan of £300 (fn. 130) and in 1854 advanced £2,150 to another builder. (fn. 47)
Not all the ground rents paid by building lessees are known but 239 of the 323 house-sites yielded some £1,607 annually, suggesting a total figure of perhaps some £2,172 per annum for the whole of the area bought for £10,500 in 1850. This was more than twice the conservative estimates of Parnell and James Rhodes of Islington. It is, however, a rather meaningless figure for the 'yield' of the enterprise to the freeholder as the dispersion of the freehold by the Bank was continued by the new legal owners. Various freeholds —in effect freehold ground rents —were, for example, sold at about 23 years' purchase in 1864–5 by Goldingham, Wilson, Brown and George Nokes, for £6,691, to the Ecclesiastical Commissioners, who used them to augment certain Perpetual Curacies in South London. (fn. 131)
In 1876 Marris Wilson transferred his share of the mortgage interest to Ann Brown (fn. 132) and in 1878 she and Goldingham, who by then was calling himself 'farmer' or gentleman of Malvern Link, transferred her interest to the Land Securities Company. (fn. 133)
George Nokes's own dealings with his interest in the estate are not fully documented, but it is unlikely he took any early benefit from his mortgagees' disposal of the property. It seems clear that, apart from the charge he originally made on the estate in respect of the £11,000 and the sums owed by his father to the Bank, he had by December 1857 charged part of the estate with a further £31,400. of this, £10,200 was owed to the National Assurance Company, £9,000 to the London and Eastern Bank, £6,000 to a lady evidently related to a partner in the London and County Bank's firm of solicitors and £6,200 to two seemingly private individuals and an unknown mortgagee. (Conceivably some of the £31,400 was the £10,000 the London and County Bank agreed to make available to 'the builders' in 1853). The charge was made on the north-eastern part of the estate where Nokes himself was lessee, in the eastern section of Abingdon Villas and in Scarsdale Villas on its north side. (fn. 134) In the same month, December 1857, Walter Nokes, a bookseller in St. Pancras, bought much of this latter area, subject to the subsisting leases, from James Rhodes in trust for George Nokes. (fn. 135) At the same time George Nokes charged it with a further £10,137 borrowed at 6 per cent interest from the Oriental Bank. (fn. 136) In 1864 it was stated that George Nokes's lien on these properties was in trust for himself, William Nokes and J. W. Nokes, and that it was still encumbered with some £30,100 of debt to Goldingham in trust for Wilson and Brown. (fn. 137) The three Nokeses were raising more money on this part of the property in 1864 from the Rent Guarantee Society (fn. 138) and were still doing so in 1866. (fn. 139) The purpose, if there was a purpose, for which this large debt was maintained is not known.
In 1863 George Nokes told the Metropolitan Board of Works that the estate described in this chapter was covered with houses letting at rents — rack rents, that is, payable generally to the lessee, not the freeholder's ground rents already referred to —ranging from £60 to £120. (fn. 29) Such evidence as there is, however, does not bear this out. The 114 houses offered for sale in 1864 were said by the vendors to produce total rack rents 'upwards of £6000' (fn. 140) and the 72 other houses for which rents at about that time are known produced £3,326, or an average for 186 houses of about £50 or a little more. At 60 of the houses in the eastern parts of Abingdon Villas and Scarsdale Villas the recorded rents early in 1864 averaged only some £44. Three years later they had risen to about £48. Parnell's estimate of rents of £40–£50 in Earl's Court Road has been mentioned.
Hardly any indications of the first purchase prices of houses are known. In 1862 the sub-lessee of the newly built No. 67 Abingdon Road had the option to buy the building lessee's interest for £900 (fn. 141) and in the same year William Nokes bought the long lease of Nos. 40, 42, and 44 Scarsdale Villas from the building lessee for £1,700. (fn. 142) Perhaps more informative of ordinary 'market values' is the £1,050 paid by the prospective occupant of No. 2 Sunningdale Gardens for a long lease in 1864. (fn. 143)
The Occupants of the Houses
The hiatus in the development in 1856–61 does not seem to have owed anything significantly to a general failure to attract occupants. Most stretches of street filled up in a couple of years, (fn. 35) which is perhaps about what might have been expected in the competitive house-market of expanding west London. The type of occupation, also, seems rather what was intended. Half-way through the development, in 1861, all the sixty houses occupied in eastern Abingdon Villas and in Scarsdale Villas were in single-family tenure, with, on average, about five people, including one servant, living in each house. (fn. 144) The picture was similar at Nos. 67–95 Earl's Court Road, but with six people to a house. (fn. 145) At Nos. 39–67 Marloes Road a quarter of the houses were in divided occupation, but the proportion of servants was about the same. (fn. 146) It was only at the north-west corner of the estate that a different situation prevailed. At Nos. 35–45 Earl's Court Road and in Abingdon Villas west of Abingdon Road there were very few servants and seventeen of the twenty-two houses were in divided occupation by younger families than in the streets just mentioned: in these particular Earl's Court Road houses there were no fewer than fourteen people on average to a house. At the west end of Abingdon Villas six of the mainly artisan heads of families were connected with piano-making. (fn. 147) In contrast, at the other end, east of Allen Street, the residents included four officers of the armed services, active or retired, four civil servants, five artists or sculptors, an 'author', and two retired farmers. (fn. 148) Twenty years later the all-over picture in these respects was not very different (and in both years very few people indeed lived alone). Nos. 67–95 Earl's Court Road and 39–67 Marloes Road had both slightly fallen back, while Nos. 35–45 Earl's Court Road had improved slightly as the heads of families had, on average, grown older. (fn. 149) The greatest general change was perhaps the increase in female heads of families, from a quarter to a half.
Since 1864
Blithfield Street
One separate and belated development of terrace houses remains to be noticed. In autumn 1868 the builder Thomas Hussey asked the Metropolitan Board of Works for permission to build a narrow cul-de-sac of small houses on the north side of Stratford Road, occupying the site of the bowling green of the Devonshire Arms public house. (fn. 150) As he seems to have done later, off the Fulham Road (fn. 151) and at South End (see page 54), Hussey wanted to cater for a poor clientele. He urged upon the Metropolitan Board of Works that he would supply the need for 'houses suitable for workmen, great numbers of whom are employed in the neighbourhood and are at the present time being rendered homeless by the improvements of your Honourable Board in the locality and the demolition of property, for the construction of the Metropolitan Railway'. The Kensington Vestry, however, objected to a development of 'detrimental effect on surrounding property'. Hussey responded by widening his proposed street from twenty to forty feet, and said he was now intending to build houses of the annual rental value of £50 — probably, that is, a little above the upper edge of the mass market. (fn. 150) Thereupon the vestry withdrew its objection. (fn. 152) The resultant street was called Blithfield Street at the behest of the Metropolitan Board of Works. It was built by Hussey in 1869 under 99-year leases, and quickly occupied. (fn. 153) Whatever Hussey had really intended, the first occupants were emphatically working-class, with some 'labourers' (and a 'Bible Woman') among them. In 1871 all seventeen houses were in divided occupation except for No. 4, an avowed 'lodging house', and No. 17, where a 'master bootmaker' took in four lodgers. No fewer than 176 people then lived in the cul-de-sac, including twenty-two babies or small children aged two or less: the average age of heads of families here was thirty-five. (fn. 154)
By 1963 almost all the houses had been, in an estate agent's words, 'completely modernized' and some enjoyed 'the considerable advantage of a private courtyard garden'. (fn. 155) The occupants included a well-known journalist and, conscious of having 'invested large sums of money in converting and redecorating their homes', they opposed further development at the top end of the street. (fn. 156) In 1984 many of Hussey's featureless house-fronts had been brightly coloured and adorned (Plate 104a).
Studios off Stratford Road
A development more guided by the genius loci was on adjacent vacant ground owned by F. W. Dollman (as part of his holding in Scarsdale Villas), where in 1878 the builder G. C. Butt of Bayswater put up two ordinary old-fashioned-looking houses over shops at Nos. 11 and 13 Stratford Road but then went on to build Stratford Studios behind them, off a narrow access-way dignified as Stratford Avenue. For these the new curvy red-brick style was thought appropriate, but the architect is not known. Soon Butt assigned his leases to the Real and Leasehold Estates Investment Society. (fn. 157) The studios were quickly taken, (fn. 18) and augmented a few years later by two on the east side. (fn. 158) In 1976 the architect Stephen LeRoith carried out a striking conversion of studio No. 3 as a permanent home incorporating a small 'water-garden' that attracted attention (Plate 104b): it was remodelled for 'an advertising man' in 1979. (fn. 159)
In 1890–1 more accommodation for artists was provided nearby when Scarsdale Studios were built to replace the former No. 2 South Bank Terrace (latterly No. 23 Stratford Road), grouped round a small internal courtyard approached by an arched entrance from Stratford Road. This has over it a pleasantly carved name panel. The builders were Goddard and Sons of Farnham, but the architect is again unknown. (fn. 160) These studios also were promptly occupied. (fn. 18)
Flats in Abingdon Villas
The 1890s–1900s saw the northern edge of the area taken into the zone of massive rebuilding for large blocks of flats, which stretched down southward from the High Street. In 1893–4 the builder C. F. Kearley erected a block of flats, now numbered 47–60 Cheniston Gardens, on the site of Nos. 1–7 Abingdon Villas, which had been made over to him in 1892 by the Leasehold Investment Company (Plate 29b). The architects were Rolfe and Matthews. (fn. 161) Nos. 9 and 11 Abingdon Villas were then demolished to form the roadway of Iverna Gardens.
In 1901–4 flats were built up to Allen Street on the north side of Abingdon Villas and on the site of Nos. 1 and 2 Shaftesbury Villas (Abingdon Court, western two thirds dated 1901, eastern third 1903) and on the site of Nos. 34–44 (even) Abingdon Villas on its south side (Abingdon Gardens, dated 1904, Plate 105c). The freeholder was Henry Labouchere, M.P., and his agent in the formalities a W. J. Blow. The latter shared the address in Brecknock Road, St. Pancras, of the building firm, A. J. Thompson and Company, who erected the blocks and long retained an interest in them. The architects for the western two thirds of Abingdon Court were Palgrave and Company of Victoria Street. To judge from the continuity of elevational treatment they also provided the architecture for the eastern third, although the negotiations there were conducted, on nicer and more expensive letter paper than Palgrave's office stationery, by another architect, Sydney Newcombe of The Studio, Pembroke Road (an early and active member of the Survey of London committee). He was the architect of Abingdon Gardens, where Arts-and-Crafts influences are apparent in the elevations. The flats here were spacious, with two or three reception rooms and three to five bedrooms. Abingdon Court filled up between 1902 and 1907, and Abingdon Gardens between 1906 and 1909. (fn. 162) (fn. n1)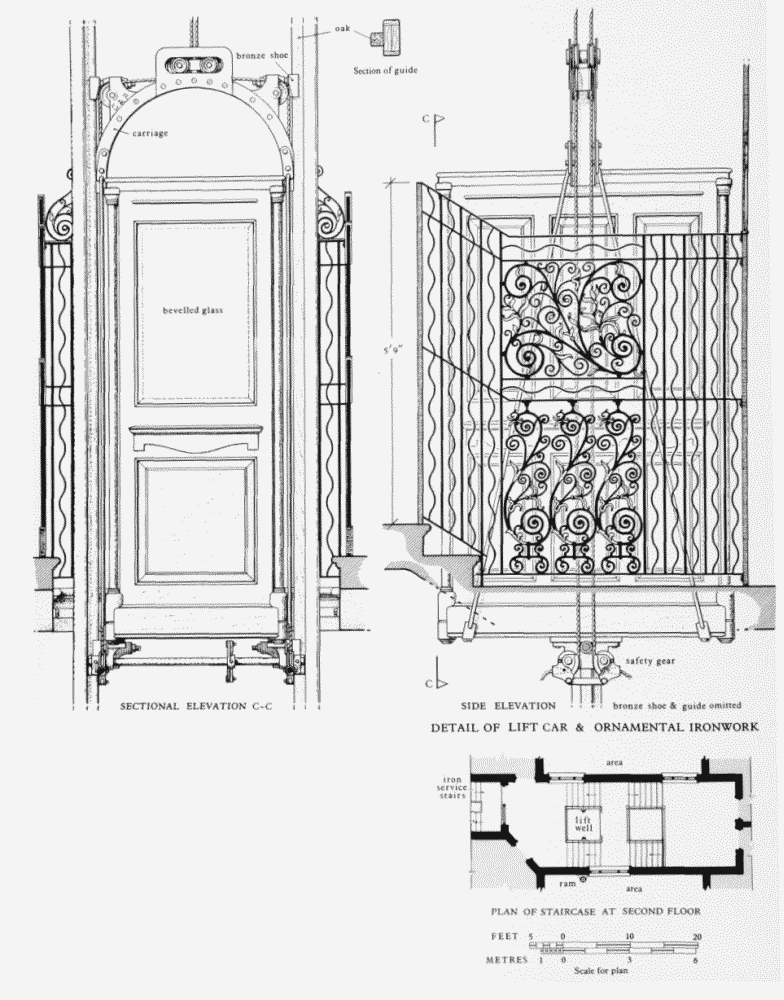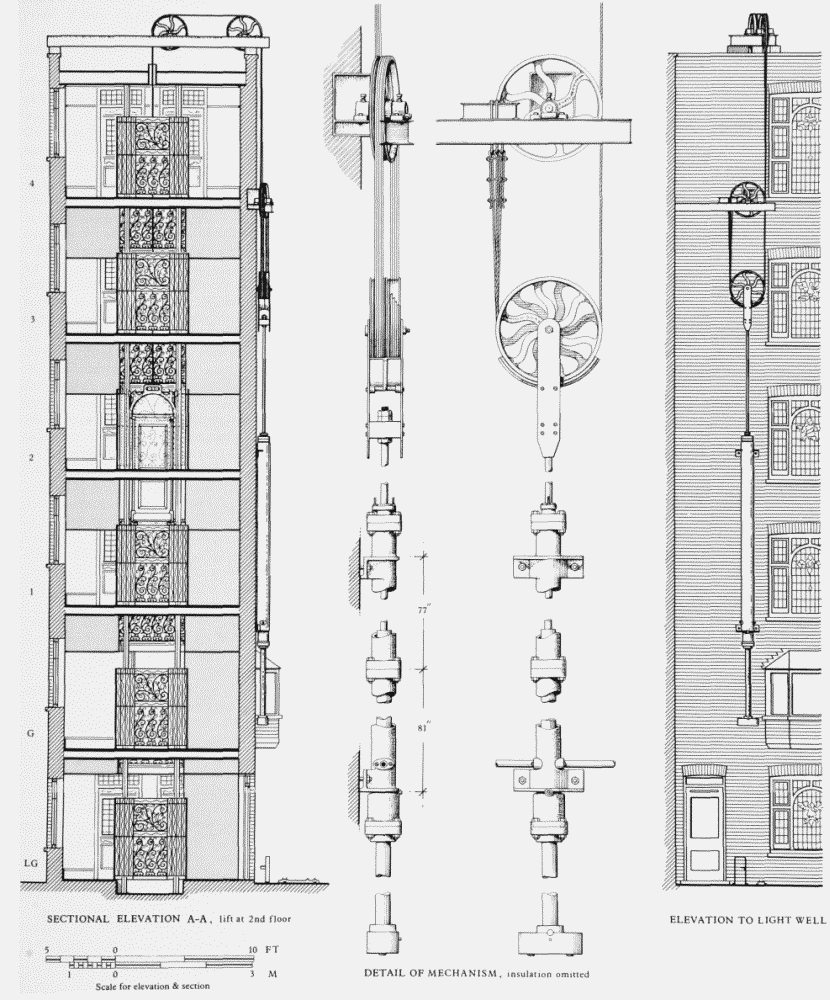 Abingdon Gardens was advertised as being 'in the Most Fashionable Part of Kensington', (fn. 163) but the encroachment of flats extended no further — possibly because the dispersion of freeholds presented some obstacles to a developer.
Southward the mid-Victorian stucco and brick-and-stucco houses have remained largely without major alteration externally: only at No. 2 Abingdon Villas did an owner feel sufficiently dissatisfied with, or perhaps interested in, the appearance of his house to re-dress it in roughcast with gables. Typical occupants were by no means wealthy and in the inter-war years many houses were in multi-occupation or used institutionally. In 1935 guest-houses and suchlike were said to be quite numerous in the central section of Scarsdale Villas. (fn. 164) In external aspect a significant change was the conversion of front gardens as hard-standings for cars: in the Devonshire Terrace stretch of Marloes Road something of this sort seems to be discernible on the 1913–14 Ordnance Survey map. (fn. 165) Most of the rebuilding that has taken place has been consequent on damage in the war of 1939–45. The 'reinstatement' of bombed buildings on razed sites accounts for Nos. 95–101 (odd) Abingdon Road (1951) and Nos. 35 and 37 Scarsdale Villas (1950), the former to designs by S. G. Scott for G. Chrystal Smith, quantity surveyor, and the latter (as maisonettes) to designs by Pite Son and Fairweather. (fn. 166) Neither pays regard to the style of adjacent houses, although the latter, required by the London County Council to 'harmonize' with them, is at least similar in colour. At No. 59 Scarsdale Villas a new house was built as a 'reinstatement' in 1953 (A. and V. Burr, architects). (fn. 167)
Remaining (as it still remains) a social 'mix' the Abingdon-Scarsdale area was not unaffected by the liverlier ambitions in residential areas of inner west London perceptible in the 1960s: Biba set up at No. 87 Abingdon Road in 1964–6 (fn. 168) and in 1963–4 residents at two houses in Scarsdale Villas fitted the basements for their children's nannies. (fn. 169) The rising aspirations for Blithfield Street have been noticed. By 1967 an Abingdon Villas preservation society was active, and the Borough invoked the help of the Royal Fine Arts Commission to review the problem of car-parking in front gardens. (fn. 170) The Borough was then unable to prevent the extension of that practice in Earl's Court Road. But in 1970 much of the area was, with adjacent streets, made a Conservation Area (extended to the whole area discussed in this chapter in 1974 and 1981) and in consequence the Borough was by 1975 able to prevent an extension of the front-garden parking in Earl's Court Road permitted in 1967. (fn. 171)
In 1969–70 Lawdon Limited built a terrace of eight leasehold houses designed by their architect G. E. A. Huyton on the site of Shaftesbury Mews, (fn. 172) but since then there has been no significant redevelopment. The files of the local authorities suggest that the presence in the area of residents competent to use publicity and the channels of administration to resist certain changes has itself not been without effect. Still in mixed occupation in 1984, and showing occasional symptoms of indifferent work by the first builders, the old houses of the area nevertheless included some that commanded very high prices.