Pages 215-224
Survey of London: Volume 42, Kensington Square To Earl's Court. Originally published by London County Council, London, 1986.
This free content was digitised by double rekeying and sponsored by English Heritage. All rights reserved.
CHAPTER XIV - Earl's Court Village and Earl's Court Gardens Area
In this chapter are brought together two adjacent areas between Redfield Lane and Barkston Gardens with separate developments but overlapping histories.
Earl's Court Village
The term 'village' as applied to the area east of Earl's Court Road opposite Earl's Court Station is sanctioned by its use to designate a Conservation Area in 1973, and perhaps also by its loose current Londoner's sense denoting a neighbourhood of small houses, with small shops, really or seemingly anterior in date to their surroundings. Otherwise it is something of a misnomer. There was no church or ancient nucleus here, although a malthouse or brewhouse belonging to a Matthew Child had stood somewhere near the present No. 185 Earl's Court Road in about 1683–1703. (fn. 1) Rocque's map of 1741–6 shows little building in the locality. What it does show is three paths coming from the north-east and east, corresponding very roughly to Marloes Road and (still more roughly) Cromwell Road and the line of Harrington Road and Harrington Gardens. These converged towards the manor house and farm of the manor of Earl's Court on the other side of Earl's Court Road and in doing so brought potential customers past a well-placed tavern, the White Hart, which since at least 1722 had stood back from but facing Earl's Court Lane, in what is now Hogarth Road, slightly forward and west of No. 2. (fn. 2) It survived, not much modernized, (fn. 3) until 1869 (Plate 97a).
Southward a short terrace of fair-sized houses was begun about 1757 by an active West End builder, the carpenter Roger Blagrave, on land where three older houses had stood and which he had bought in 1756. (Later called The Terrace, it survived until the 1870s, being replaced by Nos. 189–203 (odd) Earl's Court Road.) The first occupant of No. 1, at the north end, was Francois, comte de Viry, the Sardinian envoy, and the occupant of No. 1 or 2, in 1760, the surgeon John Hunter (see page 197), but it was probably about 1767 before Nos. 3 and 4 were built by another carpenter, John Loveday of Bermondsey, and no spread of house-building followed (fig. 86 on page 202). (fn. 4)
The area, bounded on the south by what became the line of Earl's Court Gardens, had formed Pound Field, which passed, as part of a larger property, to the Greene family who were owners of the Stag brewery in Westminster. It was sold by their representatives to John Hunter in 1793 (fn. 5) and, after his death in that same year, by his representatives in 1797 to the crucial purchaser in the area's building history. (fn. 6)
That history extended essentially over some eighty years and resulted in the miscellaneous and mostly unimpressive appearance of the area today. No large, long-term unit of ownership endured: at least a dozen diverse interests can be identified concerning themselves with building enterprise in this small locality (figs. 95–6). The conventional mode of residential development by building lease was by no means always adopted. Some of the building was evidently done directly for small owners (and is correspondingly difficult to document) and in other cases the owners were content to sell-out to the builders. The level—rather below the more formal and approved procedures— at which some of the building occurred is reflected by the obscurity of records in which building history is usually discernible: the ratebooks in particular lump together for a long period under the landlord's name small rented houses in terraces (notably those near the Earl's Court end of Kenway Road and in Hogarth Place). But as a generalization it may be said the buildings of the area are less old than they look.
The purchaser of Pound Field in 1797 was Thomas Smith — described as vintner but soon gentleman — of Chelsea. (fn. 6) He had just begun important building operations there (fn. 7) but in Kensington he was soon reducing his newlyacquired interest, which his family's representatives seem to have finally disposed of in the late 1860s, after a mixed and lowish level of building achievement. The family's interests evidently remained centred in and around the King's Road, where they lived.
At Earl's Court Smith began building about 1803–5. (fn. 8) It was chiefly along the line of communication already mentioned and is represented today by Kenway Road and Hogarth Place. The focus of activity here was acknowledged and increased just at this time by a neighbouring landowner, James Gunter, who by 1806 had bought the southern part of Pound Field from Smith (about where Hogarth Road and the railway now are situated) and in that year diverted into a path that joined Earl's Court Road at the present junction with Earl's Court Gardens foot traffic that had been entering Earl's Court Road further south. (fn. 9)
Smith built virtually no big houses on his land. The largest were one or two in the southern angle of Earl's Court Road and Redfield Lane: otherwise he had nine small houses built in Earl's Court Road north of Kenway Road (his 'New Buildings'), (fn. 10) other small cottages squeezed into 'North Row' and 'South Row' (now repre sented by Nos. 16–30 and the larger 32–36 (even) Kenway Road and Nos. 6–16 (consec.) Hogarth Place), a public house, the King's Head, constructed between the junction of these two footways, and nineteen smallish terrace houses erected nearby.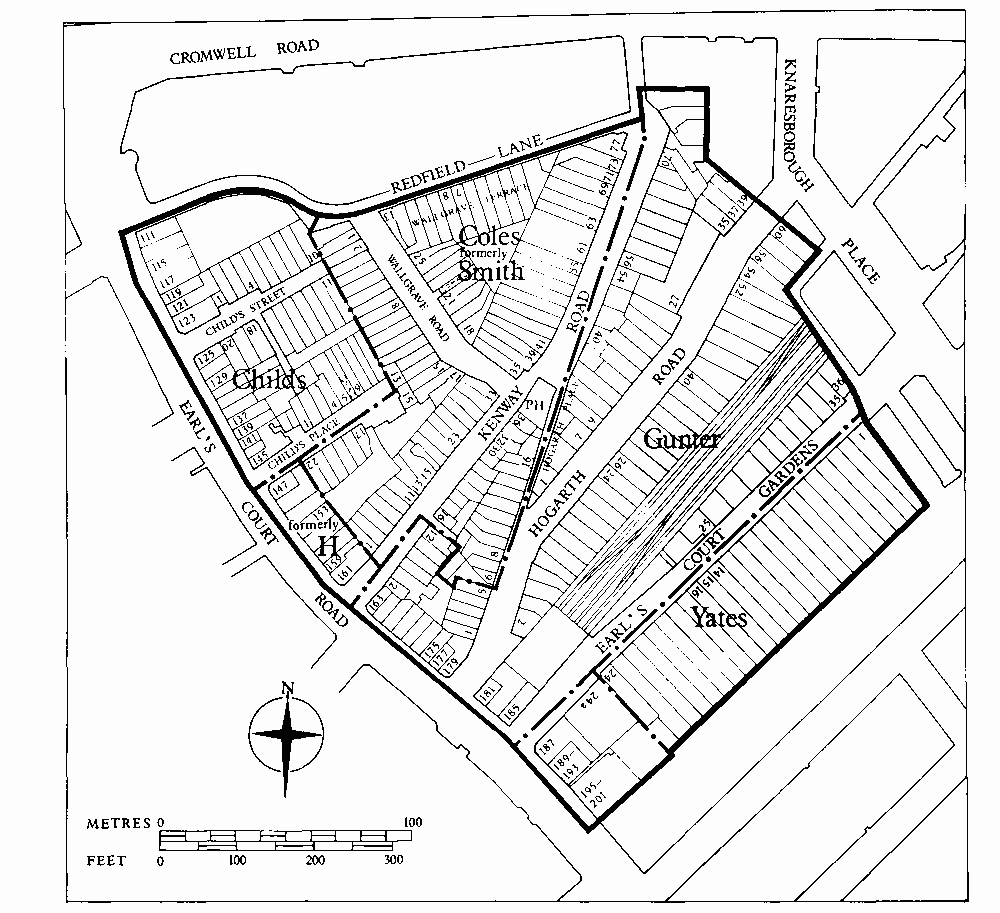 These last survive as Nos. 35–71 (odd) Kenway Road (Nos. 57–61 rebuilt). They were erected in c. 1807–10, (fn. 8) each one bay wide and three storeys high (Plate 98b, fig. 97). Before it was renamed and renumbered as part of Kenway Road in 1908 the row was called Providence Terrace, but that aboriginal-sounding name was given it only in 1851: at first it was termed Manor Terrace (perhaps to acknowledge the significance of the manor house in Earl's Court Road for this line of route, perhaps merely to echo Smith's Manor Terrace in the King's Road), and then Earl's Court Terrace. (fn. 8) Under this name Faulkner called it 'pleasantly situated' in 1820. (fn. 11) The list of ratepayers about then suggests some respectability, as half a dozen of the names seem likely to be those of owners of property locally, or friends or relations of the Smiths. (fn. 8) The designer of these simple houses is not known, although in Chelsea, at least, Smith's architect may have been a Nicholas Handford. (fn. 12)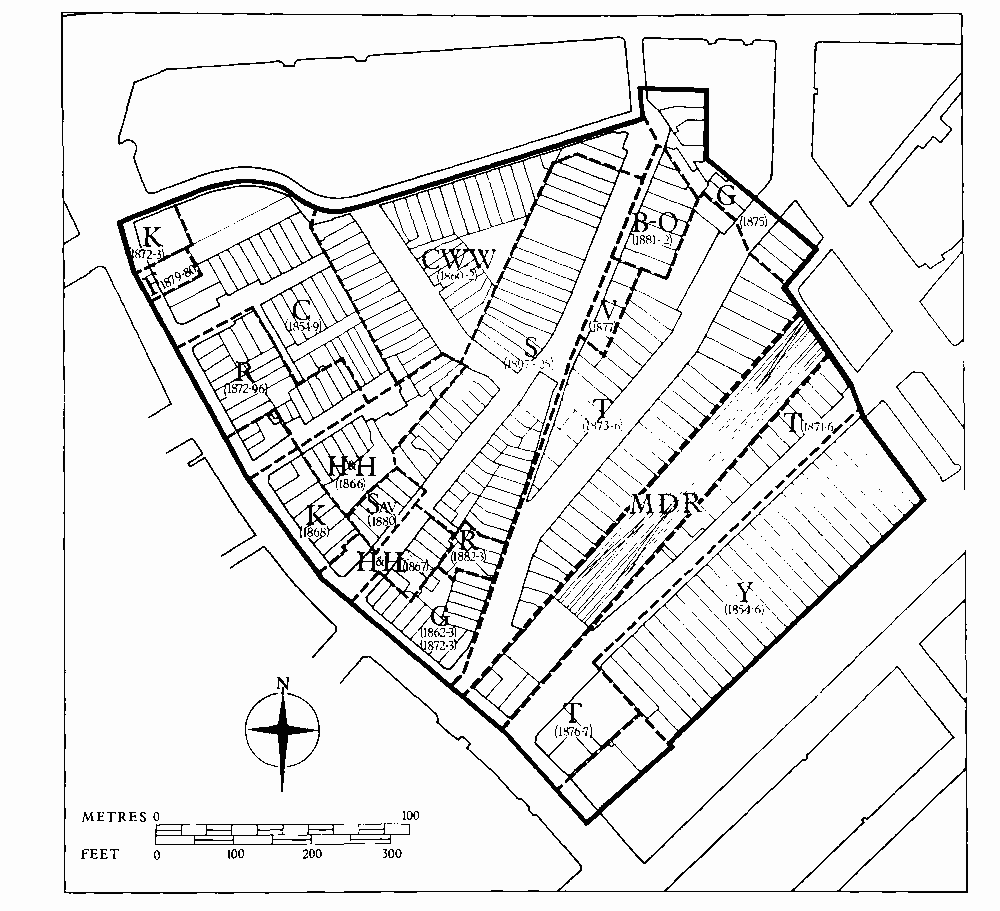 Together with this house (or cottage) building of about 1803–10, however, more noxious uses appeared, and Smith began to sell. In 1803 he granted what seems to have been a building lease of a site at Nos. 111–117 Earl's Court Road to a William Rose of Kensington Palace, architect, but two years later the tenure was in a William Rose, alebrewer, (fn. 13) and a brewery was established here for three or four years (fn. 8) —long enough to give the name Brewery Lane to the passageway (now, with a slightly altered alignment, Redfield Lane) made on its north side.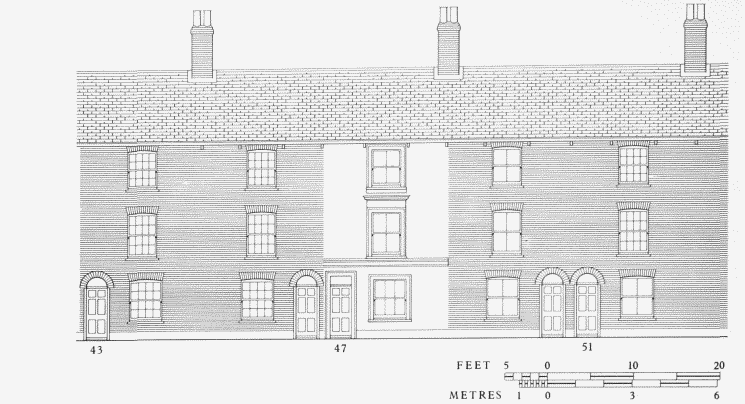 Further south Smith sold the Earl's Court Road frontage now of Nos. 147–161 in 1803 to John Hardwick, a flaxdresser, who promptly built a factory for making floorcloth canvas back from the road. (fn. 14) (On the frontage Smith's nine cottages became 'Hardwick's Rents'. (fn. 8) ) Hardwick was declared bankrupt in 1813, when the floor-cloth factory passed to Messrs. Dagnall and Sewell until 1819. (fn. 15) As will be seen, no immediate improvement to local amenities followed.
In 1811 Smith sold all his property northward of Hardwick's—in modern terms the area bounded by Redfield Lane, the backs of the Wallgrave Road properties, Child's Place and Earl's Court Road. The purchaser, for £2,280, was John Johnson, paviour, of Horseferry Road. (fn. 16) This left Smith with his recently built 'routeway' of small houses, plus an unbuilt triangle to the north, east of Johnson's purchase.
In 1819–21 Smith had another, slightly staggered, row of small houses begun on the north side of his 'routeway' under building leases (and probably completed by his widow in 1825). These were at what are now Nos. 15–33 (odd) Kenway Road, and the builder of some (and therefore perhaps all) was a Henry Cullingham, carpenter. (fn. 17) Soon this terrace was called New North Row. (fn. 8) The present houses probably show a considerably later recasting or rebuilding, but like the early-seeming Nos. 32–36 Kenway Road opposite are hard to date (Plates 98a, 99e).
Development on Johnson's land seems to have hung fire until a similar date, c. 1820. (fn. 8) A wax-bleacher's establishment was then set up, between what are now Child's Street and Child's Place, by a Samuel Childs, who with his partner Charles Freeman received a lease from Johnson and his mortgagee in 1825. (fn. 18) Childs's and Freeman's works presumably served their retail wax-chandler's business —latterly in Irving Street, off Leicester Square. (fn. 19) This was an important development for the locality, not only by confirming its insalubriousness but by bringing here the Childs family, (fn. n1) who were partly to rebuild this area as its freeholders in the 1850s.
In 1822 Smith tried to sell his developed property here at auction. The advertisement offered 'an unusual opportunity to small capitalists', and hopes of a yield of £1,000 per annum. It was the day of the '40 shilling freeholder' and the advertisement recommended these small houses as nevertheless 'giving 42 Votes for the County' (fn. 20) —perhaps a hint at one factor in building at about this level of value.
It is evident that no sale was made. When the building boom of 1825 came it was only dimly reflected here, and then not on Smith's property — doubtless in part because of his own death at the beginning of that year. In 1827 Albion Place and Johnson's Place appear in Earl's Court Road, (fn. 8) at approximately the present Nos. 137–145, and on the south side of what became Child's Street respectively.
In the same year the old floor-cloth premises south of Child's Place were replaced by or reactivated as a brewery and factory. After about 1845 the latter seems to have been run with the brewery (the Star Brewery) or malthouse until about 1861. (fn. 21) Fronting Earl's Court Road small houses shown by Starling's map of 1822 were perhaps rebuilt or renovated as Factory Row, later Salt Box Row (approximately at Nos. 153–161 Earl's Court Road). From at least 1832 the corner site now occupied by the Prince of Teck public house contained a 'Tap' connected with the brewery. (fn. 22) Part of the brewery or factory premises seem to have been given up to use as a school about 1849, probably in connection with the St. Barnabas Lecture Room, which was hereabouts c. 1851–65. Locations in this hinterland are hard to fix: by 1865 the school was probably on the other, south, side of Kenway Road. (fn. 23)
On the Childs family property the wax-bleacher's business also came to an end, about 1852, its last year or so being as a night-light factory for Price's candle-making concern. (fn. 24) By 1857 Samuel Childs was a gentleman, at Sunbury. (fn. 25)
The end of this factory permitted the first noticeable and surviving building work since the early years of the century, when the small cul-de-sac giving access to the wax-bleacher's was redeveloped from 1854 onwards as Child's Street. The builder of some and perhaps all of these modest houses was a local man, Stephen Peirson. (fn. 26) The Childs family soon found tenants: in 1861 all the houses (including the older houses of Johnson's Place at the south-west end, which were rebuilt thirty years later) were occupied, half of them in multi-occupation, and averaged seven residents to a house. They were predominantly working-class, without servants. A third of the heads of households were in building-related trades: others included an Inspector of Police, a police constable, a pianoforte-maker, a pianoforte-key-maker, two gardeners, a commercial traveller, a 'laundress at home', a fire-escape contractor and a coachman. (fn. 27) The houses, provided with the simplest late-Georgian cottage-terrace fenestration, are detailed in a way that looks mid-Victorian and makes them difficult to date stylistically: in some respects the treatment of the window keystones, perhaps indicating a later reconstruction, is very similar to that at the equally hard-to-date Nos. 23–33 Kenway Road (Plate 99e).
This was not then a 'good' area. The 1851 census had found Providence Terrace at Nos. 35–71 Kenway Road probably down on its earlier status — perhaps 'shabbygenteel' at best. Eight of the twenty-four households had one servant apiece. The five heads of households who might be called rentiers were all women. The other heads were of very mixed occupations—a coachman, a journeyman baker, a 'clerk' at the Treasury, a 'parochial schoolmaster', a 'turner of wood', two out-of-work publicans, a stockbroker's clerk, a 'foreman gardener', a 'Professor of Classes', an 'Inspector' at the Great Exhibition, a 'Daily Governess' and so on. Four of the nineteen houses were in multi-occupation, but with five occupants on average these houses were at least not noticeably overcrowded. (fn. 28)
At the southern end of the Childs plot the north and east sides of Child's Place (Nos. 9–15) were perhaps built about the same time, in the mid fifties (Plate 99a, 99c). No. 13, on the east side, was built by David Farmilo of Pimlico, possibly in association with Charles Biggs and G. A. Taylor, carpenters. (fn. 29) On the plot at the north-west corner of Child's Street fronting Earl's Court Road a builder, John Darby, erected two houses under lease from mortgagees of Samuel Childs in 1861–2 (an associated builder being James Mayhew). These are Nos. 121 and 123 Earl's Court Road, the latter being a public house, the Earl's Court Arms (now Cromwells). (fn. 30) But other parts of the Childs property were sold off in 1871 for development or redevelopment.
On the south side of Child's Place house-building could only begin after the demise of the brewery in about 1861. Meanwhile in the backland the one vacant area on the Smith family property was built over, very humbly, in 1860–2. This was on the one-acre triangular piece of ground — latterly a market garden run by William Rubergall — between (in modern terms) Nos. 23–77 Kenway Road, the eastern ends of Child's Place and Child's Street, and Redfield Lane. Thomas Smith's property had descended on his death in 1825 to his widow Elizabeth and on her death in 1828 to her unmarried brother William Coles. His will, made in 1850 and proved in 1854, disposed of considerable sums of money and important properties in Chelsea as well as this in Kensington. By it he bequeathed the developed land here to trustees for the children of his nephew Charles William Wallgrave and the undeveloped triangle to H. V. Tebbs of Highgate and John Martin of St. Pancras. (fn. 31) They sold the triangle in 1856 to Wallgrave and he developed it in building before conveying at least some of it to his daughters. (fn. 32) This development comprised Wallgrave Road and Wallgrave Terrace at Nos. 1–13 (consec.) Redfield Lane, built in 1860–2 (Plate 100b, 100c). Unlike in some neighbouring areas, the accredited method was employed of granting building leases to building tradesmen. The chief of these in Wallgrave Road, who applied to the vestry in 1860 to lay it out, (fn. 33) was David Farmilo, who became bankrupt in 1862. (fn. 34) Others were John Palmer of Pimlico (six sites), J. T. Ward, lead merchant (four sites), S. N. Parkinson (one site) and W. Graham (one site). (fn. 35) Exceptions are Nos. 15–17, built in 1866 by an active local builder, Thomas Huggett, on his recently acquired freehold, which mostly lay between Child's Place and Kenway Road. (fn. 36) Palmer received all the leases for Wallgrave Terrace in Redfield Lane. (fn. 37) He also built in 1862 the adjacent Nos. 73–77 (odd) Kenway Road under lease from Wallgrave. (fn. 38) Who designed these houses (of which Nos. 7 and 8 Redfield Lane have been rebuilt) is not known. (fn. n2) The owner of these two streets did not aim high in the market. The sewerage in this locality was very deficient and in the late fifties the parish vestry was concerned, if rather inertly, at sewage overflowing the roadway nearby in Kenway Road. (fn. 40) Perhaps in anticipation of the 'Wallgrave' development the vestry decided in 1859 to pave Kenway Road with York stone instead of gravel, (fn. 41) but overflowing sewage remained a problem. (fn. 42) Moreover C. W. Wallgrave, although probably, like William Coles, himself a one-time resident (as a child) in Kenway Road, (fn. 8) was by this period based in the house in the King's Road, Chelsea, where Coles and the Smiths had lived before him. In 1868 he and his trustees were selling off most of the small houses built by him and Thomas Smith and these seem soon to have been dispersed into smaller freehold units. (fn. 43) This does not mean that Wallgrave Road was not from some points of view, and despite Farmilo's bankruptey, a success for its owners. Even more than in Child's Street these small houses were soon packed with tenants. In 1871 all were in multi-occupation, containing on average no fewer than thirteen residents (eighteen at No. 21). Of these virtually all were working-class: six of the heads of households described themselves as labourers (and one as an 'excavator'). One was a 'soldier musician' in the bandstands of the Royal Horticultural Gardens at South Kensington. (fn. 44) There were, of course, no servants employed here: on the contrary, the butler at No. 52 Rutland Gate owned the mortgage of No. 10. (fn. 45)
Already various interests have been mentioned — of Johnson, Hardwick, and, especially, of the Childs and Smith-Coles-Wallgrave families. With the sixties, and the prospect of better communications as Cromwell Road came westward and the Metropolitan District Railway Company brought its lines through the area at the end of the decade, more developers were attracted to work in an area that was, moreover, within reach of the new and spectacular 'South Kensington': sales-advertisements by the Childs family in Earl's Court Road in 1866 and 1871 stressed the nearness to the Royal Horticultural Gardens, the Albert Hall and the South Kensington Museum. (fn. 46) Few of the coming developments or redevelopments were at all extensive, but the size of building was larger than before, and for that reason the generally old-fashioned styles of architecture are the more noticeable.
Some of these developments were by the brothers Robert and James Gunter, the bulk of whose residential estate lay to the south. Their father, Robert Gunter, had bought land around the White Hart in 1844, (fn. 47) but done little to develop it. In 1862–3 the younger Robert had the John Darby who had recently worked at Nos. 121 and 123 Earl's Court Road build Nos. 163–175 (odd) Earl's Court Road and Nos. 1–5 (consec.) Hogarth Place under lease: (fn. 48) the style, especially in Earl's Court Road, is, as at Nos. 121 and 123, simple and old-fashioned, and the name John's Terrace by which the houses and shops in that road were known hints that Robert Gunter was content to let the builder's name determine the nomenclature.
Equally old-fashioned are the late-Georgian-seeming houses at Nos. 2–12 Kenway Road (Plate 100e), erected on the north side of this land in 1867 by the builders Thomas Huggett and Thomas Hussey at a site bought from James and Robert Gunter. (fn. 49) Huggett and Hussey's conservatism here was, like Darby's, perhaps their own. In 1866 they bought from C. W. Wallgrave and his trustee the freehold of land on the south side of Child's Place, and here also put up some very sober, late-Georgian-looking houses, of which Nos. 17–22 Child's Place survive (Plate 99d). (fn. 50) In 1868 they returned to working under lease, this time for the third Lord Kensington, who, like the Gunters, had made a foray just beyond his main estate to buy land in 1866 from the Childs family and others. (fn. 51) Huggett and Hussey built Nos. 147–159 (odd) Earl's Court Road under lease for him in 1868 (fn. 52) —not very appealing or even well-built-looking houses. The Prince of Teck public house at No. 161 (Plate 101d, fig. 98) they built at the same time on land they had bought themselves. (fn. 53) (Its external adornments are probably of the eighties, done for the licensee Alfred Savigear mentioned below.)
In 1868–9 the southern boundary of this area was defined by the making of the railway line. In 1871 the first Earl's Court railway station was established and the incentive to development, where that remained possible, increased. Small and mainly of wood, the station was situated on this, eastern, side of Earl's Court Road, where Nos. 181–185 now stand. It was burnt down in 1875 and replaced by a station on the present site in 1878. (fn. 54)
In 1872–3 a good builder, G. E. Mineard, with George Gregory of the Harrow Road, built three houses, now demolished, for Lord Kensington at Nos. 111–115 Earl's Court Road (fn. 55) (the architect being probably A. R. Stenning (fn. 56) ), and William Ashfold built Nos. 177 and 179 Earl's Court Road, adjacent to the new station, for Robert Gunter (the builder William Jackson being a party to the lease). (fn. 57)
The biggest innovation, however, was a completely new road built north of the railway line and called Hogarth Road, which brought another developer on the scene. He was the Gunters' lawyer, J. L. Tomlin, who in 1873 bought from the Metropolitan District Railway Company their surplus land here, mainly on the north side of the railway. (fn. 58) (They had bought it in 1865–6 from the Gunters. (fn. 59) ) Hogarth Road, built de novo in 1873–6, is, in its type of big house for respectable occupation, more like the new streets on large estates nearby than the rest of the area here described. The first application to the vestry for permission to make the road came from the builder Matthew Scott, but he did not build the houses. At the western end, at Nos. 1–7 and 2–24, Tomlin granted leases to the builder William Ashfold (the builder Jackson being party to the leases of Nos. 2–24). (fn. 60) Eastward, at Nos. 9–35 and 26–54 (Nos. 27–35 rebuilt), he granted conveyances to the builder J. F. Van Camp, (fn. 61) who also built at the easternmost end Nos. 37 and 39 and 56–60 (and the adjacent houses in Knaresborough Place) under leases from Robert Gunter. (fn. 62) The two builders used separate styles for their houses, Van Camp's being the same in the 'Tomlin' and 'Gunter' parts of his ranges (Plate 89d) and also virtually identical with that of the houses he was building on Lord Kensington's estate in Trebovir Road and Templeton Place (Plate 126a). As to the early occupants of Hogarth Road, they were probably about what the developers wished. The first occupant of No. 52 was a Mrs. Gunter, and in 1880 there was an admiral at No. 26, a major at No. 21, and three clergymen at Nos. 33, 50 and 60, as well as the geographer, mapmaker, and creator of the Great Globe, James Wyld, at No. 25. (fn. 63) These big houses were so laid out, however, as to accentuate rather brutally the narrowness of Hogarth Place (then South Row) behind them on the north side, a fact pointed out unavailingly by the Kensington Vestry's surveyor to the Metropolitan Board of Works in 1874. (fn. 64) Possibly the Godwin brothers may have had something to do with the architecture of Hogarth Road: the styles are not quite like them elsewhere, but George Godwin was mortgagee of No. 60 and the lease plans given in the Middlesex Deeds Register look as if they might have been drawn in their office. (fn. 65)
Van Camp also built Nos. 40–54 (even) Kenway Road in 1877 immediately north of Hogarth Road on land he had just bought from Tomlin. (fn. 66) Here he seems to have made a lease-back arrangement with another solicitor, W. M. Sherring, to whom he sold the houses during building and who then leased them to him. (fn. 67) (Van Camp then mortgaged some of them back to Sherring. (fn. 68) ) Unlike Van Camp's houses with fancy fronts in Hogarth Road they are built to a dull, old-fashioned pattern.
Tomlin was important hereabouts. South of the railway he had the north side of Earl's Court Gardens built, and the west end of the south side (see page 224). Adjacent to the last is The Courtfield public house at No. 187 Earl's Court Road (Plate 101c), built for him under lease in 1876, with the demolished Nos. 189–193, by the locally active builder, E. Francis, on land Tomlin had bought in the previous year. (fn. 69) The architect of this vigorous Victorian piece is not known: the Godwins (perhaps particularly Henry) are likely architects in connection with Tomlin, but the Courtfield does not seem to be detailed quite oddly enough to be theirs.
In 1872 Lord Kensington's surveyors had successfully argued against more than a slight widening of the footpath connecting Kenway Road to Cromwell Road (where it still remains as a reminder of Barrow's Walk). More would 'throw open a low neighbourhood', to the detriment of adjoining property. (fn. 70) Nevertheless in the same year it had seemed worthwhile to the builder Matthew Scott to propose the erection of 'a Handsome but small church' in this vicinity, at the east end of the south side of Kenway Road, where the land belonged to the Metropolitan District Railway Company but was soon to be bought by Tomlin. (fn. 71) From 1872 or 1873 a 'temporary' Anglican church with some high hopes behind it, called St. Patrick's, Cromwell Road, stood here until it was burnt down in 1879 (see page 380). The site by then belonged to the incumbent, the Reverend M. M. Ben-Oliel, who on being prevented by his bishop from rebuilding a superfluous church here had a row of houses over shops built instead in 1881–2, as Nos. 56–70 (even) Kenway Road, and transferred his church-making ambitions to what became St. Cuthbert's, Philbeach Gardens. This must explain the appearance here of an architect of some note, Hugh Roumieu Gough, who was the architect of St. Cuthbert's. The builders, at a tendered price of £7,404, were similarly the builders of St. Cuthbert's, S. Belham and Company. (fn. 72) The elevation of the range, although executed in the fashionable red brick with sunflower decorations, is neat, very flat, and constrained.
Earl's Court was now attractive to developers of a perhaps rather promiscuous kind. The Wallgrave sales in 1868 and a sale of much of the Childs property in 1871, when nine of the ten lots that were sold yielded £8,395, (fn. 73) had given opportunities to pick up sites for development or redevelopment and one who did so was Joseph Richmond, a grocer in Church Street, who in 1868, 1871 and 1873 bought sites all over this area. (fn. 74) In Providence Terrace in Kenway Road he seems initially to have contented himself with uniting each of his two pairs of houses (Nos. 37–39 and 69–71) with a conventionally modelled rendering, but elsewhere he contributed more to the mixed bag of Earl's Court building — houses at Nos. 1–4 Child's Place in 1872–3 (builder Henry King, Plate 99b), (fn. 75) and at No. 5 (1879, builder S. Benstead), (fn. 76) at Nos. 125–135 Earl's Court Road in the mid 1870s (Nos. 125–129 Earl's Court Road, 1876, builder S. Benstead), (fn. 77) at Nos. 6–8 (consec.) Hogarth Place in 1882–3, (fn. 78) at Nos. 18–20 (consec.) Child's Street in 1888, (fn. 79) and at Nos. 137 and 139 Earl's Court Road in 1896. (fn. 80) All are old-fashioned in appearance, especially the last, and all are different. The peculiar houses over shops at Nos. 6–8 Hogarth Place (lettered H, O, P, E, on the fascia-stoppers, Plate 100d) have, however, affinities with the more seemly heightening and recasting of No. 71 Kenway Road done for Richmond in 1885 (Plate 100b): (fn. 81) just possibly the architect was Edward Monson, junior. (fn. 82)
The 'service industries' represented by shops and public houses were now becoming very important. (The Earl's Court Arms at No. 123 Earl's Court Road was advancing in value from £3,800 in 1868 to £9,000 in 1885 for a correspondingly shorter term. (fn. 83) ) Nearby, in Earl's Court Gardens, the front curtilage of new houses was utilized for shops in 1876–7 (see page 224), and 1878–80 saw shops built out in front of Nos. 1–5 (consec.) Hogarth Place, (fn. 84) and others at Nos. 2–12 (even) Kenway Road by the Aldershot builders Martin, Wells and Company (Plate 100e). (fn. 85) The last property had been bought for the purpose in 1879 by another important developer in this little neighbourhood — appropriately for the time and place a publican, Alfred Savigear, (fn. 86) who employed his favourite architect George Edwards for the job. Soon Savigear was using Edwards to make alterations, at a tendered price of £875, to his public house opposite, The Prince of Teck, in 1880 (Plate 101d, fig. 98). (fn. 87) The balustrade and its adornments, the window-dressings, and the red-brick and terracotta panels may well be of that date, and the shop front is evidently of 1901. (fn. 88)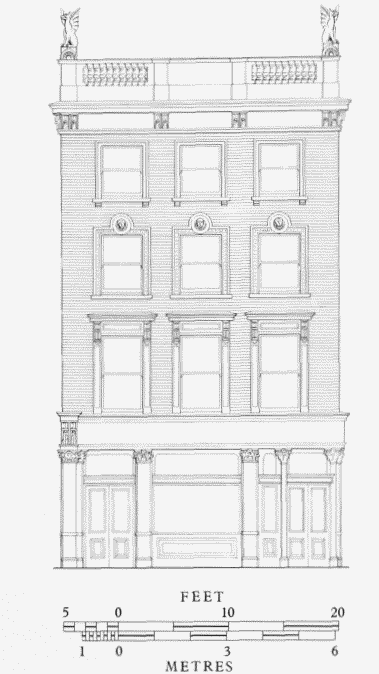 Savigear had recently, in 1878, bought for £8,100 from a land investment company (itself the purchaser from Huggett and Hussey in 1870 (fn. 89) ) a site east of The Prince of Teck, where he had Martin, Wells and Company build the present Nos. 1–13 (odd) Kenway Road (Plate 101b) for him at a cost of about £7,000 in 1880: he mortgaged the site to them. The architect here also was George Edwards, with J. Wormleighton the carver (presumably of the fascia-stoppers). This block of flats over shops was illustrated in The Builder, which noted that all the shops were occupied by the 'Earl's Court General Provision Stores', although the Post Office Directory Suggests this had ceased to be so by 1885. (fn. 90) Savigear was a versatile man, and about 1892 opened a well-known riding school on the hinterland of the site between Kenway Road and Child's Place. (fn. 91)
Flats over shops also caught the eye of The Builder at this time at the now-demolished Nos. 117–119 Earl's Court Road, designed by the architect-cum-speculator W. H. Collbran for the owner (himself a builder) William Follett (1879–80, builder, C. Hunt). When illustrating the rather meretricious design The Builder thought it worth noting as something of an innovation the complete separation of flats from shops, which removed a deterrent to such developments by relieving the shopkeeper of the burden of rates on the upper parts of the building. (fn. 92)
An obscure development difficult to date is the enhancement of the yard on the south side of Child's Street, formerly Child's Passage but since 1960 renamed Child's Walk Probably this dates mostly from conversions by Joseph Richmond in the 1890s, (fn. 93) with much more recent improvements.
Two conspicuous Edwardian buildings survive in this part of Earl's Court Road. Nos. 181–185 were built in 1905 by Ford and Walton of Kilburn for the Metropolitan District Railway Company as shops and a Post Office on the former site of the first Earl's Court Station. The architect was perhaps G. Estall of the Company's Lillie Bridge Works. (fn. 94) At Nos. 195–201. Earl's Court Road (fig. 99) the large, double-fronted building was erected by James Smith and Son of South Norwood in 1903–4 for the London and County (now National Westminster) Bank, to a design, broad-shouldered but not clumsy, by the architect Horace Cheston. (fn. 95)
Since then the area has changed greatly, but not much in its basic fabric. In about 1929 the southern arm of Child's Place began to become unrecognizable under light industry (partly in Savigear's former riding-school premises). (fn. 96) From 1936–8 date Nos. 141–145 Earl's Court Road (architect (Sir) Oliver Chesterton, F.A.S.I., of Chesterton and Sons, estate agents) (fn. 97) and the King's Head in Hogarth Place (architects, Surveyor's Department (Sidney C. Clark) of Hoare and Company, brewers). (fn. 98) A newspaper article on the old part of Kenway Road in 1939 suggests that although it was no longer disagreeably 'low' it was an unaspiring if pleasant backwater. (fn. 99) But when Nos. 57–61 Kenway Road were rebuilt in 1950–2, after war-damage, it was as one larger house, No. 61 Kenway Road, designed by (Sir) Oliver Chesterton in a solid, restrained, neo-Georgian manner. By-laws in effect precluded the alignment of windowheights with those of its neighbours, which the planners furthermore thought 'had no particular Architectural merit'. (fn. 100) (The first occupant was Henri Frankfort, Director of the Warburg Institute.) Nearer Earl's Court Road a local government officer in 1956 found Child's Street 'quiet, shabby' The small houses built there in 1957, more in the style of the day, on another bomb-site at Nos. 1–4 Child's Street (Field, Petherbridge and Partners, architects) pleased the planners by their slight setting-back from the narrow cul-de-sac. (fn. 101) After some difficulty with the planners No. 21A Wallgrave Road, behind its east side, was rebuilt as a bachelor's single-storeyed house about 1965 to designs by the Owen Luder Partnership. (fn. 102) In 1967–9 a branch of Barclays Bank, rather small-scaled and in a variety of smooth materials, was built at Nos. 189–193 Earl's Court Road (Messrs. Gordon Jeeves, architects). (fn. 103) The Hogarth Hotel was built by W. J. Marston and Son of Fulham in 1971–3 at Nos. 27–35 Hogarth Road to designs by Buxton, Truscott and Wall of Newquay, Cornwall, W. J. Marston being the licensee. (fn. 104)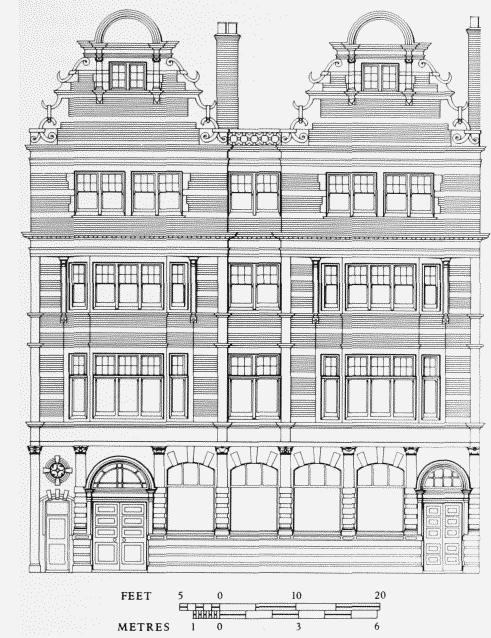 The 1971 census found the Earl's Court area one of the most densely populated areas of the kingdom. In 1973 the increasing turmoil of this part of Earl's Court Road and the growing attraction of the hinterland of small oldish houses with their small gardens resulted in the inclusion of much of the subject-matter discussed here in the Earl's Court Village Conservation Area. The chief exclusions were Earl's Court Road itself and Hogarth Road. Immediately behind Earl's Court Road some perplexing quasiaccidental-looking jumbles and juxtapositions of building remain from the mixed uses of earlier years. But in the residential parts improvements to the houses and gardens have made the area probably more agreeable, as well as immensely more expensive, to make a home in than at any time since 1820. In 1978 a proposal that had been informally considered by the county education authorities since at least 1951 to rehouse a Kensington primary school in the Wallgrave-Kenway Road triangle was abandoned partly because of the greatly increased cost of buying sites. (fn. 105)
One very recent scheme here, though unrealized, may be noted for its suggested handling of the lightly industrialized site south of Child's Place. Here the architect David Le Lay proposed in 1981 conversion back to partly residential use in an architectural manner consonant with ordinary mid-Victorian inner-city building. (fn. 106)
Earl's Court Gardens
Earl's Court Gardens is in some ways an interloper at Earl's Court both by reason of its development separately from the 'village' area north of the railway and the Gunter estate to the south, and by reason of its appearance, which seems to relate it more to the areas south of Old Brompton Road than to its immediate surroundings.
The original development was on the south side only, from 1852 onwards, when Nos. 1–24 (Plate 97b, 97c) were built along a field-path made, perhaps in the 1790s, at the southern boundary of Pound Field. (fn. 107) The site was a piece of walled ground, known in the seventeenth and eighteenth centuries as the Pingle and held since the 1760s, as garden ground, with No. 2 The Terrace, adjacent westward facing Earl's Court Road. (fn. 108) In 1852 it belonged, with that house, to George Yates, an elderly man who described himself successively as merchant, gentleman, retired proprietor and retired picture dealer. (fn. 109) In October he came to an agreement respecting the whole site with a builder, George Stevenson, who began two houses in March 1853. The work was, however, suspended in the autumn (fn. 110) and in January 1854 Stevenson sold his interest to a gentleman in the City (with a house at Pentonville), G. T. Mansell. (fn. 111)
In July the work was recommenced, when John Taylor of Kentish Town tendered at £13, 158 to build 22 of the 24 houses, which he began, at the east end, in October 1854. (fn. 112) Possibly the houses Stevenson had begun were Nos. 15 and 16, as these were singled out for a sub-lease by Mansell in 1856 to a triumvirate of builders, George Torkington, W. G. Arnold and Noah Holliday. (fn. 113)
The named 'architect' inviting Taylor's tender was William Moxon, a land agent, surveyor and auctioneer in St. Martin's Place, Trafalgar Square, (fn. 114) who seems, however, not to be known otherwise as an architect.
The years 1853–4 were difficult for building enterprise in London and Mansell evidently abandoned any idea of extending the project to Earl's Court Road and surrendered his interest in No.2 The Terrace itself back to Yates in January 1855. (fn. 115) Yates stayed there until 1861. (fn. 8)
Mansell was granted his leases by Yates in 1855—of Nos. 1–14 in May and of Nos. 15–24 in December. (fn. 116) The houses were finished in 1856. (fn. 117) In 1854–5 the road was briefly called Yates Grove (although Yates evidently had no trees planted in it) and then Manor House Road, (fn. 118) but had its present name by 1856. (fn. 113)
All stucco-fronted, this long terrace is composed of houses not highly elaborated individually but organized in a careful and rather intricate symmetry. The variation in the height of the terrace, which rises to three storeys at the central four houses and at the terminal and intermediate pairs, the slight stepping forward and back, the various placings of the entrance-bays (repeated, mirrored or grouped), the varied dressing of the doorcases with pilasters, engaged columns or porticoes, and the check and run of the main cornice through the whole make an interesting mid-nineteenth-century-Classic counterpoint, even if one characteristically notional in a range so difficult to take in at a coup d'oeil. There is a faint hint of Priory Walk and other contemporary houses by George Godwin on the Gunter estate in the dressing of the first-floor windows at the lower, two-storeyed, houses.
In February 1855 the Land and Building News carried a puff for the new development — seemingly regarding it as in some way related to the adjacent Gunter estate and foreshadowing development there: meanwhile it was an exception to the prevailing quietness in the speculative building trade. (fn. 119) Taylor was named as builder but not Moxon as architect. The fine alluvial flat on which the terrace stood and the 14-inch thickness of the walls were noticed, while the variety in the elevational treatment was carefully described. The views at front and back over 'richly-cultivated fields' were pleasing. The writer stressed by repetition that these and the ediversified elevations made it all 'cheerful'.
Gas was supplied to street-lamps (three only) by the Western Gas Light Company in the autumn of 1856, (fn. 120) but in the summer of 1857 the vestry refused to extend the main sewer down Earl's Court Road as far as Earl's Court Gardens, evidently obliging the estate (presumably Yates or his representatives) to use cesspools or a sewer of their own draining into a 'large tank' near the junction with Earl's Court Road. (fn. 121) The occupants came in between 1856 and 1858, except at Nos. 17–20, which filled up a year or two later. (fn. 8) The early residents were of a decent respectability and almost all the houses were in single family occupation. On average six people lived in each house, one being a servant. Rather like Priory Walk, this terrace seems to have been attractive to the 'clerk'. (fn. 122)
Disturbance came in 1868–9 with the laying of the Metropolitan District railway in a cutting between Earl's Court Gardens and the 'village' and then more emphatically in 1871–3, when the builder Matthew Scott erected a row of houses opposite (Nos. 25–35), on the north side of Earl's Court Gardens (and the south side of what had been Pound Field), rather closely fitted-in between the railway line and the roadway. (fn. 123) Initially this was to be under lease from the railway company (fn. 124) but by the time Scott received his leases in 1873 the land had been bought by the Gunters' solicitor (and a land developer in his own right hereabouts), J. L. Tomlin. (fn. 125) Scott said the houses would be 'of a pretty Villa kind of Elevation' (fn. 124) but whoever was the architect interpreted this harshly (Plate 101e).
In 1876 Tomlin granted the easternmost house-site on the north side, previously part of the stopped-up Raspberry Lane, (fn. 126) to another professional adviser of the Gunters, the architect Henry Godwin. (fn. 127) He probably designed the assertive No. 36 here (Plate 101e), with detailing reminiscent of what he and his brother George were providing, with less polychromy, for the Gunters elsewhere. The directories note a first occupant — a music-seller— in 1883. (fn. 63)
Tomlin also completed the south side with the block of houses behind one-storey shops at No. 24A. He bought the site in 1875 (fn. 128) and had it built up (like the adjacent houses in Earl's Court Road) by Edward Francis, in 1876–7; the architect of this rather forbidding block was perhaps George Edwards. (fn. 129) In 1881 Turkish Baths were designed for this site by C. Harrison Townsend (as of Banks and Townsend) but evidently built (at a tendered price of less than £1,000) only in 1885–6. (fn. 130) Alterations were made in 1888 by the architects Morley and Letts to the Baths, (fn. 131) which survived here until the 1939–45 war. (fn. 63)