Pages 134-140
Survey of London: Volume 45, Knightsbridge. Originally published by London County Council, London, 2000.
This free content was digitised by double rekeying and sponsored by English Heritage. All rights reserved.
Kent House and the Kent House Estate Development
This section deals with the area formerly occupied by Kent House and its grounds, which was redeveloped by Mitchell Henry in the early 1870s as the east and south-west sides of Rutland Gardens (see fig. 47). Rutland Gardens Mews, which formed part of the Kent House estate, was built by the owner of South Lodge and is described above.
Old Kent House (demolished)
Kent House took its name from Queen Victoria's father Prince Edward, Duke of Kent and Strathearn. The prince was not yet 31 when, following a riding accident, he was invalided to England late in 1798 after a military career overseas. Taking a house in St James's while apartments at Kensington Palace were being fitted up for his occupation, he installed his mistress of some years' standing, Madame de St Laurent, in what was then a modest-sized newish house in Knightsbridge. The duke, as he became in 1790, spent part of 1799–1800 commanding the British forces in America, and a period in 1802–3 in Gibraltar as governor, after which he stayed in England until 1815. (fn. 5)
The Knightsbridge house, first rated in 1793, was held by Thomas Jones esquire on a long lease from George Shakespear and had briefly been occupied first by Lady Reeve and then a Mr Palmer. (fn. 6) It was occupied in 1799–1800 (while the duke and, presumably, Mme de St Laurent were in America) by Thomas Pownall, the aged former governor of Massachusetts and South Carolina. The building was greatly enlarged in 1801 at the duke's behest, expanding across 20ft-wide strips on either side of the original plot. For these and further ground at the rear Jones obtained an additional, concurrent, lease, himself granting a 28-year sub-lease of the house to the duke. (fn. 7)
Mme de St Laurent's relationship with the duke did not end until 1817 (when she withdrew to a convent in order to clear the way for him to marry in the interests of the succession), and it was no doubt for financial reasons that 'Knightsbridge House' and its contents were put up for auction in July 1808 (earlier attempts to find a private buyer having failed). No expense had been spared by the duke, whose tastes were exacting and extravagant beyond his means. It was a magnificent residence, superbly equipped, and decorated and furnished lavishly throughout (though not perhaps comparing with the duke's country residence at Castle Hill Park in Ealing). The principal reception room was a lofty drawing-room forty feet by twenty-six; there were two dining-rooms, a library, morning and music-rooms, boudoirs and apartments en suite. Decoration in white and gold, with mirrors, statues and marble chimneypieces, was offset by coloured hangings (predominantly blue), carpets and upholstery. Furniture included a set of thirty white parcel-gilt chairs upholstered with 'curtain seats' of blue silk damask; dining-room chairs, and some other pieces, were in the Grecian style. Blue and white Persian silk curtains hung at many of the windows.
Balconies at front and back gave views over Hyde Park and distant Surrey, while the grounds themselves were laid out with pleasure gardens, complemented by a large semicircular greenhouse, a hothouse, a kitchen garden and fruit trees. (fn. 8)
After the departure of the duke and Mme de St Laurent, the house was occupied by Lord Boringdon, later 1st Earl of Morley. He divided it, living in part and letting the rest to his sister and her husband, the Hon. George Villiers. A large garden with stables (now covered by Kent Yard and Rutland Gardens Mews) and a wide strip of ground on the east side of the house, with outbuildings, were formally added to the property under a third concurrent lease in 1829, the earl taking an assignment of all three leases from Thomas Jones of Droitwich in 1831. (fn. 9)
A bird's-eye view of the house and its well-screened garden in 1851 is given on Plate 7.
Kent House remained in the occupation of the two families for many years. The 2nd Earl lived there until c. 1860. The Villiers's daughter Theresa, and her second husband, the statesman Sir George Cornewall Lewis, lived in 'Kent House B' (the western half) until their deaths in the 1860s. 'Kent House A' was last occupied by Sir John Ogilvy, Bart, for some years MP for Dundee. (fn. 10) The whole building was pulled down in 1870 by the freeholder, Mitchell Henry of Stratheden House. (fn. 11) Not long afterwards its name was to be transferred to a new house built partly on the site of the old.
Kent House: The Westminster Synagogue
This dignified mansion of red brick and stone at the northeast corner of Rutland Gardens was built in 1872–4 for Louisa, Lady Ashburton, widow of William Baring Bingham, 2nd Baron Ashburton. It was the first house to be erected on the newly laid out Kent House estate, and the only one to be built on ground facing the park, where the development plan had called for a row of three large houses. As the first person to take a building plot on the estate, Lady Ashburton was allowed to appropriate the name, resonant with royal association, of the former mansion on the site. The new house was designed by Henry Clutton, architect of the Ashburtons' Jacobethan country seat, Melchet Court in Hampshire (1863–8). (fn. 12)
Widowed, with a young daughter, Lady Ashburton was rich, independent-minded and intensely interested in art, especially painting and sculpture. She was at the centre of a wide circle of artistic and literary figures, and numbered among her friends Thomas Carlyle, the painters G. F. Watts and Edward Lear, Sir Coutts Lindsay, the art connoisseur, and John Forster, the biographer of Dickens. With the American-born but Rome-based sculptress, Harriet Hosmer, of whom she was an important patron, her friendship developed into an intensely romantic relationship. Some of these figures became caught up in the saga of Kent House, as did her close friend Lady Marian Alford, another art-loving widow of substantial means and herself a friend and patron of Harriet Hosmer.
In deciding to build a town house rather than rent an existing property, Lady Ashburton could well have been influenced by Lady Alford, whose own new residence in Ennismore Gardens was then nearing completion (see page 175). Whether or not in conscious emulation of her friend, Lady Ashburton's choice of site closely mirrored that of Lady Alford's house – a corner plot, facing the Kensington road with a long return frontage.
Clutton's plans for the new house were put out to tender in the autumn of 1871, and half-a-dozen leading builders competed for the contract, the winner being William Brass of Old Street. At £14,945 his tender was the lowest. (fn. 13) (This did not include the quite separate and expensive stable block which Brass built for Lady Ashburton in Kent Yard, see below.) Once building was under way, in the spring of 1872, Lady Ashburton completed the purchase of the site, paying £18,000 to Mitchell Henry for the freehold. (fn. 14)
It is unlikely that Clutton counted Kent House among his more enjoyable commissions. Lady Ashburton could be difficult to deal with, as even her close friends admitted. 'Lady Ashburton is too absurd, a perfect dingle dousie', wrote Carlyle, while Harriet Hosmer called her 'erratic and immeasurable'. As her long-standing architectural adviser Clutton was no doubt used to her ways. But when, late in 1872, she went abroad for an extended stay he found himself beleaguered by the orders, criticisms and comments of her amateur lieutenants, who could be as exasperating as Lady Ashburton herself. Chief among them was Forster, who was left virtually in charge of her building projects, which by then included the reconstruction of Melchet after a disastrous fire. Living near by, in Palace Gate, Forster was effectively her agent on the spot, itself not an easy role, and although he wanted Clutton to look on him as 'your friend in this matter' relations between them were sometimes strained. More than once Forster wrote to Lady Ashburton that he would 'have been glad to get rid of Mr Clutton altogether'. (fn. 15)
Both Sir Coutts Lindsay and Lady Marian Alford were consulted over the interior decorations, and Lady Alford seems to have been behind the late decision to move the dining-room from the first to the ground floor – a major change of plan which not only caused delay but added another £1,300 to the costs. From Rome, Harriet Hosmer contributed her own salvos of criticism and suggestions.
To make matters worse Lady Ashburton's friends had little time or respect for Clutton himself. Hosmer called him 'the old Jesuit', and Carlyle 'that arch-quack and son of Beelzebub, Architect Clutton!'. (fn. 16) Hosmer had been urging Lady Ashburton to allow her to make a copy of an antique vase in the Vatican for the hall at Kent House, and she was not best pleased when Clutton objected that the vase (and its pedestal) were on too large a scale for the intended situation. Mockingly she wrote to Lady Ashburton:
Clutton's note amuses me & is all froth and bellow like himself – all nonsense – what a string of words to say that the bigger a thing is the more important it looks, which is what I suppose he means by the following – 'the supremacy of scale over every other element is the art of design'. (fn. 17)
Clutton was generally blamed for the slow progress of the work, though Lady Ashburton's absence and indecision contributed to this, as did the late change of plan. In April 1873 Forster had advised her that the house would be finished by September, but this forecast proved over optimistic. Delayed perhaps by Clutton's illness, work on the interior decoration was still in progress in November, and Lady Ashburton does not appear to have taken up residence until 1874.
The exterior of Kent House (Plate 66a), which Carlyle called 'very stately and fashionable', (fn. 18) is an early essay in the worthy if slightly dull French Renaissance manner which Clutton seems to have felt appropriate for secular buildings in London. He used it again at No. 39 Upper Grosvenor Street, and also around the Piazza in Covent Garden. On both the front elevation and the long return to Rutland Gardens the dark red brickwork is relieved by extensive use of Portland-stone dressings. These originally included a substantial balustraded parapet, now removed. A mason fell to his death during its construction, when scaffolding gave way under the weight of one of the component blocks. (fn. 19) The plain eastern elevation, intended to abut the proposed house on the adjacent plot, was originally windowless.
Figure 52 shows the former planning of the ground floor, not exactly as built but essentially so. Originally the house was some 15ft longer and had two more rooms on the ground floor at the southern end – an additional servant's bedroom and a larder. This part of the building, with its curved frontage to Rutland Gardens (Plate 68a), was sold in 1902 and incorporated into Rutland House adjoining. (fn. 20) In Clutton's original scheme (before the dining-room was moved downstairs) the ground floor was predominantly the servants' domain, the only family room there, apart from the hall and staircase, being the morning room. This idiosyncratic allocation was doubtless due to Lady Ashburton, who stipulated that 'the offices should be really first class – plenty of good air and sufficient light'. She could afford to be generous with prime space, given that this large house was built for the convenience of just two people – herself and her daughter.
The re-siting of the dining-room made it necessary to consign some of the domestic offices, including the servants' hall and the housekeeper's room, to the basement. But Clutton assured Forster that only the housekeeper's room would be 'inferior', because the window was too high up to give a view, although still 'very good compared with other London houses'. (fn. 21) Both the kitchen and scullery remained on the ground floor and they, like the other rooms on the west side, had windows looking on to Rutland Gardens.
The northern end of the ground floor was wholly given over to the saloon hall, a high-ceilinged room with a marble-and-stone floor and windows overlooking the main road and the park. At the west end, adjoining the front door, was a small entrance lobby created by a 6ft-high walnut screen with carved oriental wood and rolled-glass panels. The chimneypiece in the hall, of rouge marble, was embellished with a large carved stone frieze of a hunting scene, possibly of some antiquity.
South of the hall, but not directly communicating, was the morning room, from where folding doors gave access to the dining-room. The walls in both these rooms were hung with embossed and gilded leather. In the dining-room (where Clutton had been told to work closely with Lady Alford), the dominant feature was the black-and-gold wooden chimneypiece (Plates 66c, 118d). Inscribed with the motto EAT TO LIVE & LIVE TO SERVE, it had flanking barley-sugar columns on plinths embellished with the owner's monogram. In the overmantel was Edward Lear's painting The Crag that fronts the Even. Lear himself was delighted with its 'vast black frame': 'Never saw anything so fine of my own doing before and walked ever afterwards with a nelevated and superb deportment and a sweet smile on everybody I met'. Other paintings by Lear were also hung in the dining-room, which Forster had described as having a 'gallery character'. (fn. 22)
Clutton placed the principal staircase and inner hall in a top-lit compartment on the windowless east side, behind the saloon hall. Rising only to the first floor, the staircase is both broad and shallow, with cantilevered stone treads and gilded-iron scroll-balusters of an early-eighteenth-century character (Plates 66b, 67a). Lady Ashburton planned to display paintings and other works of art here, and in August 1873 Sir Coutts Lindsay superintended the installation of a large sculptural relief, Virgilia, by Thomas Woolner. It was not a success and soon removed.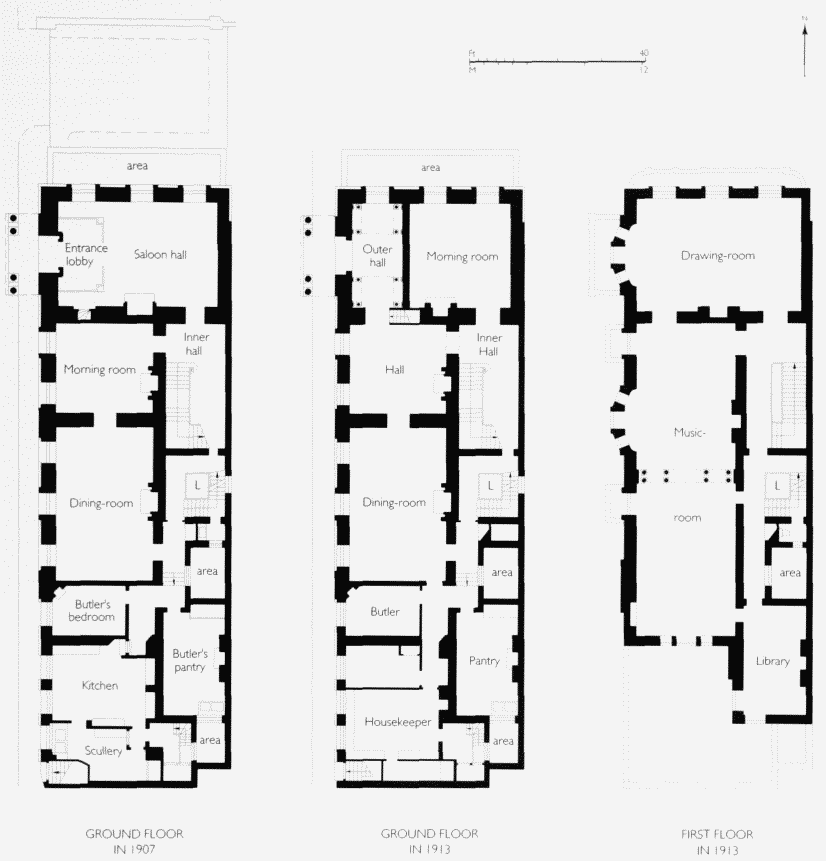 The staircase compartment was probably in Lady Ashburton's mind when in 1874 she discussed with G. F. Watts ideas for a great wall picture at Kent House. Nothing came of this, and in 1875 Augustus Hare noticed 'semi-ruined cartoons of Paolo Veronese upon the staircase'. (fn. 23) They were set off by stencilling on the walls – a pretty honeycomb pattern, incorporating flowers, the initial A, and the motto SMM (Plate 66b). The designer was L. W. Collmann, who also worked at Melehet, assisted there by Alfred Stevens. (fn. 24)
The first floor was given over to a suite of three intercommunicating drawing-rooms and a small library. Much the best preserved of the apartments created for Lady Ashburton, the library has fitted bookcases and a marble chimneypiece with Egyptianizing colonettes and inset panels of red marble carved with hunting scenes and putti treading grapes (Plate 118c). This chimneypiece is probably one of several which Lady Ashburton had in her possession and wanted re-used in the new house. (fn. 25) (The blue and brown Delft tiles on the hearth-cheeks post-date Lady Ashburton's occupancy.)
On the second floor were four bedrooms, three with communicating dressing-rooms, a bathroom and waterclosets, and on the top floor were seven bedrooms, a linen room, housemaid's room and w.c.
Kent House remained Lady Ashburton's London home until her death in 1903. She was frequently joined there by Harriet Hosmer, who, disenchanted with post-unification Rome, spent more and more of her time in England. Lady Ashburton provided her with a studio in Albert Gate Studios in William Street. (fn. 26)
After Lady Ashburton's death the house stood empty for several years. An auction in 1907 failed to attract a buyer, and in 1909 it was purchased by the industrialist (Sir) Saxton Noble, a director of Armstrong Whitworth, the armaments manufacturers. Noble and his wife (a grand-daughter of I. K. Brunel) occupied Kent House until 1940. Princess Marie-Louise, great grand-daughter of the Duke of Kent, who gave his name to the original Kent House, was their guest here for a couple of years. (fn. 27)
Before taking up residence the Nobles called in Reginald Blomfield to spruce up parts of the by-then old-fashioned and somewhat dingy interior. (fn. 28) On the ground floor Blomfield reorganized the entrance arrangements, dividing Clutton's large saloon hall to create an outer hall or vestibule with a new morning room behind, and turning the old morning room into a new hall entered from the vestibule by a door in the south wall (fig. 52). Though small, the outer hall is a striking example of Blomfield's skill as a designer of neo-classical interiors (Plate 66d). Predominately white in tone, it is divided into three compartments, the central space being flanked by alcoves with coffered vaults and entablatures carried on paired Doric columns. (fn. 1) In the new hall Blomfield removed the embossed-leather wall-hangings, and installed a blackand-white stone floor (Plate 67b).
In the inner hall Blomfield retained Clutton's staircase, but the upper parts of the walls he covered with classically detailed panelling, and on the second-floor landing he introduced a series of arched openings overlooking the stairwell, a change which necessitated raising the ceiling and the oval domed skylight. The result is an impressive if over-tall compartment which proved difficult to heat (Plate 67a).
On the first floor Blomfield combined the second and third drawing-rooms to make a large music-room, over seventy feet in length. Musical parties were a regular feature of the entertainments provided at Kent House by Noble and his wife (a former pupil of Clara Schumann), and many leading instrumentalists performed here, including Casals, Suggia, Myra Hess and the d'Aranyi sisters. Blomfield replaced the dividing-wall between the two drawing-rooms with a screen of paired Ionic columns under a deep entablature, decorated with a frieze of festoons and bucrania (Plate 67c). The original design for this screen had included a central archway, with coffered soffit matching the alcoves in the new entrance vestibule. However, this was ruled out when the removal of the dividing-wall brought to light a steel girder, and a continuous deep entablature was adopted instead. The frieze decoration, at first applied only to the entablature over the screen, was subsequently extended around the other walls of the music-room. (fn. 29) (fn. 2)
Within only a couple of years, however, this coolly neoclassical space was transformed into a decorative extravaganza with the installation of mural paintings by José Maria Sert y Badia, the fashionable Catalan artist and decorator. (fn. 3) Painted in Sert's Paris studios, the murals were installed at Kent House in June 1914, under the artist's personal supervision: the Nobles, who had accepted the work 'sight unseen', were delighted. (fn. 31) In the northern half of the music-room Sert's murals covered the whole of the north and west walls (Blomfield's frieze here being entirely removed). They were capriccio-like, faintly Dali-esque compositions in brown and gold, featuring classical temples perched on precipitous heights, bridges, waterfalls, fireworks, a canal, a procession of elephants and numerous nudes. In the southern part of the room the murals were smaller and fixed to the walls in frames, the surrounding areas being marbled in lapis lazuli blue. The columns in the screen were similarly treated and gilding was applied to both the capitals and the frieze. This work was carried out by W. H. Haynes, upholsterer, of Spring Street, Paddington. (fn. 32)
During the Second World War Kent House was let to the Red Cross as a repository for stores. After the war it was occupied as offices by a telephone company. In 1959 Sir Saxton's son sold the freehold and in the following year the house was bought by the Westminster Synagogue (previously the New London Jewish Congregation). (fn. 33) It has since undergone a further round of changes, particularly affecting the first and second floors. Blomfield's work on the ground floor and in the staircase compartment remains mostly intact, but the former music-room, now the synagogue, has been stripped of its columned screen, frieze and mural decorations, painted white and given a lowered ceiling. In the former dining-room (now the Rutland Room), Lady Ashburton's embossed-leather hangings survive, painted over white, but Clutton's chimneypiece has been removed to the synagogue above, where it has been adapted to make an Ark of the Covenant (Plate 118d). The marble chimneypiece in the morning room (now the Reinhart Library) has lost its sculptured frieze.
Since 1964 the third (top) floor of Kent House has been occupied as the Czech Memorial Scrolls Centre, where some 1,500 Torah scrolls purchased from the Jewish Museum in Prague have been stored and repaired before being allocated to Jewish congregations around the world.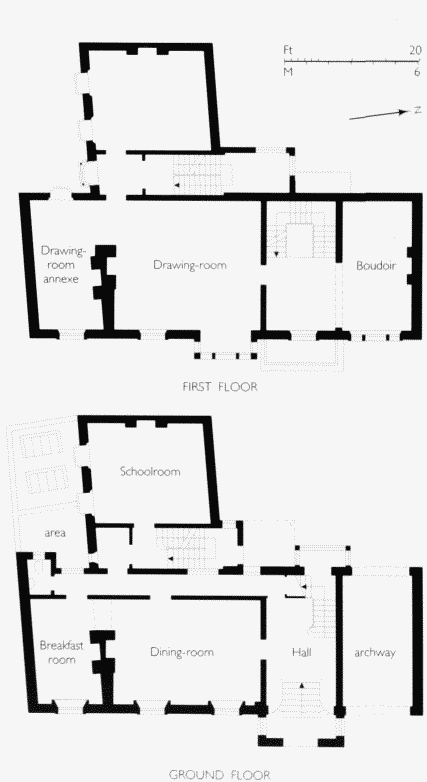 Rutland House and Nos 1 and 2 Rutland Gardens
These tall and severely plain houses were built in 1872–3 by T. H. Adamson & Sons of Putney for Colonel (later Sir) Robert Cavendish Spencer Clifford, the largest, Rutland House, as his own residence. The architects were Walker & Elsam. (fn. 34) There was originally a fourth house, No. 3, which was bought in 1882 by J. A. Rolls of South Lodge and demolished, principally to improve the view from his own residence. Later Rolls also purchased the coach-house and stabling at the rear of Rutland House, which he made more attractive externally and turned into a laundry for South Lodge. The owner of Rutland House retained use of the roof, which was laid out as an ornamental garden. This building, made into living accommodation in the 1960s, is now known as Balcony House (see fig. 51). (fn. 35)
Rutland House was bought in 1899 by Colonel Charles St Clair Anstruther-Thomson, who initially employed (Sir) Edwin Lutyens to design some decorative alterations. These involved the incorporation of a set of four large spiral columns into one or other of the principal reception rooms. (fn. 36) A group of 'five Spanish paintings' mentioned by Lutyens in correspondence in 1900, and intended by him for the ground-floor dining-room, may have been the 'five valuable oil-paintings' still in the house when it was put up for sale in 1967. They were then mounted in carved oak wall-panels in the back sitting-room on the first floor. (fn. 37)
In 1902 Anstruther-Thomson extended the building with the acquisition of the south end of Kent House (Plate 68a). The attendant alterations, carried out by Harrods, included the filling in of the gap between the addition and the front bay-window of Rutland House to create annexes to the front rooms. On the first floor the annexe, used as a studio, was decorated in Moorish taste, with tiling and mosaic flooring. (fn. 38)
Plate 68c shows the entrance hall of Rutland House as decorated in 1906 by 'Cavaliere Formelli' – doubtless the architect and decorative artist Commendatore Cesare T. G. Formilli, who was later responsible for the redecoration of the Brompton Oratory. The roundels, depicting Roman emperors, were modelled by Panicelli of Hammersmith Broadway, and the variegated marble was from the demolished St James's Hall in Piccadilly. Some remnants of this scheme were still in existence in 1993, including the imperial portraits. (fn. 39)
Rutland Lodge and Kent Yard
Kent Yard seems originally to have been envisaged as a quadrangle of stables and carriage-houses with a screen wall in front, but the first building to be erected there was a dwelling-house. This was Rutland Lodge, built by Thorn & Company for Frederick Sang, the architect and decorator who laid out Rutland Gardens on the Kent House estate for Mitchell Henry. The building of the house, presumably to Sang's designs, began in the summer of 1872, at about the same time as Colonel Clifford's houses were being erected opposite. (fn. 40) A large stable for Kent House was built in the following year adjoining Rutland Lodge (see No. 1 Kent Yard below), and subsequently two smaller stables were built at the back of the site (Nos 2 and 3 Kent Yard), one of them for Clifford. (fn. 41)
Rutland Lodge has a stucco-dressed front of Italianate character, with a sculpted head decorating the wall below the two-storey oriel window, and other, slightly effete, decoration in relief (Plate 68b). The house was first occupied about 1874 by an American theatrical impresario, 'Colonel' H. L. Bateman. (fn. 42) (fn. 4) He had settled in England with his wife Sidney, the daughter of an English comedian, Joe Cowell, who had emigrated to America. Two of their daughters, Kate and Ellen, were famous as child actors, touring under the management of P. T. Barnum, and it was to promote another daughter, Isabel, that Bateman took over the Lyceum Theatre in 1871. She was not the hoped-for success, but that same year Bateman's then little-known leading man at the Lyceum, Henry Irving, made a spectacular hit with The Bells. Bateman – known for his fiery temper – died at Rutland Lodge in 1875 following a fracas at a restaurant dinner hosted by Irving, apparently started when the police requested the party to break up as required by the licensing laws. (fn. 44) Afterwards, Mrs Bateman ran the Lyceum for a few years before relinquishing it in somewhat acrimonious circumstances to Irving and herself taking over Sadler's Wells. She appears to have left Rutland Lodge soon after the colonel's death.
Rutland Lodge has been much altered over the years, and little remains of the original interior features. Figure 53 shows the layout in 1929, by which time the house had been much enlarged. The stable and coach-house added in 1879 were probably the origin of the west 'wing'; the annexe at the south end also seems to be an addition. Rutland Lodge was further enlarged and made into five apartments in the 1960s. It has been occupied as the Turkish Consulate General since the mid-1970s. (fn. 45)
No. 1 Kent Yard, adjoining Rutland Lodge, was built in 1873 by William Brass for Lady Ashburton of Kent House. (fn. 46) Four-storeyed and of L-shaped plan, it was designed by Henry Clutton, Lady Ashburton's coachman being consulted over the details. On the ground floor were a coach-house for several vehicles and two loose-boxes. A ramp in the southern arm of the building led up to stalls for six horses on the first floor, above which were a balcony and a harness room, and, at the top of the building, living quarters for the coachman and grooms. The accommodation was much greater than had been in mind when the site was taken in 1871, and it was to avoid buying more ground (for which Mitchell Henry was asking what Clutton felt to be an exorbitant price) that the four-storey layout was devised. It was nevertheless a very expensive building, costing well over £3,000, and fully in line with Lady Ashburton's requirement that service accommodation for Kent House should be of the highest standard. Her close friend Harriet Hosmer found it 'palatial'. (fn. 47)
About 1910 No. 1 was converted to a garage and chauffeur's house for Saxton Noble, Lady Ashburton's successor at Kent House. It has undergone successive remodellings since, most recently in 1986–7, and now comprises six floors, including basement, arranged as two dwellings. (fn. 48)
Nos 2–5 Kent Yard are four houses built in 1961–2 on the site of the former Nos 2 and 3, two stables built in the 1870s. They were designed by Collins and Babister, architects, of Leverstock Green, Hertfordshire (Plate 79b). (fn. 49)