Pages 140-142
Survey of London: Volume 45, Knightsbridge. Originally published by London County Council, London, 2000.
This free content was digitised by double rekeying and sponsored by English Heritage. All rights reserved.
Stratheden House and Rutland Court
This section deals with the west side of Rutland Gardens north of Kent Yard. Now covered by Edwardian flats, it was formerly occupied by a single dwelling, latterly known as Stratheden House.
Stratheden House (demolished)
The mansion which became known in the nineteenth century as Stratheden House was designed by Sir William Chambers for the politician and army contractor John Calcraft the elder (1726–72), who took a long lease from the freeholders, William and John Shakespear. (fn. 1) It was built in 1770–2 on a joint contract by Chambers and the decorative plasterer Thomas Collins. The house is described by Chambers's biographer as square in plan with a handsome staircase, but containing only 'a small number of rooms suitable to the needs of a bachelor' – a somewhat ambiguous description, in view of the fact that Calcraft fathered at least two illegitimate families. (fn. 2) He owned several estates, including much of the town of Wareham in Dorset; early death, however, denied him the chance of settling in at Knightsbridge. Little is known of the appearance of the house. Distant views indicate a tall, plain building with a hipped roof (Plates 6b, 7).
Calcraft's house was for many years the residence of William Marsh, senior partner in a banking house which failed in 1824 following embezzlement by another of the partners, Henry Fauntleroy, who was hanged in consequence, despite widespread protest. (fn. 3) Subsequently the house was occupied by Lord de Dunstanville, formerly MP for Penryn, and became known as Dunstanville House. The best known occupant, however, was Lord Campbell, Lord Chief Justice in 1850 and later the Lord Chancellor, and it was from his wife, Baroness Stratheden of Cupar, that the house took its final name. Campbell bought it from de Dunstanville's daughter, Baroness Basset, in 1842. Savouring the view over Hyde Park and air as pure, he felt, as any in England, he set about his great work, The Lives of the Chancellors. (fn. 4) Later his view was marred by the erection of the Crystal Palace. On the closure of the Great Exhibition, Campbell took an active part in the debate on whether to preserve or demolish the building. 'I have been the leader of the pulling-down faction', he recorded, 'and our triumph has covered me with glory, although I have been scurrilously abused in the newspapers, and at all the public meetings which have been held'. (fn. 5)
The last occupant was Mitchell Henry MP (1826–1910), who purchased the freehold of the Stratheden House and Kent House estate in 1863. Born in Manchester of Irish stock, he was the son of Alexander Henry, a textile merchant and Liberal MP for South Lancashire. Mitchell trained and practised as a surgeon, but after his father's death joined the family firm, A. & S. Henry, and went into polities, becoming a significant figure in Irish affairs as MP for County Galway. He also acquired a large estate in Galway, where he built a vast Gothie pile called Kylemore Castle (now well known as Kylemore Abbey, a Benedictine convent). The Campbell family, too, had links with Galway, but whether this had any bearing on Henry's acquisition of Stratheden House is not known.
Mitchell Henry transformed Stratheden House in keeping with his status as both public figure and connoisseur of the arts. The work was carried out by the architect T. H. Wyatt and, as decorator, the architect Frederick Sang. Most of the ornamentation was Italianate in style, befitting a collection of furniture and objects d'art which ranged from an antique bust of Agrippa to a carved settee from a Florentine mansion. The furniture also included modern Italian replicas of originals in the Vatican and the Pitti Palace. One of the most elaborate rooms was the library, fitted up with ebonized woodwork and gold mouldings, green silkhung walls, and an ornate ceiling and frieze in Venetian cinquecento style, embellished with portraits of philosophers and poets. The showpiece of the house was The Pompeian Mother, Giosuè Meli's statue of a woman and child fleeing from the eruption of Vesuvius. This was displayed in its own Pompeian-style temple within the house. Among other items in the Henry collection were a Puck by J. G. Lough (another example of which is in the V & A) and statuary by Woolf of Rome. (fn. 6)
Possibly as a result of extravagance in building and collecting, Henry's financial position deteriorated; and his life seems to have been marred by family tragedies. Having retired as chairman of V. & S. Henry in 1893, he disposed of all his holding in the firm over the next few years. (fn. 7) Stratheden House was sold up and pulled down about 1900; the site is now occupied by Rutland Court. Kylemore was sold at a heavy loss in 1902, (fn. 8) and Henry died a few years later, leaving barely £400. (fn. 9)
Rutland Court
In 1899 plans were proposed for a block of flats on the site of Stratheden House. The building, designed by the architect William Isaac Chambers, was to have comprised a number of balconied apartments, each of fourteen large rooms. (fn. 10) Nothing came of this scheme, however. In June 1900 the cleared ground was put up for auction but was withdrawn when bidding failed to go higher than £89,000. It had been sold, reportedly for £85,000, by September 1901, when work began on the blocks of apartments which make up Rutland Court. The architect of the new building was Delissa Joseph, and the builder Henry Lovatt of Wolverhampton. (fn. 11) The 'developer' was probably the North British Mercantile Insurance Company, Mitchell Henry's mortgagee, which was named as the freeholder some years later. (fn. 12) Finished in 1903, Rutland Court cost £120,000 to build. (fn. 13)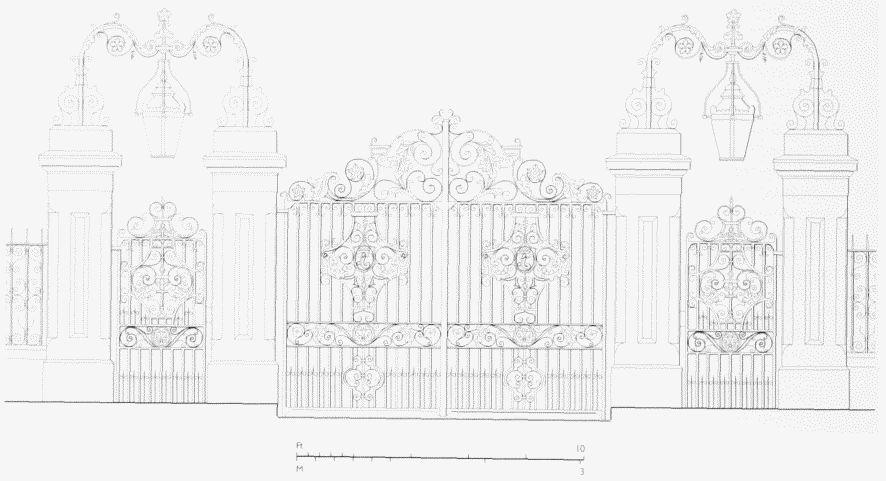 The complex was planned as a mixture of flats and maisonettes (fig. 54). Faced in red brick and Portland stone, it has the French-inspired appearance of much of Delissa Joseph's work and some well-executed ornamental details (Plate 34). The tall main block fronting Kensington Road, of nine storeys, is surmounted by a Baroque dome and cupola; the portico is an attenuated substitute for that intended, which the London County Council would not allow. (fn. 14) The blocks to the rear, fronting Rutland Gardens, are lower in height and much plainer.
The photographer Cecil Beaton occupied a flat in Rutland Court (Plate 111c) for a few years until the outbreak of the Second World War.