Pages 182-202
Survey of London: Volume 46, South and East Clerkenwell. Originally published by London County Council, London, 2008.
This free content was digitised by double rekeying and sponsored by English Heritage. All rights reserved.
CHAPTER VII: Cowcross Street and Turnmill Street
At the start of the twenty-first century, these two streets and their hinterland are among the most visibly thriving parts of Clerkenwell. They house a range of businesses and places of refreshment, as well as a rising residential population, permanent and transient. Cowcross Street in particular is a cherished thoroughfare which owes its charm to its gently curving course and close-knit scale, and its liveliness to the proximity of Farringdon Station (Ill. 228). Its medley of buildings ranges from much–altered Georgian houses with shops through converted Victorian warehouses to contemporary offices and flats.
The present-day fabric of Cowcross and Turnmill Streets still bears the imprint of three near-simultaneous developments that took place close by in the 1860s and profoundly altered the area's character: the construction of Farringdon Road, the building of the Metropolitan Railway, whose Farringdon passenger and freight stations were located at the hinge of the two streets, and the reconstruction of Smithfield Market. These transformations did not quite inaugurate the present four- or five-storey scale of these streets. But they confirmed it and hastened it on, as plentiful Victorian warehouses for manufacturing and wholesaling sprang up, linked to railway and market.
Until Farringdon Road was completed, Cowcross Street and Turnmill Street formed a single important route north from the City, leading to what are now Farringdon Lane and King's Cross Road (Ill. 229). It had become a narrow and congested thoroughfare, passing through a densely built-up district, commercial and industrial in character since the Middle Ages and harbouring many old tenements in courts and alleys, occupied by some of the poorest of the poor. The sites along the west side of this route were completely obliterated by the new road and railway, while the street lost more of its ancient character when the roadway was widened and the paving levels improved in 1865. (fn. 1) Apart from Farringdon Station, and the handful of buildings adjoining, the west side of Turnmill Street since then has been lined by nothing more than a brick wall alongside the railway cutting (Ill. 230).
Until about the end of the eighteenth century, Cowcross Street was usually called Cow Cross, the name probably referring originally only to the east—west branch of the street. Subsequently it was known as Cow Cross Street, a form gradually superseded by Cowcross Street during the nineteenth century. Historically, it included what is now the southern half of Turnmill Street, extending as far as the boundary between the parishes of Clerkenwell and St Sepulchre Without (Ill. 229). The present demarcation dates from 1925, when Nos 66–31 Cowcross Street became Nos 83–102 Turnmill Street. At the same time the greater part of Charles Street, running in front of Farringdon Station, was redesignated part of Cowcross Street (the short portion west of Farringdon Road becoming part of Greville Street). As for Turnmill Street, this originally went further north than now, including what was to become Silver Street, on the west side of the Middlesex Sessions House.
This chapter covers chiefly the historic line of the route between St John Street and Clerkenwell Road. Presentday Cowcross Street west of Turnmill Street, Farringdon Station, and the entire west side of Turnmill Street are discussed with Farringdon Road and the railway in Chapter XIII. The present building on the corner site of Turnmill Street and Clerkenwell Road is described with the rest of Clerkenwell Road in Chapter XIV.
The area before the Victorian improvements
The line of Cowcross and Turnmill Streets marks the south and west boundary of the precincts of the Hospitaller priory of St John of Jerusalem. Whether the mid-twelfth century priory dictated the position of the streets, or the streets were already in existence and set the limits of the priory is uncertain, although the latter explanation is likelier. The horse and cattle market at Smithfield certainly pre-dated the priory, being in existence by 1123. As well as Smithfield market there was a separate cow market, with its market cross after which Cowcross Street is named. This stood at the junction of St John and Cowcross Streets, where a small open area still exists (Ill. 254). (fn. 2) Like St John Street, Cowcross and Turnmill Streets were used for droving in connection with these markets, and may even have been more important anciently than St John Street for this purpose, and as a route to High Barnet and the north generally. (fn. 3)
In the thirteenth century the priory owned meadows on the west side of Turnmill Street, running down to the Fleet. By the 1280s there were houses with gardens on the east side of this street, on long, narrow plots backing on to the 'hospital croft' (later Butt Close). Lessees here included tile-makers and millers. Mills certainly existed along the river by the mid-twelfth century, and gave the street its name. They were variously used for corn-milling, but also fulling, lead-milling and pigment-grinding. (fn. 4) Cowcross Street was also being developed from about this time, probably with premises where butchery or related activities took place, such as the working of horn. (fn. 5) The ready supplies of fresh water from the Fleet, the Faggeswell Brook south of Cow Cross, and Fagge's Well itself, probably situated near the cow market, made this an attractive area for tanning after the exclusion of tanners and leatherworkers from the City in 1365. Parchment–making, another related trade, was being carried on in Turnmill Street by the early fifteenth century. (fn. 6)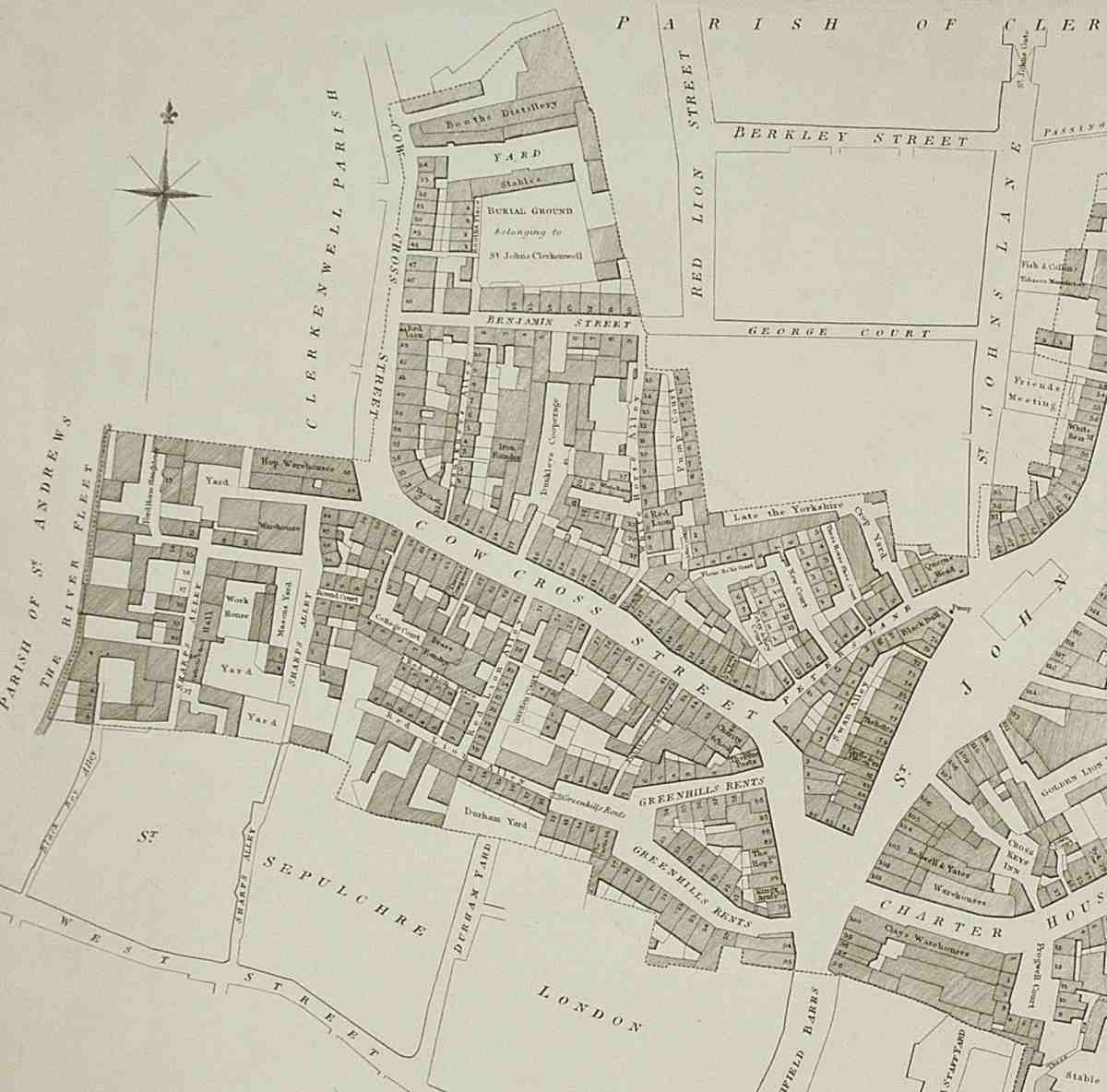 Being a main route to and from London, Turnmill and Cowcross Streets acquired numerous inns. The Cock, on the east side of Turnmill Street, is recorded as extant in the mid-fourteenth century, the Rose somewhat later. By the early fifteenth century there were shops in the vicinity of Peter's Lane, and a variety of craftsmen there, including tilers, a smith and a skinner. The tenements erected here occupied narrow plots, with shops on the street frontage and workshops behind. (fn. 7) Similar dense development subsequently spread westwards along Cowcross Street, replacing cottages, stables and gardens.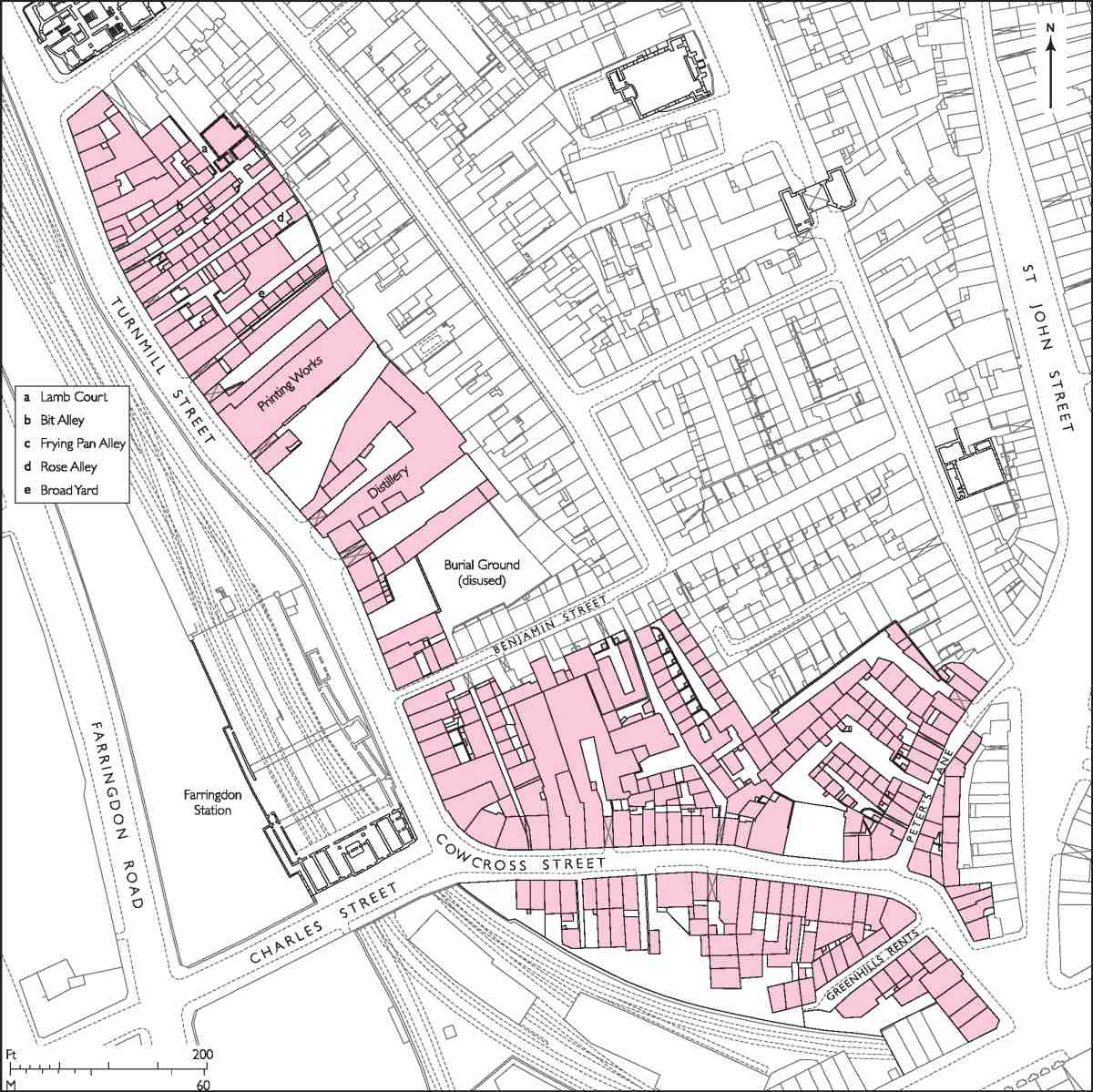 After the dissolution of the priory the two streets seem to have degenerated. By the end of the sixteenth century this was a poor area, synonymous with crime and prostitution. The parish of St Sepulchre Without was part of a wider district known as the 'Rules of Fleet', where Fleet Prison debtors could get lodgings, and this may have been a factor in determining the low character of the area. (fn. 8) There was perhaps something of the louche flavour of Bankside. The playwright George Wilkins, who is believed to have written the first nine scenes of Shakespeare's Pericles, set up as an innkeeper in Turnmill Street in 1610, his inn probably also a brothel. (fn. 9) There are passing allusions to Turnmill Street, often under the name of Turnbull or Turnball Street, as a place of vice and low life in The Knight of the Burning Pestle, Bartholomew Fair and other plays up to Restoration times. (fn. 10) Among other slight literary associations, Dr Thomas Worthington, former president of the English College of Douai and one of the translators of the Douai Bible, lived in Turnmill Street in 1624, (fn. 11) while the young Andrew Marvell lodged briefly on 'the North Syde of Cowcrosse' in 1642. (fn. 12)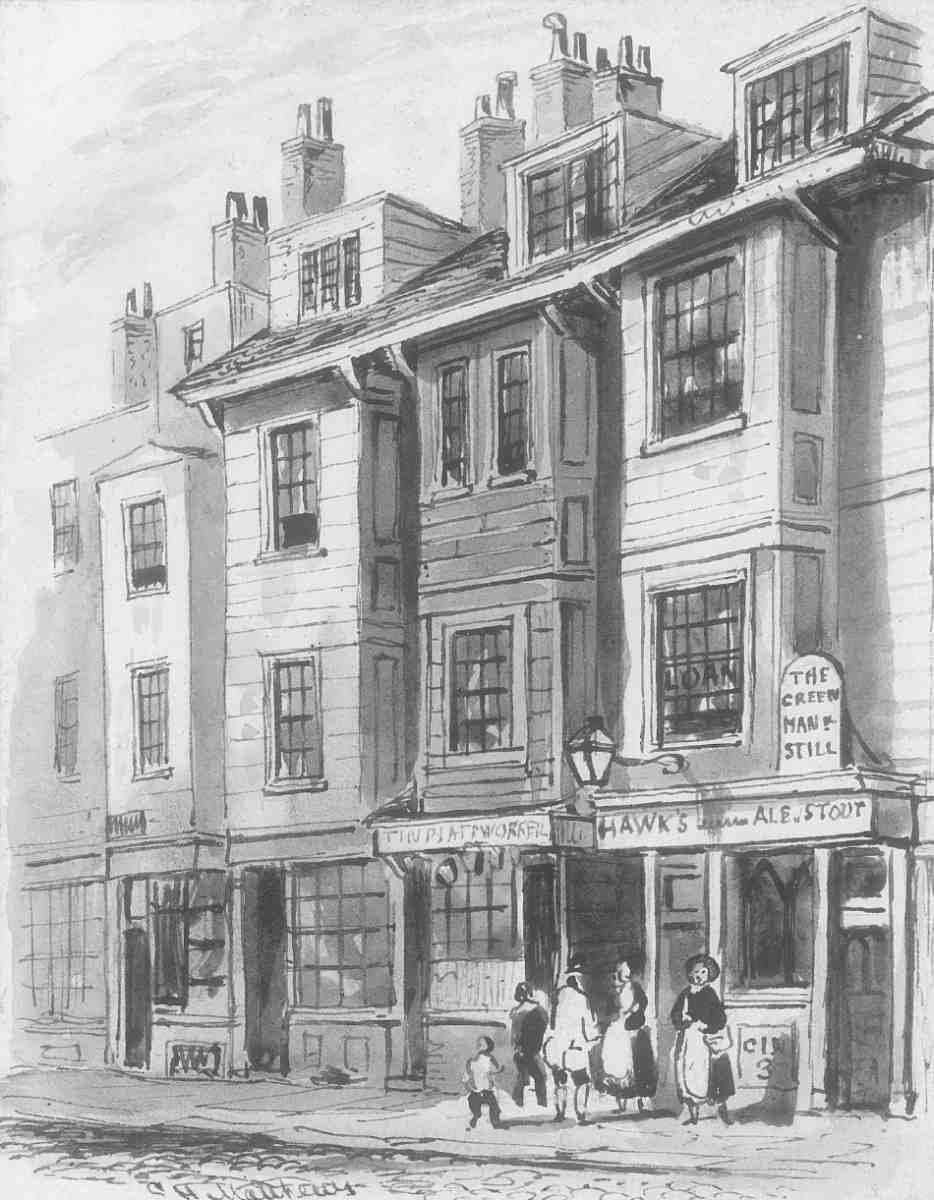 This was also an area of violent crime and theft. The street robber James Dalton, whose sensational life story was published on his being hanged in 1730, was probably born in Cow Cross, returning here from transportation to America and becoming part of a 'ferocious' local street gang. (fn. 13) The many taverns were an obvious source of trouble. In 1789 the Vestry complained that there were too many, petitioning the magistrates not to renew the licences of four (including one of particularly bad reputation, the Roebuck, opposite Turk's Head Yard), nor to grant any new ones. (fn. 14)
In 1796 a riot starting in the Sun (on the north side of the present Cowcross Street) spread to the watch-house, where the beadle was killed and a number of watchmen injured. (fn. 15) Around the same time William Lancaster, landlord of the nearby Compasses (forerunner of the modernday Three Compasses at No. 66 Cowcross Street opposite), was revealed as a Hounslow Heath highwayman. (fn. 16) A little later the Castle tavern, ancestor of the present pub of the same name in Cowcross Street, was allegedly granted a pawnbroker's licence by George IV in recognition of a loan to settle gambling debts incurred in cock-fighting at Hockley-in-the-Hole (a painting displayed in the pub depicts the imagined scene). (fn. 17) Before its replacement in 1865–7 the Castle was described as the haunt of 'the knackers and bone-pickers of the metropolis'. (fn. 18)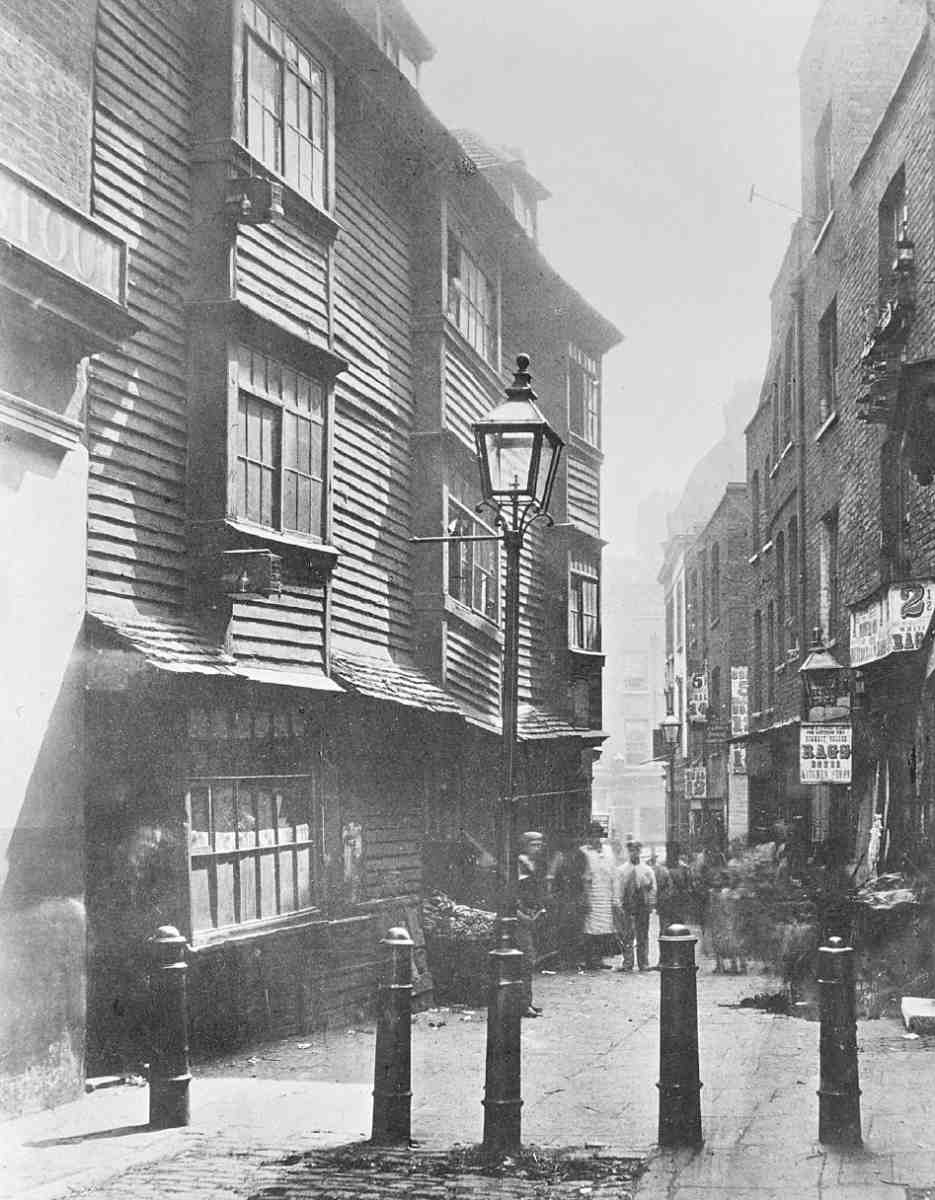 The knacker's trade was an important one locally, particularly in nearby Sharp's Alley (see below). Horse theft was rife, and it was not unknown for a stolen horse to be swiftly sold and disposed of at one of the many local slaughterhouses. About 1800 Thomas White, a slaughterhouse owner, petitioned against the granting of any more licences for slaughterhouses, as the area could not sustain so many: or, if it could, it would only be because of a corresponding increase in horse theft. (fn. 19)
As to the older fabric of the area, timber-framed or largely timber-built houses, medieval, Tudor or Stuart in date, survived long into the nineteenth century. Cromwell in the 1820s described Turnmill Street as containing 'many ancient dwellings disguised, for the most part, by modern repairs'. He seems to have been referring not to the many generally very small houses in the off-street courts and alleys, but to higher-class ones. (fn. 20) In the 1850s Pinks noted wooden-fronted buildings in Faulkner's Alley, and the remains of an elaborately carved gateway at the corner of Red Lion Alley. (fn. 21)
Apart from one slight sketch of 1828 by the painter E. T. Parris, (fn. 22) little of this seems to have been recorded, though a group of timber buildings in Cowcross Street by the entrance to White Horse Alley attracted some attention in the early 1870s, shortly before demolition. White Horse Alley itself was also drawn, and a photograph by William Strudwick showing narrow houses and shops in Peter's Lane, some of timber and some of brick, conveys in detail the character of the better side lanes (Ills 231–233).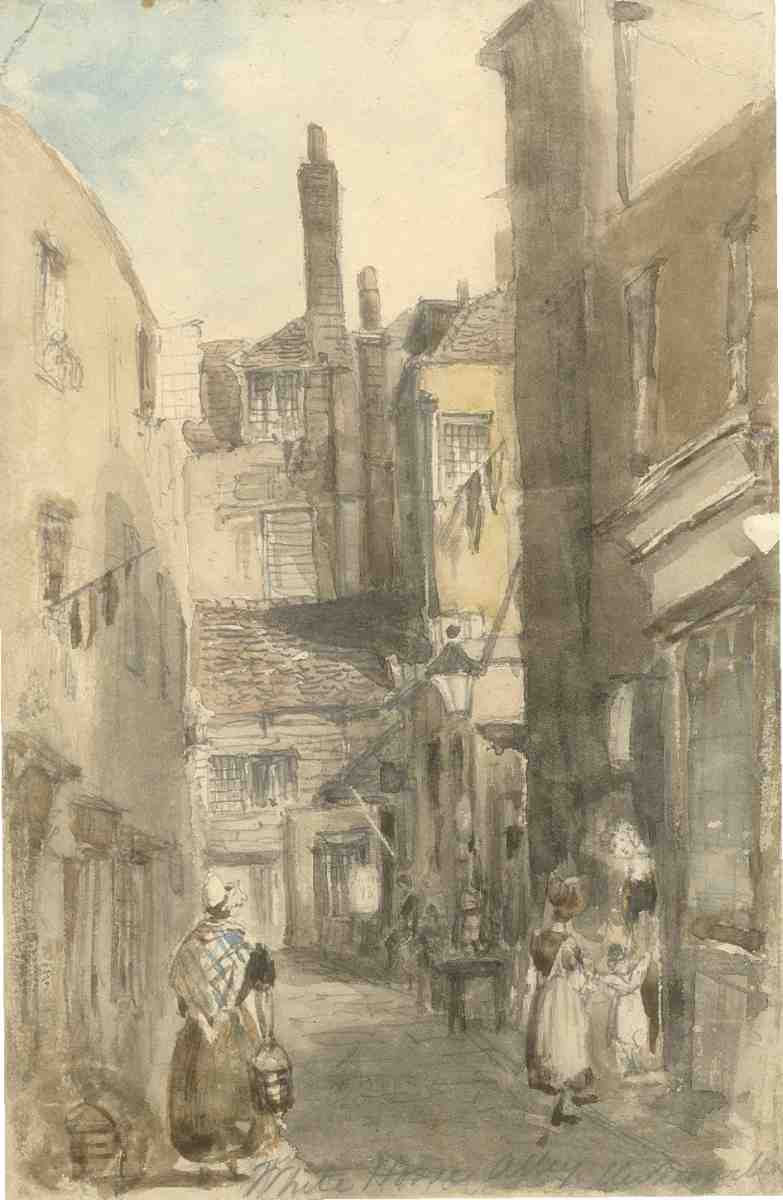 Brick-built houses doubtless started to replace timber ones in the normal way from the later seventeenth century. The east side of Turnmill Street, as disclosed by a photograph showing the progress of the Metropolitan Railway and Farringdon Road in the early 1860s, was lined by mainly Georgian-style fronts, though some may have hidden much older houses (Ill. 508). Today few traces of the Georgian fabric remain, the only substantial run of survivors being at Nos 4–8 Cowcross Street, some dating from the 1780s. Almost alone among larger buildings before 1800 was a workhouse of 1727 for the parish of St Sepulchre Without, one of the many built following Sir Edward Knatchbull's Poor Relief Act of 1722–3. It stood just south of the site of Farringdon Station, between Sharp's Alley and Black Boy Alley, 'a very dirty part of the Parish', and close to the workhouse and burial ground of the parish of St Sepulchre within the City bounds (Ill. 229). The site was on a small estate bequeathed in 1658 for the benefit of the poor by Edward Cottle, citizen and loriner, who had perhaps been in business hereabouts. Closed in 1845, the building was demolished as part of the Metropolitan Railway clearance.
Industry and Commerce
For centuries Cowcross Street and Turnmill Street were home to a wide range of processes, manufactures and trades. There were some long continuities. Booth's gin was produced in or near Turnmill Street for two hundred years until the 1970s (page 197).
The original Cow Cross cattle market and the Smithfield horse and livestock market were the most enduring influence on the character of Cowcross Street. The slaughtering of animals, especially horses, and the processing and storage of their carcases, were the trades longest associated with the area, and the latter has only recently dwindled. Horse-slaughtering was important here in the late eighteenth century and perhaps had been much earlier. The same establishments evidently killed or received 'unserviceable' cattle too, such as diseased animals that would not do for good-class butchery. (fn. 23) In Victorian times the name of John Atcheler of Sharp's Alley, 'horse slaughterer to Her Majesty and the Royal Family' was well-known. (fn. 24)
Sharp's Alley, a long maze of courts that ran southwards from the point where Turnmill and Cowcross Street now meet, was a particularly fetid environment. This nexus housed a cluster of noxious, to some extent codependent trades. Here besides Atcheler the knacker laboured in his day two carcase-butchers, a bladder-dealer, and several catgut workers making strings for violins and other musical instruments. A map of 1824 shows a horseslaughterer's yard and buildings here occupied by one Ford. (fn. 25) This was no doubt connected with the works of Thomas Ford, listed here in the Post Office Directory in 1841 and described as a cart-grease manufacturer.
By the time Sharp's Alley was cleared for the railway, several of its firms already boasted large, purpose-built premises. Among these, for instance, were Braden's steammills for manufacturing cattle-feed, on the site of the present Farringdon Station (Ill. 508). The increase in scale can probably be dated to around 1800. Warehouses were being built on Turnmill Street in the very early 1800s, while two are shown in or near Sharp's Alley on the parish map of 1823, one identified as for hops (Ill. 229). (fn. 26) In keeping with the area's reputation for crime, in the late 1820s an illicit glassworks with three furnaces was discovered by excisemen, hidden in 'a back and very secluded shed' in Round Court, a dead-end off Sharp's Alley. (fn. 27)
Quite how unsavoury the Sharp's Alley enclave was is suggested by a prosecution brought in 1848, when a policeman stopped a carter delivering the foul-smelling carcases of diseased cows and a horse at the carcasebutcher Lansdowne's yard. Giving evidence, his neighbour Atcheler claimed the carcases were really meant for him, and described Lansdowne as a respectable man who 'did not make the common sausages, but only those that were fit for the west-end of town … the real German sausages, which were of the very best meat, mixed with a bit of "tommy"'. Asked if he meant 'Tommy Cat', Atcheler replied amid laughter, 'Oh! no; a little of bull beef, which makes them good and stiff.' At Atcheler's yards, here and later in Belle Isle, north of King's Cross, horse-flesh was boiled up in vast coppers to make catsmeat, for feeding cats and dogs. (fn. 28)
Soap-making was another of the noxious trades found in the area, its presence no doubt explained by the proximity of Smithfield Market and the Fleet river. Among the smarter crafts found plentifully in southern Clerkenwell at this period, cabinet-making seems not to have been represented here, though it had been earlier to some extent at least. In the late eighteenth century there were at least some makers of clocks and watches in Cowcross Street, including the clockmaker James Harbud and a watchmaker from Whitehaven, John Davidson, insolvent in 1772. (fn. 29) John Willshire, a tool dealer, perhaps supplying local craftsmen, was active in Cowcross Street about 1800. (fn. 30) Peter and Paul Gally, looking-glass and pictureframe makers, were based in Turnmill Street for a time about 1809. (fn. 31) In 1790 James Scofield at No. 76 Cow Cross was producing the 'patent coach trumpet', a kind of speaking tube for passengers to communicate with their coachman, an invention which Scofield boasted was used by the Prince of Wales. (fn. 32)
Many ordinary businesses were also carried on here. A tallow chandler and a tobacco-pipe maker, both of Turnmill Street, were among the first officers in 1724 of the new parish of St John's, Clerkenwell, (fn. 33) and occupations of Cow Cross residents in the 1750s and 60s included those of soap-maker, chandler, corn chandler, cabinetmaker, broker, blacksmith, bricklayer and pewterer. (fn. 34) Lowlier occupations included the spinning of yarn for mops, recorded in 1801 when the Turnmill Street workshop where it was being carried on burned down. (fn. 35)
On the eve of the clearances for Farringdon Road and the Metropolitan Railway, the west side of Turnmill Street, together with the Sharp's Alley warren, supported a number of butchers, bakers and other shops, and industrial or craft activities including candle manufacture, coach-building and the making of hames or shafts for horse-drawn vehicles. (fn. 36) Among several foodstuff dealers was a poulterer and egg-merchant, who in 1844 lost a thousand pigeons in one fire and 500 quails (kept in a cellar) in another a few months later. (fn. 37) In Cowcross Street near the way-in to Sharp's Alley was a charcoal-burner.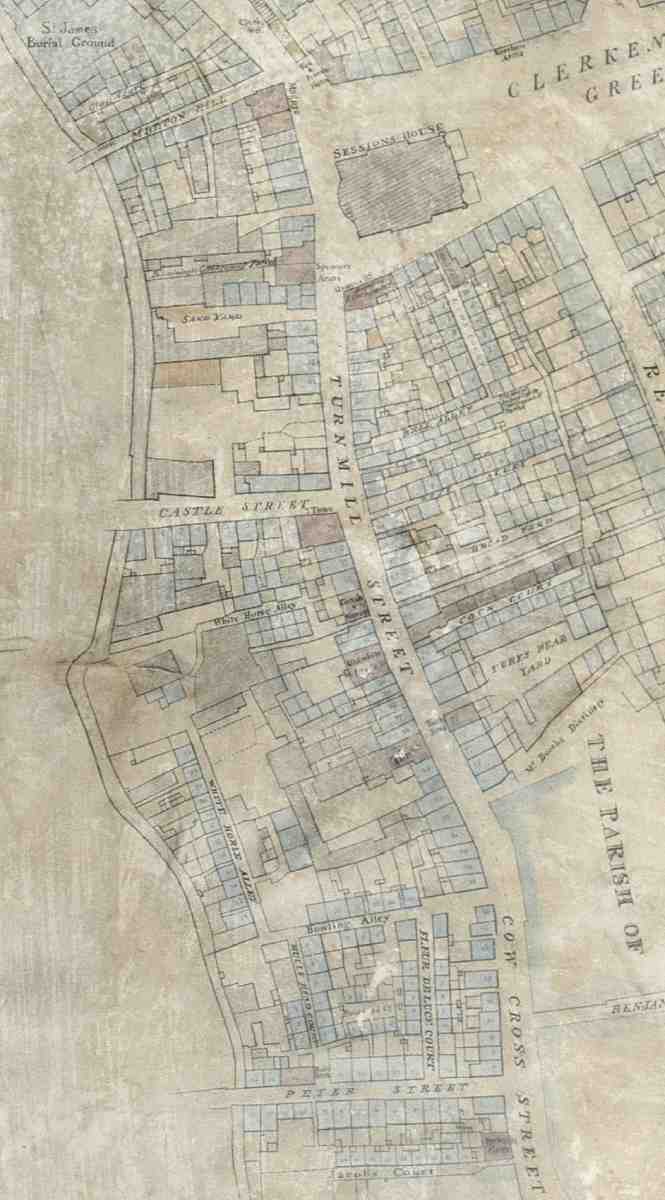 For Cowcross Street, in the early 1840s, fairly few businesses were listed in the street directories. On the north side, between St John Street and Booth's distillery, these included two plumbers, a glass bender, a maker of paint and varnish, and a firm making scales. East of Sharp's Alley, on the south side, were wire workers, a bellowsmaker, a tobacco-pipe maker, a carpenter-builder, a cooper and dealers in tallow and rags: a roster little changed from a century and more before. Ten years on, the number of businesses had apparently more than doubled, particularly on the north side and further north towards Booth's distillery. Much of the increase seems to have been in ordinary shops (and may reflect the growing comprehensiveness of the directories), but there were now also a brass-cock founder, an Italian figure-manufacturer, and a maker of projecting letters. By 1860 there was a strong representation in Cowcross Street of metal-based trades, including several tool dealers, a whitesmith, a blacksmith, a coppersmith, a printer's smith, a stove-range maker, and a firm of engineers. John Chubb, the lock and safe maker, had set up his safe factory here, at No. 27. (fn. 38)
Slums
Cowcross Street and more so Turnmill Street harboured some of the worst slums of mid-Victorian London. Much publicity was given to them in the 1860s and 70s, particularly to a patch dubbed Jack Ketch's Warren or Little Hell. This was an area around Broad Yard and Lamb Court, at the north end of Turnmill Street (Ill. 234). Little Hell disappeared in the clearances for Clerkenwell Road, but even in the late 1890s slum conditions persisted in courts off the north side of Cowcross Street.
It is uncertain to what extent these slums were a new phenomenon in the mid-nineteenth century. Seventeenth and eighteenth-century Turnmill Street in particular had been part of a wider district of ill-repute, known for its high levels of crime and low-life attractions such as bearbaiting and cock-fighting and the associated activities of drinking, gambling and prostitution. Much squalor no doubt existed, and there is some evidence of flimsy housebuilding from the 1630s, when shanties were built on the foundations of pigsties in Turnmill Street. (fn. 39) But the great influx of population into the area during the nineteenth century must have placed unprecedented pressures on the local housing and infrastructure.
The houses in the courts and alleys off Turnmill and Cowcross Streets at this time were generally small, often of one-room plan and timber-built, such as those photographed in Peter's Lane in the 1860s (Ill. 232). They were not necessarily ill-built, low-ceilinged or otherwise ill-proportioned. But they were the simplest of structures, with steep, narrow and unenclosed staircases, and corner fireplaces sometimes built in pairs. Drainage, sanitation and water-supply were poor. Typically, there was a single water closet in the court for the use of all the inhabitants. In 1861 Rose Alley had just one between a hundred and sixteen people. (fn. 40) Water was kept in the courts in casks and cisterns, although (so the Builder reported) these were often cleared away, probably as an anti-cholera measure; instead there might be a standpipe, the supply being turned on for a short while each day. In 1862 water in Frying-pan Alley, Lamb Court and other courts in the Turnmill Street area was turned on for twenty minutes each afternoon, when a crowd would gather with an assortment of containers to get what water they could, often no more than a gallon. (fn. 41)
Evidence that all the courts were not intrinsically bad is supplied by the missionary Thomas Nisbett. In 1861 he described the already notorious Lamb Court as containing twelve tenements, whose ninety inhabitants were 'better provided with water, water-closets, etc., than any others in the neighbourhood. To every house there is a spacious back yard, with water-closet and lumber sheds. The court is well paved and the houses are more substantial than those in the other courts. Thus all, or nearly so, that is wrong here in a sanitary point of view is no doubt chargeable to the occupants, or to those to whom the property belongs'. (fn. 42)
In contrast, Nisbett describes a row of eleven 'tenements' or one-room plan houses along Bitt Alley, home to eighty people, as having neither back yards nor back windows. These seem to have been houses mostly of three storeys but some of only two, for he explains that the former parlours on the ground floor were in some cases used as stables or for storing soot, and that in two or three cases the tenements comprised only one room, presumably a first-floor room. Another writer described the houses of Bell, Rose and Frying-pan Alleys, Broad Yard and Lamb and Cock Courts as being of three storeys, and about thirty feet high. (fn. 43) No accounts suggest that the court and alley dwellings were shacks or shanties, and rooms invariably seem to have had proper fireplaces.
Nevertheless the social and sanitary conditions had evidently become intolerable. Mayhew, for instance, mentions the courts of Cowcross Street and Turnmill Street as places where fried-fish sellers lived, the fish being fried in oil in an ordinary frying-pan and then hawked from a tray in the streets or public-houses. (fn. 44) Even in the poorest courts, fried-fish sellers were disliked as neighbours because of the rank smell of their cooking. The selling of fresh produce was if anything even less suited to these courts than fish-frying. Costers often bought the cheapest left-over stuff at the markets, already going off when they took it home, and it had to be 'revived' or at least kept from complete decay. James Greenwood explained: 'Standing in Turnmill-street any Saturday morning in the season, you may look in the mouths of the alleys, and there see the washing-tubs in which the cabbages are in soak, while the slimy leaves of the "waste trimmings" accumulate on the slushy cobble-stones where the babies play … you may smell the dreadful liquid in the tubs. You may see it rolling down the kennel, sluggish as weak treacle'. (fn. 45)
The exposure and eventual clearance of the slum courts of Turnmill Street was a protracted business, in which the columns of the Builder as well as those of the local press played their part. One of the earliest condemnations of the courts was in 1850, when 'S', writing in the Builder, likened the cluster of courts including Frying Pan Alley to the old Paris slums or the closes of Glasgow. (fn. 46) The writer may have been the editor, George Godwin, who brought the subject to wider public attention with a series of articles in 1853, republished the following year as London Shadows. Conditions in the courts off the east side of Turnmill Street he described emotively. Frying Pan Alley was singled out for particular condemnation on account of the narrow entry, the handle of the pan from which its name derived: only two and a half feet across and twenty feet long, so that 'there would not be room to get a full-sized coffin out of this court without turning it on its edge'. (fn. 47) The two rooms of one typical tenement were occupied by an old Irishwoman and her son, and a collection of women, children and lodgers, so that together twenty-five people slept there. In the lower room the windows were stuffed with rags and rubbish, and there was no furniture except a backless chair and a broken bedstead. In the room above was no furniture at all. Meagre possessions and bottles of holy water hung from the ceiling, and the floor was strewn with bits of bone and iron and cinders for the fire, picked up in the street. (fn. 48)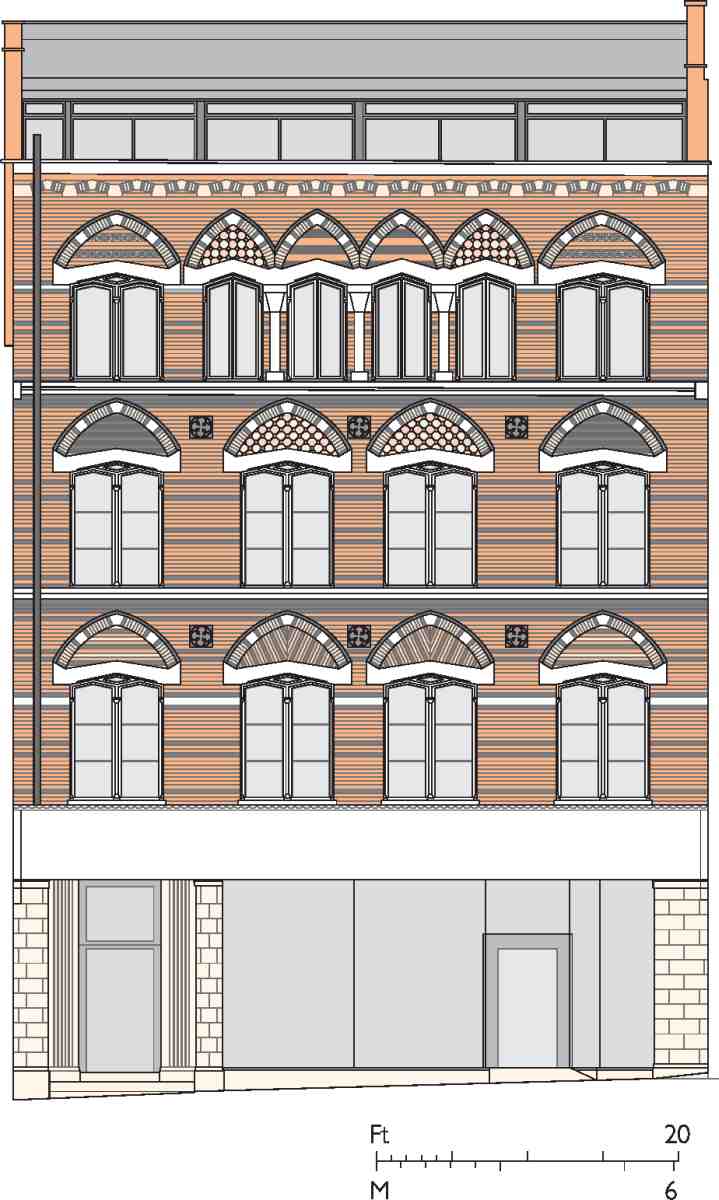 The worst of the Turnmill Street slums survived the railway clearances. Frying Pan and Bitt Alleys were visited in 1864 by the Vestry sanitary committee, following representations from the Commissioners of Police. This concluded that 'owing to the extremely careless and filthy habits of the people, nothing but absolute removal would improve the condition of these places'. (fn. 49) In 1869–70 houses in these two courts were condemned as unfit under the new Artizans' and Labourers' Dwellings Act (Torrens Act) and, in part, pulled down. The Builder complained that they were 'being rebuilt exactly as before, so that persons might shake hands from the windows of the opposite houses'. (fn. 50) Improved or not, the two alleys, together with Rose Alley and part of Broad Yard, were finally cleared a few years later by the Metropolitan Board of Works to make way for Clerkenwell Road. (fn. 51)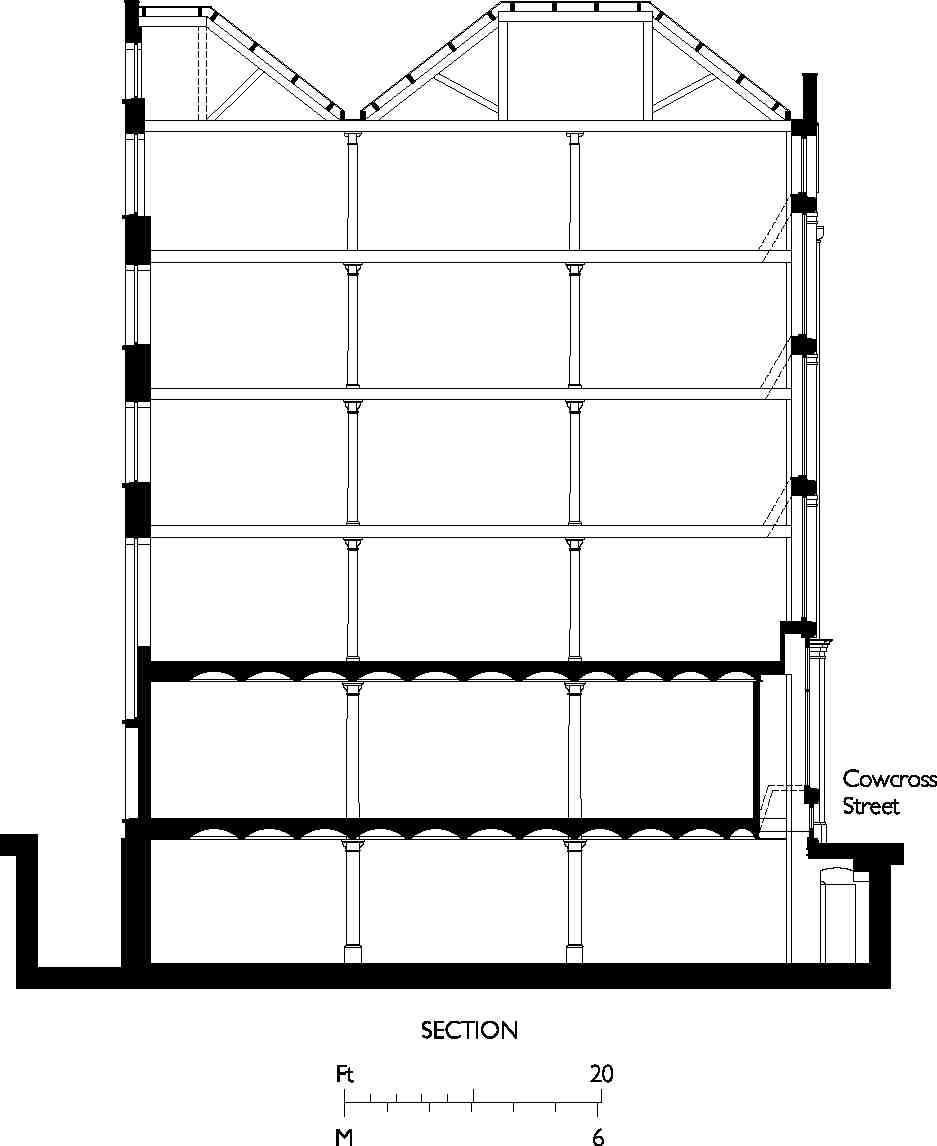 Slum clearance in Cowcross and Turnmill Streets was not followed by the building of housing on or near the cleared sites, which were redeveloped with warehouses and factories. Commercial and industrial development was in the end the reason for the disappearance of most of the slums, rather than action by the sanitary authorities. By 1911, although there were still a few alleys and yards off Turnmill and Cowcross Streets, they were 'no longer the haunt of vice, but, without exception, decent yards attached to business premises'. (fn. 52) Most of the old courts and alleys have disappeared entirely, the most evocative survivals of the old pattern of development being Faulkner's Alley, between Benjamin Street and Cowcross Street, and Peter's Lane.
Later History
Industrial Development
The pattern of many different trades and industries in these streets and alleys survived the clearances caused by the Metropolitan Railway and Farringdon Road. Nevertheless, concentrations of particular trades came and went over the course of the next century.
One early consequence of the reconstructions of the 1860s was the demise of slaughtering, largely removed to the new Metropolitan Cattle Market well to the north of King's Cross. There horse-rendering was carried on in solid-looking buildings, 'not in rotten-looking sheds such as those were by the Fleet', remarked the Builder. (fn. 53) 'The horse-slaughterers have removed to Belle isle and elsewhere', the Illustrated Times reported in 1863; 'yet still the work of demolition goes on. Sharp's-alley, once of such unsavoury notoriety, with its catgut manufactory and other noisome trades, will, in the course of a few days, be numbered amongst the matters of the past'. (fn. 54)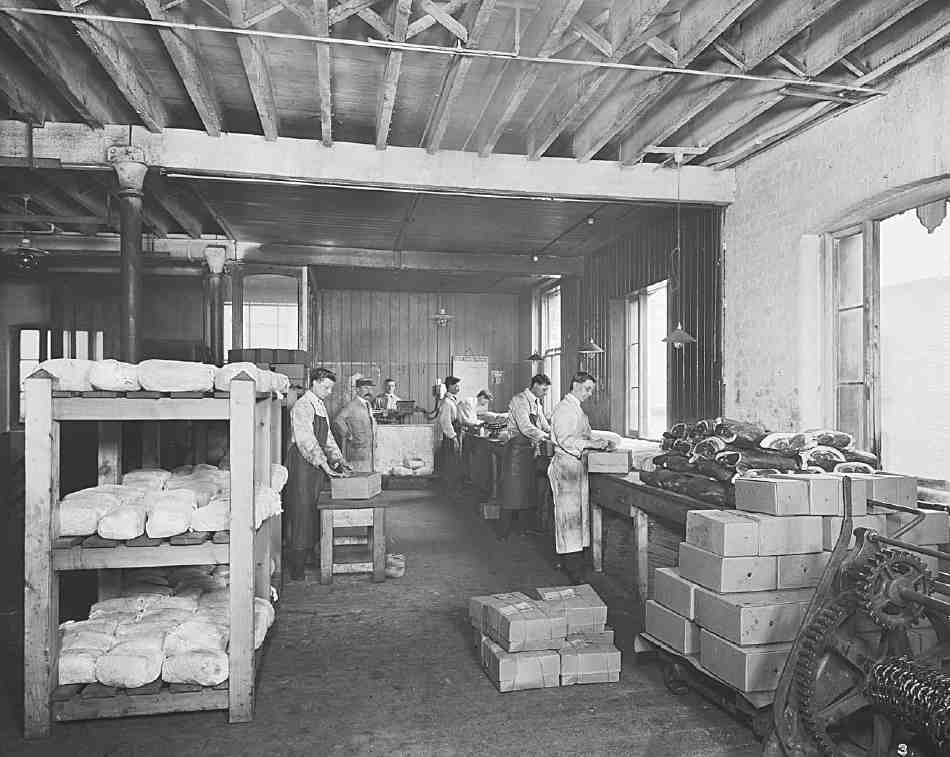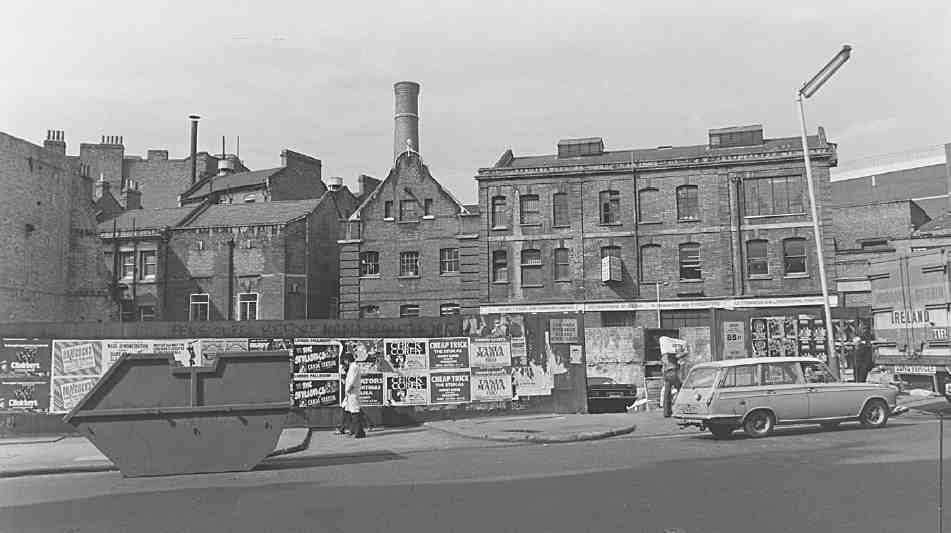 Even so, businesses associated with the rendering trade survived. Catgut-making went on in Turnmill Street long afterwards, with two firms surviving well after the Second World War. And while Atcheler had indeed gone to Belle Isle, he had also taken on new premises at No. 42 Cowcross Street, now part of Turnmill Street. Next door were his old Sharp's Alley neighbours, Charles Edwards & Son, makers of music strings, a firm which traced its origins to 1600. (fn. 55) Another former neighbour, Isaac Tracey, violinstring maker, was now a little further up the road, by Booth's distillery. These gut-workers, too, both had new premises at Belle Isle, while Tracey also had premises at the Foreign Cattle Market in Deptford. Atcheler's business was taken over by John Harrison & Co., who stayed until the firm was wound up in the 1870s, bringing horseslaughtering in this area to an end. (fn. 56) George Tracey continued Isaac's business at the same place, and was still there in the 1950s, and Edwards & Co. were at their old premises even longer. Edwards also made gut bands for machinery, including clocks. Both businesses were latterly described as lawn tennis gut makers.
The main effect of the reconstructions was to draw in a variety of larger-scale manufactures, housed in purpose built premises and presumably often dependent upon the railway. By 1870 these included a harmonium maker, a manufacturer of medical glasses, a wholesale optician and a wholesale stationer, and the wallpaper makers Dugdale, Poole & Co. Another such concern was Beckmann Brothers, who replaced Chubb's safe factory at Nos 26–27 Cowcross Street around 1880 with a flamboyant warehouse whose carcase survives (Ill. 235). They were described on their trade card as gilt moulding manufacturers, 'spécialité' frame makers, publishers and printsellers to Her Majesty, and the 'Sole Proprietors of the celebrated reproductions of the "House of Lords" and the "House of Commons" '. (fn. 57) Also then in Cowcross Street were a manufacturer of wire-book sewing machines (at Nos 19–20) and the Scientific Toy & General Novelty Co. (at No. 31A). (fn. 58)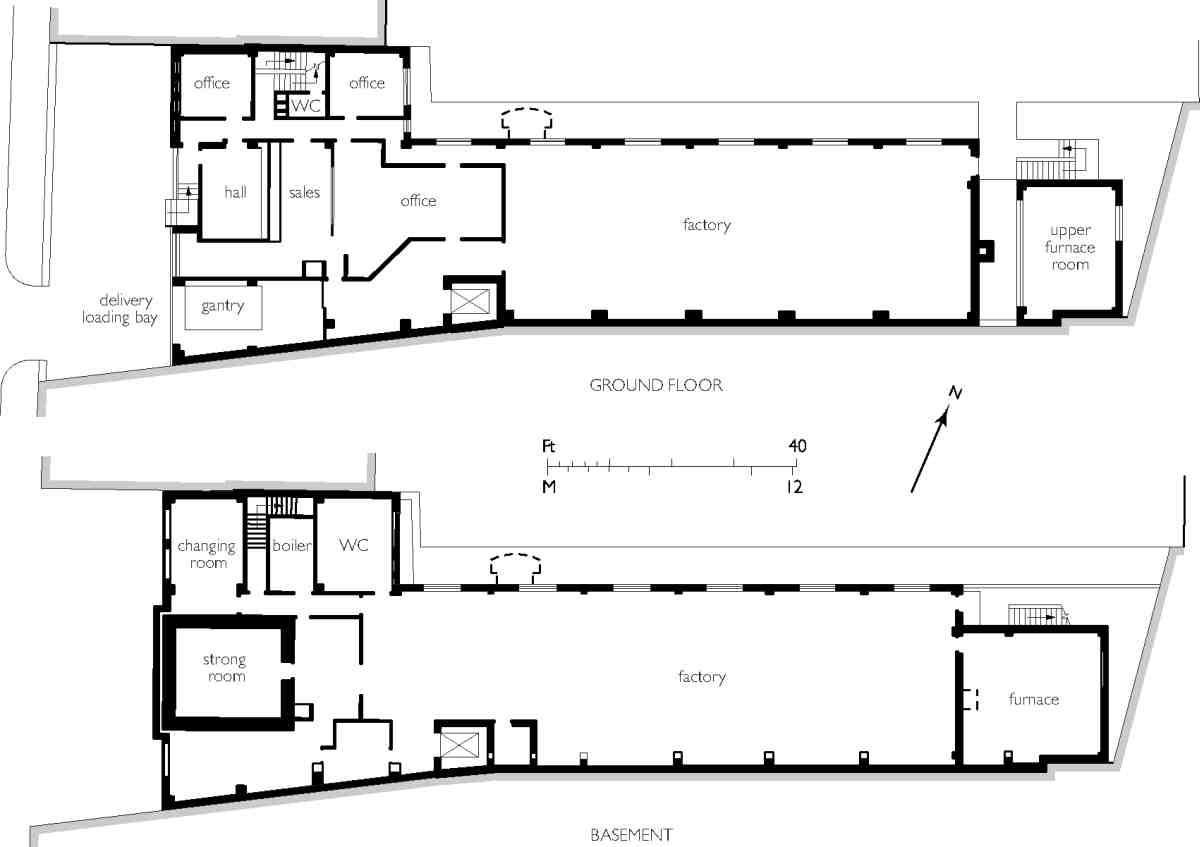 All these were typical of the wider spectrum of businesses in Clerkenwell over a long period. Increasingly, however, late Victorian Cowcross Street (in its modern east—west sense) came to be dominated by provision dealing and, above all, the curing of bacon, while engineering and metal-working became the focus in Turnmill Street.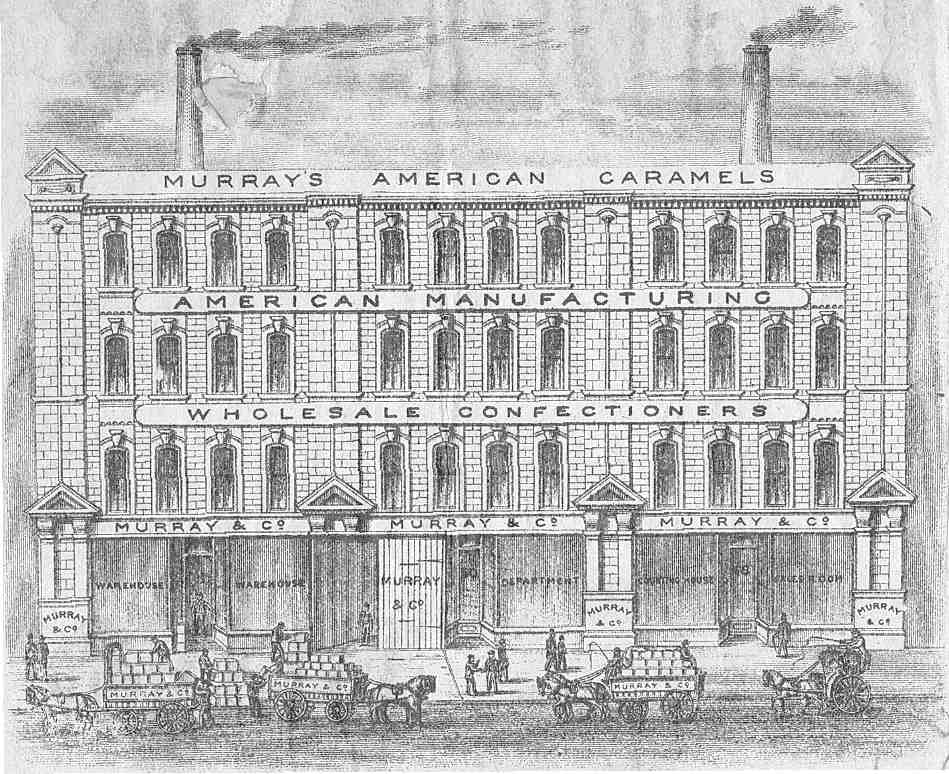 After the building of the covered meat-market at Smithfield in the 1860s, Cowcross Street attracted provision merchants and others in the meat and food trade. Harris, the future 'Sausage King', occupied No. 6 in the late 1870s before moving round the corner, opposite Smithfield Market (page 209). Bacon-curing, reflecting the growing public taste for bacon, (fn. 59) became one of the main activities in this part of the street, in and around Peter's Lane and Greenhill's Rents. Bacon stoves were built at the rear of No. 78 Cowcross Street in 1878 for the important meat-traders, J. D. Link & Son, and the following year more were planned behind Beckmann Brothers' picture-frame factory at Nos 26–27. (fn. 60)
About the same time John Boyd and Thomas Lunham Boyd (a future bacon-and-ham millionaire) (fn. 61) set up a bacon smokery off Peter's Lane, building more stoves and warehousing in the courts there during the early 1880s. (fn. 62) They briefly occupied the new warehouse at Nos 9–13, later the headquarters of the Danish Bacon Co. from about 1909 (Ills 236, 237, 253). By the 1930s Danish Bacon had greatly expanded what had originally been the Boyds' premises behind Nos 9–13 (Ill. 238), and become the biggest bacon-curer in the area, having nineteen large stoves, up to 60 ft high, on the three-quarters of an acre site, able to handle 40,000 sides of bacon weekly. Links, at Nos 78–85, and another company, Weber's, at No. 28, handled 6,000 and 6,600 sides a week respectively. (fn. 63) Although Danish Bacon moved its headquarters to Welwyn Garden City in 1938, the business continued at Cowcross Street until the 1980s, the smoke-houses being pulled down in 1984. Links too stayed until the 1980s, when their premises were replaced by offices.
Trades connected with meat and provisions hardly spread north from Cowcross Street into Turnmill Street. Here the pattern was different. Survivors from small-scale pre-railway trades in that decade included a glass bender and a manufacturer of sacking, while newcomers included a goldbeater and a pin manufacturer. With the exception of Booth's, the long-established distillers, the first large and prestigious business to arrive there was Grant and Co., engravers, printers, stationers and publishers, about 1866. Their premises consisted of a large new factory-warehouse built for Daniel Grant, along with the Turk's Head and Metropolitan Hotel adjoining, to the designs of the architects Lander & Bedells—a development which the Builder found a little above the general run of building in 'that plain and unadorned neighbourhood'. (fn. 64) Grants were printers of the School Board Chronicle, the European Review and the Gentleman's Magazine. They had taken over the hotel by 1870, and within a few years had expanded further into new buildings to the south, on the site of Turk's Head Yard. The 1866 building was burned out in 1876 and rebuilt the next year; another warehouse appears to have been built for Grants, probably in Turk's Head Yard, in 1879. (fn. 65)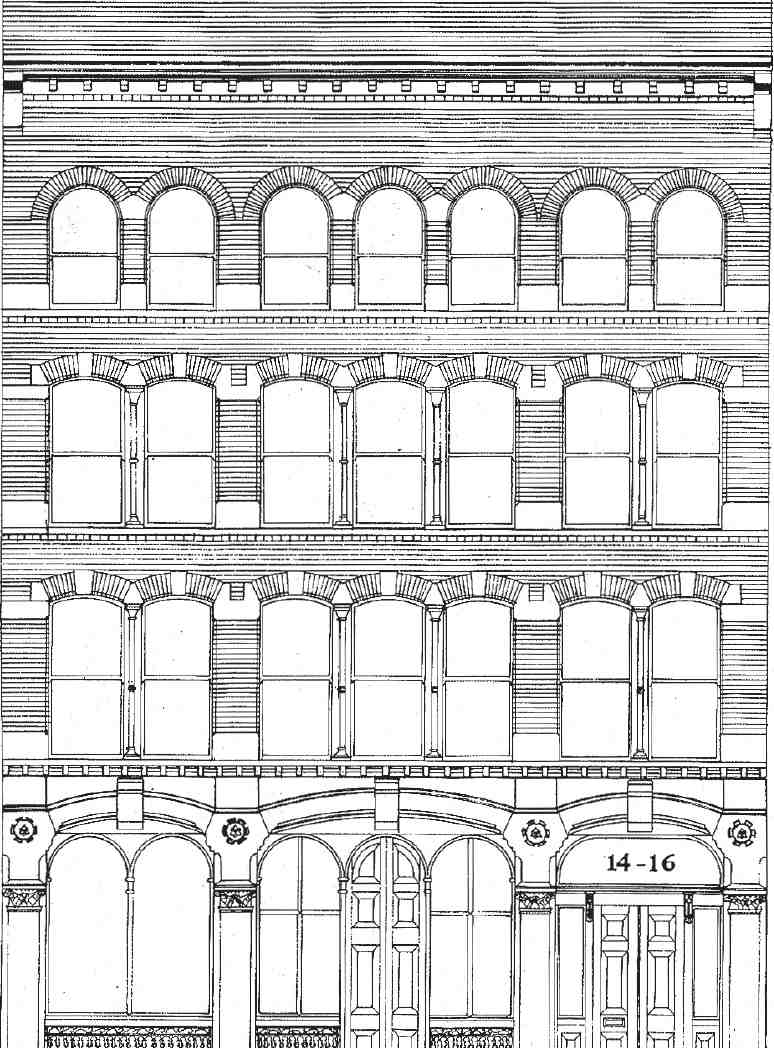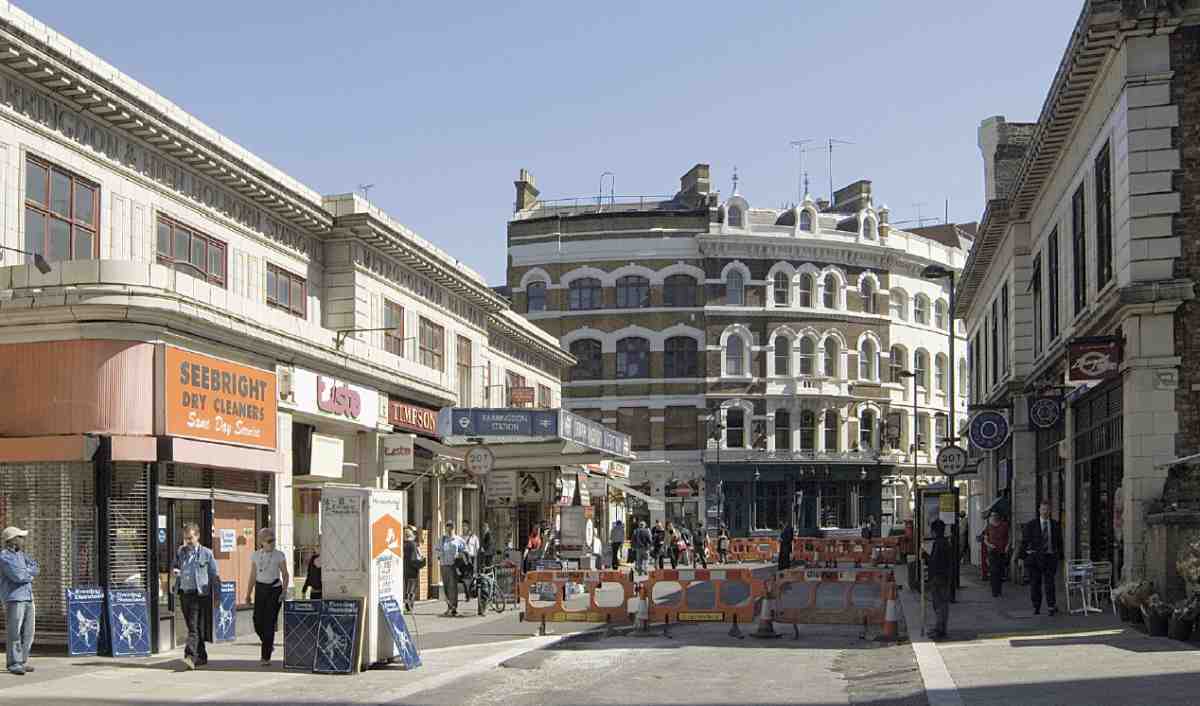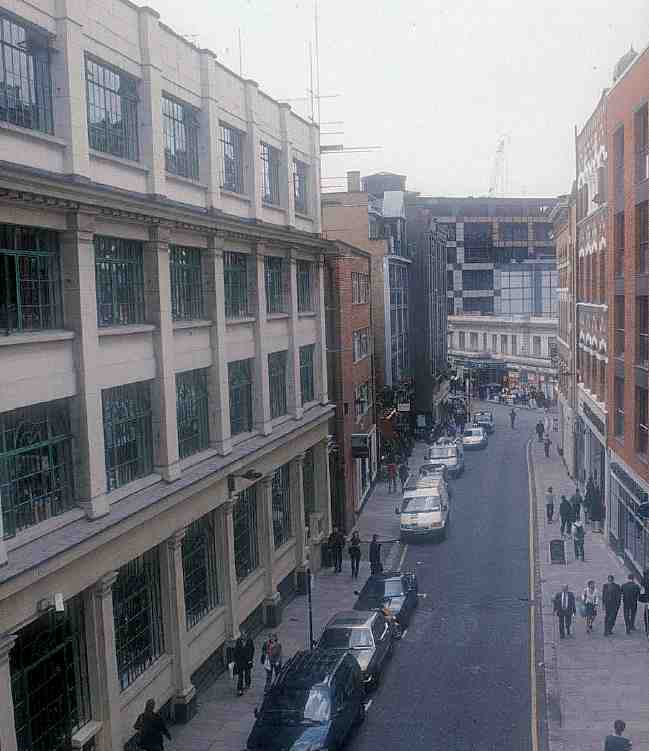 Printing and related trades became strongly associated with Turnmill Street. In the late 1880s, besides Grants, there was another printer and a firm of bookbinders, and by 1910 there were not only printers, bookbinders, and engravers but book-edge gilders, type-founders, printer's engineers, photo-etchers and chromo-lithographers. Businesses established here before the Second World War included makers of printing equipment, stereotypers, stationers, ticket writers and envelope addressers. This concentration continued until quite recently, businesses in the mid-1970s including printers, commercial photographers, typewriting offices and an office equipment company. Journal publishing also continued here until the 1980s.
Engineering and metal-working were well represented in Turnmill Street from the late nineteenth century. Scientific-instrument making, one of the precision manufacturing industries found alongside clock- and watchmaking in various parts of Clerkenwell, was carried on here, for instance, by Ludwig Oertling, who in 1874 built premises that survive at Nos 89–90 Turnmill Street (Ill. 239). His firm, 'manufacturers of bullion chemical and assay balances and hydrometer makers', remained there until the 1920s. Plans of that period show the building divided into small offices and workshops in the front, and a larger engineering office at the back with a variety of separate benches. (fn. 66) By that time another firm of scientific-instrument makers, Aston & Mander Ltd, had also come to Turnmill Street. Clockmaking itself never took root here. In the 1880s there was one firm of clockmakers, Annibal Légé & Co, and by 1918 Winterbourne & Mallinson Ltd, clock-case makers, were at No. 79. Much later, in the 1960s and 70s, jewellery manufacturers or importers were present in the street. As late as 1975–7, purpose-built premises were erected at No. 67 for J. S. Knight & Son, bullion dealers (Ill. 240).
Other engineering and metal-working businesses established here before the Second World War included a firm making malleable iron tube fittings and another making heating apparatus, but such businesses were far outnumbered by those connected with printing and related trades.
General manufacturing in Victorian Turnmill Street ranged from disinfectant, starch and laundry blue to biscuits and sweets. R. S. Murray, manufacturing confectioners, set up about 1884 in premises in Turnmill Street, formerly occupied by the Anglo-Russian Iron & Tin Plate Co. Ltd. The building, now demolished, had been erected about 1875, and was depicted on the firm's letterhead (Ill. 241). (fn. 67) Murrays were the first British manufacturer of caramels, developed in America, (fn. 68) but do not seem to have any connection with the celebrated Murray mints (a line said to have been launched by Trebor in 1944). Murrays expanded their factory, acquiring premises to the rear in Red Lion (now Britton) Street, and by 1922 also occupying No. 57 Clerkenwell Road. (fn. 69) The company remained here until the late 1930s, after its acquisition by the food processors C. & E. Morton.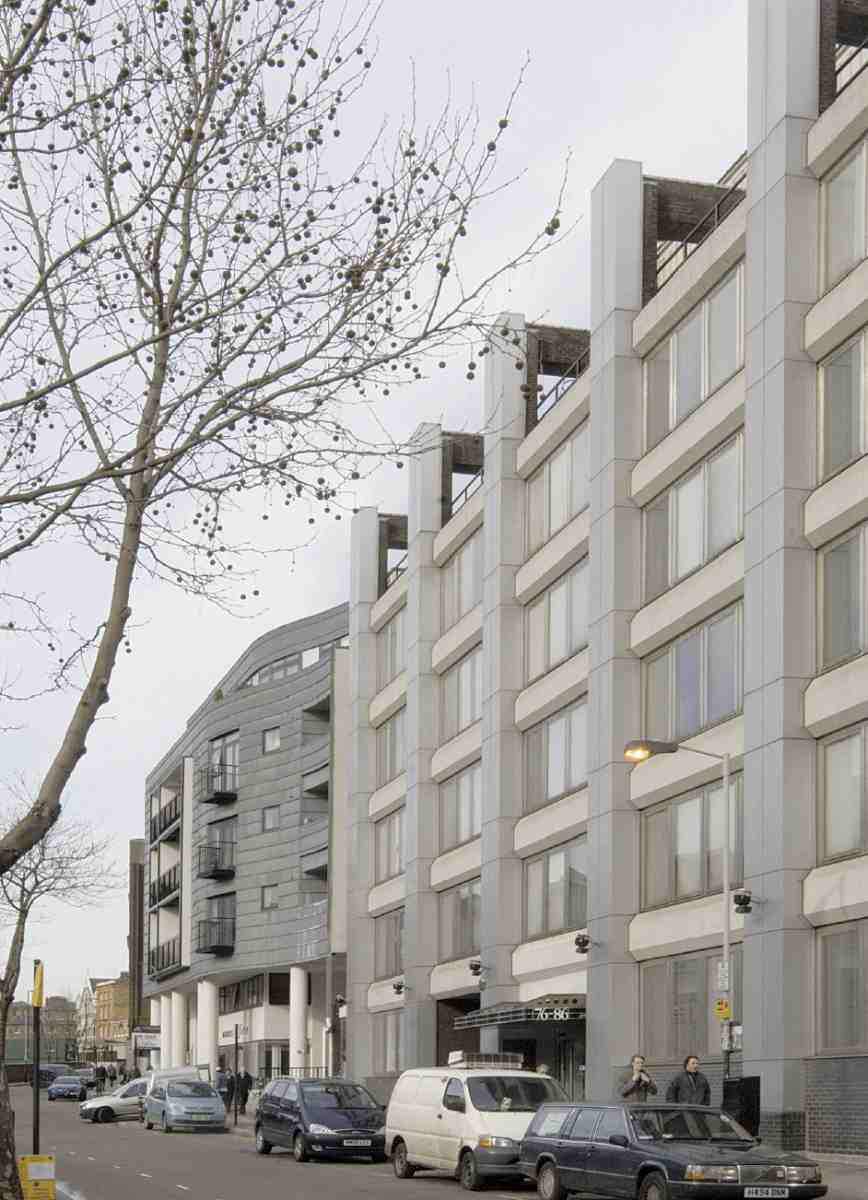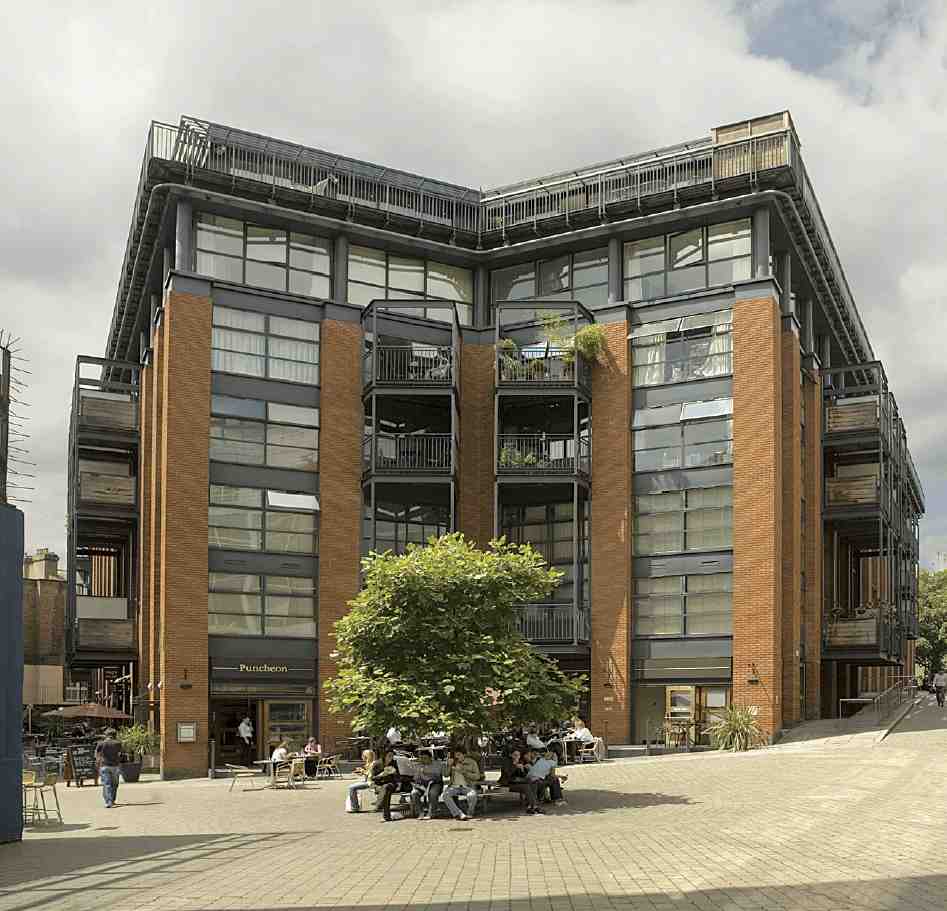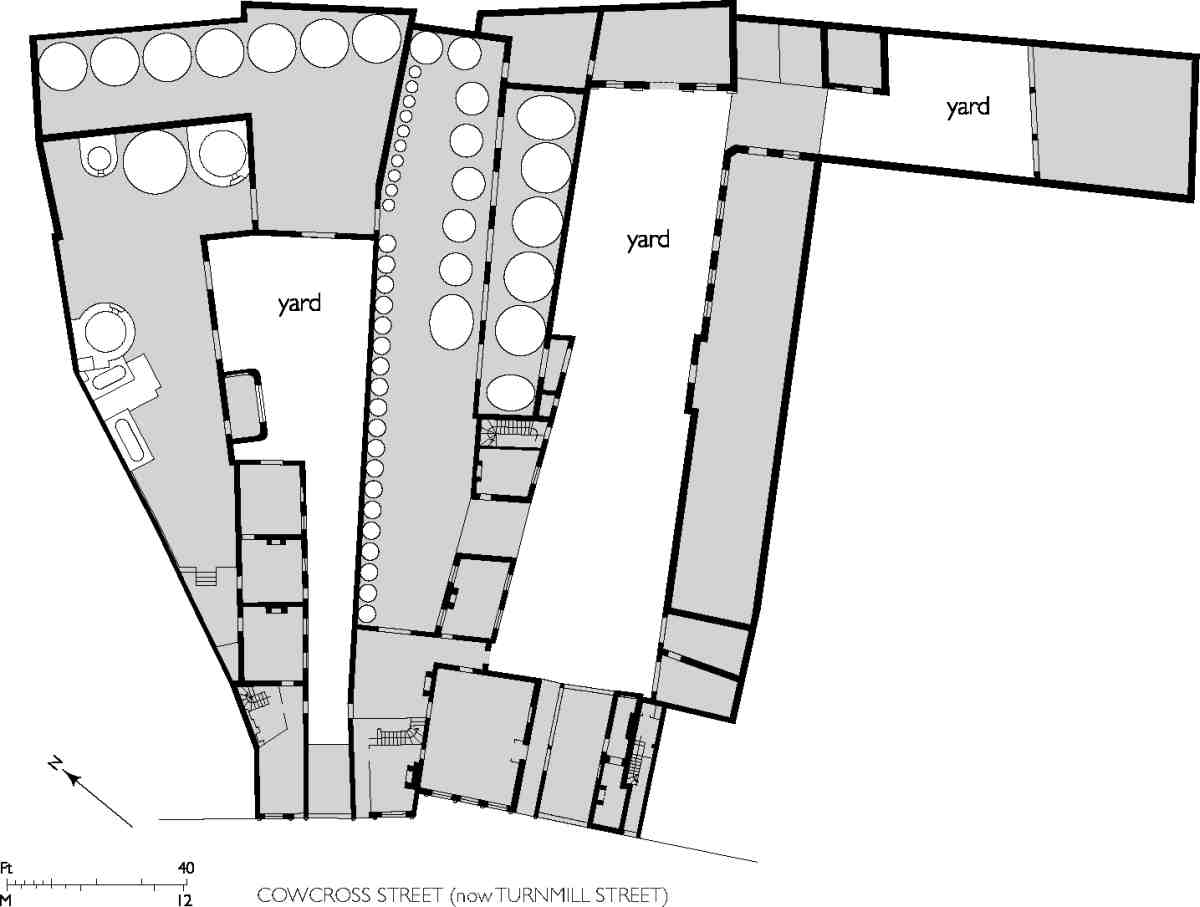 Architectural Character
The industrial vagaries of Cowcross and Turnmill Streets over the century or so from 1865 resulted in a mixed bag of buildings. Along the streets the warehouse architects of the 1860s and 70s made a fair fist of the frontages. The best survivors can be seen in the charming if broken sequence along Cowcross Street's north side comprising Nos 9–13, 14–16, 26–27, and 30. These conceal, or concealed, various plan forms. The shallow and delicate Nos 14–16, for instance, appears to have been let by the floor, while its neighbour, Nos 9–13 (later occupied by Danish Bacon), is a bigger, deeper and more forthright example of the warehouse style, with rather crude iron-column and jack-arch construction on the lower floors giving way to timber floors in the upper storeys (Ills 236, 242). Of the original plans or structure of the late-Ruskinian Nos 26–27 (Ill. 235) and of No. 30 nothing is known. Along with these showy buildings went plainer structures; among the survivors the obscure Nos 61–63 Cowcross Street, the remnants of Keevil & Best's premises behind the front at Nos 70–77 Cowcross Street, and the solid No. 11 Greenhill's Rents merit mention.
Such are the larger buildings. Often the scale was smaller, or at least broken up, as at the two ends of Cowcross Street, where the straight-fronted Nos 90–93 along with the Hope pub at No. 94 (Ills 254, 255) offer a counterpoint to the curving corner at the other end next to Farringdon Station, where Nos 32–33 together with Nos 101–102 Turnmill Street act as wings to another pub, the Castle (Ill. 243). These two pubs are among just three surviving descendants, all now in Cowcross Street, of the many hostelries which once lined the old thoroughfare. The third is the Three Compasses, bombed in the Second World War and rebuilt in 1957–8. Two others survived into the post-war period. These were the Red Lion on the corner of Benjamin Street, reconstructed in 1879 to the designs of the architects Isaacs & Florence but demolished about 1960; (fn. 70) and the Blue Posts at Nos 86–89 Cowcross Street, rebuilt in 1938–9 and not long taken out of traditional pub use at the time of writing (2007).
In Turnmill Street the larger premises like Murrays were at the north end of the street. Further south, below Oertlings at Nos 89–90, pleasant Edwardian buildings remain like No. 93, for a jeweller, and Nos 99–100, again for multi-occupation.
Of inter-war architecture there is little now to show hereabouts except for Nos 70–77 Cowcross Street, a bigboned warehouse for Thomas Cook & Son whose classical front and metal windows impose scale and dignity upon the central sector of this street (Ill. 244), and the comparatively genteel Nos 86–89 further east. After the Second World War large holes had to be plugged at Nos 65–75 Turnmill Street and Nos 64–69 Cowcross Street with the plain architecture that cost dictated.
At first industry and warehousing were assumed again to be the destiny of these streets. Cold storage predominated in Cowcross Street, while metal trades hung on in Turnmill Street. A token of changing times came with the redevelopment of the large Booths site with offices, of which Nos 76–86 Turnmill Street of the early 1970s was the first, blatant phase. In 1979 the engineer Alan Baxter became the harbinger of affluent design professionals here when he took Nos 14–16 Cowcross Street, later shifting across the road to Nos 70–77.
A general de-industrialization ensued by means of conversions of old premises and limited redevelopments, following the pattern common all over southern Clerkenwell. Cowcross Street possessed more promising raw materials for this transformation, while Turnmill Street, having lost its one building of distinction, E. W. Mountford's Edwardian offices at Booths' distillery (Ills 248–250), in the 1960s, changed parts of its frontage from drab to brash (Ill. 245). Though no higher in quality, the new buildings and conversions in Cowcross Street are more various, ranging from the pallid postmodernism of Nos 78–85 to the self-conscious conversion of Nos 6–8 into the Rookery hotel, with faux shopfronts and facias harking winsomely back to a low-life past (Ill. 254). Contemporary Cowcross Street also has the advantage of the more felicitous urban setting. The narrowness and indirection of this remnant of the old thoroughfare exercise an influence appreciated today by its generally wellheeled occupants and passers-by. Its animated patterns of work, leisure and movement have even been cited as exemplary by aficionados of the contemporary 'urban village'. (fn. 71) The effect has recently been heightened by the restriction of the western arm of the street, between Farringdon Road and Turnmill Street, to pedestrians and cyclists.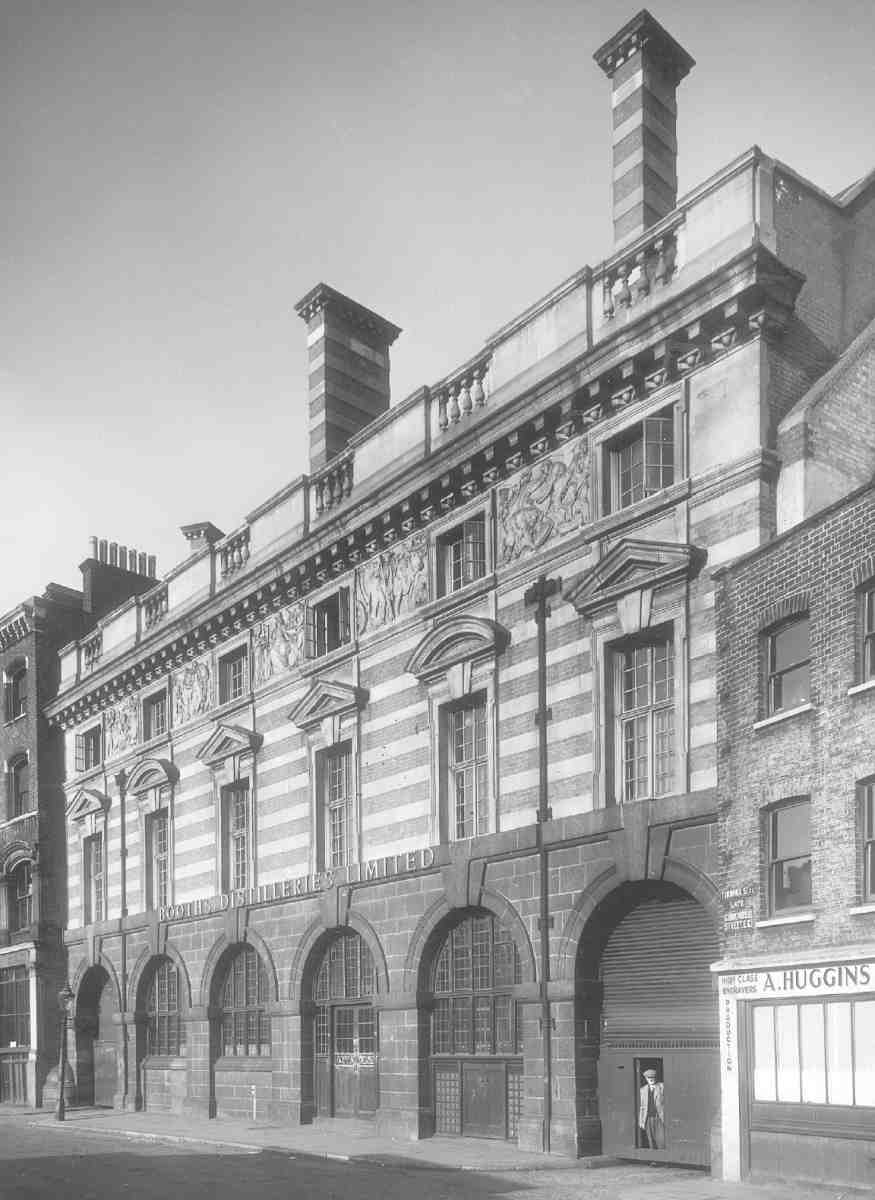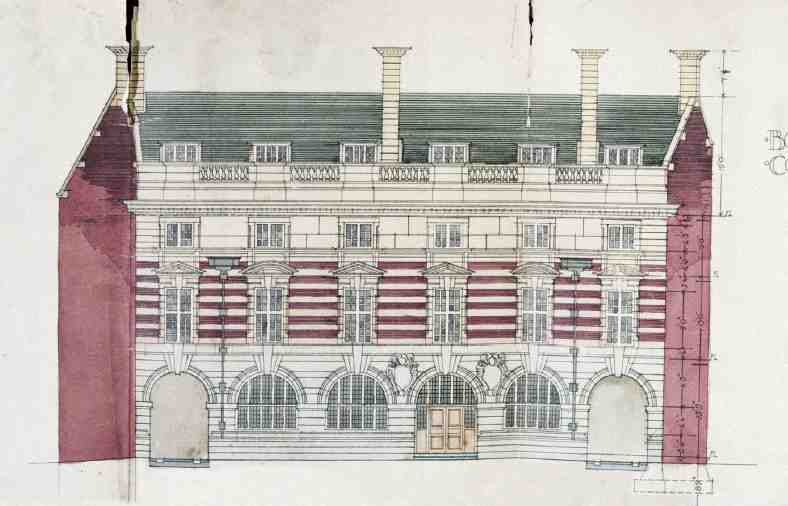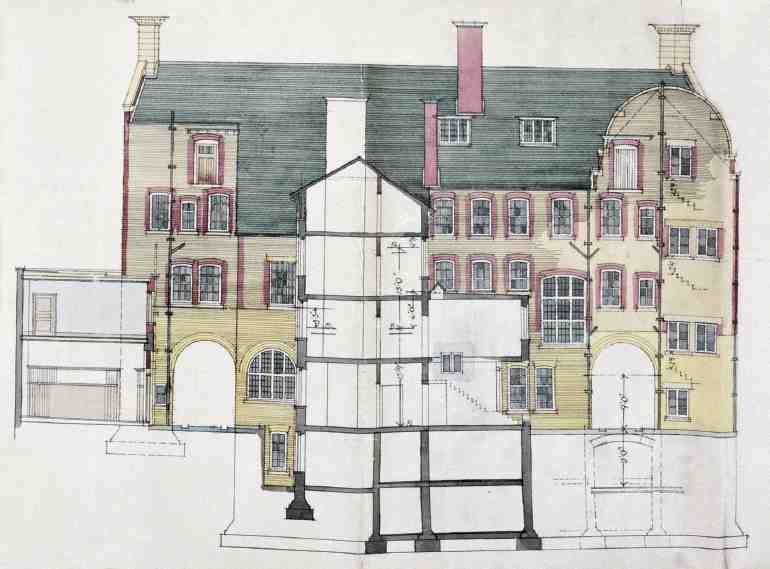 The largest of the recent developments took place behind the scenes, in the hinterland between Cowcross Street, Britton Street and St John Street. Here industrial sites which had largely belonged to the Danish Bacon Co. came on to the land market in the 1980s, but nothing was done before the property market downturn at the end of the decade and the intending developers became bankrupt in 1991. After pre-planning by the architects Lifschutz Davidson and revised work on a scaled-down basis by Ransome's Dock Ltd (who acquired the site in 1993), in negotiation with Islington Council, there arose between 1998 and 2001 the Cowcross Estate, dominated by two large buildings: City Pavilion (Ill. 246), designed by EPR Architects for the property company Crown Dilmun, and Exchange Place (entered from St John's Lane), designed by The Thomas Saunders Partnership for Bee Bee Developments (page 162 and Ill. 200). (fn. 72) Both tote rather fussy combinations of brick and aluminium cladding to mollify their scale. The grouping of these inward-facing blocks, together with EPR Architects' lower Zinc House (Nos 19–25 Cowcross Street), and Gus Alexander's whimsical tower behind the Rookery, has allowed a new pedestrian interlude to be created behind the streets. The buildings comprise offices and apartments, with well-known brands of bars and cafés, whose clientele spills out into the open space in clement months of the year.
Individual sites and buildings: Turnmill Street (east side)
Booth's Distillery (demolished). Cowcross Street and Turnmill Street were associated with the manufacture of gin by the Booth family and its successors for two hundred years. The story began in the early 1770s, with the establishment of what became the Cow Cross Distillery by John Mootham and Philip Booth. In 1772 Mootham, a gentleman resident in Highgate but with a distillery in Borough High Street, took a 42-year lease of a former brewery on the east side of the road, on part of the site now occupied by Nos 76–86 Turnmill Street and 24 Britton Street. (It was then referred to as in Turnmill Street, but later became No. 55 Cow Cross Street.) (fn. 73) Whether Mootham had just re-fitted the brewery for distilling or the conversion had been done some time previously, is not clear. Nor is it clear whether he was already in partnership with Philip Booth, whose name first appears in the ratebooks as having taken over the previously empty premises. Philip Booth & Co., as their firm was called, soon expanded the works, acquiring property to the south, in Plowman's Rents, including a former slaughterhouse, and to the rear in Red Lion (now Britton) Street. (fn. 74) By 1787 they also had a distillery at Stanstead Abbotts in Hertfordshire. (fn. 75)
Cow Cross Distillery passed into the hands of Philip Booth's sons William, Felix and John. It was extensively rebuilt (Ill. 247) and another distillery was built in Brentford, near the sons' homes in Ealing and Gunnersbury. (fn. 76) In 1830 William died and John retired, leaving Felix in sole control. Felix, who in 1835 was made a baronet for his work in sponsoring Arctic exploration by his friend John Ross, continued to expand the business through acquisitions, as well as branching out into other activities. Booths eventually became the biggest distilling concern in the country. (fn. 77) The business continued in family ownership until 1897, following the death of Felix's nephew Sir Charles Booth, 3rd Bart, when it was floated (together with the business of another distiller's in Albany Street, Regent's Park) as Booth's Distillery Ltd. (fn. 78)
In February 1899 the directors invited three architects to submit plans for extensive rebuilding of the Cow Cross Distillery, the authors of rejected schemes to be paid 50 guineas for their services. In the event, just two agreed to submit plans, Edward W. Mountford and a Mr Williams, Mountford's being selected. (fn. 79)
The rebuilding, begun in 1899, was carried out by the builders Killby & Gayford. It comprised three main buildings: a warehouse and cellars, a still-house, and an office block fronting the street. The still-house was to have two new stills, with capacities of 2,850 and 2,100 gallons. Plans and estimates for offices were produced by Mountford near the end of 1900, and the tender for their construction, just under £15,000, was accepted the following January. (fn. 80) By March 1903 the rebuilding was practically complete. (fn. 81)
While the works buildings were unpretentious industrial structures, largely hidden from view, the office block was the distillery's public face and had a strong architectural character. Set back slightly from the adjoining buildings, it took the form of a small Italian Renaissance-style palazzo, occupying the entire street frontage and incorporating vehicle entrances to the works (Ills 248–250). The six-bay façade was given a baroque character by heavy keystones and pediments over the windows on the piano nobile, and the inclusion of a series of figurative panels illustrating gin manufacture, carved in low relief, forming a frieze punctuated by the second-floor windows. The arcaded ground floor was faced in unpolished grey West Country granite, and the upper parts in Monk's Park Bath stone with bands of Lawrence's red brick, and the roof was covered with green Westmorland slates. (fn. 82) Large cartouches in the arch spandrels of the main entrance, apparently proclaiming the company name, are shown on Mountford's perspective views and elevation, but were never executed. (fn. 83)
Rough sketches for the five 'Art Panels', for which £500 had been reserved in the building contract, were submitted by Mountford in March 1901 and 'after a long discussion' were approved in principle by the board, subject to the production of satisfactory final designs by the sculptor. This was F. W. Pomeroy, who modelled the reliefs, which were then carved in Portland stone, being completed by December that year. (fn. 84)
Inside, the decoration was conservative in taste. The main reception areas on the ground floor, Classical in style, were oak-panelled, with fluted Roman Doric columns, and the general office was also fitted out in oak. On the first floor were more offices, a staff dining-room, and the boardroom: this was also Classical in style, but with whitepainted basswood panelling. It had a high barrel-vaulted and coffered ceiling, the cornice carried on pillars with composite capitals. The buildings were electrically lit, the boardroom with Art Nouveau lamps by the silversmiths Omar Ramsden and Alwyn Carr, who also made the door furniture. (fn. 85)
Between the wars Booths expanded their Clerkenwell premises, building a large bottle-washing shed along the east side of St John's Gardens, at the back of the houses in Red Lion (Britton) Street, and taking over warehousing at Nos 113–117 Farringdon Road for wine stores. In 1936 the former Great Northern Railway stables on the corner of Turnmill Street and Clerkenwell Road (see page 398) were acquired as new wine stores and a bottling hall. After the war the company, by then part of the Distillers group, acquired the rest of the block to the corner of Britton Street, building a new factory there, the Red Lion Distillery (see page 396). The old Turnmill Street works, which had been badly damaged by bombing in the war, were disposed of in the early 1960s to the Amalgamated Investment & Property Co. Ltd. (fn. 86) In 1963 plans for new offices and warehousing there were drawn up for developers by Fitzroy Robinson & Partners. (fn. 87) It was some years before the final scheme, with more offices, was agreed with the planning authorities, who were able to insist on the preservation of the façade of Mountford's office building as a quid pro quo. This was at first to have been in the form of a screen-wall in St John's Gardens, but it was eventually used to face a new block of flats in Britton Street, at the rear of the old distillery site (Mountford House, see page 171).
No. 64 is described in Chapter XIV.
Nos 65–66 is a commercial building originally of c. 1880, in red and stock brick. It was much reconstructed and extended at the rear in 1951–3, after war damage, for Temple Bar Estates Ltd or the occupants Rapier Design Ltd, industrial designers. The architect was E. H. Firmin, and Bridge, Walker Ltd were the builders. The front was reconditioned and further extensions made for the present tenants, John Shreeves & Partners, surveyors, in 1997. (fn. 88)
No. 67 was built in 1975–7, replacing war-damaged property. A two-storey factory and workshops set back from the roadway, it was designed for J. S. Knight & Son, 'bullion dealers and rolling mills', previously of Benjamin Street, by Westmore & Partners, architects; the builders were William Verry Ltd (Ill. 240). The recessed front is faced in brown brick on a concrete frame with a crowning facia of Montorfano granite and Glenaby granite strips between the windows. The building was taken over by a catering firm in the 1990s. (fn. 89)
No. 75, with Thackery Court and Nos 13–16 Britton Street. This development by Persimmon Homes was designed by the architects Green Moore Lowenhoff and carried out c. 2003. Largely new-build, replacing a newspaper distribution centre in Turnmill Street, it includes Edwardian warehousing in Britton Street, which was converted and extended to the rear. The principal block, fronting Turnmill Street, has commercial units at ground level and several floors of apartments. The undulating main façade, above irregularly spaced pilotis, is clad in horizontally banded zinc sheet (Ill. 243). At the rear, in Thackery Court, is a short row of mews-style houses extending to the Britton Street building.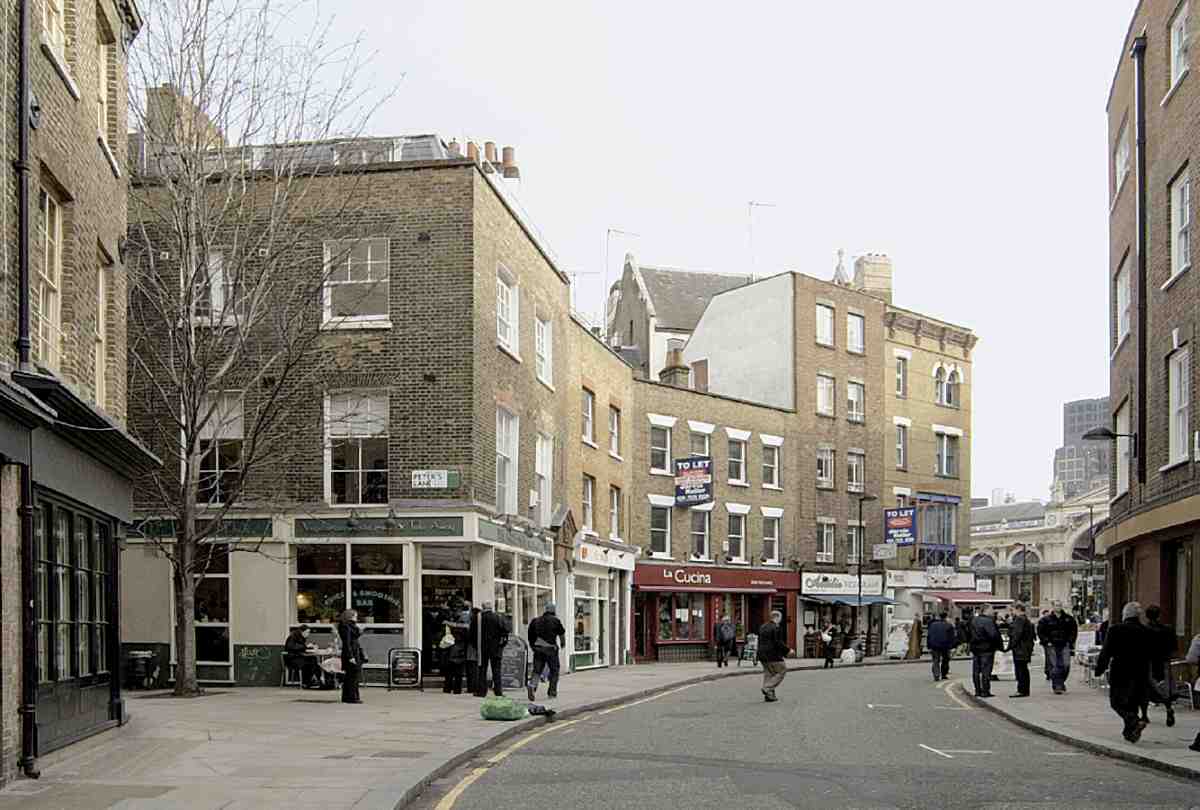 Nos 76–86 (Layden House). This five-storey office block of c. 1972–5, extending over the entry to Turk's Head Yard, was designed by Fitzroy Robinson & Partners for the Amalgamated Investment & Property Co. Ltd as part of the Booth's distillery redevelopment (page 171). It was built, in two stages, by Walter Lawrence & Son. The frame is fully expressed externally, clad originally in dark brick and tilework but heavily overclad in stainless steel when the building was refurbished in 1996 for the Local Government Management Board, by Gale Stephen Steiner, architects (Ill. 245). The building is now occupied by various public services. (fn. 90)
Nos 87–88. Office development of 1981 by Thanington Properties Ltd, with insipid neo-Georgian front. (fn. 91)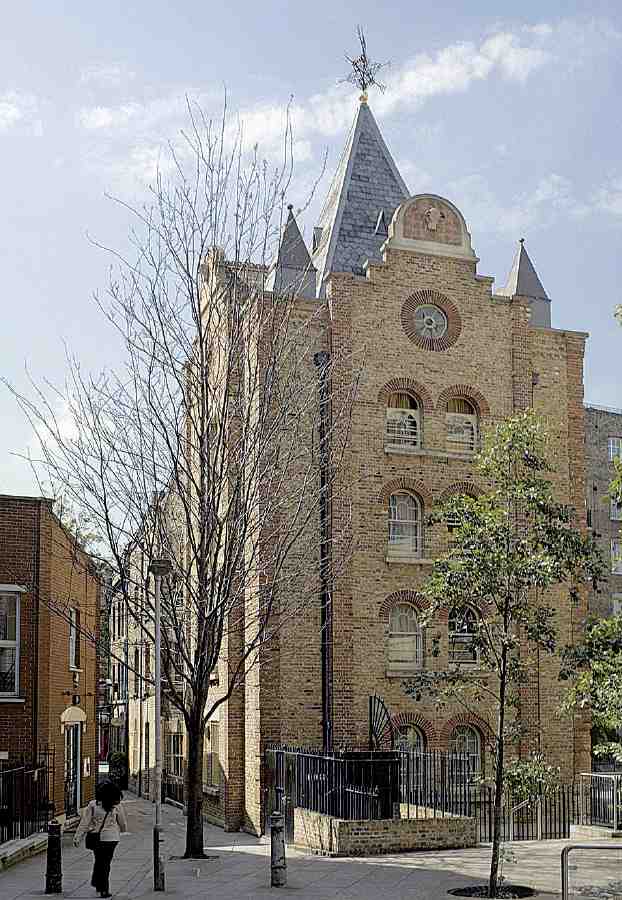 Nos 89–90. This was built in 1874 as workshops for Ludwig Oertling, manufacturer of balances and scientific instruments. The architect was Lewis H. Isaacs, and the builder Thomas Elkington. (fn. 92) Of white brick with terracotta tympana and spandrels, the main building is of three storeys and extends behind Nos 87–88 with a two-storey workshop facing St John's Gardens. Traces of a painted advertisement on the north flank wall for Bonsoir Pyjamas date from the 1930s, when the building was occupied by the Silvro Manufacturing Co., pyjama manufacturers. In 2006 the building was refurbished by ARC7 Design, with a bar and restaurant on the ground floor, and flats above. (fn. 93)
Nos 91–92 (with No. 46 Benjamin Street). In reconstruction behind Victorian fronts at the time of writing (2007), by Thomas Nugent Architects for Bellhunt Ltd. (fn. 94)
No. 93, Henrietta House (with No. 47 Benjamin Street). Built in 1905 for Saul Betts, manufacturing jeweller; Lewis Solomon, architect. Fronted in dark red brick with purple dressings. (fn. 95)
Nos 94–98 (with No. 1 Benjamin Street). Characterful concrete-framed shops and offices of c. 1965–70, with four main storeys. Long strips of metal windows and brick spandrels.
Nos 99–100. Commercial building of 1902, designed for multiple occupation. George Vickery, architect. A 'panic staircase' was included in the plan at the back. (fn. 96) Fronted in red brick with some attempt at Tudor style and smallscale pediments over the windows.
For Nos 101–102 see Nos 32–35 Cowcross Street, below.
Cowcross Street
North side and Peter's Lane
No. 1 was rebuilt in two stages for Signor Francioni, restaurateur, 1949–52, following a serious fire about 1932. The architect for the basement and ground floor was R. Theodore Beck, and the architect for the upper stages was Keith Aitken. (fn. 97)
Nos 2 and 3 (Ill. 251). The exact date is uncertain, but this is probably a Victorian rebuilding on the same scale as the pair of houses with shops built here in 1784–5, when Thomas Dalby, butcher, of Fore Street, City, was the owner. (fn. 98)
No. 4 was most likely built about 1780, shortly after Thomas Dalby acquired the sites of Nos 2–4 in 1776. Though the building has been harshly treated, the carcase is basically original. (fn. 99)
No. 5. Gauged-brick heads to the flank windows and some other features accord with a date of 1823–4, after the sale of the property to J. Taylor. The building is united at the rear with a one-room deep house of similar date, formerly entered from Peter's Lane. Robert Larst, a carpenter of St John, Westminster, acquired buildings on both sites in 1776, for use by David Davies, the long-serving master of Dame Alice Owen's School, but nothing of that age appears to remain. (fn. 100) A baker, John Fisher, was resident in 1841. (fn. 101) The pedimented doorway leading to the upper floors, with rubbed brick decoration, appears to date from about 1880.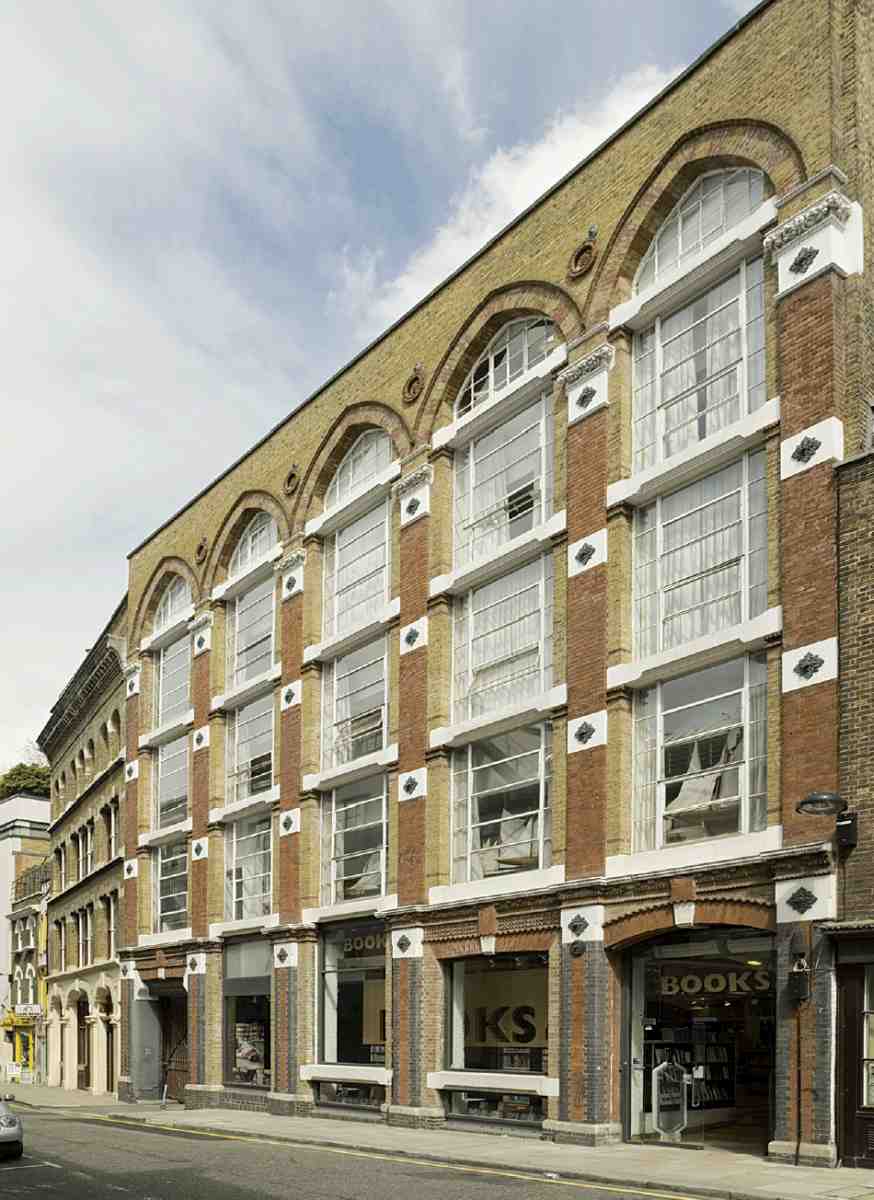 Nos 6–8 (The Rookery). One of a small chain of boutique hotels in period buildings, the Rookery opened in 1998. It was converted and extended by Gus Alexander Architects from three Georgian shop-houses (Ill. 354), and three smaller Victorian houses on the west side of Peter's Lane (formerly Nos 12–14). No. 6 was built in 1780–2 for Thomas Hurford, a baker, who had earlier occupied a building at No. 5. It replaced two smaller houses, and had a chaise-house, stable and woodhouse at the back with access from Fleur-de-Lis Court. The plot was roughly triangular, and laid out with three rooms per floor. (fn. 102) Nos 7 and 8 were built in 1798–9, when the owner was John Rodbard (or Robbard), miller, of Chigwell, Essex. They had central-staircase plans. Two large bread ovens survive in No. 7, also formerly a bakery. (fn. 103)
For conversion to a hotel the houses were gutted apart from the roof structures and eclectically fitted out, using much salvaged material, including mahogany panelling said to have come from a bombed West End theatre. Each of the 33 rooms is named after a former occupant or an inhabitant of the immediate area. Facia boards on the Cowcross Street fronts bear the names in fake-old lettering of tradesman tenants found in nineteenth-century ratebooks. (The name Greedus on one is taken from Philip Gredus, pork butcher, at No. 9 in the 1841 census.) At the back is a lively brick tower with a slated spire, built in 1996–7 (Ill. 252), embellished with bulls' and cows' heads modelled and cast by Mark Merer and Lucy Glendenning. (fn. 104)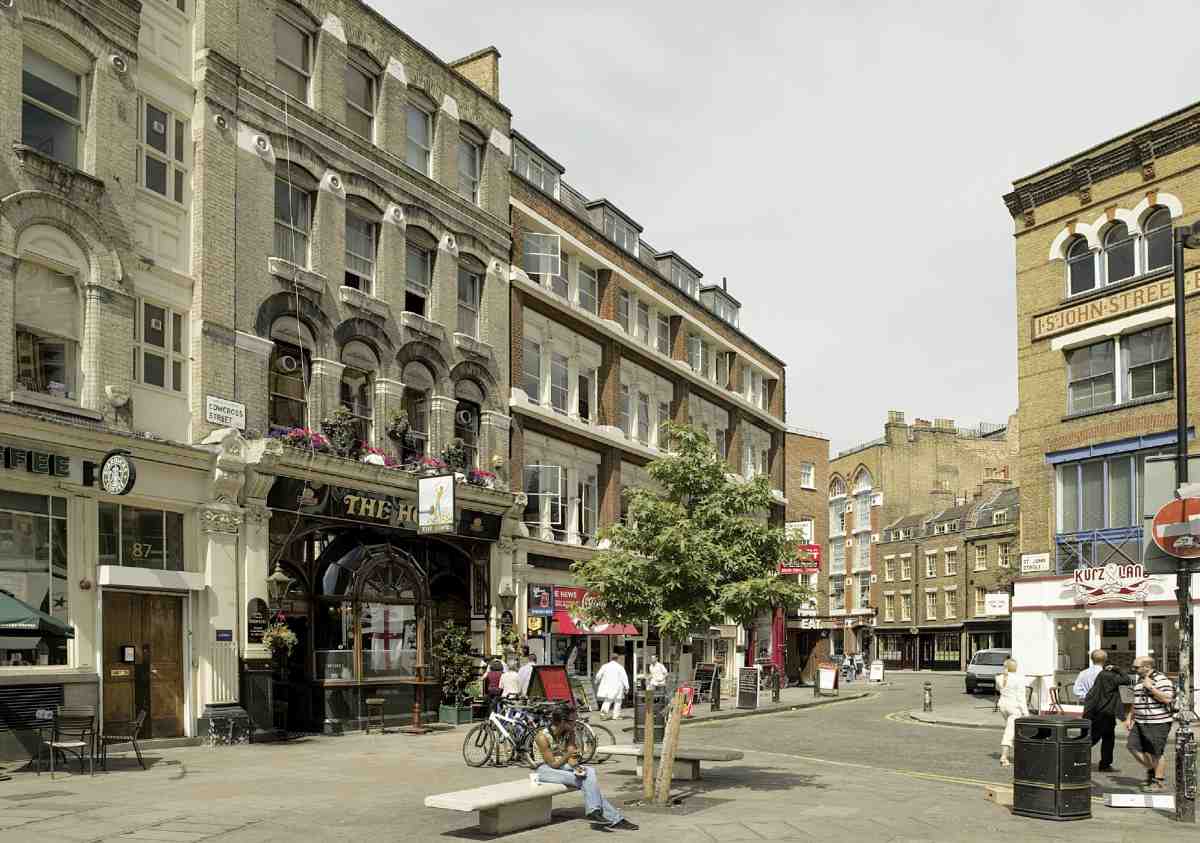 Nos 9–13. This former warehouse was built in 1878–9 by James Warner, metal grinder, of Stroud Green, perhaps as a speculation, with a chimney shaft at the rear. (fn. 105) The architect's name is not known. Latterly called Denmark House, it was for many years the London offices of the Danish Bacon Co., which had extensive premises to the rear and in Peter's Lane (Ill. 238). Saved from demolition after it had been listed in 1994, the building was subsequently converted by Ransome's Dock Ltd into large apartments on the upper floors with a shop below, the architect being Francis Machin, who had earlier worked for Ransome's Dock on the conversion of Carlo Gatti's warehouses in Battersea. (fn. 106)
The front is organized into broad windows rising to pointed arches on the attic floor, and has piers of stock brick with red brick and stone dressings, and large, ornamental tie-plates (Ill. 253). Internally, the floors have castiron columns carrying wrought-iron beams and transverse jack arches on the lower floors, and timber floors higher up (Ill. 236). The floors, set below and stopping short of the heads of the street-side windows, were designed to allow extra daylight to be deflected into the rooms beneath.
Nos 14–16. An attractive and well-maintained warehouse, this was built in 1867 for John Jaques of Duppas Hill, Croydon, probably as a speculation. The architect was Silvester C. Capes; Scrivener & White were probably the builders. (fn. 107) It is fronted in a vestigially Italianate commercial style, executed in yellow brick with stone dressings and cast-iron columns to the first- and second-floor windows (Ill. 242). The ground storey is exceptionally well preserved and includes ornamental iron guards to the basement windows. The interior is shallow, with the main floors divided laterally into three bays by means of cast-iron columns supporting timber beams. Relatively generous stairs for a building of this classRelatively generous stairs for a building of this class suggest separate tenants on each of the floors: this is confirmed by directories.
Nos 17 and 18. Two small houses with shops. No. 17 was very likely built in 1781–2 for Edward Gunner, who had then recently acquired the property. (fn. 108) The architraves are a Victorian embellishment. No. 18, partly over White Horse Alley, was much reconstructed in 1886–7, by J. H. Bethell, architect-surveyor, probably replacing a beer shop, formerly the Green Man, which may have survived as a timber house till that date. (fn. 109)
Nos 19–25 (Zinc House) was built in 1999–2001 to the designs of EPR Architects for the developers Crown Dilmun, as part of the Cowcross Estate behind. (fn. 110) It comprises service flats over shops, and is fronted partly in brick and partly with render. A broad passage leads to City Pavilion behind.
Nos 26–27 (Sabian House) was built by G. Crabb in 1879–80 for Charles and Antony Beckmann, frame manufacturers, to the designs of an obscure City-based architect, Thomas Milbourn. (fn. 111) The prettiest of Cowcross Street's Victorian premises, it has a red Ruskinian brick front, late for its date (Ill. 235). This is enlivened by adventurous stone windowheads that unite into a continuous band on the top storey, and variegated brick tympana. The ground storey was recast c. 1925, with artificial stone cladding, and the building has now been made into flats.
No. 30 (Ikon House). At a glance, this appears to be a little-altered mid-Victorian warehouse with a modern rebuilding at the side. The warehouse façade is in fact essentially a replica of the 1980s, though apparently incorporating much of the original detailing. Behind the façade all is of the same 1980s date.
The warehouse originated as a pair (Nos 30–31), erected for a Cowcross Street merchant, Orlando Vidler, work on which appears to have begun in 1864. The Gothic-taste front is in the manner of E. W. Godwin's Bristol warehouses, with swelling brick relieving arches to the windows. Vidler's architect was Charles Hambridge. (fn. 112) Latterly he and his wife lived in one of Hambridge's houses, No. 1 Beresford Road, Highbury New Park. Vidler appears to have owned or had an interest in Crease & Sons, the colour and varnish manufacturers that occupied the eastern warehouse. (fn. 113)
The warehouses were rebuilt as offices in the 1980s, together with the adjoining building, No. 28, which was given a simple façade in the same yellow brick as the reconstructed warehouse fronts, dominated by two tall, round-arched window openings. This part now contains the main entrance to the whole building, which has taken the number 30. As part of the same redevelopment, a new plain red-brick building for industrial use was erected to the rear at Nos 5–9 Faulkner's Alley, approached through the open ground floor of No. 31. The architects were Sir Charles Nicholson, Rushton & Smith, for Londonderry Mayfair Ltd. (fn. 114)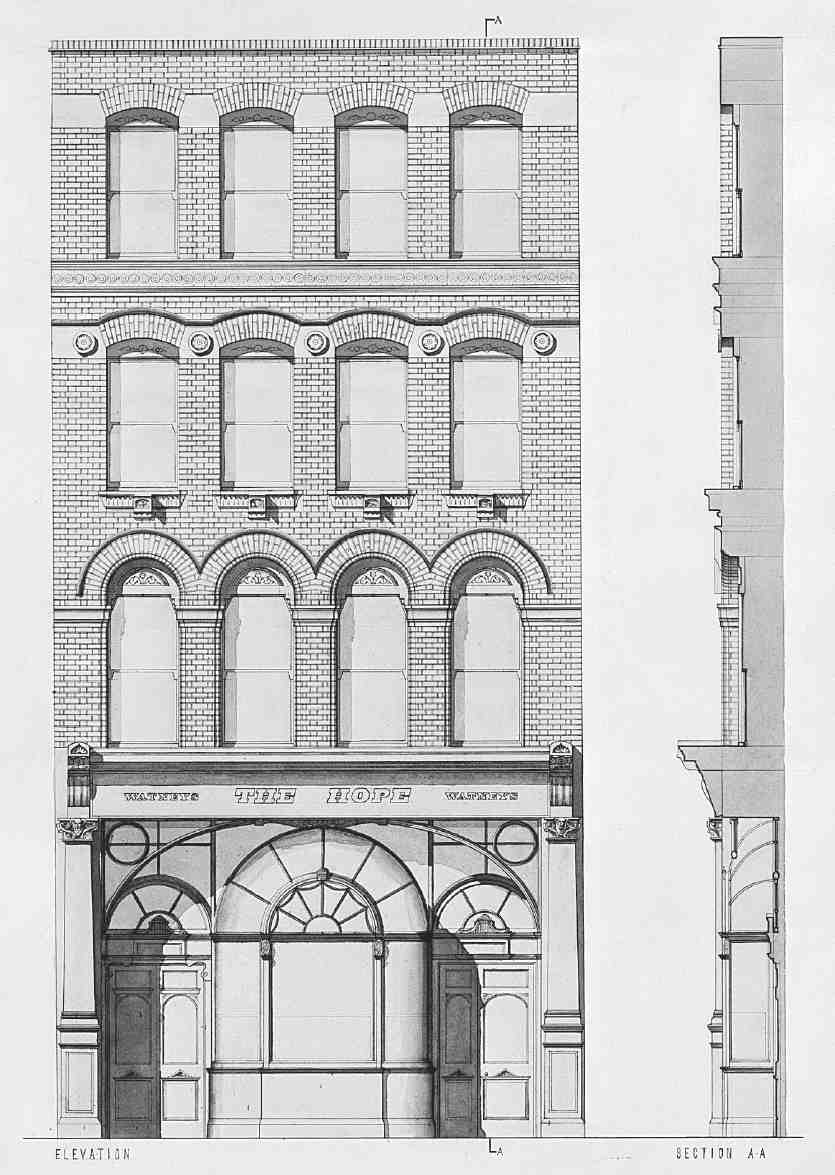 Between Ikon House and Nos 5–9 stand Nos 1–2 and 3–4 Faulkner's Alley, comprising a curious commercial block, probably built around 1870. It may have been the second phase of Vidler's warehouse development. Of four floors, it is solidly constructed with a front to the narrow alley executed in red and yellow brick with dressings of moulded white brick, a rather extravagant façade for a location where it could never be seen to any advantage. The rear walls are of the plainest and built in stock brick. An early occupant may have been the Tinfoil Decorative Painting Co., whose metallic-veneer factory was listed in Faulkner's Alley in the Post Office Directory in the mid-1870s.
Nos 32–35, and Nos 101–102 Turnmill Street. A public house flanked by warehouses, this group of Italianate buildings dates from 1865–7. It was the speculation of the builder, John George Bishop, subsequently landlord of the pub, the Castle. His architect was Henry Dawson of Finsbury Place. (fn. 115) Nos 32–33 have been stuccoed, but the Castle (Nos 34–35) and the premises to its north retain their robust Victorian brick fronts (Ill. 243). Roundels of cockerels over the end doors at No. 35 Cowcross Street and No. 101 Turnmill Street appear to refer to the story concerning George IV mentioned above (page 186). The site had been empty for some 25 years when Bishop agreed to develop it in 1865. (fn. 116) By 1870 he was badly in debt, and with liabilities amounting to some £100,000, became bankrupt. (fn. 117) This may have been a temporary setback, as he appears to have built the warehouse behind Nos 70–77 for Keevil & Best in 1878. (fn. 118)
South side
Nos 61–63. Painted-brick warehouses rising to five storeys, perhaps of the 1870s.
Nos 64–65 (Warwick House). Warehouse-office of 1962–4, with expressed concrete framing and metal windows. By Kenneth Lindy, Joseph Hill & Partners, architects; Walter Llewellyn & Sons, builders. First leased to W. H. O'Gorman Ltd for storing refrigerators and other electrical equipment. Front superficially modernized by IKA Project Design & Management Ltd, 1986–7. (fn. 119)
No. 66, Three Compasses. Rebuilt like its neighbours in replacement of war-damaged property. Kenneth Lindy, Joseph Hall & Partners, architects, for the brewers Truman, Hanbury & Buxton, 1957–8. Killby & Gayford, builders. Plain brick front set back from the street. The form of the ground-storey projection is probably due to alterations of 1982. (fn. 120)
Nos 67–69. Brick-fronted commercial and cold-storage building, erected for the wholesale butchers Peter Dumenil & Co., to the designs of Yates, Cook & Darbyshire, architects, with Halse & Sons, builders, 1960–2. Converted to office and bar use, 1982; home of the London Lesbian and Gay Centre, 1985. (fn. 121)
Nos 70–77. A steel-framed building of 1921, this was designed by Smee & Houchin and erected by Dove Brothers as a new shipping department for Thomas Cook & Son. (fn. 122) The trabeated, vestigially classical front has cladding of faience or artificial stone, now painted, and wide metal windows, perhaps inserted in 1935 by the Crittall Manufacturing Co. Ltd for the then occupants, the Danish Bacon Co. (Ill. 244). (fn. 123) The rear premises incorporate a three-storey Victorian warehouse, probably built by J. G. Bishop as a bacon store in 1878 for Keevil & Best, provision merchants and egg importers. (fn. 124) On the east wall of the yard is a plaque: 'This wall erected on the ground of and at the cost of Messrs Keevil and Best. This stone was laid by Mr Best'.
Nos 78–85 (with The Smokery, Greenhill's Rents). A medley of office buildings in three parts, replacing and partly recasting the premises of the provision merchants J. D. Link & Son. Powell-Tuck, Connor & Orefelt, architectural consultants, with John Sisk & Son, builders, for Smithfield Developments, 1987–8. (fn. 125) The three parts, Alderney House at No. 78, Market House at No. 85, and The Smokery behind, are united by a veneer of postmodernism, mixing blockwork and concrete with rendered finishes enlivened by passages of light-blue tilework. No. 85 has been substantially altered since. It was briefly the headquarters of Fitch Lovell, which then merged with Booker plc who sold the buildings to the Corps of Commissionaires for £1.7m. (fn. 126)
Nos 86–89. Former Blue Posts or Blue Post public house, rebuilt 1938–9 for the Wenlock Brewery Co. Ltd by R. Schooley & Son, the architects may have been William G. Ingram, Son & Archer. (fn. 127)
Nos 90–93 (Greenhill House). Solid Victorian commercial buildings of c. 1875–80, brick-fronted and probably iron-framed. Windows divided into triplets by square fluted columns of cast iron.
No. 94, The Hope (with No. 87 Charterhouse Street). The corner building, formerly a post office, and the public house were built to the same elevational design, probably around 1877 (Ills 254, 255), when the Hope seems to have been acquired by Watneys; it had been acquired by the Stag Brewery Co. by the early twentieth century. The architect and builder are unknown, though there are stylistic resemblances to local buildings by the architects Isaacs & Florence, who designed the now-demolished Red Lion at the corner of Turnmill and Benjamin Streets. There had been a pub called the Hope on the site since at least the late eighteenth century, illustrated by Tallis and formerly numbered 90 St John Street (see Ill. 257). (fn. 128) The pub frontage, with its fine timber bowed window, probably dates from the great public house boom of the late 1890s. Some good tilework remains inside.
Greenhill's Rents
Greenhill's Rents was laid out in 1733–5 by John Greenhill of St George Hanover Square, gentleman, later described as a merchant; thirty-nine 'good & substantial Brick Messuages' had been built there by 1745. The site was formerly occupied by an inn called the Castle, which may have been the forerunner of the present-day Hope public house, while the line of the street partly follows the line of an old passage called Three Tun Alley. (fn. 129) Formerly Yshaped, Greenhill's Rents lost its southern arm with the formation of Charterhouse Street.
On the north side are No. 1, a house of the later nineteenth century, now rendered, and the Smokery (see under Nos 78–85 Cowcross Street, above). At the end, next to the railway cutting, is No. 11, a well-preserved four-storey warehouse, with a hoist crane still present over loft doors. It is built of stock brick with voussoirs mixing brick and stone. The Metropolitan Railway leased the property in 1876, which may indicate the date of the building. (fn. 130)
Nos 35–37 is a plain building attached to the rear of Nos 90–93 Cowcross Street, probably designed by White & Traviss, architects, 1956. (fn. 131)