Pages 3-27
Survey of London: Volume 46, South and East Clerkenwell. Originally published by London County Council, London, 2008.
This free content was digitised by double rekeying and sponsored by English Heritage. All rights reserved.
Introduction
London's topographical entities have a tendency to shift over time. As mostly imagined today, Clerkenwell has been adjusted down in size to a compact 'urban village' just north of the City. Its heartland is Clerkenwell Green, with St James's Church raised above it and the serpentine Clerkenwell Close wrapping quaintly round the church and away to the north, where the district peters out around the line of Rosebery Avenue.
That understanding coincides with the core of the recent 'renaissance' that has raised Clerkenwell from a mid–twentieth century nadir of morale to a synonym for urban rejuvenation and energy. It also tallies with the nucleus of local power, activity and population for some six hundred years after the parish was founded. But it omits most of the land-area belonging to the historic parish from its twelfth-century beginnings down to 1900. That stretched much further north, up to and beyond Pentonville Road to include the planned suburb of that name. At its northeastern extremity its boundaries took in the Angel and the west side of Islington High Street, while to its north-west it stopped little short of King's Cross.
These northern areas of Clerkenwell were first systematically built up as residential suburbs between about 1770 and 1840, in line with the patterns of London's growth on freehold estates during that era. They have many linkages with the longer-developed areas to the south, and some parts have been rebuilt almost as often. Nevertheless the two portions of the parish retain fairly separate identities. The present pair of volumes of the Survey of London therefore breaks approximately along the lines between these sibling districts (Ill. 1). Volume XLVI covers south and eastern Clerkenwell; volume XLVII deals with northern Clerkenwell and Pentonville. The two books are separately introduced. This introduction addresses the topography, architecture and broader history of the whole area, together with the special character of the southern district, while its counterpart in volume xlvii takes as its main theme estate development and the housing of northern Clerkenwell, private and public.
A note must be inserted at this juncture about the precise area covered by the present volume and its relation with later administrative districts. The Survey of London normally proceeds by parishes and follows their boundaries, with small exceptions for reasons of convenience. These volumes conform to that pattern. Over and above Clerkenwell, volume XLVI also includes slivers of the parish of St Andrew, Holborn and, more significantly, a narrow buffer zone separating Clerkenwell parish from the City of London (see Ill. 3). The latter zone, lying north and east of Smithfield and including Charterhouse Square, the southern end of St John Street, Cowcross Street and most of Turnmill Street, never belonged to Clerkenwell, though it is widely taken to be part of it today. In the post-medieval period it was split between separate jurisdictions, explained in more detail on pages 6–7. It was united administratively with Clerkenwell only in 1900, when both became part of the Metropolitan Borough of Finsbury, which took in also the old parish of St Luke's further east. Finsbury in its turn ceased to be a unit of government when the present London boroughs were created in 1965. At that date Clerkenwell, along with Finsbury's other constituent elements, became part of an enlarged London Borough of Islington. With minor exceptions, the area described in the two volumes falls today for administrative purposes entirely within Islington. A small detached portion of the former parish of Clerkenwell in Muswell Hill is naturally excluded.
Apart from one major complex of buildings, the whole zone between the City and the old parish of Clerkenwell is included in this book. The omission is the Charterhouse, the subject of a Survey of London monograph to be published following the present volumes.
Some 350 acres in extent, Clerkenwell rises consistently from around 50 feet above sea level at its southern end up to the heights of Pentonville and the Angel, at around 125 feet. Its one original natural boundary was the Fleet River on its western edge. Long lost to view beneath or west of King's Cross Road and Farringdon Road, and often diverted from its former course, the Fleet exerts a latent influence upon the local topography. It manifests itself, for instance, in the sharp descent down Lloyd Baker Street and Wharton Street to King's Cross Road, in the similar slope of Mount Pleasant, and in the urban chasm around the intersection of Clerkenwell Road with Farringdon Road, created when the latter thoroughfare combined with the Metropolitan Railway to purge, widen and deepen the Fleet valley in one of the seminal clearances of Victorian London.
Much of Clerkenwell's geology, its lower-lying portions close to the City especially, consists of layers of gravel upon impermeable clay. These, together with the permeable 'loess', so valuable for brick-earth, were conducive to the springs and wells recollected in the parish's name and bound up with its early repute. Writing in 1598, John Stow lists a series of wells close to the eponymous 'Clarkes well', including Skinners Well, 'Fagges Well, neare unto Smithfield by the Charterhouse, now lately dammed up, Todwell [probably Godwell], Loders wel, and Radwell, all decayed, and so filled up, that there places are hardly now discerned'. (fn. 1) Not all of these can be identified. But from Faggeswell in the vicinity of Charterhouse Lane the Faggeswell Brook ran west to join the Fleet, its course perhaps once defining the City's ragged northern boundary. Goswell Road also most likely took its name from a watersource lost to posterity, possibly Stow's misspelt Godwell or Godewell, easily corrupted to 'Godswell'.
The location, control and exploitation of water supply are recurrent themes in Clerkenwell's history. In due course piped water replaced wells and streams as the main means of provision. The trend began early on with the religious houses; then in 1613 came the advent of the New River, whose associated pipes, reservoirs and landholdings coloured the whole destiny of northern Clerkenwell. Even after that wells could be discovered and promoted, partly for their medicinal value, increasingly as venues for organized amusements and pleasures. The most famous is Sadler's Wells, a precariously enduring place of entertainment for Londoners from its inauguration in the 1680s to the present day. Among others long gone were the Cold Bath of Coldbath Square, connected with a spring exploited from 1697; New Tunbridge Wells, sometimes known as Islington Spa, close to Sadler's Wells; the London Spaw; and, just beyond the area covered by these volumes, Bagnigge Wells. Till well into the nineteenth century the area north and south of Pentonville Road had several pleasure grounds, of which White Conduit House just beyond the parish boundary was the most famous. Later, good spring and well water were crucial also to the success of large breweries and distilleries such as Gordons, Booths and Nicholsons. Only in recent years has local extraction fallen off and Clerkenwell's water table risen, as elsewhere in formerly industrial London. At the time of writing, water trickles again in the Clerks' Well after many dry decades.
By virtue of its name, this well—visible today by appointment under Nos 14–16 Farringdon Lane, half-lost to memory more than once and rediscovered in 1924—is the most venerable of Clerkenwell's water sources. It can be confidently identified with the 'fons clericorum', one of three wells mentioned in William Fitzstephen's famous description of London (c. 1183) as places of popular resort 'visited by thicker throngs and greater multitudes of students from the schools and of the young men of the City, who go out on summer evenings to take the air'. (fn. 2) With Elizabethan nostalgia, Stow recounts that the Clerks' Well took its name from 'the parish clerks in London, who of old time were accustomed there yearly to assemble, and to play some large history of Holy Scripture'; and he goes on to cite festivals of three and eight days held at nearby Skinners' Well during the reigns of Richard II and Henry IV. (fn. 3) Parish 'clerks' as such did not exist before the Reformation, and he was probably extrapolating from Fitzstephen's use of the word 'clerici', meaning clergy. Stow's words still have imaginative resonance, however. Peter Ackroyd, for instance, has written of the Clerks' Well as 'the site of the stage where mystery plays were performed for centuries "beyond the memory of man"'. (fn. 4)
We should be wary of too exalted a reading of such events. There is a possibility that the phrase 'fons clericorum' predates the foundation of the religious houses close by, as the following paragraph explains. On the other hand hard evidence for the sacred side of observances at the Clerks' Well seems to boil down to a single French phrase, 'miracles et lutes', in a complaint from the prioress of St Mary that crowds of Londoners trampled down her nunnery's hedges, fields and crops when they congregated at these frequent gatherings. Edward I's sympathetic response, dated April 1301, called for the better control of 'luctas et alios ludos'—wrestling and other games of a kind popular on the fringes of medieval London. (fn. 5) For these the local record is sharper and fuller. There are fifteenth-century references to 'le wrestlyngplace' north of the Charterhouse site, while Stow laments that wrestling had usurped the sacred plays at Skinners' Well. All in all, Sadler's Wells and Clerkenwell's other later entertainment venues around water-sources appear faithful enough descendants of the Clerks' Well.
Clerkenwell's relatively few traces of Roman occupation can be interpreted as agricultural. Though there are some archaeological signs of settlement from the sixth century, it is not singled out in Domesday Book. The decisive date in its chronology is 1144–5, when two of the three monastic foundations fundamental to the parish's history and landholdings then make a near-simultaneous appearance. These were the Hospitallers' priory of St John of Jerusalem and the convent of St Mary, sited within a stone's throw of one another: the priory, in modern terms, around St John's Square, and the nunnery around St James's Church in Clerkenwell Close. Both were founded by Jordan de Bricet(t), from a family perhaps of Breton origin that also held extensive lands in Essex. They were endowed from de Bricet's fee of Clerkenwell which he held of the bishop of London within the manor of Stepney by knight service. (fn. 6) It is in early charters of the two foundations that the Latin form of the place-name ('iuxta fontem clericorum') is first recorded. From a reading of a grant of tithes in one of these texts, it is possible to push back the name to 1112, before the foundations existed, but this interpretation is by no means certain.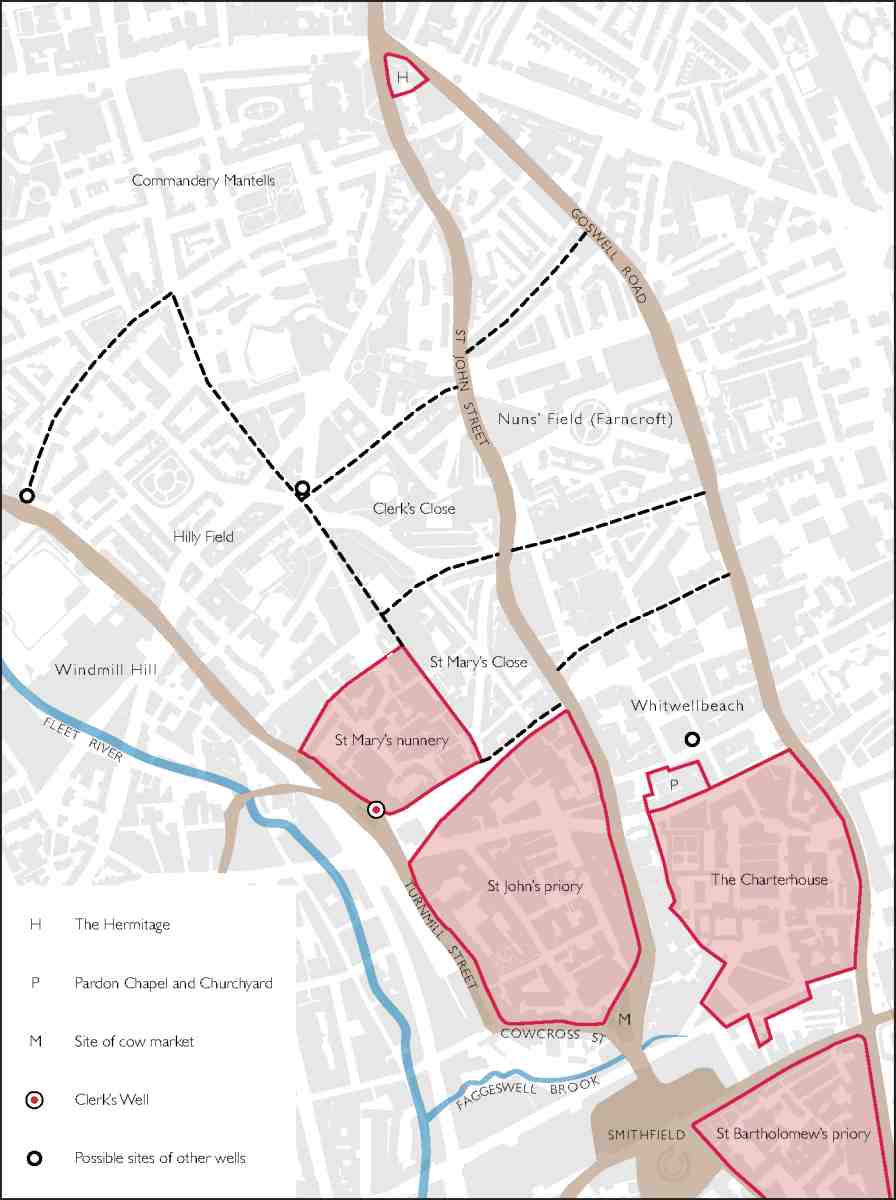 The details of the grants and extent of the lands attached to the two religious houses are opaque, but it is agreed that the priory slightly preceded the nunnery. Once a dispute had been settled between them, the nunnery's own property seems to have been confirmed as ten acres apparently including the Clerks' Well; an extra four acres between this land and the priory, identifiable with the present Clerkenwell Green, came afterwards and more loosely under the nuns' control. The priory likewise enjoyed some ten acres adjacent to its buildings (Ill. 2). In addition, through de Bricet's descendants both foundations came to control much larger tracts of land further north in the parish. A daughter and granddaughter of Jordan de Bricet both became nuns at St Mary's, while through another daughter much of the northern property passed to the Foliot family and hence to St John's.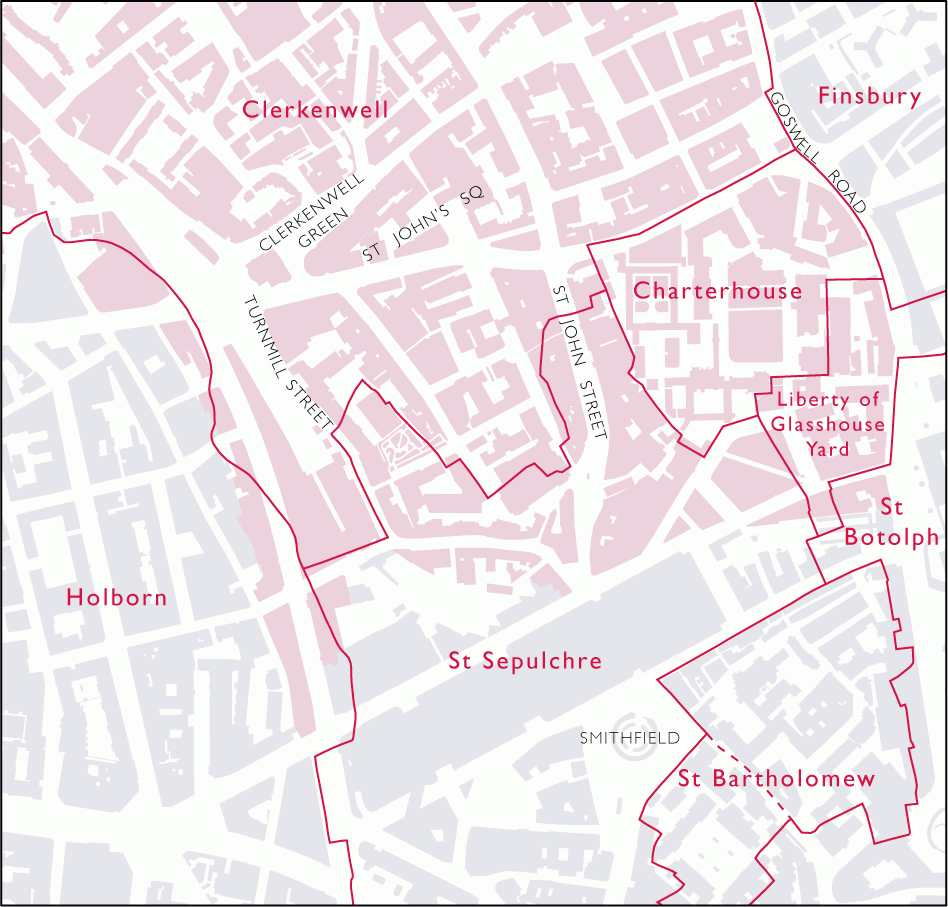 Twelfth-century Clerkenwell thus acquired two religious houses as its first recorded landholders and builders. In a pattern typical for the outskirts of European cities, land-use in the parish came subsequently to be shared between such sizeable institutions needing space and isolation (in the first place monastic, later penitentiary), certain kinds of farming and manufacture, tracts for exercise and recreation, and the forces of urbanization, most pressing along the routes in and out of London.
Dominant at first, even after their suppression the religious houses left their stamp upon Clerkenwell. Over nearly four centuries of existence, St John's and St Mary's built substantially and created walled precincts around their holdings. St John's also had an outer precinct, gated if not entirely walled. Ground in their immediate environs was always let out to tenants wishing to avail themselves of the orders' religious and economic authority, while well before the Reformation powerful households were choosing to live within the precincts. As for their buildings, the more impressive remains have been left by St John's priory, the richer of the de Bricet foundations. Of the original Hospitaller church of c. 1144–60, with its round nave (typical of the military orders) joined to an apsidal chancel over a crypt, three bays of the crypt survive. To its south St John's Gate (1504), Prior Docwra's entry to the inner precinct, is Clerkenwell's most conspicuous monastic monument, battered and restored but still most dignified. St Mary's has left almost no traces above ground. But from the nunnery church's enlargement for local parochial needs in the 1180s and 90s stem the origins of the present St James's parish church.
It is the third and last of the district's monastic foundations which has left the most abiding mark. Founded in 1371 by Sir Walter Manny, the London Charterhouse was an interloper in the local land-pattern. Bound up with the reaction to the trauma of the Black Death, it grew out of a chapel with a plague burial ground erected in 1349. The Charterhouse took land in the zone between Clerkenwell and the City, belonging partly to St John's priory and partly to St Bartholomew's hospital. In its lifespan of less than two centuries, this latecomer acquired an august presence and a modest landholding to its north, represented by what later became the Charterhouse estate. The vagaries of its post-Reformation fate, when the core of the Charterhouse became successively a private house and then in 1611 an almshouse—cum—school, allowed one fifteenth-century court, Wash-house Court, and other vestiges to survive. The relationship between the Charterhouse and its gated precincts and grounds also endured. Today's visitor to Charterhouse Square, the monastery's former outer precinct or yard, instantly senses the seclusion of a cathedral close or Oxbridge college. Such is the significance of the Charterhouse that its buildings have been reserved for a separate monograph, but the square and its environs are described in Chapter IX of this volume.
The administrative history of the area between these three foundations and the City—the 'buffer zone' south and west of Clerkenwell parish (Ill. 3)—is involved. Most of it once belonged to the parish of St Sepulchre. That church, on the north-western edge of the City, existed by 1137 and probably some time before. It is tempting to suggest some connection between St Sepulchre's and St John's priory, since the Knights Hospitallers were devoted to the Holy Sepulchre. Bounded on its west by the Fleet, St Sepulchre's parish extended northwards to take in Cowcross Street and part of Turnmill Street (in modern terms). Further east, the parish may have been curtailed when the Charterhouse was founded, though some of the land then taken belonged to St Bartholomew's hospital.
After the Charterhouse's abolition, its former precinct remained extra-parochial at first. But at an unknown date no later than the 1670s, the outer precinct's western portion was allotted to St Sepulchre Without, as the section of that parish outside the City came to be called, while its smaller eastern portion, up to the line of Aldersgate Street and Goswell Road, became part of the parish of St Botolph without Aldersgate, the division between them running north—south through Charterhouse Yard. Around 1700 this eastern portion became part of a curious administrative entity known as the Liberty of Glasshouse Yard, which survived precariously until the London local government reform of 1900.
***
The clustering of tenements round the three religious houses cannot be separated from the spread of late medieval London, especially around the Charterhouse, whose outer precinct touched to the south upon the City boundary. The first continuous urban development in the area covered by these volumes naturally took place nearest to the City, and along the three main roads northwards of the entry points into London at Smithfield and Aldersgate bars. These roads—St John Street, Aldersgate Street—Goswell Road, and Cowcross Street—Turnmill Street—acted with the monasteries as linked magnetic fields, drawing development along and around them (Ill. 2). Their chronology and mutual relation are obscure.
St John Street, perhaps the first of these historic north-south routes, provided a direct way to and from Islington, the next sizeable settlement north of Clerkenwell. It ran along the east side of St John's priory, just as Cowcross and Turnmill Streets flanked its southern and western edges. In existence by 1170, it either predated the priory or was laid out by the Knights Hospitallers, who certainly exploited it. But it was always a public road. A fourteenth-century decree ordered customs to be paid on goods entering London via St John Street in order to pay for the road's upkeep. At that date it was probably the prime route for traders and for drovers bringing animals to Smithfield, where a general livestock market flourished by the twelfth century, and to the semi-separate cattle market next to it at Cow Cross, the open space where St John Street and Cowcross Street meet. The tenements of St John Street, as they developed, furnished lodging for visitors and income for the Hospitallers. Over time the street acquired quite a cluster of the courtyard inns typical of the highways in and out of London, and evolved into a major rendezvous for the Georgian coaching trade.
The early history of Aldersgate Street and Goswell Road, also leading to Islington, is less clear. Its oldest portion, which went by various names, is supposed to have proceeded northwards from Aldersgate bars only up to the present line of Clerkenwell Road and Old Street, north of which point the road may once have turned eastwards. The direct northward continuation of Goswell Road is attested only from the fifteenth century. Aldersgate Street in due course attracted some post-Reformation inns of the same kind as St John Street. A larger second group of such inns made its appearance at the northern tip of our area, at the southern end of Islington where St John Street and Goswell Road converged. The most famous was the Angel, which though part of the nucleus of Islington lay within Clerkenwell parish.
The third of the ancient roads northwards was the line now represented by Cowcross Street, Turnmill Street and Farringdon Lane past the Clerks' Well, hence across the Fleet and on towards Barnet. This route, probably also used by drovers and other travellers coming into London from the north-west, continued to be a thorough-fare until the 1750s, when the New Road (Marylebone—Euston—Pentonville Roads) encouraged them to proceed eastwards as far as the Angel and then turn south along St John Street or Goswell Road. Along Cowcross and Turnmill Streets, skirting the outer precinct of St John's priory, there were already in the twelfth and thirteenth centuries narrow plots for housing and manufactures. Powered from the Fleet and partly owned by the priory and nunnery, the mills of Turnmill Street were the area's original industrial concentration. The 'revolving mill-wheels' in the pasture lands north of the City whose 'merry din' so delighted William Fitzstephen in his boosterish laudatio of twelfth-century London may well have been here, for this section of the Fleet was called Turnmill Brook from an early date. (fn. 8) They were soon being used not only for corn but for tile-making and by Tudor times for fulling, lead-milling and pigment-grinding, thus polluting the water. As late as the eighteenth century, a house off Turnmill Street was being advertised as having 'a good stream and current that will turn a mill to grind hair-powder or liqourish [sic] or other things'. (fn. 8)
The copious alehouses of Cowcross Street and Charterhouse Lane, close to Smithfield, were small and transient compared to the St John Street and Aldersgate Street inns. In and behind all these streets an ever denser tissue of timber houses and back courts was accruing by the Reformation, slowly transmuting into the urban warren already hinted at by the so-called Agas map, representing London in about 1550. Some such courts resulted from breaking up old houses and gardens with clusters of timber tenements. But even in the period of brick-building right down to late Georgian times, courts and alleys continued to be tucked tightly in behind new streets to meet the need for cheaper dwellings.
From the Elizabethan period there are reports of suburban raffishness, vice and criminality in the network of streets and alleys around Charterhouse Lane, Cowcross Street and Turnmill (sometimes called Turnbull) Street— a problematic district for three centuries to come. By contrast, royal officials and courtiers had raised a few larger secular houses of masonry around the religious precincts by the middle of Henry VIII's reign. One such in St John's Lane was clad in the Renaissance terracotta ornament then in vogue; another, on the east side of Charterhouse Yard, can be linked to Sir John Neville, Lord Latimer, second husband of Katherine Parr. Already in high fashion before the Dissolution, the monasteries' environs were to remain so for another century and a half. In the turbulent years 1538–40, all three religious houses were suppressed and expropriated, the Charterhouse savagely so. But apart from the drastic blowing-up of the St John's nave and tower by Lord Protector Somerset in 1549, the ensuing physical changes in and around them were gradual at first. As their buildings offered a quality of permanent fabric to which few secular families could have aspired, most were taken over, adapted and subdivided. Nor were the fallow portions of the precincts developed straight away. On the south side of Clerkenwell Green, the old St John's property called Butt's Close had been broken up into gardens by the 1570s, though a few houses appeared there soon afterwards. Around the same time the sense of Clerkenwell Green as a public open space firms up, though it continues to be encroached upon for years.
Some of the dynasties that play a lasting role as Clerkenwell freeholders now emerge. On the former nunnery lands, what was to become the Seckford estate was settled after 1587, while in 1599 Sir John Spencer acquired what through his daughter's marriage was to become the larger Northampton estate. But the overall pattern of landholdings, settling down sixty or seventy years after the Dissolution, suggests that the new owners were mostly not resident families with local ambitions but non-residents of one kind or another, private, corporate or institutional. Many were to remain in possession for the next three centuries and more. An example is the freehold between the northern stretches of St John Street and Goswell Road acquired in 1608 by Dame Alice Owen, a judge's widow. After building almshouses and the school that still bears her name (now removed to Potters Bar), she entrusted the property by her will to the administration of the Brewers' Company. Parts of this land are still in the company's charge.
The first local signs of a distinctive Protestant polity appear around 1611–15, about the time when Alice Owen built her school. In those years the Charterhouse was converted into Sutton's Hospital, also part almshouse and part school. And, at a period when there was clamour for firmer control over London's spreading suburbs, Clerkenwell gained two interlinked institutions of county government. Hicks' Hall in St John Street was a purposebuilt sessions house for the Middlesex magistrates, paid for by one of their number, Sir Baptist Hicks. Along with it went the 'New Prison' or Clerkenwell Bridewell, erected north of the parish church because room was lacking next to Hicks' Hall. A workhouse was added in the 1660s for a union of Middlesex parishes. That did not last; instead, a second prison joined the first. In 1792 the original prison, by then termed the Middlesex House of Correction, moved to a site near by in Coldbath Fields where the Mount Pleasant postal sorting office now stands. The second prison, known latterly as the Middlesex House of Detention, carried on until the 1880s and became the site of the notorious Fenian 'outrage' of 1867. As for Hicks' Hall, when it proved too small and dilapidated, it was replaced by the Middlesex Sessions House (1779–82), extant today on Clerkenwell Green.
In its judicial and corrective guises alike, county justice maintained its presence at the heart of Clerkenwell for over three centuries, until the sessions moved away in 1920. While the parish's texture was enriched by these trappings of authority, they did not stop people enjoying themselves. One symptom of tolerance was the continuance of the Red Bull Theatre, created behind an inn of that name in St John Street around 1600. According to J. P. Malcolm, the Red Bull 'was chiefly frequented by the lower order of the people, and said to have been a large building, acted in by daylight, and partly open to the weather'. (fn. 9) Though its rowdy audiences sometimes came before the justices, this little theatre carried on right through the Commonwealth, surviving puritan raids only to close in the laxer 1660s.
With prisons so close, central and southern Clerkenwell was becoming a less eligible address for the nobility. That took time to make itself clear. Around 1630 the 1st Duke of Newcastle could still carve himself a fancy house out of the remains of St Mary's nunnery. Parts of the other old religious enclaves, St John's Court and Charterhouse Yard, also retained their cachet beyond the Civil War. But if the new institutions did not deter the aristocracy, intensification of the urban fabric finally prised them out. Even in protected Charterhouse Yard, the break-up of the Rutland House property in 1660 and the promotion by the 2nd Duke of Buckingham of a short-lived glassworks on its garden hinted at the industrial future. Further north, the 3rd Earl of Northampton built himself a mansion on his extensive Clerkenwell holdings in the 1660s, only for his son to abandon it in the next generation, as housing spread on to the family property's southern fringe.
The arrival of a new style of bourgeois urban living based on the brick house, terraced or otherwise, widespread after the Great Fire, is most graphic in Charterhouse Yard. Between 1688 and 1705 speculators and builders reconstructed three of its four sides, transforming the straggle of the old precinct into a neat square for London's modern merchant classes. On a humbler scale, the narrow streets and small houses of Clerkenwell's first and rather shaky grid, on the Charterhouse estate around Great Sutton Street, belong to the same years. To its north, Compton Street was likewise laid out after 1686 on land belonging to the 4th Earl of Northampton and divided into almost eighty plots, inaugurating the drawn-out story of development on the Northamptons' land. With the exception of just two houses (Nos 4 and 5) in Charterhouse Square, all these dwellings have been obliterated.
After a short pause building resumed with the projection of Britton (then Red Lion) Street in 1718–24, of which rather more fragments survive, and with development from 1719 on the Baynes—Warner estate around Coldbath Fields, now all but illegible. The main promoter of Red Lion Street, Simon Michell, also refashioned the remnants of the old priory church of St John's into a second church for the parish, almost rubbing shoulders with St James's. His aim was to secure the value of his house-building speculations by setting up the equivalent of a proprietary chapel. But he would hardly have been able to sell his interest to the church-building commission had Clerkenwell not been mounting in population, with (according to Edward Hatton) 1,146 houses in 1708. After that the figures, such as we have, rise sharply: 1,500 families or 9,000 people in 1710; 1,529 houses in 1724; and 1,900 houses in 1735. (fn. 10)
***
From about 1720 a pattern for local industry comes into focus. Most early residents of Charterhouse Square and Red Lion Street probably had connections with commerce or manufacture, even if they plied their trades away from their homes. At the cheaper south end of Red Lion Street, however, the first occupants included a clockmaker, John Maberly, whose home was presumably his place of work. Close by in George or St George's Court lived and no doubt worked until 1721 Christopher Pinchbeck, watchmaker, clockmaker and inventor of the copper and zinc alloy that has perpetuated his name.
If not quite Clerkenwell's earliest recorded watch- and clockmakers, these men foreshadow the concentration to come. As with most of the parish's trades, links can be inferred with the City's northern edges, where high-class metal-working in gold and brass had long thrived, along with furniture- and instrument-making. According to the industrial journalist George Dodd, the beginnings of Clerkenwell watchmaking coincided with the introduction of 'the jewelling of watches', a term referring 'not to the outward adornment by means of jewels, but to the use of hard stones as a material in which to make pivot-holes for a watch movement'. (fn. 11) Jewellery and watchmaking were certainly locked together in Clerkenwell. Gathering pace and numbers, the skills spread like wildfire all over the parish. By 1797 almost 7,000 of its population of about 21,000 were estimated to be employed in or dependent upon the watch and clock trades, turning out 70,000 timepieces annually for export and 50,000 for the home trade, with three individual makers, Richard Bayley (Red Lion Street), Smith and Upjohn (Red Lion Street) and Benjamin Webb (St John's Square) claiming to make over 3,000 each per annum. (fn. 12) In 1842 it could be said: 'From St John's Square to the New River Head, and from Goswell Street to Coppice Row, there is scarcely a street which does not contain some artisans in these departments of handicraft, and in many of the streets nearly the whole of the houses are thus occupied'. (fn. 13) From that acme of intensity, the trades fell back after 1870 before lower Swiss wages and American mechanization.
Watchmaking fragmented by nature into different handicrafts and skills, allowing it to be carried on in or behind small houses. Though clockmaking later spawned some purpose-built factories, watchmaking long remained a classic example of the division of labour in manufacturing. Two accounts of the processes at work, though often cited, are graphic enough to bear repeating here. First, The London Tradesman of 1747:
The movement-maker forges his wheels and turns them to the just dimensions, sends them to the cutter and has them cut at a trifling expence. He has nothing to do when he takes them from the cutter but to finish them and turn the corners of the teeth. The pinions made of steel are drawn at the mill so that the watchmaker has only to file down the points and fix them to the proper wheels. The springs are made by a tradesman who does nothing else, and the chains by another … After the watchmaker has got home all the … parts of which it consists, he gives the whole to the finisher, having first had the brass wheel gilded by the gilder, and adjusts it to the proper time. The watchmaker puts his name on the plate and is esteemed the maker, though he has not made in his shop the smallest wheel belonging to it. (fn. 14)
As late as 1903, Charles Booth pictured a similar scene:
The number of subdivisions in the trade is inconceivable. Each worker will be found in a separate house, and at Clerkenwell, where they congregate, almost every front-door in certain streets has its brass-plate stating the owner's special occupation. Here he carries on his profession by himself, working in a room with a north light near the top of a house, or, it may be, in a lean-to shed at the back. (fn. 15)
The contrast between the value of the items handled and the shabbiness of their creators' premises was always striking. In the early nineteenth century Rees's Cyclopaedia remarked:
If we wish to be introduced to the workman who has had the greatest share in the construction of our best clocks, we must often submit to be conducted up some narrow passage of our metropolis, and to mount into some dirty attic, where we find illiterate ingenuity closely employed in earning a mere pittance, compared with the price which is put on the finished machine by the vendor. (fn. 16)
Not all of Clerkenwell's early watch- and clockmaking practice can have been subject to subdivision, much less the instrument-making that flourished in its lee. Some individual masters made many of the parts as well as complete instruments. Nevertheless the outwork system dominated from early days. The self-employment it entailed made the typical Clerkenwell artisan independent, but kept him poor.
Printing, the other major local industry and an even more enduring one, has been more diffuse in scale, siting and chronology. St John's Lane boasted the earliest concentration. Religious publishing was taking place from St John's Gate by the 1670s. From here the Gentleman's Magazine and other titles were issued under the ingenious Edward Cave for half a century from 1731, drawing high-class engravers, print-makers and type-founders around the gate. By the 1750s printing had spread to nearby St John's Square, where a respectable firm, long styled Gilbert & Rivington, had premises on the west side for many years. There it seems for the moment to have paused. Not until the mid nineteenth century did it ramify, as Clerkenwell was sucked deeper into London.
Among other local industries tanning, slaughtering, butchery and bacon-curing held sway in the scruffy courts within reach of Smithfield, as well as east of St John Street. Further up that street, an eighteenth-century sheepskin market could be found on Northampton land. At the level of artisan skills, there was a scatter of furniture–making by the mid-Georgian period. In a final blow to upper-class domesticity, Newcastle House next to the parish church was taken over by cabinet-makers in 1736; other such firms appear in Clerkenwell Green, Britton Street and St John's Square shortly afterwards, some of them no doubt making clock cases. For the moment these industries made no distinct impact on the urban fabric. The only evident signs of enlarged scale before 1800 were some big wholesale warehouses clustering around the bottom end of St John Street by 1720, and a number of breweries and distilleries along the same route, often offshoots of its ample inns. In the Charterhouse garden, smoke from the copious local 'Brewhouses, Distillers and Pipe-makers' was already damaging produce in 1731.
The surge in autonomous, skilled trades promoted an articulate artisan class among the watchmakers and printers, and led to Clerkenwell's growing reputation as a radical meeting-place, private and public. Among the watchmakers, a trigger for unrest was a short-lived tax on their trade in 1797 followed by the long wartime and post-war depression. Yet before the French Wars and their politico-economic aftermath radicalized these classes, there had been a record of educated dissent as well as of spasmodic riots hereabouts. Local factors also played their part: the City's proximity; the challenge of the sessions house and the prisons; space to congregate—confined at Clerkenwell Green, broader at Spa Fields, where the great mass-protests of November and December 1816 took place just before the land was built upon; and the pubs and pleasure venues of outer Clerkenwell, half-licensed outlets for self-expression.
As long as southern and central Clerkenwell marked the urban limit, home and work mostly intermingled. The emergence of a residential north of the parish, apart from an industrial centre and south, took time to establish. It was never absolute. But it began to be glimpsed from the 1770s, with the creation of Pentonville—the first known English suburb to deploy the 'ville' suffix—on Henry Penton's land around the New Road. Pentonville began more as an offshoot of Islington than as a Clerkenwell-based venture. Smaller parallel developments, like Rawstorne Street on the Brewers Company trust land between St John Street and Goswell Road, helped shape fresh areas of inhabitation with, so it was hoped, a domestic and middle-class future.
Pentonville began to make headway only in the 1780s. In the next decade the Northamptons stirred once more, appointing S. P. Cockerell in 1791 as a modern-style estate surveyor to oversee a fresh building initiative on their land. By 1800 it was plain that the parish's whole land surface would eventually succumb to the speculative builder. It was only a matter of time and timing before the major landlords of the intermediate zones, the Northamptons, Lloyd Bakers, and the New River Company, filled in the gaps. As always, development went in waves. The voids remained sizeable until about 1820, then quickly shrank. With the completion of the petite Seckford estate east of the parish church in 1840, central Clerkenwell was packed to the gills, leaving just a few stray green pockets further north (Ill. 4).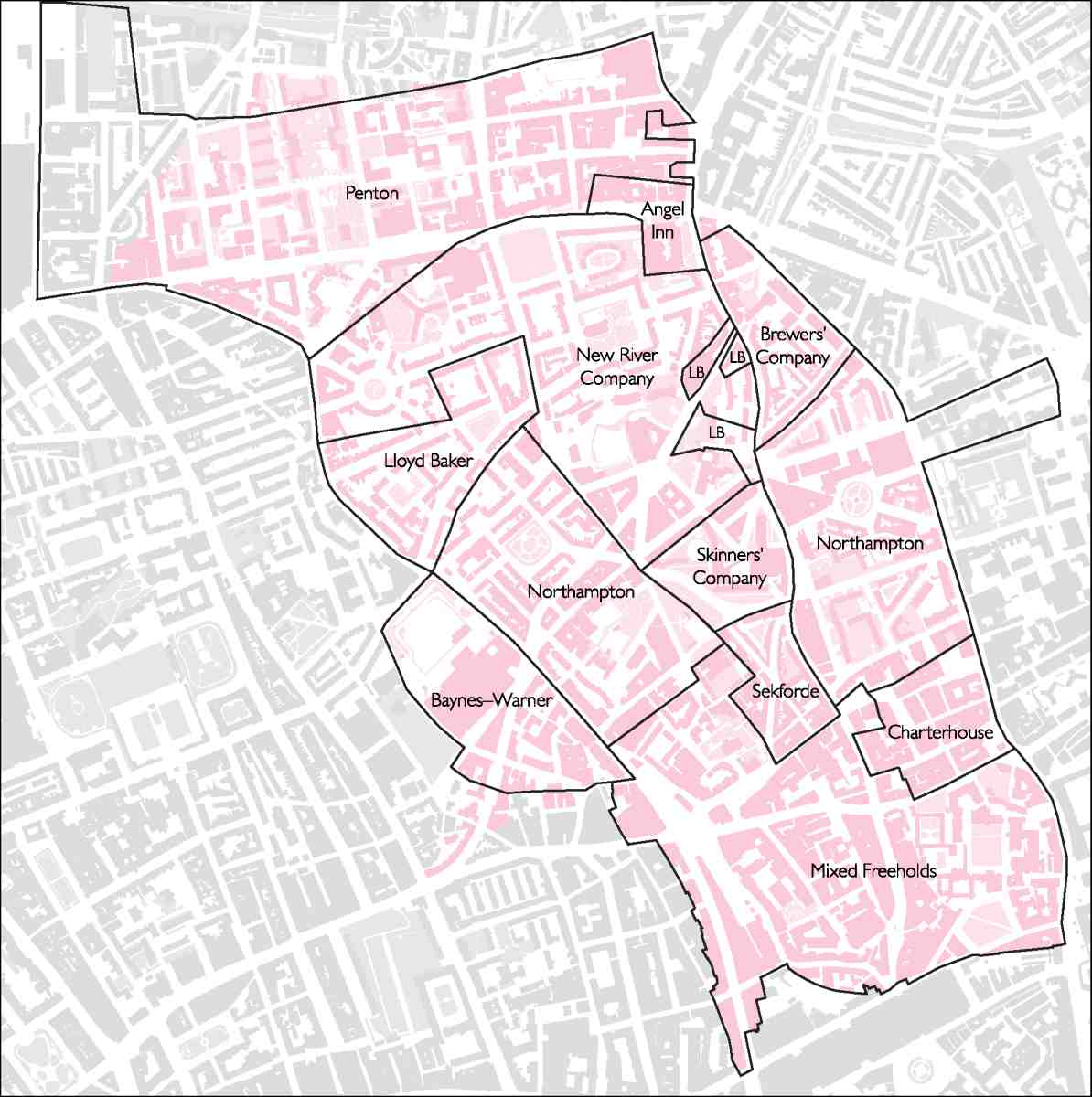 From 1801 we have outline information for Clerkenwell's resident population and growth rate. (The following figures omit the extra-parochial buffer zone around Turnmill Street, Cowcross Street and Charterhouse Square.) Over the next two decades the parish's population leapt from 23,396 to 39,105, or by almost 60 per cent. The same increase of 8–9,000 persons per decade continued until 1851, when the total was 64,778. After that, numbers steadied for the rest of the century. The peak came in 1881, at 69,076, after which decline set in.
It is against the rampant jump in numbers during the first half of the nineteenth century that Victorian development and redevelopment must be set. By 1850 Clerkenwell's build-up was essentially complete. The era of its reclamation followed. For, with what seems lightning rapidity, swathes of this prospering suburb had degenerated into slums. Just as in Britain's early industrial cities, the fervour of enterprise and influx of people bequeathed also overcrowding, poverty and disease, at its worst in the southern areas of Clerkenwell and St Sepulchre's Without. The next fifty years saw a long labour of slums earmarked and cleared, sewers, roads, railways and model housing constructed, and institutions created—chiefly churches, schools and dispensaries. The process left Clerkenwell a healthier but harsher environment.
The titular authority that in theory had presided over this mushrooming of a suburban parish to large-town dimensions was ill-equipped to run it. That was the Clerkenwell Vestry. A symbolic change had taken place in the old heart of the parish with the rebuilding of St James's Church, long delayed, in 1788–92. Outwardly that reconstruction, carried out under a large body of trustees, strengthened the Vestry's prestige. In reality its secular remit was limited. Its most onerous function was to administer the Poor Law and run the parish workhouse, built in Coppice Row in 1727, until Clerkenwell joined the Holborn Poor Law Union in 1869. It also controlled lighting and scavenging, and set and collected the rates. But drainage and paving were managed by separate commissions, albeit ones on which vestrymen were prominent. Such open space as existed was mostly controlled by local trustees. An exception was Clerkenwell Green, which at a date unknown came into the Vestry's ownership.
This want of wider powers and initiative, typical of Georgian parish government, became more problematic in the era of reform. After 1855 the Vestry—by then housed in the old watch-house in Rosoman Street, site of the future Finsbury Town Hall—took over paving, and acquired responsibilities for public health and sanitation. The opening salvo in the official campaign to clean up Clerkenwell came indeed in the form of a report of 1857 from the Vestry's first Medical Officer of Health, J. W. Griffith. (fn. 17) But the cleansing and reshaping of infrastructure were almost wholly carried through by outside bodies with larger capital at their disposal than the Vestry could raise: the City Corporation, the Metropolitan Board of Works, the Metropolitan Railway, and latterly the London County Council.
In one area of sanitary reform where the Vestry had authority to act, that of building baths and wash-houses, there was talk of the kind of initiative that other parishes took in the early 1850s and again in 1873–4. (fn. 18) On neither occasion did it come to pass, leaving private enterprise to provide these facilities. Eventually, the Vestry did cast off its reputation as a haven for self-interested house-farmers. A later Medical Officer of Health, Dr Glaister, told Charles Booth's investigator in the 1890s that it used to be 'a "guzzling" body' but had improved. (fn. 19) It picked up early on public library legislation and built its own library in 1890, while in its last years it anticipated the Local Government Act of 1899 by building an ample new vestry hall on Rosebery Avenue (1893–9) for its successor body, Finsbury Council, to inherit.
Slum-clearance and road-building go together in the politics of Victorian London. But in Clerkenwell road–planning had been bruited years before there was an explicit policy of using it to wipe out slums. First among these schemes was the line of Farringdon Road. Talk of improving north—south communications, recurrent in London planning, went back to the 1760s when the simultaneous making of Blackfriars Bridge and the New Road pointed to a link between them along the course of the polluted Fleet. With the City Corporation at the helm, the road had got as far north as Holborn Bridge in 1832, but then got stuck for want of Middlesex county funding. Though the northern trajectory of Farringdon Road was finally fixed in 1848, very limited progress had been made north of the City boundary.
What galvanized activity was the arrival of the Great Northern Railway at King's Cross in 1850 and the proposal, buttressed by City interests, to take a branch down the Fleet Valley to Smithfield and into the Square Mile. The destiny of Farringdon Road now became bound up with that of the Metropolitan Railway and with the City Corporation's resolve to rebuild Smithfield Market on modern lines, create a new live cattle market outside the built-up area at Copenhagen Fields north of King's Cross, and connect the two by rail. The Metropolitan Cattle Market (later the Caledonian Market) opened in 1855. Clerkenwell was thus ground for the first time between urban forces to its north as well as its south.
The vast and perilous road and railway works finally took place between 1860 and 1864, disrupting the whole western edge of the parish. Many were cleared from their homes, while jobs were affected by the relocation and rebuilding of the markets. Perhaps 5,000 were evicted, though critics put the figure at ten times that number. (fn. 20) The whole process was carried out under the aegis of the City Corporation and the railway company, heedless of local interests. Under the same joint management, the Metropolitan Railway was prolonged soon afterwards from Farringdon to Aldersgate (now Barbican), underground sidings were created beneath the new Smithfield Market (opened in 1868), and the City's new Charterhouse Street (completed in 1874) sliced into the enclave of Charterhouse Square.
Two further major Victorian roads were driven though the parish, by now under the Metropolitan Board of Works and London County Council—on which bodies Clerkenwell was at least represented. Though less drawn out and laborious than Farringdon Road, which they crossed, Clerkenwell Road (1874–8) and Rosebery Avenue (1887–92) were disruptive enough. Both belonged to lines of communication stretching beyond the parish. By the time of Clerkenwell Road, aiming a road at a slum—usually the cheapest property for compulsory purchase—was an explicit tool of social policy. So the opportunity was used to eviscerate the 'Little Hell' slums at the top of Turnmill Street and Britton Street, missed by the less pointedly reformative Farringdon campaign. The destruction wreaked by these routes was not confined to slums. Clerkenwell Road smashed through from one side of historic St John's Square to the other. Rosebery Avenue, partly built up on a viaduct, proved rather less damaging.
Parts of the urban fabric razed by these 'improvements' had been in sore plight for centuries. The Elizabethan notoriety of the courts off Cowcross and Turnmill Streets has been mentioned. By the mid-Victorian years conditions had greatly worsened, as old wooden houses became dilapidated and industrial intensification drew in population. The first clearances drove slum dwellers, reluctant to travel far, into a smaller compass. The number of residents per house in Clerkenwell parish rose from 8.6 in 1841 to 10.6 in 1871. (fn. 21) Meanwhile as the road programmes took shape, the spotlight of religious, medical and environmental investigation was turned upon these slums, now mingling condemnation with pity and calls for reform.
The Little Hell or Jack Ketch's Warren area at the top of Turnmill Street was one much visited by enquirers. This area had formerly been known for its low-life attractions such as bear-baiting and cock-fighting, drinking, gambling and prostitution. It had then been on the edge of London, with spas and pleasure-gardens near by, but was now deeply embedded in the urban matrix. Drainage, sanitation and water-supply were abysmal. A single water-closet in a court typically served all the inhabitants. In 1861 Rose Alley had just one between a hundred and sixteen people. (fn. 22) Water might be kept in the courts in casks or cisterns, but these were often cleared away, probably as an anti-cholera measure; instead there might be a standpipe, the supply being turned on for a short while each day. Those cisterns remaining were often broken or too filthy for use.
Occupants of such courts were mostly scraping a living. Many were chimneysweeps, who sometimes stored soot in the houses themselves. Most inhabitants, however, were costermongers, selling poor-quality vegetables, fruit, flowers, or fish. The donkeys that pulled barrows and carts also lived in the courts, often occupying the groundfloor rooms, even the kitchens. The missionary Thomas Nisbett described Turk's Head Yard as 'like a large uncleaned stable'. (fn. 23) In Frying Pan Alley, visited by George Godwin in 1853, the two rooms of a typical tenement were occupied by an old Irishwoman and her son, and a collection of women, children and lodgers, so that together twenty-five people slept there. In the lower room broken windows were stuffed with rags and rubbish, and there was no furniture except a backless chair and a broken bedstead. In the room above was no furniture at all. Meagre possessions and bottles of holy water hung from the ceiling, and the floor was strewn with bits of bone and iron and cinders for the fire, picked up in the street. (fn. 24)
The delinquencies in this nest of slums were detailed by R. W. Vanderkiste, for some years a missionary at a ragged school in Lamb and Flag Court, opened in 1845. He spoke of extreme ignorance and drunkenness, a culture of theft, particularly shoplifting, street-fights amongst both women and men, and the stoning and pelting of the police. Much of the problem he attributed to alcohol, pointing out that establishments selling drink matched in number shops where food was sold. (fn. 25)
Though these particular slums were swept away for Clerkenwell Road, a smaller nexus further east, centred on Jerusalem Court and Aylesbury Place off St John Street, endured longer. St John's Church nearby was frequently broken into, its roof stripped of lead and its incumbent on one occasion in 1902 assaulted and robbed—'a most unusual occurrence for a Clergyman to be robbed at Mid-day in the centre of his parish', he lamented. (fn. 26)
In The Nether World (1889), his novel of Clerkenwell slum-life, George Gissing eloquently articulated the juxtaposition of abject poverty with intensely productive craft-industry:

Go where you may in Clerkenwell, on every hand are multiform evidences of toil, intolerable as a nightmare. It is not as in those parts of London where the main thoroughfares consist of shops and warehouses and workrooms, whilst the streets that are hidden away on either hand are devoted in the main to dwellings. Here every alley is thronged with small industries; all but every door and window exhibits the advertisement of a craft that is carried on within. Here you may see how men have multiplied toil for toil's sake, have wrought to devise work superfluous, have worn their lives away imagining new forms of weariness. The energy, the ingenuity daily put forth in these grimy burrows task the brain's power of wondering … Workers in metal, workers in glass and in enamel, workers in wood, workers in every substance on earth, or from the waters under the earth, that can be made commercially valuable. In Clerkenwell the demand is not so much for rude strength as for the cunning fingers and the contriving brain. The inscriptions on the house-fronts would make you believe that you were in a region of gold and silver and precious stones. In the recesses of dim byways, where sunshine and free air are forgotten things, where families herd together in dear-rented garrets and cellars, craftsmen are for ever handling jewellery, shaping bright ornaments for the necks and arms of such as are born to the joy of life. Wealth inestimable is ever flowing through these workshops, and the hands that have been stained with gold-dust may, as likely as not, some day extend themselves in petition for a crust. In this house, as the announcement tells you, a business is carried on by a trader in diamonds, and next door is a den full of children who wait for their day's one meal until their mother has come home with her chance earnings. A strange enough region wherein to wander and muse. (fn. 27)

The plight of Clerkenwell's working classes was among the reasons for the proliferation of its places of worship. Up until about 1830, the established church and other denominations stressed a moral, middle-class discipline. Dissent had been strong since the Commonwealth—witness the Peel Court Meeting House, a Quaker congregation established in St John's Lane in 1655, and a Baptist Meeting House of 1669 in Glasshouse Yard. The Spa Fields Chapel, converted for worship from a failed pleasure palace in the 1780s, became the London headquarters of the high-minded Countess of Huntingdon's Connexion. The flurry of nonconforming chapels erected between 1819 and 1835 was largely of the old 'respectable' type. They included the Claremont Chapel (Congregational), the Spencer Place Chapel (Baptist), the Chadwell Street Chapel (Calvinistic Methodist), the Free- Thinking Christians, St John's Square (Unitarian), the Woodbridge Chapel (Calvinist) and the Northampton Tabernacle, Amwell Street (a Countess of Huntingdon offshoot). But the establishment in 1835 of a mission in Red Lion Street showed awareness of the need for an alternative.
The Church of England changed its tack around the same time. After St John's had been revived in the 1720s, the next subsidiary outpost of the established church was the Pentonville Chapel of 1787–8 (later St James's, Pentonville). A neat chapel of ease with allocated seats, it had a history of difficulties, failing to adapt when Pentonville succumbed to late Victorian squalor. Next in line were the government-subsidized St Mark's, Myddelton Square (1825–7) and St Philip's, Granville Square (1831–2), likewise built in developing areas of the parish planned to be solidly middle-class. But the district around St Philip's never met expectations; soon a Tractarian incumbent was introducing the ritualism that some hoped would draw in the working classes. Like the Pentonville Chapel, St Philip's declined with its environs. It never attained the fashionable-slum-church reputation of its offshoot, Holy Redeemer, Exmouth Market (1887–95), boldest in architecture and ritual among Clerkenwell's High Church foundations.
In the climate of parochial subdivision from the 1840s onwards, Low Church incumbents took various lines. To counter the infidelity and immorality he perceived in Pentonville, the tactless Rev. Anthony Courtenay embarked on St Silas's, Penton Street (1860–3) without due funding or heed for building regulations and came to grief. More circumspectly, the promoters of St Peter's (1869–71), scheduled to serve an impoverished section of the Northampton estate, managed to harness to their cause Protestant enthusiasm and funds for a Smithfield Martyrs' Memorial.
Other clergy appreciated that in slum conditions schools and welfare must come before worship. Such was the Rev. William Rogers of St Thomas's Charterhouse (1841–2), a church with a parish in desperate straits (situated mostly east of Goswell Road in the Barbican and so beyond the limits of these volumes). On taking up his charge in 1845, Rogers put the founding of successful schools before his dour church's embellishment. On similar lines, when a new St Paul's parish was contemplated for the Great Sutton Street area in 1860, a school came first, the church following on later a short distance away.
By the nineteenth century the Clerkenwell area's main endowed charity schools, the Charterhouse School and Dame Alice Owen's School, had become middle-class. After the Endowed Schools Acts of 1869–74, both were reformed and rebuilt on an enlarged scale. Meanwhile the churches and chapels had to take the lead in educating the poor. The Clerkenwell Parochial Schools, originally situated in Aylesbury Street near the parish church, went back to 1700. They were drawn into the Church of England's 'national system' in 1815, when numbers rose from 100 to 280. But the state of the children soon gave cause for concern: 'notwithstanding these great exertions the Governors have still to lament the want of Clothing experienced by many of the additional Children whose Parents are in such poverty as to be scarcely able to furnish them with sufficient clothing to appear at the School'. (fn. 28) A move followed in 1830 to purpose-built premises in Amwell Street with a capacity of 1,000 (though the initial enrolment was only half of that). On similar lines, Pentonville created a small parochial school in 1788, then moved the boys into new premises in 1811.
There were various alternatives to the parish schools, institutional and private. Amongst the more formalized was the Welsh School, which built and tenanted what is now the Marx Memorial Library on Clerkenwell Green between 1738 and 1772. A purely secular education was certainly available. In 1808 a Pentonville Sunday school was set up on the grounds that small shopkeepers and tradesmen tended to send their children to 'the petty seminaries in their immediate neighbourhood' where religious instruction was not offered. (fn. 29)
The forty years between the opening of the Amwell Street school and the founding of the School Board for London in 1870 saw further church- or chapel-affiliated schools spring up, as well as several transient ragged or night schools. That these did not meet the demand or the preferences of the poor is suggested by the resources the early School Board devoted to Clerkenwell. Two schools, Eagle Court and Bowling Green Lane, both of 1873–4 and for some 800 children each, were among the most significant the board built; indeed Eagle Court featured in E. R. Robson's textbook School Architecture as an earnest of the board's programme for combating ignorance in the slums. Even before them, the board had embarked on the Winchester Street (now Winton) School in another deprived patch of the parish, its north-west corner. More assertive schools followed. A high point was reached with the landmark Hugh Myddelton School (1891–3), within sight of the board's earlier Bowling Green Lane. Opened by the Prince of Wales, it was a consciously symbolic replacement for the old House of Detention. Clerkenwell Close was confirmed as a School Board fiefdom when in 1895–7 its large central stores opposite, now the Clerkenwell Workshops, were also raised here, tricked out like its schools with the board's decorative entrance legends.
In the years before its downfall in 1904, the School Board extended its remit at schools like Hugh Myddelton to practical subjects like cookery and needlework. But perhaps the most sympathetic attempt at balancing education, missionary work and employment was privately provided, by the Watercress and Flower Girls' Christian Mission. Founded by an artisan, John Groom, and carried on from Sekforde Street, this refuge offered employment in artificial flower-making from the 1870s for disabled girls and women.
For an area dubbed by one mid-Victorian commentator 'a second edition of Birmingham, in as much as its leading branches of business are purely of a metallic character', (fn. 30) elementary education could hardly suffice. Yet for years few London industries saw the need to teach technical training. Clock- and watchmakers were the first to stir. Their British Horological Institute, founded in 1858, was based in Northampton Square, around which their skills had been densely present from the district's early years. When London polytechnics took off in the 1890s, the fine metal-working trades were again those best represented close by in Clerkenwell's contribution to the movement, the august Northampton Institute in St John Street (1894–8), now headquarters of the City University. Many other industrial skills were taught there. Swimming baths and a gym too were included, since the early polytechnics offered recreation for the working man (and, sometimes now, woman) as well as technical training.
***
Foremost among social needs was better housing. The sites freed up by Clerkenwell's official slum clearances were mostly taken up by warehousing and industry, while many further dwellings vanished as industry effected piecemeal demolitions of its own.
Though lower densities and more open space were the desirable ideal, fares were too high for working people to live far from their jobs. The fall-back position was to build 'model dwellings'. A clause in the Clerkenwell Improvement Act of 1851, which conferred power for completing Farringdon Road upon the City Corporation, permitted it to build 'improved Dwelling and Lodging Houses for the Poor … and to let the same … to such Labourers, Mechanics, and other poor Persons, at such weekly and other Rents and upon such Terms and Conditions as they shall see fit'. (fn. 31) This appears to have been the first parliamentary sanction for any local authority to build such housing.
Like many schemes for model dwellings, a first attempt to implement the clause in 1855 (before the Farringdon clearances) on a site in Turnmill Street collapsed in the shortfall between affordable rents and the cost of construction. A decade later the City Corporation succeeded in erecting Corporation Buildings, Farringdon Road (1864–5). Technically the country's first 'council houses', in plan and rules of tenure these flats followed on from blocks like Cobden Buildings, still extant in King's Cross Road (1864–5), erected for Sydney Waterlow and his private charitable trust, the Improved Industrial Dwellings Company. Next another company, the Metropolitan Association for Improving the Dwellings of the Industrious Classes, took up the torch with the bigger, even more barrack-like Farringdon Road Buildings of 1872–4. Neither of these historic pioneers of flatted housing for Victorian artisan families survives, nor are they regretted. If they did their job and were seldom short of tenants, they were never loved; in The Nether World, Gissing singled out Farringdon Road Buildings for crushing the human spirit. The only such group to remain in their immediate vicinity is the later Pear Tree Court development by the Peabody Trust (1883–4), built as so often for artisans in place of a nest of unhealthy slums occupied by the indigent poor.
By then a rough and ready system had been devised for model housing in central areas of London: clearance on local-authority application, followed by sale of the site to a low-profit company that then built the dour blocks. It was the local MP, W. T. M. Torrens, who sponsored the Artizans' Dwellings Act of 1868—proof enough that Clerkenwell and St Luke's (the two portions of Torrens's Finsbury constituency) then lay at the heart of urban housing politics.
During the 1870s attention shifted to the Northampton estate. Here as a first step the Improved Industrial Dwellings Company erected Compton Buildings (1871–7), Compton Street. A competition held in that connection proved only that 'architecture' could not alleviate such artisan flats. Indeed the later portions of Compton Buildings rose from five storeys, usually deemed the limit for walk-up flats, to seven. The Northampton property was plagued at this period by unscrupulous speculators buying up the ends of leases and cutting up houses into crowded tenements. The Royal Commission on the Housing of the Working Classes (1884–5) scrutinized this particular estate closely. Critical of landlordism and vestry management alike, the Commission's report paved the way for change.
The advent of the London County Council (1889) and the Housing of the Working Classes Act of 1890 were followed by the vestries' abolition in 1900. As a result Clerkenwell entered the era of public housing locked with the even more impoverished parish of St Luke's as the borough of Finsbury. Not until the 1920s did Finsbury Council find the will and the wherewithal to build housing itself. But once embarked on that path, it waxed ambitious. Since the most important initiatives took place in northern Clerkenwell, this later phase in housing is reserved for the introduction to volume xlvii.
***
The 1870s and 1880s were boom years for Clerkenwell industry, even though the population was levelling out and the wealth generated mostly left the parish. Intensive commercial rebuilding took place, and not just on the road-clearance sites. Cowcross Street, for instance, shot up in scale and rid itself of most of its old houses and courts, as commercial tenants profited from the passenger and freight depot at Farringdon Station. St John Street likewise renewed itself with warehouses, as did Bowling Green Lane and other streets.
But the new thoroughfares led the way. The value of the improved road system was demonstrated when in 1887 the Post Office chose the old Middlesex House of Correction's big quadrilateral at Mount Pleasant for its new London sorting office. Close to Farringdon Road's intersection with the planned Rosebery Avenue, the site was perfectly placed between the City and the northern railway termini. The vast sorting office developed into the district's biggest employer. As for the types of buildings along the new roads, in Farringdon Road the purpose–built and therefore more individual premises tended to be the earlier ones, some touched with Gothic flamboyance. Later the frontage filled up with rows of speculative workshops or warehouses, modern-looking in design because so basic, maximizing window and floor space and often let by the floor. Similar blocks can be found in Clerkenwell Road and in Charterhouse Square, where the incursion of Charterhouse Street superimposed an industrial layer on to the palimpsest of the old precinct.
The manufactures carried on in these factory-warehouses varied immensely. The old strengths of clockmaking, jewellery, instrument-making and printing were at first reinforced, bringing with them ancillary trades. A few clockmakers were now able to centralize their manifold processes under single ownership in one or a few large shops. Long-lived examples include John Smith & Sons, a concern that started in the 1830s as makers of clock and watchglasses, soon took in other skills, built itself a three-storey factory, and persisted in St John's Square till the 1980s, albeit latterly as a metal engineering firm; and Thwaites & Reed, specialists in turret clocks, who after more than a century in Rosoman Street transferred in 1880 to premises behind Bowling Green Lane, staying till 1974.
Yet the generality of the watchmaking trade was now tipping into decline under pressure from cheap and deft foreign competition. By 1895 there could be headlines about 'A dead Industry'. 'Hand-made watches are things of the past', a lecturer told the British Horological Institute. 'The trade is dead; is buried. The body—the substance— is gone; the soul—the shadow—only remains. From an industry it has now become a fad'. (fn. 32) Despite that epitaph, Clerkenwell watchmaking survived, if increasingly confined to repairs.
The printing trades fared better. They had broken out of their St John's Lane and Square enclave before 1850, seeping into Clerkenwell Green. There they tightened their grip, until they occupied a third of the premises in 1939 and no less than a half in 1946. Most of these operations were small. But the clearances allowed the industry to spread further and raise big factory-warehouses. Some of the biggest belonged to printers' engineers who founded type or made and repaired presses. Such were the Farringdon Road and Ray Street premises (1864–8) of James Figgins, a firm that moved up from Smithfield when that area was cleared for the new market.
The nature of Victorian printing in Clerkenwell was miscellaneous, ranging from periodicals like General Booth's War Cry to engravings (whence the copious local presence of artist-engravers), maps, books, pamphlets and ephemera. Few premises seem to have been directly linked with the national or London-wide daily press. An exception is the fine warehouse at No. 16 Bowling Green Lane, built for the Standard group of newspapers, then based off Fleet Street in Shoe Lane.
If any one trade carried the torch for Clerkenwell's later radical politics, it was printing, not watchmaking. After the tense Spa Fields years, Clerkenwell Green bedded down in the more orderly working-class politics of Victorian London as a 'modern Agora' where the Corn Laws, Chartism, the suffrage and socialist revolution were successively debated. Over time various left-wing parties and newspapers were drawn in to the district, from William Morris's Socialist League to the Daily Worker. At the height of their respective influences in the 1880s and 1950s, both occupied addresses in Farringdon Road, testifying to the bond between printing and leftist politics. Some might claim The Guardian, in Farringdon Road at the time of writing (though not for much longer), as the last link in the chain. A more explicit if much mythologized heir is the Marx Memorial Library, the former schoolhouse on Clerkenwell Green where Lenin once corrected proofs for Iskra. Another token of down-market intellectualism were the Farringdon Road bookstalls, a feature of the area from 1869 to 1992, second-hand books being for a time supplemented with 'tools and wireless components'. (fn. 33)
There were two other leading industries in the later Victorian period, both spin-offs from City activities. The meat trades had always colonized the southern districts. But the building of the dead-meat market at Smithfield, the transport revolution and the coming of refrigeration transformed them. From the 1890s cold stores proliferated. They soon became large and intrusive, displacing many small meat and poultry dealers. In the drab decades after the Second World War only the printers rivalled them in number. Removing the trade in live animals did not end nuisance and pollution. Improved refrigeration was accompanied by a surge from the 1880s in the number of stoves for bacon-curing. They clustered at the south end of St John Street and in Cowcross Street, as well as along the City frontage of Charterhouse Street opposite Smithfield Market.
Clothing, the other major Victorian incursion, trickled north and west from the wholesale City warehouses of Cheapside and Wood Street to reach up both sides of Goswell Road. Artificial flower-making and mantle-making for City concerns had for some time been a common home occupation for poor women and children throughout the parish, but the scale of dressmaking now became industrial. From the 1860s much of Charterhouse Square was taken over by modest private hotels and staff hostels for labour-hungry clothiers. One such firm redeveloped the square's south side as a speculation in the 1870s, while in the twentieth century the hat manufacturer J. Collett Ltd took over much of its south and west sides, rebuilding the latter as its own premises in 1956–62. So fast has been the decline since then that no trace remains of an industry secure of its local future after 1945.
To focus on clockmaking, printing, meat and clothing is to miss Clerkenwell's array of manufactures from the 1880s on. Plucking examples at alphabetical random, billiard tables, carriages, cathode-ray tubes, compasses, floor-cloth, gas and electrical meters, glass of many kinds, paper bags, pattern cards, pavement lights, pencils, photographic prints, picture-frames, saws, school and medical footwear, surveying equipment, tools, varnish, weighing machines and wire were all being made in the area. Then there were the firms that performed just one of many steps in a process: the electroplaters, glass-bevellers, japanners, metal-stampers, and so on. As to the number of those so employed, statistics by sector are lacking until the era of the metropolitan boroughs, when we have figures only for Finsbury—a composite of Clerkenwell and the smaller but no less industrialized St Luke's. In 1904 those in Finsbury working in metals totalled 3,204, in paper and printing 10,015, in food, drink and tobacco 6,021, and in clothing 3,979. Only in clothing did women outnumber men—by almost six to one. By 1907 employment in metals and clothing had risen substantially, while that in paper and printing had dropped slightly.
Among the most successful specialities from this phase was electroplating. In 1934 over four-fifths of London's shops specializing in plating were said to be in Clerkenwell, most of them 'small units employing between ten and fifteen persons, using small workshops in converted dwelling-houses or a rented portion of an antiquated factory. Slight development on factory lines has taken place, and some of these bigger organisations have moved to the outskirts of London'. (fn. 34)
That tallies with the belief that Clerkenwell's huddled industries 'played a crucial role in the development of London's modern precision and electrical industries', before exiting 'very rapidly to the suburbs, on certain favoured axes'. (fn. 35) A firm whose record supports that argument is that of Sebastian de Ferranti, which began producing electrical meters in Hatton Garden in 1883, then moved to Charterhouse Square in 1888. After diversifying into power-station equipment and 'bursting at the seams', Ferrantis migrated to Lancashire with its skilled instrument-makers in the later 1890s. (fn. 36) Other examples are the Synchronome Company, leaders from 1895 in the field of electrical master clocks for factory clocking-in, first located in Clerkenwell Road, later at Alperton, Middlesex; and Oppermans, gear-cutters at first for the watch and clock trade, later for the motor industry, who decamped from Albemarle Way to willesden between the wars. (fn. 37)
The long-term omens could hardly be favourable. If electric power and transport offered better suburban or provincial locations, skills were bound to leave Clerkenwell. Nevertheless, well beyond 1914 most rebuildings reinforced the district's commercial-industrial traditions, relying on those trades like jewellery and printing that needed to be close to inner London customers. Such was faith in industry as Finsbury's future that the Ministry of Health could remark in the later 1920s that the borough was 'really wanted for commercial purposes'. (fn. 38) By then, policymakers believed the best place for housing was in the suburbs. Londoners were voting with their feet, and being encouraged to do so. So strong was the trend that after gentle decline from 129,000 in 1861 to 101,000 in 1901, over the next thirty-eight years Finsbury's resident population collapsed to almost half—an estimated 55,000 in 1939. (fn. 39) Yet a year earlier the total number of those employed in productive industry in the borough was a whopping 66,556, more by over 20,000 than the next most industrialized London borough. (fn. 40)
Commuters made up the difference. In 1885 the incumbent of St John's, Clerkenwell, William Dawson, had already pointed to 'the anomaly that few of the workers dwell in the parish, and few of the dwellers work in it'. The railways had helped people 'to escape from the gloom of mid-London every evening, and to occupy the streets of houses which have been run up in Tottenham and other northern suburbs', leaving behind them labourers, charwomen and cleaners who did menial jobs in the City or docks but seldom in the parish. (fn. 41) In 1903 the lament was the same. Workmen's trains spirited the skilled artisans away, leaving behind the feckless poor, without regular occupation. (fn. 42)
***
Against that backdrop, Finsbury's local politicians began at last to fight for its dwindling resident population. In the past there had been grass-roots radicalism but few vestrymen willing to champion the locality. Now there emerged a fresh sense of local leadership, exercised through the mechanisms of socialist political parties, factions and unions. When Labour took control of the council for the first time in 1928, the local party's slogan was 'Work for Finsbury men'. Yet there could be little connection between Finsbury's inter-war leadership and Clerkenwell's artisan class, now that most of the latter had moved away. In the context of the 1930s Depression, the new breed of local politicians like Harold Riley and Chuni Lal Katial turned instead to alleviating the plight of the borough's unskilled population, much of it poverty-stricken, unhealthy, and trapped in old accommodation. As social objectives gained pre-eminence, some confrontation between housing and industry developed. In areas like Percival Street on the Northampton estate, the respective claims of workshops and housing were fought over.
After its first period in office (1928–31), Labour took firmer control of Finsbury Council in 1934 and embarked on a reform programme with a propagandizing zeal few London boroughs could equal. Lubetkin and Tecton, most politically and socially committed of inter-war modernist architects, were enlisted to give the programme and the borough a powerful public profile. Of the three municipal schemes devised for the borough by Tecton, all located within the old parish of Clerkenwell, only the Finsbury Health Centre (1937–9) could actually be built before the Second World War. Their two housing estates, the monumental 'Busaco Street', later Priory Green, and its smaller companion, 'Sadler Street', later Spa Green, were postponed as money was diverted to rearmament. The saga of the strenuously ambitious architecture invented by Lubetkin and his successors for northern Clerkenwell is told in volume xlvii. If these projects were at odds with the area's history and traditions, they were meant to be so. Tecton's wider 'Finsbury Plan' of 1939, for instance, was merely a sketch, a modernist pipedream without basis in political reality. But like the housing schemes it represented freedom, imagination, and the riddance of an outworn past.
The Second World War brought an exodus of population and work, bouts of bombing, and inevitable neglect. In the years after 1945 the people and the fabric of Clerkenwell were reduced to perhaps their lowest point. By 1951 Finsbury's population had plunged again, to a paltry 35,343. War damage was everywhere, but worst between the Charterhouse and Goswell Road (on the edge of the devastated Barbican) and in parts of Pentonville. The London County Council now enjoyed wider planning powers. But its vision for the area, though cognizant of industry, held out no clear brief for its renewal, except to augment open space and inhibit factory rebuildings as a means of reducing 'industrial congestion'. (fn. 43) In 1947 Finsbury still had much the highest percentage of its land devoted to industry of any London borough, 106 out of 587 acres in total, or 18 per cent. With many firms keen to move out to single-storey suburban factories, the LCC hoped in 1951 to reduce this to a mere 26 acres. (fn. 44)
Finsbury Council filled the gap by enlarging its housing plans to the urgencies of the welfare-state era. The building of housing estates became the council's chief constructive task for the rest of its existence, until 1965. At that point the faith in a big housing programme was bequeathed to its successor, the London Borough of Islington. There was however a change in the whereabouts of housing planned after 1965. Finsbury had been run from the old Clerkenwell Vestry Hall on Rosebery Avenue. With the boroughs' amalgamation, the centre of power shifted northwards to Upper Street. Since pre-1965 Islington had not built much recent housing, the northern two-thirds of the enlarged borough got the lion's share of attention. Its southern and industrial fringes were marginal to the character of the whole. With land values higher and the demand for housing lower, fewer council estates were built there after the change in administration. Those that did get built after 1970 tended to be quite modest.
For much of the 1970s slum clearance still continued or was planned, thus further lowering Clerkenwell's population. It was in this period that the early model dwellings in Farringdon Road and Compton Street were destroyed and the large void bounded by Skinner Street, Rosoman Street and Corporation Row created, in the name of open space. For many years there was also a damaging plan to enlarge Clerkenwell Green. More positively, Islington Council acquired swathes of Clerkenwell's better, older housing for its own tenants, often in neighbourhoods increasingly designated as conservation areas, so pre-empting their total gentrification. In the area covered by the present volume, that happened only on the Seckford estate and the Brewers Company trust estate around Rawstorne Street. The policy made more impact on New River and Lloyd Baker territory north of Rosebery Avenue.
Most of the non-domestic buildings built on bombed sites in southern Clerkenwell in the 1950s and 60s were for light industry or commerce. The constraints on premises were tight and often arbitrary-seeming, enforcing rigid distinctions between different 'use classes'. Applicants for a development in Glasshouse Yard, for instance, were permitted in 1957 to make and store ophthalmic supplies there. But when they asked instead to make 'ladies wearing apparel', long put together hereabouts, the LCC refused, stating that the premises were allocated for a commercial use, and that the application 'would result in an undesirable increase in the industrial capacity of the County'. (fn. 45) When, on the other hand, a vigilant official caught a supplier of refrigeration and electrical equipment installing office partitioning within a warehouse rebuilding of 1962–4 in Cowcross Street, a rule against more office space was invoked. The firm had to show that the offices were only those needed to support storage and distribution. (fn. 46)
For years post-war planning policies for London remained blind to the value of office employment beyond the City. The goal of decentralization was compounded by suspicion of the speculative commercial development that broke out in parts of London after building licences ceased in the 1950s. Private developers certainly attempted to assemble some of the complex small freeholds in southern Clerkenwell in competition with the local authorities, which were trying to acquire them for housing schemes. Only a very few office blocks were built around this time, like Priory House, St John's Square (1959–62), which Finsbury Council supported against the LCC's zoning policy because of the sensitive location next to St John's Gate.
***
By 1970 decentralization and urban zoning had done their job; most of the smokestack industries had vanished, and the welfare of Londoners had improved. The beginnings of a renascent Clerkenwell are bound up with the dawning awareness that traditional European cities had prospered on a diet of mixed activities jumbled up together. Given the right scale, there now appeared to be little difference or conflict between workshop and office employment. Such arguments, rehearsed at the Covent Garden planning enquiry of 1971, led to a revolution in urban philosophies for London and fresh respect for the texture of its inner suburbs. With its agglomeration of midsized workshops and warehouses, Clerkenwell had many similarities to Covent Garden. It was less well connected to centres of consumption, but its rents were comparatively cheap. If its clothing industry was in decline, its metal–finishing, jewellery-repair and printing trades were obstinately resilient. Even watch- and clockmaking, so often written off, were hanging on.
The fate of the Booths distillery site between Britton Street and Turnmill Street, redeveloped between 1971 and 1977, pointed to the future. Booths was one of the area's largest and oldest industrial concentrations, dating back to the 1770s. Following war damage, the Distillers Group built a large new plant at the site's north end facing Clerkenwell Road. The new Red Lion Distillery seemed to announce that big industry was a fixture in the area; yet it operated for hardly more than a decade. To its south, the rest of the site was broken up into three parcels. The Turnmill Street frontage acquired speculative offices—rare still in the Clerkenwell of the early 1970s. The Britton Street equivalent became a small block of flats, in front of which the developers were induced to append the Edwardian frontispiece of the old distillery offices, in a gesture symbolic of conservation's new-found muscle. In between rose new offices for Yorke Rosenberg Mardall (YRM), smart architects previously housed on the City's western edge.
Though theirs was not the first design firm to locate in Clerkenwell, the sleek modernism of YRM set a lead. Others followed, more into old buildings than new ones. In 1979, for instance, the engineer Alan Baxter took over Victorian premises at Nos 14–16 Cowcross Street, previously the subject of a planning battle over uses. By 1988, when the architects Campbell Zogolovitch Wilkinson Gough tenanted a warehouse in Bowling Green Lane, the Thatcher government had eased the restrictive differences between various use classes. After that the trickle of designers turned into a flood, reaching into obscure back streets like Rawstorne Place south of the Angel. The transfer of the giant Building Design Partnership in 2003 to Brewhouse Yard off St John Street marked a culmination of the process. It is sometimes said that there are more design firms today in Clerkenwell than anywhere else in Europe. The location is not accidental. Design and advertising, also plethoric now in the area, are media-dependent trades close to printing. In part the trend just extended local workshop, engraving and printing traditions.
Missing from the advent of most such firms was any conscious communitarian purpose. That was countered by bodies such as the Clerkenwell Green Association, founded in 1970 to protect local crafts skills at a time when that district was menaced with much demolition. There were also fresh initiatives like the Clerkenwell Workshops, started in 1974 as a regenerative gesture in the old school board stores, Clerkenwell Close, by an ex-Greater London Council architectplanner, Mike Franks, with an ecclesiastical silversmith, Michael Murray. Invoking the district's enduring skills ('Parts of Concorde were made in Clerkenwell'), Franks portrayed this block of workshops and artists' studios, rehabilitated in stages and let on simple short terms, as the means to rediscovering a stability lost through the connivance of economic determinism and purblind planning. 'HMS Planning … has no rudder', warned Franks, 'and is so much in danger of sinking that half the crew are throwing vital parts overboard to stay afloat'. (fn. 47) Further north, things perhaps looked less bleak. The Alice Owen Technology Centre (1981–2), planned by Islington Council together with the Brewers Company near the top of Goswell Road, is an example of official efforts made to encourage local mid-sized firms.
Clerkenwell Workshops soon found imitators. By 1987 the Evening Standard could report that 'in converted warehouses behind closed doors in the tangle of small streets, mews, alleyways and squares, more than 500 young people are hammering, soldering, chipping and painting away … you could be forgiven for thinking the whole of Clerkenwell is a giant crafts workshop—as it once was'. (fn. 48) That is confirmed by a survey of 1993 which identified 165 craft enterprises in the central area. Two-thirds were defined as sole traders and 98 as jewellers and silversmiths, using a broad definition for those trades encompassing engraving and electroplating. (fn. 49)
The emphasis on youth in the Evening Standard article is telling. Most of the new spaces were taken by incoming middle-class craftspeople, not the old artisan firms, which were still melting away. The colonists brought West End habits with them. A ceramics restorer is quoted: 'I shop in the markets and eat in the winebars, but though the lunchtime's noisy, at night it's dead'. (fn. 50) Though bars and nightclubs were present and prospering by 1987, south of Rosebery Avenue the resident population was indeed still at rock bottom.
But just then Janet Street-Porter was busy building herself the mocking, postmodernist house by Piers Gough in Britton Street that became the architectural icon of a resurgent Clerkenwell. By the time she repeated the performance in 2003, commissioning David Adjaye to make her another home in Clerkenwell Close, her choice was a warehouse conversion and the style cool and neo-modernist. The change represents a shift away from a rebellious, 'alternative' strand among Clerkenwell's new inhabitants to swelling numbers and incomes. What had been a fringe movement was taking over, as the last cold-stores and metal dealers shut up shop. Their premises were converted not just to offices but to apartments, student hostels or even hotels—catering, as the aspirational publicity for The Zetter in Clerkenwell Road (2002–4) smugly put it, for 'design-aware 25–40 year olds'. (fn. 51)
A critical step took place in 1989 when Islington Council, taking its cue from changes in the use-classes order, adopted new policies for the Clerkenwell—Smithfield district that combined limitations on height and overall size with respect for existing street patterns and an insistence on mixed use for every major site. 'Lively' ground-floor uses, in other words bars and restaurants, could now more easily co-exist with offices, workshops or flats.
Soon afterwards, the loft-living trend of 'shell conversions' arrived from New York, with the rehabilitation of a warehouse in Summer Street by Harry Handelsman of the Manhattan Loft Corporation in 1992. Summer Street lies just west of the area covered in this volume, but it has had many imitators within it. On the old Charterhouse estate around Great Sutton Street north of Clerkenwell Road, for every warehouse converted into offices or workshops another has turned into flats. Conversions aside, there has also been much building of apartment blocks. On brownfield land behind Cowcross Street, for instance, sites once expected to be gobbled up by financial institutions bursting out of the City were in the event covered between 1998 and 2001 with shops, restaurants, bars and costly apartments. Indeed only one large recent Clerkenwell building, the unlovely Farringdon Court and Lincoln Place, Farringdon Road (1988–92), seems to have played host to a large City firm.
Further north Exmouth Market, denounced not long before as a 'squalid and filthy slum', (fn. 52) was recast in 1997–8 following an agreement between Islington Council and the main freeholders, the Debenham Property Trust, as a venue for bars, restaurants and shops linked to Sadler's Wells Theatre. Not only were these outlets an instant success, but the residential population of Exmouth Market, a kind of fulcrum for central Clerkenwell, more than doubled during the 1990s, as upper floors were snapped up by 'young professionals'. With housing estates closer by, however, here there was some class hostility to the incomers. Complaint too was heard over the demise of useful shops and stalls, along with rumination over the limits of regeneration projects based on potentially transient 'cultural capital'. (fn. 53)
As defined at the time of writing on one typical website, Clerkenwell is 'the hottest place in London'. (fn. 54) It has acquired its own festival, its own 'biennale', and with them much self-regard. As was remarked at the start, that 'Clerkenwell' is not the historic parish but a district equivalent at its amplest to the area covered by this volume. A map put out by the Clerkenwell Business Network takes as that body's boundaries Rosebery Avenue to the north and Goswell Road to the east. But it also appropriates the triangle between Clerkenwell Road, Rosebery Avenue and Farringdon Road, thus annexing the whole of the 'Little Italy' area around Saffron Hill, once partly in Holborn and now in the borough of Camden.
Style-guides to London's teeming bars, restaurants, workshops and galleries attach an even narrower meaning to Clerkenwell. But they too always take in Little Italy because of its welcome connotations of food, drink and amiably mixed ethnicity. This new loose geography centres upon streets which carry the name—Clerkenwell Green, Clerkenwell Close and Clerkenwell Road. But in spirit it also links the area to other so-called 'City fringe' areas, notably Hoxton, where just such a jumble of Victorian warehouses, shops, worn-out houses and rebuildings after war damage has begotten similar conversions and reconstructions in the name of the 'creative' industries—architecture, design, the crafts and the media—and of unabashed consumption.
If this mode of living and working contrasts with that of the streets north of Rosebery Avenue covered in volume xlvii, that is mainly because the big-boned, close-grained fabric of southern Clerkenwell has permitted it. It has promoted an extroverted, hedonistic, unapologetically urban style, indebted to Greenwich Village-type ideals of hard work and hard play, loft- or apartment-living, and easy spending. Further north too prosperity has also returned but in less assertive form, centred upon Clerkenwell's old domestic backbone, gentrified as family houses or converted into flats.
The Fabric
Clerkenwell's architectural strength lies in its variety. Masterpieces of urban ensemble naturally do not abound in an inner London suburb that has been so often raked over and redeveloped. Yet much excellent second-order architecture is on offer, while the chance juxtaposition of disparate scales and styles adds spice to main roads, side streets and setpieces alike. The following paragraphs concentrate largely on the surviving fabric, with remarks on its creators interspersed.
Of medieval architecture little now remains except the crypt of St John's Church, St John's Gate, and Washhouse Court at the Charterhouse, together with other fragments there including the main gate to the square and the adjacent wall. The St John's crypt is important for its early date (c. 1144–60) and as a fragment of the lost church of St John's priory, grandest of the three churches raised here by the religious orders. The 65ft-diameter nave and internal arcade of the priory appear to have corresponded quite closely with the Temple Church, which it slightly preceded, both naves being based on the model of the Holy Sepulchre at Jerusalem as then interpreted. St John's Gate (1504) and the main entrance to the Charterhouse, about a century earlier, offer a contrast, the latter modest, the former worldly and grand. Both have been much altered. While the Charterhouse gate retains some context, St John's Gate presents itself today as an isolated monument, stone-faced and vaulted though with brick inner walls.
No traces now remain of the timber houses that were the staple of building in southern Clerkenwell up to and even after the Great Fire. So fierce were the commercial imperative and the Victorian onslaught on slums that little seems to have survived even by 1900. Nor is the first continuous phase of brick building, pursued from about 1685, well represented. Just two houses certainly remain, Nos 4 and 5 Charterhouse Square, datable to about 1699. Thanks to Georgian engravings and the full Charterhouse records, we do however have a good picture of that square's rebuilding in these years. It conformed to the pattern of London's better houses at this time, boasting different tones of brickwork along with timber parapets and trim. Many houses had just two storeys above ground but most had three, while the two survivors, among the grandest houses, always had a fourth. Charterhouse Square was mostly built in small 'takes' by developers and craftsmen of no special fame, except for Thomas Neale, who laid out what is now Hayne Street in 1687.
For Clerkenwell interiors of that time one must seek out the Oak Room, marooned today within the former Metropolitan Water Board offices off Rosebery Avenue. The Oak Room dates from around 1693, when a rich internal recasting of the New River Company's earlier Water House took place. Long engulfed by additions before its demolition, the Water House had started out as an elegant small building of 1613, with attached columns on one front. Images of the Water House and of Newcastle House, Clerkenwell Close, refronted with pilasters around 1630, are reminders of the classicizing pre-Fire architecture once to be found dotted about London's suburbs.
Of buildings from the first half of the eighteenth century there are still few. Ten are in Britton Street, on the development of Simon Michell, active also in Spitalfields; and several on the former Baynes–Warner estate, in Mount Pleasant. To this tally must be added the fetching No. 17 Charterhouse Square (1716) built partly over the Charterhouse gate; No. 47 St John's Square of the 1730s; a scatter of houses in St John Street and Albemarle Way; and the much-altered Welsh School on Clerkenwell Green, now the Marx Memorial Library. Only after about 1760 do survivals much increase in number. Houses of the 1760s survive on the south side of Exmouth Market, and there are later eighteenth-century houses in the north-east sector of the parish, in Penton Street and Chapel Market. In the eastern district are others in Owen's Row and St John Street, while Rawstorne Street boasts two austere rows right up against the pavement without areas: Georgian London could look bleak. Individual houses dating from between 1770 and 1800 can also be found in various small redevelopments further south. But once again the New River Company's premises supply the surprise from this period—its engine house of 1766–8, for which John Smeaton supplied the original engine. The present shape of this structure is largely due to a recasting by Robert Mylne (1794–5).
The Middlesex Sessions House on Clerkenwell Green (1779–82) and St James's Church near by (1788–92) inaugurate the era of public buildings by named architects. The former was designed by Thomas Rogers, the county surveyor, the latter by James Carr, a builder-architect who also ringed his new church with an estate of houses in Clerkenwell Close, of which only two survive. Cautious performances by surveyor-architects, both buildings reflect conservative local patronage.
Rather different was the role of the private estate surveyors who, with varying attentiveness, oversaw virgin development in central and northern Clerkenwell from the end of the eighteenth century. Here for the first time we meet national architect-figures, such as S. P. Cockerell and his son C. R. Cockerell, surveyors to the Northampton and Seckford Estates. But though the father helped initiate the layout and architecture of Northampton Square and its environs, complete buildings designed by either Cockerell are not to be sought here. Regrettably, the famous son seems indeed to have regarded his responsibilities for the Seckford Estate as a lucrative chore, preferring to delegate them to an assistant, James Noble. Of the architect-surveyors involved in new development, the most creative were a humbler father-and-son duo, John and William Joseph Booth, to whom are due the prettily pedimented villa-pairs of the Lloyd Baker estate, built up in the 1820s and 30s. Most such developments belong in northern Clerkenwell, and are further discussed in volume xlvii.
Between 1825 and 1850 Clerkenwell was host to a few minor architects of interest who can legitimately be called local professionals. Among them were John Blyth, designer of Nicholson's Distillery in St John Street (1828) and what is now SS Peter and Paul's Roman Catholic Church, Amwell Street (1835); William Pettit Griffith, antiquarian and first restorer of St John's Gate; and Alfred Bartholomew, a watchmaker's son who designed the Finsbury Savings Bank, Sekforde Street (1840), in a fulsome Italianate manner. Bartholomew, who died young, is best known for his advanced thinking on the rational character of Gothic structures. Better-known is Richard Cromwell Carpenter, pupil of Blyth and son of a watchcase-maker turned developer and railway promoter. R. C. Carpenter's local contributions included the Percy Arms, Great Percy Street, and the elevations of Percy Circus. Afterwards, on a wider stage he rose to the front rank of church architects, only to die aged 42 in 1855.
With one exception, Clerkenwell's church architecture is of the second rank. After St James's with its prettily appropriate steeple came the demure Pentonville Chapel, later St James's, Pentonville (1787–8), designed by yet another short-lived surveyor-architect, Aaron Hurst, in plain brick with Henry Holland-like trimmings. It no longer exists. The proliferating Anglican district churches of the nineteenth century were all in one version of revived Gothic or another. They included St Mark's, Myddelton Square (1826–8), by W. C. Mylne; St Philip's, Granville Square (1831–2), a raw first effort by the latterly eccentric E. B. Lamb; St Thomas's, Charterhouse (1841–2), by Edward Blore; St Silas's, Penton Street (1860–3), started by S. S. Teulon and completed by E. P. Loftus Brock; and St Peter's, the Smithfield Martyrs' Memorial Church (1869–71), by E. L. Blackburne. St Philip's, St Thomas's and St Peter's have all been demolished.
It was left to J. D. Sedding to wrench the Anglican town church away from Gothic with his experimental Holy Redeemer, Exmouth Market (1887–95). Its blend of early Christian, Italian Renaissance and 'Wrenaissance' motifs adds up to Clerkenwell's subtlest church. The tall tower and ancillary buildings added by Henry Wilson in 1905–16 enliven the neighbourhood but detract from Sedding's original lucidity. Among non-Anglican places of worship the best is the joinery-rich interior, intact at the time of writing, behind the dour ragstone fronts of the former Welsh Tabernacle, Pentonville Road, by Henry Hodge (1853–4).
The other church-affiliated building of quality from this period is Ernest Newton's former House of Retreat, Lloyd Square (1881–4). Like Holy Redeemer, it lures urban Anglicans (here nuns) away from Gothic, in this case towards the red-brick cheer of the Queen Anne style (though the refined chapel Newton added behind in 1891–2 reverts to Gothic). Queen Anne too, after initial prevarication, were the buildings of the School Board for London. Clerkenwell's earliest, the Winton School, Killick Street (1872–4), belonged to the moment of hesitation and the pencil of a rewarding architect, Charles Barry junior, but only fragments of his building survive. Better preserved and almost juxtaposed are the small, graceful former Bowling Green Lane School (1873–4), where the School Board's first architect, E. R. Robson, was probably assisted by J. J. Stevenson; and the former Hugh Myddelton School (1891–3), in the hearty-fortress idiom of Robson's successor, T. J. Bailey.
The district's commercial architecture presents a varied picture. At first many trades were carried out in ordinary houses, to which extra windows or rooflights were often added, or workshops in their backyards. After 1800 came the earliest sizeable buildings, mostly plain brick brewhouses and distilleries. Soon general warehouses and manufactories too were built in that mode. A few large, matter-of-fact warehouses can still be found hidden away behind frontages, like No. 11 Greenhill's Rents (c. 1876). Most have cast-iron supports with wrought-iron beams and timber floors. Sometimes the structures are composite, as at Nos 9–13 Cowcross Street (1878–9), where the lower floors have jack-arch construction but the upper ones are of timber.
The rebuildings of Farringdon Road and beyond launched a vogue among private manufacturers for showy Italian or French Gothic fronts, tacked on to such functional interiors. The fashion lasted for a generation from the early 1860s. Among survivals of the type are Nos 109–111 Farringdon Road (Henry Jarvis, architect, 1865); Nos 25–27 Farringdon Road (Arding & Bond, architects, 1873–5); No. 34 Farringdon Lane (Rowland Plumbe, architect, 1875); Nos 26–27 Cowcross Street (Thomas Milbourn, architect, 1879–80); and Nos 18–20 St John Street, a speculation by Richard Curtis, builder, of as late as 1886–7.
Probably none of these designers was wedded to Gothic for warehouses; indeed Arding & Bond had already in 1864–5 built the bricky, Italianate Nos 113–117 Farringdon Road and 3–7 Ray Street. Where breadth of frontage combined with a generous budget, the Italian palazzo style, suitably debased, was tempting. An ebullient warehouse in that manner is Nos 34–36 St John Street (1868–9), erected for the builder's merchant George Farmiloe to designs by Lewis Isaacs. Prominent among the district's commercial architects, Isaacs had a finger in many pies. He rose to serve seven years as an MP and two terms as mayor of Kensington. As surveyor to the Holborn District Board of Works he had some influence on the layout of Clerkenwell Road. All the other locally surviving buildings known to be his are competently Italianate. They include the former London Joint Stock Bank at Nos 2–6 St John Street (1871–2), Nos 89–90 Turnmill Street (1874) and No. 117 Charterhouse Street (1874), this last combining offices for the Vestry of St Sepulchre's parish with commercial space to let. If Isaacs was Jewish, his clientele was not noticeably so, unlike that of Lewis Solomon, another commercial architect whose firm built much in Clerkenwell between the 1880s and the 1960s.
If speculative premises usually clung to a vestige of classicism, there was always room for mixing motifs into a quirkily Victorian outcome. At, for instance, Nos 70–74 Clerkenwell Road (c. 1875), a pretty pier-and-void warehouse unattributed to any architect, the decorative iron spandrel panels enlivening the voids might be termed either Egyptian or Gothic. After about 1880 the commercial architect's language enlarged, as Tudor, Netherlandish and German details crowded into his repertoire. A wide gamut is run, for instance, at the south end of St John Street opposite Smithfield, where between Isaacs' bank and the Hope public house range No. 1 (c. 1883) by S. C. Aubrey, and the beefy Nos 3–5 (1897) by F. J. Hames, architect of Leicester Town Hall.
Close by, neighbouring buildings show what happened when commercialism collided with Arts-and-Crafts sensibilities. At Nos 109–113 Charterhouse Street stands a former cold store (1900) by A. H. Mackmurdo. It rubs shoulders with the gabled Fox and Anchor, No. 115 Charterhouse Street (1897–9), from an architectural standpoint the district's premier pub, by Latham A. Withall, overlaid with vivid decoration by W. J. Neatby. It is the pub that seems to know better what it is about, though in fairness the cold store has been much altered from Mackmurdo's design. In fact the frontages of Clerkenwell's copious late Victorian pubs have much in common with its livelier warehouses, despite differences in size of window and setting of ornament. The length of St John Street unfolds a spectacle of the many styles in play, culminating in the terracotta excesses of the Angel (Eedle & Meyers, architects, 1901–3). But an old-fashioned drink can seldom be had in them, for most now have been converted to gastropubs or bar-restaurants, relinquishing their former names.
A certain heartiness seems to have infected even the architects of the early London County Council, normally thought of as restrained, in their Clerkenwell projects. Among the original surviving buildings in Rosebery Avenue, two of the best were erected by the LCC: the former Weights and Measures Office at No. 5 (1892–3) and the former Gas-Meter Testing Station at No. 70 (1896–7). Both combine shaped gables with bases, dressings and pilaster strips in red sandstone, unusual for London. To catch the LCC architects in more familiar guise, one must look across Rosebery Avenue to the Clerkenwell Fire Station (1912–17) next to Farringdon Road, a fine late work in the Arts–and–Crafts idiom.
The top level of late Victorian designer is sparsely represented in Clerkenwell's secular architecture. Norman Shaw tucked in a minor red-brick front at No. 27 St John's Square (1876–7) after he had restored St John's Gate next door. Perhaps the happiest works of this epoch were both by E. W. Mountford, naturally a robust designer. First came his Northampton Institute, St John Street (1894–8), now part of the City University, tolerably preserved despite damage by war and fire. Nearby, the former Clerkenwell Vestry Hall, Rosebery Avenue, by W. C. Evans-Vaughan (1894–9), may in part have been derived from this building, but is more tentative. Of Mountford's additions to Booth's distillery, Turnmill Street (1899–1903), just the office façade and frieze survive, dismantled and re-erected at No. 24 Britton Street.
It took time after the First World War for architecture to register the onset of austerity. One of the first buildings then to be completed, the headquarters of the Metropolitan Water Board on Rosebery Avenue, by H. Austen Hall (1915–20), incorporating the treasured Oak Room within it, was still wholly Edwardian in its grandiosity. The change of mood is conveyed by the Board's later Water-Testing Laboratory Building next door, an altogether calmer composition of 1936–8 by the accomplished John Murray Easton.
During the 1920s big public and commercial concerns still felt they had to make some show. In the Office of Works' letter-sorting office at Mount Pleasant (1925–34), for instance, although the façades are cheaply finished in render over a frame they are overlaid with a giant order. Likewise the showrooms of Nairns the floorcloth manufacturers turn the corner from Carthusian Street to Aldersgate Street with a display of ashlar-work (1927–36), while those of Pollards the shopfitters at Nos 159–173 St John Street vaunt black granite and creamy faience (1925–7). Then came the Depression, undermining civic individualism. Typical among larger industrial blocks of the next decade is Woodbridge House, No. 30 Aylesbury Street (1936–9), devoid if not of style then of personality, because built speculatively to house a number of units. Further north, the many small inter-war buildings by the local architect Herbert Wright in Pentonville and elsewhere likewise become plainer over the years. Sometimes there was a spark of creativity. Clifford Culpin drew on Dutch sources to good effect for a speculative block in Easton Street (1937–8), now Peter Benenson House. Another striking commercial building of this period, now gone, was the western end of Lilley & Skinner's warehouse in Pentonville Road (1935–6), carried out by Owen Williams in his trademark idiom of candid concrete spans.
When Finsbury Council resolved to build for local welfare, it too set out to be handsome. Its twin-towered Merlin Street Baths (1931–3), by Kenneth Cross, is one of the more grievous recent losses to Clerkenwell's architecture. Nor was there anything reticent about the nearby Margery Street Estate by E. C. P. Monson, Finsbury's first big effort in public housing (1930–3). Upon public-sector architecture the Depression had a sobering but ultimately bracing effect. All the same, nothing could have prepared for the shock of Lubetkin and Tecton's Finsbury Health Centre (1937–8), Clerkenwell's most famous building. Besides the hope it embodied for a brighter future, the rigour of the research expended on the project and the passion of its technics and aesthetics set the loftiest of standards for British modernism. To grasp the gap it opened up, one need only glance across Northampton Road to Troup & Steele's adjacent headquarters for the Temple Press (1938–9). That respectable complex represents the average in Clerkenwell's commercial architecture at the close of the inter-war years: efficient, well-windowed yet without anything to quicken the spirit.
For successors the Finsbury Health Centre had to await post-war reconstruction. Then, for almost three decades, architectural ambition was consumed by housing and, to some extent, schools. Because most such building went on in the parts of Clerkenwell covered in volume xlvii, a fuller analysis of these developments may be found there— including an introduction to the three Finsbury housing projects that fell to Lubetkin (Spa Green, Priory Green and Bevin Court). Here it may just be added that, as elsewhere in London, the replanning and the call for open space broke the sense of a close-knit architectural fabric focused upon the street. If southern Clerkenwell's previous architecture had been episodic, constantly shifting, the street-lines had been quite continuous. Now the units became larger but the overall character disparate and the streetscape unpredictable. Sometimes the old urban pattern vanished, as in the central sector around the Finsbury Estate (1964–8) or a wide territory north of Pentonville Road, where the monumental Priory Green Estate (1948–58) set the precedent of turning blocks away from those streets that were not obliterated.
Besides the social projects there were plenty of commercial rebuildings in these years, especially where bomb damage had been done. But most were cheap and drab; even the pubs grew dull. 'The new Coach and Horses in St. John Square is completely soulless', complained Alec Forshaw. (fn. 55) Sometimes the most absorbing aspect of buildings from that era is technical, like the vigorous storey-height cladding of the Public Carriage Office in Penton Street (1964–6).
Respect for the street eventually resurfaced, in parallel with the stirrings of the Clerkenwell 'renaissance'. In a first token of renewed urban subtlety, the offices of the architects Yorke Rosenberg Mardall (1974–7), the mood is recessive. Tucked away behind Britton Street, the composition is best seen from St John's Gardens, as if conceding that landscape affords a happier backdrop to steel modernism than streetscape. At that time office blocks using a coarser version of the same international style were still being built, such as the first of the two towers of King's Cross House, Pentonville Road (1973–5); this gives context to YRM's note of apology or discretion.
Since then, Clerkenwell's better architecture has tried to integrate the range of modernist languages with the life and scale of the street. The winning strategy has been not to repress them but to lighten them up and purge them of their arrogance. That is the key to Piers Gough's corner house in Britton Street for Janet Street-Porter (1986–7). If its cheeky log-lintels and shifting tones of brickwork now look dated, the house was always more than a style-exercise in postmodernism. Above all, it stood for vitality. Gough's firm, CZWG, was one of the earlier architectural practices to relocate in Clerkenwell, helping itself in the process to a bouncy new courtyard front behind a warehouse in Bowling Green Lane (1988). The warehouse conversions and small replacements typical of CZWG's local fare were work that Gough liked to call 'B Movie Architecture'. (fn. 56) Ebullience was not incompatible with urban deference.
Over the last two decades local architectural expression has become, on the whole, calmer and purer. During the 1990s many large buildings opted for brick fronts, appeasing their bulk by deferring to context. At the extreme north of the area covered by these volumes, the elevations of Woolworths and Sainsbury's in Liverpool Road and of the Islington Police Station in Penton and Tolpuddle Streets all try that approach, and all disappoint. The same might be said for some big developments further south, like the City Pavilion between Cowcross and Benjamin Streets (1998–2001). Better examples of the genre include the Myddelton Street annexe to Rosebery Hall by MacCormac Jamieson Prichard (1992–3), and the Rosebery Avenue front of the latest Sadler's Wells Theatre (RHWL with Nicholas Hare, 1996–8). Sometimes the inherent modesty of brickwork and restrictions on scale prevented indifferent designs looking worse, as in a medley of offices of the 1980s and 90s on either side of the sensitive St John's Lane.
Livelier are the framed fronts that juggle with the many cladding materials now available, either through colour (terracotta panels have become a cliché) or through the semi-random manipulation of patterns. A neat example of expressed frame, cladding and glass in cool, post-High Tech hues is the office building at No. 151 Rosebery Avenue by Troughton McAslan (1989–91), while typical of recent pattern-manipulation is the Brewery Square courtyard of the big Brewhouse Yard development off St John Street (Hamilton Associates, architects, 2001–2). There the balconies to the flats present a flickering rhythm of mesh panels and voids, in counterpoint with the all-glass façades of the offices below, where design firms can be voyeuristically watched at work. At the time of writing (2007), work was just finishing on recladding the towers of King's Cross House mentioned above in similar colourful patterns, as part of a 'make-over' converting offices into student housing.
Most of these examples are reminders that just because attention was paid anew to the street, buildings did not therefore get smaller. Often size could only be mitigated, not hidden. That was specially problematic along main roads. The Angel Centre at the corner of Pentonville Road and St John Street (Elsom Pack & Roberts, architects, 1979–83) showed how not to do it, with the bulk of offices set back from the street for road-widening reasons and a pastiche block added behind as a sop to context. Three long buildings at the top of unfashionable Goswell Road make a better fist of things, each dividing its frontage in different ways while holding to the street line. At the Alice Owen Technology Centre (Daniel Watney, Eiloart, Inman & Nunn, architects, 1981–2) a symmetrical brick façade is broken into a regular but lively rhythm of piers and windows. Above this, the City and Islington College (Van Heyningen & Haward, architects, 2002–3) employs the smoother recent language of frame and cladding, interrupted by generous gashes of transparency, notably for staircases. Last in the sequence, Angel Southside (2001–2) alternates plain brick surfaces with green gull-winged projections. If none of these buildings is a masterpiece, in each the supremacy of the street has been respectfully acknowledged.
Reading
Though volumes of the Survey of London do not normally include historiographical reviews, brief comments are appended on a few books devoted to Clerkenwell and on the imaginative literature of the district.
The parish's historian par excellence is William Pinks, whose exhaustive History of Clerkenwell first appeared in 1865. It had however a worthy predecessor in the History and Description of the Parish of Clerkenwell issued in 1828 under the sponsorship of the Pentonville engraver-publishers James and Henry Storer, who furnished the illustrations. The 'historical department' of the book was entrusted to Thomas Kitson Cromwell (1792–1870), antiquary, author, clerk to the Clerkenwell commissioners for paving, and later a Unitarian minister, who had supplied copy for earlier topographical publications by the Storers. Most of the text is devoted to a series of 'routes through the parish', presumably also from Cromwell's hand. The book is marked by accurate research geared to the urgencies of publication. Though up to date and extending to census returns, the book's cast is antiquarian, the preface evincing regret 'that we are cast upon these latter days, when almost every vestige of architectural magnificence … has given place to erections more consonant with the taste of modern times, and the occupations of a more enterprising age'. (fn. 57)
William Pinks (1829–60), born in Great Bath (now Topham) Street, Clerkenwell, was a bookbinder of humble but respectable origins, who taught in a ragged school, turned freelance journalist, and was supported and employed by James Pickburn, proprietor of the local newspaper, the Clerkenwell News. He started on his history of Clerkenwell when about 25, but had far from finished it when he died of consumption six years later. Edited and much augmented by another Clerkenwell journalist, Edward J. Wood, author of Curiosities of Clocks and Watches, it appeared in parts before attaining book format in 1865. A second edition was issued in 1880. Running to almost 800 close-packed pages of miscellaneous information, it is surely the largest Victorian local history of any district of London.
If no later monographs on Clerkenwell have been as full as those of Cromwell and Pinks, that may point to the parish's declining pride. In addition to the useful history it offers, A Mid-London Parish (1885) by William Dawson, incumbent of St John's Church, describes the social difficulties experienced in southern Clerkenwell at the time of its publication. A short book of 1906 by the prolific G. E. (Geraldine) Mitton, Clerkenwell and St Luke's, covers Finsbury as part of Sir Walter Besant's projected series of histories devoted to different areas of London, but in no great detail. Since then no stand-alone history of Clerkenwell has been written. But it features prominently in outstanding topographical studies by Mary Cosh, The Squares of Islington (2 vols, 1990 and 1993) and A History of Islington (2005).
A few recent specialized studies may be picked out. All three of the early religious houses have lately been investigated in detail by the Museum of London's Archaeology Service. The resulting monographs, The London Charterhouse (2002) by Bruno Barber and Christopher Thomas, and Excavations at the priory of the Order of the Hospital of St John of Jerusalem, Clerkenwell, London (2004), by Barney Sloane and Gordon Malcolm, have furnished a base for treatment of the medieval period in this volume. The third monograph in the series, on St Mary's nunnery, is awaited at the time of writing. The leading scholar on Clerkenwell's pre-modern industrial history is Chris Ellmers; his articles are cited in references to these volumes; his unpublished study of early urban growth in the area has also been of great service to their writers. Broader than its title suggests is Renée Kathleen Boucher's A Celebration of One Hundred Years of Worship at the Church of Our Most Holy Redeemer with St Philip, Clerkenwell (1988), an invaluable account of all the main churches and church-related institutions in the parish. Another excellent book much drawn on for portions of volume xlvii is London's New River (2001) by Robert Ward.
Clerkenwell's niche in English fiction goes back to Dickens. The district turns up on the fringes of Oliver Twist and Bleak House but is most vividly delineated in his historical novel of the Gordon Riots, Barnaby Rudge, where the house of Gabriel Vardon the locksmith is placed near the Charterhouse in 'one of those cool, shady streets, of which a few, widely scattered and dispersed, yet remain in such old parts of the metropolis,—each tenement quietly vegetating like an ancient citizen who long ago retired from business, and dozing on in its infirmity until in course of time it tumbles down, and is replaced by some extravagant young heir, flaunting in stucco and ornamental work, and all the vanities of modern days'. Dickens continues:

Although this part of town was then, as now, parcelled into streets, and plentifully peopled, it wore a different aspect. There were gardens to many of the houses, and trees by the pavement side; with an air of freshness breathing up and down, which in these days would be sought in vain. Fields were nigh at hand, through which the New River took its winding course, and where there was merry haymaking in the summer-time. Nature was not so far removed, or hard to get at, as in these days; and although there were busy trades in Clerkenwell, and working jewellers by scores, it was a purer place, with farmhouses nearer to it than many modern Londoners would readily believe, and lovers' walks at no great distance, which turned into squalid courts long before the lovers of this age were born, or, as the phrase goes, thought of.
Like Barnaby Rudge, the early chapters of another historical novel, The Revolution in Tanner's Lane by William Hale White (Mark Rutherford), published in 1887, during the years of maximum socialist agitation, also deal with political disturbances in Clerkenwell, in this case the radical conspiracies and counter-espionage of the years after 1815.
A grimmer tone is conveyed by others. Diamonds and Spades (1858), the first novel of the minor writer James Hain Friswell, was based on the author's experiences in a Clerkenwell ragged school. George Gissing was well acquainted with the area and one of his starker novels, The Nether World (1889), from which an extract has been given above, is wholly set in a claustrophobic Clerkenwell. The lighter-hearted A Reverend Gentleman (1891), by James MacLaren Cobban, describes the life of an impoverished clergyman obliged to fend for himself in Percy Circus. In The Three Impostors (1895) Arthur Machen made evocative, if passing, use of the streets around the Lloyd Baker estate, an area he was to return to more than once in his tales and journalism. Machen seems to be the first to hint that value or charm attached to the then shabby and unconsidered streets of north Clerkenwell. The most distinguished of local novels is undoubtedly Riceyman Steps (1923), Arnold Bennett's Zola-esque late masterpiece—a chillingly exact picture of poverty and meanness in and around Granville Square. Bennett afterwards appended a short sequel, Elsie and the Child. More recently the district has caught the imagination of Peter Ackroyd. His 'biography' of London (2000) includes an enhanced, not to say mystical reading of the past in Clerkenwell Green and its environs, enlarged upon in his Clerkenwell Tales (2003).