Pages 32-40
Survey of London: Volume 7, Chelsea, Part III: the Old Church. Originally published by London County Council, London, 1921.
This free content was digitised by double rekeying and sponsored by English Heritage. All rights reserved.
Monuments in the More chapel
The More Chapel. East Wall.
39. EDMUND STAUNTON, 1835.
A small stone tablet carved with Gothic ornament.
40. SIR ROBERT STANLEY, 1632.
An elaborate altar tomb of alabaster and black marble, very beautifully executed, stands before the east window. A shaped sarcophagus with deep-moulded plinth displays in front three panels framed with enriched beading, the two side panels bearing inscriptions. Around the upper member of the moulded cover stone is another inscription giving the name and date of death, etc. On the sarcophagus stand three richly carved pedestals bearing elaborate funeral urns, and between these are two alabaster draped figures which have the appearance of having been an addition to the original design.
The central pedestal has a portrait bust of Sir Robert Stanley within an elliptical recess, above a cherub with outstretched wings. The side pedestals, which are smaller in size, have in similar recesses portraits of his two infant children, Ferdinando and Henrietta, the latter having a necklace with the Stanley badge as pendant. This badge, an eagle carrying a child in its talons, forms the finial to the central urn, only here the eagle is represented over a nest in which the child lies. The heraldic work on the monument is very profuse and finely carved. The Stanley shield is shown on the body of the central urn; on each side of its pedestal is a coat with numerous quarterings described below. On the outer sides of the smaller pedestals are carved cartouches, enclosing (left) an oval shield bearing Stanley differenced with a crescent, and (right) a lozenge bearing Stanley impaling Gorges. One of the figures holds a coronet, and in the other hand a shield with the Stanley badge, while the other displays a banner bearing the family quarterings.
The inscriptions are as follows:
To the faire memorie of the Trvely Honorable
Sr ROBERT STANLEY kt of the Noble order of
ye Bath and seacond sonne to ye right
Hoble WILLIAM EARLE OF DARBIE whoe deceased
ye 3 day of Jannary ano Dñi 1632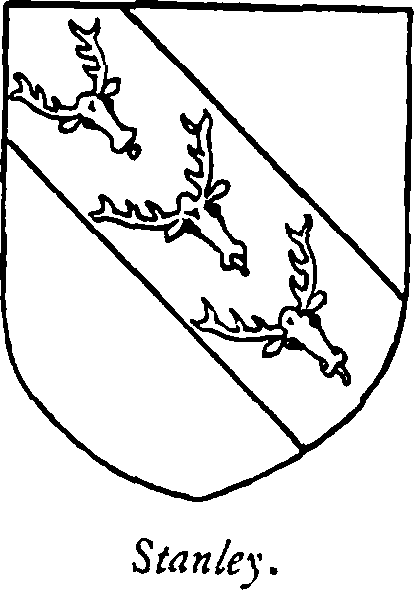 On the left-hand panel:
To say a STANLEY lyes here that a lone
Were Epitaph enough noe Brass noe Stone
Noe glorious Tombe noe Monumentall Hearse
Noe guilded Trophy or lamp labourd verse
Can dignifie this Graue or sett it forth
Like the Immortall same of his owne Worth
Then reader fixe not here but quitt this Roome
And flye to Abram's bossome theres his Tombe
There rests his Soule & for his other parts
They are imbalm'd & lodg'd in good men's harts
A brauer monument of Stone or Lyme
No Arte can rayse for this shall out last tyme.
On the right-hand panel:
To ye lastinge memorie of two of his children
that is to say Fardinando Stanley his sonne &
Henrite Maria Stanley his davghter whoe lye
bvryed with in this his Sepvlcher
The Eagle Death greedie of some good prey
Wth nimble Eyes found where these Infants laye
He truste them in his Tallents and conveyde
There Soules to Heauen & here theire ashes layde
Lett no prophane Hand then these Reliques seuer
But as they lye soe lett them rest for euer.
Arms: On centre urn, argent, on a bend azure 3 stags' heads caboshed or, a crescent for difference. On the left of the centre pedestal, quarterly of 11: 1, Stanley; 2, or, on a chief indented azure 3 besants (Lathom); 3, gules, 3 men's legs bent at the knee, and joined at the thigh, garnished and spurred (Isle of Man); 4, checky or and azure (Warren); 5, gules, 2 lions passant argent (Strange of Knockin); 6, argent, a fess and quarter gules (Woodville); 7, or, a cross engrailed sable (Moyne); 8, azure, a lion argent (Monhault); 9, Barry of ten argent and gules, a lion or crowned gules (Brandon); 10, azure, a millrind cross or (Bruyn); 11, Lozengy gules and ermine (Rokeby). On the right of the centre pedestal the same quarterings as above impaling quarterly of 6: 1 & 6, argent, a whirlpool azure (Gorges); 2, lozengy or and gules, a cheveron gules (Gorges, ancient); 3, argent, on a chief gules 3 besants (Russell); 4, gules, a lion ermine (Old hall); 5, argent, a cheveron sable between 3 caters on the dice (Engloes). The banner shown in reverse bears the same quarterings as the shield on the left of the centre pedestal, except that in the coat of Woodville the quarter is not reversed. The smaller pedestals have left, Stanley; right, Stanley impaling Gorges.
Sir Robert Stanley lived at Stanley House, now St. Mark's College. (See Survey of London, Vol. IV, Chelsea, Pt. II, pp. 43, 44.)
41. CATHERINE COUNTESS OF HUNTINGDON, 1620.
A small rectangular slab of marble, formerly part of the monument of the Duchess of Northumberland (see No. 45), is now fixed to the east wall of the More Chapel. The following is the inscription:
CATHERINE
Countess of Huntington, 2:d
daughter of John late Duke
of Northumberland, dyed
without Yssue, May ye 2:d 1620
Aged 72. & is below Inter'd
by her Mother
More Chapel. North Wall.
42. MICHAEL BENTLEY, 1837, and MARIA SUSANNAH his wife, 1828.
JOHN BENTLEY, 1835.
MARY BENTLEY, 1837.
A marble tablet of Gothic design.
43. SIR ARTHUR GORGES, 1625.
A brass plate, now fixed to the north wall, is engraved with the kneeling effigies of Sir Arthur Gorges and his six sons on one side of a small table, and his wife and five daughters on the other.
This plate belonged to a monument which, according to Bowack, (fn. 1) was "rais'd about Four Foot from the Ground," and bore the following inscription:
In Obitum Illustrissimi Viri Domini
Arthuri Gorges Equitis Aurati Epicedium.
Te deflent, nati, natæ, celeberrime conjux,
Te dolet argutæ maesta Caterva Scholæ.
Ast Lucanus ait, se vivo, non periturum
Arthurum Gorges, transtulit ipse Deus;
Aethereas cupiens Arthurus adire per auras,
Et Novus ex ejus Nomine natus adest.
Another brass plate from this monument is also preserved below the first. It bears an achievement of arms: Quarterly, I, lozengy or and gules, a cheveron gules (Gorges, ancient); 2, argent, a whirlpool azure (Gorges); 3, argent, on a chief gules 3 besants (Russell); 4, sable, 3 fusils fesswise between 3 stags' heads argent (Budockshead), impaling argent, 6 crosslets fitchy, on a chief azure 2 molets or pierced gules (Clinton). Crest: a greyhound's head erased.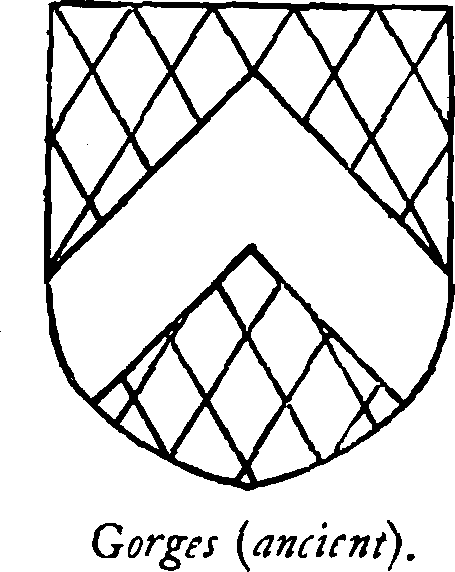 Sir Arthur Gorges lived at Gorges House (Milman House). (See Survey of London, Vol. IV, Chelsea, Pt. II, pp. 22, 45.)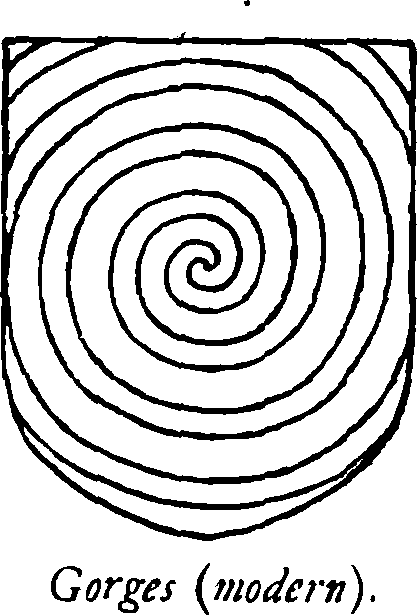 44. ARTHUR GORGES, 1668.
Faulkner (fn. 2) "describes a handsome table monument, with arms and carving" which was taken down in the year 1815 to make room for pews (see Plate No. 59), and of this only three inscribed slabs of black marble remain. The monument stood in the south aisle near Lady Dacre's tomb, but its covering slab lies now in the pavement in the north-west angle of the More Chapel. It bears an achievement of arms: Quarterly of 6— 1 & 6, Gorges; 2, Gorges (ancient); 3, Russell; 4, gules, a lion ermine (Old hall); 5, argent, a cheveron sable between three caters-on-the-dice (Engloes). The two other inscribed slabs are fixed to the north wall of the More Chapel below the brasses of Sir Arthur Gorges, and bear the following lines:
Here lyes interred the body of that Generous
and worthy Gent Arthur Gorges Esq. eldest
sone of Sr Arthur Gorges Knt the last surui-
uing branch of the first male line of that Honbl
Family who departed this life the 8th of Apprill
1668
He maryed Dame Mary one of the Dau-
ghters and Coheires of Paul Lord Viscount
Banning she first maryed to William Lord
Grandison afterwards to Charles Earle of
Angelesey and thirdly to the sayd deseced
Arthur Gorges whom She suruiued [...]
And departed this life
Lyes here buried with her louing Husband
To whos & hir one Memorey she erected this Tombe
Here sleepes and feeles noe pressure of ye stone
he, that had all the Gorges Soules in One
Here the ingenious, valiant Arthur lies
to be bewaild by Marble and Our eyes
By most beloud. but LOUE cannot retriue
dead frinds, Has power to Kill not make aliue.
Let him rest free from envy, as from paine
when all the Gorges rise heele rise againe
This last retireing rome his owne doth call
who after death, has that and Heau'n has all
Liue Arthur by the Spirit of thy Fame
Chelsey it self must dy before thy Name.
More Chapel. South Wall.
45. JANE, DUCHESS OF NORTHUMBERLAND, 1555–6.
This tomb is much mutilated, but it must have been a beautiful example of a Tudor monument, and closely resembles that of Chaucer in Westminster Abbey, erected by Brigham in 1556. It originally consisted of an altar tomb (which has been removed) within a recess partly cut into the south wall beneath the easternmost window of the Chapel. The tomb does not appear to have filled the recess but, like Chaucer's tomb, a space was left at the west end for the officiating priest. A portion of the panelled front of the tomb is built into the wall, and a large fragment of the moulded coping slab of Purbeck is preserved, showing the rough surface beneath the effigy. This recess has side walls of stone panelled above the tomb-level, with two rows of three panels arched and cusped. The western wall stands partly free, and has enough width on its western face for two panels one above the other. In front of the walls are circular shafts, carved with a reticulated pattern, having octagonal moulded caps and bases, and the western shaft stands on an octagonal base taken to the floor-level, with arched and cusped panels on each face. The cap and base mouldings are carried along the wing and back walls. The recess is covered by a flat slab of stone, the soffit of which is hollowed and carved with a representation of four bays of fan-traceried vaulting, each bay having formerly had a pendant in the centre. The whole of the front part of the canopy has disappeared, but is represented in the interesting drawing from the Lansdowne MSS. at the British Museum, reproduced on Plate 65, and is further illustrated by an original drawing preserved in Sir Edward Coates' collection (Plate 64).
The back wall was divided into three portions by miniature buttresses, the side parts corresponding with one bay of the canopy vault, and the centre with two. In this middle division is an inscription slab of alabaster, rect angular above, but with shaped angles below and finished with a plain fillet. The inscription, which is beautiful incised lettering, reads:
Here lyeth ye right noble and exellent prynces
lady iane gvyldeford late dvches of northvberland davghter and sole Heyre vnto ye right
honorable sr edward gvyldeford knight lord
wardeyn of ye fyve portes ye which sr edward
was sonne to ye right honorable sr richard
gvyldeford some.tymes knight and compa-
nion of ye most noble ordre of ye gartor and
the said dvches was wyfe to the right highv and mighty prince iohn dvdley late dvke
of northv[m]berland by whone she had yssew
xiii children that is to wete viii sonnes and
v dawghters and after she had lyved yeres
xlvi she departed this transitory world at
her maner of chelse ye xxii daye of ianvary in
ye second yere of ye reigne of owr sovereyne lady qvene mary the
first and in ao mdlv on
Whose sovle iesv have mrcy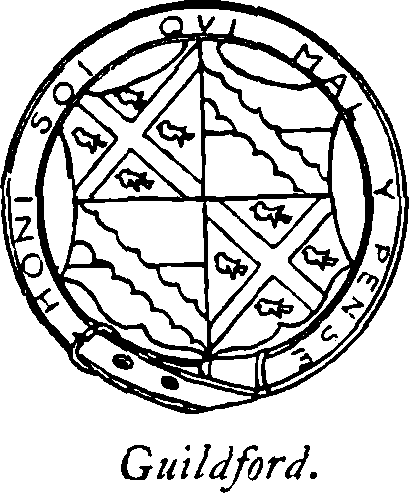 Over the inscription is a circular brass plate engraved with the arms of Sir Edward Guildford within the Garter: Quarterly I & 4, or, a saltire between 4 martlets sable (Guildford); 2 & 3, argent, a bend engrailed gules and a chief sable (Halden). To the left of the inscription is another shield on a brass plate bearing Guildford and Halden quarterly impaling quarterly. 1, argent, a fess dancetty sable (West); 2, quarterly i. & iv., gules, a lion within an orle of crosslets fitchy argent (la Warr), ii. & iii., azure, 3 leopards' heads jessant-de-lis argent (Cantelupe); 3, barry or and azure, a chief paly and quarters gyronny, with an inescutcheon argent (Mortimer). 4 gules, 3 bendlets enhanced or (Grelle).
To the right of the inscription is the matrix of a lozenge-shaped shield, which is shown on a drawing in the Chelsea Public Library to have contained the arms of the Duchess. For the shields formerly on the canopy, see the reproduction from the Lansdowne MSS. (Plate 65).
In the left-hand compartment of the back of the monument is the matrix of a brass which originally bore the kneeling effigies of Lady Jane's sons. The ribbon on which their names are inscribed in black letter alone remains; it runs as follows, beginning with the youngest:
Charles, Harry, Gilford, Robert, Ambrose, John, Thomas & Harry.
The right-hand compartment still retains a brass bearing the kneeling figures of the Duchess and her five daughters, with their names inscribed on a ribbon above:
Mary, M'garet, Katerin, Kat'yn, Temperanes.
The Duchess is attired in a mantle bearing her arms in enamel: quarterly of 6: 1, Guildford quartering Halden; 2, West; 3, Le Warr; 4, Cantelupe; 5, Mortimer; 6, Grelle.
John Dudley, Duke of Northumberland, received the grant of Henry VIII's Manor House in 1553, (fn. 3) but he was executed the same year in consequence of his attempt to place Lady Jane Grey and his son Guildford on the throne. The Duchess lived on at the manor house until her death in 1555–6. Of her children, Harry lost his life at the siege of Boulogne, and the younger Harry at St. Quentin; John became Lord Lisle and Earl of Warwick, and died at Penshurst 1554; Ambrose became Earl of Warwick and lies buried in the Beauchamp Chapel, Warwick, where also lies Robert, created Earl of Leicester, Queen Elizabeth's favourite; Mary married Sir Henry Sidney and became the mother of Sir Philip Sidney; Catherine married the Earl of Huntingdon, and her memorial in Chelsea Church has been described above (No. 41).
46. SIR WILLIAM MILMAN, 1713.
A tablet of white marble in the form of a cartouche draped and with three winged cherubs, one on each side and one at the base. The upper part is formed of an excellent achievement of arms surmounted by a small runeral urn.
The inscription is as follows:
D. O. M
et
Memoriæ
GULIELMI MILMAN Equitis Aurati
de Interiori Templo Londini
Juris-Cti.
Qui Obijt Chelseiæ Febr. 3.
Anno Ætatis 64
et Reparatæ Salutis 1713.v Posuit Mœstissima Conjux
E. M.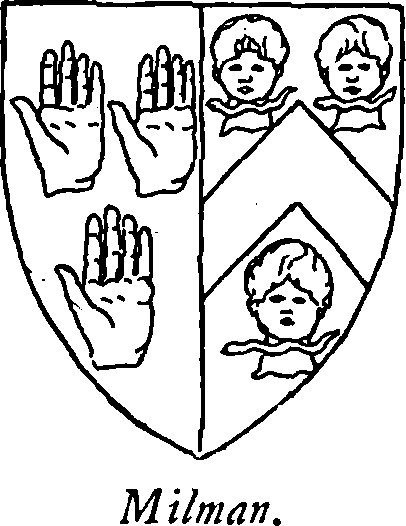 Arms: Azure, 3 sinister gauntlets argent (Milman), impaling sable, a cheveron between 3 boys' heads with adders about their necks (Vaughan).
In the pavement to the north-east of the Dacre monument in the nave is a black marble leger stone with a medallion of the above arms in the upper part, and the following inscription below:
Here Lyeth
The Body of Sr WILLIAM MILMAN Kr
Barister at Law
of the Inner Temple
LONDON
who Died at his House in CHELSEA
Febry ye 3d in the 64th Year of his Age
Annoque Dom 1713.
Also the Remains of
WILLIAM MILES Esqr
Uncle to Lady MILMAN
Who departed this life Jany 25th 1802.
Aged 76 years.
Sir William Milman lived at Milman House (formerly Gorges House), from which Milman Street is named. (See Survey of London, Vol. IV, Chelsea, Pt. II, p. 45.)
47. WILLIAM HART, 1785, and others (see inscription).
A plain rectangular tablet of white marble with moulded cornice and two small brackets, on a background of grey marble. The inscription runs:
Near this Place are deposited the Remains
of WILLIAM HART Esqr of Stapleton, in the County of Gloucester
Father in Law to Sir FRANCIS MILMAN Bart
who departed this Life 13th January 1785. aged 85 Years
Also the Remains of GEORGE HART Esqr
who died 19th September 1791. aged 86 Years
Also the Remains of JOHN DYER MILMAN
who died 6th December 1786. aged 2 Years and 10 Months
And FRANCES SOPHIA MILMAN died 11th Decr 1786. aged 11 Months
And CHARLES DYER MILMAN died 25th August 1790. aged 7 Months
All three Children of Sir FRANCIS MILMAN Bart and Lady MILMAN
Daughter of the above named WILLIAM HART Esqr.
48. HENRY JAMES, 1916.
A rectangular marble tablet with black rim inscribed:
in memoky of
HENRY JAMES O:M.
Novelist
Born in new york 1843: died in
Chelsea 1916: lover and interpreter of the fine amenities
of brave decisions & generovs
loyalties: a resident of this
parish who renounced a
cherished citizenship to give
his allegiance to england in
the 1st year of the great war.
49. PAUL BEDFORD, 1871.
50. A modern marble tablet with curved head and a shield of arms: gyronny argent and gules with an inescutcheon or, commemorating
PETER ELERS, 1753.
GEORGE ELERS, 1784.
CAREW ELERS, 1821.
WILLIAM ELERS, 1888.
Wm SHRUBB ELERS, 1900.
51. CATHERINE MAHON, 1822.