Pages 40-52
Survey of London: Volume 7, Chelsea, Part III: the Old Church. Originally published by London County Council, London, 1921.
This free content was digitised by double rekeying and sponsored by English Heritage. All rights reserved.
Monuments in the nave
Nave. East Wall.
52. HENRY POWELL, 1752: ELIZABETH POWELL, 1726.
A marble tablet in the form of a cartouche with an achievement of arms above and a winged cherub at base, fixed to the west face of the northern pier of the chancel arch.
The inscription runs:
HENRY POWELL Esqr
Departed this Life December ye 8th 1752. Aged 77
and is here Interr'd in hopes, of a blessed Resurrection;
near the remains of ELIZABETH his Wife, who was
A most Excellent Woman: and Died April 28th 1726
He was a Compleat Gentleman and a Good Christian
He was likewise, Bless'd with Power and Wealth
which He chiefly exerted; in the Service of
the Widow and Fatherless:
And in a long attendance on
his Sovereign: He behaved with
the highest Honour and Fidelity;
and never abused the
Great Confidence repose'd in him.
In Gratitude to the Best of Parents
this Monument was Erected
By their Eldest Daughter,
ELIZABETH POWELL
who died unmarried
April 23d 1774 Aged 62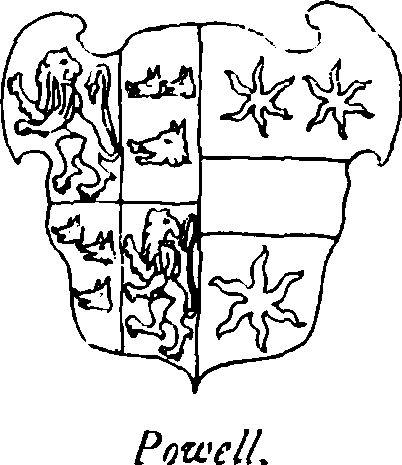 Arms: Quarterly 1 & 4, gules, a lion looking back or; 2 & 3 argent, 3 boars' heads sable (Powell of Shropshire). Impaling argent, a fess between 3 stars azure.
A leger stone in the chancel is inscribed:
ELIZABETH POWELL Died
the 28th of April 1726
Also
HENRY POWELL Esqr husband
of the above ELIZABETH
Died December the 8th 1752
Aged 77.
53. MARIANNE, GEORGE AND JOHN DRUMMOND, 1795–6.
An elliptical tablet of marble, with a knot of ribbon above, is placed below the last monument and bears the following inscription:
In Memory of
MARIANNE aged four Months.
GEORGE aged six Years and
JOHN aged three Years
the beloved and lovely offspring of
GEORGE HAY DRUMMOND. A.M.
Prebendary of York. and
ELIZABETH MARGARET his Wife
whose Spirits returned unto God
in the Months of November and
December 1795, and January 1796
and whose mortal Remains repose together
within twelve feet South of this Pillar.
This Tablet is erected
by their affectionate Parents
sorrowful yet always rejoicing
that of Such is
the Kingdom of
Heaven.
54. REGINALD JOHN NEILD, 1903.
A small cartouche of white marble to Reginald Neild, who died at Lindsey House, 1903.
Nave. North Wall.
55. MARY READ, 1792: EDWARD READ, 1812.
A tablet of white marble with fluted pilasters at each side and a moulded string above and below. Small brackets below the pilasters and finials above bear oval rosettes. Above and beneath the tablet is a background of black marble with shaped outline, and against the upper part is a funeral urn in relief in white marble.
The inscription runs:
Near this Place lies Interred
MARY late Wife of
EDWARD READ Esquire
who died the 21st of January 1792
Aged 57 Years.
Also the said EDWARD READ
who died the 2nd of April, 1812
Aged 82 Years.
Edward Read is given in the Rate Books as residing at No. 3, Swan Walk, 1777–1794. (See Survey of London, Vol. IV, Chelsea, Pt. I, p. 14.)
56. JAMES BUCK, 1680.
This tablet has a semi-circular headed inscription-panel surrounded by a moulded architrave, with mitred ears carved with foliated ornament. Above is a curved pediment, beneath the cornice of which is a shield of arms. The horizontal cornice breaks forward on each side over consoleshaped brackets which are repeated against the wall, and beneath these are two plain pilasters. The lower part of the monument consists of a bold moulded shelf with scalloped fluting, below which is a double festoon of drapery and an underpiece of scrollwork and foliage.
The inscription reads:
Here underneath
lieth what was Mortal
of IAMES BUCK Esq. who
departed this life Dec. 24 A.D.
1680 in his Climacterical, viz LXIIId year of
his Age. He was Son to MATTHEW
BUCK Esq of WINTERBOUR in ye Cou
nty of GLOUCESTER by MARY his wife
daughter of Sr PETER BUCK of ROCH
ESTER in KENT Knt. He had to wife
ELIZABETH daughter of HUMPHREY
ROGERS of RICHMOND in ye County
of SURRY Esq by whom he had Issue
five Sons & one Daughter; IAMES, FRA[N]CIS
ELIZABETH, CHARLES, IOHN, & RICH=
=ARD; whereof ye four first are still Survi=
=ving His Wife ELIZABETH having
lived 20 years married died Nov. 23. 1674
in ye 50th year of her Age & lies Buried in
BARKHAMSTEAD Church in HART=
=FORDSHIRE with her Ancestors
JACOBUS F. Optimo & Optimœ
Parenti M.P.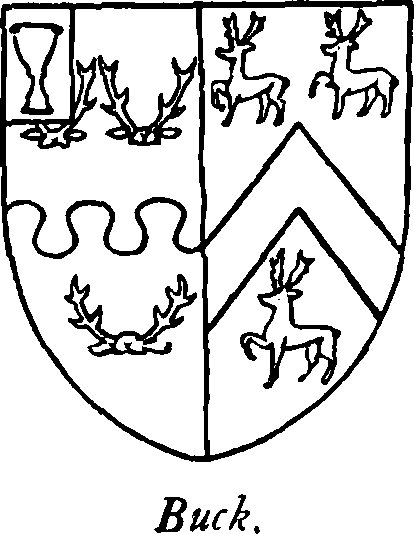 Arms: Party fesswise nebuly argent and sable, 3 bucks' attires countercoloured, on a quarter azure a cup or (Buck), impaling argent, a cheveron between 3 bucks sable (Rogers).
57. LADY JANE CHEYNE, 1669.
CHARLES CHEYNE VISCOUNT NEWHAVEN, 1698.
This lofty and beautiful monument of coloured marble, containing a recumbent effigy of Lady Jane Cheyne, was made in Rome and designed by Paolo Bernini, nephew of the famous architect. Mr. Randall Davies has printed (fn. 1) a series of very interesting letters written from Rome by Edward Altham, who had been commissioned by Edmund Chaloner, Lord Cheyne's kinsman, to arrange the execution of the monument.
The monument is in the form of a finely proportioned architectural apparel to the recess which encloses a sarcophagus of black marble, supporting the reclining figure of Lady Cheyne, who is represented as reading a book while she rests with one arm on a cushion. She is attired in a long, flowing robe, while her coronet rests near her feet. The sarcophagus stands on shaped and panelled legs on a panelled plinth which also supports the superstructure. This is slightly concave in plan, and is formed of two long panelled supports, one each side of the recess, for the horizontal entablature above. In front of these stand two columns, on pedestals projecting from the plinth, with beautifully carved Corinthian capitals, over which the entablature breaks forward and supports a curved pediment. The bed mouldings in the curved cornice are brought forward over the columns, and also in the centre, where they form a kind of key block or corbel to correct the weakness of the arch. The tympanum is carved with conventional fruit and foliage, and above the monument is a metal cross and two hearts, out of which issue flames. The monument is protected by beautiful railings of wrought iron, of evident English make. The standards at the angles and in the centre are of spiral form, and have spear heads with hammered scrolls.
The Latin inscription, is cut in a panel at the back of the recess over the figure, and is as follows: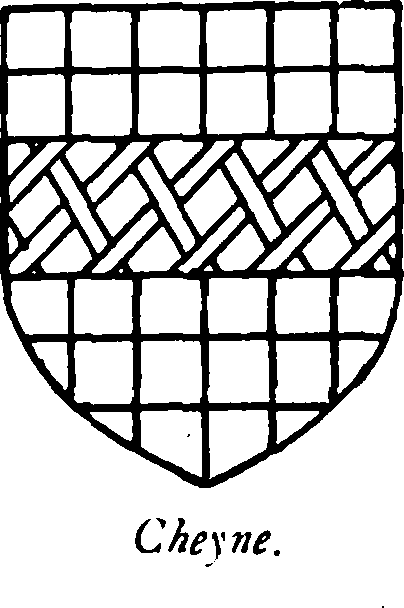 M. S.
Pientissimæ & Sanctissimæ Heroinæ
Nec tam Avitis Imaginibus quam Proprijs
Virtutibus Inlustris;
Dominæ IANÆ CHEYNE
Excmi Dni GVILIELMI Ducis de Novo Castro
Filiæ ex tribus Natu maximæ
CAROLI CHEYNE Armigeri,
Conjugis Dilectissimae Desideratissimæ.
De qua nihil unquam doluit nisi de Mortua
Ex qua tres Optimæ Spei Liberos Suscepit
ELIZABETHAM, GVILIELMVM
& Venustam Deo CATHARINAM
Intra paucos a morte Matris menses
Fato functam
Inter cætera Charitatis Opera
Tectum huic Ecclesiæ
Densis trabium ordinibus compingendum
(quod iam, Deo gratia, effectum est)
Paullo ante mortem, tanquã ex Legato Dedit
Vitæ Curriculum qua Pietate & Patientia
Transegerat Peregit VIIIo Eid Octob.
Anno Salutis MDCLXIX
Ætatis, XLVIII
Conjugij XV.
Quo toto prope tempore hanc Viciniam præsens.
Nobilitavit Beavit
Iacet, una cum Filiola CATHARINA
Intra Cancellos, in medio Conditorio Sepulta
Sub ipsa Sacra Mensâ
On the side of the sarcophagus itself is the following inscription to Lord Cheyne:
M. S.
CAROLI CHEYNE
Vicscomitis de Newhaven in Regno Scotiæ et
hujus Manerij de Chelsey Domini Qui hoc
Monimentu, in Memoria Done IANÆ Conjugis suæ
Imæ dilectissimæ Annos abhinc Viginti et Novem
extruxerat Ac Nunc demum Ipse
(heu nimium cito) demortuus
Et juxta Conjugem suam (pro ut testamento
suo designaverat) in eodem Conditorio
Sepultus Una cum illa Beatam Resurrectionem
oræstolatur Obij 30mo die Iunij
Anno Dom: 1698
Ætatis 78.
Lord and Lady Cheyne lived in Henry VIII's manor house (see Survey of London, Vol. II, Chelsea, Part I, p. 73), and their memory is cherished in Chelsea, their name being commemorated in Cheyne Walk. Lady Jane was the daughter of William, Duke of Newcastle, and was a woman of many great and noble qualities, whose life through the Civil War was an eventful one before she married Charles Cheyne and came to Chelsea. She purchased the manor, and was a great benefactor to the village, bearing part of the expense of rebuilding the church, the roof of which is mentioned as her gift in her memorial inscription. Dr. Littleton preached an eloquent sermon at her funeral, and this is printed, with his other sermons.
The Cheyne vault was under the Communion Table in the chancel, and was approached by a stair under a stone at the foot of the chancel steps. Faulkner prints a Latin inscription (fn. 2) on the entrance to the vault, and another slab of polished black marble, which was apparently in this position, is now at the west end of the north aisle.
58. RICHARD GVILFORD, 1680.
A wall tablet of white marble in the form of a cartouche with small funeral urn above and a winged cherub below. The ornament of the upper part is composed of drapery, and the lower part is carved with sprays of bay and palm leaves.
The inscription runs:
Here lye the Bodies of
RICHARD GUILFORD
and of his two Wives who
dyed before him Abigail
Daughter of Iohn Wood
of the County of York by whom
he had a Daughter Iudeth
and Elizabeth Daughter of Roger
Friend of Lambeth in Surrey by whom
he had two Daughters Anne and Abigal
and a Son Charles. He gave to this Parish
For ever the Yearly Summ of ten Pounds
to be distributed on the 5th of Decembr
the Day of his Wedding with
the aforesaid Elizabeth
and dyed 16 Nov: 1680 aged 66 years
Abigail his youngest Daughter
Wife of George Bishop of Bath
and Wells and Executrix to
her Brother Charles
Guilford Erected
this Monument
An: 1709.
59. HENRY RAPER, 1717: KATHERINE RAPER, 1735.
A small tablet shaped like the end of a sarcophagus.
The inscription reads:
Near this spot
are deposited the remains of
HENRY RAPER, esqr
Born 16th October 1717:
Died May 11th 1789,
and of his wife,
KATHERINE RAPER
born 9th January 1735;
Died Novr. 12th 1823
to whose memory
this tablet is erected by
filial respect
and affection
Henry Raper lived at No. 32 Cheyne Row from 1775 until some time after 1783, though whether until his death is uncertain owing to a break in the Rate Book records for these years. Catherine Raper lived at 25 Cheyne Walk from 1790 until 1802. (See Survey of London, Vol. II, Chelsea, Pt. I, p. 74, and Vol. IV, Chelsea, Pt. II, pp. 65, 67.)
60. JENNETT HAMILTON, 1716: ALEXANDER HAMILTON, 1724.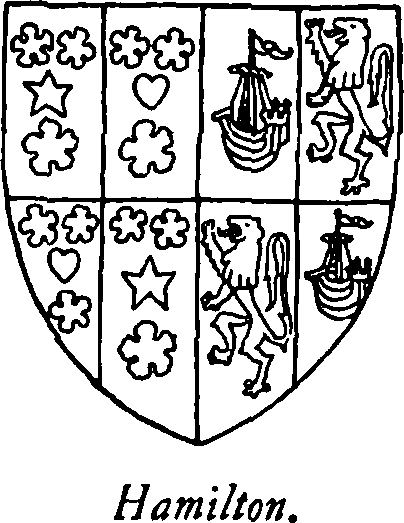 A curiously designed tablet consisting of a moulded shelf supporting an achievement of arms within a frame of two panelled pilasters bent to an ogee shape and a small cornice. Beneath the shelf are two brackets and a shaped apron bearing the following inscription:
Beneath this Monumt lyeth ye Body of IENNETT
The Wife of ALEXANDER HAMILTON of this Parish Gent:
Who departed this Life ye 9th of Septr 1716
In ye 54th year of her Age
Here also lyeth the Body of the abouenamed
ALEXANDER HAMILTON who died
the 30th of November, 1724
in the 72d Year of his Age.
The shield bears: Quarterly of four, 1 and 4, sable, a molet between three cinquefoils ermine, 2 and 3, sable, a human heart between three cinquefoils ermine, (for Hamilton) impaling quarterly, 1 and 4, argent, a lymphad sable, 2 and 3, or, a lion sable. Nave. South Wall.
61. GREGORY FIENNES LORD DACRE, and ANNE LADY DACRE, 1594–5.
A large monument of marble, consisting of an altar tomb, panelled and moulded, bearing the recumbent effigies in alabaster of Lord and Lady Dacre. He is in armour, and they both rest their feet on a dog. Above the figures is a deep semi-circular arch, the soffit of which is coffered and adorned with floral bosses. The moulding of the responds is carried round the sides and back of the recess above a panelled dado, the side panels being carved with strapwork, while the back is divided into five panels—a plain one in the centre, two narrow panels of carved ornament and an inscribed panel at each end. The space between the arch and the dado has a large inscribed panel surrounded by a frame of strapwork and the usual ornament of the period. Similar ornament adorns the pilasters flanking the recess, in front of which are columns with Corinthian capitals and pedestals, which stand at each end of the projecting altar tomb. Above the arch and columns is a horizontal entablature which breaks forward over the latter and over the keystone, which is carved with a winged cherub. The cornice is formed of the convex curve, with deep projection, which was in general use at the period, and above is a moulded tabling, forming the base of two large obelisks, one over each column, between which runs a balustrade. Above this is an achievement of arms with supporters within a frame composed of pilasters covered with carved work, and carrying an entablature, over which are a winged skull, an hour glass, and a balance. A shield of arms within a circular frame of strapwork stands on each side of the centre piece above the balustrade. (See also under Helm, p. 10.)
A miniature tomb with the recumbent effigy of an infant lies next the altar tomb. The monument is enclosed by beautiful railings with three spiral standards and lily-shaped finials, bound together by an enriched rail fitted with floral studs.
Inscriptions.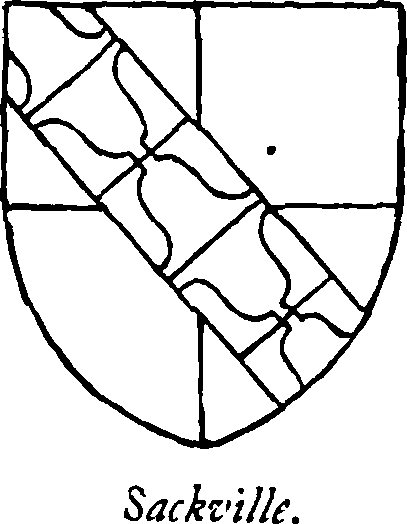 In the back of the tomb over the effigies:
IN OBITVM NOBILISSIMORVM
CONIVGVM GREGORII. D.
DACRES ET ANNÆ VXORIS
Qvos ardens copvlavit amor ivvenilibvs annis
Abstvlit atra dies, mors inopina rapit
Ille prior fatis Dacrorvm nobile Germen
Occidit: in morbvm at incidit illa priv
Qvæ langvescendo miseræ prætedia vitæ
Sensit, tam dvlci conivge cassa svo.
Vt Teneri copdis concordia ivnxerat ambos
Sic idem amborvm contegit ossa locvs
Qvos ivngit tvmvlvs conivngvnt cœlica tecta
Vt teneant cœlvm qvi tenvere fidem
The final s in privs in the fourth line is omitted. The q in qvos and qvo in the last two lines appear as o in the inscription.
The two inscribed panels at the back of the effigies read:
Nobilis iste vir obiit 25
septemb. 1594
and
nobilis ista mvlier obiit
14 maii 1595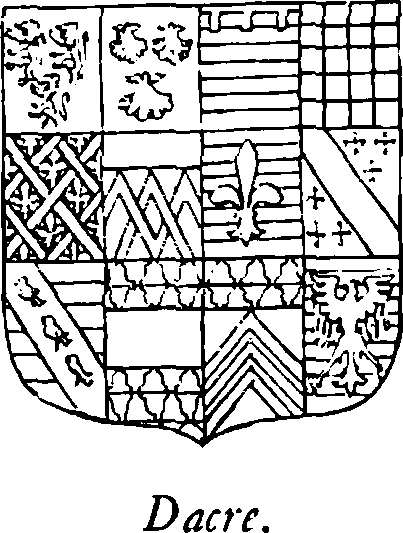 The centre panel of the sarcophagus is inscribed as follows:
Nobilis Anna iaces prvdens Sackvillia proles
Viva tvi defles fvnera moesta viri.
Nil mortale placet, cœlvm tva pectora spirant
Postq parca viri conscidit atra diem
Fæminei lvx clara chori, pia, casta, pvdica
Ægris svbsidivm pavperibvsq. decvs.
Fida deo perchara tvis, constansq diserta
Vt patiens morbi, sic pietatis amans.
O qvoties manibvs passis ad cvlmina cœli
Hanc animam dixti, svscipe qvæso devs
Mens pia, cœlestis patriæ pervenit ad arcem,
Hic tvmvlvs corpvs mentis inane tenet.
Arms: Quarterly of 12: 1, azure, 3 lions or (Fiennes); 2, gules, 3 scallops argent (Dacre); 3, argent, 3 bars gules, a label azure (Moulton); 4, checky or and gules (Vaux); 5, azure, sown with fleurs-de-lys and fretty or (Morville); 6, azure, a chief or, 3 cheverons interlaced in base (Fitzhugh); 7, Barry of 8 argent and gules, a fleur-de-lys sable (Staveley); 8, azure, a bend between 6 crosslets or (Furneaux); 9, Barry argent and azure, on a bend gules 3 martlets or (Grey); 10, vair, a fess gules (Marmion); 11, or, 3 cheverons gules a chief vair (St. Quintin); 12, Barry of 10 or and azure, an eagle gules (Gernegan). Crest: An eagle's head. Supporters: (dexter) a wolf-dog argent, collared and chained or, (sinister) a bull, gules collared with a ducal coronet and chained or. Motto: povr bien desirer.
On the left-hand shield are the above 12 quarterings impaling quarterly or and gules, a bend vair for Sackville. On the right is a shield bearing Sackville only.
Lord and Lady Dacre lived in the house originally Sir Thomas More's and afterwards known as Beaufort House (see Survey of London, Vol. IV, Chelsea, Pt. II, p. 18). Lady Dacre founded Emmanuel Hospital, Westminster, to which charity Chelsea has the privilege of sending two poor persons as long as the founder's tomb is kept in good order.
62. HUMFREY PESHALL, 1650.
A small brass plate 3½X2½ inches bears an inscription to the above. Mr. Randall Davies (fn. 3) states that this plate is a forgery, and was probably put up in the Church by the Rev. John Pearsall when he claimed the Peshall baronetcy on its becoming extinct in 1771. It is not known why Chelsea Church was selected as the site for the imposture.
63. ANN LOWFEILD, 1720.
A tablet of white marble with shaped head and base, on two small brackets, with moulded edge.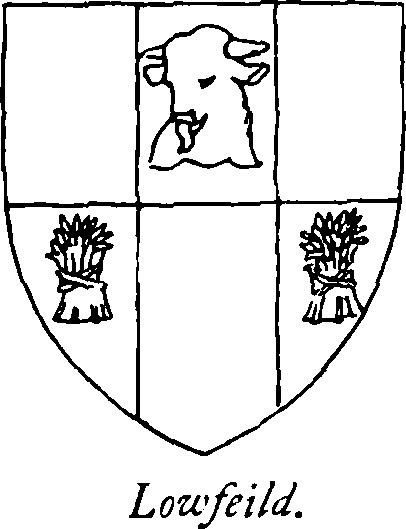 Inscription:
To the Memory of
Mrs ANN LOWFEILD
Daughter of THOMAS LOWFEILD Esqr
late of this Parish
She departed this life
the 5th of Decembr 1720
And according to her own desire
lies buried close on the outside
of this Wall.
Arms: On a lozenge, six pieces vert and or, a bull's head sable and 2 garbs on the or.
"Mrs." Lowfeild lived at 18 Cheyne Row from 1711 until her death. (fn. 4)
64. JOHN WOOLLEY.
JOHN CORY GRIFFITH.
JOHN WELLS LAMBE.
WILLIAM BRUCE.
A tablet purporting to reproduce the original stone in the churchyard (now unidentified) commemorating the death of four men drowned in the Thames on 20 January, 1839.
65. MATTHEW SQUIRE, 1800.
An elliptical tablet of white marble, inscribed as follows:
Near this Spot is Interr'd
the remains of Matthew Squire Esqre
Rear Admiral of the Red
of his Majesty's Royal Navy
who departed this Life 22 January 1800
Aged 55 Years
his Virtues are to well known
to be recorded here being sincerely regretted
by all his Friends.
66. MARY BOLNEY, 1716.
A tablet of white marble, with moulded cornice and broken pediment, on a moulded shelf, and two small brackets. The arms which are lying under the Gervoise monument are as follows: Sable, a fess or, between 3 swans (Wybarnd), and or, in chief 2 molets and in base a crescent gules (Bolney), impaling azure, 3 mascles or between 2 unicorns' heads erased sable (Smith of Yorkshire).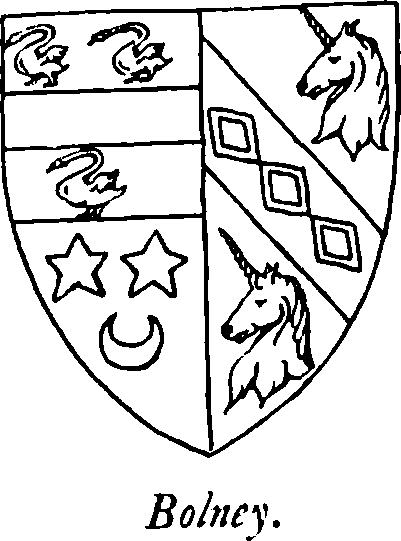 Near this Place Lyes the Body of
Mrs Mary Bolney Widow, late of Little
Chelsey, Daughter of Bartholow Smith
Esqre of the Soke in Winchester. She was
twice Married, first to John Wybarnd Esqre.
of Hawkwell in Kent by whom she had
2 Sons & 3 Daughters, & afterwards to
Geo Bolney of Bolney Esqre by whom
3 Sons & 6 Daughters, & died in the 88th
Year of her Age Anno Domini 1716.
67. BENJAMIN DODD, 1796.
Tablet of black marble with moulded cornice of white marble and two small drops of the same.
The inscription runs:
Sacred to the Memory of
BENJAMIN DODD Esquire
of this Parish
who died on the 10th of November 1796
Aged 70 years
This was a Man.
68. DAVID HEATLY, 1803.
An elliptical panel of white marble.
Nave. West Wall.
69. ANNE WAKELIN, 1722.
A simple tablet with moulded segmental cornice and key block on a moulded shelf supported by two brackets, inscribed:
Near this Place
lyeth interr'd the Body
of ANNE WAKELIN (Widow
of THO: WAKELIN of York building
in the Liberty of Westminster
Apothecary) who died the 7th of
Septemr 1722. Anno Ætat: 44.
70. WILLIAM DANIEL, 1800.
An elliptical tablet of white marble inscribed:
NEAR
the Middle of the South Aisle lies
the REMAINS of
WILLIAM DANIEL Esquire
late a CAPTAIN in the ROYAL NAVY
who died at Chelsea the 21st Day of February
1800
Aged 67 Years
To whose MEMORY this Stone
is erected by his
CHILDREN
Captain Daniel lived in No. 8, Upper Cheyne Row from 1790–1794 (fn. 5)
71. SYDENHAM TEAST EDWARDS, 1819.
72. JOHN BROWN, 1816.
73. JOHN WILTON, 1835.
74. MARY ANNE ALICE BAYLEY, 1824.
75. ANN CULLIFORD, 1726.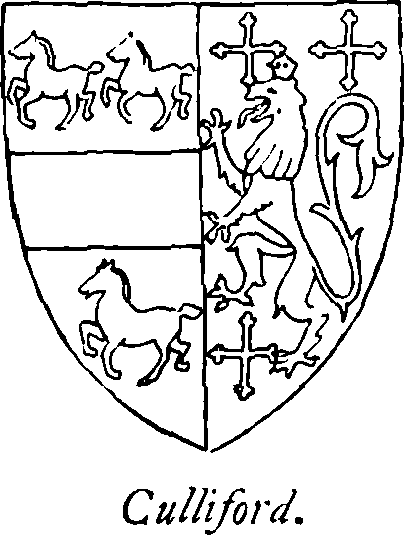 A rectangular tablet of white marble with moulded frame having a shaped overpiece with scrolls, side console-shaped brackets, and a shield of arms below between sprays of palm leaves.
The inscription reads:
Near this Place lyes Inter'd
the Body of
Mrs ANN CULLIFORD
Wife of
Capt RICHARD CULLIFORD
who Departed this Life
the 8th of 7ber 1726
in the 67th year of
Her Age
Arms: Argent, a fess gules between 3 colts sable, impaling azure, a lion crowned between three crosslets or.
Commissary Culliford appears in the List of Benefactors to Don Saltero's Coffee House. (fn. 6) He was buried at Chelsea on 3rd May, 1738.
Return Wall.
76. SARAH COLLINS, 1811.
WILLIAM COLLINS, 1828.
77. MATILDA CHAMBERS, 1813.
78. HENRY COOPER, 1824.
79. ISABEL CLAREMONT, 1824.