Pages 53-61
Survey of London: Volume 7, Chelsea, Part III: the Old Church. Originally published by London County Council, London, 1921.
This free content was digitised by double rekeying and sponsored by English Heritage. All rights reserved.
Floor slabs in the church
FLOOR SLABS.
In the pavement of the church are slabs bearing the following inscriptions, over and above those already noticed in connection with the wall monuments. Their position is shown by the numbers on the plan (Plate 15).
In the Chancel.
84. Purbeck slab, showing matrix of brass. (See under Brasses, p. 5.)
85. Purbeck slab, with matrix of brass. (See also under Brasses, p. 6.)
86. IN Memory of
M[rs] Susanna Barker
(late of this Parish)
died October 29th 1793
Aged 72 Years
87. Beneath this Stone
lie the Remains of
Nicholas Ray Esqr
of this Parish he died
with a firm reliance
upon the Mercy of
Almighty God the 24th
day of Septr 1788
Aged 72 Years.
88. Underneath This Stone
Lyeth Intr'd The Body Of
THOMAS PUTLAND
Esqr Who Departed This Life
On The 14th Of Iuly Anno Dom
1723 In The 72nd Year Of His
Age
Thos. Putland lived at 2a, Paradise Row (1712–23). (See Survey of London, Vol. I, Chelsea, Pt. I., p. 25.)
89. Here lyeth the Body of
HENRY LUSSAN Esqr
some time One of his Majesties
Justices of the Peace for the
County of Monmouth
who departed this Life the 2d day of
February 1750 In the 80th Year
of his Age
In the Vault beneath this Marble
are deposited the Remains of
Mrs CATHERINE HORTON
of this PARISH who departed this Life
On the 15th of January 1782
And was Niece of the above Inscribed
HENRY LUSSAN Esq
Above the inscription is a coat-of-arms; now defaced.
90. S . . .
Mr GEORGE
who Departed this life
Nov 4 177 .,
Aged . .
In the Lawrence Chapel.
91. Sacred to the Memory of
The Honourable Dame Grisel
Relict of the Honourable Sr
Iohn Laurence late of Iver in ye
County of Bucks Knight and Baronet
Shee Died in her howse at chelsey
the 16 of march in the yeere of
ovr Lord 1675 aged Eighty Yeeres
a fruitfull Parent of childrens
childrens children
Chast Prvdent Vertuous all her life
as a right widdow mother wife
loe here shee lyes who was all thi[s]
And more which tongue cannot exp[ress]
92. Sacred to the Memory
of
HENRY LAVRENCE TVRKY MARCHANT
youngest sonne of Sr John Lavrence
Knt & Baronet, who dyed in the
30th yeare of his age the 14th of
October 1667
Heere rests ye weary Marchant having tride
And finding this world's traffick vaine deside
That empty triffle now hes gon to trade
In th' other world for gaines which never sade
Thence yow shall see when He acquits this Vrn
of euerlasting Grawnes A braue returne
the stock of goodness hee imbarkd before
Ensures him there an hundred fold And more
93. In humble Hope of a Blessed
Resurrection
Her lyeth whatsoever
was Mortall of the Excellent
Mrs FRANCES LAURENCE
Eminent for her truly Loyall
Principles to the Crown,
And Constancy to the Church
of England in the worst of Times
and for Threescore and ten years
space Allwais a Virgin: She was
Second Daughtr to Sr IOHN LAURENCE
of Iver in the County of Bucks
Kt and Baronet by Dame Grissell
his only Wife
An Ofspring worthy of such Parents
She departed this life at Chelsey
the 28th day of November
Anno Domini 1685
In the Nave (north part).
94. Here Lyeth the Body
Of IOHN CRAUFORD
Esqr who died Dec ye 19
An: Dom 1720 in the
In the 49th year of his
age
John Crauford, styled by Bowack "one of her Majesties Commissioners, Son to Commissary David Crawford," lived in No. 4, Paradise Row, and afterwards, from 1714–19, in Ormonde House. (See Survey of London, Vol. II, Chelsea, Pt. 1, pp. 24, 26.)
95. Underneath are Interrd
the Remains of ANNE
the Wife of THOs BUBB
of this Parish Gent:
She departed this Life
the 30 Jan. 1760
Aged 80 Years
Also of THOMAS Husband
of the above ANNE BUBB
who Died Sepr. 25th. 1760
Aged 86
Also ELIZABETH their
Daughter the Beloved
Wife of Mr. Tho. LINDSAY
Apothy in Westminster
who Died April 24th 1769
Aged 58
96. Here lyeth Interd ye Body
. . . ANNE CRESPIN
who departed this life ye 2d day
of July . . year of her age
. . 172 .
. . lieth the .
Mrs ANNE CRESPIN
Mother of the above said and wife
of CAPt DANIEL CRESPIN of this
parish who departed this life the
. day of May 1750 in the 43rd year
of her age
Here likewise lieth interred
the body of the above named
CAPt DANIEL CRESPIN
who Departed this life
12th day of. June 1743
in the . . Year of his Age.
Mr. Crespin is among the list of Benefactors at Don Saltero's. (See Survey of London, Vol. II, Chelsea, Pt. I, p. 63.)
97. Mrs ELIZABETH THOMPSON
Died 4th April 1796
Aged 56 Years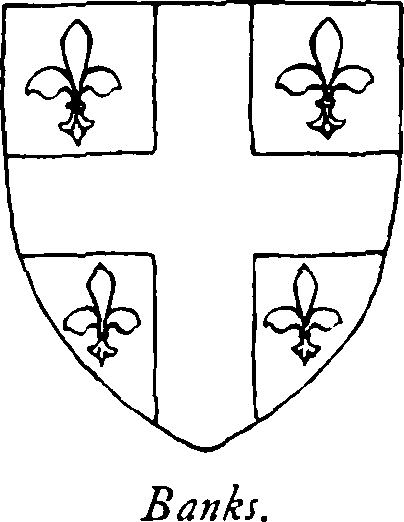 98. Mrs ANN BANKS
late of this Parish
Died March 1: 1759
In the 79th Year of her Age
Over the inscription is a coat-of-arms bearing on a lozenge within a circle the following: a cross between four fleur-de-lys.
99. C. H.
Jany ye 14 . . .
100. MRS. MARY ANN HODSDEN.
Obiit 29 Maii 1801
Ætat 58
MR JOHN ELDERTON
late of the City of LONDON
PACKER died March 23rd 1767
in the 40th Year of his Age
101 . . . . Body . . .
Mr JOHN HUTCHINS
late of this PARISH
Died February 8th 1762
Aged 67 years
Also
MRS. ELIZABETH HUTCHINS
Wife of the above
Who Departed this life
Decr 3: 1762
Aged 64 Years
Nave (centre).
102. Intus hic conquiescunt
Cineres & Ossa SARA LUTTRELL
Memoriæ perquam charæ
quæ Pleuritidis Morbo etiamsi exanimata
Spe tamen Resurrectionis beatæ fulcita
Et Christo Redemptore freta
Nono die Iulij placide emisit Spiritum
Anno Domini MDCCXXII Ætatis vero LXIII
NARCISSVM LVTTRELL Armigerum, Maritum
Et Franciscum Filium Unicum moerentes
Et Superstites relinquens
Unde mori moneamur omnes
NARCISSUS LUTTRELL Ar
Hydrope confectus
Minimo cum Luctu animam efflavit
XXVI die lunii MDCCXXXII
Anno Ætatis LXXV
FRANCIS LUTTRELL
ESQr Died June ye 5th 1749
In ye 66 Year of his Age.
103. ELIZABETH FRANKLIN
Daughter of THOMAS FRANKLIN
& said ELIZABETH [FRANKLIN]
Aged . .
. . departed . XXXI . .
16[98]
104. Repo
RI[CARD]
GVLIEL[M]
RICARD
ELLS
ORUM
1695
[JUNE]
1[695]
105. ELIZABETH LEAVER
ob D[ecr] [6] 1762
an [Æt] 71
106. Here l[ieth] the Body of
Mrs FR[ANSES] A[RABELLA] K[ELRY]
who Dep[arted] this life the [2d] d[ay]
Of Novmb . . in the . . [year] of
. . . . .
107. THE BODYES OF T[WO]
INFANTS ONE OF THE Ld
ROBERTS BARON OF TRVRO
THE OTHER OF HIS SONS
ROBERT ROBERTS
LYE HERE INTERRED
108. Mr JOHN HUTCHINS
Son of JOHN and ELIZh
HUTCHINS of this
Parish. Died Dec 18th
1765. Aged 45 Years
109. Mr NATHANIEL FIRMIN
Died 13 February 1753
Aged 63
Mr NATHANIEL FIRMIN
his Son died 28 October
1767 Aged 24 Years
Mrs . . . . FIRMIN Died
Novr . . Aged 61
Nave (south part).
110. In Memory of
Mrs ANNA MARIA DOWDALL
Died 22d Septemr 1795
Aged 71 Years
111. In Memory
of Mrs MARTHA DENYER
Died Jany 18th 1795
In the 64 Year of Her Age
(and others after 1800)
112. In Memory of
Miss JANE DORRELL MORRELL
Who died Dec 26th 1798
Aged 16 Years
Also Mrs FRANCES MORRELL
Died June 10th 1802
(and others after 1800)
113. Here lies the Body of
Mr FRANCIS THOMAS Director of ye
CHINA PORCELAIN Manufactory of
Lawrence Street CHELSEA Departed
this Life Between the Hours of Ten and
Eleven O'Clock Sunday night ye 6th Jany
1770 in the 45th year of his Age
Surely The Tenderest Husband
The Best of Fathers And ye Sincerest Friend
Whose Death is Greatly Lamented
By us And by all his Friends
Oh But when The Great God does call
And summons us Both Great and small
Therefore Let us My Friends Prepare
Like this the Best of Fathers here
114. Here lyeth the Body
of Mrs SARAH WADE ye
Wife of BRYAN W[ADE of]
this Parish Gent
who died ye 7 of Aug
1710
In the Tower.
115. Here lyeth ye body of
SUSANNAH CALDWELL
Wife of IOHN CALDWELL who
Departed this life ye 24th day of febry
In ye [51] year of her Age and in ye year
Anno Domini
172[2]
Al[so ye body of] IOHN CALDWELL
H[usband of ye] Above said who Dyed
J[an ye] in ye 35th Year of his Age
Anno Dom 1724/5
116. In Memory of
Mr EDWARD ANDERSON
Who died August the 25th 171[9]
Aged 76 Years
Also
Mr EDWARD ANDERSON hi[s son].
Who died June the 17. . . . .
Aged 85 Years
Who was Many Years Mas[ter of]
CHELSEA HOSPI[TAL]
and Also to his Majesty . .
at Hampton Court
Richmond and Kew
117. [HERE LYE]TH Ye BODY
. . . . STEVENS OF
[Ye PA]RISH OF Snt
. . . . WESTMt
[WHO] DEPARTED THIS
[LIFE] . . . 27TH 1723
. . . . . . . YEAR
OF HIS AGE
Here also lies the Body of
Mr CORNELIUS ROSE of the
same Parish he died May the 22
1731 in the 58 Year of his Age
Here also lyeth the Body of
Mrs MARGARET ROSE wife to the
above and who Departed this Life
the . . . . Day of February 1732 in
the [3]1 Year of her Age