Pages 62-83
Survey of London: Volume 7, Chelsea, Part III: the Old Church. Originally published by London County Council, London, 1921.
This free content was digitised by double rekeying and sponsored by English Heritage. All rights reserved.
IV. MONUMENTS IN THE CHURCHYARD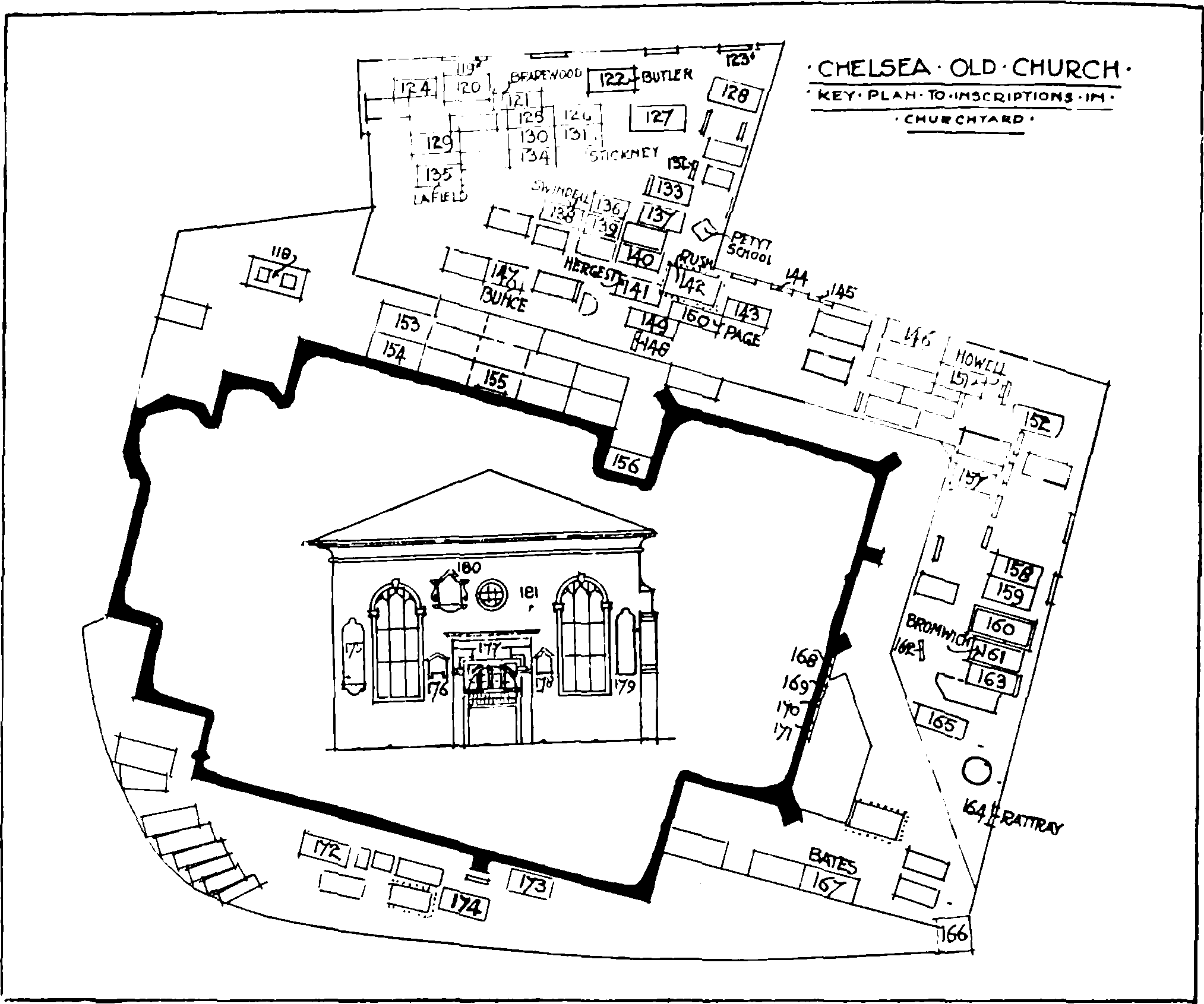 The following inscriptions include all the stones which can with any certainty be ascribed to the period covered by the London survey (i.e. up to and including the year 1800). Wherever the lettering is now illegible the inscriptions have been completed from Robert Chambers' MS. in the Chelsea Public Library. All restorations are shown by square brackets unless the whole inscription is marked as illegible.
118. On the stone covering the grave is the following on plates of iron fixed into it:
Philip Miller
ob dec 18. 1771 Æ 80
Charles Miller
Only Son of the Above
Philip Miller
Died 6th Octr 1817
Aged 78
119. In the N. wall of the Churchyard is fixed a large monument with the following inscription much defaced by the weather. The monument is similar to that of Woodcock (No. 123) but without a pediment. Crest: a goat's head on a crown surmounts the inscription panel and a coat of arms is carved below.
Near this place under a stone with his name on it
lyes ye body of JOHN PENNANT Gent 2 son of DAVID
PENNANT of Bighton in ye County of Flint Esqre
who departed this life ye 5 day of Iune 1709 Aged 69
In whose memory this monument was erected by
his mournfull widow who designes to be
interr'd [in the same] gr[ave]
Had virtue in perfection pow'r to save
The best of men from the Devouring Grave
Pennant had liv'd but 'tis in vain to flie
The fatal stroke where all are doom'd to die
Farewell lov'd Spouse since want of Words appears
T'express my grief i'll moan thy loss in tears
Which like Nile's Cataracts shall tumble down
And with their briny Streams my Passions drown
Here may thy Ashes undisturb'd remain
Till thy wive's dust reuisits thee again
Then sacred quiet to the day of doom
Seal the inclosure of our catacomb
Arms: Three bars wavy, (this coat, with three martlets on the
centre bar, was an ancient quartering of Pennants) impaling a cross flory
between 4 martlets.
Note.—Partly illegible.
120. On a flat stone beneath the monument cut in large letters.
Iohn Pennant Gent.
1709
Here lyeth the body of
S[arah Pennant]
with her husband Mr John
Pennant who departed this
life the 29th day of Novr
1713
Aged 71 years
Note.—Nearly illegible at present.
121. On a flat stone: partly illegible.
Here lyeth
Intr'd ye Body of
[Francis] Brarewood
who departed this life ye
25th of September Aged
10 Months 5 Days
Anno Domini
1723
Also ye Body of Diana
Brarewood who Died
Feb ye 24th 1724–5 Aged
3 Months
At the other end of the stone is an inscription to Peter Thomas, waterman, dated 1809.
122. On a table monument, once surrounded with iron rails: almost illegible.
Here lyes the Body of
ROBt BUTLER Esqre
late of this Parish
who Died Decr 12, 1712
Aged 61
Here also lyes the Body of
Mrs MARTHA BUTLER
His wife who Died
the 5th of May 1739
Aged 85
123. On a large monument towards the east end of the recessed portion of the north wall of the churchyard is the following:
Near this place under a stone with his
name on it lye's interr'd the body of
Robert Woodcock Gent: who
was born at Upton near Glocester on
the 30th of September 1642
and departed this life at Chelsey
the 4th of April 1710
124. On a flat stone:
Sacred to the Memory of
John Christian Newman Gent
who died December 6th 1766 Aged 57 Years
Also William McCannon
grandson to the Above Aged 5 Months
Also Mrs. Ann Newman
who died November 25th 1796 Aged 72 Years
Another inscription to Patterson added to the above in 1820.
125. On a flat stone:
Mr Richard Doody
Died December 12, 1745
Aged 44 Years
Mr John [Glass]
Died November 11th 1763
aged 41 years
Mrs Mary Toole[y]
Died January 6th 1777
aged 56 years
126. Here rests
Mrs Mar .
. . . .
[w]ho died 16th Sepr
177[9]
In the . . Year of her Age
[E]LIZ[ABET]H ODDAM
. . . . of the above who departed
Aged.
127. On a flat stone:
[Miss] Esther Newsham
[died Novr 1756 Aged 6 years]
[Hannah Richards]
[died 16th 1758 Aged 4 years]
Also
[Mr] Richard [Newsham]
[of this parish]
[died March 17, 1760 Aged 42]
Also
[Mrs Richard Newsham]
[of this parish]
[died Decr 18th 1779 Aged 65 years]
128. On a table monument of stone. On the south side. The whole now almost illegible.
under this monument
in a vault erected by her father
lies the body of mrs sarah eyre late the
wife of mr
francis eyre and only child of mr innes of this town
she was a woman eminent in the practice of all moral
vertues and of a sweet and courteous disposition which
being heightened by a refin'd taste and improv'd by
universal reading render'd her amiable to everyone who knew her
the diffidence she had of her own merits plac'd her
amongst the most modest of her sex and her philosophic
turn of mind made the transition from life to death
very inconsiderable to her so that having liv'd without guile
she died without doubts beloved and lamented the 10 of
april 1756 in the 32 year of her age
And several lines entirely illegible.
129. On a flat stone:
In Memory of
Mrs ELIZABETH MASON
who departed this life
the 19th of June 1799
aged 50 years
I WAIT FOR THE LORD MY SOUL
DOTH WAIT AND IN HIS WORD
DO I HOPE psalm 130 verse 5
130. On a flat stone:
Here lyeth the Body of
Mrs Mary Lowe
Wife of Mr Humphrey Lowe
of this Parish who Departed
this Life July the 30th 1750
Aged 51 Years
Also the Body of
Mr Humphrey Lowe
Husband of the said Mary Lowe
who Departed this Life the
Twenty first day of April 1751
Aged fifty three Years
131. On a flat stone:
In Memory of
Mr JOHN STICKNEY Carpenr
Late of this Parish
Departed this Life
May the 16th 1756
in the 55th Year of his Age
Also Hannah his Widow
Died ye 3d Day of February
1763 Aged 73 Years
132. On a headstone:
in memory
of
mrs jane owen
the beloved wife of
mr William owen
who died May 13th 1774
aged 60 years
also the above named
mr William owen
of this parish
died February 25. 1776
aged 82 years
And later inscriptions.
133. On a headstone:
To the Memory of
Mr James Tulloh
of Turnham Green
Who departed this Life
Novr the 6th 1796
(Aged 63 Years)
Not wearied out through length of days
Nor lingering Pains nor dire disease
But in the House of God at Prayer
He unto Death fell a Victim there
A victim for who could withstand
His fatal Dart and Stern command
Hence Reader learne prepar'd to be
Least unawares Death seize on thee
This stone was erected by his disconsolate widow.
Note.—Inscription now entirely illegible.
On a flat stone at the back of the last:
In Memory of
Mrs Ann Tulloh
who died June 13th 1782
Aged 49 years
Also the Body of
Mrs Elizth Tibetts
who departed this life ye 22nd Nov
Aged 67 Years
Also the Body of
Mr James Tulloh of Turnham
Green who departed this Life on
the sixth day of November
[In Cheswick Church]
[During Divine Service]
in the [year of our] Lord 1796
[Aged 63 Years]
134. On a flat stone:
Here lyeth Interred ye Body of
William Francis who departed this
Life ye 18th day of February in ye 80th Yeare
Of his Age Anno Dom:
17[25] ? 6
Nere this place also lyes Interred two Wifes
Of ye sayed William Francis
Viz Honour who dyed ye 15th of May
1695 Aged 50 Years
Also Elizabeth who dyed
September 1719 Aged 54 Y[ears]
135. On a flat stone raised on a stone curb, to the memory of Charles Lafield
Also of
ELIZABETH his wife
Who died 24th September 1795
Aged 38 Years
136. On a flat stone:
Here lieth the Body of
Mr Samuel Duffield
late of this PARISH
Died 21st of April 1772
Aged 52 years
Here Lyeth Interr'd the Body
of Mrs Barbara Morris late
Wife of Mr Benjamin Morris
who departed this life ye 2d of
February 172¾ Aged 27 Years
Here lyeth the Body of
Mr WILLIAM SWINDELL
late of Knightsbridge Brewer
departed this life 18th of May 1742
Aged 44 Years
Also the Body of
Mrs ANN SWINDELL
Wife of the abovesaid who dyed
december 30th 1742 in the 52nd Year
of her Age
In Memory of
Samuel Duffield son of
Thomas and Ann Duffield
of St George's Bloomsbury
who departed this life
June 24th 1765
Aged 5 years and 11 months
Also
to the Memory of
The above Mrs Anne Duffield
who departed this life
May 14th 1798
Aged 82 Years
Also
to the Memory of
The above Mr Thos Duffield
who departed this life
March 5th 1800
Aged 75 Years
[Sacre]d to the Memory of
Mr John Gaskell
who died Dec 3d 1778
Aged 29
141. On a flat stone:
Here Lyeth the Body of Mr
IOHN HERGEST of
St Martins in the Fields who
Departed this Life the tenth
Day of June Anno Domini
1721 in the fortie fifth
year of his age.
142. On a table monument surrounded with iron rails:
Sacred to the Memory of Samuel Rush
The only Son of Samuel and Henrietta
Maria Rush of BROMPTON in the
COUNTY of MIDDX who after a
Painful struggle for many years with ill
Health departed this Life 9th April 1799
in the 15th Year of his Age
The pious and manly virtues of his mind
the softer graces of innocence and youth
and the truly excellent disposition of a heart
improved into the highest sense of filial duty
and affection; and which by nature seemed
to be born for all that was good and amiable
have made his loss to his fond and afflicted
parents, who were long the partners of his pains
and sufferings, irreparable and who with
his relatives and friends for ever will lament him
In resignation in grief and affliction his sorrowing
parents now pay this tribute to his honoured
memory as the last sad proof of their
piety and parental love
Also to Samuel Rush 1820.
143. On a flat stone defaced three parts down:
Mr [Samuel Gil]bert
Di[ed March 11 1780
Aged . . . Years]
Also Iane Iennings
Wife of the above Sam. Gilbirt
Died Nov 26 1793 Aged 59
144. On a flat stone, partly defaced, against the wall:
[Here lyeth] the Body of
[Mary Cade Daug]hter of
[Mr Luke and Elizabeth] Cade
[of this Parish Died March 21st] 1784
[in the 23d year of her] Age
[also Mrs Elizabeth] Cade
[Wife of Mr Luke Cade]
[She died June 22d 1800]
[Aged 80 years]
And others after 1800.
145. On a flat stone now against the wall beside that of Cade and to the east of the Rush table monument.
In Memory of
Mr Stephen Wheeler Jacob
CITIZEN and VINTNER of LONDON
late of this Parish
Died October 28th 1784
Aged 37 years
Also Mrs. Mary Jacob, 1821.
146. On a flat stone: Here lyeth ye Body of
Mr Iohn hodge of St
Clements danes Who
Departed this life ye 2d of
April ann Dom, 170[3]
In ye 58 year of his age
Also underneath this stone Lyeth the
Body of Mr Iohn Oder of [this Parish]
who Departed this Life the 29[th of May]
1732 in the 57th Year of his [Age]
147. On a flat stone: Here lies the Body
of Mrs Ann Bunce
Wife of Mr Thomas Bunce
of this Parish who departed
this life March 13th 1793
Aged 30 years
. . . . . . . . .
. . . Rachel Bunce Wife of
. . . Thomas Bunce who died at
[Marylebon] June . . . 1801
Aged [35 years]
148. A headstone, mostly illegible, now thrown down on its face.
149. A flat stone partly illegible. Thos: Jones, and Mrs. Anne Jones.
150. On a flat stone:
In [Memory of]
Mrs Mary Page [Widow of the]
late Captain Page . . . in His
[MAJES]TYS R[egi]ment of
Dragoon G[uards w]ho died
[March 26th] 1781 in the 62d Year
of her Age
151. On a flat stone:
In Memory of
Mrs Sarah Howell
who died November 2nd 1798
Aged 45 Years
And others later than 1800.
152. On a flat stone:
[b]ody of
[Joseph Coo]kson
of this PARISH
who dep[arte]d this life
Aged 54 Years
Also of . . . . Mary Cookson
Wife of the above Died
May the 4th 1773 Aged 66
. . . Mr George Cookson
Ormond House Paradise Row
July 29th 1791 Aged Sixty one
. to the above Joseph Cookson
153. On a flat stone:
In Memory of
Mr Robert Tate of this Parish
Died the 6th of Janry 1780
Aged 47 years
Also
Mr Samuel Sutton who was
Born in the Parish of Penshurst in
Kent March 24 17–6
Died in this Parish March 1st 1706
Remainder illegible.
154. On a flat stone-with a coat of Arms defaced:
[Here lies Interred
Mr Alexander Reid & Frances his Wife
He died November 3d 1735 Aged 40
She died May 12, 1743 Aged 60
Likewise
Six of their Children
Mr. George Reid died July 25th 1745 Aged . . .
Mr John Reid died May 5th 1755 Aged 33]
Emanuel and Iames
Henrietta and Ithamar
Died Infants
Also
Mr Thomas Reid
who Died Novr 19 1778 in his 50th year
155. Against the north wall of the Church is an oblong tablet with sarcophagus-shaped wings on which are inscribed a skull and crossbones surmounted by an hour-glass.
Here lyeth the Body of Mrs Joanna Rhodes
the wife of Christopher Rhodes Esqre and
Daughter of Sir Oliver Boteller Bart of Teston
in Kent She died May ye . . 1757 aged 74
Reader
The Hour approaches
and Thou Heedest it not
the Fatal Moment steals on apace
and Thou regardest it not
Yet a little while and Thou also
Shall descend to the Mansion of . . .
And mingle with the . . .
Wouldst thou be happy
Be Virtuous
. . . . . and
Follow . . . . .
156. On a flat stone:
In Memory of
Mrs MARGARET Wife of
Mr THOMAS ROWLEY
CARPENTER of this PARISH
Died January ye 30th 1781
Aged 48 Years
[To this Sad Stone Whoere thou art draw near
Here lies the friend Most lov'd the Wife most dear
Who neer knew Joy but friendship might divide
Or gave her husband Grief but when she died]
157. A flat stone, illegible except a date 1771 and a name Parkins of a date about 1810, followed by other inscriptions.
158. On a flat stone:
In Memory of
Mr John Gyles
late of this PARISH
BARGE BUILDER
Died January 17th 1783
Aged 69 Years
Also of Mrs Rebecca Gyles
Wife of the above died February
[the] 10th] 1793 Aged 72 [Y]ears
And others after 1800.
159. On a flat stone:
Here Lieth the Body of Mr John Mann
of this Parish who Died December ye 10th
1728 Aged 65 years
Also the Body of Henry Mann son
Who Died May ye 31, 1743 Aged 44 Years
Also [8] More of their Children
who Died in their Infancy
Also the Body of Mrs Sarah Mann
Wife of the Abovesaid John Mann
who Died April ye 24th 1755
Aged [84] Years
Also 6 of their Grand Children
who Died in their Infancy
Also here lyeth the Body of
Elizabeth Mary Daughter of
the Abovesaid John and Sarah Mann
who died August ye 13, 1759 Aged 25 Years
Also lieth the Body of John Mann
Grandson of the above John Mann
Died May 19, 1763 Aged 5 years
Also Here lieth the Body of
Mr John Mann son of the Above
John and Sarah Mann who died
April the 7th 1774
Aged 62 Years
Also the Body of Mrs Sarah Mann
Widow of the above died 25t Octr 1801
Aged 59 years
160. A table monument, not decipherable. Part of the name appears on the North side: Capt: Samuel S . . .
161. On a table monument of stone:
In this [Vault] lie the Bodies of
Mr Anthony Bromwich
of the PARISH of ST CLEMENTS DANES
[who died Sepr 15th 1692 Aged 84 years]
And ANN Wife of
Mr George Bromwich
who died Decemr 15th 1694 Aged 52 years
Also Mr George Bromwich
[Clerk of the Check to the Messengers
eldest son of]
Mr Anthony Bromwich
who died March [15th 1691 Aged 51 years]
Also Mr Anthony Bromwich [Junior]
Apothecary [and CITIZEN OF LONDON
who died Decemr 18th 1697 Aged 52 years
Also Mr Tho Bromwich
of this Parish son of]
Mr [Anthony Bromwich Senior]
who died [August 5th 1710 Aged 63 years]
A[nd Elizabeth] W[ife of]
Mr Thomas [Bromwich]
Daughter of Mr [Saml Smith]
[of this PARISH]
who died April [15th 1714 Aged 47 years]
On the South Side (all illegible):
In this vault lie the Bodies of
Mr Robert Abbott
of this Parish
who died October 1st 1727
Aged 77 years
Mrs Ann Abbott
and Daughter of
Mr Tho: and Elizabeth Bromwh
died Novr 7th 1720
Aged 59 years
Also two Reids after 1813.
On the North Side (all illegible):
In the Vault lie the Bodies of
Mr Thomas Abbott
of this Parish
who died February 5, 1773
Aged 64 years
And Mrs Jane Abbott
wife of Mr Thomas Abbott
who died April 26th 1765
Aged 56 years
162. On a headstone: partly illegible:
IN MEMORY OF
Mrs ELIZABETH GROVE
who died august the 1st 1791
aged 29 years . . .
ELIZA DAUGHTER OF THE ABOVE
died august 8th 1791 aged 3 weeks
Remainder after 1800
163. On a flat stone:
Egerton Evans son of
Richard Evans Esqr and
his wife Diana (of the
Paryh of Chelsea) born
the 25th day of January
1714 and departed this
life the [15th of Mar 1714/13
Aged seven weeks
Richard Evans
second son Died on
the 27 of August
1717 aged 12 days]
164. On a headstone against the wall:
In Memory of
Mrs Mary Rattray
who died August the 14th 178[6]
Aged 38 Years
Also David Rattray after 1800
165. Munden (illegible).
166. A large monument in Portland stone to Sir Hans Sloane, Bt., standing in the S.E. corner of the churchyard. This consists of a pedestal with moulded cornice and plinth having enriched inscription panels on the north and south faces and carved on the east and west with heraldic emblems. On the pedestal is a large funeral urn carved with serpents beneath a canopy supported by four semicircular arches springing from four square angle columns. The spandrils above the arches are carved, and round the whole there runs an unbroken entablature of Doric detail. The monument is finished above with a flat pyramidal stone.
On the East side are the following arms: Gules, a sword in pale, point down, argent, hilt and pommel or between two boars' heads cut off at the neck, or, on a chief ermine a lion passant gules between two mascles sable. On an escutcheon of pretence quarterly, 1 & 4, argent a cockatrice sable (Langley), 2 & 3, argent, on a bend vert three wolves' heads erased argent (Middleton).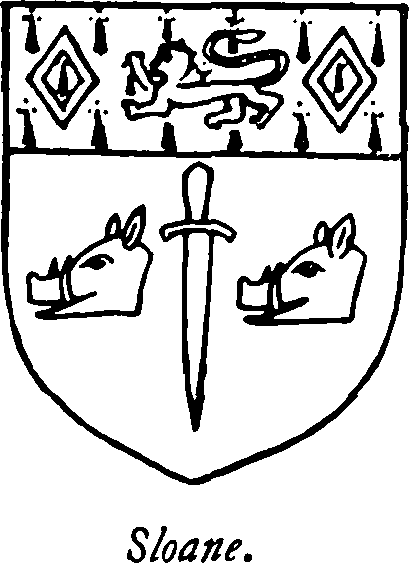 The inscriptions are:
On the north face:
Here lies interred
Elizabeth Lady Sloane
wife of Sir Hans Sloane Bart
who departed this life
in the year of our Lord 1724
and the 67 of her age
On the south face:
To the memory of
SIR HANS SLOANE BART
President of the Royal Society,
and of the College of Physicians,
who in the year of our Lord 1753,
the 92d of his age
without the least pain of body
and with a conscious serenity of mind.
ended a virtuous and beneficent life.
This monument was erected
by his two daughters
eliza cadogan and sarah stanley
167. On a flat stone:
Under this stone lies the Body [of]
Mrs Martha Bates Wife of
Mr Joseph Bates of this Parish
Died 9th November 1757
and their son Mr Thomas Bates
Died November the 21 1791
Aged 56 Years
And others after 1800.
168. A headstone against the East Wall of the Chancel:
SUSANNA
late Wife of
Mr Jehu Howell
of this Parish
Died October 23 1776
Aged 61 Years
Also Mr Jehu Howell
Husband of the above
Died Octr 5th 1787
Aged 81 Years
169. A portion of a stone adjoining the latter to the south, name illegible.
170. (fn. 1) A long, narrow stone to the south of the above:
[Here also] lyeth the Body of Robert Churchil
Son of Andrew and Margaret Churchil Who
Departed this life the [19th day of . . 1738]
In the 2[9th] Year of his Age
171. (fn. 1) A similar but smaller stone to the South of the above:
also the body of
Mr Andrew Churchil
and Margaret his
wife he died august
the 5th 1734 aged 62
years she died feb
the 3d 1732 aged 59
years
172. A flat stone broken in several pieces:
Underneath this stone
is Interr'd the Body of
Mrs Mary Berwick
Wife of
Mr B . . . . . . .
On an adjoining fragment:
. . . year of her . . . .
. . . . above named
. . Berwick
. . Jany 13th 1778
. . 80 Years
On a very small fragment:
[BER]WIC[K]
173. On a flat stone:
To the memory
of
Mr JOHN PRICE
of this parish
who departed this lifev the 30th day of June 1785
aged 75 years
he was an affectionate husband
an indulgent father,
and a truly honest worthy man
also
to the memory
of
Mrs MARGARET PRICE
relict of the above
who departed this life
the 15th day of september 1791
aged 76 years
who was a sincere christian
an exemplary wife
and a most tender mother
174. On a flat stone:
In the adjoining Grave
are deposited the Remains of
Mr John Collins
late of this Parish
who died 17th August 1761
Aged 46 Years
Also the Remains of
Mrs Elizabeth Collins
Relict of the above
Mr John Collins
who died 24th October 1787
Aged 74 Years
Likewife in the adjoining Grave
are deposited the Remains of
Mr John Collins
son of the above
John and Elizabeth Collins
who died 13th October 1789
Aged 42 Years
Also in the adjoining Grave
are deposited the Remains of
Mrs Sarah Collins
Relict of the above
Mr John Collins
who died 17th January 1798
Aged 52 years
And two more after 1800.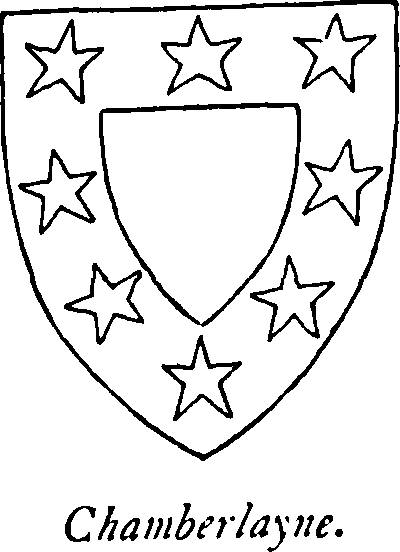 175. On a large stone tablet with a shaped head against the S.W. corner of the nave, with two small brackets under:
1703
POSTERITATI
SACRUM
More MaIorum
Extra Urbis Pomœriæ
Iuxta Viam Publicam
In Tumulo Editiore
Heic Prope Inhumari Voluit
EDVARDUS CHAMBERLAYNE
Anglus Christicolâ Legum Doctor
Ex Antiqua Comitis Tanquervillae
Prosapia Normannica Oriundus
Oddingtoniæ Natus 1616
Glocestriæ Grammaticâ
Oxonil jurisprudentiâ
Londini Humanitate
Imbutus fuit
Per Galliam, Hispaniam, Italiam, Hungariam
Bohemian, utramque Germaniam, Daniam
Et Sueciam
Migravit
Susannam Clifford ex Equestri Familia Prognatā
In Matrimonium Duxit 1658
Novem Liberos genuit sex Libros composuit
Tandem 1703 in Terram Oblivionis
Semigravit
Benefaciendi universis etiam et posteris
A deo Studiosus fuit, ut secum Condi
[J]usserit Libros aliquot suos cerâ obvolutos
Serae forsan Posteritati aliquando profuturos
Abi Viator, facSimile
Deus te Servet incolumem
Hoc Monumentum
Non impune Temerandum
In Amoris Juxta ac mœroris Testimonium
Poni curavit
Gual. Harris
m.d.
Amicus. Amico
On the lower portion of the last tablet is the following:
Whereas the Abovementioned Edward Chamberlayne
Did Intend by deed or Will to Settle A certain
Annual sum upon this Parish for Charitable
Uses his Son John in duty to his will & respect
to his memory has given Ten Pounds per Ann
for Ever to pay for the instruction of five Poor
Children Natives of this parish in
the adjoyning Charity School
and apprenticing one of ye
Said Children yearly
176. On a small pedimented tablet on the west side of the south door:
Posteritate Sacrum
Hic Iuxta situs est Peregrinus Clifford
Chamberlayne Dux Marinus Filius natu
Maximus Edvardi Chamberlayne
Legum Doctoris
Natus fuit Hagae Comitis 20° Jan. 1660
Qui tum linguis scientiis liberalibus
Studio legum municipalium artibus
Pingendi, psallendi, digladiandi, modulandi
terra et regiones dimetiendi
Sed præ omnibus operam navigandi dedisset
Quattuor mundi plagas lustrasset, regi
Patriæ fideliter ac strenue contra Gallos
Et Indos meruisset. Heu praemature in
Terras oblivionis semigravit
6. novem. 1691.
Hoc monumentum non impune temerandum
Poni curavit mœrens Pater
Upon a strip of marble over the south door is the following inscription:
177. Hic juxta in conditorio deponitur EDVARDUS CHAMBERLAYNE
filius natu | minimus EDV. CHAM. L.L.Dris qui in scholâ westmon
postea in academ Oxon | deinde in col. Templi interioris lond: educatus,
tandem pro rege et patriâ contra gallos | per mare mereri maluit, ubi
per septennium vitam agens marinam tum demum | fatale pleuritide
intra quatriduum abreptus fuit optimæ spei iuvenis natus nono |
kal. Octob. mdclxix denatus pridie idus Maii: mdcxcviii
Hoc Monumentum poni curavit Pater moerens
On a small tablet with a pediment over and two small brackets under the tablet, on the east side of the south door:
178. P. S.
Hic Juxta in Conditorio iacet Anna
Edwardi Chamberlayne ll.d. filia Unica
Londini Nata xx° Ianuarii 1667
Quæ diu spreto connubio Magnaque
supra sexum et cetatem moliens
xxx° Iunii. 1690
Contra Francigenas Armis, habituque virili.
In rate flammifera sex horas sub duce fratre
Pugnavit dum virgo fuit dum casta virago
Heroum poterat stirpem generare marinam
Ni praematuris fatis abrepta fuisset
Redux ab istâ navali pugnâ ac post aliquot
menses nupta Joanni Spragg armigero
quocum vixit amantissime sesquiannum tandem
enixa filiam post paucos dies obiit
xxxo octobris 1691
hoc monumentum uxori charissimae nec non
pudicissimæ poni curavit maritus
Moestissimus
179. On another larger stone tablet near the S.E. corner, resembling No. 175:
near this place
in a vault belonging to
the Family lies interred
the body of Susanna
Chamberlayne late widow
of Dr Edward Chamberlayne
and only daughter of Richard
Clifford Esq descended from
the ancient and noble family
of the Cliffords lords of
Frampton in the County of
Glocester aged sixty nine years and
3 months She dyed the 17 of
December in the Year of our Lord
1703
180. Illegible.
181. Illegible.
182. A table monument of stone just to the east of No. 145 (the flat stone to Stephen Wheeler Jacob) almost illegible.
Robt: Chambers gives the following inscriptions:
On the slab at top:
Christopher Cratford
Gentleman
of the Parish of
St Giles in the Fields
buried here by
his own order
He dyed November the 8th
1782 Aged 82
On the south side:
Here lies ye Body of
Clayton Milborne Esqre
of ye Parish of St Giles in ye Fields
He died Sept 12 1726 æt: 47
Haueing Purchased ye ground
Whereon this Tomb is erected
Of this Parish for a Buryal
Place for ye above named
Christopher Cratford his
Uncle, Himself & Family
Anno 1702
Also the Body of
Clayton Milborne Esq
Eldest son of the aforesaid
Clayton Milborne
who died the 11th of June 1744
in the 28th year of his Age
Here Lieth the Body
Christopher Milborne Esqre
he departed this Life the 19th
of August 1802 Aged 87
At the east end:
Here lies also intered
the Body of
Ann Milborne
the Wife of
Christr Milborne Esqre
who departed this Life
the 2nd of August 1707
Aged 60 Years