Pages 238-246
Survey of London: Volumes 33 and 34, St Anne Soho. Originally published by London County Council, London, 1966.
This free content was digitised by double rekeying and sponsored by English Heritage. All rights reserved.
Meard Street
Only the eastern, wider part of Meard Street, containing Nos. 1–7 (odd) and Nos. 2–6 (even), was built on the Pitt estate, that to the west being built on the Pulteney estate (fig. 51 on page 208). In both parts, however, the building leases were made to the same lessee, John Meard, the younger, carpenter, and the whole is therefore described here (Plate 116, figs. 60–66).
Both parts were erected approximately on the sites of existing seventeenth-century courts, which opened off Dean Street and Wardour Street but did not communicate with each other.
The western part was by ten years the first to be built. The leases of the sites on the south side, now Nos. 9–23 (odd), and of the roadway, were dated 3 December 1722 and ran for sixty-one years from Michaelmas 1720. They were granted by William Pulteney of St. Martin in the Fields, esquire. (fn. 2) Those of sites on the north side, now Nos. 8–20 (even), were dated 23 March 1722/3; the term for which they ran is not known. The lessor was John Pulteney of St. James's, esquire. (fn. 3) In all leases Meard was described as carpenter and citizen of London.
The houses in this western part, called Meard's Court, were built and occupied in 1722. Like the earlier court they replaced, they formed a culde-sac off Wardour Street. The north and south ranges terminated approximately at the present eastern boundaries of Nos. 12 and 13, where the court was closed by a house occupying the present roadway between Nos. 10 and 11. (fn. 4) Behind this house, occupying the present roadway between Nos. 8 and 9, was the small northeastern extremity of Meard's carpenter's yard, the greater part of which lay south of Meard Street and was approached by the former No. 64 Wardour Street (fig. 51 on page 208). This yard, fronting to Milk Alley (later Little Dean Street and now Bourchier Street), and the sites of Nos. 60–74 and 76–78 (even) Wardour Street, were leased to Meard at the same time. (fn. 5)
This western part of Meard Street was about eighteen feet wide before the north side was rebuilt and set back in c. 1907–10.
East of this lay in 1722 the seventeenthcentury Dean's Court, opening off Dean Street, on the Pitt estate. About this time Strype called it 'a pretty neat and cleanly Place, not large, but indifferent well inhabited'. (fn. 6) When redevelopment became possible here in 1731 this court was pulled down, (fn. 7) and Meard, now described as an 'esquire', of St. Anne's, was granted the leases for the rebuilding: these were dated in March 1731/2 and ran for a longer term than his Pulteney leases (see table on page 252). On this part Meard built in 1732, contemporaneously with Nos. 67–70 (consec.) Dean Street, seven houses fronting a short, comparatively broad street, about thirty-eight feet wide, known as Meard's Street. (fn. 7) The name, and date of building, are inscribed on tablets on the return fronts of Nos. 68 and 69 Dean Street (fig. 60).
Being possessed of leases of the whole, Meard pulled down the ten-years-old house closing the east end of Meard's Court, and made a through way. On the street frontages thus newly created at the east end of the Pulteney estate Meard built in 1733 Nos. 8 and 10 on the north and Nos. 9 and 11 on the south, (fn. 7) conforming to the narrow street-width of the earlier part (fig. 51 on page 208). So far as the surviving Nos. 9 and 11 indicate, he adhered also to the smaller scale of the earlier houses, but gave the new houses the more elaborate doorcases of those on the Pitt estate (fig. 65).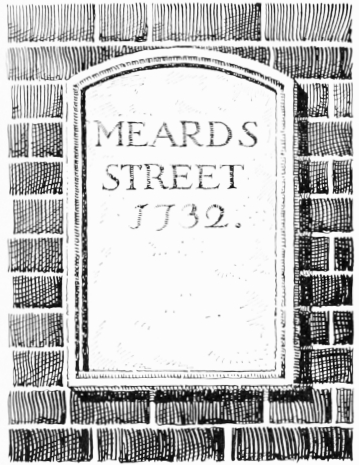 These doorcases of 1732–3 are virtually identical with those which had been set up, doubtless by Meard, at Nos. 48–58 (even) Broadwick Street, St. James's, in 1722–3, (fn. 8) but it may be noted that in the humbler part of Meard Street that was actually contemporary with Broadwick Street a simpler type of doorcase had been thought to suffice (fig. 66).
Meard completed his development of the compact piece of property north of Milk Alley when he obtained in June 1733 a building lease from Michaelmas 1734 of the site of Nos. 65 and 66 Dean Street and some houses in the alley. This was from a third landowner, the Duchess of Portland. (fn. 9) He rebuilt these houses at about the same time as Nos. 67–70 Dean Street. (fn. 7)
Meard was evidently a man of some substance He was the son of an elder John Meard, also a carpenter. The latter had been employed on the parish watch-house in 1687–8, (fn. 10) and was perhaps responsible for building in the Wardour Street area, south of St. Anne's Court, where he owned fourteen houses and where part of the present Flaxman Court bore the name Meard's Passage or Yard. When he made his will, in August 1717, the elder Meard himself lived in Swan Yard (now part of Flaxman Court), and also owned a house in Old Compton Street, and four in St. Giles's parish. He described himself, however, as of Chiswick, and mentioned both freehold and manorial property there. His will was proved in October 1719. (fn. 11)
His son, the builder of Meard Street, was described as of St. James's in 1710, (fn. 12) when he was probably concerned in the erection of houses in Great Marlborough Street. (fn. 13) His work in Broadwick Street in the same parish in 1722–3 has been mentioned. He was no doubt the John Meard who was carpenter at many of the Fifty New Churches, (fn. 14) and in Soho he erected (and possibly designed) the spire added to St. Anne's church tower in 1718. He was active as a builder elsewhere in the parish. (fn. 1) His advancement from 'carpenter' to 'esquire' in title-deeds between 1722 and 1732 has been noticed. He was latterly a justice of the peace. In his will of 1742/3 he described himself as of Greenwich, esquire, and as a freeman of the City of London. He was dead by April 1746. (fn. 15) One of his sons was a clergyman, of Luddesdown, Kent, (fn. 16) and a grandson was George James, the portrait painter, who lived at No. 73 Dean Street from 1763 to 1779. (fn. 17)
Meard had been a member of the St. Anne's Select Vestry, and, if the evidence produced in 1742 by the enemies of that body is sound, had abused his position to obtain relief from rates for himself or his tenants. A former overseer of the poor testified before the House of Commons that in at least 1734 and 1735 'Justice Meard' had paid no rates: 'his Method was, to shuffle from one House to another of different Rent, so that they never knew how to charge him'. Meard's steward or agent acknowledged that the house he himself lived in and three others belonging to Meard were excused parish rates. (fn. 18) The ratebooks seem to confirm that from 1733 to about 1738 the eastern houses were mostly occupied by unnamed tenants and that the rates were often not paid.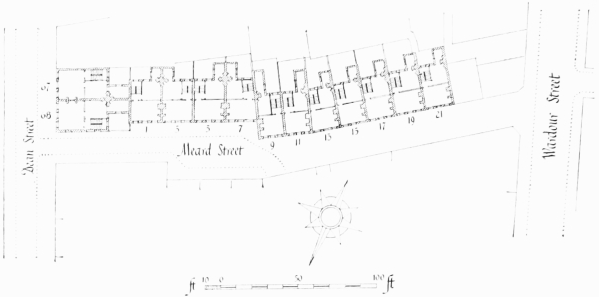 Occupants
For the first occupants of Nos. 1–7 (odd) and 2–6 (even) see the table on page 252. Other occupants of houses which survive include:
South Side
No. 1. Burkat Shudi (Burckhardt Tschudi), harpsichord-maker, (fn. 19) 1738–42; Westminster Female Penitent Asylum, 1840–7. (fn. 20)
No. 3. Rev. Richard Terrick, later Bishop of London, 1739–42.
No. 9. First occupant, Mrs. White, 1733–5. Batty Langley, the architectural writer, was assessed for rates at No. 9 in 1739–40 and 1742–5 (in succession to Elizabeth Langley in 1738). In 1741 his brother, Thomas, an engraver, was assessed. They were carrying on their business as surveyors and designers of buildings and gardens here in 1740 (fn. 21) and 1742. (fn. 22) (In the former year Thomas also advertised that he taught architecture and drawing to 'young gentlemen'). (fn. 21) For much of this time the rates were not paid and the collector noted 'out of town' or 'in ye country or gone away'.
From 1745 an Ann Langley appears as ratepayer at the former No. 20 Meard Street, until 1748. Batty Langley then appears at that house (again mostly as a non-payer) in 1749 and 1750. He gave his address in Meard Street in 1746 (fn. 23) and 1748, (fn. 24) while works of his published in 1747 (fn. 23) and 1748 (fn. 25) were said to have been printed for Archimedes Langley in Meard Street.
Elizabeth Flint, 'generally slut and drunkard; occasionally whore and thief' had a furnished room here at No. 9 Meard Street in 1758 at 5s. per week. It was probably in reference to this house that Johnson observed, 'Bet … had, however, genteel lodgings, a spinnet on which she played, and a boy that walked before her chair'. (fn. 26)
No. 11. First occupant, Wyriott Ormond, 1733–4; Abraham Browne 'one of his Majesty's and of the Queen's Band, and First Violin at Ranelagh', (fn. 27) 1755–70; Francis, John, and John N. Sartorius, painters, 1775–6. (fn. 28)
No. 13. First occupant, Dr. Blackly, 1722.
No. 15. First occupant, Thomas Tubman, 1723–5.
No. 17. First occupant, Edmund Paine, ? watchmaker, (fn. 29) 1722–44.
No. 19. First occupant, John George, 1722–7.
No. 21. First occupant, Francis Allard, 1722–8.
North Side
No. 2. John Shebbeare, political writer, 1754–76.
No. 6. Rev. M. M. Merrick, Lecturer of St. Anne's, (fn. 30) 1763–82; James Jefferys, painter, and Thomas Hearne, painter, in 1783. (fn. 31)
Occupants of houses which no longer survive include:
North Side
No. 8. First occupant, 'ten.', 1733; Richard Collett, 1736.
No. 10. First occupant, Stephen Tanpier, 1734–54.
No. 12. First occupant, John Bowring, 1722–33.
No. 14. First occupant, Peter Barboult, 1722–5.
No. 16. First occupant, Charles Ponthieu, 1723–6;
John Fabian, enamel and miniature painter, 'at Mr. Tacet's' in 1763. (fn. 32)
No. 18. First occupant, John Christopher Schmidt, friend of Handel and father of (John) Christopher Smith, musician (1712–95), (fn. 33) 1723–47.
No. 20. First occupant, Mr. Barbo (? Barbault), 1722–4; Batty Langley, 1746?–1750 (see No. 9 above); François A. D. Philidor, chess-player and composer, in 1753. (fn. 34)
South Side
No. 23. First occupant, Hensham Eaglesham, 1722–5.
House closing east end of Meard's Court, built 1722, demolished 1731: 'Mr. Vanderbanck', 1722–3. ? John Vanderbank, portrait painter.
Salem Chapel
Demolished
In 1824 Salem Chapel was built behind Nos. 8 and 10 for the Rev. John Stevens and a congregation of Particular Baptists, who removed thither from the chapel in Duke of York Street, St. James's: (fn. 35) they had previously, until 1813, worshipped in Grafton Street, Soho (fn. 36) (see page 373). The site was Crown freehold and the Land Revenues officials consulted the Bishop of London, William Howley, before granting a lease. He thought 'the propriety of granting a lease of ground belonging to the Crown for the erection of a place of worship for a body of Dissenters is very questionable'. A lease was, however, granted to the builders, Burstall and Burgess of St. Martin's Lane, (fn. 37) and the chapel was opened on 19 September 1824. In 1848 it was said to hold 1,000 persons and to have cost (with the galleries by then erected) £4,000. Stevens died in 1847. (fn. 36) Salem Chapel continued here until 1878. (fn. 38) The Bloomsbury Chapel Baptist Mission (previously in Moor Street) was located here from 1886 until 1907, when it was replaced by the garage built behind Royalty Mansions. (fn. 39)
The interior of the chapel is shown on page 61 of Two Centuries of Soho (1898).
Architectural Description of Nos. 1–21 (odd) and 2–6 (even) Meard Street
Nos. 1, 3, 5 and 7 (Plate 116b, fig. 62) form a terrace of four single-fronted houses of 1732, planned in pairs with mirrored arrangements so that the doorways of Nos. 3 and 5 are conjoined. Each house contains a basement and four storeys, No. 5 alone having an added garret. The plan is that of the conventional terrace house, with a passage-hall and a dog-legged staircase at the side of a large front and a smaller back room with a closet opening off the latter, the closet-wing being only three storeys high.
The four-storeyed fronts are quite uniform, all the houses having, in their upper storeys, three evenly spaced windows. Wide piers occur between Nos. 1 and 3, and 5 and 7, where the chimney-stacks are paired in the party walls. The ground storey of each house has been faced with stucco, mock-jointed to resemble stone, and at first-floor sill level is a plain stucco bandcourse, perhaps covering one of red brick. The upper storeys are faced with brown stock bricks, red brick being used for the jambs and gauged flat arches of the window-openings, which have stone sills and contain moulded box-frames, slightly recessed. The double-hung sashes are evidently mid-Victorian, each being divided by a single vertical glazing-bar.
The most interesting and elaborate feature of each house (as of Nos. 9 and 11) is the wooden doorcase (fig. 65), which, as has been said, is virtually identical with those at Nos. 48–58 Broadwick Street, St. James's. The tall straightheaded opening, containing a door and an oblong fanlight, is framed by a wide moulded architrave. This is flanked by narrow pilasterstrips with panelled shafts, and upright scrollconsoles boldly carved with acanthus leaves. These consoles support the cornice-hood, of which only the bed-mouldings are broken back between the heads of the consoles and the central tablet, with its raised-and-fielded panel, which breaks like a keyblock through the plain frieze and the head of the architrave.
Nos. 1, 5 and 7 retain the original front-area railings, the standard-finials taking the form of tall-necked urns.
The south side is continued westwards by the contemporary pair of houses, Nos. 9 and 11, which have their fronts nearly parallel with, but advanced some feet in front of the building line of Nos. 1–7, giving No. 9 an east-facing return frontage (Plate 116c). The plans, mirrored so that the doorways adjoin, show an interior arrangement similar to that of Nos. 1–7. The rooms in No. 7 are distorted because the party wall with No. 9 lies parallel with those of the earlier terrace of houses on the west, where the frontage changes alignment and inclines more sharply south-west (fig. 61). Nos. 9 and 11 are narrower than Nos. 1–7, they each contain a basement and three storeys with a garret in the mansard roof, and the floor heights are lower. Both houses are three windows wide, but at No. 9 the easterly window in each upper storey is blind, and there is a narrow window in the return frontage. A simple Victorian shop front fills the ground storey of No. 9, but No. 11 is reasonably unaltered. The wooden doorcase (fig. 65), with acanthus scroll-consoles and a panelled frieze-tablet, and the windows, though smaller, are similar to those at Nos. 1–7. A plain bandcourse extends above the flat gauged arches of the first-floor windows, and the pink stock brickwork of the front is carried up to form a parapet, finished with a narrow coping of Stone. Each house has a five-light dormer window, probably an alteration, in the mansard roof.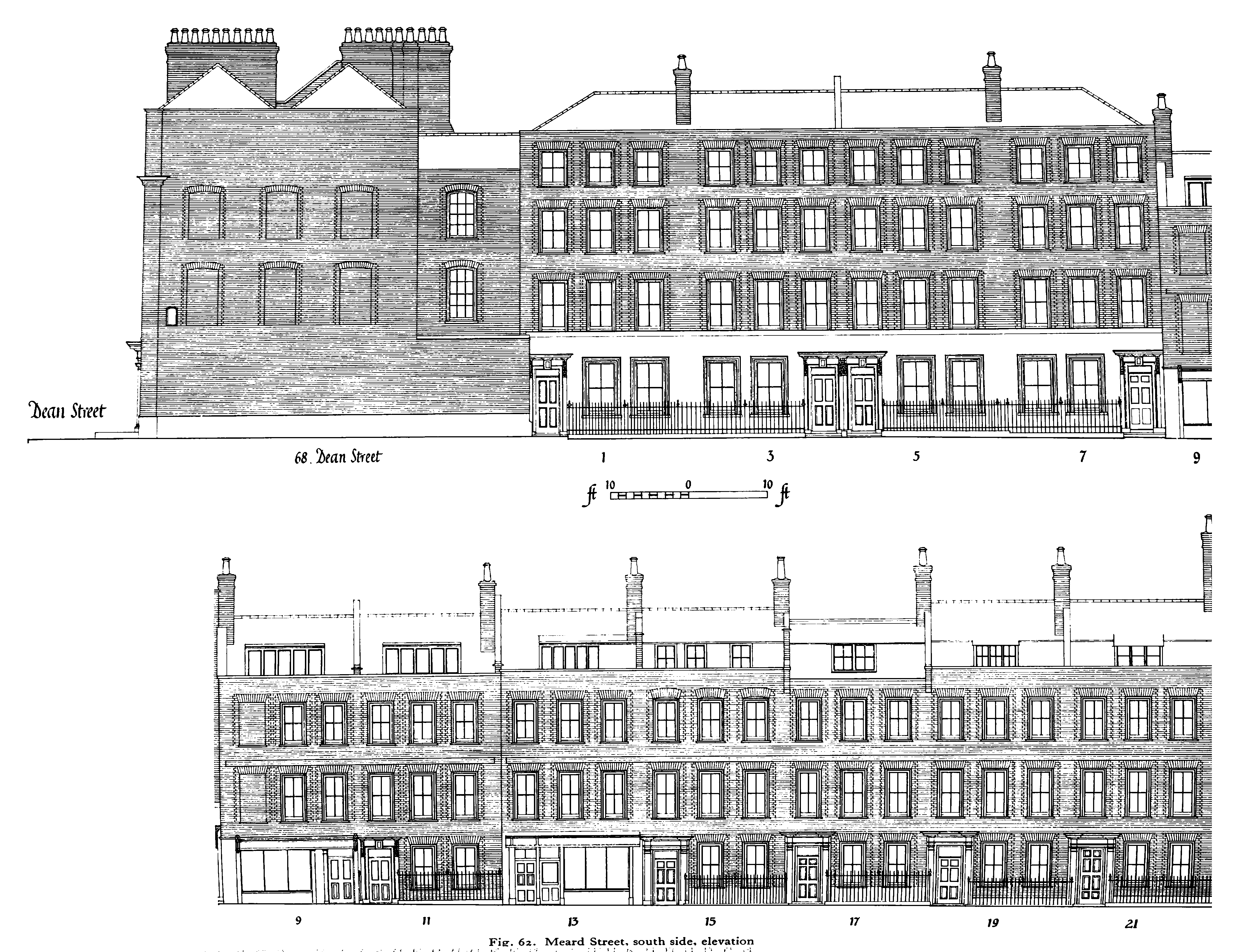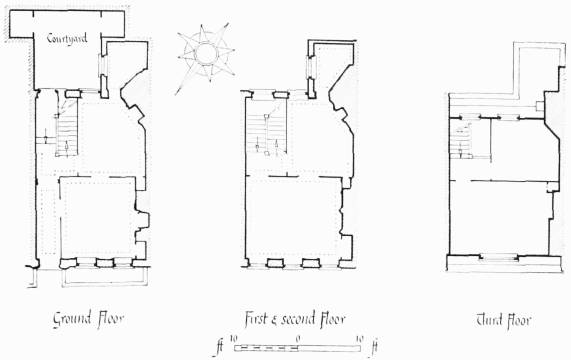 Nos. 13–21, five single-fronted houses of modest size built in 1722, complete the range of early eighteenth-century buildings on the south side. All five houses have the same plan, with the passage-hall and dog-legged staircase on the east, or left, side of the front and back rooms, the latter having an angle chimney-breast, as has the adjoining closet-wing (figs. 61, 63). The three-windows-wide fronts are generally similar to those of Nos. 9 and 11, except for the simpler design of the wooden doorcases (Plate 116c, 116d). Here, the moulded architrave framing the straightheaded opening is flanked by plain-shafted Doric pilasters, supporting an entablature that is returned and recessed above the head of the architrave. No. 21 has an eight-panelled front door, with small square panels at top and bottom, which probably represents the unaltered type of door used in most of these houses (fig. 66). Now, generally, there are six-panelled doors, the lower panels raised-and-fielded, and the upper panels glazed, below plain fanlights. The area-railings, where original, have obelisk-like finials and the standards have poppy-head urns. Three of the fronts are virtually unaltered, apart from the window sashes, but at No. 13 there is a plain shop front, probably mid-Victorian; at No. 15 the upper part has been rebuilt, the second-floor windows having segmental arches; and at No. 17 the plain parapet has been replaced with a brick cornice extending between corbelled stops. The dormer windows vary from house to house, and it is doubtful whether any one of them is original.
The north side probably resembled the south, with a western terrace of seven three-storeyed houses fronting the paved passage of Meard's Court, and an eastern group of three four-storeyed houses fronting to Meard's Street. These latter, Nos. 2, 4 and 6, of 1732, alone survive, with altered and partly rebuilt fronts of little interest (Plate 116a). The ground storey at No. 2 has been faced with stucco and the doorcase has gone, while at Nos. 4 and 6 there arc modern shop fronts embracing the house entrance.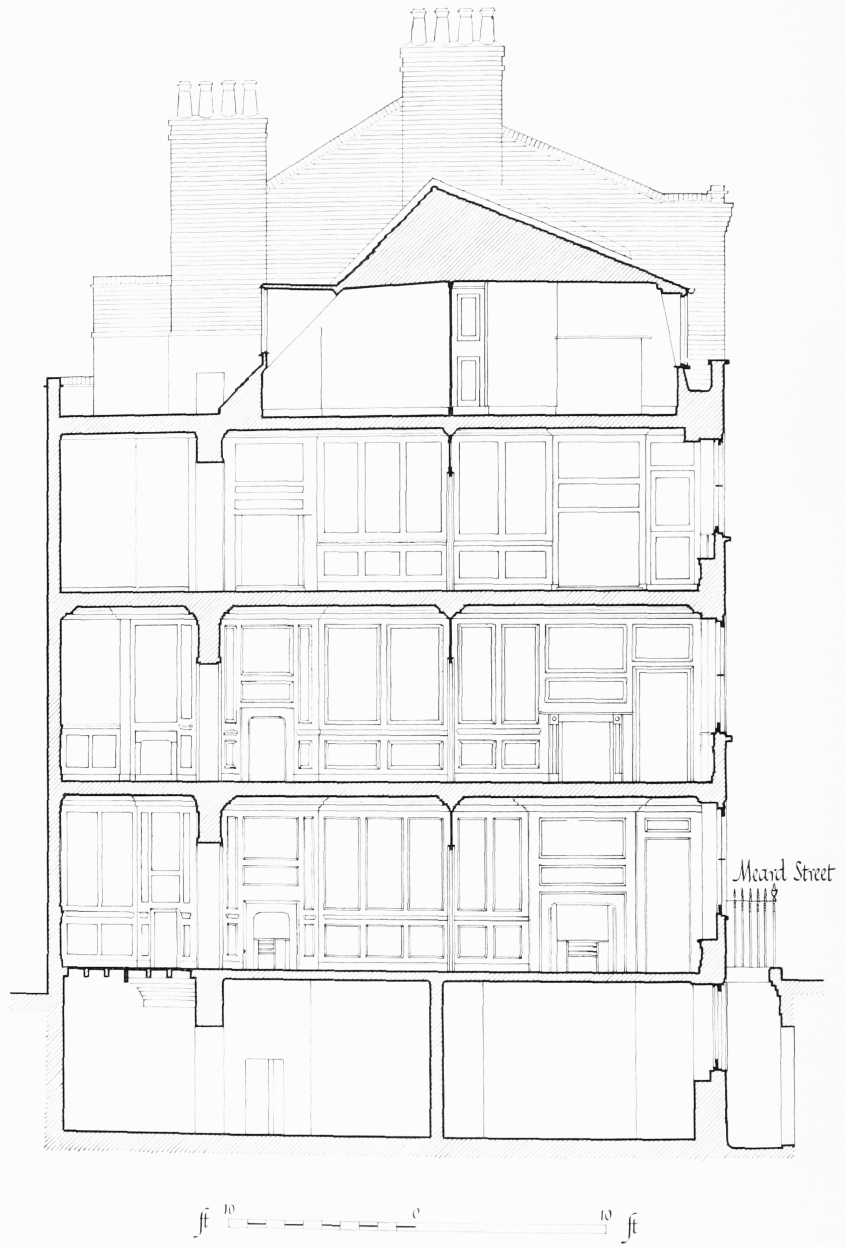 The standard of internal finish varies between the three surviving groups of houses. No. 21 is reasonably typical of the smaller and more cheaply finished buildings in the south-west range (fig. 64). The passage-hall is lined with plain panelling in two heights, set in unmoulded framing and finished with a moulded dado-rail and a box-cornice. Doric pilasters with panelled shafts, surmounted by moulded architraves and narrow plain friezes, dress the opening from the hall to the staircase compartment. The dog-legged stair has cut strings, ornamented with foliated scroll-brackets, as far as the half-landing above the first floor, and moulded closed strings to the basement and top flights. The balusters are standardized turnings, resembling Doric colonnettes on urn bases, and the newels are treated as plain-shafted Doric columns. The end walls of the compartment are panelled, the hack-room side is formed by the panelled partitioning, and the party-wall side is plastered above a panelled dado.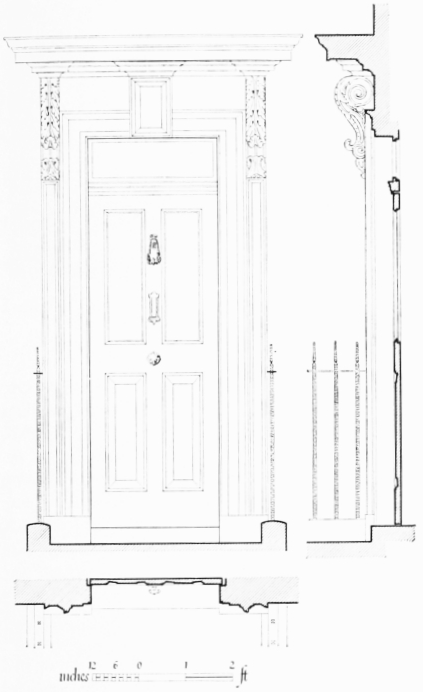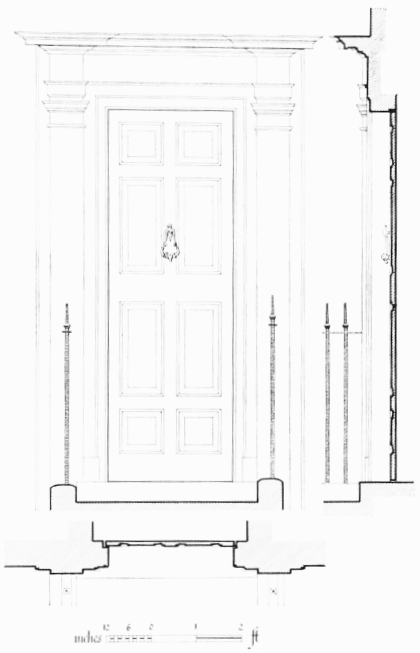 In both ground-floor rooms the wall panelling is plain and set in ovolo-moulded framing, but in the back closet the framing is unmoulded. Each chimney-breast has the usual arrangement of two horizontal panels, wide above narrow, and in the front room they are raised-and-fielded. Tall and narrow panels flank the horizontal panels on the wide splayed chimney-breast in the back room. The fireplaces are finished with typical early Georgian chimneypieces of marble or stone, consisting of jambs and a stilted lintel forming a wide flat architrave with quadrant-curved corners to the opening, moulded with a staff-bead on the inside and an ogee on the outside. Raised-and-fielded panels in ovolo-moulded framing, are used in the first-floor rooms. Plain panelling in unmoulded framing lines the second-floor rooms, and the first-floor closet. The doors, generally, are formed with two large panels.
At No. 7, which is probably typical of the south-east group of houses, the hall is lined with plain panelling in ovolo-moulded framing, the Doric pilasters to the staircase-opening have plain shafts, the doors generally arc six-panelled, and both ground- and first-floor rooms have raised-and-fielded panelling.
Nos. 2, 4 and 6, at the cast end of the north side, are finished internally in a superior style. Raised-and-fielded panelling is used throughout the ground and first floors, the front rooms being finished with dentilled box-cornices of generous girth. Centred in the back wall of the ground-floor front room at No. 4 is a wide recess, framed by an elliptical arch with an ovolomoulded archivolt, rising from plain-shafted Doric piers, apparently an original feature. The passage-halls are lined with raised-and-fielded panelling, and the Doric pilasters to the staircase-openings have fluted shafts and enriched capitals.