Pages 246-249
Survey of London: Volumes 33 and 34, St Anne Soho. Originally published by London County Council, London, 1966.
This free content was digitised by double rekeying and sponsored by English Heritage. All rights reserved.
Richmond Buildings
See the table on page 254.
This cul-de-sac was built on the site of Cockpit Court, which Strype described in 1720 as 'a small Place, and of no Account, either for Inhabitants or Buildings; which Buildings are but of one Side.' Richmond Buildings was begun in 1732, the date inscribed on tablets on the return faces of No. 80 Dean Street (fig. 67) and of No. 80B Dean Street. (fn. 1) The houses were first assessed for rates in 1734–5 (Plate 117a, fig. 68).
The builder, Thomas Richmond, was a carpenter, although in his will he calls himself (as he is called in a number of leases) citizen and wax chandler. (fn. 2) If his concern in that trade was ever more than nominal it probably ceased at an early date, as he figures actively in important building undertakings inside and outside the parish. In 1716–18, when he was described as of St. Giles in the Fields, he was concerned in building on the Pulteney estate in Soho (see page 290). In 1720–3 he worked at sites in St. James's, where he was then living. (fn. 3) In the later 1720's he took building sites in Grosvenor Square (see page 222) and elsewhere in St. George's, Hanover Square (probably including Maddox Street). (fn. 4) By 1726 he lived in St. Anne's, (fn. 5) being churchwarden in 1727–8. (fn. 6) On the Pitt estate he evidently played an important role (see pages 209, 221, 228), and he also took building leases elsewhere in the parish. He died in 1739. There is nothing in his will to suggest that he left a very extensive estate. (fn. 2) (fn. c1) A son Thomas was probably a plumber. (fn. 7)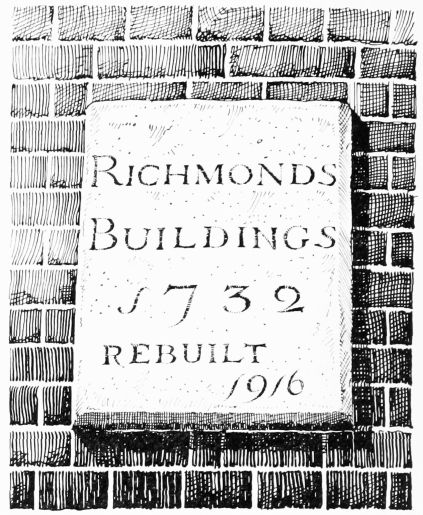 In its early years Richmond Buildings was respectably inhabited, although in 1756 a note by the rate collector in the parish books, opposite the entry for the former No. 9, reads: 'Mr Makepeace speaks very abruptly concerning poor Wm lying at ye dore'. By 1833 most of the houses on the north side and two on the south had workshops in the garret storey. (fn. 8)
Occupants
For the first occupants see the table on page 254. Later occupants included:
No. 2. The Rev. John Horne Tooke, politician. According to Tooke's biographer, he 'hired and furnished' a house in Richmond Buildings in c. 1780 and remained there, with his two illegitimate daughters, until his removal to Wimbledon in 1792. (fn. 9) Tooke occurs in the ratebooks, however, only in the period 1788–95, at No. 2. The preceding ratepayer was Catherine Baker and the succeeding Charles Pritchard.
In c. 1804–19 George Samuel, probably the landscape painter, lived here. (fn. 10)
No. 3. Abraham Pether, landscape painter, 1790– 1791. (fn. 11)
No. 10 (demolished). Daniel Layard, physician, 1751.
No. 11 (demolished). John Stanley, ? musician, 1735–9.
No. 13 (demolished). James Forbes, sixteenth Lord Forbes, 1747; Miss Lightfoot, 1779–99.
Architectural Description
The south side of Richmond Buildings has been rebuilt, but the houses there were probably similar in all respects to the single-fronted houses (Nos. 1–6 consec.) of medium size and conventional plan forming a generally uniform terrace on the north side (Plate 117a, fig. 68). Each house contains a basement and three storeys within the front, and a garret in the mansard roof. The plans are mirrored so that the doorways of Nos. 2 and 3, and 4 and 5 are paired. The fronts, each three windows wide, are faced with yellow stock bricks, the window-openings having stone sills, plastered reveals, and flat arches of gauged red brick. There is a raised bandcourse at ground-floor level and a moulded cornice of stone or stuccoed brick extends across all the fronts immediately above the flat arches of the first-floor windows. The face of the top storey is carried up to form a plain parapet, finished with a narrow coping of stone. Each house has a different arrangement of dormer windows, but No. 4 appears to be original with three sashed lights centred over the windows in the front elevation. The doorways vary in treatment from house to house, No. 1 having a door of eight raised-and-fielded panels recessed in a wooden doorcase consisting of a wide moulded architrave flanked by narrow recessed jambs, with moulded scroll-consoles supporting a cornice-hood. The doorcase at No. 2 is similar but the opening is taller, with a fanlight above the eight-panelled door, and the hood is now unmoulded. The doorway at No. 3 is taller still, and the casing consists of a moulded architrave, plain narrow frieze, and cornice. The other houses have altered or modern doorcases of no interest. At positions corresponding to the alternate party walls with chimney-stacks there are handsome rainwater-heads of semi-circular plan and entablature profile. The area-railings, where original, are of simple obelisk-headed type, the standards having finials like tall-necked urns.
The interiors are planned on conventional lines, with a passage-hall leading past the front room to a dog-legged staircase at the side of the back room. This last has an angle chimneybreast, and a door opening to a closet-wing. The general standard of internal finish is good, all the rooms being panelled in deal. Throughout the ground and first floors the panelling is raised-and-fielded, in ovolo-moulded framing, the front rooms and hall being finished with a dentilled box-cornice. The doors, generally, are six-panelled and framed in wide moulded architraves. In some of the houses fluted Doric pilasters dress the opening from the passage to the stair compartment. Up to the half-landing above the first floor, the staircases have cut strings ornamented with carved bracket step-ends, the newels are formed as Doric plain-shafted columns, and the balusters, two to a tread, are turned as Doric colonnettes above square neckings and urn bases. The top and basement flights have closed moulded strings and simpler balusters.