Pages 412-418
Survey of London: Volumes 43 and 44, Poplar, Blackwall and Isle of Dogs. Originally published by London County Council, London, 1994.
This free content was digitised by double rekeying and sponsored by English Heritage. All rights reserved.
Robert Batson's Estate
Covering a little over six acres, extending from the river to Dolphin Lane, Batson's estate was the first part of Millwall to be systematically laid out for building.
The land was bought in 1793 for £750 by Robert Batson, senior, the Limehouse shipbuilder, from Ann Whitaker of Loughton Hall, Essex. (fn. 2) She was a niece of William Lea, whose family had owned it since at least 1710, when a small portion was let for building a windmill. (fn. 3) The mill was the only building and the land was used for grazing, until 1800, when part of the site was laid out as a rope-ground by John Lyney of Limehouse on a 21-year lease. (fn. 4) The freehold of the rope-ground was sold in 1810 to George Joad and Edward Spencer Curling, esquires, of Blackheath. (fn. 5)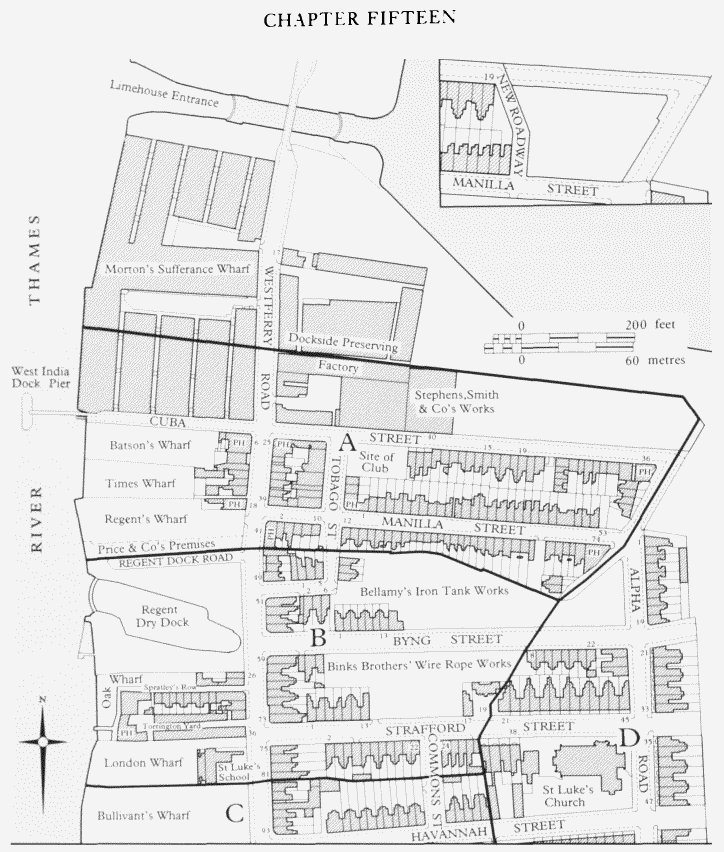 Cuba, Manilla and Tobago Streets and Westferry Road (east side between Cuba and Manilla Streets)
Robert Batson, junior, who inherited the estate in 1806, laid out two principal streets in 1807: Robert Street (following the southern boundary of the rope-ground) and Alfred Street, in 1875 renamed Cuba Street and Manilla Street respectively. They were linked by Marsh Street (merged with George Street and renamed Tobago Street in 1876).
The ground south of Cuba Street was parcelled into freehold building plots, mostly 15ft by 60ft, and costing £30 or £35. (fn. 1) The greater part of the south side of Manilla Street was soon built up, the developers including William Rattenbury, a shipwright of Limehouse Hole, Thomas Seaborne, a Limehouse carpenter, and Edward Gant, a yeoman of Millwall. About a half of the north side of the street had been built up by 1817, but only a few houses had appeared in Robert Street, and a few more on the east side of Marsh Street. At least half the plots on the estate sold intermittently for 40 years, some remaining long vacant and changing hands before building took place. Few were sold singly; pairs or blocks of five being the commonest purchases. The buyers, many of whom were from Limehouse, ranged from labourers and artisans to merchants and gentlemen. They included George Goldring, surveyor, of Limehouse, Sir Charles Price, and Thomas Fossey of Batson's Wharf. A number acted as each other's trustees in their respective conveyances, and it is reasonable to assume that most came from the same social and business circles, some no doubt being associates or employees of the Batsons. In 1808 Robert sold 40 plots to his younger brother Alfred, but 12 years later Alfred sold 17, still vacant, back to Robert. Many plots remained unbuilt upon when Robert Batson died in 1839, leaving the remainder of the estate to Alfred, but by the late 1860s building was nearly complete. (fn. 6)
Because of the long-drawn-out building process, Cuba Street, Manilla Street and Tobago Street evolved only a ragged uniformity. The houses were plain and mean: two-up, two-down, terraced cottages with narrow roundarched doorways, mostly built to the edge of the pavement (Plate 80c , d ). Rear extensions were built on to some houses only after many years, and as late as the First World War several houses still had no kitchen, scullery or wash-house. There were two developments of tiny dwellings at right angles to the street: Escott Cottages of about 1840, built by William Escott, a local waterman, later publican, and Wildman's Cottages (see below). Other lots were occupied by sheds or stables. (fn. 7)
By the 1890s Tobago Street north of Manilla Street had lost most of its residential character of 30 years earlier. The west side of the street was occupied by nondescript industrial and commercial buildings, some of which remain. In the twentieth century industry continued to make inroads into the housing throughout the former estate, but only in the most half-hearted manner. By the 1900s, and probably long before, most of the houses, which were let entire to weekly tenants, were in poor condition. The Prince Alfred beerhouse, No. 22 Tobago Street, was rebuilt in 1906 for Truman, Hanbury, Buxton & Company (architect B. J. Capell). The remains of the ground-floor front of brown glazed brick still stand, partly enclosing industrial premises. (fn. 8)
Much clearance took place in the 1930s, on the initiative of Poplar Borough Council, and the PLA acquired and closed the eastern end of Cuba Street, demolishing the houses there and on the north side of Manilla Street, in connection with improvements to the South West India Dock. A new roadway linking the streets was made in 1938–9. (fn. 9) By the Second World War both Cuba Street and Manilla Street had become predominantly industrial. A number of cleared sites were acquired by local firms for extensions to their premises, including Thompson & Son (Millwall) Ltd of Cuba Street, hydraulic engineers, J. Bellamy Ltd of Byng Street, tank manufacturers, and Wallis & Company of Tobago Street, sheet-metal workers. Most of the remaining houses were closed in the 1960s and a few have stood derelict since then.
Nos 31 and 33 Westferry Road (demolished). These were built in 1813 by George Goldring, surveyor, who also laid out a timber-yard on the ground to the south. Both were very plain two-storey buildings of one bay. In its original state No. 33 was square, and probably comprised only two rooms. The street door opened on to a side passage giving access to the parlour, back stairs and yard door. No. 31 was deeper and probably had a two-up, two-down, arrangement. Both houses had been extended by the late 1860s and may have been largely rebuilt (Plate 80b ). (fn. 10) They were demolished c1993.
No. 25 Westferry Road, The Blacksmith's Arms. The beershop at No. 25 was rebuilt as the Blacksmith's Arms public house in 1904, a somewhat more decorative building than the nondescript beerhouses which abounded locally before the Second World War (Plate 80b). It was designed by B. J. Capell of Whitechapel Road for Truman, Hanbury, Buxton & Company, and built by Sheffield Brothers of Islington. (fn. 11)
Later History of Joad & Curling's Ropeworks, No. 40 Cuba Street (demolished). About 1860 the ropeworks was occupied by the newly incorporated Telegraph Cable Company Ltd. Wire-rope and cables were manufactured at the works by a succession of companies until the mid-1880s. The western part of the site, fronting Westferry Road, then became the Royal Iron Works of Messrs Whitford & Company, replacing premises of the same name in Commercial Road. Various one— and two— storey workshops and stores were erected. Whitfords' products included iron churches, bridges, staircases, tomb railings, verandas, fireproof floors and lightning conductors. In 1910 the works were sold to C. & E. Morton Ltd and rebuilt as part of the Dockside Preserving Factory, to the designs of the architects Parr & Son (Plate 80a). Brick built, with concrete floors and a steel-trussed roof, it was used for fruit and general storage on the ground floor, with offices and laboratories on the first floor and a jam factory on the top floor. (fn. 12)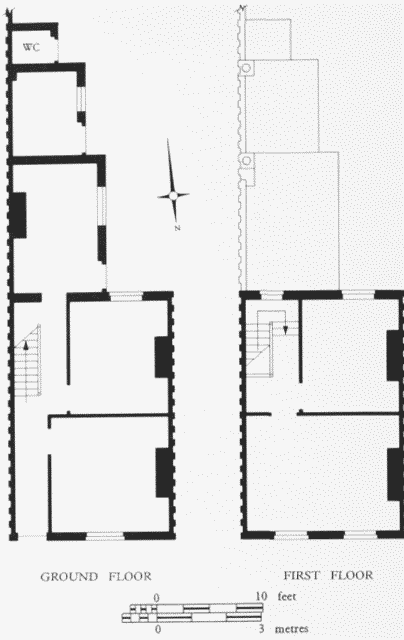 Next to the Royal Iron Works, in 1887 Stephens, Smith & Company took a 63-year lease of No. 40 Cuba Street, which then comprised several old sheds, part of the ropeworks. These were soon replaced by a brick-built factory with a lofty skylighted roof (Plate 80a). The new building was erected by Lewin of Millwall, builders, to the designs of the local architects J. & S. F. Clarkson. The business had been founded in 1875 by John Stephens, a marine engineer, in Cuba Street. The original premises — workshops and stables around a yard — remained in use by Stephens, Smith until about 1900, when the site was acquired for the Millwall Working Men's Club and Institute. The works at No. 40, meanwhile, were occupied by J. G. Statter & Company, electrical engineers, an associated company. (fn. 13)
Stephens, Smith's activities by 1929 included the manufacture and repair of small cranes, hoists, goods lifts, dinner-service lifts, paint mixers, conveyors and elevators, electrical separators for the mining industry, light-steel constructional work such as hoppers and staircases, and the annealing and testing of gas cylinders and chain. In the past products had included electric trams, locomotives and launches. Stephens, Smith & Company ceased to trade in 1969, by which time the Cuba Street works were in the occupation of another engineering company. For many years part of the building was sublet to a succession of firms, including F. F. Scott & Sons, shipping butchers and meat packers, who installed refrigeration plant in the early 1920s. Among the later occupiers was the Le Bas Tube Company, formerly of Cyclops Works, Westferry Road. The building, disused by the late 1980s, was demolished in 1990. (fn. 14)
Nos 15–19 (consec) Cuba Street. These date from the 1860s (Plate 80c). Apart from their greater height, comparatively large rear additions and absence of external window-shutters, there was little to distinguish them from their now-demolished early nineteenth-century neighbours.
No. 16 (No. 10 Robert Street until 1875 and No. 11 Cuba Street until 1910) is the last house in the street to be occupied as a home (fig. 156). It stands on one of a pair of plots sold in 1813 by Alfred Batson to Thomas Fleetwood Willats, shipwright, of Limehouse. The ground was not built up until about 1868, when Joseph Willats, a shipwright living a few doors away, sold it to James Green, a boiler-maker. Green lived first at the present No. 16, then at No. 18. He was probably the builder of Nos 15, 16, 18 and 19, which he left to his children, together with a house in Manilla Street, when he died in 1875.
In 1902 No. 16 was sold by Green's daughter, then married to a mercantile clerk and living in Leytonstone, to a pier-head man of Byng Street. Sold for £257 to a licensed waterman of Mellish Street in 1907, it was probably let on weekly tenancies until the mid-1920s, when it was bought by a bricklayer's labourer for his family home. (fn. 15)
Wildman's Cottages and the 'Dock House' Beerhouse, Nos 35 and 36 Cuba Street (demolished). In 1828 two plots at the east end of Cuba Street, running east to west with skew frontages to Dolphin Lane, were sold by Robert Batson to Robert Wildman, a labourer. By 1853, when he mortgaged them to a local publican, Wildman was living in one of a pair of cottages he had built there. The mortgage was taken over in 1854 by Ralph Price of Price's oil works, for whom Wildman was probably working: he was night-watchman at Price's in 1870, when he gave the cottages to his son-in-law, James Beach, an oil distiller, probably another of Price's employees. With a mortgage from the Industrial Permanent Benefit Building Society, Beach enlarged and amalgamated the cottages, turning part into a coffee shop. A few years later Edward Beach, a builder from Chelsea, covered the remainder of the site with an intended public house, built on a 99year lease from James, with finance from the West London Permanent Benefit Building Society. The Dock House had three floors and cellars, with bars, kitchen and parlour on the ground floor and three rooms on each of the upper floors, including accommodation for lodgers. (fn. 16)
The whole property, including the beerhouse lease, was sold by the mortgagees in 1884. For some years the Dock House was owned by the licensee of the City Arms, Westferry Road, but was later taken over by West's Brewery Ltd. The PLA acquired both freehold and leasehold in 1918–19, but the building remained open. A night-club of sorts was held there in its latter years. It was demolished about 1937.
The Millwall Working Men's Club and Institute, No. 1 Cuba Street. The premises of the Millwall Working Men's Club and Institute, designed by William Bradford and built by Truman Stevens of South Molton Street, were opened on 2 March 1901 by Sydney Buxton, the MP for Poplar (fig. 157). Although the fact was kept quiet at the time, the whole cost of about £6,000 had been met by Stansfeld & Company Ltd of the Swan Brewery, Fulham, who let the building to the club on a succession of short leases. Stansfelds owned pubs throughout London, but none in Poplar. (fn. 17) Brewers' involvement in working men's clubs was then a controversial issue. The Working Men's Club and Institute Union had long abandoned its early opposition to alcohol in clubs, but was opposed to any form of tie with brewers. The Isle of Dogs Progressive Club based in Cubitt Town, of which the Millwall club was an offshoot, was briefly expelled from the Union in 1901 because of its links with Stansfelds. (fn. 18)
Bradford had designed the Swan Brewery 20 years earlier. For the Millwall club he produced a sober-looking building, solidly constructed of brick, with granolithic staircases. The ground floor comprised a games room with three full-sized billiard tables and two bagatelle tables, a bar, and rooms for the secretary and doorman. On the first floor was a concert room seating 500, with a stage, dressing rooms and lavatories. (fn. 19)
The club's finances had been poor for some time before it closed in August 1906. The building was used for warehousing in 1909; by the mid-1930s it was a graphite works called Eureka Mills. Subsequently it was used as a canteen by C. & E. Morton Ltd and as a neon-sign factory. In 1992 it was occupied by Takara Belmont (UK) Ltd, manufacturers of hairdressers' salon equipment. (fn. 20)
The North Pole Public House, No. 74 Manilla Street. The North Pole occupies four house plots fronting Dolphin Lane, which were originally sold by Robert Batson in 1808–9 but remained unbuilt upon. It was probably built as a beerhouse in the 1860s. The present shop-front dates from 1913. (fn. 21)
The Riverside From c1812
Development of Batson's riverside land began on the formation of Westferry Road in 1812–15. Its main features were characteristic of much of riverside Millwall. It was piecemeal leasehold development with frequent change of use and ad hoc building and rebuilding, and there was always an uneasy relationship between the industrial and commercial premises fronting the river and the shops and beerhouses nearby. Although most of the old wharf names have been preserved, the complex pattern of nineteenth-century development has now disappeared more or less without trace.
Batson's and Times Wharves, and Nos 6–16 (even) Westferry Road (demolished)
In 1813 George Henn, a ship-chandler, built a beerhouse, later called the Waterman's or Watermen's Arms, No. 6 Westferry Road, on a 60–year lease on the corner of Robert Street. In 1815 Prows Broad, a boatbuilder, leased what was to become Batson's and Times Wharves, building a residence for himself next to the beerhouse and a boat-shop behind. (fn. 22)
A shop (later No. 12 Westferry Road), with a bakehouse at the back, was built between Broad's house and a cartway leading to the boat-shop. It was let in 1820 to a local grazier, George Guerrier: later the cartway was built over with another shop (No. 14 Westferry Road). The remaining narrow strip of Broad's land was leased in 1819 to Winnall Dalton, a Limehouse ship-chandler, who built a house there on the marsh wall. Dalton's house, of basement and two floors, survived into the twentieth century. (fn. 23)
By 1837 Broad had moved to Southwark, the boatshop was let annually and his old house had been divided into two. One half (later No. 10 Westferry Road) was an eating-house and the other (No. 8) was let to Thomas Fossey, a timber merchant, together with a large yard and a warehouse, sawpits and loft. This site, which became known as Batson's Wharf, has been occupied by timber merchants ever since. (fn. 24)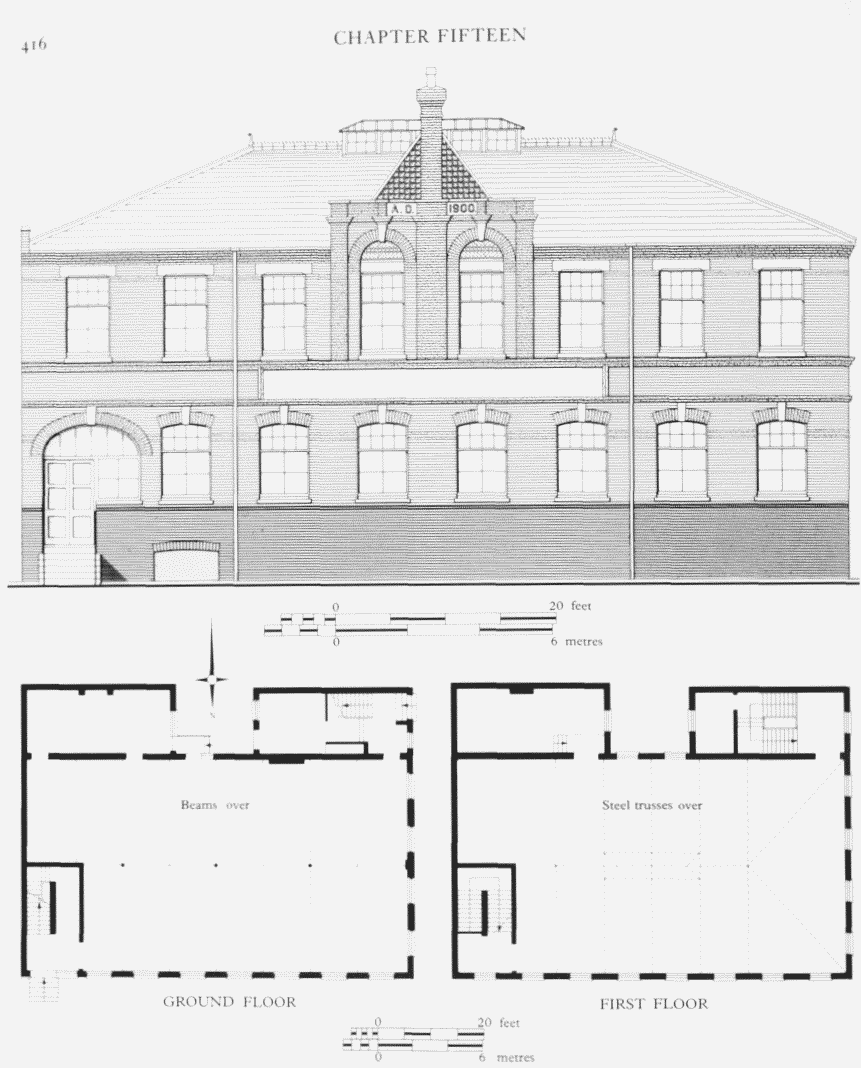 A portion of Dalton's strip was subsequently occupied by a house and shop, No. 16 Westferry Road. A jumble of outbuildings and yards at the rear of Nos 12–16 was approached by a path called Dawson's Court or Alley, after John Dawson, who had acquired Dalton's lease by 1837. Dawson was in business locally as a lighterman until the late 1850s. (fn. 25)
The greater part of Dalton's land and the site between it and Batson's Wharf were subsequently brought together as Times Wharf; the name was in use by the late 1850s. The name Northfield Wharf was also in use for a time in the mid-1860s, when 'No. 1 Millwall' (Batson's and Times Wharves) was occupied by the Northfield Iron & Steel Company Ltd. From the 1870s until the windingup of the concern in the early 1880s, Times Wharf was the manure works of Arnott Brothers & Company, chemical merchants and manufacturers, who also had premises in Liverpool. Thereafter Times Wharf was reunited with Batson's Wharf as part of John Lenanton's timber-yard (see below). In 1893 Batson's and Times Wharves were amalgamated with Regent Wharf to the south, when a lease of the whole site was granted to Lenanton (who nevertheless continued to sublet part of Regent Wharf until the 1920s). It was not until the 1930s that the expanding timber business finally swallowed up the premises along Westferry Road. (fn. 26)
Regent Wharf
The future Regent (or Regent's) Wharf was let on a 61year lease in 1818 to Thomas Noakes, esquire, of Poplar, and laid out as a timber-yard, with a residence on the marsh wall. At the north-east corner a smaller house was built, which became the Mechanic's Arms beerhouse, No. 18 Westferry Road. Noakes's house, of two floors and basement, comprised dining-room, drawing-room, library, counting-house, kitchens and two bedrooms. It was still standing in the 1920s. (fn. 27)
Regent Wharf (known for a time in the 1850s as Norway Wharf) remained a timber-yard, though not exclusively. In the early 1840s all or part of it was occupied by the British Iron Company, iron manufacturers. By 1853 a small three-storeyed foreman's house had been built at the road entrance, next to the Mechanic's Arms. (fn. 28)
In 1855 a two-storey timber-framed building was raised, incorporating some earlier structure, along the north side. In six bays, each with a steeply pitched double-span roof, it comprised a coach-house with an open upper floor, a weather-boarded stable and loft, and open-fronted sheds over a sawpit. The rear of the building was weather-boarded on the ground floor — partly over brick nogging — but was otherwise merely of open framing and bracing. The back and front gables were weatherboarded or covered in sheet iron. The ensemble, built in contravention of the Building Acts, was flimsy: 'the joists of the floor over the Sawpit Compartment sag under the weight of the sawed stuff set up upon it to season, and the Carpenter's work of the sides of the upper story and of the roof is of the slightest and frailest sort.' (fn. 29)
A timber-built warehouse, stable and cart-shed were subsequently erected along the south side of the yard. They were used as a fibre works in the 1870s by N. W. Chittenden & Company, who also had use of the wharf. Charles Price & Company, the oil refiners (see page 410), occupied the former fibre works from 1879, replacing the old sheds with a two-storey brick-built warehouse. Prices used the premises for storage of tallow, wax and oil until the early 1920s. After a time in the hands of a general wharfinger, they became part of Lenanton's timber wharves. (fn. 30)
Lenanton's Timber Wharves
John Lenanton took over Batson's Wharf in 1864 and Regent Wharf ten years later. By 1891 the firm of John Lenanton & Son was 'one of the largest in the metropolis, thoroughly representative of the old class of London timber merchants, with all the go-ahead spirit of the modern system'. (fn. 31)
Stocks held included teak and mahogany, English, American and Australian hardwoods and White Sea, Baltic and Quebec firs. Large quantities of logs and spars were kept floating in the river, and further stock was held at the commercial docks. The wharfside premises, served by a steam travelling-crane, were largely given over to highly mechanized sawmills and sheds for temporary storage or seasoning. Although wood for shipbuilding, including mast timber, was a speciality, Lenantons were also large suppliers to builders, contractors and timber merchants throughout the country. (fn. 32)
Most of the buildings — timber-built sheds of various dates — were destroyed by fire in 1900. (fn. 33)
By the 1930s Lenanton's wharves included the site of Regent Dry Dock (see below). Extensive modernization was carried out. Plant and machinery for timber-handling and milling was electrified, using a DC supply from steam-powered generating plant. The principal buildings were now open sheds of steel and reinforced-concrete construction. A new neo-Georgian-style office block was built in 1937. (fn. 34)
Because of the decline in Thames shipbuilding, less teak — used particularly for decking — was now held, and the firm specialized increasingly in softwoods. (fn. 35)
In the 1950s new concrete sheds were built, and extensive new plant, including vertical and horizontal log-sawing machines and an under-floor wood-refuse collecting system, was installed. The building construction was carried out by the firm's own employees. Further improvements included redecoration of the entire premises to a uniform colour-scheme with blue for machinery, terracotta for ancillary equipment and stone colour for walls. In 1954–6 the office block was enlarged and remodelled and a works canteen was built above the entrance from Westferry Road.
Expansion continued with the acquisition of London and Oak Wharves in 1958 and St Luke's School in 1971 (see below). A sheet-materials storage shed was built on the school site in 1973. The architects of the postwar buildings were H. G. Turner & Partners of Haywards Health. (fn. 36)
In 1986 outline planning permission for the residential development of Lenanton's wharves, but in 1994 Lenantons remained in occupation. (fn. 37)