Pages 452-462
Survey of London: Volumes 43 and 44, Poplar, Blackwall and Isle of Dogs. Originally published by London County Council, London, 1994.
This free content was digitised by double rekeying and sponsored by English Heritage. All rights reserved.
CHAPTER XVI - Southern Millwall
By the second quarter of the nineteenth century most of the southern part of Millwall remained undeveloped, with the wharves and works still concentrated in the northern part of the district. Yet by the 1860s southern Millwall had also been industrialized. The availability of large freehold sites on the Land of Promise estate made possible the establishment of a number of shipyards in this area. As the shipbuilding boom progressed, these yards were formed into a conglomerate and expanded to become the largest shipbuilding and ironworking establishment on the Isle of Dogs. As in northern Millwall, house-building came a poor second to industry, and much of the available ground for houses remained vacant throughout the nineteenth century. Today, the area retains some shipyard relics but little else of its industrial past, which included lead, chemical and food manufacture, has survived.
The Byng Estate in Southern Millwall
Despite its greater size, the southern of the two Byng estates has, in one respect, left a less significant mark on the topography of present-day Millwall than the northern one (fig. 168). As much of the estate east of Westferry Road was acquired for the Millwall Docks, no side streets were laid out on that side, while the remains of those on the riverside – three squalid dead-ends – will cease to exist with redevelopment. Nevertheless, it is here that some of the most substantial relics of Victorian Millwall survive: two churches and some terrace houses.
As elsewhere in Millwall, the earliest buildings were windmills. Three were erected between 1695 and 1717 (see page 382), but there was little further development on the estate until the late eighteenth century. By 1810 the northern end of the estate was unoccupied, but south of this were a shipyard and cottages, two remaining windmills, a barge-building yard, a shipwright's yard and a long strip of foreland used for timber storage. (fn. 2) Apart from some houses, most of the land east of Westferry Road was undeveloped when about half was acquired for the construction of the Millwall Docks in the 1860s. By then the riverside had been completely industrialized (Plates 69a, 74).
Industrial activities here during the nineteenth and twentieth centuries included engineering, oil refining, and the manufacture of paint, chemicals and cement. Wharfage, particularly of oil, became important in the twentieth century. By the 1960s manufacturing had largely given way to wharfage and warehousing. In 1994 most of the riverside had been redeveloped for housing.
The Riverside
Klein's Wharf (Fenner's Wharf), No. 122 Westferry Road
Now a textile depot with a collection of battered sheds and warehouses of various dates, this wharf was for about a century used for oil refining and paint manufacture. Nathaniel John Fenner and Henry James Fenner, tar merchants and refiners, took a 70-year lease of the site, previously a garden and paddock, in 1856. The principal building erected was a plain two-storey warehouse (fig. 169). In 1879, when it was used for storing dry colours, it was damaged by fire and was subsequently rebuilt in whole or part. By 1932, when it was let to a public wharfinger, it was known as the Town Warehouse. (fn. 3)
The present office block of E. Klein & Company stands on the site of a pair of seven-roomed houses (Nos 124 and 126 Westferry Road) built by the Fenners in 1856. (fn. 4)
Plans for the redevelopment of the site in connection with the existing business were the subject of some controversy in the late 1980s, as they clashed with the London Docklands Development Corporation's intention that the area should be used for housing. (fn. 5) In 1994 the wharf had not been redeveloped.
The London Felt Works
The site immediately south of Fenner's Wharf was developed in 1856 as Engert & Rolfe's London Felt Works, for the manufacture of asphalted roofing-felt and other felts, including sheathing for ships' hulls, and hair felt for insulation of pipes and boilers. The firm moved to Barchester Street, Bromley-by-Bow, when the site was acquired for the Millwall Dock Entrance a few years later. (fn. 6)
Pierhead Cottages (Nos 3–14 Pierhead) (demolished)
Pierhead Cottages were built in 1875, as much to provide a security presence at the Millwall Dock entrance as to accommodate dock company employees (Plate 83a). The easternmost cottage had a top room overlooking the docks and was probably occupied by the dockmaster, while the others went to the lock foreman and dock policemen. They were built by C. Lewis and J. Bostock to plans prepared by the dock company's engineer, F. E. Duckham. (fn. 7) The elevations, with ground-floor bay windows with ornamental cast-iron columns, were similar to much terrace housing of the period, but the houses varied in arrangement and accommodation. Nos 3–10 were demolished in 1954–5; the remaining four became derelict and were pulled down by the LDDC in 1986, after an abortive Housing Association refurbishment scheme. (fn. 8)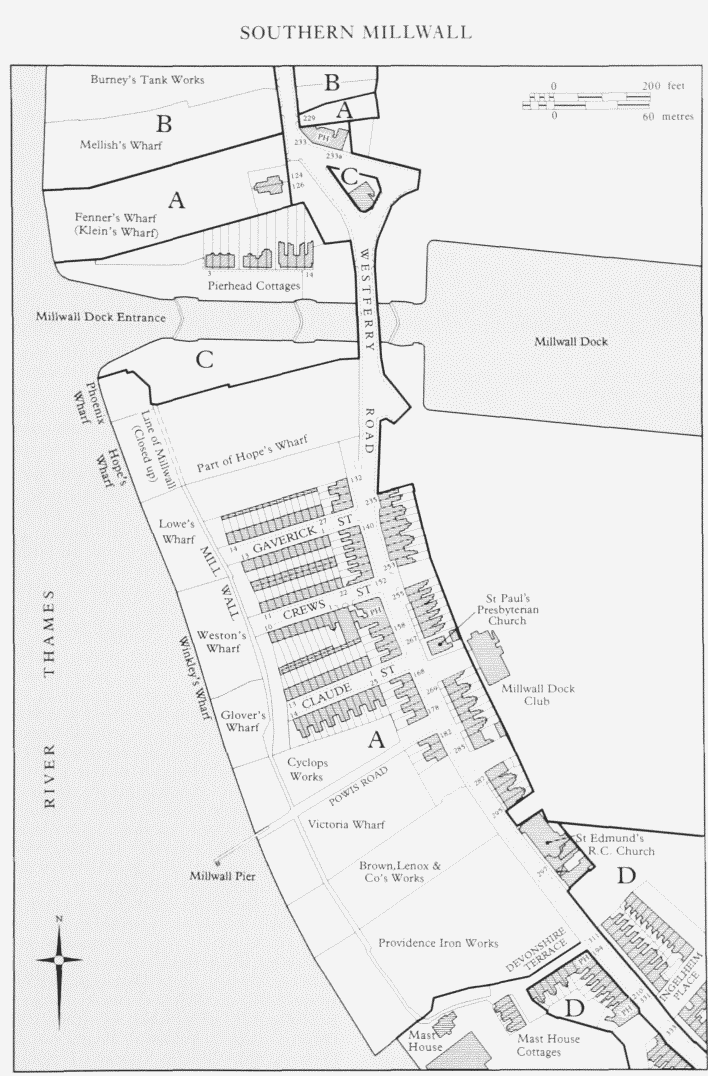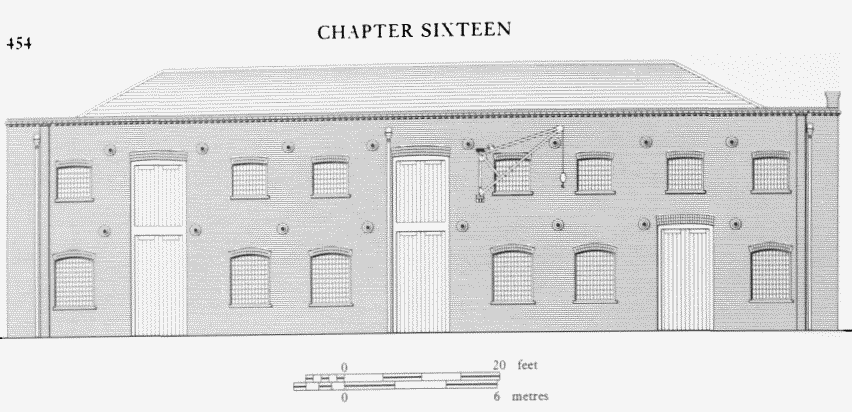 Paradise Row and the Wood Cottages (demolished)
Chinnall's mill, south of what is now Klein's Wharf, was occupied in the late eighteenth century by John Hart, miller, who obtained a 50-year lease of the site in 1795 (apparently contrary to the terms of the trust under which the estate was held). Hart built a row of cottages and a beerhouse, known as Hart's Row or Paradise Row, and a row of three timber-built dwellings, the Wood Cottages, on the marsh wall. In 1803 he sub-let part of the site to a ship-breaker. Hart's houses were taken on a short lease by a local publican in 1854 for letting at rack rents before being pulled down to make way for the Millwall Dock entrance. (fn. 9)
Jolliffe & Banks' Stoneyard
Jolliffe & Banks, whose main works were at Beaumont Wharf, Strand, probably laid out the stoneyard especially for their contract to rebuild London Bridge in 1824. James Elmes, Surveyor to the Port of London, described the premises simply as 'a large field'. (fn. 10). It was at Millwall that the stones for the bridge, roughly shaped at the quarries, were wrought; final dressing only being done on the construction site. The stones included some of the largest blocks ever delivered to London at that time. Here too the centring for the arches was prepared. (fn. 11) The stoneyard closed about 1838, and all or part of it was probably used c 1845–9 by the shipbuilder Henry Wimshurst. (fn. 12) (For the later history of the stoneyard site, see Phoenix Wharf and Lowe's Wharf, below.)
Phoenix Wharf
In 1853 Morewood & Rogers of Steel Yard Wharf, Upper Thames Street, took a 70-year lease of land south of Paradise Row for a galvanized-iron works. The L-shaped site extended from Westferry Road to a river frontage of 270ft. Only a few years later the site changed hands and became Maugham Brothers' Prince of Wales Scrap Iron Works. Several iron buildings, open sheds and two furnace chimneys were built in 1858–9, while a wood and corrugated-iron building, probably erected by Morewood & Rogers, was rebuilt on the site. (fn. 13)
In 1861 King & Riley took over the works, which they renamed the Phoenix Scrap Iron Works, producing scrapiron bars, T-iron, angle-iron, and patent rivets for boilermaking and shipbuilding. From 1862 until about 1870 the works were run by the Blackwall-based Thames Iron Works & Ship Building Company Ltd, and remained an ironworks until c1879, when the premises became the Phoenix Timber Preserving Works of Conner & Company, later of the General Timber Preserving Company (Blythe's Patents) Ltd. Blythe's patents related to methods of hardening and preserving railway sleepers and wood blocks, including pressure treatment with carburetted steam. (fn. 14)
From about 1883 the wharf was used by a succession of paint and chemical manufacturers. An Edinburghbased chemical company, A. B. Fleming & Company Ltd, which had premises nearby at what became Winkley's Wharf, acquired it in 1888, placing both its sites (each renamed Fleming's Wharf) under a new subsidiary, Fleming's Oil & Chemical Company Ltd, which produced paint, colours, varnish, oils, grease and naphthalene. Proprietary specialities included 'Camphylene' disinfectant and 'Mikado Moth Paper'. The north end of the wharf was occupied from c1900 to c1922 by Alexander Duckham & Company, (fn. 1) chemical manufacturers, under the old name of Phoenix Wharf. (fn. 16)
After Flemings was wound up in 1903, the wharf was occupied by a succession of oil, chemical and paint companies until the 1920s. A strip at the south end of the site occupied by H. E. Hope & Company, chemical manufacturers, from about 1905 to 1922, was known as Hope Wharf. (fn. 17) An ill-timed venture was that of the German-owned Sugar Fodder Company Ltd, which set up an animal feed factory on part of Hope Wharf in 1913. The company was wound up under the Trading with the Enemy Act (1916). (fn. 18)
In 1924 Hope Wharf was occupied by the local oil wharfingers Mark H. Winkley & Company, who in 1927 took over the disused former Phoenix Wharf, together with Duckham's old premises. They used Hope and Phoenix Wharf, as it was now called, for storing oils, petroleum jelly, grease, metals and rosin until 1930. (fn. 19)
The premises then comprised a yard, about a third of which was covered by dilapidated sheds built variously of brick, timber, corrugated iron and glass. Adding to the general air of malaise were a tall chimney standing out of plumb, a derelict water-tower and disused offices. (fn. 20) After a few years in the occupation of Snowdon & Sons of Lowe's Wharf, the site was cleared and the Millwall Estate flats were built there (see page 489). (fn. 21)
Lowe's Wharf, No. 130 Westferry Road
The name Lowe's Wharf dates from the 1880s, when the tar works set up in the late 1840s by E. E. Cassell were taken over by Charles Lowe & Company. After their departure around 1888, and a brief period in the hands of the Canning Town Glass Company Ltd, the premises were occupied by the Thames Soda Manufacturing Company Ltd, makers of washing soda. Thames Soda, a subsidiary of Snowdon, Sons & Company, oil merchants, was wound up in 1895, but Snowdons and their subsidiaries or associated companies continued to occupy Lowe's Wharf until after the Second World War, in connection with the manufacture of lubricating oil. (fn. 22) No very substantial or permanent buildings were erected on the site, which was cleared by the mid-1980s.
Winkley's Wharf
This came into being in the late nineteenth century as an amalgamation of old-established sites. About twothirds of the ground had been let in 1701 for building a windmill. Around 1805 the northern half of the mill ground had become a shipwright's yard, the site to the north being laid out for barge-building. (fn. 23)
The barge-yard was taken over in the mid-1830s by James Weston for a cement and plaster works, which remained in operation until c1890. Weston, who also had wharves in Blackfriars and Westminster, produced a range of goods, including Roman, lias and mastic cements, and, from 1851, Portland cement. The works, later run by Messrs Hale & Cooper, expanded southwards, covering the old shipwright's yard. (fn. 24)
The remaining southern part of the mill ground became covered by an agglomeration of buildings, gathered round the remains of Theobald's Mill. Most were sheds and warehouses used as a resin, tar and oil works. By the side of the mill, a public house called the Windmill was in existence by c1850. (fn. 25) This whole jumble of structures was burnt down in January 1884, and the site was rebuilt for new occupiers, A. B. Fleming & Company Ltd, printing-ink makers and oil refiners, who also took premises at Phoenix Wharf. The principal new buildings were two large storage sheds with toplit slated roofs on timber trusses. Flemings left after a few years, the wharf (renamed Glover's Wharf) remaining in industrial use for a time as the works of the Metal Smelting Works Company Ltd and others. (fn. 26)
In 1893 Mark Winkley, an oil wharfinger of Ferguson's Wharf, took a 21-year lease of Weston's and Glover's Wharves, calling the whole site Winkley's Wharf. Some old buildings on Weston's Wharf were pulled down when Winkley moved in, but part of the dilapidated old cement works was still standing 20 years later. (fn. 27)
Various tanks and sheds were erected over the years. Typical of the buildings was a shed built in 1908, measuring about 94ft by 27ft, for storing mineral and lubricating oils It was built of brick piers, partly filled in with corrugated iron. The roof was of corrugated iron with skylights on timber trusses, and the floor was beaten earth. (fn. 28)
As at other oil wharves, special safety measures had to be taken during the First World War under the Defence of the Realm Act. Low concrete retaining-walls and corrugated-iron shields were erected to retain spillage from burst tanks in the event of an air attack. The wharf narrowly escaped such a catastrophe when a bomb hit the foreshore during a Zeppelin raid. (fn. 29)
In 1930 the buildings were described as 'mainly of inferior construction, somewhat old, and not in very good condition . . . Nearly everything on the premises is as much covered and impregnated with oil as its nature permits'. It was thought that there was every chance of a complete burn-out if a fire started. Part of the general messiness was due to the importation of mineral oils in barrels, which sometimes leaked. By 1933 barrels had largely been replaced by bulk delivery and storage. (fn. 30)
After the Second World War, in which it was badly bombed, the wharf was used, together with the cleared area between Crews Street and Claude Street, for oil, rosin, timber and general wharfage. Winkley's Wharf was a cleared site by the mid-1980s, but proposals for a private residential development have not matured. (fn. 31)
Nos 132–186 (even) Westferry Road and Houses in Gaverick, Crews and Claude Streets (demolished)
The area between Lowe's and Winkley's Wharves and Westferry Road was laid out with three dead-end streets in about 1857 and built up during the next few years on 80-year leases. Ground rents were £1 per plot and the houses, mostly of four to six rooms, were correspondingly mean. The developer was Robert Webb, a surgeon, of East India Dock Road, who financed the scheme partly through the Temperance Permanent Benefit Building Society. The houses in Westferry Road included the Kingsbridge Arms public house and a few shops. (fn. 32)
Built in the boom years of the shipbuilding industry, during the slump of the late 1860s these little streets were virtually abandoned. In December 1868, 14 of the 26 houses in Gaverick Street were uninhabited, and almost all of the others were only partly occupied. (fn. 33) Subsequently, the neighbourhood became one of the poorest in Millwall. The fact that it was 'infested by a rough class of boys' caused some concern to the insurers of Winkley's Wharf, where flammable goods were stored. But Winkley's foreman, who lived on site, kept a couple of guard dogs and always arranged for extra protection on Guy Fawkes' Night. (fn. 34)
The houses survived en bloc until the Second World War, when a number were wrecked by bombing, including most of those in Crews Street. Gaverick Street was cleared by Poplar Borough Council in 1958–60, and, with the exception of the rebuilt Kingsbridge Arms, all the premises had been pulled down by the mid-1960s. Subsequently, the space was variously used by road hauliers and the occupiers of Lowe's, Winkley's and Cyclops Wharves. (fn. 35)
Cyclops Wharf (formerly Cyclops Works), No. 180 Westferry Road
The site between Winkley's Wharf and Victoria Wharf was not developed until c1863. when Charles Powis of New Cross set up an engineering works there on an 80year lease. His company made steam-engines, boilers, and machinery and plant for the building and engineering industries, including brick- and tile-making machines, mortar mills, cranes, hoists and pumps. (fn. 36)
A lofty ground-floor workshop facing the river was built c1863 (Plate 74). By the time the works closed in 1883 the riverside shop had been fitted with a gallery floor at one end, about 50ft by 45ft, supported on four cast-iron columns with trussed girders. A much longer workshop, similar in style, had been built along the south-east side of the site, together with a large smithy (Plate 75a). The works were described at this time as 'magnificent Premises . . . of splendid elevation and capacities' (fig. 170). The river front was not embanked until 1887, (fn. 37) when the works were taken by John Good, a cordage manufacturer, who also built a two-storey warehouse and a 100ft-tall chimney-shaft of square section on the newly constructed wharf. During Good's occupancy the premises were known as the Pier Cordage Works, but the name Cyclops was revived when Edward Le Bas & Company, later the Le Bas Tube Company, tube makers, took over the wharf c1898. Le Bas's, who in due course took over Victoria Wharf as well, made various alterations to the works, including the replacement of the hipped lantern-light roof of the riverside shop with a double-span roof carried on steel trusses. The buildings survived largely intact until the 1980s. (fn. 38)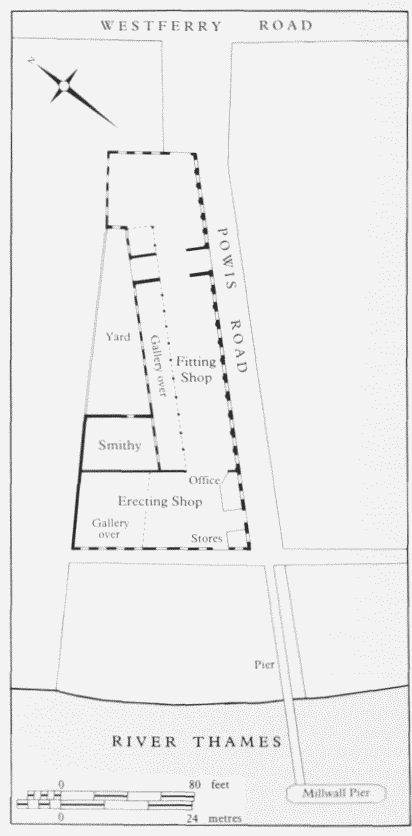 From 1965 Cyclops Wharf was occupied by an asphalting and haulage concern, which in 1987 moved to Rainham, Essex. (fn. 39) The site was then cleared and a complex of apartment blocks and houses, with communal leisure facilities, was built (see page 699).
Powis Road (later Cyclops Place) and Millwall Pier
In 1861 the Thames Conservancy decided to build a pier for steamboat passengers at Chalk Stone Stairs at the end of Cuba Street (where West India Dock Pier now is). There was some objection from steamboat companies, who thought it not worth their while to call there, and local people wanted the pier further south, so a point on the north side of Brown, Lenox & Company's works was chosen, the ground there being vacant and unembanked. Powis Road was laid out in 1862 to provide access to the pier, which was closed in December 1894 and dismantled. (fn. 40)
A new, longer, Millwall Pier was erected at the same point in 1905, to serve as a stop on the London County Council's new passenger-steamboat service between Westminster and Greenwich. Following the abandonment of the LCC's service in 1908 the pier was used by steamboat companies and the Port Sanitary Authority, but in 1913 it was taken down, and the pontoon reinstalled, with adaptations, at Greenwich Pier. (fn. 41)
After the pier was removed Powis Road was reduced to a short cul-de-sac, renamed Cyclops Place in 1937, and closed in 1947. (fn. 42)
Brown, Lenox & Company's Works (Anchor Wharf), No. 188 Westferry Road
The chain-making works of Brown, Lenox & Company was one of the most significant of the pioneering industrial concerns established in Millwall in the nineteenth century. A naval lieutenant, (Sir) Samuel Brown (1776–1852), began experimenting in the use of chain for naval use in 1806, sailing a chain-rigged and chain-cabled ship to the West Indies in 1808 and subsequently becoming a contractor to the Admiralty for the supply of chain. Manufacturing was at first carried out in Narrow Street, Limehouse, but as the business expanded and Brown went into partnership with Samuel Lenox, a factory was built in Millwall in 1812 opposite the naval dockyard at Deptford. In 1816 Brown constructed a hydraulic chaintesting machine at the Millwall works, which also produced anchors, buoys and water tanks. Also in 1816, a second factory was built at Pontypridd, Glamorgan, which became the company's main chain-making works. (fn. 43)
In 1859 the Millwall works turned out more than 40 fathoms of cable, then thought to be of the largest section yet made, for mooring a coal ship at Malta. Each link was 27in. long and weighed 308lbs. Less spectacular contracts over the years included the supply of buoys and mooring chains for the LCC's new Thames steamboat service in 1905. (fn. 44)
By the 1930s Brown, Lenox & Company (London) Ltd, as the Millwall branch of the company became, was producing pressed-steel sectional tanks, rivetted tanks, coal bunkers, hoppers, chimneys, gantries and a variety of buoys. (fn. 45)
The works, built on a 61-year lease, were subject to almost continual alterations as sheds and minor buildings were erected and dismantled. The company also occupied for a time the site of Providence Iron Works and the house built by Thomas Todd near Willow Bridge Ferry (Plate 74), and in 1856 and 1861 the premises were extended to the north, a new 40-year lease of the whole site being obtained in 1867. (fn. 46) By the early twentieth century the premises on the original site consisted of a variety of largely run-down warehouses, workshops and open-fronted sheds. Extensive rebuilding, including the erection of several steel-framed sheds, took place in 1937–8. (fn. 47)
After the Second World War the firm also occupied new buildings in Westferry Road adjoining St Paul's Presbyterian Church. The Millwall works, now part of the F. H. Lloyd Group, closed in the 1980s, the riverside buildings being taken over by a firm of industrialdismantling and removal engineers. (fn. 48)
Victoria Wharf. From 1888 until 1921 the northern half of Brown Lenox's works was occupied as Victoria Wharf by Crosse & Blackwell, the preserved-provisions manufacturers and export oilmen, who put up a warehouse on the riverfront. This single-storey building was brick-built with a concrete floor and had a slated timber roof, with louvred lantern lights, carried on timber posts. (fn. 49)
After Crosse & Blackwell's departure, Victoria Wharf was taken over by the occupiers of Cyclops Wharf and renamed Cyclops (Victoria) Wharf. At first they let the riverside warehouse to wharfingers, who were using it for storing matting, plywood, rice and tinned foods when it was burnt out in 1923. The restored building was subsequently used for pipe-bending and storage, the wharf being merged with Cyclops Wharf. (fn. 50)
William Roberts's Fire-engine Works (Jupiter Iron Works). William Roberts set up a pump factory in the late 1850s in connection with Brown, Lenox & Company at their Millwall works, and by the early 1860s was gaining some success as a maker of fire-fighting appliances and steam traction-engines. London fire-engines at that time could produce only large, potentially damaging, jets of water. A fire-engine made by Roberts, however, could squirt a jet as small as half an inch. In 1863 he constructed a 'very useful' fire-engine which could double as a hoist, and had also fitted up a tugboat belonging to the West India Dock Company as a floating fire-engine. (fn. 51)
In 1865–6 Roberts took a 70-year lease of ground immediately south of Brown, Lenox & Company's works and built his own factory, with finance from the Industrial Permanent Benefit Building Society. Although by 1869 he was in difficulties, and his creditors took possession of the premises, Roberts appears to have kept the works. In 1874 they were managed by George Roberts, under the name Jupiter Iron Works, but in 1877 were acquired by Samuel Cutler & Sons and absorbed into Providence Iron Works. (fn. 52)
Providence Iron Works (Cutler's Wharf)
The works were set up by Samuel Cutler & Sons in 1873 at the former marine-block and gun-carriage factory of Ferguson & Todd, replacing premises of the same name on the site of the Millwall gasworks. The gun-carriage business, latterly run by Laing, Howlett & Company, relocated to Cubitt Town (see page 511). Cutlers' products included roofing, marine boilers and machinery, but they specialized in gasholders and other plant for the gas industry. (fn. 53) They later developed a large business as general constructional engineers.
A number of alterations were made and new buildings were erected in the late nineteenth century and during and soon after the First World War, when all remnants of the block and gun-carriage works were swept away and most of the site was covered by steel and corrugatediron sheds. Severe damage was caused by bombing in the Second World War. The works closed in the early 1960s and the whole site had been cleared by the mid-1980s. It was redeveloped in the early 1990s as part of the Masthouse Terrace housing scheme (see page 490). (fn. 54)
Westferry Road (East Side)
Nos 235–295 (odd) Westferry Road (Nos 235, 253, 261–295 demolished)
Of 31 houses on the estate on the east side of Westferry Road, all built on 70-year leases, 16 were built in the years leading up to the slump of the late 1860s and ten in the early 1870s, the remaining five in the early 1880s. The surviving houses date from the first two phases.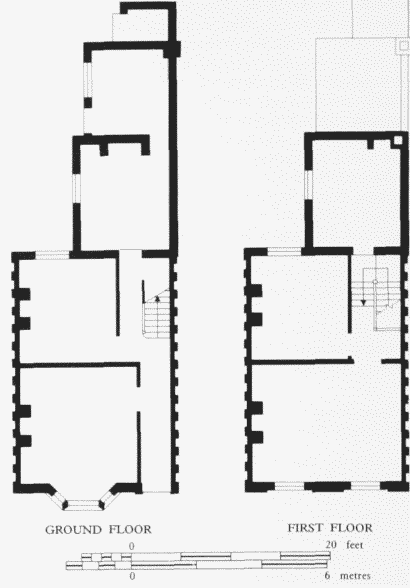 The earliest, Nos 255–259, originally known as Nos 1–3 Commerce Place, were built in 1862 at ground rents of £3. They have been derelict for some years. No. 255 was originally a grocery, and during the late 1870s was run by the Millwall Co-operative Society, one of a number of such ventures set up in Poplar in the nineteenth century. The lessee of Nos 255–257 was Thomas Wishart Philps, that of No. 259 Charles Alexander Munro: both were local engineers. Philps, who lived for a time at No. 255, mortgaged his houses in 1871 to William White, gentleman, of Tooke Street. (fn. 55)
White was the developer of Nos 245–251, originally known as Arthur Terrace, built in 1864 (Plate 83c; fig. 171). The ground rent here was slightly higher at £12 16s for the four houses. Nos 237–243, also part of Arthur Terrace, were built in 1872, at the yet higher rent of £4 per house (Plate83b). The lessee was Job Hancock, a local restaurateur. (fn. 56)
The earlier surviving houses have old-fashioned recessed arcading around the first-floor windows, and some stucco enrichment, including impost-strings to the arcading and fairly ornate cornices. The later houses, simplified only in certain respects, have a rather awkward, hybrid appearance. They lack the arcading and have coarser cornices, while the stucco strings have given way to a single course of coloured brick between the window arches. No. 237 was originally and for many years a tobacconist's. (fn. 57)
Philps was also responsible for building Nos 269–279 around 1871. Lessees of the other houses, all local residents, included Walter Barr, then a commission agent (1863, Nos 281–285), William Shearman, landlord of the Kingsbridge Arms (1863, Nos 261–267), and Nathan Biggs, dairyman (1881, Nos 287–295). No. 285, a house of eight rooms, was called Clyde House. Barr set up in business there for a few years as an engineer, iron and steel stockholder and supplier of nuts, bolts, screws, rivets, and 'every description of Birmingham, Staffordshire, and Sheffield goods'. Biggs's houses, the last to be built, occupied a site allocated for building in 1874, but forfeited because the would-be builder, an iron-roller, lost his job. (fn. 58)
By the First World War the houses were predominantly in a better condition and of better 'class' than those on the Ironmongers' Company's Barnfield Estate adjoining. Several were hit by bombs in the Second World War, including Nos 289–295, which were damaged beyond repair. The ruins of Shearman's houses, which were similar to White's and Philps's, were still standing in the mid-1980s. (fn. 59)
St Paul's Presbyterian Church
This small former church, listed Grade II, is of particular architectural interest for its unusual roof construction and its imaginative handling of structural polychromy (Plate 82a; figs 172, 173). Historically, it is important for its connections with the Scottish shipyard workers drawn to Millwall in the 1850s to work on the Great Eastern and other ships. It was to rescue them from the 'degrading habits' into which they were sinking that the church was built, for the London Presbytery of the Presbyterian Church in England. (fn. 60)
Although a Presbyterian mission was started on the Isle of Dogs in 1845, it foundered after a few years. A new mission had been active locally in a hired room for about three years when plans for a permanent church were made in 1859, and the site obtained on a 70-year lease, the trustees including ministers from St Mark's, Greenwich, and John Knox's Church, Stepney. The church was built for about £750, excluding the cost of extra foundations, by J. & F. J. Woods of Mile End, to designs by T. E. Knightley (1823–1905), who had already designed a short-lived church in Poplar for the United Free Methodists (see page 162). (fn. 61) John Scott Russell, the Scottish builder of the Great Eastern (himself the son of a Presbyterian minister), laid the foundation stone in 1859. (fn. 62)
It was intended that the church would eventually be extended to provide 520 sittings, more than double its initial capacity, but membership never rose sufficiently to justify this plan. In 1866 it had fallen to six, but in the bleak period of the depression it began to rise, until by late 1867 there were more than 100, and a gallery was installed at the west end. In 1906 a nondescript twostorey addition was built, comprising a vestry, classrooms and a kitchen. Designed by T. Phillips Figgis (1858 1948), it was built by the Limehouse firm of Harris & Wardrop. (fn. 63)
Although the church had been built with extra foundations to cope with a peat layer in the subsoil 18ft or 20ft thick, it has had a history of structural problems, largely caused by subsidence. (fn. 64)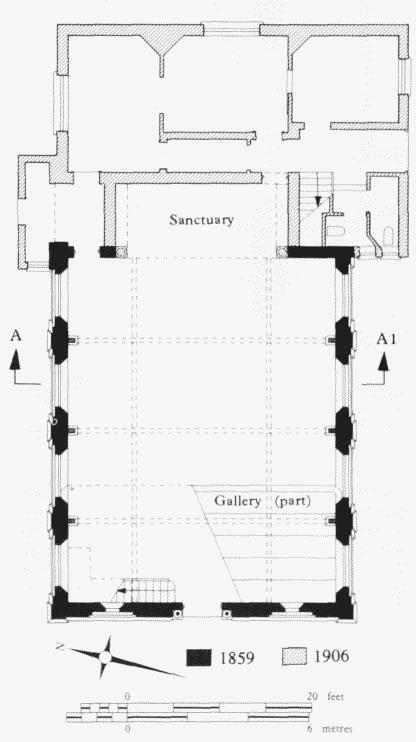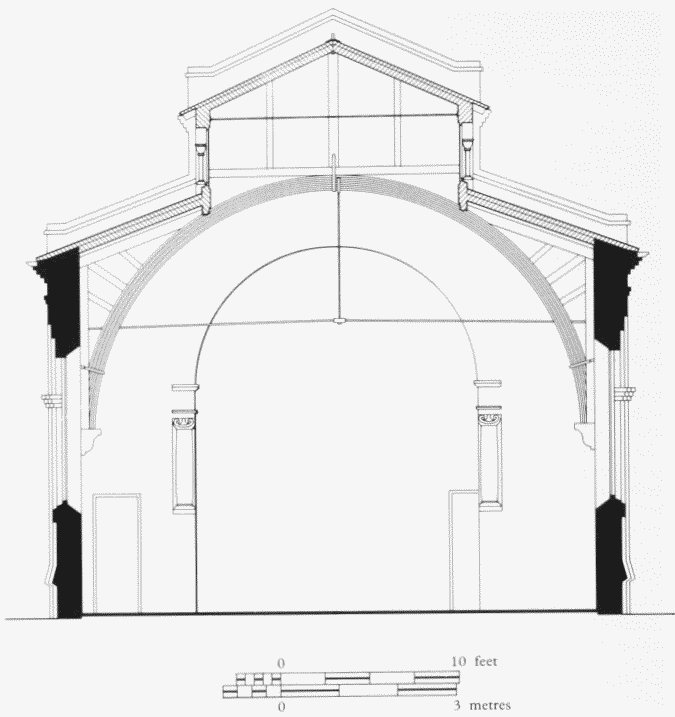 St Paul's was replaced by a new church at Island House, Castalia Square, in 1972 (see page 504). (fn. 65) It was subsequently used for industrial storage, one of the side windows being removed to form a doorway. In 1989 the St Paul's Arts Trust was formed by local residents to take it over for use as an arts centre. Work on the conversion began in July 1993 (architects Janet Collings and Bevis Claxton, of Claxton d'Auvergne Collings of Fulham).
The church is in four bays, and although aisleless rises to a clerestory flanked by lean-to roofs, and is thus sectionally and externally basilican. The shallow sanctuary was only formed when the rear addition was built. The brickwork is richly polychromatic in shades of red, light brown and blue, with stone columns to the door and window openings providing additional contrast. The overall effect is enhanced by intricate arcading and panelling.
The three-tiered west front is a pastiche of that of Pisa Cathedral. The cornice of the ground-floor front carries round to become an impost-band to the side windows. These contain the original cast-iron tracery, with separately cast colonettes on the outside; the original glazing was destroyed by bombing in 1916.
The roof construction employs three semi-circular ribs of laminated timber instead of trusses, with a side-lit monitor roof — forming the clerestory — carried on purlins. Although semi-circular ribs of iron or, less commonly, laminated timber, were sometimes used in the midnineteenth century, usually taking the place of the tiebeam in a truss, it was generally in large public buildings, factories and warehouses where uninterrupted loft spaces were required. Laminated-timber arches, the use of which was pioneered on the Continent in the early part of the century, also found some favour in civil engineering, where their use has been revived in recent years. At St Paul's, semi-circular ribs were presumably chosen because they were appropriate for the Romanesque style of the building. At the time, interest in laminated-timber ribs had recently been revived by their use at Leeds Town Hall (1853–8).
The ribs at St Paul's are each formed of 11 laminations, each laminate being made from two lap-jointed pitchpine planks of 6in. by 1in. section, the joints being concentrated towards the centre of each arch. No glue was used, 27/8in. screws, set in staggered pairs about a foot apart, being the only fixings. The wrought-iron tierods are later insertions. (fn. 66)
Millwall Dock Club and St Mildred's House (demolished)
The Millwall Dock Club was set up under the aegis of the Millwall Dock Company for its permanent labour force, which in 1873 numbered about 800 men, many of whom had been recruited from rural areas to break a combination of corn porters.
On a site south-west of the 'B' Yard stables at the rear of houses in Westferry Road, a substantial club-house was built at a cost of £1,200 and about half as much again for fittings. The foundation stone was laid on 2 October 1873 by C. H. Parkes, chairman of the company (who gave a billiard table) and the club, administered by a committee of labourers who paid a modest rent, opened in February 1874. It was not a long-term success, closing in 1892. (fn. 67)
The premises comprised an oblong hall, used after the club's closure in connection with St Paul's Presbyterian Church, and three-storey ancillary wing, which was let in 1897 to Miss Hilda Barry (later Mrs Reginald Fremantle) as an institute for poor girls, known as St Mildred's House. (fn. 68) Alterations and additions, which included a small chapel, were carried out by General Builders Ltd of Southampton Row, to designs by Charles Barry & Sons. (fn. 69) The building was replaced by new premises in Castalia Square in the 1960s (see page 504). The stained-glass windows from the chapel were reinstalled at the Church of Christ and St John, Manchester Road, in 1991 (see page 508).
St Edmund's Roman Catholic Church
Designed by Francis W. Tasker (1848–1904) and built by James Linzell & Son of Tottenham, St Edmund's church and school replaced the little chapel of St Edward in Moiety Road. There were about 1,000 Roman Catholics living on the Isle of Dogs in about 1870. A 99-year lease of the site, at an annual rent of £30, had been taken out by Archbishop Manning and others in 1871. Funds were limited, a fact reflected in the general austerity of the buildings. The school and clergy-house having been completed, work on the church began in September 1873 and the building was opened the following August. (fn. 70)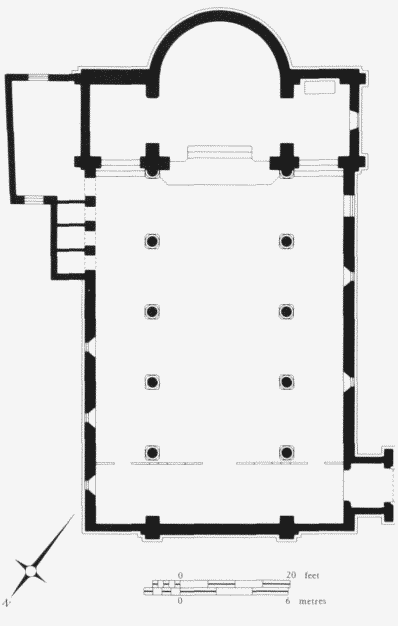 From the start there was trouble with the foundations, which had to be remade in March 1874, the priest-incharge, Father Biemans, subsequently assuring prospective subscribers to the building fund that they were 'on average twenty-five feet deep and . . . as solid as rock'. The truth was that to save money the only deep foundations were under the nave piers, the rest of the church and school being placed on the subsoil. Piling and underpinning had to be carried out in 1879 and 1883. (fn. 71)
Built to accommodate 200–250 worshippers, St Edmund's has a high steep-pitched roof (its original timber fleche now replaced by a saddle-backed louvre) covering an oblong nave and apsidal chancel flanked by side chapels (fig. 174). Lancet windows are used throughout. It is built of Kentish bricks with Portlandstone dressings and is plastered internally. The interior dressings of Bath stone have now all been rendered or painted. (fn. 72) Internally the chief features of interest are the nave arcade, carried on circular pillars with moulded caps, and the roof (Plate 82b). Rising from wall shafts, this is constructed with arch-braced collar trusses, open to the collar-beams, and is ceiled with wooden panelling. Height is emphasized by the tall chancel arch and the predominantly high-level windows. Details of the interior architecture were published in 1878. (fn. 73)
St Edmund's has suffered badly from damage, neglect and the loss of much of its former decoration and furnishing, in particular a large mural painting in the apse depicting the history of the Mass and, between the lancets above, paintings of SS Peter, Paul and Edmund. A carved wooden altar and matching retable and communion rails, of Belgian origin and thought to have been obtained by Father Biemans, who was Flemish, have been disposed of. (fn. 74)
In 1994 the building remains in use, but the greatly diminished congregation and continuing structural problems associated with the foundations have left its future uncertain. It was reported in 1985 that plans were in hand for rebuilding the church, school and clergy-house (which is no longer occupied), but in 1994 this project remains in abeyance. (fn. 75)
St Edmund's Roman Catholic Schools.
Before the original school was built, in 1873, day and evening classes for local Catholics had been held in St Edward's Chapel in Moiety Road, and by 1871 there was another day school at No. 68 Stebondale Street in Cubitt Town, run by a mistress under Father Biemans's management. (fn. 76) Designed to accommodate 400 children, the school, which adjoined the clergy-house, was in a utilitarian Gothic style, distinguished by a plate-traceried window on the first floor. (fn. 77)
In 1908–9 it was replaced by the present building, which has little to distinguish it from any school of its period serving a poor urban district. A three-decker, it consists of a rectangular range, originally comprising two classrooms and a hall on each floor, with set-back wings at the sides containing the staircases and ancillary rooms. The main block is arranged in two three-bay divisions, with a central chimney-stack, which, together with tall gables over the middle windows on each side, gives the building a striking vertical emphasis. Except for the gable windows, which are round-arched with prominent stone keys, the fenestration is uniformly oblong, with plain stone lintels beneath shallow segmental relieving arches. Mildly decorative aprons under the sills help to dispel a merely utilitarian air.
The architect of the building was Robert L. Curtis of Finsbury Square, and the builder was W. J. Maddison of Canning Town. The reinforced-concrete foundations, which accounted for a quarter of the cost of the building, were laid by the Cubitt Concrete Construction Company. (fn. 78)
In 1928–9 a large ground-floor extension was built at the side of the school, comprising two classrooms, a cloakroom, staff room and stock room. It was intended that, funds permitting, a first-floor hall would be added later on, but this was not done. The architect was Thomas H. B. Scott of Finsbury Square. (fn. 79)