Pages 539-547
Survey of London: Volumes 43 and 44, Poplar, Blackwall and Isle of Dogs. Originally published by London County Council, London, 1994.
This free content was digitised by double rekeying and sponsored by English Heritage. All rights reserved.
Public Housing
The extent of the wartime damage necessitated large-scale clearance of the pre-war buildings in Cubitt Town, and they were largely replaced by public housing.
St John's Estate
The first major post-war housing scheme by Poplar Borough Council on the Isle of Dogs was the St John's Estate. (fn. 1) This is centred on the triangle of land (covering 26.8 acres) between East Ferry Road, Manchester Road and Glengall Grove, although housing spills over beyond these roads, especially to the north-west of East Ferry Road, up to what was the boundary of the Docks. The area had suffered severe bomb damage during the Second World War, (fn. 2) and a considerable part had been cleared immediately after the war and utilized for sites for temporary housing by both Poplar Borough Council and the LCC. Those buildings which did survive - mostly terraced houses dotted about the area - were generally in poor or bad condition. (fn. 3) The new estate was to be developed in a series of phases and it was very much seen by the Borough as its version of the Lansbury Estate, which was then being planned by the LCC and, like Lansbury, it was intended to be a brand new, selfcontained 'neighbourhood' (see Chapter IX). (fn. 4) Indeed, John Betjeman, on a visit to the Isle of Dogs in the mid-1950s, was very enthusiastic about the emerging estate, calling it 'one of the best new housing estates I have seen since the war, comparable with Lansbury, intimately proportioned, cheerful and airy and yet London-like'. (fn. 5) However, because of the piecemeal way in which the estate had to be developed, and the long period taken to complete it, the final result never achieved a coherent identity even as an estate, let alone as a neighbourhood.
Initial plans were approved in principle in November 1949, (fn. 6) and building work began early in 1952. Because of the intermingling of sites owned by the two Councils, the final shape of the estate was not determined until 1962. when the Borough and County Councils agreed to exchange land so that the Borough could continue developing to the west of Manchester Road, while it was intended that the LCC would develop to the east of that road. The final block on the St John's Estate was not completed until 1981. (fn. 7)
An extensive programme of modernization and refurbishment of many of the blocks on this estate was carried out by the Isle of Dogs Neighbourhood Committee of Tower Hamlets Borough Council during the second half of the 1980s and the early 1990s.
The estate consists of the following 14 phases. (fn. 8)
1. Cubitt and Roffey Houses. These were two interwar Borough Council blocks, in East Ferry Road and Roffey Street, completed in 1933. Typical examples of the Borough Council's 1930s 'modern' style, they were designed by Harley Heckford, the Borough Engineer and Surveyor. The total cost was £27,392, including land, incidentals and two two-storey cottages (Nos 11 and 12 Judkin Street, destroyed during the Second World War). Each block contained 24 flats (12 two-bedroom and 12 three-bedroom dwellings). They were of four storeys, the external walls were in red brick with the top storey rendered, and the floor levels were delineated by concrete horizontal bands. Almost continuous concrete balconies with solid balustrades ran along one elevation, interrupted by two brick staircase towers with strong verticals. More traditional were the sash windows, with wooden frames and glazing bars, and the Welsh-slated, hipped roof of Cubitt House. Roffey House originally had a similar roof, but because of serious war damage it had to be reroofed and, as timber and slate were in short supply, it was given a flat roof. (fn. 9) The two blocks were incorporated into the St John's Estate after the Second World War. Both were demolished in 1988.
2. Rugless House, and Nos 2–12 (even) Castalia Square, Nos 1–11 (odd) and 2–12 (even) Cardale Street, Nos 12–24 (even) East Ferry Road, Nos I–II (odd) and 2–12 (even) Hickin Street, and Nos I–II (odd) Launch Street. This development consists of a three-storey block of 15 flats and 43 two-storey terraced houses. It was designed by W. J. Rankin, the Borough Engineer and Surveyor, and built by the Borough's direct labour force. The estimated cost of construction was £97,267. The first houses were finished in September 1952 and the scheme was fully completed by October 1953. (No. 12 Castalia Square has a foundation stone, set in the end wall, which was laid in March 1952 to mark the commencement of the estate.) The houses are in mottled red Fletton brick, with tiled, pitched roofs, and ironwork 'trellises' to one side of front porches, in contemporary Festival-of-Britain style. Rugless House (named after a Borough councillor) has a flat roof and its front elevation is rendered with roughcast cement.
3. Llandovery House. This is a five-storey block of 30 flats, designed by W. J. Rankin, the Borough Engineer and Surveyor, and built by A. E. Symes Ltd of Stratford at a tendered price of £59,509 19s 9d. It was one of several developments on the estate named after ships which used the docks. The building was completed by March 1955. It is mainly faced in mottled red Fletton brick and originally had a flat roof, but that was replaced in 1983–4 by one with a shallow pitch.
4. Nos 98–110 (even) East Ferry Road, Nos 50–68 (even) and Nos 70–86 (even) Glengall Grove, Nos 20–24 (even) Marshfield Street, and Nos 51–65 (odd) Strattondale Street are all three-storey houses; Nos 44–52 (even) Strattondale Street, and Nos 394–406 (even) and Nos 521–523 (odd) Manchester Road are two-storey houses, providing a total of 53 terraced houses. These were designed by W. J. Rankin, the Borough Engineer and Surveyor, and built by the Borough's direct labour force at a tendered price of £108,128. The first house was completed in November 1954, a further 44 were ready for occupation by October 1955 and the final eight were finished by September 1957. They are very similar in appearance to the houses in phase 2.
5. Skeggs House and Thorne House. These are fivestorey blocks, designed by W. J. Rankin, the Borough Engineer and Surveyor. They were built by A. E. Symes of Stratford and were completed by the autumn of 1956 at a cost of £144,755. Their names commemorate J. B. Skeggs, Town Clerk of Poplar from 1915 to 1922, and W. B. Thorne, Borough Librarian from 1934 to 1942. Each block contains 27 flats. They are in yellow flint brick and have flat roofs, with two integral lift towers.
6. Nos 1–17 Castalia Square. This is a row of 14 (originally 13) shops with 14 maisonettes above, completed by May 1956. It was built by A. E. Symes Ltd of Stratford, to the designs of W. J. Rankin, Borough Engineer and Surveyor, at a tendered price of £49,665. It is of three storeys, built in yellow and pink flint brick, with some smooth cement-render, and has a flat roof. A refurbishment of Castalia Square was completed in 1992 at a cost of £817,000, with funding from the LDDC. It included new shop fronts and blinds, repaving of the square, and improvements to the lighting. (fn. 10)
7. Ash, Elm, Cedar and Oak Houses. These three-storey blocks provided a total of 54 flats, and were completed in early 1956. They were designed by W. J. Rankin, the Borough Engineer and Surveyor, the main contractor was Tersons Ltd, of Dollis Park, and the tendered price was £108,712 10s. They are of yellow and pink flint brick, with some smooth cement-render, flat roofs, and staircase towers at either end.
8. Maple House and Nos 1–5 (odd) Chipka Street. This phase consisted of a three-storey block of 12 flats and three two-storey terraced houses, and was completed by October 1957. They were designed by W. J. Rankin, Borough Engineer and Surveyor, and built by A. E. Symes Ltd, of Stratford, at a tendered price of £36,477 15s 6d. All were of yellow flint brick, the houses have tiled, pitched roofs, but Maple House, which was demolished in 1988, had a flat roof.
9. John MacDonald House. This is a four-storey block of 20 maisonettes and flats, completed by March 1962. The name commemorates a borough councillor. The building was designed by W. J. Rankin, Borough Engineer and Surveyor, and built by A. E. Symes of Stratford at a tendered price of £56,885. It is of yellowish, light-brown brick and originally had a flat roof, but that was replaced by a shallow-pitched hipped roof in the 1980s.
10. Normandy, Valiant, Tamar and Watkins Houses. These are four three-storey blocks, providing a total of 35 flats, completed by November 1964. The architects were Adams, Holden & Pearson and the main contractor for this and phase II was Sir Lindsay Parkinson & Company. Normandy, Valiant and Tamar Houses were named after ships which used the docks and Watkins House after William Watkins Ltd, tug owners. They are of yellow stock brick, with tiled, pitched roofs, and have individual balconies with solid brick parapets, set oddly on top of the front entrance-lobbies. Also included in the scheme were Nos 517 and 519 Manchester Road, which are three-storey semi-detached houses, together with a flat-roofed single-storey doctor's surgery attached to No. 519. In addition, the single-storey Island Child Welfare Centre was designed and constructed for the LCC as part of this phase.
11. Alastor, Argyle, Finwhale, Killoran, Kimberley, Kingdon, Lingard and Montfort Houses. These provide a total of 198 dwellings in the form of flats, maisonettes, and two-bedroom houses, provided in blocks, mostly of four storeys but with a few of two storeys (Plate 136b). The architect was Harry Moncrieff of Co-Operative Planning Ltd, Clapham; and the main contractor for this and phase 10 (above) was Sir Lindsay Parkinson & Company. The final cost of phases 10 and 11 was £828,880. Phase 11 was begun in 1963, but not completed until October 1966. The blocks are of light-brown brick with tiled, pitched and monopitched roofs. A number of them are arranged around enclosed, grassed courtyards. Killoran has a series of rather odd flat-roofed, bunker-like forebuildings, faced with rectangularly patterned concrete. Finwhale House was named after the submarine HMS Finwhale, which had officially visited the docks shortly before the opening of this block; Kimberley House commemorates a former warden of the Dockland Settlement in East Ferry Road; and Kingdon House was named after a former vicar of St John's Church. The other names were those of ships which used the docks. This phase also included the creation of St John's Recreation Ground of c2.5 acres, completed in 1966. It was reopened in 1989 as St John's Park, after a major re-ordering scheme, funded by the LDDC, was carried out by the Isle of Dogs Neighbourhood Team of Tower Hamlets Borough Council.
12. Nos 5–35, 5A–35A (odd) and Nos 47–65, 47A–65A (odd) Glengall Grove. These are two four-storey blocks providing a total of 52 maisonettes, plus a lock-up shop. The architects were Co-Operative Planning Ltd and the main contractor was Thomas McInerney & Sons of Watford. They were completed, at an estimated cost of erection of £236,555, in 1969 and 1970 and are similar to the blocks in phase II.
13. Alice Shepherd House. This ten-storey block of 72 flats, completed in 1969, was named after the chairman of the Housing Committee of Tower Hamlets Borough Council when the estate was begun. The main contractor was John Laing Construction Ltd, using the SECTRA system of industrialized building, and the estimated cost of erection was £384,315. The front and rear elevations are faced with concrete-aggregate panels, and the side walls with fluted concrete-panels. The separate lift- and staircase-tower is faced in hard, dark-red mottled brick and links with second, fifth and eighth floors to recessed access-galleries.
14. St John's Community Centre, Glengall Grove. The architect of this building was James R. G. Thomas, Director of Development of Tower Hamlets Borough Council, and the main contractor was H. Fairweather & Company. The cost of erection was £273,000 and the centre was completed in 1981. The building is of brown brick and is mainly single storey, but has a split-pitched roof, covered by brown corrugated cladding, rising to two storeys at the apex.
River Barge, Ovex and New Union Closes
These developments, off the east side of Stewart Street, south of Capstan Square, are a mixture of flats and maisonettes, and were built in two phases by The East of London (now The East London) Housing Association, between 1976 and 1982. This Association is based at Plaistow and grew out of the amalgamation of three Roman Catholic housing societies. The northern part of the site - the 3.25 acres of New Union Wharf - was purchased for £93,000 by the Association in September 1971.
Plans were prepared by Lee Reading Harbinson of Smithfield, and construction, by A. E. Symes Ltd, of Stratford, began in January 1976. Towards the end of the year Symes went into receivership - a sad end to a firm which had built so much of the public housing in Poplar - and the contract was taken over by Holland, Hannen & Cubitts, who completed the work in March 1980. The final cost, at £2,820,249, was almost £1,000,000 above the original tender. This phase consisted of Robin, Sandpiper, Heron and Nightingale Courts, named (as are all the blocks) after ships built at Yarrow's yard, which had formed part of the site (see page 536). (The street names recall the wharves on the site.) There are 124 dwellings, producing the very high density of 165 persons per acre. The development was to have included five shops and a public house, but these were dropped from the scheme.
In 1975 the Association completed the purchase of Ovex Wharf, a 1.1-acre site immediately to the north of New Union Wharf (see page 538), and construction work was carried out in 1979–81 by Kind & Company, at a final contract price of £1,590,882, the whole scheme being officially opened in March 1982. This part of the development consisted of Martin, Grebe and Kingfisher Courts, providing a further 66 dwellings at a density of 120 persons per acre, as the planning authority would not allow the same high density as in the first phase.
Both phases involved considerable repair to the river wall, and a condition of the planning permissions was the creation of a public riverside walk to link up with that to the south, beside the Samuda Estate (see below). The blocks, which are faced in hard, mottled red brick, are of three, four, and six storeys, and are all built on piles. The roofs are more varied: some are pitched, others monopitched, and covered with slates, while the tallest blocks have flat roofs. The somewhat defensive nature of this development is emphasized by the recessed balconies set behind brick parapets and by the raised walkways which link some of the blocks. (fn. 11)
The Samuda Estate
This estate, on the east side of Manchester Road, was initiated by the LCC and completed by the GLC. In 1962 the LCC and Poplar Borough Council agreed that the latter would continue to develop the St John's Parish area to the west of Manchester Road (see above), while the former would concentrate on the east side of that road. (fn. 12) This meant some exchange of land between the two authorities, and the LCC acquired from the Borough Council a site of 0.74 of an acre at an estimated cost of £6,500 (including clearance and partial redevelopment). This, with adjacent land already owned by the LCC, was added to the Samuda Wharf site which had been acquired in 1958. (fn. 13)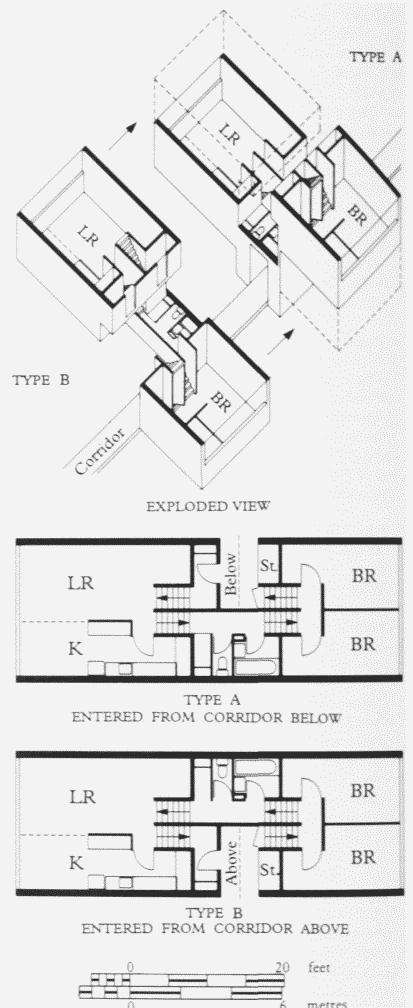 Sir John Burnet, Tait & Partners were appointed to design the new estate, which was constructed in two phases by Tersons Ltd of Finchley. (fn. 14) Work began in 1965 and, despite difficulties with old timber piles and mass-concrete foundations on site, the estate was opened in 1967. (fn. 15) The final cost of both phases of development, including a new river wall, was £2,879,424. (fn. 16) The Samuda Estate comprises 505 dwellings and covers an area of 11.385 acres. (fn. 17)
The blocks are arranged around a series of traffic-free squares and they are sited to give most dwellings a southerly or westerly aspect. (fn. 18) Halyard, Hedley, Pinnace, Reef, Talia and Yarrow Houses, together with Ballin Court and Dagmar Court, are four- and six-storey blocks of flats and maisonettes, faced with aggregate-concrete panels and mottled, dark-red brick. Some of the blocks are connected by covered bridges, while two of the four-storey blocks contain bedsitter and one-bedroom flats for old people. (fn. 19)
To the riverside, Kelson House is a 25-storey block of maisonettes, faced in aggregate-concrete panels (Plate 136d). It is of the 'scissors' type developed in the early 1960s by a team in the LCC Architect's Department, headed by David Gregory-Jones, Colin Jones and Ian Hampson. Such blocks were intended to give greater flexibility and economy (fn. 20) than the existing LCC dwelling types - in particular by placing all living-rooms on one side of the building, and by providing a central corridor, which avoided the need for access-balconies. The somewhat complicated layout, ultimately derived from Le Corbusier's Unité d'Habitation (1947–52), is best described 'by comparison with a pair of half-opened scissors, the handles representing the bedroom levels, the blades the living levels and the pivot the bathroom level' (fig. 203). The bedrooms are, therefore, a full storeyheight above or below the living-rooms, with the sanitary accommodation in between. Each dwelling is approached either up or down half a flight of stairs from the access corridor. A separate tower contains lifts, escape-stairs and other services, and is linked to the main block by bridges leading to the access-corridors. (fn. 21)
In the mid-1980s the LDDC spent £350,000 on the building of a community centre on the Samuda Estate as part of an effort to develop the local community. It was completed by 1986. (fn. 22)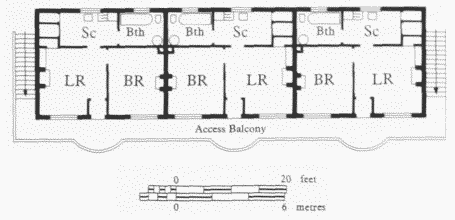 Jubilee Crescent
This lies on the west side of Manchester Road and is an attractive group of two-storey cottage-flats standing in their own landscaped grounds. They were built in 1935 by F. & T. Thorne for R. & H. Green & Silley Weir Ltd, the local ship-repairing firm, for retired workers in the shipbuilding and repairing industries. (fn. 23) They were designed by G. R. Unthank, but were the personal brainchild of the chairman of the firm, John Silley, who knew that many men in these two industries could not afford to retire at 65 and maintain a home on the old-age pension. He had already initiated a similar group of dwellings at Falmouth, Cornwall, where his firm had an associated company, and he decided to mark King George V's Silver Jubilee by the construction of a further group. According to Silley his firm at first 'struggled to get their scheme in other districts when they thought it was impossible to get a site in Poplar, but the other districts did not rise to the occasion like Poplar did'. (fn. 24) In fact, he approached the Port of London Authority and persuaded them to give him 1.5 acres on the edge of the Mudchute in exchange for some land owned by his firm at Beckton. (fn. 25) The firm provided the money to build the flats and then handed them over to a trust - the Shipworkers Jubilee Housing Trust - which initially let the dwellings at 2s 6d per week. This covered the expenses of day-to-day running and maintenance, but not the capital cost of erection. The scheme received a State housing subsidy, (fn. 26) and Poplar Borough Council co-operated by charging a special inclusive figure for the costs of rates (at a nominal assessment of £3 per house), (fn. 27) electric light, and water rates, so that these could be covered by the rent. (fn. 28)
The five blocks (each of six flats) are arranged in a crescent round a semicircular green laid out with lawns, flowers and trees, and protected by front gates and a wall in the rubble-brick which is characteristic of the area (see page 547) (Plate 127a). Contrary to orthodox thinking at the time, the living-rooms and bedrooms, rather than the kitchens and bathrooms, overlook the access balcony to the upper dwellings (fig. 204). (fn. 29) To the ground floor the buildings are faced in either yellow stock brick (at the rear) or hard red brick (at the front), but the first storey and parapets to the balconies are rendered, while the hipped roofs are covered in red tiles. The balcony parapet of the central block bears two oval portraits in relief of King George V and Queen Mary.
Modernization of the cottages was completed in 1984, under the supervision of John Pelling & Partners, and with J. W. Goodyer (Builders) Ltd as the main contractor. Since 1979 the flats have been managed by the Samuel Lewis Housing Trust on behalf of the original trust. (fn. 30)
Betty May Gray House, Manchester Road
This block was built by the Isle of Dogs Housing Society. The site in Samuda Street and Stewart Street, which the Society had acquired in 1938 for a further housing development, was compulsorily purchased by the LCC in 1949 at a price of £5,600, having already had temporary prefabs built on it. (fn. 31) In 1953, however, the LCC agreed to lease to the Society, at a yearly rent of £290, a triangular piece of land at the junction of Pier Street and Manchester Road. (fn. 32) At the same time the Society, having learnt of the Betty May Gray bequest, obtained approval from the High Court in February 1953 for the money from the bequest, amounting by then to £45,000, to be transferred to the Society. Mrs Gray, who had no connection with the Society, or indeed with East London, had died in 1933, leaving the residue of her estate to be devoted in the most general terms 'to the furtherance of practical measures of slum clearance'.
The architect David Hodges, of Louis de Soissons, Peacock, Hodges & Robinson, began to prepare plans. By the beginning of 1957 informal approval had been obtained from the LCC, the site had been cleared, and a tender for construction had been obtained, and it seemed that building work was about to commence. However, the Society was, despite the bequest, still having trouble in obtaining the necessary finance. During 1957 and 1958 discussions on this took place with the LCC, which agreed to provide a loan and also to make a larger-than-usual contribution under the 1957 Housing Act. (fn. 33) The original contractor, Y. T. Lovell & Son of Endsleigh Gardens, agreed to carry out the work of erection at a revised cost of £167,288 8s 4d. Work began on site in June 1960, and Betty May Gray House was officially opened in March 1962.
It consists of two flat-roofed blocks of nine and five storeys, set at right-angles to each other and served by a single lift tower placed between them. The buildings are faced in 'Dapple Lights' Flettons - a light-brown brick - and aggregate-concrete panels. In all there are 55 one- to three-bedroom flats and maisonettes, with the maisonettes in the taller block arranged so that no living-room is immediately over a bedroom, in an attempt to keep noise between dwellings to a minimum. A few dwellings were allocated to old-age pensioners, but most were allotted to families, all the original tenants being nominated by the LCC. (fn. 34)
St John's House
This is a sheltered-housing block on the north-eastern side of Pier Street (originally part of Stebondale Street), which was built by the Isle of Dogs Housing Society. It occupies the sites of Nos 159–185 Stebondale Street, which were destroyed by bombing during the Second World War. The whole site was subsequently bought by Poplar Borough Council and six temporary prefabs placed there. In June 1966 the GLC was preparing to purchase the site for a permanent housing scheme and asked the Isle of Dogs Society if they would be prepared to consider a joint development of the land, especially as it was adjacent to the Society's Betty May Gray House. In the event, the GLC decided to sell the freehold of the site to the Society for £4,500 and it provided a loan to cover the purchase price. The new building, like Betty May Gray House, was designed by David Hodges of the Louis de Soissons Partnership.
In order to widen the very narrow site, a small part of Stebondale Street was closed to traffic, although pedestrian access remains. Construction work, by Henry Luck Ltd, of Rickmansworth, at a tendered price of £165,022, began in 1972, but because of difficulties - most notably additional piling work, problems over maintaining enough workmen on site and damage caused by vandals - the building was not handed over until February 1974. St John's House, which is faced in light-brown Fletton brick, is a two- to three-storey block, with a series of hipped roofs covered in red concrete tiles and punctuated by flat-topped dormers. The accommodation, for elderly people, consists of 21 one-room and eight two-room flats (the type of accommodation urged on Housing Associations by the GLC at the time the block was planned), together with a warden's flat and residents' common-room. (fn. 35)
The Schooner Estate
This stands on a site of 3.5 acres, bounded by the triangle formed by Glengarnock Avenue, Manchester Road and Stebondale Street. It was designed by the LCC Architect's department and erected by Rush & Tompkins, of Sidcup, at a total estimated cost of £517,000. (fn. 36) The first part was completed in 1963 (fn. 37) and consists of Galleon House, Capstan House and Nos 19–41 (odd) Glengarnock Avenue/Nos 139–149 (odd) Manchester Road. The remaining part, completed in 1965, (fn. 38) comprises Carvel, Clipper and Frigate Houses. (fn. 39)
The layout of the new development was designed to relate to the Royal Naval College at Greenwich, on the opposite side of the river, and special attention was allegedly given to the colour and architectural treatment of Galleon House. (fn. 40) This is an 11-storey block on stilts, and contains 80 flats and maisonettes. The end walls are faced in red brick, and the front and back elevations mainly consist of pale-blue panels and windows. In 1990 this block underwent major refurbishment.
To the north-east is a lower block, of three and four storeys. The upper floors contain 12 flats and maisonettes, numbered 19–41 (odd) Glengarnock Avenue, while the ground floor has a row of six shops designated Nos 139–149 (odd) Manchester Road which, with the seven in the Borough Council's adjacent development (see below), forms a small shopping parade. Capstan House, in the angle between Stebondale Street and Glengarnock Avenue, is a three-storey L-plan, flat-roofed block of old people's flats, in similar materials. Clipper, Carvel and Frigate Houses are four-storey link-blocks of maisonettes. Clipper House contains 16 dwellings, the other two blocks have 12 dwellings each. The materials are again similar, but with the addition of some yellow tile-hanging.
The Stebondale Street Scheme
In 1964 Poplar Borough Council decided to round off and complete their Kingfield Street Estate by the construction of seven blocks of flats and maisonettes in Glengarnock Avenue, Stebondale Street, Seyssel Street and Manchester Road, and appointed Geoffrey A. Crockett of Adelaide Street, as architect. (fn. 41) The scheme was inherited by Tower Hamlets Borough Council. (fn. 42) The south-easterly ends of Glengarnock Avenue, Parsonage, Billson and Kingfield Streets were closed, to allow development along Manchester Road. (fn. 43) Construction was carried out by Rowley Brothers, at an estimated cost of £1,016,075. (fn. 44)
Nos 21–103 (odd) Seyssel Street, together with Nos 2–84 (even) and Nos 86–108 (even) Glengarnock Avenue, are five-storey blocks, including a basement, and have the upper two storeys set back, thus providing an access-balcony to the rear at second-floor level. Nos 52–74 (even) and Nos 76–98 (even) Stebondale Street are of four storeys and have no basements. These five blocks were all completed in 1969. (fn. 45) The other two blocks, Nos 151–225 (odd) and Nos 227–297 (odd) Manchester Road (completed in 1970), are of four storeys, except for the south-westernmost part of the former block, Nos 151–177, which is of three storeys and consists of seven ground-floor shops (continuing the parade of shops on the LCC's Schooner Estate), with maisonettes above. (fn. 46) All the buildings are of white flint brick and have low-pitched roofs covered in grey interlocking tiles. A total of 187 dwellings was provided. (fn. 47)
The Kingfield Estate
This estate consisted of Nos 1–27 and 2–28 Kingfield Street, Nos 18–26 on the north side of Billson Street, Nos 18–32 and Nos 13–39 Parsonage Street and Nos 40–50 Stebondale Street. It was built in the early 1920s for Poplar Borough Council, was designed by the Borough Engineer and Surveyor, Harley Heckford, and the building contractor was R. A. Reader of Hackney. (fn. 48)
The estate was built on just over two acres of vacant land purchased from the Charteris Estate for £4,290. (fn. 49) In view of the fact that this scheme had been in hand since 1920, it is not entirely surprising that the houses are identical in appearance to those designed by the Office of Works for the Chapel House Street Estate (see page 492). No doubt the Borough Surveyor felt that adopting a government-sponsored design would ensure immediate Ministry approval and avoid any further delays. The first ten houses were complete by May 1924 and the whole scheme was finished early in 1925. (fn. 50) The cost of the scheme, including the price of the land, was £40,777. (fn. 51)
This was not really a cohesive estate but simply a series of adjacent infill plots inserted on land left over between existing terraced housing built in the late nineteenth and early twentieth centuries. The original proposal was for 17 houses with two bedrooms, 38 houses with three bedrooms, and a block of six three-bedroom flats, all with living-room, bathroom, w.c. and scullery. (fn. 52) During the building of the estate it was found that the six flats would cost more to construct than a similar number of houses with the same accommodation, and by rearranging the plan six houses were provided in the same space. (fn. 53)
The existing street pattern meant that only the merest nod in the direction of the Garden City spirit was possible. The houses are grouped in terraces of four or six dwellings and are slightly set forward or back to ease the otherwise straight lines. Because Kingfield Street had not previously been built up it was possible to lay it out with grass verges on either side, a feature all too rare in the area and not even to be found on the Borough's other cottage estates.
The area suffered considerably from bombing in the Second World War (fn. 54) and two groups in Parsonage Street, Nos 18–24 and Nos 33–39, were badly damaged by enemy action. Nos 18–24 were replaced by Orlit housing (see page 449) and Nos 33–39 were rebuilt in 1948 with the same accommodation as before. (fn. 55) In 1976 a gas explosion destroyed No. 13 Parsonage Street and badly damaged No. 15. Subsequently No. 13 was rebuilt by Tower Hamlets Borough Council as a four-bedroom house and No. 15 was refurbished as a two-bedroom house, at a total cost of £104,433, of which only £24,483 was recovered in insurance. (fn. 56)
The Manchester Estate
This stands on a site of c3.7 acres to the west of Manchester Road, between Pier Street and Seyssel Street. It was designed by the LCC Architect's department. (fn. 57) Part of Stebondale Street had to be stopped up in order to carry out this development. (fn. 58) The design and construction of the pile-and-beam foundations for the blocks on this site were carried out by The Pressure Piling Company (Patent) Ltd of Camberwell, at an estimated cost of £36,100. (fn. 59) The superstructures were erected by the LCC's own direct labour force at an agreed price of £324,620, and the development was completed in 1961–2. (fn. 60)
The Manchester Estate was built to an overall density of 35 dwellings (138 persons) per acre. (fn. 61) Urmston and Salford Houses, on the north side of Seyssel Street, are eight four-storey link-blocks of maisonettes (Plate 138b). These were originally flat-roofed buildings, with dark-red-brick piers and end walls, while the front elevations had some tile-hanging. Their appearance has been radically altered by a refurbishment scheme completed by Tower Hamlets Borough Council in 1990. They now have hipped and slated roofs, the front and back elevations are clad with smooth yellow panels and brown metal retaining strips, the end walls are rendered with pebble-dash, and new stained-wooden-framed windows have been installed. However, because some dwellings have been purchased by their occupiers, it has not been possible to carry out this treatment to all dwellings, leaving incongruous gaps on some of the blocks.
Farnworth House, in Manchester Road, and Castleton House, in Pier Street, are five-storey blocks of flats, with dark-red-brick piers and end walls. Along the front and back elevations exposed concrete floor-beams are infilled with panels and windows. The access-balconies to Farnworth House are supported by a prominent metal grid on the front elevation.
Empire, Alpha and Grosvenor Wharves
Plans for low-rise housing on the sites of these wharves - a total area of 3.15 acres - were prepared by Tower Hamlets Borough Council's Directorate of Development, with Martin O'Shea as project architect, and involved the creation of two new culs-de-sac, Empire Wharf Road and Grosvenor Wharf Road. (fn. 62) Construction work was carried out in 1978–81 by Thomas Bates & Son, at an estimated cost of £1,460,459. (fn. 63) A public walkway along the river wall (with seating), an open space and a land-scaped area with a playground were also provided, at an additional cost of £117,000.
From the outset this development was intended 'to set a new standard for local authority housing in the area' and provide an example to private and other developers of how to treat such riverside sites. In all there are 66 dwellings, at a density of 100 persons to the acre. The accommodation comprises 24 one-bedroom flats and 42 houses containing from two to four bedrooms. The eight ground-floor flats were designed as 'mobility' housing for the disabled. The two-Storey terraced houses are arranged in echelons, while the three-storey blocks of flats are interspersed among the terraces. The layout was largely determined by the wish to give as many dwellings as possible a view up or down the river, and some dwellings have their own balconies. The main construction of the buildings is traditional, with load-bearing walls of yellowish-brown brick. The roofs are pitched at varying degrees, and most are covered with artificial slates, although a few have pantiles (Plate 138a).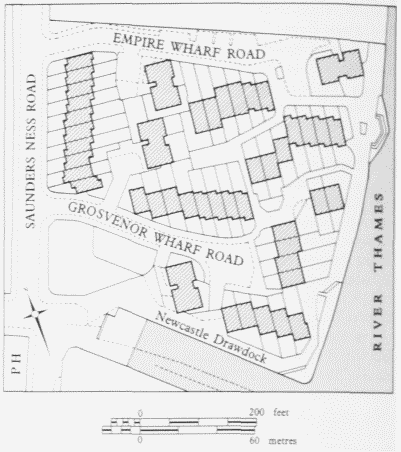 All the houses and the ground-floor flats have been given their own fenced gardens, while the site as a whole has been landscaped and surrounded by substantial brick walls. The houses and flats cluster around courtyards reached, chiefly, by narrow walkways (fig. 205). The brick wall around the open space and children's playground to the south-east of the junction of Grosvenor Wharf Road and Saunders Ness Road incorporates a number of inscribed commemorative and memorial stones from the Primitive Methodist Church in Manchester Road, which was demolished in 1978 (see page 506). (fn. 64)
Livingstone and Midland Places
These developments, to the south of Ferry Street, consist of dwellings by the Circle 33 Housing Trust. Although the site is a splendid one, looking across the river to Greenwich, it proved difficult to develop. The acquisition of the land in 1975 followed years of awkward negotiations. There were also problems to overcome during the planning stage, with conditional consent finally being granted in 1978. After construction began in late 1979 the ground was found to be heavily contaminated with industrial waste and to have numerous large underground obstructions. Thus, the development was not officially opened until May 1983.
The scheme was designed by Levitt Bernstein, the partners of which were founders of the Circle 33 Housing Trust. Discussions were held with local tenants' groups to ascertain the local needs and aspirations. As a result, an equal mix of family and non-family accommodation was provided (22 houses and 14 flats, plus 10 old-people's dwellings). So as to take advantage of the riverside outlook and not neglect the appearance from Ferry Street, while at the same time making maximum use of the site, two terraces of narrow frontage, dual-aspect dwellings are arranged in an unusual V-shaped hammer-head plan, with the rear terrace being higher so that all dwellings enjoy river views.
The blocks, which vary between one and three storeys, are faced in mottled red/light-brown stock brick (with blue-brick dressings) and some weather-boarding, while the very shallow-pitched roofs are covered in corrugated-aluminium sheeting. Towards the centre of the Ferry Street elevation of the rear terrace, one-bedroom flats for young people are set above maisonettes, and are approached via cantilevered metal staircases. One of the conditions of planning permission for this scheme was the creation of a public riverside walk, which is approached through the centre of the terraces. (fn. 65)
No. 35 Ferry Street
This is a three-storey block of flats around three sides of a grassed courtyard, built by the New Islington and Hackney Housing Association. The site, formerly the Millwall Boiler Works, covered 0.92 of an acre and was purchased by the Association in 1974 for £95,000. Plans were prepared by Christopher Lyster of Lyster, Grillet & Harding, and some discussion took place with the architects of the Circle 33 Housing Trust's scheme (see above), with a view to devising mutually acceptable layouts for the two schemes. Construction was carried out in 1978–80 by Farrow Construction of Colindale, with Ove Arup & Partners acting as structural engineers, at a total estimated cost of £1.3 million. On completion this block was handed over to The East London Housing Association to manage. The block is faced in yellow stock brick and red brick, and has a monopitch roof, covered with red interlocking tiles. The accommodation consists of 48 one- and two-bedroom flats, and car-parking spaces are provided under the building. The density, at 156 persons to the acre, is quite high. (fn. 66)
The Manchester Grove Estate
This estate consisted of Nos 201–207 (odd) East Ferry Road, Nos 1–59 and 2–44 Manchester Grove, and Nos 15–45 (odd) Manchester Road (fig. 5, page 24). The housing scheme was designed by the Borough Surveyor, Harley Heckford, (fn. 67) and was built in 1925–6 for Poplar Borough Council by R. A. Reader of Hackney. (fn. 68) The site, which had been previously used for allotments and covered just over three acres, was purchased from the Charteris Estate. The total cost of the whole scheme, including the land, was £44,565. (fn. 69)
It is another Garden City-type cottage development, but the site offered little scope for varying the layout of the road or the grouping of the houses. Although the houses along East Ferry Road and Manchester Road are built in yellow stock brick similar to that used in earlier council developments, those in Manchester Grove (a new street created by this scheme) (fn. 70) are rendered with pebble-dash, a change probably made here more for reasons of economy than aesthetics. The roofs are hipped throughout and originally had red interlocking clay tiles. The windows, though Georgian in inspiration, with glazingbars, lack the Georgian sense of balance and are arranged in a utilitarian fashion which gives a rather unsatisfactory appearance. The density of c27 houses per acre is high for the period, and indeed the Council had to justify this to the Ministry of Health. (fn. 71) All 72 houses were intended to have two bedrooms with a living-room, scullery, w.c. and bathroom, but two were given three bedrooms. (fn. 72) Six houses were damaged during the Second World War: Nos 201–203 East Ferry Road and Nos 33–35 Manchester Grove were rebuilt by the early part of 1948, (fn. 73) and Nos 37–39 Manchester Grove were rebuilt in 1955–6. (fn. 74) All of the new dwellings had three bedrooms.
The garden walls to the street on this and several other inter-war housing developments in the area (for example, the Hesperus Crescent Estate, Jubilee Crescent, the Naval Row flats and the council dwellings in Tiller Road) are an attractive feature. At a distance they appear to be built of random stonework, but in fact they are faced with over-fired ceramic-waste material, including broken bits of brick, tile and piping. The inside faces of these walls reveal that they are structurally of normal brickwork and the outer treatment is purely decorative. While it is not uncommon to find such 'crazy-paving' garden walls in London and Kent, they usually employ over-burnt stock-brick remnants, (fn. 75) whereas those on the Isle of Dogs are faced with material which, to judge from the names of firms impressed on some of the fragments, was brought from Stourbridge in Worcestershire.