Pages 697-702
Survey of London: Volumes 43 and 44, Poplar, Blackwall and Isle of Dogs. Originally published by London County Council, London, 1994.
This free content was digitised by double rekeying and sponsored by English Heritage. All rights reserved.
Gazetteer of Housing Developments
Ambassador Square
This consists of 31 dwellings on the site of George W. Mancell's steel yard, at the north-eastern end of Cahir Street. It is a mixture of one- and two-bedroom flats and three-bedroom houses (fig. 263), arranged around a central, enclosed courtyard, developed and constructed by Laing Homes in 1988 using its own standard housingtypes. (fn. 1)
The Anchorage
This development, to the west of Westferry Road, stands on the southern part of Sufferance Wharf, where Beechams had a soft-drinks depot. It was developed by Rosehaugh Copartnership Developments, the architects were Michael Squire Associates, and the main contractor was Costain Management Design of Maidenhead. One tenstorey and two four-storey blocks, completed in 1990, provide 120 apartments, nine terraced houses, a leisure centre, and four commercial units. (fn. 2)
Burrell's Wharf
See page 478.
Caledonian Wharf
This housing scheme stands on a riverside site east of Saunders Ness Road, and includes Caledonian Wharf Road and Storers Way. The four-acre site was developed and built by Thomas Bates & Son of Coventry and Romford in 1984–7, with a scheme designed by Alan Turner & Associates. There are 100 houses and flats; the flats are arranged along the riverside in a continuous series of blocks, varying from two to five storeys; the houses range from two to four storeys, and are mainly arranged in a loose courtyard-fashion. The old dry dock on the site was transformed into an ornamental lake. (fn. 3)
Cascades
The tall apartment block, known as Cascades, which overlooks the river, off Westferry Road, is already a distinctive local landmark (Plates 154a , 155b). After Canary Wharf it is the best-known building on the Isle of Dogs, not least because it was criticized by the Prince of Wales and appears on the cover of his book, A Vision of Britain (1989). The northern part of Sufferance Wharf, on which Cascades is situated, was purchased, with planning permission for three- and four-storey houses, in 1985 by Kentish Homes. However, the architects, Campbell, Zogolovitch, Wilkinson & Gough, who had already designed a number of low-rise housing schemes for Kentish Homes, looked at other waterside developments in such cities as Sydney and San Francisco, and decided that this site demanded a tall building. The developer and the LDDC were therefore persuaded to accept a 20-storey block of apartments designed by one of the partners, Rex Wilkinson - a return to the highrise housing which had gone out of favour in the 1960s.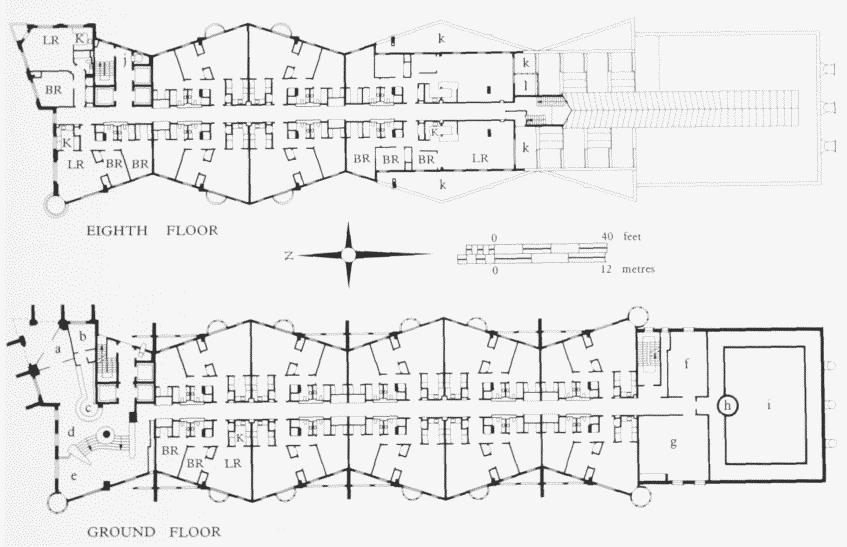 Construction was by J. A. Elliott (the contract being provisionally costed at £14.8 million), using fast-track methods. The first occupant had moved in by February 1988, and the scheme was completed in August 1988, only a little over the 18 months originally demanded.
The main block is clad with brick, principally buff and blue, although some yellow stocks are also used. It contains 164 one- to three-bedroom flats on either side of central corridors. The building gradually reduces in size as it gets higher and the side walls are concertinashaped on plan (fig. 265). All this is designed to give each flat the best orientation. The south-facing slope of the building provides a 'cascade' of sun terraces and alternating greenhouses for the penthouses, and also incorporates the fire escape under a steel-and-glass canopy. The style is deliberately nautical (as in the same architects' New Concordia Wharf, Bermondsey), with portholes, railings and 'bird's nest' balconies, all intended to convey the streamlined qualities of an ocean liner. The block also has a leisure centre, with swimming pool and gymnasium. A lower block of three and four storeys is set at right angles to the main block and contains four shops, with apartments above. (fn. 4)
Clippers Quay
This comprises 258 flats and houses built around the former graving dock, at the south-east corner of the Millwall Docks, on land owned by the PLA, which shared in the development profits (Plate 158b). The scheme, which won design awards, was drawn up by Robert Martin Associates, and was developed and built by Roger Malcolm Ltd in 1984–8, at an estimated cost of £11 million. Access off Spindrift Avenue to Clippers Quay is provided by Undine Road and Whiteadder Way, and the development also includes Falcon Way. (fn. 5)
Compass Point
The Compass Point development, straddling the northern end of Saunders Ness Road, comprises Blyth Close, Chichester Way, Mariners Mews (fig. 266), Sextant Avenue, and Francis Close, and stands on the site of Dudgeon's Wharf. It was developed and constructed by Costain Homes in 1985–8, using a scheme initially drawn up by Jeremy Dixon of Jeremy Dixon-Building Design Partnership. Dixon's aim, both in the overall layout and the design of the individual groups of buildings at Compass Point, was to re-create the urban pattern of Georgian London 'in which formality and axiality are tempered by asymmetry and modesty of elevation'. The intention was to design in the Classical spirit, rather than simply to produce a neo-Georgian pastiche. There are 150 flats and houses in a variety of blocks, faced in darkred brick and smooth white render, with pitched slate roofs. Several blocks are re-workings of previous schemes by Dixon, such as the three-storey villas in Sextant Avenue (based on his Lanark Road housing at Maida Vale), the Dutch-style riverside terrace with stepped gables (derived from his St Mark's Road housing, Kensington), and the terraces with tall triangular windows in Chichester Way (adapted from his Ashmill Street scheme, Paddington) (Plates 142a,142c , 155a). Sextant Avenue also provides the main axial vista, with - at one end - a small terraced, somewhat Regency-style crescent (Plate 142b) and - at the other end - a view of silos across the river, framed and echoed by two tall riverside blocks of flats with full-height cylindrical towers. Beyond the buildings there is a riverside walk, complete with pergolas. (fn. 6)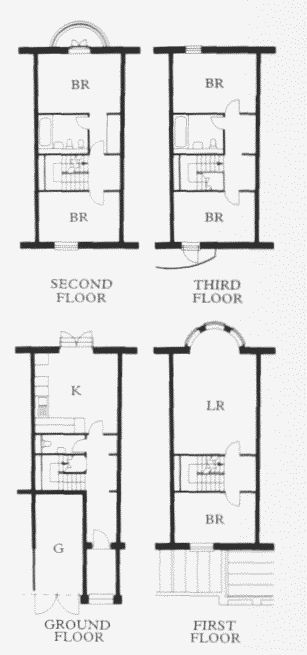 Cumberland Mills
Standing on the south-east side of Saunders Ness Road, Cumberland Mills was developed and built by Thomas Bates & Son in two phases, completed in 1988 and 1990, and designed by a former GLC architect, Donald Ball of Alan Turner & Associates. It consists of 88 dwellings provided in cluster-blocks, rising to ten storeys, with a complex spiral of one- to three-bedroom flats and terracegardens, and is based on the GLC's award-winning Odhams housing in Covent Garden, for which Ball was also responsible (Plate 143b; fig. 267). (fn. 7)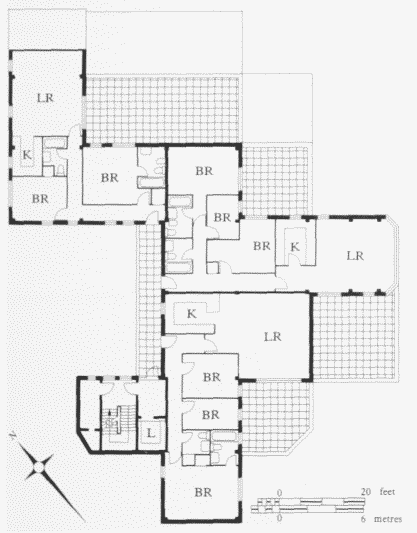 Cyclops Wharf
This is a housing development to the west of Westferry Road on the riverside site of the Le Bas Tubes foundry. 'Cyclops' was the existing name of the site, alluding to the race of giants in Classical mythology (see page 456). The development was a joint venture between Abbey National Homes and Fairclough Homes. It was designed by the Mason Richards Partnership of Dudley, Worcestershire, and the main contractors were Fairclough Building Ltd. The first block was finished at the beginning of 1989, and the whole scheme was completed in 1990. There are 200 dwellings, comprising studio and one- to three-bedroom apartments, and three- and four-bedroom houses, in blocks varying between four and eleven storeys. The scheme also includes a swimming pool, sauna, and gymnasium for residents, a ground-floor car park set below the riverside block, and a double shop-unit on the corner of Westferry Road. (fn. 8)
De Bruin Court, Nos 17–31 (odd) Ferry Street
This is a small development by Moram Homes Ltd, and the scheme was completed in 1988. No. 17 is a four-storey block with seven flats, Nos 19–29 are five three-storey and one four-storey (No. 29) terraced houses (Plate 144a), and No. 31 is a three-storey detached house. Stylistically they are a mixture of metropolitan Georgian and seaside Regency, with a touch of 'Docklands nautical'. (fn. 9)
Felstead Gardens
Standing off Ferry Street and on the site of Felsted [sic] Wharf, this is a small housing scheme of 28 flats and 10 town houses, in three- and four-storey blocks, developed and built in 1983–5 by Wates Built Homes, and designed by Wigley Fox. This scheme received a Department of the Environment Housing Design Award in 1985. (fn. 10)
Friars Mead
Friars Mead (except for Nos 105 and 107, see under Glengall Self-Build), at the north-east corner of the Mudchute, was built as a result of a limited design competition organized by the LDDC and won by Comben Homes Ltd (subsequently part of the Trafalgar House Group's Ideal Homes company), with a scheme designed by Ronald Quinn Associates. Work began on site in 1983, but, because of problems with the toxicity of the soil and the low-lying nature of the land (involving special drainage work), the scheme was not completed until 1986.
This development consists of 24 one-bedroom flats, and 48 two- and three-bedroom houses. Taking its lead from the Development Corporation's brief, which men tioned 'quad' housing, a number of dwellings at the centre of the scheme are built in such blocks. Each contains four dwellings and has a slightly Japanesepagoda appearance. (fn. 11)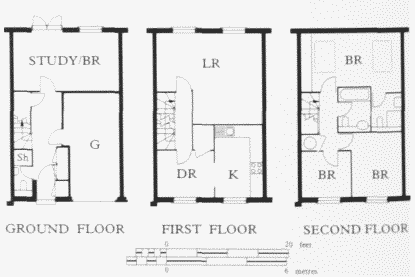 Glengall Bridge
See below, under commercial developments.
Glengall Place
This housing scheme consists of Nos 20–74 (even) Tiller Road (on the south side), plus Claire Place. The 79 traditional one- to three-bedroom, two-storey houses were jointly developed by Barratt (East London) and the Boleyn and Forest Housing Society for shared-ownership occupancy, and were built by Barratts in 1984–5, using its own standard house-types. (fn. 12)
Glengall Self-Build
This housing scheme consists of Nos 1–8 (consec) Isambard Close, Nos 1–6 (consec) St James Close and Nos 105 and 107 Friars Mead. The scheme, by the Glengall Self-Build Housing Association, varies from the other two self-build projects in the area, at Maconochie's Wharf and Arcadia Street, in that it was initiated and organized by a firm of professional advisers, the Essex Self-Build Advisory Service, based at Pitsea. The firm arranged the purchase of the 1.1-acre site from the LDDC (which provided the infrastructure), obtained 100-per-cent funding from the Housing Corporation, commissioned Saunders and Huggins of Grays, Essex, to draw up plans (project architect Roy Bromage), sought people to form an association and provided the constitution for it, arranged the purchase of materials, and co-ordinated and supervised work on site. The 16 members of the association, who were all local people, carried out the work themselves, doing about 26 hours a week. The project started in September 1985, the houses were completed by the summer of 1987, and were handed over to individual members in December of that year. For an outlay of £32,500 each member obtained a three-bedroom house valued at between £90,000 and £110,000. The consultants received a percentage of the development costs, drawn from each member's contribution.
These two-storey houses are designed to blend in with the adjacent housing in Friars Mead by Comben Homes, and adopt a similar 'pavilion' form. The main differences are that the self-build houses are semi-detached, rather than in groups of four, and have square-fronted, doublestorey bay windows. (fn. 13)
Horseshoe Court
This lies between Manchester Road and Ferry Street. It is a further development by Wates Built Homes, following the immediate success of their nearby Felstead Gardens. The architects were again Wigley Fox, and Wates acted as their own main contractor, with work being carried out in 1987–8. The name of this development is derived from the United Horse Shoe & Nail Company which manufactured horseshoes in Ferry Street (see page 516). The accommodation was aimed particularly at first-time buyers with young children. The 71 one- and twobedroom flats are mainly arranged in two-, three- and four-storey blocks around an inner courtyard. There are nine three-bedroom houses arranged in two two-storey terraces facing Manchester Road (Nos 64–80, even). The remaining flats are to the west, in a separate L-shaped three-storey block on the corner of Ferry Street and Manchester Road. (fn. 14)
Jamestown Harbour
This development extends round the east and south sides of the Blackwall Basin, either side of the basin entrance, and continues around the former West India Dock Graving Dock. It is also planned to be extended to the east of Preston's Road. In 1982 the PLA, which owned most of the 6.8-acre site, invited Wates Built Homes to develop this site and the housing scheme was designed by Whittam, Cox, Ellis & Clayton. Construction was carried out by Wates itself in phases: Bridge House Quay (also including Landons Close), 1984–6; Virginia Moorings (around Lancaster Close), completed in 1986; Cotton's Landing (named after Joseph Cotton, the first Chairman of the East India Dock Company, and approached from Preston's Road via Lovegrove Walk), 1988—early 1990s. When the Cotton's Landing phase is complete, there will be 210 dwellings on this development, providing one- to three-bedroom apartments, and four-bedroom houses (fig. 264). A sculpture by Franta Belsky entitled 'Leap', which consists of eight bronze dolphins spouting water, was commissioned by Wates for the former graving dock (Plate 144c). (fn. 15)
Lockes Field
This lies between Chapel House Street and Westferry Road. It was developed, designed, and built in 1988–9 by Groveside Homes, a subsidiary of Tarmac. A central 'mews', approached via an archway through the gatehouses at either end, lies between two enclosed courtyards. There are 90 houses and flats in two- and threestorey blocks, faced in dark-red mottled brick and with pitched, slated roofs (Plate 142d; fig. 268). (fn. 16)
London Yard
The site of about ten acres, on the east side of Manchester Road, was developed by VOM (Vastgoed Ourwikkelings Maatschappi), a Dutch-based property development company. The original scheme was drawn up by ED, a Dutch architectural practice, but its execution was supervised by the London-based Building Design Partnership. Construction was carried out in phases in 1984–8 by John Laing, at a reported cost of £11.5 million. London Yard embraces Amsterdam Road, Leerdam Drive, Rembrandt Close and Rotterdam Drive, and consists of 295 dwellings in a wide mixture of flats, maisonettes and houses. Six- and seven-storey apartment blocks line the riverside, while to their rear lower terraces of two, three and four storeys are built around gardens. At the centre of the scheme is a specially created lake, which is not only ornamental, but also helps to drain the site. The scheme includes a small parade of 14 shop units, a restaurant and a public riverside walk. (fn. 17)
Luralda Gardens
This development is on the site of the Luralda timber factory (which closed down in 1982) to the east of Island Gardens. It is a housing scheme developed, designed, and built in 1983–5, by Barratt (East London). There are 48 dwellings, arranged around three sides of a courtyard garden and there is a riverside terrace. (fn. 18)
Maconochie's Wharf
This housing scheme, on the south-west side of Westferry Road, in Maconochie's Road, Wynan Road, Pointers Close, Rainbow Avenue and Blasker Walk, is the result of three self-build projects, all designed by the same architects, Stout & Litchfield (project architect Roy Stout). (fn. 19) The scheme was largely inspired by Dr Michael Barraclough, who had already worked with those architects on a housing scheme in Ferry Street, of which only four houses were eventually built (see page 518), and Jill Palios of Wapping. Both keen protagonists of self-build, they were also anxious to see some of the new housing going to local inhabitants. By leaflet distribution, advertising in local papers, and word of mouth, enough people were obtained to form the Great Eastern Self-Build Housing Association in 1985. (fn. 20) The LDDC, which owned Maconochie's Wharf and carried out reclamation work there, was persuaded to sell 1.4 acres of the site at the District Valuer's price of £364,000, with infrastructure (remarkably cheap in the light of subsequent land prices in the area), although the site had been initially intended for light industrial purposes. (fn. 21)
Because the Great Eastern Association had 46 members rather than the 20 recommended for such associations by the Housing Corporation, it initially found it difficult to raise a loan. The Abbey National Building Society eventually provided the finance, the total cost of this part of the scheme being estimated at £1.7 million. (fn. 22) The Association commissioned Stout & Litchfield to design the housing. As about a half of the members were in the building trades, a traditional brick-construction method could be used, rather than one more specifically designed for self-build. The members wanted houses, and terraced housing seemed the only way of using the site economically and without appearing to overcrowd it. The LDDC insisted that the river frontage should be uniform, each dwelling being of the same height, with identical balconies, windows, and chimneys. Otherwise there are slight variations in external features, such as the fenestration (including, in some cases, the addition of a bay window), the provision of stained wooden balconies, and the number of storeys, ranging from two to three-storeysand-attics (Plate 143c). The dwellings are generally gabled but, again, for variety these are given different dispositions. Also, the internal planning was agreed after owners had first filled in a questionnaire which indicated the possible options available and then had a personal interview with the architects. Thus, while each owner had some opportunity to incorporate preferences, the architects were able to impose an overall unity, which restricted any wild eccentricities and prevented visual anarchy. The use of the same building materials throughout the whole development also contributes to the overall unity: white calcium silicate bricks (but see below), slates on pitched roofs, and hardwood windows.
Construction of the Great Eastern project (most of the houses on the southern half of the site) began in June 1986. (fn. 23) A certain amount of work was contracted out, mainly the piled foundations and the roof-slating. A member of the association was paid as a full-time site manager, but otherwise members had to devote a minimum of 20 hours a week of their spare time, usually at weekends, working communally on the project, and there were stiff fines for those who failed to turn up or were late. (fn. 24) Curiously, women were excluded from working on the site. The first houses were completed towards the end of 1987, (fn. 25) and in 1988 this scheme won a Prince of Wales's Community Enterprise Award. (fn. 26)
Sufficient interested people remained after the first project to form the nucleus for the second scheme: the Isle of Dogs Self-Build Housing Association. This association, with 35 members, was able to purchase the adjacent part of Maconochie's Wharf, to the north of the Great Eastern scheme, from the LDDC in 1987, although the (undisclosed) price, again fixed by the District Valuer, was much higher than for the first scheme. (fn. 27) Work began about the middle of that year and the actual building work took only 19 months (six months ahead of schedule), with the first houses occupied by February 1989. (fn. 28) However, work was speeded up by contracting out more of the work than on the other schemes, it being more economic to do so because of the level of interest rates at the time. The terraces are similar to the Great Eastern ones, but those abutting the Burrell's Wharf site were required by the LDDC to be faced in yellow brick instead of white, to match the development there.
Finally, the eight houses ranged in two terraces to either side of the Ship public house in Westferry Road were built by the Second Isle of Dogs Self-Build Housing Association. Planning permission was granted in August 1988 and a licence was issued to allow initial piling work to start prior to formal purchase. In this case the LDDC allowed the purchase of the land to be paid for in instalments and when the houses were complete the owners had the option of either paying the outstanding 50 per cent of the land value or entering into an equityshare arrangement with the Corporation. (fn. 29) These houses, completed towards the end of 1990, are faced in yellow brick. As for the naming of the streets, 'Rainbow' and 'Wynan' were ships which regularly berthed at Maconochie's Wharf, while Blasker Walk commemorates a local doctor. (fn. 30)
In all there are 89 three-bedroom houses, which cost less than £30,000 each to build, while the overall cost per dwelling, including the price of the land, was less than £50,000. (fn. 31) If members of the associations sold their houses within five years of completion they had to pay back a proportion of any profits. (fn. 32)
Masthouse Terrace
See page 490.
Plymouth Wharf
This housing scheme, off the east side of Saunders Ness Road, consists of 62 dwellings. It was developed, designed and built by Groveside Homes, and was completed early in 1986. Three-storey terraces to either side of an inner courtyard lead down to a pair of warehouse-style blocks (also of three storeys) by the riverside. (fn. 33)
Quay West
Quay West lies to the east of Westferry Road, and includes the west end of Spindrift Avenue, as well as Barnfield Place and Ironmongers Place. It was developed, designed, and built in 1988–9 by Wimpey Homes. There are 89 houses and 38 flats which provide one- to fourbedroom accommodation. The three- and four-storey blocks are arranged around two principal enclosures: 'a paragon and a pleasance'. (fn. 34)
Timber Wharves Village
This is on a 14.4-acre site, at the western end of the south side of the Millwall Docks, just to the east of Westferry Road. It was designed by Barnard Urquart Jarvis, and developed and constructed by Ideal Homes (part of the Trafalgar House Group). The first part was built in phases between 1987 and 1992. The scheme has a strong urban character, with a fairly formal street layout (Plate 144b ). A central axis, Ashdown Walk, is closed by a large, curved six- and seven-storey block at the southern end with a central archway (Plate 143a). The development is intended to consist of 485 dwellings (in a wide mixture of flats and houses, with blocks varying so far between two and seven storeys), and to embrace also Arden Crescent, Barnsdale Avenue, Charnwood Gardens, Copeland Drive, Dartmoor Walk, Epping Close, Inglewood Close, Kintal Drive (renamed Dockers Tanner Road in 1990, as a reminder of the Great Dock Strike of 1889), Radnor Walk, Rothesay Walk, Savernake Close and Sherwood Gardens. (fn. 35)
Transom Square
Transom Square, on the east side of Westferry Road, was developed, designed and built by Laing Homes. The three central blocks, of two and three storeys, comprising 31 one-bedroom flats and two-bedroom houses (less than half of the 64 dwellings planned for this site) were built between 1988 and 1990. (fn. 36)