Pages 117-121
Thoroton's History of Nottinghamshire: Volume 1, Republished With Large Additions By John Throsby. Originally published by J Throsby, Nottingham, 1790.
This free content was digitised by double rekeying. All rights reserved.
BRIDGEFORD.
Gameleston.—Adbolton.
Master Camden mentions Bridgeford to have been built by King Edward the Elder, (fn. 1) which it might likely enough be, if that was not mistaken for some Buildings, which may have been within Nottingham, on the South Side of Trent, where there is Ground enough within the Limits of it near the Bridge-End, for such a Purpose; and I rather suspect it because before the Saxon Government was changed, I find Bridgeford (fn. 2) a Mem ber of Clifton Sok, and not of Nott. and it paid the Dane-geld as twelve Bovats. The Land was three Carucats. There William Peverell had half a Car. in Demesne, three Sochm. four Vill. two Bord. having four Car. ½ and twelve Acres of Meadow. In Gamston of Clifton Soc also was as much as was rated to the public Geld at six Bovats. The Land one Car. There two Sochm. had one Car. and seven Acres of Meadow. And there William Peverell had in Demesne two Car. and eleven Vill. and four Bord. having four Car. In Adbolton of the same Soc was there also six Bov. ad geldam. There was also a Manor in Adbolton, (fn. 3) which Godwin the Priest had before the Conquest, rated to the Tax at six Bovats. The Land one Car. There William Peverell had in Demesne one Car. and six Vill. and one Bord. having two Car. or Ploughs. There was a Church and six Acres of Meadow. The Value of this in the Confessor's Time was 10s. and in the Conqueror's 20s.
The Family of Lutterell were the most eminent and ancient Owners of Gamston, that I next meet with. The Sheriff William Briewerre, 6 R. 1. (fn. 4) gave Account of xxxiiiis. of the Lands of Calfr. Luterell, who had been misled, as most of our Gentry were, by Earl John into a Rebellion against his Brother King Richard the First. In the first Year of King John, (fn. 5) the said Galfr. gave Account of fifteen Marks to have seisin of xlivs. and viiiid. Land in Glifton (Soke) whereof he was disseised by Occasion of Earl John. In the second Year of King John, he with William Fitz-Wakelin, (fn. 6) was an Overseer of Hugh Bardolf's Expence of xxxl. for inclosing of Bolsovre Park for King John. Andrew Lutterell, 30 H. 3. had Free Warren in his Demesne Lands in Cameleston and Bruggoford, 36 H. 3. he gave the King three Marks of Gold to have the Liberty not to be Justice, Sheriff, or any other Bailiff for the King, during his whole Life; and that he should not be in Assizes, Juries, or Recognizances.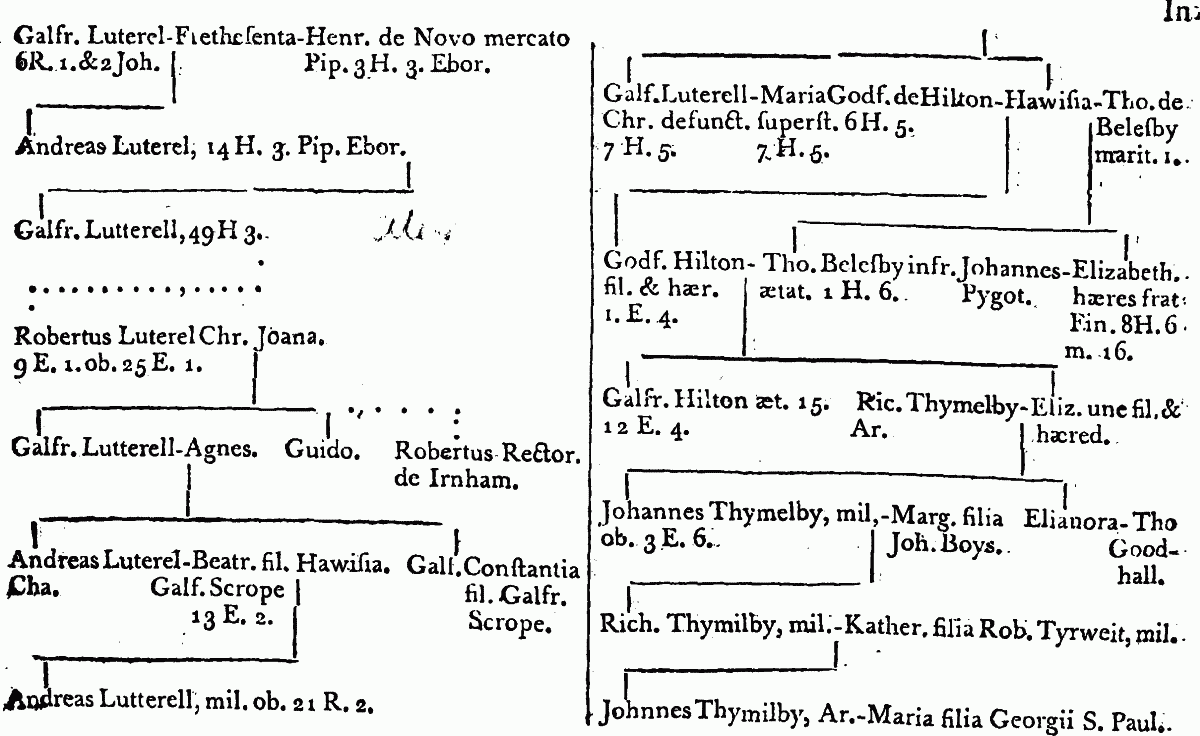 In the 49 H. 3. (fn. 7) Galfr. Son and Heir of Andrew Luterell deceased, did his Homage.
Robert Luterell, 9 E. 1. claimed against Richard Son of Raph Bugge, seven Virgats, and twelve Bovats and a half of Land, with the Appurtenances in the County of Nott. as his Right. And Richard called to Warrant Agnes de Vescy, who came upon Summons, and further called to Warrant John De Ferrars under Age, Son of Robert de Ferrars by the Charter of William de Ferrariis, Grandfather of the said John his Heir, which testified, That the said Will. De Ferrariis, gave the said Land to William de Vescy in Frank Marriage, with Agnes his Daughter. Robert Luterell, 25, E. 1. was dead: he held certain Lands and Tenements in Cameleston and Bridgeford, (fn. 8) with the Advowson of the Church of Bridgeford, of Robert de Tiptost, by the Service of half a Knight's Fee, and a capital Mess. in Cameleston, and xii. Bovats in Demesne in Bridgeford; he held in Cameleston five Virg. of Annoro de Pierpont, and five Bovats in Huckenhall, belonging to the Manor of Camelston: Galfr. Luterel his Son and Heir was then above 21 Years of Age.
Mr. Robert Luterell, Parson of Irnham, (fn. 9) who about the Year 1303, gave Lands to the Priory of Sempingham in Ketton, Cotesmore, Casterton in the County of Rutland, and in Stanford in the County of Lincolne, to maintain three Chaplains, one in the Church of St. Andrew, at Irnham, another in the Chapel of St. Mary, beneath the Manor he gave in Stanford; and the third in the Conventual Church of Sempingham, celebrating for his Soul, and to sustain Scholars, studying Divinity, and Philosophy at Stanford, in convenient Times, was of this Family it seems.
Galfr. Lutterell (fn. 10) (fn. 11) by his Deed dated at Irnham, in Lincolnshire, the first Sunday after Trinity, 13 E. 2. settled the Manor of Cameleston and Bruggford, with the Advowson of the Church of Brugeford, with all his Lands and Tenements in Basingfeild, and other Places, which the Lady Joane, Wife of Sir Robert Lutterell, held for her Life on Guy Lutterell, during the Life of the said Galfr. afterwards to Andrew, Son of the said Galfr. and to Beatrice his Wife, Daughter of Galfr. Scroop, and the Heirs of their Bodies; for want of which to Galfr. Brother of Andrew, and to Constance his Wife, Sister of the said Beatrix, and the Heirs of theirs; Remainder to the right Heirs of Galfr. the Father. There was a like Settlement then made of Irnham and Salteby, and Lands in Correby, Kesseby, and Haverthorp, &c. in Lincolnshire. It appears that Sir Andrew Lutterell, settled the Manor of Cameleston and Briggeford, (fn. 12) and the Advowson of Brigsford, and all his Lands in Briggesford, Cameleston, Basingfeld, Normanton, Torlaston, Keworth, and Nottingham on himself and Hawisia his Wife, and the Heirs of their two Bodies; Remainder to his right Heirs; and that 14 R. 2. Sir Andrew Lutterell Chr. was the Heir of the said Sir Andrew the elder. (fn. 13) Galfr. Lutterell settled this Manor with the Advowson of the Church of Brigford on William Belers, and others. Galfr. Loterell Chivaler Lord of Irnham, about 6 H 5. died seised of the Manor of Camelstone and Brigeford, and Hoton Paynell in Yorkshire, &c. leaving the Lady Hawisia de Belesby, the Wife of Galfr. de Hilton, his Sister and Heir. Galfr. or Godfr. de Hilton was his Son and Heir, 1 E. 4. who had Daughters and Heirs; one, I guess, was Hawisia; Wife of Laurence Brewerne; but 'tis certain that Elizabeth, Wife of Richard Thymelby, Esquire, was one, whose Son and Heir Sir John Thymelby did Homage, 14 H. 8. (fn. 14) after the Death of his Father, the said Richard, which happened 24 Apr. (fn. 15) then last past, being seised of the Moiety of the Manor of Camelston and Brigford, and Advowson, &c. the said Sir John being then above forty Years of Age, who died 3 E. 6. and left Richard Thimelby his Son and Heir; whose Son, John Thimelby, Esquire, as I take it, sold his Interest to Sir Henry Pierpont, Father of Robert Earl of Kingston, Father of the Right Honorable Henry Marquis of Dorchester, the present intire Owner of all the three Townships. There was a Fine levied, 14 and and also 15 H. 7. (fn. 16) between Sir Henry Willughby, Knight, Thomas Hunston, and Thomas Hartwell, Compl. and Lawrence Brewerne, and Hawisia his Wife, Deforcients, of the Moiety of the Manor of Cameleston, with the Appurtenances in Briggesford, Basingfeild, Normanton, Tollerton and Kaworth; and a Recovery suffered; 19 H. 7. (fn. 17) of the said Moiety, with the Moiety of the Advowson of Briggeford, &c. wherein the said Lawrence and Hawisia were called to Warrant. Walter Bec, 4 E. 1. was certified to have had Assize of Bread and Ale in Bruggeford, and afterwards William de Bec, in Brigford, and the Lady of Cameleston to have had free Warren.
The Manor of Adbolton was held by the Family of Strelley. (fn. 18) Walter de Stradleye held of the Honor of Peverell in Stradley, Adbolton, Curtling Stoke, &c. 13 Joh. And Robert, Son and Heir of Robert de Strelley, 16 E. 1. held a Knights Fee in Strelley, Adbolton, Corting-stoke, &c. of Honor of Peverell. By a Fine, 31 E. 1. between Sampson de Strelley, and Philippa his Wife, Quer. and Henry de Whattone of Stoke, Deforc. ten Mess. three Tofts, one Mill, sixteen Bovats, and twenty-five Acres of Land, with the Appurtenances in Orton, Salterford, and Adbolton, and the Advowson of the Church of Adbolton were settled on the said Sampson, and Philippa; and the Heirs of their two Bodies; Remainder to the right Heirs of the said Sampson; (fn. 19) by her he had Stephen and John, who had no Issue, and Robert who had two Daughters and Heirs, Cecily, Wife of William Eland, of Algarthorp, where their Descent will be noted; and Alice, Wife of Thomas Basily of Radcliff, whose Heir was married to Roseli of that Place, as there also may be seen. In the Time of H. 7. Elands part descended from Henry Eland to Mary the Daughter of his Son Thomas Eland. And afterwards was Sir Nich. Byrons, and after that . . . . Halls. George Hall's Father sold it to Robert Earl of Kingston. Sampson de Strelley had a Son named Richard by a former Wife, Progenitor of the Strelleys of Woodborough, who, it seems had some Share here; for the Heirs of Richard Strelley accounted for 2s. 6d. for the eighth Part of a Knights Fee here, 3 H. 4. (fn. 20) to the Aid for marrying Blanch that King's eldest Daughter. And (fn. 21) Queen Elizabeth 18 June, in the 41 Year of her Reign, granted among other Things, a Capital Mess. here with Lands here and in Bridgeford, at the Bridge End, Parcel of the Possessions of Robert Strelley, of the yearly Value of ivl. viis. ivd. reserving that Rent to Sir Henry Pierponte, and his Heirs, who was Grandfather of the before named Henry Marquis of Dorchester.
The Church of Bryggford, the Parish whereof extendeth into Camelston, Basingfeild, and Adbolton, was 14l. (fn. 22) Value, when Mr. Thymbylby was Patron. But is now 16l. 13s. 2d. in the King's Books, and the Marquis of Dorchester Patron. The Rectory of Adbolton was 10l. and Mr. Rosell, Patron. And is now (the Town being wholly enclosed) 2l. 13s. 9d. in the King's Books, and the said Marquis Patron, and is shrunk to a Vicarage, but I have not seen how.
[Throsby] West-Bridgeford
LORDSHIP is old Inclosure; and owned principally by John Musters, Esq. of Colwick, who is Lord of the Manor. When I visited this place, I was told that there had been found in the Lordship, some few years since, several Roman Coins.
The Village is in general well built, and consists of about thirty Dwellings. Mr. Hornbuckle, a Gentleman of considerable property, resides in one built in a pretty stile. A Resident, of the name of Easton, is now in good health at the advanced age of ninety. The Clerk informed me that there was not a dissenter in this place.
The Church is dedicated to St. Giles, has a nave and side aisle, with three bells in a light tower. In the windows are some remains of painted glass; it is well pewed and kept clean. Near the church door is a grave stone to the memory of John Billings, who died in 1785, aged 82. He died suddenly. Some friend caused these apposite lines to be placed on it.
"He fell like Autumn Fruit, that mellowed long, Much wondered at because he dropt no sooner. Fate wound him up for three score Years and ten; Yet freshly run he on some Winters more, Till like a Clock, worn out with beating time, The Wheels of weary Life, at length, stood still."
The Patron of the Living is Mr. Musters. Incumbent the Rev. Mr. Thompson, who is Resident. Living in Bacon, 16l. 14s. 2d. supposed worth 200l. per Annum. Tenths 1l. 13s. 5d. A Rectory Archcepisc. pro. syn 4s. Archidiac pro prox 6s. 8d. Pans solrect de Holme annual, 2s. Vol. In mans. cum. ter adjac. unacum. 2 tov. ter. gleb. per Ann. 1l. 6s. 8d. dec. &c. Thomas Fuller presented in 1692. Millicent Fuller, Widow, in 1723. Mundy Musters, Esq. in 1749. John Musters, Esq. in 1770.