Pages 102-117
Thoroton's History of Nottinghamshire: Volume 1, Republished With Large Additions By John Throsby. Originally published by J Throsby, Nottingham, 1790.
This free content was digitised by double rekeying. All rights reserved.
CLIFTON. (Bank Town).
Wilford and Glapton,,
A small Hamlet Parcel of Clifton.
This was a very eminent Manor in the Time of Edward the Confessor, and did belong to the famous Gode the Countess, who paid to the Dane-geld for it as two Car. and an half. The Land was five Car. There, when the Conqueror's, great Survey was made, (fn. 1) William Peverell his natural Son had two Car. in Demesne, four Sochm. nineteen Vill. eight Bord. having nine Car. There was a Priest and a Church, and one Mill 12d. and twelve Acres of Meadow. In the Confessor's Time the Value was 19l. in the Conqueror's but 9l. with the Soc, it had in Willesford, as much as was taxed or rated at three Car. The Land six Car. There twenty three Sochm. had seven Car. There was a Priest and eighteen Acres of Meadow, and half a Piscary or Fishing. The Soc extended also into Bartone, Bridgeford, Normantune, Cauard, Willebye,, Stantune, Cortinstoche, Basing felt, Adbolton, Camelestune, &c.
Here was also a small Berew of Barton, of Ralph Fitz-Hubert's Fee, which paid for two Bov. to the Geld, and of the Taine-Land, some belonging to Gatham, which Ulchet held of the King, and paid to the Tax as one Bov. He had here one Vill, with two Oxen plowing, and one Acre of Meadow.
Langar, (as in that Place will be noted,) and Clifton were principal Manors, and of the Demesne of William Peverell, and with many other forseited to the Crown by William his Son, in the Beginning of the Reign of King H. 2. (fn. 2) who before the nine teenth Year of it, had given them to Gerbode de Eschaud. How they passed from him I find not, but certain it is, that Gerard de Rodes had them, 1 Joh. And Ralph de Rodes, a very great Man, was possessed of them, 6 H. 3. whose Son Gerard de Rodes, Lord of Melles, about the latter End of H. 3. or Beginning of E. 1. granted the Manors of Clifton and Wilford, and the Services of the Freeholders and Villans there, and at Barton, to Sir Gervase de Clifton, reserving 30l. per Annum Rent; which afterwards he also released. And John de Beaulu likewise released the Manors of Wilford and Clifton to the said Sir Gervase, which were sold to him the said Sir Gervase, by Sir Gerard de Rodes. King Edward the First, (fn. 3) in the ninth Year of his Reign, reciting the Deed of the said Sir Gerard confirmed it. Gervase, Son of Gervase de Clifton, was Seneschal in this Gerard's Time.
This worthy family therefore which held Lands here, and had their Name from their Residence at this Place, and sometimes at Wilford, must not till this Time pretend to be Lords of it, notwithstanding the received Tradition, and old Parchment Writing, importing that Sir Alvered de Clifton, Knight, was Lord of the Manor of Wilford, and Guardian of the Castle at Nott. in the Time of William Peverell, and his son Sir Robert de Clifton, after him in like Manner.
There is no manor of Wilford in Doomsday Book, and King William, or William Peverell built the Castle of Nott. himself, and dwelt in it, and his Son after him; yet 'tis not unlike but that they might have some considerable Trust or Employment under the Peverells.
Gervas de Clifton I find mentioned in the Time of H. 2. who it seems had a Daughter named Cecily, the Wife of Roger de Cressi, (fn. 4) who 3 Joh. claimed Dower against William de Cressi, who gave an Account of Twenty Marks, and a Palfrey, to be justly, and according to the Custom of England, brought off from it; but she in the same Pipe Roll is said to owe forty Marks, and one Palfrey for having her reasonable Dower out of the Freehold of her said Husband in Nottinghamshire, and that he should not be compelled to marry.
There was a Fine levied at Leicester, in the fifth of King John, wherein Gervas de Clifton, (fn. 5) and Ysmania his Sister restore and quit Claim all Writings made between the said Gervase and Robert de Alvideleg, concerning Covenant of Marriage of the Son of Gervas, and the Daughter of Robert, all other Covenants between them the said Gerv. and Robt. and the Writings and Charters concerning the Inheritance of the said Robert which said Robt. gave to the said Ysmania the Land which was his Uncle's Richard Barionas in Gedling and Stoke, during her Life. Gervase, Son of Gervase de Clifton, (fn. 6) 5 H. 3. was detained in Prison for Robbery; Sir Gervase de Clifton, Knight, this Man's Son and Successor in his Lands here, must be accounted a principal Advancer of this Family, for he purchased the Manors of Clifton and Wilford, as before is shewn, and the Manor of Broughton, Sulney of John, Son of Alvered de Soleni, who in the sixth Year of E. 1. levied a Fine to him of eight Virgats of Land there, which Adam de St. Lo, and Sibyl his Wife held in Dower of his Inheritance. This Sir Gervas was Sheriff of Nott. and Derb. 9 E. 1. and 13 E. 1. and 20 E. 1. (fn. 7) the Sheriff of Nott. and Derb. was commanded to attack him, tomake his account for Yorkshire, for the Time he was Sheriff there. Robert de Tibtot the Constable, 12 E. 1. demised Nottingham Castle, with the Appurtenances, to him for 681. per Annum, which, if there were no other Reason, might occasion the Story of the Guardianship. He married Amfelisia, the Daughter of Sir William Sampson, of Eperston, in this County, Knight, and over lived his Son Gervas, who was sometime called of Glapton, where he lived, having married Alice, one of the Daughters and Co-heirs of Robert, Son of Gervas de Rabacy, who held some Lands there, by finding an Under-Bailiff to make Summons and Distresses in the Court of Peverell. Richard Martell, (fn. 8) 27 E. 1. had to Wife Margaret, Sister of the said Alice. This Sir Gervase himself was also sometimes called of Wilford, as in the 13 E. 1. where he is a Witness by the Name of Gervas de Wilford to the Deed, whereby John, Son of Gerard de Rodes, passed to the said Robert de Tibtot, the Manors of Langar and Barneston, &c. together with the Homage of Gervase de Wilford, for the Manors of Clifton and Wilford, of Henry Perpont for Barton; and of Robert Lutterell for Bridgford and Gamelston, &c. yet there was a Branch of this Family kept the Surname of Wilford, whereof one Gervase de Wilford was Remembrancer of the Exchequer, (fn. 9) 14. E. 3. and Chief Baron of the Exchequer, 24 E. 3. But the Posterity of this Sir Gervase keep the Surname and Manor of Clifton to this Day. (fn. 10) (fn. 11), (fn. 12)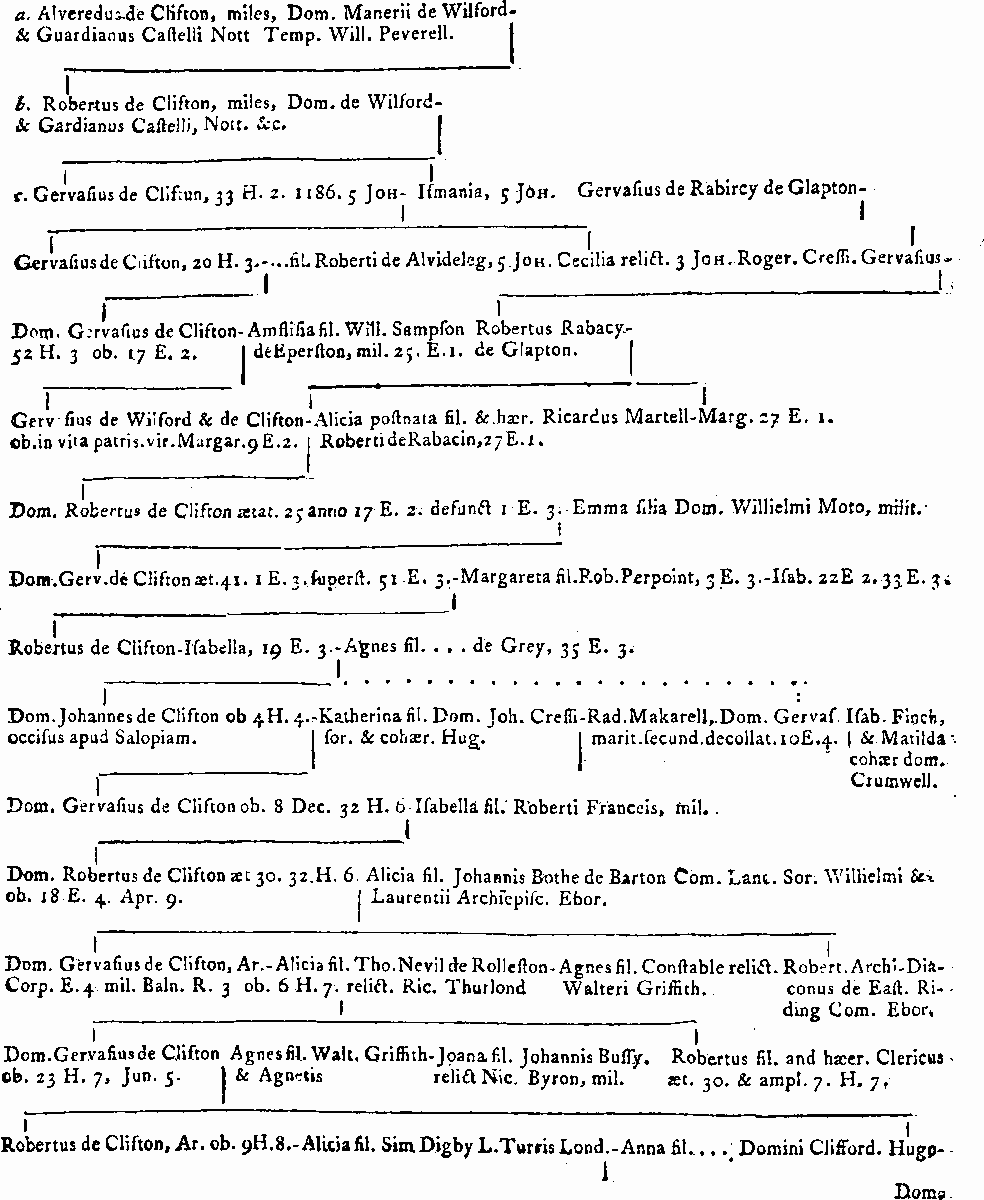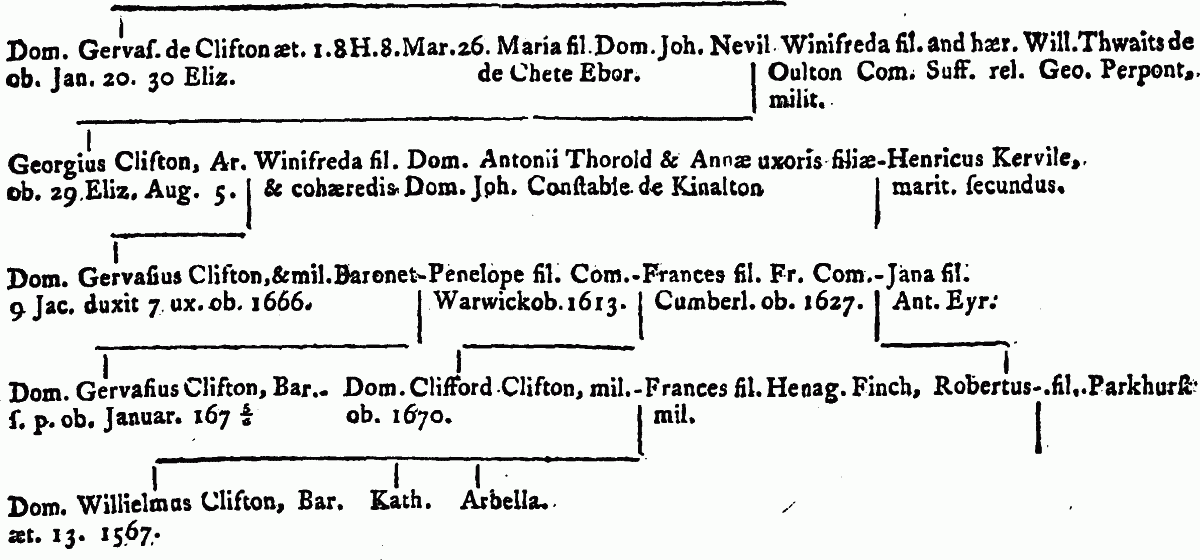 Sir Robert de Clifton, 17 E. 2. his Grandchild, (fn. 13) was found Heir, and above twentysix Years of Age, who married Emme, the Daughter of Sir William Moton, by whom having a Son named Gervase, he married him young to Margaret, the Daughter of Robert Perpont, which said Gervas, 1 E. 3. was by the Jury found to be but fourteen Years of Age, that Year after the Death of his said Father Sir Robert.
The Jury, 22 E. 3. found it not to the King's nor any other loss, if he granted unto Gervase de Clifton Chivaler, Licence to give eleven Mess. five Virg. and one Bovat of Land in Stanton-on-the-Wold and Clifton, and the Advowson of Stanton to three Chaplains, daily celebrating Divine Service in the Church of St. Mary of Clifton, by Nott. for the good Estate of him the said Gervase, and Isabel his Wife. This Sir Gervase the same Year got a Jury to enquire what Damages he sustained by Reason of certain Trenches made in Robert Tibtot's Time, to bring the Water of Trent, out of the ancient Course to Nottingham Castle, for the Benefit of the King's Mills, then through Wilford Meadows, and the Jury found 100l. whereof he prayed 52l. 7s. od. ob. q. might be to satisfy his Arrearages when he was last Sheriff, and the rest paid him. His Father, the last named Robert, Cousin and Heir of the former Sir Gervase, had petitioned King E. 2. and had an Inquisition taken before Roger de Verdon, (fn. 14) Lieutenant of John de Segrave, Warden of Nottingham Castle, but he had Order only for 30 and 5l. out of the Exchequer. This Sir Gervase lived long: I find him 10 R. 2.
His Son Robert to his first Wife, had Isabel — 19 E. 3, but to his second, 35 E. 3. Agnes Gray, by whom he had Sir John de Clifton, who brought a great Increase of Estate to the Family by his Wife Katherin, the Daughter of Sir John de Cressi, and Sister and Heir of Hugh Cressi, by whom he had Hodsack, in this County, Downe-Hall, and Creat-Hall, in Cleypole, in Lincolnshire, and Belton in Yorkshire; she was, after Sir John her Husband's Death, who is said to have been slain at the Battle of Shrowsbury, 4 H. 4. married to Raph Makarell; her Sister Elizabeth, the other CoHeir was married to Sir John Markham, the elder Judge.
Here was a notable Sir Gervase Clifton, of this Family, who sometimes hath been thought to be Son of this Sir John Clifton; but whether he was Brother or Cousin, I cannot yet discover; he married Isabel, Daughter of — Harbard, alias Finch, of Bradbourn, in Kent, the Widow of William Scot, and was several Times in the Reign of H. 6. Sheriff of Kent. (fn. 15) He was, 23 H. 6. Lieutenant of Dover Castle, under Humfry Duke of Gloucester. The King, 29 H. 6. upon the Resignation of Sir Richard Vernon, made him for his good Service, Treasurer of Cales, and the Marches of the same; and the next Year following, viz. 30 H. 6. committed the Temporalties of the Archbishoprick of Canterbury into his Hands, (fn. 16) upon the Death of John the Archbishop. He was a Commander at several Places in France; Pontois he was Captain of. After Robert Lord Willughby, of Eresby, and Thomas Nevil, he was third Husband to Maud, Niece and Co-Heir of Raph Lord Crumvel by Maud his Sister, second Wife of Sir Richard Stanhope. In a Pardon he had the 9 E. 4. he was stiled Gervas Clifton, Knight, late of Bradbourn, in the County of Kent, alias late of Clifton, in the County of Nott. alias of London, alias of Eresby, in the County of Lincoln, but continuing his Zeal to his old Master's Interest, he was 10 E. 4. dispatched at Tewkesbury, and 11 E. 4. amongst the rest proclaimed Rebel and Traytor. (fn. 17) He left Issue by his first Wife two Daughters, Joan married to John Digges, and Isabell to John Gerningham. He bore the same Arms with this Family, as appears by his Seal.
The Son and Successor of Sir John Clifton, was Sir Gervas Clifton, of Hoddesok, who married Isabell, the Daughter of Sir Robert Franceis, Knight, and left her a Widow 8 Dec. 32 H. 6. Sir Robert his Son, being then above thirty Years of Age, who married Alice, the Sister of William Bothe, Archbishop of York, and begun to found the College dedicated to the Holy Trinity, at Clifton, but died April 9, 18 E. 4. before he had accomplished his Design; yet his Son Sir Gervase religiously performed it; who had to his first Wife Alice, the Daughter of Thomas Nevill, of Rollaston, Esq. the Relict of Richard Thurland. There is a fair Alabaster Tomb for her in the North-East End of the North Isle, in Clifton Church.
This Sir Gervase was Esquire of the Body to Edward the Fourth, and Knight of the Bath at the Coronation of R. 3. who, for his singular and faithful Service, gave him in the first Year of his Reign, by his Letters Patent, bearing Date April 24. (fn. 18) the Manors of Ratcliff-on-Sore, in this County, and all the Lands which were Henry Duke of Buckingham's, in Ratcliff and Kingston, and in Kegworth, in Leicestershire; the Manor of Overton-Longvile, in the County of Hunt. together with the Advowson of the Church which Sir Roger Tocote's, of Bromeham, Knt. lately forfeited; and the Manor of Dalbury, and Dalbury Lyes, with the Advowson of the Church, and all the Lands there, and at Etwell, and Wirkesworth, in the County of Darby, and which were late Henry Duke of Exeter's. About 22 E. 4. this Sir Gervas married to his second Wife Agnes, the Daughter of — Constable, of Flamborough, the Widow of Sir Walter Griffith, and his second Son Sir Gervase, to Agnes, the Daughter of the said Sir Walter Griffith, and the said Agnes. His first Son and Heir Robert, was a Clergyman, as was Robert his Uncle, who was Archdeacon of the East-Riding of Yorkshire. Upon the aforesaid Marriage, he settled Jan. 10, 22 E. 4. on Mr. Robert Bothe, Cler. Dean of York, William Constable, Cler. William Rokeshaw, Cler. Stephen Capendale, Cler. Robert Yole, Cler. and Thomas Orston the Manors of Clifton, Wilford, and Broughton Sulney, with the Advowsons of all the Churches, the Soke of Hoddesak, viz. Hodsac, Holme, Oulecotes, Harmeston, Flithorp, Stirap, Letwell, and Gildenweles in this County, so that he was not seized of any when he died, which was 12 May, 6 H. 7. his Son the said Sir Gervase being then about thirty Years of Age, by the Inquisition taken at Blith, 30 of October before Thomas Hunt, Eschaet. 7 H. 7. Another Inq. taken at Newark, 21 H. 7. faith he died 5 H. 7. on Ascension Day.
Sir Gervase, the Son, took to his second Wife Joan, Daughter of John Bussy, Widow of Sir Nicholas Byron, about 21 H. 7. but he left her a Widow again Jun. 5. 23 H. 7. and his Son Robert Clifton, Esquire to succeed him, who married to his first Wife Alice, the Daughter of Simon Digby, Lieutenant of the Tower of London, and to his second Agnes, Daughter of Henry Lord Clifford, by whom he left an Heir about a Year and half old, at the Time of his the said Robert's Death, which was 3 Sept. 9 H. 8. called Gervase who proved an excellent Person, and of great Authority both in Peace and War, and was so courteous, that he was generally stiled Gentle Sir Gervase. His first Wife was Mary, Daughter of Sir John Nevile of Chete in Yorkshire, by whom he had Elizabeth married to Sir Peter Frechevile of Stavely in Darbyshire; his second was Winifrede, Daughter and Heir of William Thwaits, of Oulton in the County of Suffolk,, the Relict of Sir George Perpont, of Holme, by whom he had George Clifton, Esq. who died Aug. 5,, 29 Eliz. about five or six Months before him, for he died about the 20 of Jan. 30 Eliz. leaving his Grandson Gervas a Year old his Heir, and the only Hope of this noble and ancient Family, whom his said Son George a consumptive Person under Age, begot on Winifrid his Wife, Daughter of Sir Anthony Thorold and of Anne his Wife, Daughter and Co-Heir of Sir John Constable, of Kinalton; the said Winifrid afterwards was married to Henry Kervile, and had Issue by him.
This Gervase was certainly more gentle than his Grandfather, being generally the most noted Person of his Time for Courtesy, he was very prosperous and beloved of all. He generously, hospitably, and charitably entertained all, from the King to the poorest Beggar. he served eight Times in Parliament; he was Knight of the Shire in King James's Time, and in his present Majesty's King Charles 2. He was Commissioner at Oxford and Newark for King Charles the First. He was an extraordinary kind Landlord, and good Master. Husband to seven Wives, the first was the beautiful Penelope, Daughter of Robert Earl of Warwick and Penelope his Wife, (howbeit Ch. Blount Lord Mountjoy, Earl of Devonshire paid her Portion) she was Mother of the wretched unfortunate Sir Gervas his Father's greatest Foil; she died Oct. 26, 1613, aged 23 Years. The second was Frances, Daughter of Francis Earl of Cumberland, and Grisilda his Countess: she brought him 1. Margaret, who was first married to Sir John South.— 2. To .— Whitchcote; and 3. to Sir Robert Carey.—2. Frances, first Wife of Richard Tempest; 2. of Anthony Eyr.—3. Anne, married to Sir Francis Rhodes.—4. Sir Clifford.---And 5. Letice, Wife of Clifton Rhodes: This Lady died Nov. 22, 1627, aged 33 Years. The third was Mary, Daughter of John Egioke of Egioke, in Worcestershire, and Anne his Wife; she was Widow of Sir Francis Leek, of Sutton, in Darbishire, and died Jan. 19, 1630. The fourth was Isabel, Daughter of — Meek, the Relict of John Hodges, Alderman of London, buried here at Clifton (as were also the two first Ladies) July 10, 1637. The fifth was Anne, Daughter of Sir Francis South, of Lincolneshire, Knight, buried here likewise June 1, 1639. The sixth was Jane, Daughter of Anthony Eyr, of Rampton, Esq. she was Mother of Robert Clifton, who married --Daughter of Mr. Parkhurst, of Woodford, in Essex, and of Jane Clifton, now Wife of Chr. Pack, of Cotes, in Leicestershire, and of Charles, lately dead a Batchelor. She was buried at Clifton, March 17, 1655, she died at London. The seventh was Alice, Daughter of Henry Earl of Huntington; she died after her Husband in the same Year 1666, at London, and is buried in St. Giles's Church, as the third Lady also was.
He received the Honor of Knighthood early, and was created Baronet with the first 9 Jac. His Port and Hospitality exceeded very many of the Nobility, and his continuance in it most men, being almost fourscore Years Lord of this Place, of a sound Body, and a cheerful facetious Spirit; yet in his latter Time timorous, so that his last Part was Miracle enough to convert an Atheist, to see his Christianity so far prevail over his Nature, that without the least Shadow of Fear, unwearied with Pain, Grief, or Sickness, he left the choicest Things of this World with as great Pleasure as others enjoy them.
He received from me the certain Notice of his near approaching Death, as he was wont to do an Invitation of good Friends to his own Bowling-Green, (one of the most pleasant imaginable) and thereupon immediately called for his old Chaplain Mr. Robert Thirleby, to do the Office of his Confessor, as if it had been to attend him to that Recreation he often used and loved, and when he had done with him, for his Children, whom Patriarch like he particularly blessed and admonished, with the Smartness and Ingenuity of an excellent and well-studied Orator. The Day following he received Visits from divers Friends, in the old Dining-Room near his Bed-Chamber, who were not so sensible of his Danger, because he entertained them after his usual Manner; yet that Night (as I easily foretold him) his sleepiness begun, which could never be taken away, by Reason that both his Ureters were so petrified (as Things are by the Dropping Well near Knavesburgh, in Yorkshire) that no Urine could descend into his Bladder, as at the opening of his Body did manifestly appear, as also that one of his Kidneys had of long Time before been totally stopped with a wonderful great Stone (as is reported of the pious and learned Dr. Hammond) whose Hair was also red, like that of this worthy Sir Gervase, who died June 28, 1666, and was buried the second of August following, with great solemnity, Mr. Dugdale, Norroy, Mr. Ashmole, Windsor, and Mr. Ryley, Lancaster, Heralds; the Quire of Southwell, and many Mourners attending his Funeral. Sir Clifford Clifton his Son and Heir (in Default of Sir Gervase) was buried June 22, 1669, leaving by the present Lady Clifton his Wife (daughter of Sir Heneage Finch, and half Sister of the Attorney General, since Lord Keeper) one Son Sir William Clifton, Baronet, now about thirteen Years old, the Heir of this illustrious Family.
(fn. 19) The Rectory of Clifton was 22l. and that of Wilford 16l. Value. Now Clifton is 21l. 7s. 6d. and Wilford 18l. 7s. 6d. in the King's Books; and the Patron as of old Sir Gervase Clifton.
In the Church were these Inscriptions in the North Aisle. Hic jacet Isabella filia Roberti Fraunceis uxor Gervasii Clifton, militis, filii domini Johannis Clifton, militis, quæ obiit 13 Juni. 1457.
Hic jacet Domina Alicia Clifton, filia Johannis Bothe, Ar. Soror bona memorie Domini Willielmi Bothe, Ebor. Archiepiscopi, & uxor Domini Roberti Clifton, militis, quæ obiit 9 Sept. 1470.
Orate pro anima Roberti Clyfton, militis, fundatoris trium Capellanorum Colegii in hac Ecclesia, qui obiit nono die mensis Aprilis, Anno Domini M.CCCC.LXXVIII. Cujus animæ propitietur Deus, Amen.
Orate pro anima Gervasii Clifton, militis, filii & hæredis Roberti Clifton, militis, fundatoris Collegii de Clifton, finiti & stabiliti per Dominum Gervasium qui obiit in domo fratrum prædicatorum apud London 12 Maii 1491. Cajus Corpus abinde per Agnetem filiam Roberti Constable de Flamburgh, militis, secundam uxorem ejusdem Gervasii, & alias ejus executores juxta voluntatem suam istuc honorifice & decenter conductum fuit, & sub hoc lapide marmoreo hic humatum. Cujus animæ propitietur deus. Pro cujus quidem Agentis prosperitate dum vixerit & pro cujus animâ cum ab hac luce migraverit, speciales ordinantur memoriæ, & orationes per Gardianum & Capestanos Collegii prædicti juxta Compositionem & Statuta inde ordinata perpetuis futuris temporibus devote fienda.
There is a very good Tomb of Alabaster for this Man's first Wife, with her Figure upon it, and the Arms of Clifton, and Nevil of Rolleston on the Side, and at the Head of it another, either for this Man, or his Son, without Inscription, or Arms, saving that upon his Breast is a Lion Ramp.
In the South Aisle upon a great Tomb. Here lieth the Bodies of Sir Gervis Clifton, of Clifton, in the County of Nott. Knight, and Dame Mary his first Wife, Daughter of Sir John Nevell of Chœte, in the County of York, Knight, and of Dame Winifride his second Wife, the Daughter and Heir of William Thwaytes, of Dulton, in the County of Suff. Esq. which Dame Mary deceased the 10th of Apr. 1564, and the said Sir Gervais deceased the 20th of January, 1587, and the said Dame Winifride dec—
In the North Aisle again. Here lieth George Clyfton, Esq. who was Son and Heir apparent of Sir Gervis Clifton, of Clifton, Knight, and Dame Winifride his Wife, who married Winifride the Daughter of Sir Anthony Thorold, and Dame Anne his Wife, one of the Daughters and Heirs of Sir John Constable of Kynalton, Knight; which George had Issue, by his said Wife, Gervais Clifton, and died at Clifton the first (or fifth) of Aug. 1587, and was of the Age of 20 Years and 7 Months.
This Stone covereth the Body of Dame Anne Thorold, Daughter of Sir John Constable of Kinolton, Knight, and Heir to her Mother, who was Daughter and Co-heir to — Sothell, Esquire, and Widow of Sir Anthony Thorold of Barston, in the Countyof Lincolne, Knight, the most loving and careful Grandmother of Sir Gervas Clifton, Knight and Baronet, who laid the same for her Piety and exemplary Virtues, worthy to be had in perpetual Remembrance: died here Aug. 1611.
In the Chancel by the Side of the Vault.
Memoriæ conservandæ causa Dilectissimarum sibi conjugum.
Penelope filiæ Roberti Comitis Warwicensis & Penelopes uxoris ejus, Fœminæ tum corporis tum animi egregia pulchridudine conspicua. Quæ cum convixisset marito annos 5. peperissetq; ei unicum filium
Gervasium, mortua est hîc & conditur.
Obiit 26. die Octobris anno falutis M DC XIII. ætatis sue 23.
Franciscæ Francisco & Grisilda Comite & Comitissa Cumbriæ genitæ, Nobilissime, Prudentissimæ, Pientissimæ fœminæ, quæ relicta prole Margareta, Francisca, Anna, Cliffordo & Lætitia, migravit ex hac vitæ 22. dies Novembris, An. Dom. 1627. ætatis fuæ 33. & eodem conditur.
Mariæ filiæ Johannis Egioke de Egioke, in Comitatu Wigorniæ Armigeri, & Annæ uxoris ejus, Francisci Leeke de Sutton in Agro Derbiensi, Equitis Aurati viduæ, Lectissimæ fœminæ, ætatis in senectutem inclinatæ, animi in mariti liberos materni, mortua est 19 die Januarii, Anno Dom. 1630. Et sepulta in Templo Divi Egidii Lond.
Illis quidem monumentum, Sibi vero est meditamentum.
Inter sepulchra majorum suorum qui per annos plus quàm sexcantos Equestri dignitate villam hanc incoluerunt, Posuit Gervasius de Clifton, Eques Auratus & Baronettus.
Expecta tot terra meis majoribus orta Tandem me ejusdem hinc ordinis atquæ loci Et similem; quod siquisquam concedere nolit Muneris ecce tui est ut similem facias.
Over the Door into the Vault.---Hic intus cum partibus & uxoribus suis dormit Generosissimus Dominus Gervasius Clifton, miles, & (primæ creationis sc. 9 Jac.) Baronettus, qui de patriâ & tribus Regibus in octo Parliamentis bene meruit, nec non de Carolo primo durante bello Commissionarius in præsidiis Oxonio & Newarka, quem antea cum Maria Reginâ in manerio de Clifton festivè refecerat. Septem uxores duxit, quarum tres. juxta memorantur, viz. Penelope silia Roberti, Comitis Warwic. 2. Domina Francisca, filia Francisci, Comitis Cumbr. 3 Maria, filia Joh. Egikoe, Armig. relicta Fran. Leeke, Militis. 4 Isabella, vidua Johannis Hodges, Alderm, London hic sepulta, Jul. 10, 1637. 5. Anna, filia Francisci South, Militis, hic etiam condita Jun. 1, 1639. 6. Jana, filia, Anthonii Evre de Rampton Ar. mater Roberti Clifton, Janæ & Caroli Clifton, obiit Londini huc translata Mar. 17, 1655. 7. Domina Alicia, filia Henrici Comitis Huntington, marito supersuit, sed eodem anno 1666, in Ecclesia S. Egidii, London inhumata. Ipse lætus felicem obivit mortem, Jun. 28. & Pompâ decorâ hic repositus suit, Aug. 2, 1666. Anno ætatis suæ 80. Hunc secutus est filius ejus Dominus Cliffordus Clifton, Miles, Jun. 22, 1669. vir Franciscæ, filiæ Domini Henneagii Finch, Militis, & pater Wilielmi Clifton, Katherinæ, & Arabellæ.
M. S.
Gervasius Holland servus & cognatus Posuit.
Upon a Coffin within the Vault.---Sarah uxor Gervasii Clifton, Armigeri, filii natu maxmi Gervasii Clifton de Clifton, in Commitatu Nott. Equitis & Baronetti. Filia Timothei Pusey, nuper de Selston. Armig. ab antiqua Puseanorum familia in Comitatu Bercheriensi oriundi, Diem obiit, Jan. 22, Anno Dom. 1652.
Dignissima hoc Epitaphio. Virtutis jacet hic monumentum vivida quondam Vivendi, mortis nunc jacet Archetypa. Holpes pauperibus; rabido sic casta marito, Penelope ut merito victa pudere queat. 1652.
There are many Arms in the Windows, viz. in the Chancel North Window.
Or 2. Bars Gules, and 3 Torteauxes in chief.
Arg. 5. Fusills in Fesse Gules, Newmarch.
In the Church South Aisle.
Arg. a Lion Ramp. queve furchè sab. Cressy.
Az. a Bend between 6 Escallops Arg. Frechville.
Gules, 6. Or, 3, 2, 1.
Sab. a Lion Ramp. in an Orle of Cinquefoyles, Clifton: this is very often, and in the upper Windows the Crest with it. A Peacock's Head between the Wings erected per pale Arg. and Sab.
—. A Chevron and File of 3 Labels, Swillington.
Per pale Gules and Sab. A lion Ramp. Arg. Corou. Or. Bellers.
Barry of 6 Arg. & Az. Grey.
Arg. a Bend Az Crusulè Or. Lowdham.
Arg. a Lion Ramp. Sab. amongst Cinquefoyles Gules, Pierpont.
Az a Lion Ramp, Or, on his Shoulders a Flower de Lis, Braytost.
In the North Aisle.
Clifton, impaleing Arg. a Chevron between 3. Eagles displayed Gules, Fraunces.
Clifton, quartering, Braytoft.
Clifton, quartering Arg. a Fesse between 3. Escallops Gules.
On a fair Alabaster Tomb without Inscription.
Clifton, impaling Gules a Saltier Ermine, Nevil of Rolston.
On three or four Tombs more and in the Hall very many impalements, and quarrerings, and all the Coats single which are in the Gallery at Hodsac, of the matches.
[Throsby] Clifton.
IT has been shewn by Thoroton that the Clifton family have long held this manor. It was inclosed about the year 1765. It contains rather more than 1200 acres.
The village consists of about 30 dwellings, shaded with tall trees. Mr. Marshall informs us that a Joseph Allen of this place, raised himself high in reputation from a plowboy to an eminent sheep-breeder; and was the first man who distinguished himself in the midland district as a breeder. This place stands about 3 miles S. W. of Nottingham.
The Church is dedicated to St. Mary, has a nave and two side aisles, and two cemeteries or cross aisles. It has a tower steeple, seen in the view of Clifton Hall, with four bells. At the altar is part of an old painting of our Saviour bearing his cross. In the Church windows are some fragments of painted glass. Here is a Vault for the Clifton family, in which lie many of Sir Gervas's Ancestors. Date over the entrance 1632. In it is a very ancient lead coffin formed, or shaped, to receive the head and shoulders of its inhabitant. Here also I observed a heavy piece of lead, made in the form of a heart. I was told it contained the heart of one of the family who died abroad. The monuments are pretty generally noticed above by Thoroton. But he has given no representations of the fine brasses in this Church. I have copied them from the originals, and they are given in plate 6. J. T. The lady, No. 4, is now near the altar with no inscription, nailed upon a board; perhaps the second inscription given by Thoroton belonged to it. No. 1. belongs to his third Church inscription. The youth, No. 2, represents George Clifton Esq. son and heir of Sir Gervas Clifton, of Clifton, Knight, and Winifride his wife, who died in 1587. (See Thoroton above) No. 3. belongs to his fourth inscription.
Among the ordinary burials in this place, I noticed that Gervase Holland, Gent. died in 1673. William Standfast, Dr. in laws, died in 1695. Joseph, commonly called the Black Prince, a negro, who was converted to the christian faith in 1685, is also remembered here. It appears that he was brought up in the Clifton family, and grew to nearly the height of seven feet. His height is marked in the Church porch. (fn. 20)
Patron of the living Sir Gervase Clifton, Bart. Incumbent Rev. Abel Collin Launder. In the king's book 21l. 6s. 10½d. supposed worth 300l. per Annum. Yearly tenths 2l. 2s. 8¾d. Archidiac pro. Syn. 4s. Archiotae pro. prox 7s. 6d. Sir Gervase Clifton presented in 1689. Lord Middleton in 1721. Sir Robert Clifton in 1754.
The register I did not see. Indeed but little is to be depended upon them, respecting the increase and decrease of villages: there are numbers of Dissenters who bury in churches and church-yards, but do not baptize in the church. Many of them are kept by the late act of Parliament, and some few by no act or method at all; this is to be found in one place and that in another. (fn. 21) I grew completely tired in another county of the register business respecting the increase and decrease of villages. Notwithstanding, those that fall in my way, I shall copy from them as usual; particularly where they are well preserved.
Clifton-Hall
STANDS on a rock of alabaster, curiously inlaid, in many places, with beautiful spar; and adorned, on the Trent side, with extensive plantations. You are led to this delightful spot, from Nottingham, through an avenue of trees a mile in length, upon gentle swells of the earth, which happily destroy that formal line which would have been shewn upon a level surface. Below, the silvery Trent meanders. From this bank, you have a bird's eye view of that river, and its delightful meadows. Here Wollaton-Hall, Nottingham, and its Castle, are pleasing objects. Here tradition says, the Clifton Beauty, who was debauched and murdered by her sweetheart, was hurled down the precipice into her watery grave: the place is shewn you, and it has been long held in veneration by lovers. Agreeable must be the shady walk above; or below upon the water's brink, "To those who seek the shade and the covert to meet returns of tenderness and love." Here the black bird and the thrush whistle through the day and the little red breast, in the evening, sings the creation to calm repose in plaintive song. Here commerce is wasted from shore to shore, and industry floats for the reciprocal benefit of the human race.
Where I took my view of Clifton-Hall, the house detached from every other consideration appears in elegant. It gives you the back part of the house; which corresponds but little with the delightful scenery around it. What a situation for a castle, or a templeform of magnitude! I took the view upon the shoals of the Trent, where it bends suddenly from the clift; and where you see the river fore shortened in a right line with this dwelling. Here all is magnificence to your sight; but Clifton-Hall, Wollaton-Hall, Nuthall, or even the humble imitation of a ruin at Bunney, would look nobly here. One little object, the summer-house, is an agreeable break in this line of beauty.
The known goodness of Sir Gervase Clifton's heart will readily excuse the liberty I have taken in these crude remarks. My observations, undigested as they may be, are dictated by the present moment; flattery and studied censure are alike strangers to my pen and pencil.
This family residence, I am told, has been upwards of twelve years in rebuilding; occasioned by the death of the owner's amiable consort. (fn. 22) The village front of this house, like the Trent view, retains part of the old building. The right projecting wing appears new and plain, intended, I apprehend, to be stuccoed. The left wing is not of the same magnitude nor appearance. The centre stands on ten columns of the doric order. This front is partly shut up from sight by trees, the church yard fence and offices.
In the gardens there is a charming terrace walk, which commands some delightful views. But the walk that pleased me most, was below this terrace, without, rudely shaded with the willow, hawthorn, and some spreading elms; occasionally the passage of woodmen's carriages. The sunshine made the chrystalized alabaster, shelved in the clift, and contrasted with the marle earth about it, splendid. In some places these layers of alabaster, present you with table forms, pillared by the higher bodies of earth falling from them; in others you have a little of the terrific; the rock, by over hanging, threatening you with danger. A thunder storm, in this sequestered spot, would have been grand and aweful.
The house, in its present state, is not shewn to strangers as it has been heretofore. The pictures consist mostly of family portraits.
Mr. Peck has preserved a very curious account of a wedding dinner at Clifton, in 1530, in his desiderata curiosa, which I shall not scruple to give in this place. (fn. 23)
See the arms of this family in the annexed view, Motto, Tenez le droit.
Wilford.
PRINCIPAL proprietor of this lordship, also, is Sir Gervase Clifton. It was enclosed about the same time as Clifton. It is a large lordship; containing 1800 acres of land.
Item An Ounce of Damask Gold
00
03
04
Item 4 Layns (Lawns) for Frontlets
00
02
08
Item An edge of Pearl
01
04
00
Item 3 pair of Gloves
00
02
05
Item 3 yards of Carsey (2 of black and 1 of white)
00
07
00
Item Lining for the same
00
02
00
Item 3 boxes to carry bonnets in
00
01
00
Item 3 pasts
00
00
09
Item A Fur of White Lusants
02
00
00
Item 12 White Hears Skins
00
12
00
Item 12 black Conyes (Skins)
00
10
00
Item A pair of Mytten Sleives of white Satin
00
08
00
Item 30 white Lambs Skins
00
04
00
Item 6 yards of white Cotton
00
03
00
Item 2 yards and half of black Satyn
00
14
09
Item 2 Girdles
00
05
04
Item 2 Ells of white Ribin for Tipit
00
01
01
Item 1 Ell of blew Satyn
00
06
08
Item A Wedding ring of Gold
00
12
04
Item A Millen (Milain) Bonnet dressed with Aglotts
00
11
00
Item A Yard of right white Satyn
00
11
00
Item A Yard of white Satyn of Bergs
II. The Expence of the Dinner, at the Maryage of the said Gervas Clifton and Mary Nevile.
Imprimis 3 Hogsheads of Wine (1 white, 1 red, and 1 claret)
05
05
00
Item 2 Oxen
03
00
00
Item 2 Brawns
01
00
00
Item 12 Swans, every Swan 6s.
03
12
00
Item 8 Cranes, every Crane 3s. 4d.
01
06
08
Item 16 Hearonsews, every one 14d.
00
16
00
Item 10 Butters (Biterns) every one 14d.
00
11
08
Item 60 Cowple Conys, every Cowple 5d.
01
05
00
Item As many Wild Fowl and the Charge of the same, as cost
03
06
08
Item 16 Capons of Grease
00
16
00
Item 30 other Capon, every Capon 6d.
00
15
00
Item 10 Pigs, every Pig 5d.
00
04
02
Item 6 Calves
00
16
00
Item One other Calfe
00
03
00
Item 7 Lambs
00
10
00
Item 6 Wethers, every Wether 2s. 4d.
00
14
00
Item 8 Quarter of Barley Malt, every Quarter 14s
05
12
00
Item 3 Quarter of Wheat, every Quarter 18s.
02
14
00
Item 4 Dosen of Chickens
00
04
00
Besides, Butter, Eggs, Vergas, (Verjuice) and Vinegar
This is a well built village, and stands exceedingly pleasant in the summer. In it are several good houses; the Trent flows close by it. Here resides in a new built airy dwelling, Samuel Smith, Esq. one of the sons of the late Abel Smith, Esq. and member in Parliament for the Borough of Leicester. The offices and gardens seem to correspond in neatness; but the house is so imprisoned with high brick walls, cottages and trees, that it is not an object for the pencil, as a field picture. Perhaps it was considered too near a public road for a sunk fence to have been made, instead of the walls which now surround it; else an opening towards the Trent must have afforded a pretty prospect, from and towards this pleasing quakerly retreat.
The church has a nave, a low tower with three bells, and two side aisles, a neat chancel, and as neat an altar-piece; it is dedicated to St. Wilfrid.
John Woods, M. A. died in 1752, aged 73. George Sinclair, M. A. died in 1775, aged 46. Henry Woods, rector, M. A. died in 1755, aged 66, an excellent character he might deserve; it is given here. Gervas Handley, gent. died 1724, aged 74. Here is an old stone, in the north aisle, date 1585. Ann daughter of Richard Ludlam, of Leicester, and wife of Joseph Cradock of that place, died in 1774, aged 56.
In Spyces as followeth.
Imprimis Two Loaves of Sugar, weighing 16lb. 120z. at 7d. the Pound
00
09
09
Item 6lb. of Pepper, every Pound 22d.
00
11
00
Item 1lb. of Ginger
00
02
04
Item 12lb. of Currans, every Pound 3d. ob.
00
03
06
Item 12lb. of Proynes (Pruins) every Pound 11d.
00
11
00
Item 2lb. of Marmelet
00
02
01
Item 2 Goiles of Sturgeon
00
12
04
Item A Barrel for the same
00
00
06
Item 12lb. of Dates, every Pound 4d.
00
04
00
Item 12l. of great Raisins
00
02
00
Item 2lb. of Synnamond
00
03
08
Item 1lb. of Cloves and Mace
00
08
00
Item 1 Quartern of Safforn
00
04
00
Item 1lb. of Turnesall
00
04
00
Item 1lb. of Isinglass
00
04
00
Item 1lb. of Biskets
00
01
00
Item 1lb. of Caraways
00
01
00
Item 1lb. of Comfitts
00
02
00
Item 2lb. of Flour of Portingale
00
11
00
Item 4lb. of Licoras and Annyseeds
00
01
00
Item 4lb. of green Ginger
00
04
00
Item 3lb. of Sucket
00
03
00
Item 3lb. of Orange Budds
00
04
00
Item 4lb. of Orange Syrroppe
00
05
08
Apparel
Dinner
Spices
Item For the Marriage of my Son-in-Law, Sir Gervis Clifton ddddd. Marks
Total.
In the church yard, where stands a very excellent parsonage house; is put a tomb to the memory of John Deane, Esq. who, from the year 1714, to 1720, commanded a ship of war in the service of the Czar of Muscovy: He was consul afterwards to his Britannic Majesty for the ports of Flanders and Ostend. He died in 1761, aged 82. He wrote a book of his life, in which it appears, that he was once cast upon a desert island, where the crew cast lots for their lives; one was to die to save the rest, dreadful alternative!
Here also is a light and handsome tomb, which remembers Mrs. Sarah Medcalfe, who died in 1779, aged 36.
Here is a cool and pleasant look out from this church yard towards Nottingham, over the Trent and meadows.
Patron of the living, Sir Gervas Clifton. Incumbent, Owen Dinsdale, M. A. rector; value in the King's books, 18l. 17s. 6d. supposed value, 300l. per annum: yearly tenth, 1l. 17s. 9d. Syn and prox. non specificat. Val. in mans. cum glebe. ibid. per ann. 16s. in dec. pase. pise. &c. Sir Gervase Clifton, Bart. presented in 1694. Sir Robert Clifton, Bart. in 1733, 1752. Barrows Harris Stanyford, Esq. 1781.
Register: bap. in the five earliest years 32; buried 54. In the five latest years bap. 38; buried 73.
A melancholy accident happened at Wilford Ferry, July 30, 1784. The ferry-boat being out of repair, a small wherry was used at that time for the accommodating of passengers, going from and to Nottingham market. In the course of the morning several persons were safely conducted over the Trent in it, till about ten o'clock, when eleven men and women got into the boat to be ferryed over the Trent; the wind then blowing hard, the river rather unusually high, with a rapid current, rendered the boat soon unmanageable, and forced it at length, with such violence against the ferry chain, that it instantly overset, and six of the unhappy people were drowned; three belonged to Clifton, and three to Wilford. More would have been saved, it was then thought, had it not been for the imprudence of a man on shore, who wished to be serviceable: He let down the ferry chain, by which some of the poor sufferers had hold, and they were immediately drowned in consequence.
Aug. 6, 1722.
P. m. Lu. Ædes Cliftoniana Nottingham ins. Castelli. bell distat cirea iter feciamus veniâ optumæ dnæ per xystum seu ambulationem clivo illis iminentem unde Sinistror sum prospicitur Urbs, Arx et rura amæna Nott. et subtus patent prata et obliqui circuitus amabilis Trentæ. Vacatur Wilford Walk ubi Jublandes Quercus ulmique umbram Hospitalem con sociant, longam supra 1. m. dein per viculum de Wilford et juxta Bridgford (cujus agri nuperrime se. intray ann. sepebus inclusi sunt.