Pages 96-102
Thoroton's History of Nottinghamshire: Volume 1, Republished With Large Additions By John Throsby. Originally published by J Throsby, Nottingham, 1790.
This free content was digitised by double rekeying. All rights reserved.
BARTON.
A GRANGE, or VILLAGE. The chief Part was of the Fee of Ralph Fitzhubert, wherein, before the Conquest, Leuric had a Manor which discharged itself to the public Geld, or Payment for thirteen Bov. of Land. The Land was three Carucats (fn. 1) There Ralph Fitz-Hubert had two Car. and eighteen Vill. and five Bord. having five Car. and an half. There was forty eight Acres of meadow, small wood two qu. long, and half qu. broad. In the time of the Confessor it was valued at 6l. in the Conqueror's at 100s. with the two Ciluwells, in which were seven Sochm. and half a Church.
Another Manor Uluric had, rated to the Geld as two Bov. The Land whereof was one Car. There Ralph had one Car. and two Vill. and one Bord. with one Car. (or Plow.) This kept the old value 20s. There was a small Berew in Clifton, belonging to Barton, which paid for two Bov. to the Tax.
But here was Soc to Clifton of William Peverell's Fee, as much as paid to the Geld for two Bov. and one third. The Land one Car. There three Sochm. had two Car. and three Acres of Meadow.
Of the Tayn Land here was also a Manor, which before the Norman change, Algar had, and paid for one Bov. one half, and three fourths. The Land was one Car. There Sauvinus afterwards had one Vill. and two Bord. with three Oxen plowing, and three Acres of Meadow. In King Edward the Consessor's time, this was 10s. when the survey was made in King William's 3s. value. (fn. 2)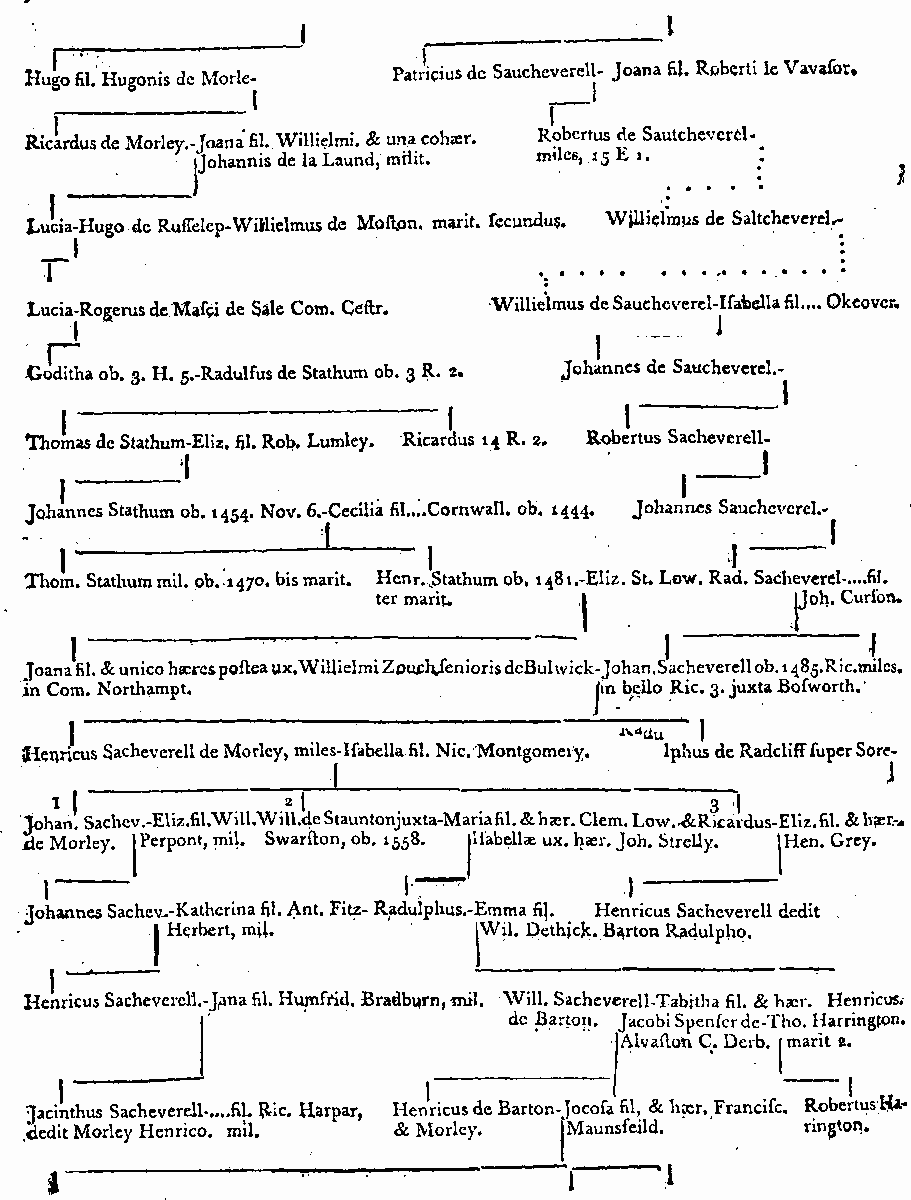 Odo de Boney, at the first Endowment of Lenton, in King H. 1. Time, gave this Church and half the Church of Chillwell or Attenborow, which a Successor of his called Edward, and Aeliz his wife confirmed, as in Boney may be seen.
Leonia de Rennes (fn. 3) Wife of Robert Stotevill, and Mother of Henry de Stoteville, had this Manor, 6 Joh. They had Kirkeby in Ashfield also, where I shall place their Descent. Barthon is said to be an Escheat of the Kings of the Land of the Normans, which Henry de Stoteville (fn. 4) forfeited, and that the Value of it was 20l. per annum, and that Earl Warren then had it. Yet John de Stotevill paid nine Marks shortly after, in the Time of H. 3. for four Knights Fees and a half in Barton, and other Places. And Estut de Stuteville (fn. 5) (Son of John) 4 E. 1. is certified to hold three Parts of the Town of Barton of Robert de Stoteville, by the Service of one Knights Fee. His Grandchild Stute or Stout, Son of Sir Nicholas de Stutevill passed it away with Bradmere, 6 E. 3. to Richard Lord Grey of Codnor, as in that Place is noted, which Richard by Fine the Year following, viz. 7 E. 3. (fn. 6) settled it on himself and Joan his Wife, and to the heirs of himself. John Lord Grey of Codnore had free Warren granted Aug. 13. 21 E. 3. in all his Demesne Lands in Barton upon Trent. This Manor continued with that noble Family (whereof I shall place the Descent in Boueton) till after the Death of Henry last Lord Grey of Codnor, (fn. 7) who by his Will made 18 H. 7. appointed his Feoffees Thomas Leeke of Kirketon, by Screveton, Esq. and Roger Johnson to convey it to Henry Grey his natural Son, who about 13 H. 8. (fn. 8) married Elizabeth his Daughter and Heir to Richard, the third Son of Henry Sacheverell of Morley, in the county of Darby, by whom she had a son and heir called Henry Sacheverell, who gave it to his Cousin Ralph Sacheverell, Son of William, second Son of the said Sir Henry Sacheverell, with whose Posterity it still continues.
That Elizabeth married to her second Husband George Bougham, and gave away some Lands which are now the Inheritance of Francis Marshall. Else the whole Lordship, saving that of Peverells Fee, which descended with Holme Perpoint to the Right Honorable the Marquis of Dorchester, two or three Farms being bought in by his Father and Great Uncle, remains the inheritance of William Sacheverell, Esq. Lord also of Morley, in the County of Darby, whereof he is now one of the Knights of the Shire, who hath exceedingly enlarged and new builded this Seat.
That of William Peverells Fee in this Place is called Gerhodthorp, from Gerbod de Eschaud, to whom H. 2. gave Clifton and Langar, and other of William Peverells Lands: It was accounted twenty Bovats, 8 E. 3. (fn. 9) after the Death of Robert de Perpoint, who held it of Sir Gervase de Clifton by the Service of a Clove; and it was then to descend to Henry, Son of Henry, Son of Robert de Perpoint.
The Court Leet at Normanton upon Sore, heretofore the Prior of Durham's, hath some Suiters here.
Nicholas, Son of Hugh de Wermundesworth, (fn. 10) and Ralph, and Robert, the Son of Robert Constentin had Interest here about the Time of E. I. Geoffrey de Constentin, (fn. 11) 12 H. 2. is certified by Hubert Fitz-Ralph to hold two Knights Fees and an half of him, and Robert de Barton half of one.
The Priory of Newsted had Lands here demised to John Rotherham at 24s. per Annum, and were in the Tenure of Simon Callis, when Queen Elizabeth, (fn. 12) July 2. 41. granted the whole Tenement to Thomas Estechurch, and Henry Best, and their Heirs.
Queen Elizabeth, 8 Apr. in the second Year of her Reign, granted to John Doddington and John Jackson, Lands in Wilford and Barton, (fn. 13) late belonging to the College of Clifton.
Sir John Stanhope, Gervas Handley of Wilford, and Francis Wallis were Freeholders here, 1612, and I suppose Owners of some or all of that Land purchased in by Mr. Sacheverell before named.
About the year 1266, a great Suit was ended between Roger, Prior of Lenton, (fn. 14) and Mr. Bartholomew called Tortus, Son of the Noble Knight Adam Wlf, Canon of Anaguin, Rector of the Church at St. George at Barton, upon the Priories paying three hundred Marks, wanting twelve, and taking his Parsonage to Farm five Years, for thirty two Marks per annum, of good, new, and lawful Sterling Money 13s. 4d. to the Mark to be paid in Bermondsey House. The Quarrel was, they had presented one Thomas Raley, whom Mr. Barthol. had been nine years in getting out with his Apostolical Letters, and other Charges.
After the Dissolution of Monasteries, the Town of Nott. petitioned to have had this Advowson, (fn. 15) but King H. 8. Feb. 19. 34 H. 8. granted it to the Archbishop of York, and his Successors, who still enjoy it. When the Prior of Lenton (fn. 16) was Patron this Rectory was 20l. In the Kings Books now it is 19l. 3s. 9d. value.
In the Chancell, on the South Side, upon the Wall, is a Monument for Henry Schaverell.
On the South-East end for Ralph Secheverell, on the Wall also: and at the NorthEast end, on the Ground, one for William Sacheverell, of Alabaster. There are several Arms in the Window besides, as in the North-East Window, Gules a Fesse embattailed Arg. between three Besants Barry of six Arg. and Azure a very small bendlet Gobonè Or, and Gules. Hen. Grey. In the South-East Window Arg. A Bend Azure cross croslettè Or, Lowdham. In the next South Window the same Grey, and one broken on the Top, the Bottom is Barry Arg. and Azure, two Flowers de Lis on the upper, and one on the lower Or. In the next Pane Azure a Crosse Counter Compony Arg. & Gules, Cokfeild. And Varry Arg. and Sab. an in escoth.
Here lieth buried Henry Sachaverell of Barton, Esq. Son and Heir of Richard, the third Son of Henry Sachaverell, Knight, and Elizabeth his Wife, Daughter and sole Heir of Henry Gray, base Son of Henry last Lord Gray of Codnor, which died the 27th of December, in the Year of our Lord, 1598.
Here lieth buried Ralph Sacheverell, Esq. Son and Heir of William, second Son of Henry Sacheverell, Knight, and Emme, Daughter of William Dethick, Esq. his Wife, had Issue, William, Anthony, John, John, Thomas, Edmund, and Ralph, and Henry, Mary, Lucy, Jane, Millescent, Isabel, Dorothy, and Ellen; Ralph died the first of September, 1605, and Emme died last of April, 1606. About this are many Arms.
Arg. on a Saltire Az. 5. Waterbougets Or, Sacheverell impaling.
Arg. a Fesse Varry Or, and Gules between 3 Waterbougets Sable, Dethick.
Arg. 3 Hares and Bagpipes Gules, Hopwelle.
Arg. a Lion Ramp. Sable Corone Or, Lord Morley.
Gules, a pale Lozengy Arg. Statham.
Gules, a Shoveler Arg. collared, Or, Snitterton.
Az. a Lion Ramp. Arg. Morley.
Az. A Buck tripping Arg. Lowe, with Strelley, Vavasor. And Arg. a Fesse between 3 Crescents Gules.
Arg. 3 Roses Gules.
Sab. 3 Millstones pierced Arg.
Hic jacet corpus Mariæ Sacheverel filiæ natu maxime Gulielmi Staunton nuper de Staunton, in Comitatu Nottinghamiensi, Armigeri, uxoris Gulielmi Sacheverel de Morley. in Comitatu Derbiensi, Armigeri, hujus Manerii Domini; qui-ex eâ susceperat Henricum, Gulielmum, Radulphum, Mariam, Gulielmum, Elizabetham, Jocosam, Robertum, & Catharinam, Ex quibus quatuor filii cum unâ filiolâ matre adhuc superstite nec non acerbam supradicti Henrici primogeniti hic itidem sepulti mortem supra quam ferre valuit deflente, supremum diem obierunt. Maria vero, Elizabetha, Jocosa, & Roberto in vivis relictis; Ipsa decimo nono die Augusti, Anno Domini Milesimo, Sexcentesimo, Septuagefimo quarto vitam cum morte commutavit.
[Throsby] Barton
LORDSHIP is large, and was inclosed about 30 years since, the whole of which is owned by Sir Gervas Clifton. It consists chiefly of a stiff clay, and in some parts it appears very fertile. Here is an ancient camp, by Mr. Aubrey supposed to be British. (fn. 17) On this eminence, we are told, have been frequently found coins; but of what age we are not informed. Its name is Brent or British-Hill, on which is not the least trace of a fortification remaining. The works, on the side of the hill, which Mr. Gough notices "in appearance like waves or ploughed lands, one above another, in number 14 or 15, about half a mile long," I think, if that very respectable writer was to see, they would not call forth much of his attention.
The village may consist of 40 dwellings, some of which are decently built.
The church is dedicated to St. George, has a spire steeple, low, with three bells; and has a much better appearance without than within. The church porch has on it 1693. Here is a nave and two side aisles, and a spacious chancel. The monuments and inscriptions for the Sacheverels are fully noticed above by Thoroton. Here is a monument, since his time, placed to the memory, it says, of "That good man Joseph Milner, M.A. rector of this parish, and official of the archdeaconry. His wife," it says, "erected this tablet, after bathing it with a flood of tears." He died in 1750. Among other things it says,
Thirty years he sed his flock at Barton, His only flock with faithfulness and tenderness: At the same time shewing the shepherd loved his sheep, And teaching sheep to love their shepherd.
George Sitwel, Armiger, has a plain tomb to his memory; he died in 1730. On the floor is remembered John Marshall, Esq. who died in 1747, aged 69.
The register I did not see.
The Archbishop of York i patron. Incumbent the Rev. Mr. Witliff. In the King's Book 19l. 3s. 9d. yearly tenths 1l. 18s. 4d1/2. Archiepisc. pro Syn 4s. Archidiac pro prox. 7s. 6d. Pens. fol. pri. Lenton 5s. Val. in mans. cum. gleb. ibidam per ann. 2l. 6s. 8d. decim. garb. &c.