Pages 141-151
Thoroton's History of Nottinghamshire: Volume 1, Republished With Large Additions By John Throsby. Originally published by J Throsby, Nottingham, 1790.
This free content was digitised by double rekeying. All rights reserved.
HICKLING.
Doomsday, Echeling and Hegeling.
A Small Part of this Township was a Berue of Crophill, and did and doth still with it belong to St. Mary of Sudwell, being a Piece of the two Prebends of Oxton. Before the Conquest in Echeling, three Carucats and an half for the Geld. Tarchill and Goduin held for two Manors. (fn. 1) The Land whereof was then returned to be sufficient for eight Plows, or eight Car. This afterwards became the Fee of Ilbert de Lacy. Here was then in Demesne three Car. and four Sochm. twenty-three VIII. with one Bord. had six Car. or Plows. There was two Hundred Acres of Meadow. This Part, in elder Time, was valued at 6l. but when the Conqueror's Survey was taken at 4l.
Another Part of this Town was Soc to Cranby, of the Fee of Walter de Ayncurt, and was rated to the Geld for two Car. The Land was four Car. There eight Sochm. one Vill, ten Bord. had five Car. There was a Mill 16s. and eighty Acres of Meadow.
(fn. 2) Walter de Eyncurt (Grandchild, I suppose of this Walter) restored to Elias (or Eliseus, as in that Deed) de Fanecurt, the whole Land, which his Father Gerard de Frnecurt held of him, viz. one Knight's Fee in Hickeling and Kinalton, and in Brunneby one Knight's Fee, and in Scaupewic four Quadrigats of Land, and in Graneby one Quadrigat of Land, for half a Knight's Fee, for the Exchange of Land which he held in Timberland.
(fn. 3) Sir Gerard de Fanecurt, Son of Elias, was a very great Benefactor to the Priory of Thurgarton, of Rad. de Eyncurt's Foundation: for he not only confirmed what his Grandfather Sir Gerard had given out of his Estate in Lincolneshire, but gave away his whole Manor of Hickling, as it was encreased by an Exchange he made with Oliver de Lovetot, Lord of Carcolston, of his Lands there, for the faid Oliver's in Hickling, which Eustacia de Fanecourt, his Wife, in her Widowhood, also released, after she had claimed them against the Prior and Covent, by a Writ of Entry, viz. ten Bovats of Land 2s. Rent, and the Lands out of which it issued, as her own Right. Robert Salwayn, Son of Gerard Salwayn, released also to that Priory 10s. per Annum, Rent, which he was wont to receive of Oliver de Lovetoft, for ten Bovots of Land in Hicklinge. Edmund de Ayncurt, Son of John, confirmed Sir Gerard de Fanecourt's Gifts of the Homages, Services, Wards, and Reliefs, &c. in the Towns of Hickling and Kinalton, and also released 60s. Rent, which he himself had, during his Life, out of this Manor, to the said Prior and Canons. Sir Gerard de Fanecourt, (fn. 4) bore for his Arms, in Imitation of Deyncourt it seems, Azure Billette Or, with a Canton Ermine. Sir Roger de Alneto held of him in Cressewelle, whose Homage and Service he also gave, as he did of all his Freemen in Hickling and Kinalton. Here was Raph de Fanecourt, William de Villiers, Walter de Loveto, whose Daughters Avicia, Matilda, Agnes, Margery, and Alice, released to Prior Gilbert, and the Covent of Thurgarton, one Mess. and two Bovats of Land, which their Father held of his Fee, and very many others of like Sort.
(fn. 5) The Prior of Thurgarton, 8 E. 1, claimed not Assize of Bread, or Gallowes, or Tumbrell, but the Emendation of the Assize of Ale, broken he did. But Gilbert de Thorneton, who then sued (or followed) for the Kind demanded Judgment how the Prior, who had renounced Tumbrell, which is the Judgment of the Assize of Ale broken, could claim the Emendation of that Assize broken. But his Successor, 3 E. 3, (fn. 6) claimed a Court Leet here, which the Jury found accordingly, and for the Rent of 8l. a Year to the King, was regranted. About that Time the Value of the whole Manor belonging to Thurgarton, (fn. 7) was 24l. 5s. 2d. per Annum, there being then four Carucats of Land. each 40s. a Piece, two Dovecots 24s. one Wind-Mill 20s. the rest made up of small Rents of the Freeholders, Bondmen and Cottagers.
(fn. 8) Ilbert de Lacy gave two Parts of the Tythe of his Demesne in Hickling, to the Chapel of St. Clement, in Pomfret Castle. Lacye's Fee descended to the Earls of Lincolne, the most antient Tenant whereof, that I find, was Robert de Harestan, who is said to hold two Parts of the Town of Hickling (fn. 9) by free Farm, for nine Marks per Annum, of the Fee of the Earl of Lincolne. He held some Part of a Knight's Fee in (fn. 10) Sutton-in-the-Dale, in Darbyshire, and was dead 33 H. 3. Richard de Harestan being then found to be his Son and Heir. Isolda, Wife of Robert de Harestanes, 36 H. 3, (fn. 11) had a Charter of Free Warren in Hickeling. Richard, Son of William Grey, of Sandiacre, in Darbyshire, had a Charter of Free Warren here, granted Dec. 16, 37 H. 3, which William Grey, his great Grandchild, claimed 3 E. 3. This Richard, it seems, married Lucia, the Heir of Harestan, by whose Consent he gave with Agnes, his Daughter, to Roger de St. Andrea, (fn. 12) Lord of Goteham, all his Land in Bifeild, in the County of Northampton, in Frank-marriage. His Seal is Bary of six Pieces, (the Arms of Grey, of Codnor) upon which is a Saltier engrailed without a Shield, (which may be Harestans). I have seen divers so about that Time; but now the Use is, when one hath married an Heir, and hath Issue by her in being, to have an Inescutcheon, or Escutcheon of Pretence, which is very much less than that which lies under it. There was an Areement made, 4 E. 1, between this Sir Richard de Grey, and Adam, Prior of Thurgarton, (fn. 13) that Sir Richard should have his Bull free in the Corn Fields of Hickling two Years, and the Prior the third. Sir Richard Grey died about or before 26 E. 1, and left Hickeling, Sutton-in-the-Dale, Sandiacre, (fn. 14) and other Lands, to his Grandchild and Heir Richard de Grey, Son of his Son William, which Richard was then about eleven Years old. Richard de Grey died, seised of these Lands about 4 E. 2, (fn. 15) his Son and Heir William being then found to be four Years old. (fn. 16) There was a Fine levied, 17 E. 3, between William de Grey, of Sandiacre, Complainant, and Robert Hillary, Parson of Sutton-in-Coleseild, and Richard de Grey, Parson of Suttonin-the-Dale, Deforcients, of the Manors of Hykeling and Hokenale-Torcard, with the Appurtenances, and the Advowson of the Church of Hykleing, which were settled on the said William Grey, for his Life; Remainder to Edward, Son of Henry Hillary, and to Alice his Wife, and the Heirs of their Bodies; Remainder to the right Heirs of William de Grey. The Jury, 8 R. 2, found the Lady Alice Illary, Daughter and Heir of William de Grey, of Sandiacre, (fn. 17) Heir to the first-mentioned Richard de Grey, to whom the Reversion of the Manor of Landsord belonged, of which he enfeoffed one Richard de Grey (I suppose a younger Son) who had Issue Sir Richard de Grey, Knt. who had Issue Philip, and he Richard under Age, in the Tuition of the Lord Grey, of Codncre.
(fn. 18) Alice de Gray (it seems she liked her own Name better than her Husband's) about the 14 R. 2, died, seised of this Manor, and Advowson, and left John de Grey her Son and Heir. John Grey, 4 H. 4, (fn. 19) died, seised of the Manors of Sutton-in-the Dale, Sandiacre, and Kirkhalam; of which last, his Wife, Emilina, was joint Tenant, and left Isabell, Wife of John Walsh, of the County of Leicester, and Alice, Wife of John Leek, Esq. his Daughters and Heirs. Emelina, the Wife of John Grey, about 13 H. 6, (fn. 20) died, seised of the Manor of Landford, and three Mess. with the Appurtenances, and three Virgats, and other Lands and Rents, and the Advowson of the Church in Hykeling. Then her Daughter Isabell had married one Humfrey Halloughton, but shortly after, about 14 H. 6, (fn. 21) she left her Sister Leek, her Heir.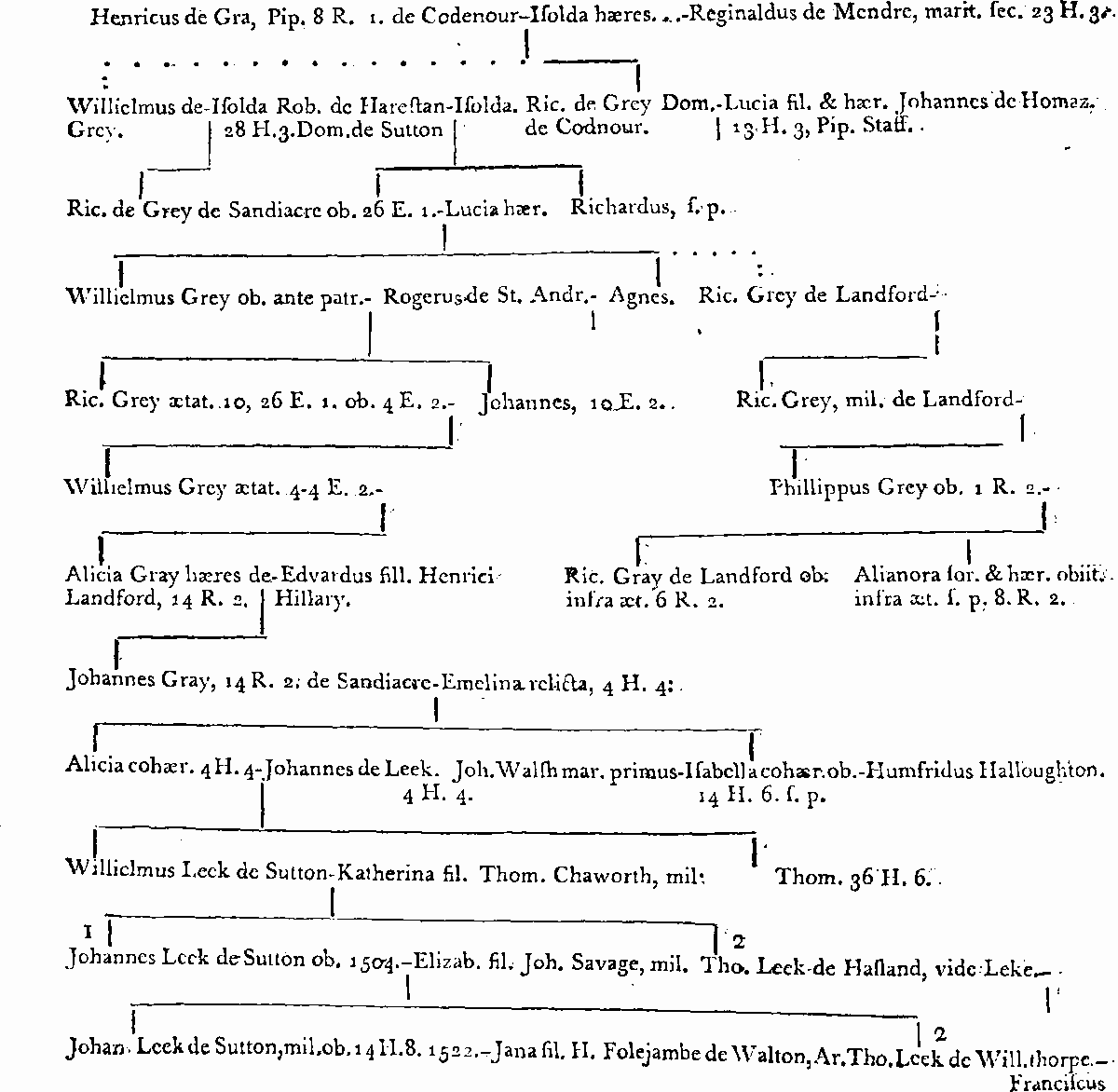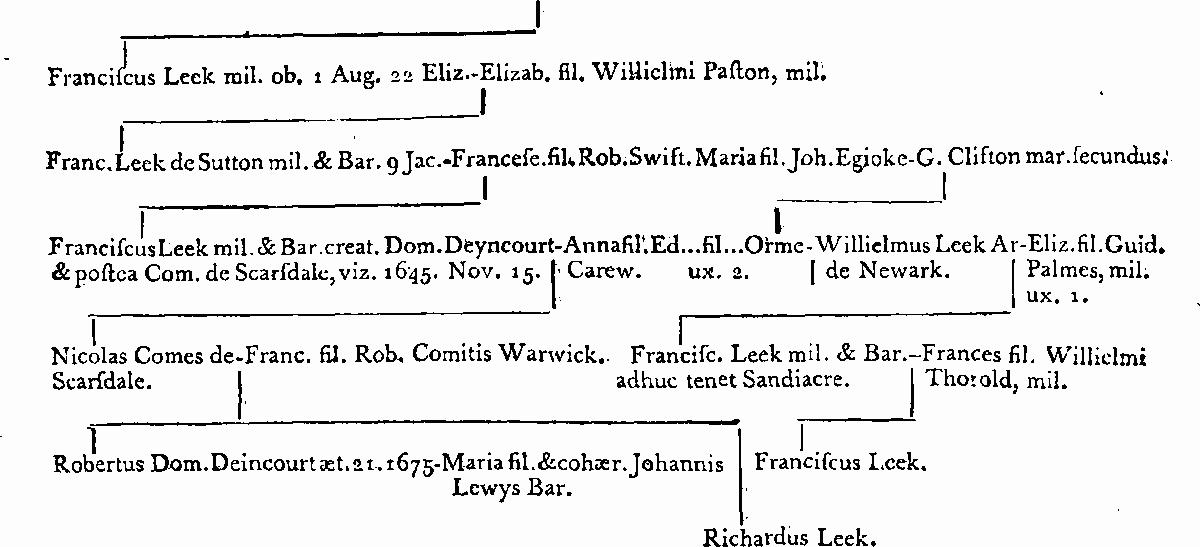 (fn. 22) There was a Fine, 10 E. 2, between Margaret, the Daughter of Hugh de Eyton, Quer. and Hugh de Eyton, of Hickeling, and Felice, his Wife, Deforc. of twenty-two Acres of Land, two of Meadow and an half, and half a Mess. with the Appurtenances in Hickeling, thereby settled on the said Margaret, and the Heirs of her Body; Remainder to John, Son of William le Gray, of Sandiacre, and the Heirs of his; Remainder to the said Hugh and Felice, and the Heirs of Felice.
At the Assizes of Nottingham, 29 E. 3, William de Rempstone recovered Seizin of one Mess. twenty Acres of Land, and three of Meadow in Hykeling, and John de Repston (fn. 23) was amerced.
Anthony Fitz-Hubert, Sergeant at Law, (fn. 24) and divers others claimed against John Leek, Esq. (in Recoveries which he suffered) 5 H. 8, the Manors of Sutton-in-le-Dale, Sandiacre, and Kirkehalome, with the Appurtenances, and also one Hundred Mess. &c. in Sutton, Sandiacre, Kyrkehalome, Normanton by Hastond, and Chesterfeild, and the Advowson of the Church of Sutton-en-le-Dale, (fn. 25) in Derbishire; the Manors of Landford, Collyngham, Elston, Hykling, Gedling, Huknall-Toroard, and Leek, with the Appurtenances, and also two Hundred Mess. &c. in Landford, Collingham, Elston, Hykling, Gedling, Huknall-Torcard, Little-Leyk, Great-Leyk, Saxendale, Stoke by Newark, Stoke-Bardolfe, Colwyke, Wyverton, Byngham, Carleton, Karcolston, and Holme by Newark, with the Advowsons of the Churches of Elston and Hykling, in this County; the Manor of Harston, in Leicestershire; (fn. 26) the Manor of Crowenest, with the Appurtenances in Worcestershire. (fn. 27) This Manor, after the Leek's, was Stapletons.
This is certainly a Mistake, for though Rempstone's Land here, as elsewhere might descend to Stapleton and Cheynè, of which latter, the Lord Vaux became Heir; (fn. 28) yet I find that Francis Leek, of Sutton-en-le-Dale, Esq. 16 Feb. 34 H. 8, for the Sum of 2761. sold the Manor of Hickling, with the Appurtenances and Advowson of the Church, whereof he levied a Fine in Easter Term, that same Year, to John Cunstable, of Kinalton, Esq. afterwards Knt. and his Heirs. Which Sir John Cunstable, 1 Octob. 6 E. 6, sold the Premises to John Ingleby, a younger Son of William Ingleby, late of Ripley, in Yorkshire, Esq. then deceased. And John Ingleby, of Rudby, (Ebor.) 7 Sep. 42 Eliz. conveyed them to John Ingleby, his Son. Which John, or another of his Name, then dwelling at Hickling-in-the-Vale, by Indenture, dated 2 July, 1 Jac. for 534l. sold to William Farborne, of that Town, Gent. the Manor of Hickling, with all the Appurtenances whatsoever in Hickling, Kinalton, Over-Broughton, Staunton, ColsonBasset, and Withmerpool, in this County; except the Advowson of the Church; and also excepting that Mess. and seven Oxgangs of Land, &c. which he had then sold to Tho. Beane, the elder, of Aslocton, and William Beane, his second Son. Which said John Ingleby, and William Farborne, 2 Oct. 2 Jac. conveyed the said Manor to Gervase Farborne, Son of the said William.
James Wilson, Gent. and George Ward, claimed in Michaelmas Term, 9 and 10 Eliz. (fn. 29) against John Smyth, alias Walton, and Raph Smith, the Manor of Hyckling, with the Appurtenances, and divers Lands there, who called, &c. William Vaux, Lord Harowdon.
Hickling is now in the Hands of very many Freeholders. King Edward the Sixth, by his Letters Patent, (fn. 30) dated 30 June, in the sixth Year of his Reign, granted to Lionell Duckett, and Edward Whitchurch, the Lands and Rents in Hickelinge, belonging to the Monastry of Thurgarton (excepting the Tythes belonging to that Monastery) (fn. 31) which, August 16, 5 Eliz. were granted by the Queen, to Sir Thomas Gresham, Knt. and his Heirs. The Manor which was Leek's, is now the Inheritance of Richard Manusfeild, of Leek, Esquire, who had it after the Death of Francis Maunsfeild, his Uncle.
(fn. 32) The Rectory of Hicklinge was 22l. when Mr. Leek was Patron. In the King's Books it is now 18l. 8s. 4d. and Sarah Bardsey, Widow, Patroness.
[Throsby] Hicklin
LORDSHIP contains upwards of 2000 acres of Land, owned by a Mr. Londel, and others; inclosed about 15 years ago.
The village lies in a miry part of the county, and consists of about 70 dwellings;--the roads to it are intollerable in the winter.
The church has a nave and two side-aisles, a tower steeple with 4 bells, and is dedi cated to St. Mary.
Archiepisc. pro Syn. 4s. Archid. pro Prox. 7s. 6d. Pene. sol pri Thurgaton 1l. 6s. 8d. Val. in mans. gleb. dec. &c. Queen's College, Cambridge.
Patrons, the Master and Fellows of Queen's College, Cambridge. Incumbent, Rev. Rob. Barker, B. D. Senior Fellow of that College. Yearly tenths 1l. 16s. 10d. King's Books, 18l. 8s. 4d.
At Hicklin, we are informed by Camden, was a Roman Station. It lies at the distance of about 3½ miles from Willoughby, the Vernometum of the Romans, and 2½ from the Fosse-Road. In May, 1771, a farmer ploughing in the field, struck upon an urn, which he found to contain a number of Roman coins, some of them the age of Vespasian.
"The silver medals," says Mr. Merry of Nottingham, (fn. 33) "found in the field of Hicklin, about 15 miles from Nottingham, were turned up by the plough. The Rev. Mr. Morris, minister of that place, was well versed in medals, and left at his death a good collection, which his widow disposed of to a printer of Nottingham, who published a catalogue of them, and they were sold, I have been informed, (continues Mr. Merry) by the farmer's son who found the medals, that there were near 200, and by shewing him some of the very pieces, he said that they were all of that size and sort, which were Denarii. In Mr. Morris's collection there were a few consular medals, one Denarius of Julius Cæfar, some of Augustus and Tiberius, and the rest of different succeeding Emperors; but I do not know that so great a variety was found at Hicklin."
On my visit to this part of the county, I journeyed over the FOSSE, which lies between Hicklin and Willoughby, at the expence of some time and labour. The plan of that memorable route, page 73, was laid down more from appearances than from any mathematical rule; and what follows is more a description of its present state, than an endeavour to counteract opinions of former writers on the subject.
The portion of the Route I passed, was from Newark, in this county, to High Cross, in Leicestershire. These places are situate from each other about 47 miles, which distance contains a part of the military Roman work, undertaken by one of the Antonines, when this country was under the dominion of the Romans. The whole route, from London to Lincoln, 156 miles, is described in the corner of the plate.
The great Camden imagined, that the world would laugh at his seeming folly, travelling the Watling-street-road, (another Roman labor) "purposely to seek out towns of special memory." If it thus happened to that celebrated antiquary, what must I expect who undertook this journey, through mire and clay, in the month of October. I cannot say that I was urged to my undertaking from such laudable motives, because the Roman towns from Newark, are now pretty well ascertained. It must be allowed, however, that very many men have written of things concerning these itinera who have never seen them, others have seen them, like myself, partially, and have particularised the whole.
The passing of nearly 1600 years, we may readily conceive, must have left the course of these memorable labors, mishapen and much diminished. Encroachment, dictated by avarice, has destroyed much of its comeliness; yet notwithstanding, in many parts, it remains a monument of honor and high antiquity: its course, the distance I have passed, may be traced with ease, even where the Lord of power, has by inclosure, called it his own. The plan laid down will shew the reader at one view, the course it takes, and will serve also as a reference to the remarks which follow.
Newark, supposed by some to be the Roman AD-PONTEM, lies on the Foss from Lincoln. Some of the learned have in vain struggled to six Ad-pontem at Newark, and others at Southwell. Arguments, it must be allowed, are more in favor of the latter than the former, although Southwell lies at more than the distance of 3 miles from the Trent. At Southwell Roman coins, and Roman pottery, have been found; but at Newark (which was built so late as the reign of King Stephen) no such tokens of age and consequence have been found.
The road from Newark to Thorp-bar, at the distance of about 4 miles, is spacious, on a level country, passing through the lordships of Farndon, to Thorpe-lane-end. Nearly opposite to Thorp-bar, you are in view of Southwell Minster, on the right, over the Trent, which serpentines delightfully hereabouts. Here, we are told, was formerly a bridge over the Trent to Southwell; but now not a vestige of it remains; near which stood, it is imagined, a small station, as a protection to the passage. At Stoke, a little further on the road, perhaps half a mile, there is every appearance of the scite of a large ancient building, which might easily command the bridge. It is on a bold eminence, near the church, and overlooks the Trent. Sir George Bromley's seat is within a few paces of the church. The ground on the summit of this eminence, lies in ridges over more than an acre of land; it is an admirable situation for a castle, and commands a great extent of country. It is now called the Hall Close; and places adjoining to it are called (for why nobody knows) Stoke-red-gutter, and the Blind-mare's-steps. Neither Newark nor Southwell answers, with respect to distance, so well as this place for Adpontem. The place where the bridge stood over the Trent, to Southwell, answers nearly. The eminence at Stoke, and the place where the bridge stood have an easy communication.
Great part of the road, between Stoke and East-Bridgeford, retains its ancient and venerable tokens of furrowed age: the gorse and the wild-thorn spring from the uncultivated soil, by the sides of the road, luxuriantly; and in some places the spreading oaks shade your passage, and intercept your sight. Deprived of the sight of distant objects, one could scarcely help contemplating on the woody scenery with which this country abounded, when the Roman Legions made these memorable passages through the the very heart of it.
No prepossessions, no habitual prejudices, in favor of this or that opinion, can rob East-Bridgeford of its Roman honors. Here you have the most indisputable proofs of antiquity: An ancient encampment, the name of Barrow, which a place in the field retains, the discovery of Roman coins (one of which was a Vespasian) and Roman pottery; the distance from Willoughby, the next station, agreeing exactly with the route, upon the whole, are such strong and convincing evidences that will admit of no objection to the almost general opinion, that East-Bridgeford was the MARGIDUNUM of the Romans.
The road from the Fosse to the village, is in a right line, very spacious, at the distance of about half a mile. The village, or rather the lanes leading to it, are a labyrinth, the way I entered it. The numerous passages, open to the more numerous inclosures adjoining the village, misguide you: the trees in the hedge-rows are lofty, many, and meet each other, which make the passages gloomy and miry, and some of them almost impassable.
From a kind of clift, near the church, you command extensive prospects of an open country, over the Trent; near which commences the upper Fosse-Way, marked in the plan. I doubt not but most stations, which lay at any distance from the road, had a less frequented passage for nearness, in a line from the station to the main road; the same thing occurs at Leicester.
In enquiring for coins, or other tokens of antiquity, discovered at Eastbridgesord, the following singular relation was given me: At a place near, called Castle-hill, partly upon the main Fosse-Road, opposite to the village, a labouring man of that place, by diging, discovered an earthen pot full of coins, (nobody-could tell me whether they were those of Emperors or Kings) from which circumstance he grew suddenly rich, or rather, he left off his humble calling, and turned banker in the small way, for I am told he lets out his money to working men, in sums of half-crowns, shillings and sixpences, at a certain interest per week. However I cannot learn that he has intrusted any one with the particulars of his good-fortune, which is seen and most probably envied by his fellows; for he lives with no other visible means of existence than by that of his little bank. I was in company with one of the oldest men in the village, who said that he had heard of coins, &c. being found, at or near Eastbridgeford, but had never seen any.
Hence, the Rev. Mr. Anderson, vicar of St. Nicholas, Leicester, (who had for some time wished for an opportunity of visiting the Fosse, and on that account accompanied me this journey) and I travelled to Bingham, a little way farther, which inclines about a mile and a half from the Fosse road; here we slept that night, and next morning continued our route towards Willoughby Vernometum. The road from Newark to Bingham is all gravelled; but from Bingham we found it, in many places, very indifferent: in some parts the old pack-horse path is still visible and useful, in others it is covered with grass. When you have travelled a mile or two, the country on the left opens delightfully to viewBelvoir-Castle as a distant object, with extensive vallies at its vase, sits as a noble crest, upon a broad shield. About four miles from Bingham, on the other side, Nottingham, Wollaton-Hall, &c. are pleasing near objects.
Near Cotgrave, it should be remembered, some very inconsiderate mind has just caused two horrid pits to be made, right across the Fosse road, at the distance from each other only about five yards. They were sunk, I was told, to get lime-stone, to mend the roads in the new inclosure. They are square and steep to the depth of eight feet; a traveller, in the night, could scarcely avoid falling into one of them, in which case his horse and self must inevitably perish. I hope before this caution meets the public eye, that the author of such an indiscreet act will be made sensible of the danger that awaits a nighttraveller, that some preventative may be applied to secure those from danger who may have occasion to pass that way.
Near Lodge-house, now Free-Mason's-Arms, a little further on, the following Lordships join: Owthorp, Kinhalton, Cotgrave, and Stanton: Clipston and Widmerpoole nearly.
Beyond the lodge, the Fosse puts on a broad venerable feature: the autumnal hue on the oaks and on the hedges, on each side, which bound the Fosse, correspond happily with our ideas of its age.
Willoughby, the VERNOMETUM of the Romans, lies with a bend from the Fosse about a mile; but it is not now so easily to be traced as at the last station in this route.
Nor are there at Willoughby those distinct and expressive marks of an entrenchment, or other military tokens which are so visible at East-Bridgeford. But here also the distance from Leicester, the eminence over-looking the brook, the mosaic pavements and coins found, mentioned by Stukely, are evidences sufficient to establish a belief, that Willoughby was the Vernometum of Antonine.
Between Willoughby and Sedge's-Hill is a considerable curve in the road; but doubtless occasioned by the visible encroachments thereabouts; for further on, the Fosse extends in breadth 200 yards, and here not 100 over. Near Seg's-Hill, it is the broadest considerably between Newark and High Cross. Within a little way of Seg's-Hill six lordships meet, viz. Ragdale, Old-Dalby, Willoughby, Burton, Seagrave, and Thrusington. Seg'sHill is in the parish of Dalby; and it has been judged by some to have been a small station: a thing not uncommon upon the Roman roads near a grand station, which lay somewhat from the main road.
About a mile hence, you see all that is eminent in Leicestershire to much advantage; the Forest hills form a grand line, linked to Budden-Wood; on the other hand BurrowHill, in a range of elevated eminences, appeared chained to Bilsden-Copley. The village churches, underneath, sit in the happiest order behind each other, backed by the handsome tower of Melton-Mowbray. The churches are seen to great advantage about Thrusington.
The passage of the Fosse, near Ratcliffe-on-the-Wreak, is very straight but uneven; you pass over several lofty swells of the earth. Near which is the Danish TUMULUS in this lordship, mentioned by Mr. Cart. The ground near is formed, on one side, not unlike the Rawdikes at Leicester (a memorable Roman labor), bnt probably not a work of art.
Between this place and Syston, you have some extensive valley-views, diversified with things lovely: Queneborough's beautiful spire is not the least so amongst them. At the extremity of Syston meadow, you pass over an old stone bridge, which spans the Wreak, which seems to have wintered many a rough and stormy blast; it is now on its decrepid stumps; but most probably not Roman. In Syston liberty, through which the Fosse passeth, you find this Roman work strangely mutilated; the gripe of violence-and power has seized it, and left the shadow for the substance: it is narrowed to a slender lane, the most filthy that ever man passed.
Hence we continued our route over the nether Fosse-road, through Thrumaston to Leicester, the RATÆ of the Romans. The other road shewn in the engraving, continues in a straight line over the Soar, by Birstal, Belgrave, and Leicester Abbey, to Danets' Hall, which is much crossed by other roads near Leicester, and diminished in most places much by encroachments.
It would be endless to attempt to shew, and vanity in me to endeavour to prove, in this place, the high antiquity of Leicester. It is the undoubted and now generally acknowledged Ratæ in this route. Roman coins, found at Leicester, are innumerable, fragments of mosaic pavement, and Roman pottery, are dug up frequently. Foundations of strong, almost impenetrable walls, made of Forest stone, are frequently discovered, lying in all directions at great depths; some of them right across the present streets, in that part of the town near the river. The Raw-dikes just without the town; Jewry-wall within, and the military stone, discovered a few years since, supposed to retain the oldest inscription in Britain, are visible and standing monuments of its Roman antiquity. A Roman encampment, in the highest preservation, may be seen within about three miles of Leicester, and two of the upper Fosse-way: This barrow, as it is called, extends over more than nine acres of land, and lies near the village of Ratby.
The Fosse, from the back of Danets' Hall, near Leicester, to Reahouse, is now but little frequented, and in some places is scarcely visible: the road from and to the station, was probably over the river, near Braunston-gate; which passage I have marked in the plan.
The Fosse, from its junction at Redhouse, about a mile from Leicester, to nearly Enderby, is spacious, except in one place a little beyond the turnpike, on the right hand it has there been lately much narrowed. Beyond Enderby also, in some places, it has been much diminished by former encroachments, which give it some awkward curves. Beyond Narborough, where there is a visible bend, it is miry and in some places narrow. Near Langham Bridges, which cross the River Soar, Crost-hill looks boldly. These bridges as they are called, or bridge, is an object of some note; it is built over a swampy part of the Fosse, and the arches extend like a chain, along the Fosse, over some acres of ground. The arches for their simplicity must be regarded as the most ancient work of labour, excepting the Fosse itself, between Newark and High-cross. The arches are built of forest stone, seemingly without design, but that of durability. They are narrow and without a fence wall on either side, and in many places they so resemble the rock, peeping through moss and rushes, jointed with such admirable mortar, bearing through age the same feature as the stone, that you are at a loss to know whether they be not some apertures in a rock, naturally favorable to the passage of the stream.
Beyond Langham Bridge, towards Sutton, the Fosse puts on its wonted appearance, cloathed with its native ornaments the bramble, the thorn, and the oak, but it is not so spacious as at Seg's-Hill, and Willoughby.
At a place called Soar-Mill, beyond Sutton, where there stands the first mill upon the Soar, the Fosse is almost choaked; and further on it is nearly lost with inclosures, particularly about Frolsworth and Shanford, and so on to High-Cross.
The Roman VENONES, stood near Bittesby, now only one house remaining, where Roman coins in abundance have been found, afterwards called the city of Cleycester. The Cross, which was erected here in memory of two Roman Roads intervening each other, is now a ruin, striken by lightening the latter end of the summer, 1791. It bore this inscription.
On the South Side,
"Vicinarum provinciarum Vervicensis Scilicet & Leicestrensis ornamenta, Proceres patriciique. Anspiciis illustrissimi BASILII Comitis de DENBIGH, Hanc Columnam statuendam Curaverunt in gratiam Jani tandem A Serenissima Anna clausi A. D. MDCCXII."
On the West Side.
"Si veterum Romanorum vestigia Quæras, hic cernas Viator. Hic enim Celeberrimæ illorum viæ militares Sefe mutuo secantes, ad extremos usque BRITANNIæ limites procurrunt. Hic Stativa sua habuerunt VENONES, & ad Primum abhinc Lapidem Castra, sua; Ad STRATAM & ad FOSSAM Tumulum Claudius quidem Cohortis Præfectus Habuisse videtur."
It is imagined that the cross stood upon the highest ground in England, whence the water runs in every direction, and where, by the help of glasses, you may see fifty-seven churches.