Pages 152-156
Thoroton's History of Nottinghamshire: Volume 1, Republished With Large Additions By John Throsby. Originally published by J Throsby, Nottingham, 1790.
This free content was digitised by double rekeying. All rights reserved.
KINALTON.
Doomsd. Chinelton.—Kineldstowe and Newbold.
Part of this Town in the Book of Doomsday, is said to be of Walter de Ayncurt's Fee, and of the Soc of Graneby, where his Seat was in this County; it was rated to the Tax or Geld as seven Bovats. (fn. 1) The Land was two Carucats. There was nine Sochm. four Bord. having three Car. or Ploughs, and seven Oxen ploughing, (or draught Oxen) and twenty Acres of. Meadow. Another Part of Chinelton is there certified to be of the Land of the Taynes, where one Azar before the Conquest was rated to the Dane-geld at one Bov. for his Manor. The Land whereof was three Bovats. The Son of Azor held it afterwards of the King, and there had three Vill. with three Oxen ploughing, and three Acres of Meadow. In King Edward the Confesfor's Time, the Value of this was 10s. in the Conqueror's 2s. 8d.
By what appears in Hickling it may well be concluded that the Family of Fancurt held Deyncourt's Fee in this Place, but it is certain enough that Gerard de Fancourt held a Knight's Fee of Oliver de Aynecourt in Hickling and Kinalton. Adam de Sutton, Prior of Thurgarton, (fn. 2) for 18s. of Silver yearly, by the Consent of the whole Covent, granted and confirmed to Raph de Fanecurt all the Land which the said Raph held in the Town and Territory of Kinalton of Sir Gerrard, Son of Sir Elias de Fanecurt. (fn. 3) Eliasde Franencurth gave twelve Bovats in the Territory of Newbold to the Abby of Swinshead in Lincolnshire, (fn. 4) which King Henry the Second confirmed, as he did also, in this same Place, of the Gift of William de Vilers, and Paganus his Son, two Carucats of Land, (fn. 5) and two Bovats and an half, and Keteleswang, and Holeboldeswang, and seventeen Acres of Land at Cranemere, and four Tofts with Crofts, and the whole (Brusuam) Brouse which belonged to Newbold.
In Doomsday Book there is mention of Newbold, in those Days a very considerable Place, but now tis well migh lost between this Lordship and Colston Bassett, which is not in that Record described at all by any other Name, that I know of, besides Newbold; yet the Name of the Manor of Newbold hath been longest preserved in Memory in Kinalton, where there yet remains some obscure Knowledge of it: therefore it is not amiss to insert what that famous Record hath of it in this Place: which shows that Earl Morcar had a Manor in it taxed at three Carucats. The Land whereof was eight Car. (fn. 6) before the Conquest, afterwards King William himself had there three Car. thirteen Sochm. thirteen Vill. three Bord. having seven Car. and two Acres of small Wood. There was a Priest and a Church. In the Confessors's Time this was 4l. but in the Conqueror's improved to 10l. Value.
In Newbold also was another Manor, which Morcar likewise had, for which he paid as ten Bovats to the public Geld. The Land two Car. There William Pevrell (the Conqueror's natural Son) had afterwards in Demesne one Car. ½. and nine Vill. having three Car. and forty Acres of Meadow. This kept the old Value 3l. How the two Townships parted this Newbold I cannot discover, for I find the Family of Vilers, some times called of Neubolt, sometimes of Kinolton, and the Vicar of Colston Basset esteems himself Parson of that Neubold, which is known in Kinalton Lordship.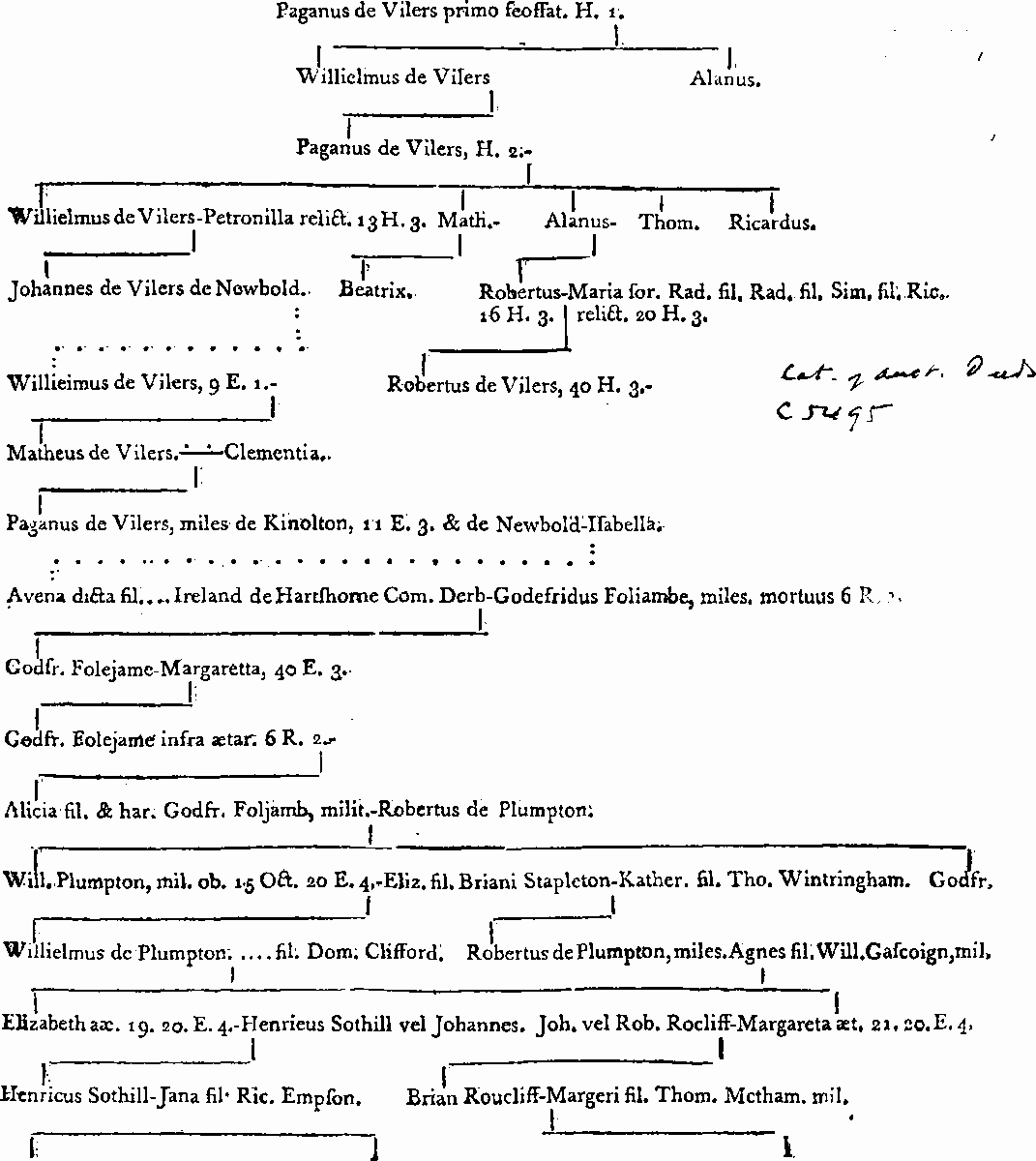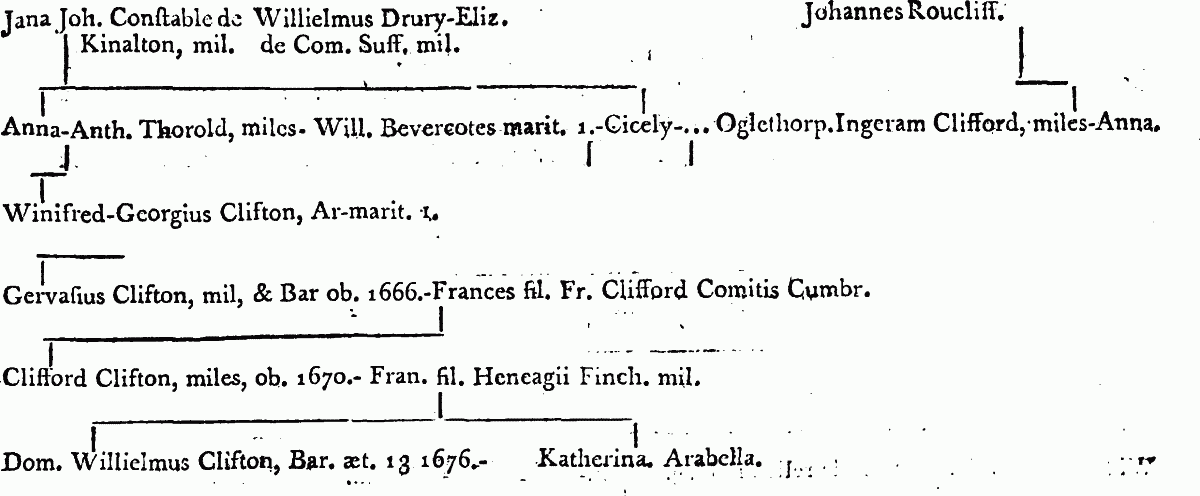 Paganus de Villers, in the Time of King Henry the Second, (fn. 7) gave and granted to Roger Arch-bishop of York, and his Successors, for the use and House-keeping (or Hospitality) of the Archbishop, that no other Parson should be instituted into the Church of Kineldestowe, with the whole Garden, as well belonging to the Church, as not belonging, and four Bovats of Land, which the Church had before, and one Tost belonging to those Bovats, with all other their Appurtenances, and furthermore twelve Acres of his own Gift with Common of Pasture through the whole Territory of the Town, as much as belonged to all the said Lands; to this grant there were above threescore Witnesses, and their Names expressed in it.
The Family of Vilers held this Lordship of the Butlers of Werington in Lancashire; so that it is like the Castle mentioned in Gotham; to be situate in this Place, was of the Earl of Chester's Party, of whom that Family had Dependance. William Butler had Seisin in King John's Time of one Knight's Fee in Newbot and Outhorp. (fn. 8) And William Butler is certified to have held two Knights Fees in Crophill and Kinalton, and thereabouts.
Paganus de Vlllers was a great Man and had many Sons. He gave his Son William, Newbolt. Petronilla, who had been Wife of William de Vilers, 13 H. 3. (fn. 9) claimed against Alexander de Vilers four Bovats of Land, and the third Part of one Bov. and three Tofts, with the Appurtenances in Newbolt as her Dower. (fn. 10) John, Son of William de Villers, held a Knight's Fee in Neubold of Lancaster Fee.
Raph Bugge held Lands here which descended to his Posterity of Bingham with Clipston. William de Villers passed one Mess. and ten Bov. of Land by Fine, 9 E. 1. (fn. 11) to Richard Son of Raph Bugge, in this Town, of which, when Thomas Earl of Lancester, after the Death of William Boteler the Tenant, exacted Relief, the Sheriff had a Precept to compel Matthew, Son and Heir of William Vilers, to show Cause why he should not acquit the said Richard, who came, and, 33 E. 1. pleaded that he had no Lands or Tenements descended to him by Inheritance from his Father.
The last of this Family, that I have seen any Thing of, was Paganus de Vilers, of Kinalton, Knight, 11 E. 3. (fn. 12) on whose Seal was six Lyoncels, 3. 2. 1.
There was a Fine, 40 E. 3. (fn. 13) levied between Sir Godfrey Foljambe, Knight, Quer. and Henry Dale, and Maud his Wife, Defore. of twelve Mess. twelve Verg. of Land, and twenty Acres of Meadow in Kinalton; and another the same Term, Trin. 40 E. 3. between Godfr. Son of Godfr. Foljambe, and Margaret his Wife, Quer. and Robert Daltport, Clark, Deforc. of the Manor of Kynalton, whereby it was settled on the said Godfr. and Margaret, and the Heirs of their Bodies; Remainder on the right Heirs of Godfr.
The King 5 March, 6 R. 2. (fn. 14) committed to Sir John Leeks Chr. the Custody of the Lands which were then in his Hands, by Reason of the Minority of Godfr. Son of Godfr. Son of Godfr. Foljambe, Knight, deceased, whose Wifes Name was Avena, and might have been supposed an Heir of Vilers, (fn. 15) but that in a Pedigree of Foljambe, I find she is said to be the Daughter of . . . . Ireland, of Hartshorne. (fn. 16) However Alice, the Daughter and Heir of Sir Godfrey Foljambe, was married to Sir Robert Plumpton, Knight, and had Issue Sir William Plumpton, Knight, whose first Wife was Elizabeth, Daughter of Brian Stapleton, by whom he had William Plumpton, who left two Daughters and Heirs, Margaret Wife of John Rocliffe, aged 21, and Elizabeth, Wife of John Sothill, aged 19 years, and something more at the Death of their Grandfather Sir William Plumpton, which was 15 Oct. 20 E. 4. (fn. 17) This Manor descended to these Co-heirs of their Father, but their said Grandfather died seized of a great Number of other Manors and Lands which were intailed on Sir Robert Plumpton his Son, by Catherine, Daughter of Thomas Winteringham, viz. in Darbishire, the Manors of Okebrok, Chaddesdon, Derley, Staunton, Edinsor, Pillestey, Hassop, Wormill, Chelmerdon, Lands in Spondon, viz. two Mess. in Eneston, Martinside, Combes, Batfeild, in Hurdlow, Broughton, Tiddeswall, &c. In Yorkshire, the Manors of Plumpton, Steton, Garsington, Idoll, amongst which only Kinolton, and Maunsfeild-Woodhouse, are numbered in this County. Elizabeth Sothill, Widow, died 21 September, 22 H. 7. leaving three Sons, Henry, John, and Gerard. (fn. 18) Henry Sothill, had two Daughters and Heirs by his Wife Jane, or Joane, the Daughter of Richard Empson. (fn. 19) King H. 8. Aug. 22. in the first Year of his Reign granted to Sir William Perpoint, Knight, the Custody of Joane and Elizabeth Southill, and their Marriage. (fn. 20) He also had July 24. 2 H. 8. the Lands and Tenements which were Henry Sothills, and Elizabeth Sothills, Widow, as long as they remained in the King's Hand. Elizabeth, the Daughter and Co-heir of Hentry Sothill, was Wife of Sir William Drury, of the County of Suffolk, Knight, and Joan, or Jane, his other Daughter, of Sir John Constable, of Kinalton, Knight, who bought Harteswell Grange in this Lordship, formerly belonging to Swinsheved Abby, which Harold Rossell of Cotgrave, (fn. 21) May 4, 31 H. 8. had Licence to alienate to the said Sir John, and Joane his Wife, who had Issue Cicely, first the Wife of William Bevercotes, and after wards of . . . . Oglethorpe; and Anne the Wife of Sir Anthony Thorold, by whom she had Winifrid her Daughter and Heir, the Mother of Sir Gervas Cliston, who purchasing of the Lord Savile what he had got from—Oglethorp, which was three Parts of the Manor, and half the Grange (for—Oglethorpe prevailed with his Mother to disinherit her Son by Bevercotes, and bought Drury's Part,) became Lord of the whole, and his Posterity now have the whole Township, except a Farm, which was Sir Thomas Hutchinson's, which his Ancestors bought, together, with the Manor of Outhorpe, and another which is William Daye's formerly belonging to Thurgarton Priory, (fn. 22) which Queen Elizabeth, June 16. 29 Eliz. granted to Edward Heron, Esquire, and John Nicholas Gent. being four Bovats. There is also a little Freehold which Francis Hacker gave to his Son Rowland Hacker of East-Bridgeford.
The Rectory is appropriate to the Arch-bishoprick of York, and in Lease to the Family of Clifton. The Vicarage is 7l. 18s. 11d. ob. in the King's Books, and hath Episcopal Jurisdiction in the Parish. Newbolt Chapel (which I suppose is that now used in the Middle of the Town) was annexed to the Parish by Walter Grey, Archhishop ofYork, in the beginning of the Reign of H. 3. (fn. 23) The Church is quite out of the Town, on the Top of the Hill, not far from the Fosse Way, whither the Parishoners do seldom resort.
[Throsby] Kinalton
LORDSHIP contains 3000 acres of land, principally owned by the Earl of Gainsborough, old inclosure. He is also Lord of the Manor.
The village situation is miry; and the houses scattered. It may contain 50 dwellings, many of them apparently the abodes of poor people.
The church, dedicated to St. Wilford, which stood on an eminence without the village, is in ruin. I am informed that they are about to build one within the village, in which there is at present a wretched chapel, mentioned and called by Thoroton, Newbolt Chapel.
Patron of the living the Archbishop of York. Incumbent the Rev. Mr. Wright, resident at Mansfield. King's book 7l. 18s. 11d. Clear yearly value 47l. 12s. 4d. Val. in mans. ibid. per ann. 5s. in oblat. in dec. pasch. in dec. fœn. lan. agr. &c.