Pages 174-177
Thoroton's History of Nottinghamshire: Volume 1, Republished With Large Additions By John Throsby. Originally published by J Throsby, Nottingham, 1790.
This free content was digitised by double rekeying. All rights reserved.
BASINGFEILD.
Basinfelt, Gamelston.
This Basingfeild was Part of it of the Fee of Roger de Busli, and Soc to Hulme, as much as answered the Tax of ten Bovats, and two thirds of a Bovat. The Land was two Carucats. There eight Sochm. had three Car. and five Acres of Meadow. (fn. 1) Another Part of it was Soc to Clifton, of William Peverel's Fee, as much as was taxed for five Bovats, and one third of a Bovat. The Land was one Car. There two Sochm. and two Bord. had one Car and seven Acres of Meadow. This was chiefly enjoyed by the Family of Lutterell, with Bridgeford at the Bridge-end, and Gamelston, already mentioned in Rushcliff Wapentak. The other, the Lords of Holme had, of whom the Barrys, Lords of Torlaston, held a considerable Part.
Michael de Maunvers levied a Fine, 3 Joh. to Walter de Hulme (his Brother) of thirteen Bovats in Basingfeild, for which the said Walter gave him three Marks of Silver, and quit-claimed to him all his Right in two Bovats in the said Town, which William de Leek held of the said Michael; and the Service of one Bovat, which the said William held of the said Walter in this Place. (fn. 2)
There were very great Suits in Edward the First's Time, between Richard Barry and Henry Perpunt, and Annora his Wife, 15 E. 1. 18 E. 1. (fn. 3) in which Record the Clerk who engrossed it hath inserted a Leonius, and a Michael in the Pleading, more than the Time can possibly admit, which I have therefore omitted in the Descent. The Quarrel was for 10l. Rent, out of certain Lands in Basingfeild, which James de Hulme (sometimes also called of Keyworth) reserved, when he passed the Estate to John Barry, the said Richard's Father; from which James dying without Issue, the Right devolved to one Michael, Brother of Walter, the said James' Grandfather; from which Michael it descended to Leonius, his Son and Heir; from Leonius to Michael, his Son and Heir; from that Michael to Leonius, that Michael's Son and Heir; from this Leonius to Michael, his Son and Heir: which last Michael had two Wives: by the first he had Leonius and Johane; by the second, John and this Annora, who was cast because none of her Ancestors were seised of the Rent, James, the Feoffor, dying before it became due; but being notably versed in Law-Suits (as in Sneynton may be noted) she obtained a Writ of Error, and got the better of him at length; and likewise, 20 E. 1. when her Husband was dead.
This Town of Basingfeild is Part of the Parish of Bridgeford, and Part of the Parish of Holme, whereof the greatest Part, except the Demesnes, was either Barryes' or Boniton's. (fn. 4) Barryes' Lands there, in King Henry the Second's Time, were granted to William, the Clerk of Hulme, by Leonius de Maunvers, by the Name of two Carucats of Land in Basingfeild; which Grant was confirmed by King Henry the Second. They were sold by . . . . Pendock to Sir Henry Pierrepont, Knight, deceased. Bonitons were lately sold, by one of that Name, to Robert Earl of Kingston, whose Inheritance the whole Township was; together with Boughton-Grange, a single Farm, unto which did belong anciently twelve Oxgangs of Land, dispersed in the Fields and Territories of Basingfeild. (fn. 5) (fn. 6)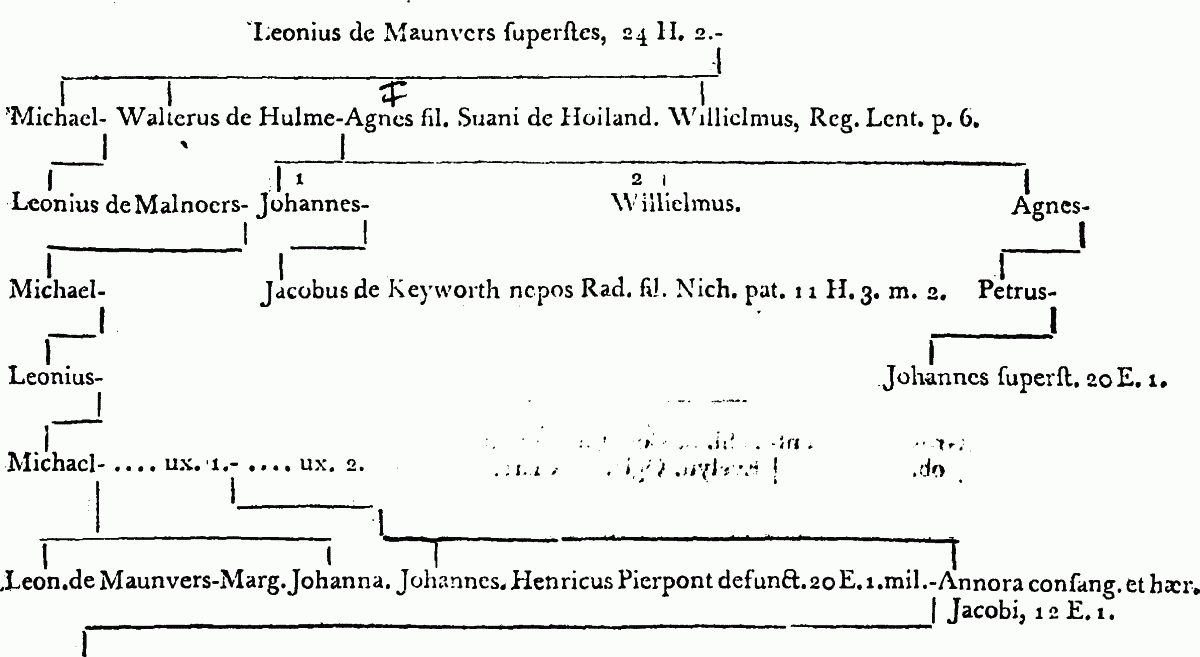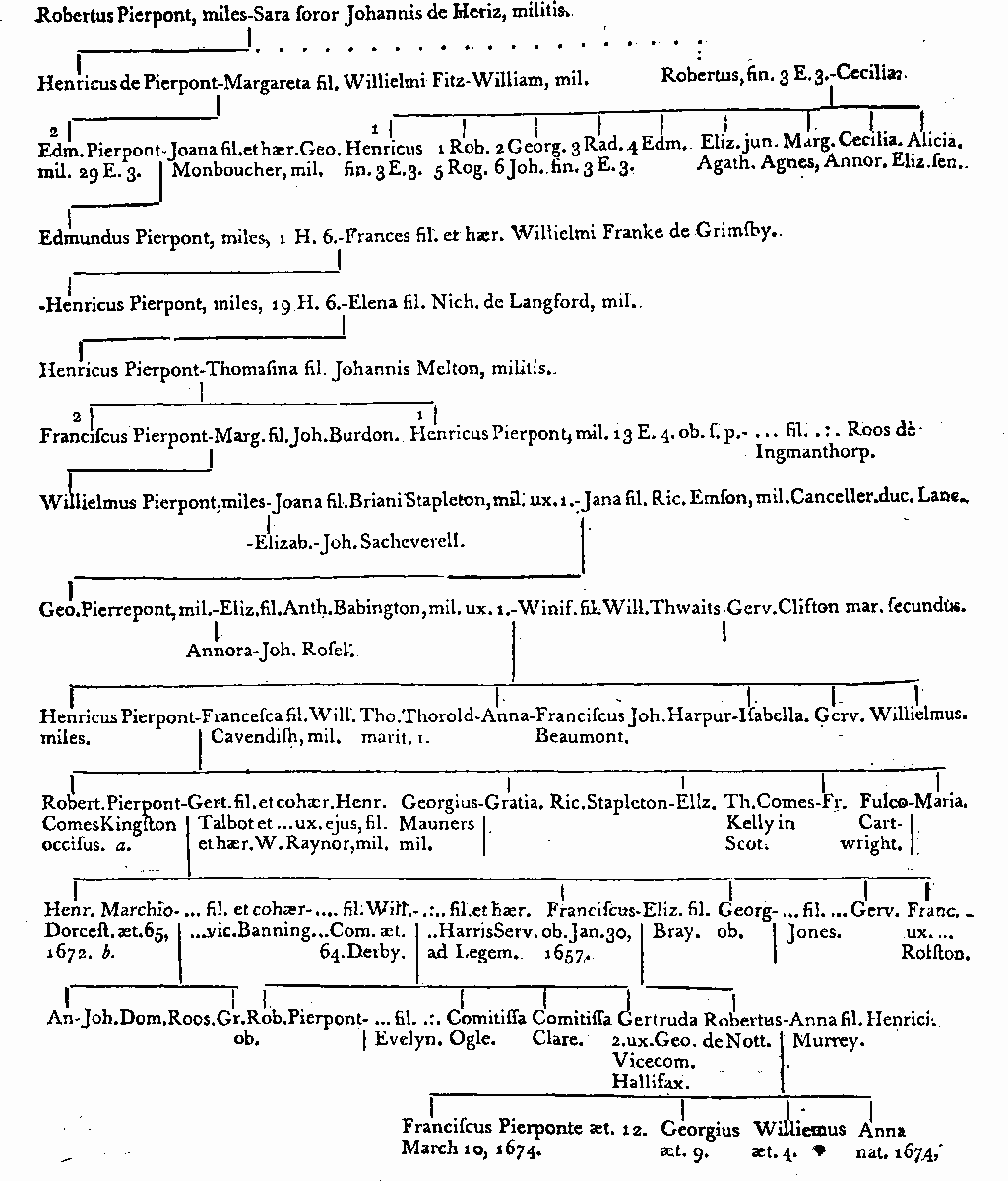 [Throsby] Basingfield
Is a small place, consisting of four or five scattered dwellings; part, as Thoroton says, in the parish of Bridgeford, and part in the parish of Holme. The Land belongs to Charles Medows Pierrepont, Esq. Knight of the Shire.