Pages 170-174
Thoroton's History of Nottinghamshire: Volume 1, Republished With Large Additions By John Throsby. Originally published by J Throsby, Nottingham, 1790.
This free content was digitised by double rekeying. All rights reserved.
TOLLERTON.
Torlaston, Torlaveston, Roclaveston.
This Town in Doomsday-Book is called Roclaveston, in which it was certified to have been the Manor of one Elsi before the Conquest, who paid for it as two Car. to the Geld. The Land was four Car. There afterwards Roger de Busli had in Demesne one Car. and a Half, eleven Vill. one Bord. having three Car. eight Sochm. with three Car. and a Half, and two Mills 3s. There was a Church and thirty Acres of Meadow. In the Confessor's Time it was 40s. and then 60s. Value. (fn. 1)
Not far from hence, a Place called Warberge, or Warbey, must needs lie now utterly lost: but the great Survey of the Conqueror shows, that in it Godric Lord of Plumtre had a Manor before the Normans came, rated to the Geld at twelve Bovats. The Land twelve Bovats, but it then was waste. There were ten Acres of Meadow. In the Confessor's Time it was 20s. Value, then but 5s. this was then of Roger de Buslie's Fee; but another Manor in Warebeg was of Rogerius Pictavensis' Fee, which Fredgis had before rated at thirteen Bovats and a Half to the Dane Tax. The Land whereof was two Car. There Roger Pictavensis had one Car. two Sochm. one Bord. having one Car. and ten Acres of Meadow; this he had advanced to 12s. which was but 10s. in the Time of Edward the Confessor.
Serlo de Torlavistune gave his Moiety of the Church of Torlouton to the Church of Lenton, at the Request, and by the Consent of William de Olive, then Parson of it, in the Time of King H. 2. (fn. 2) To this Gift his Wife Adelina was a Witness; and so was Beatrix, the Wife of Richard Barri, who, by the Consent of the said Beatrix, his Wife, and Raph, his Heir, and the Rest of his Children, confirmed his Church of Torlaviston to the said Priory of Lenton; which Ranulf de Insula, his Grandfather, and Matildis Malebisse, his Grandmother, had given before. (fn. 3)
John Barry, of Torlaston, 17 E. 2. and 3 E. 3. claimed against Reginald de Aslacton twenty-eight Bovats of Land, twenty-eight Acres of Meadow, and ten Mess. except the sixth Part of a Mess. in Torlaston, as Son and Heir of Richard, Son of John, Brother and Heir of William, Son of Richard, Son of Raph, Son of Raph Barry, who lived and had them in the Time of King Richard the First. (fn. 4)
William de Aslocton, in the 50 E. 3. recovered his Seizen by Assize and Jury of the Manor of Torlaston, called Aslocton's Manor, against Robert Barry, Chr. and Roger de Clifton, Parson of Ketworh, and 40l. for Damage: upon which Sir Robert said, the Jury had made a false Oath, and a Jury of twenty-four came to convince, &c. but no Judgment at that Time was given. (fn. 5)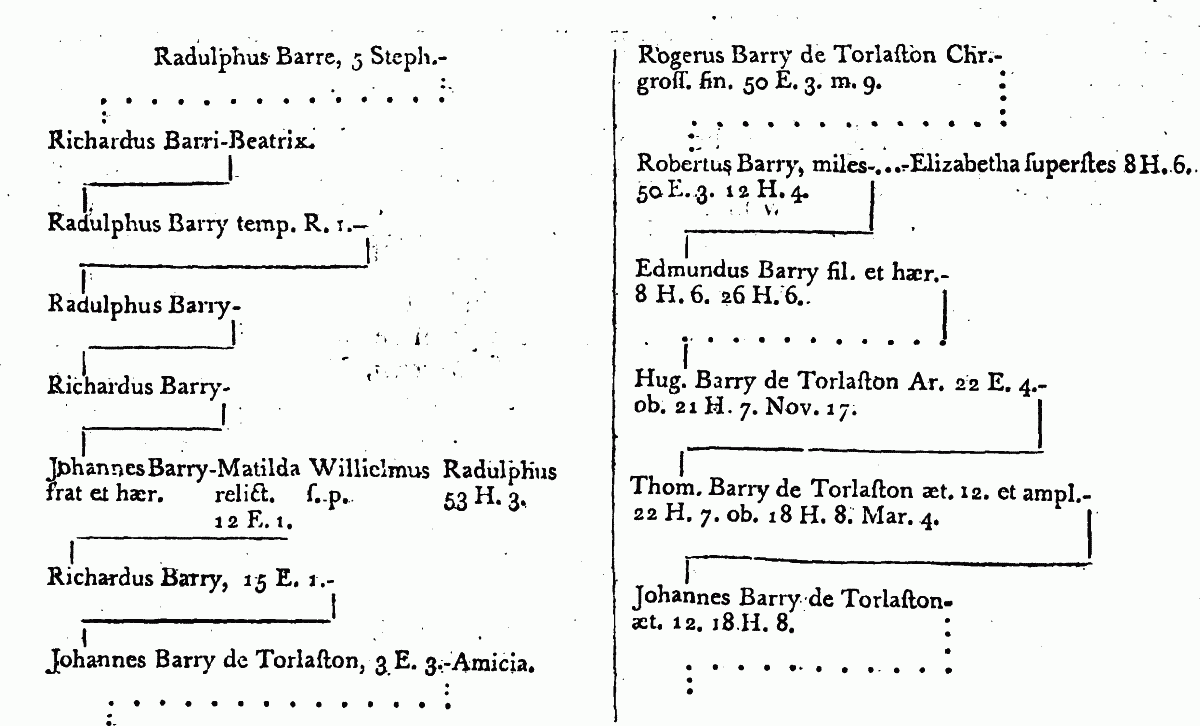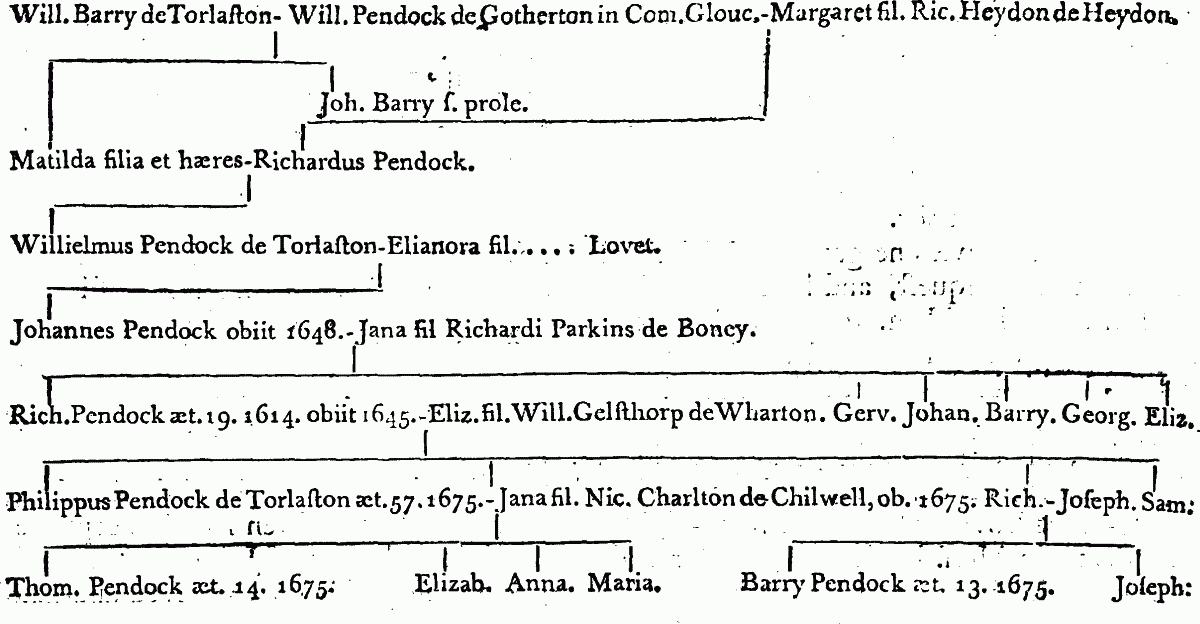 It seems Torlaston's Manor came to the Family of Aslocton. Robert de Torlaston was a considerable Man in the Time of H. 3. but how it passed, by Sale or Inheritance, I have not yet found. (fn. 6)
There was a Fine levied, 4 E. 2. between Mr. Raph Barry, of Torlaston, Compl. and Thomas Barry, of Torlaston, Deforc. of seventeen Mess. one Mill, forty-six Bovats of Land, and fifty Acres of Meadow in Torlaston and Basingfeild, and the Advowson of the Church of Torlaston, whereby they were settled on the said Raph for his Life; Remainder to John, Son of Richard Barry, and the Heirs of his Body; Remainder to Thomas, Son of John Barry, and the Heirs of his Body; Remainder to John Rosell, of Cotgrave, and his Heirs. (fn. 7) By another Fine, 3 E. 3. between John de Barry, of Torlaston, and Amicia, his Wife, Quer. and Raph Rosel, Parson of Keworth, Deforc. the same Parcels were settled on the said John, and Amicia, and the Heirs of John. (fn. 8) The next of this Family was Roger Barry Chiveler, in the Time of E. 3. and Robert Barry, Knight, was here 12 H. 4. whose Son and Heir, Edmund Barry, 8 H. 6. and 26 H. 6. had on his Seal of Arms, three Barres Crenellè. (fn. 9) Hugh Barry was of this Place, 22 E. 4.
After the Death of Hugh Barry, which was Nov. 17, 21 H. 7. there was an Inquisition taken at Newark, viz. 16 Oct. 22 H. 7. whereby it appears, that he was seized of the Manors of Torlaston and Keyworth, with the Advowsons of the Churches of Torlaston, Bassingfeild, (which, as I take it, hath none) and Keyworth, with the Appurtenances, and divers Lands and Tenements in Torlaston, Keyworth, Lambecote, and Kneton; and that he gave the Manor of Keyworth, with the Advowson of that Church, to Thomas Barry, and Brigit Agard, and the Heirs of the Body of Thomas. Thomas Barry, Son and Heir of Hugh, was then found to be above twelve Years old, as in Keworth is already noted. There was another taken at Tuxford in the Clay, 27 August, 19 H. 8. after the Death of Thomas Barry, Gent. (fn. 10) who died the 4th of March, 18 H. 8. seised of the Manor of Keworth, and the Advowson of the Church, and of two Mess. nineteen Bovats of Land, eight Bovats of Meadow, and two Bovats of Pasture, and 9s. 4d. Rent, with the Appurtenances in Keworth; and also of the Manor of Basingfeild, and four Mess. seven Bovats of Land, and three Bovats of Meadow, with the Appurtenances in Basingfeild, and of 3s. 4d. Rent in Lamcote, Ratcliff, and Kneton, and likewise of the Manor of Torlaston, and Advowson of the Church. John Barry, his Son and Heir, was then found to be above twelve Years old.
Richard, Son of William Pendock, of Gotherton, in Gloucestershire, married Maud, the Daughter and Heir of William Barry, of Torlaston, (fn. 11) with whose Posterity this Manor continueth; which is now enclosed, since the late War, by Philip Pendock, the present Owner.
Part of the Land which Mr. Pendock now hath, was lately bought of . . . . Hatfeild; and there are some other Farms in the Town of Tollerton, which were the Inheritance of Robert Earl of Kingston, and are now his Son's the Right Honorable the Marquis of Dorchester; one was Mr. Shipman's, of Scarrington, and by Mr. Thomas Shipman sold to Mr. Jo. Parker, of Nott. the Mercer. (fn. 12)
Here lived of the Family of Boyvile, Walter, in the Time of H. 3. E. 1. E. 2. and John, in the Time of E. 3. and likewise Walkelins, Adam, and Thomas, about those Times. (fn. 13)
The Rectory was 16l. Value when Mr. Barry was Patron. Now in the King's Books it is 15l. 9s. 4d. 0b. and Philip Pendoke, Esquire, Patron. (fn. 14)
[Throsby] Tollerton
LORDSHIP consists of about 1200 acres of land; owned principally by Pendock Neale, Esq. who is lord of the manor.
The village is small, like the church, which has but an indifferent appearance without. It is dedicated to St. Peter, dove-house topped, and has three bells. In it are remembered Thomas Major, aged 75; Joseph Bakewell, who died in 1739, aged 59; and some others of the latter name.
Patron of the living is Pendock Neale, Esq. Incumbent Rev. Thomas Neale. In the king's-books 15l. 9s. 4½d. Yearly tenths 1l. 10s. 11½d. Archiepisc. pro. Syn. 4s. Archidiac. pro Prox. 6s. 8d. Val. in mans. cum claus. adjac. viz. 6 bov. ter. et prat. ibid. per ann, 1l. 6s. 8d. in dec. garb. &c. The king presented in 1694; John Neale, Esq. in 1692; Pendock Price, Esq. in 1717; John Neale, Esq. 1729; Pendock Neale, Esq. 1770 and 1782.
Tollerton-Hall,
The seat of Pendock Neale, Esq. stands about five miles southwardly of Nottingham, and near the church, adjoining the village. It has lately been much improved, and in a great measure rebuilt, by the present owner. Considerable alterations, I understand, are intended to be made in the grounds about it. Near it is a delightul water-scence. A little island, planted with some sprightly trees, appears gracefully on it's surface. The pleasure-boat is a pleasing accompaniment.
I visited this place in the summer of 1791, and benefitted by the cooling breeze wasted from the water, beholding the dashing swallows sipping as they flew, "while their pinions twinkled in the deep."—I could but admire a thrush teaching a group of hovering infants the use of their newly fledged wings: the mother's attention to her little family filled me with some pleasing sensations, and profitable reflections: she flew gently over a little space of ground, and repeatedly dropped in the grass, to rest her young; after a short interval, she ascended with a tempting call, and her obedient children followed her to each succeeding resting place, until they left my sight. Passing from me, I said,—Farewell, sweet songsters! go from place to place, teaching parents care, and children lessons of obedience!
Pendock Neale, Esq. served the office of High-Sheriff for the county in 1784. He married his cousin Susanna, daughter of the Rev. Thomas Neale, late Rector of Tollerton, by whom he has one son and one daughter.