Pages 182-187
Thoroton's History of Nottinghamshire: Volume 1, Republished With Large Additions By John Throsby. Originally published by J Throsby, Nottingham, 1790.
This free content was digitised by double rekeying. All rights reserved.
RATCLIFFE.
In Radeclive, before the Norman Invasion, Fredeghis was taxed to the Danegeld at one Car. and a Half for his Manor. The Land of it was three Carucats. (fn. 1) Afterwards Fredgis and Ulviet held it under William Peverell, whose Fee it was, and had there two Car. and fifteen Vill. six Bord, having four Car. and eighteen Acres of Meadow, and the Seat of a Fishing and a Half, and a Third of a Fishing. This in the Confessor's Time was about 60s. in the Conqueror's 32s. Value. Here was another Manor which Swayn had before the Conquest, rated also to the public Tax at one Carucat and a Half. The Land of it was likewise three Carucats. There Walter de Ayncourt, whose Fee it was, had afterwards in Demesne two Car. fourteen Villains, three Bordars, having three Car. and nineteen Acres of Meadow. This kept the old Value 40s.
Raph, the Son of William de Godenoure, is accounted by the Sheriff, 24 H. 2. to owe two Marks, for having Right of Half a Knight's Fee in Radclive. (fn. 2) This part which was Peverel's, continued to the family of the Lord Grey, of Codnour, from the first Henry, whose Seal is Barry of six, to the last: (fn. 3) yet Henry Lord Grey, of Codnour, 22 H. 6. was found to have held the Manor of Radcliff, of Grauby Fee (viz. Deyncourts), Henry Grey, his Son, being also then found his Heir. (fn. 4)
James Wode, Gentleman, and Elizabeth, his Wife, Daughter and Heir of William Burton, of Burton-Foys, Esquire, 1 H. 8. bargained and sold to Richard Grey, Esquire, all their Meases, Lands and Tenements, Rents and Services, in Radclive on Trent, and Lamcote, which they covenanted to be of the yearly Value of 43s. above all Charges. (fn. 5) This Richard Grey, I suppose, was Father of Thomas Grey, and Son of one of the Henries, natural Sons of Henry, the last Lord Grey, of Codnor, who settled this Manor, with others, on Thomas Leek and Roger Johnson, in Trust for them; (fn. 6) as in Touton more particularly will be noted. Thomas Grey, Esquire, by Fine, 38 H. 8. conveyed the Manor of Woodhall, in Ratcliff upon Trent, and ten Mess. four Hundred Acres of Land, thirty of Meadow, two Hundred of Pasture, &c. to the King, by the Advice of Thomas Cranmer, as it is said; (fn. 7) to whom it was re-conveyed from the Crown, by Indenture, bearing Date March 20, 1 E. 6. (fn. 8)
Harold Rosell, of Radcliff, Esq. married Dorothy, the said Archbishop's sister; and John Rosel, his Grandson and Heir, Son of John Rosel, the said Harold's Son, married Mary, one of the Daughters and Co-heirs of Thomas Cranemer, of Aslacton, Esq. Grand-nephew of the said Archbishop, viz. Son of Thomas, Son of John Cranmer, his elder Brother; by which means, the Manor is now the Inheritance of Thomas Rosell, Esq. Son of Gervas, Son of George, Son of the said John and Mary.
Henry de Notingham, when he died, was found by the Jury, 1 E. 3. to have held a certain Tenement of the Heirs of Richard de Bingham, and here was a certain capital Mess. and seven score Acres of arable Land, and three Acres of Meadow, &c. and eight Acres of Meadow held of Richard de Gray. (fn. 9) And that Henry, Son of John, Son of the said Henry de Nott. was his Cousin and Heir. Henry de Nott. was a Knight about the Beginning of Edward the First. This, I suppose, was of Peverell's Fee too, but Deincurt's was this chief Part, and had the Advowson of the Church; (fn. 10) of whom held Hugh de Hoveringham and Raph de Gousell, who bought one Bovat here of Reginald, Son of Roger de Radclive, and had a Fine levied, 10 Joh. which Walter de Gousel, his Son, by the Consent of Matilda, his Wife, and his Heirs, gave to Gerard, the Parson of Radclive, and his Heirs; (fn. 11) which Parson had a Son named William. The Seal of this Walter de Gousle is, three Annulets, whereof one is covered with a large Canton, or Quarter.
Robert Daincurt, and Hawisia, his Wife, for their Soul's Health, gave to God and St. Mary of Radeclive, one Toft towards the Sustentation of a Priest for ever, to celebrate the Mass of St. Mary. (fn. 12) The Witnesses were Galfr. and Robert, then Chaplains in Radclive; William, the Clerk; William Marescall; Gerard, the Clerk; Hugh Baisely; Hosbert, Son of Hubert.
Mr. Thomas de Hotot claimed this Manor, and the Advowson of the Church of Radcliff, 3 E. 3. as Cousin and Heir of Hawisia de Eyncourt, viz. Son of Joane, Daughter and Heir of William, Son of Hawisia. (fn. 13) But the Posterity of that Hugh Basily, or some of his Family, became, by Degrees, possessed of most of this Fee, and had their most constant Residence here, till about King Richard the Second's Time; that the Family of Rosel, by the Marriage of the Heir Female, came from Cotgrave into their Place, where it still continueth. (fn. 14)
The Lady Hawisia Deincourt gave divers of her Villains to Thomas Basily. Walter de Gousil, 17 E. 1. gave to him the Homages, Rents, and Services of certain Tenants which he had here. Richard, Son of William de Birtun, gave to Thomas, Son of William Bayseley, certain Villains, Lands, and Houses; and Margaret, Widow of that Richard, released to him also 10 E. 1. (fn. 15) He acquired Lands of divers other persons, and had a son named John Basily, whom he over-lived, who married Margery, the Daughter of Sir John Folvile, of Kerisby, in Leicestershire, about 23 E. 1. with whom he had Lands in Stanton; (fn. 16) and left Issue Thomas Baseley, whose Son Thomas married Alice, one of the Daughters and Co-heirs of Robert Strelley. (fn. 16) William Eland married Cicely, her Sister. Robert Basily, Son of the last Thomas, in Imitation of Deincourt, I suppose, bore Arg. Billettè, and a Fesse Dauncè Gules, as by his Seal, and the Church Window, may be manifested. (fn. 16) He had no Issue by his Wife Audina, who over-lived him; (fn. 16) to whom, 19 R. 2. Robert, Son of Thomas Rosel, his Cousin and Heir, ratified her Estate for Life in (fn. 16) Radcliff, Lambecote, Adbolton, Oxton, Calverton, Salterforth, Haveringham, and Epurston. (fn. 16)
Hugh de Hoveringham gave to Osebert, Son of Hubert de Radeclive, the whole Land which Hubert his Father had in that Town, of the Gift of Robert, Father of the said Hugh, with the Pasture of Haffegange, paying him and his Heirs 3s. yearly, for which concession the said Osebert gave the said Hugh 30s. of Silver. (fn. 17) The Witnesses were William de Leke, John and Robert, his Sons, Mr. Stephen de Radeclive, Robert de Rampeston, Raph de Creissi, John de Bingham. The Seal is very large, with his Image on Horseback, and a fair Circumscription of his Name. There are several other (fn. 18) of his Grants with the same Seal amongst Mr. Rosel's Evidences; one to Eustachius de Ludham, Clerk, of one Toft, with the Appurtenances in Radeclive; and further for Common of Pasture in the same Town, and also in Hestegaud and Nesse, for sixty Sheep, and their Sequel of one Year. (fn. 19) The Witnesses to this were Walter de Stanton, William de St. Paul, John de Leo, Raph de Creissi, at that Time Serjeant, (or else Servant of) Leon de Malnoers, Roger de Saucusemar, William Marescall, Raph de Saxindale, Robert de Sibthorp, William de Munjoy, William the Clerk, Walter de Hulme, John, his Son, William Rosell, Henry de Burun, Osbert, Son of Hubert, Hugh Basily, &c. (fn. 20) By another the said Hugh de Hoveringham gave to God and St. Mary, and the House of the Hospital of St. John the Baptist, at Jerusalem, and the Brethren there serving God, one Bovat of Land in Radclive, for his Soul, and the Souls of his Wives, and of his Ancestors and Successors, and for the Journey of his Pilgrimage which he promised to make to St. Andrew.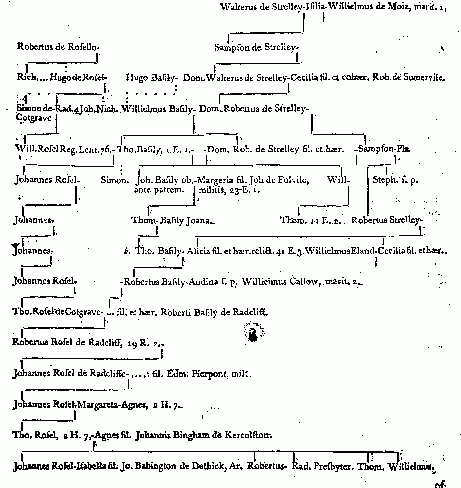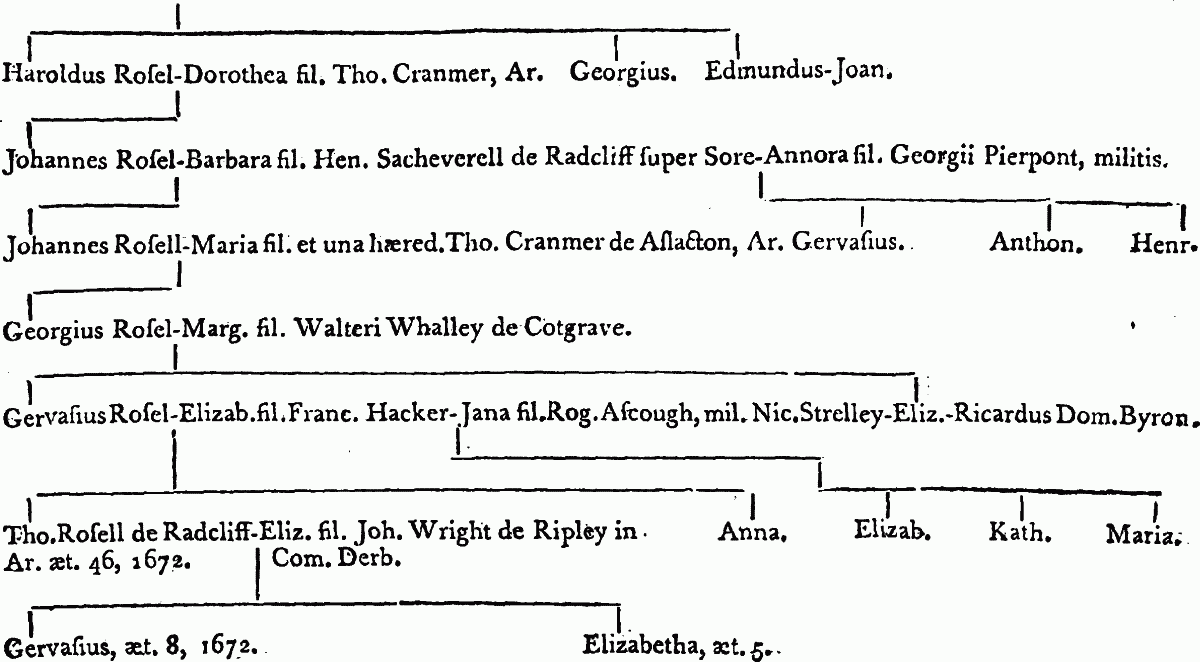 Friar Peter de Hacch'm, Lieutenant of the Master and Prior of St. John's of Jerusalem, in the Year 1292, granted to Thomas Basily, of Radecliffe, and his Heirs, one Bovat of Land there, paying 15s. per Annum, and two Appearances every Year at their Court at Shelford:—which is still kept at Cotgrave.
Mr. Stephen de Radclive had a Son named Stephen, and he one named Ancelline, who was living 29 H. 3. One of the Stephens, as the Tradition is, gave the Pasture to the Town: he lies in the South Wall of the Church, under his Image cut in Oak, under an Arch. (fn. 21)
Robert de Ferrars, Earl of Darby, gave to his beloved Servant [valetto] Thomas, Son of William de Radeclive, all the Lands and Tenements which William de Akeover held in the Town of Stretton, in Staffordshire. The Earl's Seal, Horse and Man, and the Shield on the other Side, all Varry.
Robert, Son of Thomas de Radclive, 29 E. 3. remised to Berengar Hascuil all his Lands in Radclive: on his Seal, within the Circumscription of his Name, is a Chevron Varry, probably in relation to the Earls before noted. Berengarius Hascul, of Anestan, 37 E. 3. passed to Sir Edmund Perepount, Knight, and his Heirs, four Mess. with four Tofts in this Town, which Agnes, Mother of the said Berengar, held for her Life, of the Feoffment of Thomas de Radclive. (fn. 22)
There were four Mess. and six Bov. of Land in Radcliff and Lemcote fettled by Fine, 10 H. 4. on Alexander Meringe, and Agnes, his Wife, for their Lives; Remainder to Thomas, their Son, and the Heirs of his Body; Remainder to William, another Son, and the Heirs of his; Remainder to John Burdet, and the Heirs of his Body; Remainder to Elizabeth, their Daughter; Remainder to the right Heirs of the said Agnes. (fn. 23)
There was a Recovery suffered in the Beginning of the Reign of Henry the Eighth, wherein William Digby, John Wates, William Colt, and Edward Ballard, claimed against Richard Page three Mess. one Hundred Acres of Land, twenty of Meadow, eighty of Pasture in Radclive on Trent, who called to warrant Robert Balard. (fn. 24)
Queen Elizabeth, April 1, 44 Eliz. granted to Laurence Wright, Gent. a Manor in Radcliffe, and three Mess. belonging to it, late in the Tenure of Edward Beamont, and Parcel of the Possessions of John Beamont, Esq. of the Yearly Value of 9l. 4s. 8d. (fn. 25)
The Rectory of Ratcliff upon Trent, late belonging to the Monastery of Thurgarton, and demised to Sir John Zouch for 20l. per Annum, was by the said Queen Elizabeth, 3 Apr. 33 Eliz. granted to Michael Stanhope, Esq. and his Heirs, at the Extent of 17l. 3s. (fn. 26)
This last Manor, and the Rectory, the Earl of Chesterfeild had; and the Earl of Kingston had Lands here of good Value, now the Marquis of Dorchester's. (fn. 27)
Here were some Lands in Ratcliff and Lamcote, belonging to the Preceptory of Newland, Parcel of St. John's of Jerusalem, some to Newstede, and some to the Monastery of Dale, in Darbishire; the Rest, save some few Freeholders, viz. . . . . Pilkinton, . . . . Butler, . . . . . . . ., is Mr. Rosell's.
The Vicarage of Radcliffe on Trent was 8l. when the Prior of Thurgarton was Patron. It is now in the King's Books 4l. 12s. 6d. Value, and the Earl of Chesterfeild Patron. (fn. 28)
In the Church, South Isle:---Or, five Palets Sab.---Azure Semi de Lis Or.---Arg. a Lion Ramp. Sab. quartering Or. A Castle sable, Paley of six Arg. and Az. Strelley.--Arg. on a Bend sable, three Roses Or, quartering Arg. a Fesse Dancè and Billettè Gules, Rosell with Basily.
In the East Window of the Chancel:---Azure Billettè with a Fesse Dancè Or. Deincourt.
In the North Isle of the Church:---Barry of six Arg. and Azur. with a Bendlet Sinister Gules, Grey.---The same impales with Quarterly Arg. and Azure, a plain Crosse counterchanged.
Upon a Brass in the Wall.--- . . . A Gryphin . . . . impales with . . . . on a Chevron, between three Demi Lions Passant, with a chief Party per Fesse indented through, or else upon it three Piles, three Roundlets.
Anna, the Wife of William Ballard, of Wimeswould, Com. Leic. Esquire, 1626, and George Adrian, miles, Daniel Bowyt and Gabriel, their Children.
[Throsby] Ratcliffe Upon Trent
LORDSHIP, excepting a farm owned by Mr. Wright, of Nottingham, is chiefly in the hands of Mr. Medows. The village consists of about 130 dwellings.
The church has a nave, with a spacious chancel; a spire steeple, and four bells, and is dedicated to St. Mary. Within, in a nich, lies a wooden figure of Stephen Radcliff, said to be the founder, of whom Dr. Thoroton has given some account above. Against the wall is a brass placed to the memory of Ann Ballard, the Wife of William Ballard, of Whimeswould, in Leicestershire, Esq. "She," we are told, "lived in good report to the age of 83, and died in 1626."
"Aske how shee lived, and thou shalt know her end: Shee dyed a saint to God, to poore a friend."
The old register I did not fee: there appears by the present one to be about 58 burials and 115 baptisms in five years.
Patron of the living is Mr. Medows. Incumbent Mr. John Davenport, of Goadby, in Leicestershire. Its value about 100l. per annum. King's books 4l. 12s. 6d. Yearly tenths 9s. 3d. Archiepisc. pro Syn. 4s. Archidiac. pro Prox. 7s. 6d. Valet in mans. cum. gardin. ibid. per ann. 4s. pens. rec. pri. de Thurgarton 1l. 10s. dec. porc. &c. Prior Thurgarton Propr. The King by lapse 1740. The Duke of Kingston 1771.