Pages 190-194
Thoroton's History of Nottinghamshire: Volume 1, Republished With Large Additions By John Throsby. Originally published by J Throsby, Nottingham, 1790.
This free content was digitised by double rekeying. All rights reserved.
CROPHILL-BUTLER.
So called because it was long held by the Family of Butlers, of Warington, in the County of Lancaster.
In the Conqueror's great Survey it appears that Uluric had a Manor here in the Saxon Government, which defended itself against foreign or public payments for two (fn. 1) Car. and six Bov. (fn. 2) The Land of it was six Car. And that it became, after the Change, the Fee of Roger Pictavensis, who had here three Car. eight Sochm. and seventeen Vill. having six Car. There were twenty Acres of Meadow, Pasture, Wood ½ leuc. long, four qu. broad. In the Confessor's Time the Value of it was 8l. in the Conqueror's 5l.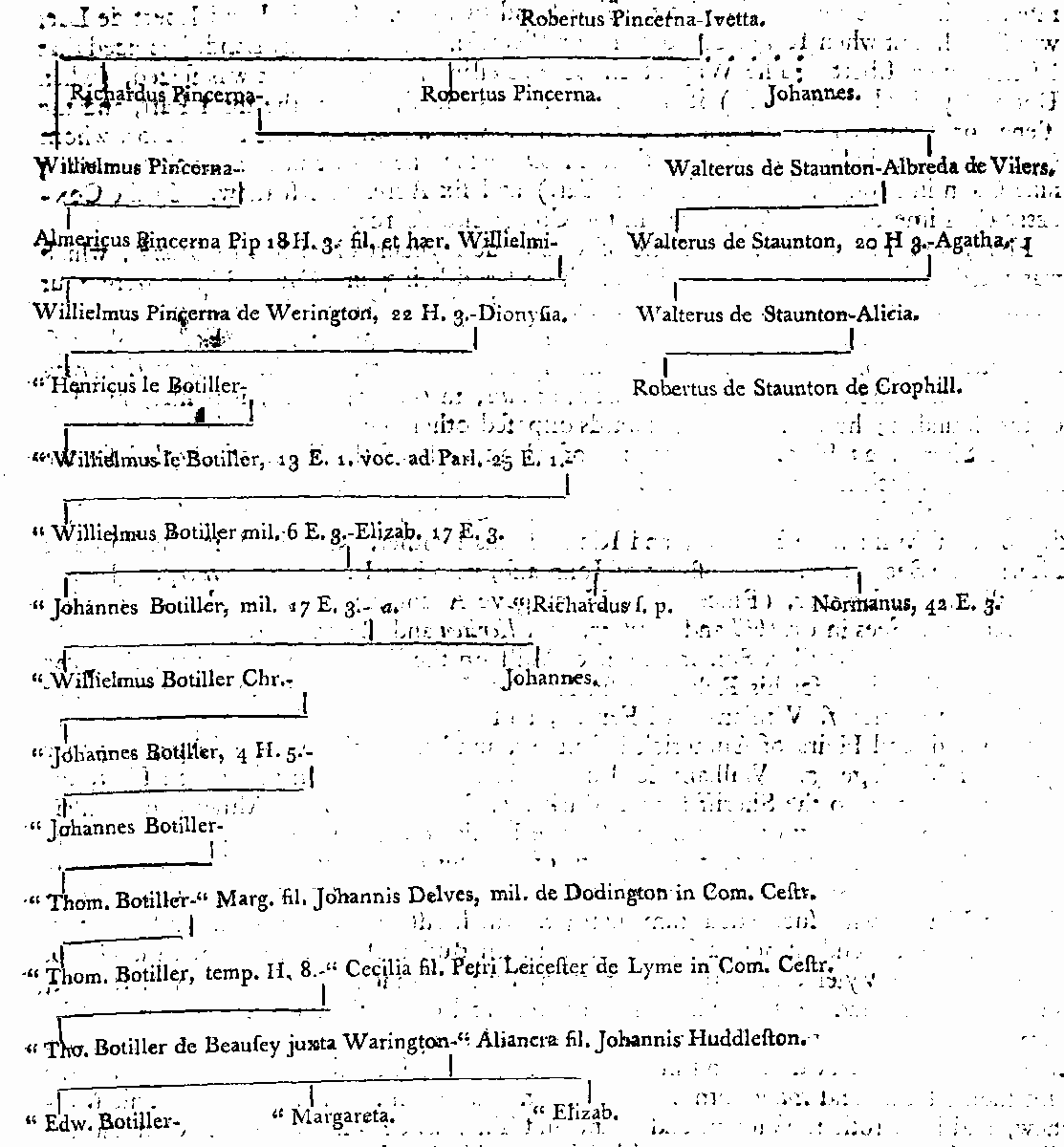 In Crophill were two Manors, which, before the Conquest, Ulviet and Godric had rated to the Dane-geld at four Bov. The Land two Car. Of this Land Ilbert de Laci was seized, but when Roger of Poytiers, or Pictavensis, received his Land, he seized that Manor over Ilbert. The Wapentach bore Testimony that Ilbert was seized, (when Doomsday-Book was made) it was in the King's Hand, except the third Part, and the Tene, or Tayn, (Teneum qui est Cap. Maner.) who was the chief of the Manor, whom (quem) Ilbert held. There was then in Demesne one Car. and four Sochm. having nine Oxen in Plough, (or nine Bov. in Car.) and six Acres of Meadow. In the Confessor's Time this was 16s. Value, in the Conqueror's 10s.
Here, and in Wivreton, was some of Walter de Ayncurt's Fee Soc to Granby, which was rated at four Bovats to the Geld. (fn. 3) The Land being one Car. There were four Sochm. seven Bordars, having two Carucats, and thirteen Acres of Meadow.
This Roger Pictavensis was third Son of Roger de Montgomery, first Earl of Shrowsbury after the Conquest, (fn. 4) and gave, amongst many others, the Churches of Cotegrave and Crophill to the Monastery of St. Martin, at Sais, in France; which, it is like, his Ancestors founded; howbeit, they afterwards disposed otherwise.
The Sheriff, 23 H. 2. gave Account of 2l. 11s. 8d. of the Firm of Crophull for the Half-year, which had been the Lands of Richard the Butler. (fn. 5)
Robert, the Butler of Ranulf Gernons, Earl of Chester, was Father of Robert, and, I suppose, of William le Botyller, and Richard, his Brother, who lived in the Time of Henry the Second; (fn. 6) and possibly of John also, who had Interest at Outhorp, 6 Joh.
William the Botiller, (Pincerna) 9 H. 3. gave Account for four Marks, concerning two Knight's Fees in Crophill and Uvetorp, and Keniton and Caverton. (fn. 7)
Aumericus the Botiller, Son and Heir of William the Butler, 18 H. 3. gave Account of 30l. of the Fine, for his Relief, of six Knight's Fees, which the said William held of the King in Capite. (fn. 8) William Earl Ferrars, 19 H. 3. gave 100l. for having the Custody of the Lands and Heirs of Aumerick le Buteler, until they should be of Age, together with their Marriage. (fn. 9) William le Butiler seems to have been of Age 22 H. 3, for then he accounted to the Sheriff for six Marks. (fn. 10) William, Son of Almeric le Botiller, confirmed to the Priory of Thurgarton, for the Health of his own Soul, and of Dionysia, his Wife's, several Gifts, viz. two Bovats of Walter de Staunton's, who married Albreia de Vilers, who was Daughter of Richard Butler, and had a Son and Grandson of his own Name, who succeeded him here; (fn. 11) which last Walter de Staunton had a Son named Robert, resident here also. This William Butler likewise confirmed the Gift of Sir Matthew de Vylers, his Grandfather, who, by the Consent of his Heirs, viz. Robert, Son of Helgod, and Beatrix, his own Daughter, and of his Brothers Thomas and William de Vylers, gave to the Canons and Brethren serving God, and St. Peter at Fiscarton upon Trent, one Carucat of Land in Crophill, of his Demesne; for which the Canons gave him their Habit, and made him a Brother, who had been a Benefactor. (fn. 12) This Matthew, and his Brothers William and Alan, and Thomas de Vilers, gave to God and the Church of St. Peter at Thurgarton, with Richard, his Brother, all his Lands of Lound, and the Service of Raph de Sanchr. and his Church of Warington, and his Church of Tytheby, and Chapel of Crophill; and Thomas, his Brother, gave the Church of Outhorpe, and the said Matthew granted the Lambskins of his House; (fn. 12) Walter de Staunton, for the Soul of Albreia de Vylers, his Wife, confirmed the said Gifts of Sir Matthew and his Successors, &c. Walter de Staunton, his Son, for the Soul of Agatha, his Wife, who, I suppose, was the Daughter of Godfr. le Angevin, confirmed also all the forementioned Gifts.
There were other Benefactors here to the Priory of Thurgarton of less Condition, as William, Son of Robert de Leik, and Idonia, his Wife, who gave a Toft and one Bovat in Crophill; and Petronilla and Alice, Daughters of William Gernet, and several others. (fn. 13)
William le Botiller, of Werington, 13 E. 1. had a Charter of Free Warren in Crophill. (fn. 14)
There was a Fine levied, 8 E. 2. between Robert, Son of William de Kercolston, and Agatha, his Wife, Quer. and William, Son of William de Kercolston, Deforc. of two Tofts, and four Bov. and a Half of Land, five Acres of Meadow, 5s. 6d. Rent, and rlb. of Cummin-Seed, and Half a Mess. with the Appurtenances in Crophull-Botiller, whereby they were settled on the said Robert and Agatha, and the Heirs of their Bodies; Remainder to Raph, Brother of Robert, for his Life; Remainder to Hugh, Brother to Raph; Remainder to the right Heirs of Agatha. (fn. 15)
Two Parts of the Manor of Crophull-Botiller, with the Homages and Services of Paganus de Vilers, William de Stanley, John de Annesley, John le Knight, Agnes Cole, and John Oliver, and their Heirs, by a Fine, 6 E. 3. were settled on William le Botiller and Elizabeth, his Wife, and the Heirs of their Bodies; Remainder to the right Heirs of William. (fn. 16)
A Fine was levied, 17 E. 3. of one Mess. two Tosts, nine Bov. of Land, sisteen Acres of Meadow, &c. whereby one Mess four Bov. and a Half, &c. were settled on William de Staneley, the Elder, and Johan, his Wife, together with the Homage and Services of John de Staunton, and John, Son of Raph de Staneley, and their Heirs, during the Lives of the said William and Joan; Remainder to William le Botiller, of Werington, and Elizabeth, his Wife, for their Lives; then to John, their Son, and the Heirs of his Body; Remainder to the right Heirs of William le Botiller, and so the Rest of the Particulars were limited. (fn. 17)
Sir Edmund de Willughby, Knight, 43 E. 3. passed by Fine to William de Wakebrug, two Mess and four Bovats of Land in Crophull-Botiller, which Norman, the Son of William le Botiller, of Werington, then held for the Term of twelve Years. (fn. 18)
William Boteler, of Werington, Chr. some Time seized of the Manor of Crophill, gave it to John, his Brother, for Life, with Remainder to him the said William, and his Heirs; (fn. 19) the Jury, 4 H. 5. found that John Boteler was Son and Heir of the said William. There was a Recovery suffered, 15 H. 8. wherein Richard, William, John, and Thomas Gresham, William Botery, and John Gostwyke, claimed against Thomas Boteler, Esq. twenty Mess. one Thousand Acres of Land, two Hundred of Meadow, &c. and 5l. Rent, with the Appurtenances in Crophill-Boteler and Tytheby. (fn. 20) (fn. 21)
In another Recovery, 17 H. 8. Robert Draper and Thomas Kendale claimed against John Marshall, Gent. Son and Heir of Agnes Marshall, late Wife of Thomas Marshall, Daughter and Heir of William Muston, late Merchant of the Staple of Cales, the Moi ety of two Mess. two Hundred Acres of Land, one Hundred of Pasture, and twenty of Meadow, in Crophill-Boteler, Crophill-Bishop, and Tytheby. In another, 19 H. 8. Thomas Saunders, Gent. and William Saunders, claimed against Henry Wyat, Knight, the like Moiety of two Mess. &c. and called to warrant Richard Whethille, Knight, and Elizabeth, his Wife. (fn. 22) In another, 3 & 4 Ph. and Mar. Thomas Hochenson, alias Hutchinson, Gent. claimed against Edmund Saunders, Knight, Chief Justice, the Manor of Cropwell-Butler, and ten Mess. ten Gardens, one Dovecoat, one Thousand Acres of Land, &c. and 40s. Rent, with the Appurtenances in Cropwell-Butler, Cropwell-Bishop, Tytheby, Saxendale, Codgrave, and Ratclyffe; (fn. 23)
It was late the Inheritance of Sir Thomas Hutchinson, who sold the Farms to divers Freeholders, and the Demesne to the Earl of Kingston, whose Son, the Marquis of Dorchester is still Owner of it. (fn. 24)
The Grange, with fifteen Oxgangs of Land (formerly, I suppose, belonging to Thurgarton Priory), are the Lord Chaworths, who hath also four Farms and certain Cottages, and a Windmill. The Freeholders are Mr. Andrew Poole, who hath ten Oxgangs . . . . Crosland eight, William Cock four, Andrew Bell four, Thomas Fillingham four, Thomas Smith three, &c.
The Tythes, formerly Thurgartons, (which Priory, it seems, served Outhorp and Titherby with Priests from their own Convent, for I find no mention of the Vicarages of either) are my Lord Chaworth's who finds a Chaplain at Titherby, whither the Inhabitants of this Crophill refort, as to their Parish Church.