Pages 194-201
Thoroton's History of Nottinghamshire: Volume 1, Republished With Large Additions By John Throsby. Originally published by J Throsby, Nottingham, 1790.
This free content was digitised by double rekeying. All rights reserved.
TITHEBY & WIVRETON.
In Tideby, before the Conquest, Ulric had a Manor, for which he was rated to the Dane-geld as four Bovats and three Quarters. (fn. 1) The Land one Car. When the Conqueror made his grand Survey, Fredgis held it of William Peverell. There was one Sochm. five Vill. four Bord. had two Car and a Half, and twenty Acres of Meadow. In King Edward the Consessor's Time this was valued at 20s. in the twentieth Year of the Conquest at 10s.
Part of Tiedby was Soc to Turgastune of Walter de Ayncurt's Fee, and rated to the Geld at two Bov. here were twelve Vill. and two Bord. having six Car. There (viz. at Thurgarston) were a Priest and forty Acres of Meadow. Pasture Wood five leug. long, ½ leug. broad. In the Confessor's Time, the Manor of Turgarstune, having Soc in Horsepol and Tideby, was valued at 3l. in the Conqueror's at 4l.
Hugh de Tytheby is certified in the Time of Henry the Third, to hold Half that Town of the Fee of Isolda de Gray, for which he paid Half a Mark Rent yearly. (fn. 2) Robert, Son of Hugh, Son of Gervas de Tytheby, gave and sold many small Parcels of Land here to his Lords, the Prior and Convent of Thurgarton; (fn. 3) he gave likewise certain Parcels to Roger, Son of Alwin de Barneston, to find Alice, his Wife, and Margaret, his Daughter, sufficient Estovers during their Lives; so he did other Parcels to Sir William de Heriz, to find sufficient Estovers for himself and his Son John; and so he did to Richard, Son of Gervase de Wiverton, to find his Sons Peter and Hugh sufficient Estovers for their Lives, viz. meat, drink, and clothes; and at length he passed all his Lands here to the said Sir William de Heriz, and Richard de Wiverton, to find himself, his Wife, and Children, their sufficient Estovers. Sir William de Heriz, and Sir Richard de Wiverton, by his Consent, passed it to the Priory of Thurgarton.
In the great Complaint made concerning the Sheriffs oppressing the Country, by selling their Bailiwicks, in the Time of Edward the First, or beginning of Edward the Second, William de Tytheby is instanced, for being forced to sell his Land, to buy his Bailiwick of Sir Gervas de Clifton. (fn. 4)
Hugh de Hoveringham confirmed seven Bovats of Land in Titheby, which Emma, his Grandmother, and Robert, his Father, gave to God and the Church of Thurgarton. (fn. 5) Robert de Handsacr, Knight, for himself and the Soul of Alin, his Wife, gave to the Priory eighteen Selions in the Fields of Crophill and Titheby. (fn. 6)
Wiverton, commonly called Werton now utterly depopulated, and so came to the present Owner, Patricius Viscount Chaworth, of Armagh, in the Kingdom of Ireland, from his Ancestors, was anciently of several Fees. Here was a Manor of William Peverell's Fee, which Ulric had before the Conquest, rated to the public Tax, or Geld, as one Bovat ¾. The Land half a Carucat. (fn. 7) There three Vil. one Bord. had one Car. and six Acres of Meadow. This was, both before and after the Conquest, valued at 10s. Another Parcel of William Peverell's Fee here was Soc to Langar, and paid the Tax as three Bovats and a Half. The Land one Carucat. There seven Sochm. one Border had one Car. and two Bovats, and eight Acres of Meadow. Another Part of Wivreton was of Walter de Ayncurt's Fee, and Soc to Granby, and paid to the Dane-geld for six Bovats ½. The Land one Carucat. There five Sochm. had two Car. or Ploughs, two Bov. or draught Oxen, and twenty Acres of Meadow. Another Part was also Soc to Granby, but of the Fee of Osburn Fitz-Richard, and was rated to the Tax at three Bov. The Land one Car. There seven Sochm. had two Car. or Ploughs; this Part had Soc in Coleston.
At the East End of the Chancel at Titherby is a Monument (See the Plate, page 194) with the following Inscription:
"Before the Midst of this High Aulter lyeth Thomas Chaworth, of Cropwell-Botlers, Squire, and Ankaret, his Wife, Son and Heir of George Chaworth, of Ansley, Squire, and Alice, his Wife, Daughter and Heir of John Ansley, Squire; which said Thomas deceased on Trinity-Sunday, in the Year of Grace m. cccc. xxxv. On whose Souls Jesu have Mercy. Amen."
One of the most considerable and ancient Owners that I light on, was Gervase de Wiverton, Son of Richard, Son of Gervas, Son of Richard de Berneston, mentioned in Coleston-Basset, which said Gervase had a Son named Richard de Wiverton, who was a Knight and Benefactor to Wellebek and Thurgarton Monasteries; to which last he gave, with his Body, six Acres of Land in this Field, (fn. 8) which Walter, Son of Richard de Botelesford, and Alice, his Wife, his youngest Sister and Heir, Idonia, another Sister and Coheir; and Thomas, Son of Raph de Melleys (which Thomas is supposed to be Son and Heir of his other Sister Alina, did after his Death confirm. This Sir Richard de Wiverton left his Wife Matilda a Widow before 37 H. 3. (fn. 9) Then he was certified to have held here of the King twenty-four Bovats of Land in Wiverton and Barneston by the Service of the fifth Part of a Knight's Fee, of the Honor of Peverell, and sixteen Bovats of Land in Wiverton and Colston, of Raph Lord Basset; and seven Bovats in Wiverton of Henry de Bek, for the sixth Part of a Knight's Fee. His Ancestors had disposed some Land to pious Uses: what he left was subdivided into small Parcels among the several Heirs of his three Sisters.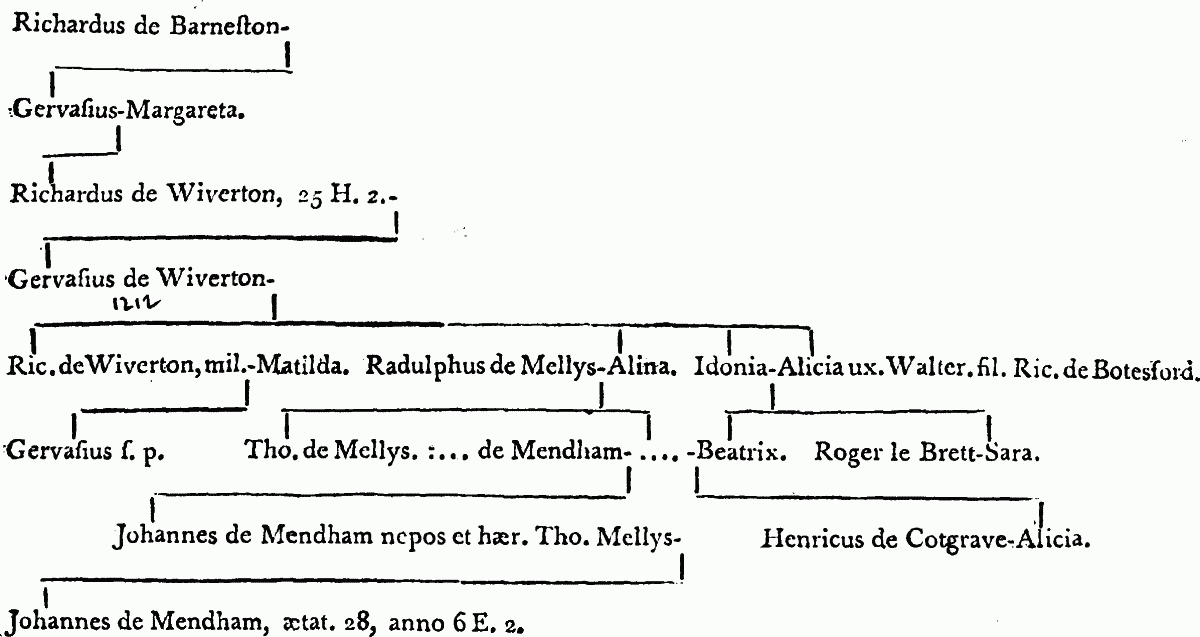 His younger Sister Alice had two Daughters and Heirs, one called Sarra, married to Roger le Brett, and aged twenty-eight Years 8 E. 1. (fn. 10) and another named Beatrix, who left her Daughter and Heir Alice, then aged fifteen Years, who, 28 E. 1. was Wife of Henry de Cotgrave. The Heir of Thomas de Mellys was his Nephew John de Mendham, who left a Son called John, his Heir, twenty-eight Years old 6 E. 2. (fn. 11) The Portion of Idonia, the other Sister and Heir of Sir Richard de Wiverton, was aliened to Hugh de Stapleford, of Nott. and his Heirs; (fn. 12) whose Sister and Heir Alice was Wife of John le Paumer, who had a Daughter named Agnes, the Wife of Richard de Whatton. (fn. 13)
Here were many other Owners and Benefactors to the Priory of Thurgarton; as 1251, (fn. 14) William, Son of William de Wiverton, and of Albreda, his Wife, Daughter of Wil liam Gernet, as I guess; Gundreda, Wife, and Roger, Son of that William, confirmed his Gift; that Roger had a Son named William de Wiverton, Father of Emme. Henry de Bek, Knight, gave all the Land he bought in the Fields of Titheby and Wiverton. Henry, Son of Dionysius de Bingham, in the Year 1270, confirmed all his own Gifts and Sales to the said Priory, and released all the Services of his Fee, reserved in any Gift or Sale by himself or Robert de Handsacre. His Wife Christian, and William de Bingham, his Son, confirmed what he did. Others here were too many to insist on, but the principal Owner in the Time of King H. 3. was Sir William de Heriz, Knight, before named.
Sir Raph Basset; Son of Raph Basset, granted to William de Heryez, of Wyverton, in Frank-marriage with Maltilda, his Sister, six Marks of Land in Wyndesclive, as Sir Raph Basset, their Father granted to the said Matilda: (fn. 15) to this Richard Basset, Parson of Drayton, was a Witness. This Matildis was Sister of Raph Lord Basset, of Drayton, Grandfather to the last Lord Basset of that House, who died the 12th of May, 13 R. 2. (fn. 16) at which Time Thomas Earl Stafford, aged twenty-four Years, claimed and was found to be one of his Heirs, as Son of Hugh Stafford, Son of Raph, Son of Margaret, Sister of the said Raph Lord Basset, his Grandfather. The said Matildis, the other Sister before named, Wife of Sir William Heriz, left Issue Joan (often called in Thurgarton-Book Lady of Wiverton), who married Sir Jordan Bret, who had Issue, by her, Sir Roger Bret, who married Ramberga, or Roberta, the Daughter of John Lord Deincurt, by whom he had a Son, Sir John Bret, who married Alice, the Widow of Sir John de Loudham, for which he paid twenty Marks of his Fine to the King, 13 E. 2. (fn. 17) and had a Son, Sir John Bret, who married Joan . . . . ., on whom the Manor of Wiverton, 40 E. 3. was settled for Life, (fn. 18) (fn. 19) but died without Issue, so that his Sister Catherine, married to Sir John Caltoft, Lord of East-Bridgeford, carried the Inheritance to Alice, their Daughter and Heir, first married to Thomas Heth, Chr. to whom Sir John Bret, Chr. granted 100l. Rent, 40 E. 3. out of the Lands in Wiverton, Langar, Barneston, Tytheby, Crophill-Bishop, Colston-Basset, Shelford, and Aslocton, and fifty Marks out of William-Thorp, Hynkershull, Wolveley, and Calale, &c. (fn. 20) and afterwards to Sir William Chaworth which Sir William, in Right of her, the said Alice, his Wife, aged above thirty Years 14 R. 2. was the other Co-heir of the last Lord Basset, of Drayton, before mentioned. (fn. 21)
This Sir William Chaworth, and Alice, his Wife, had Issue Sir Thomas Chaworth, who had to his first Wife Nicola, the Daughter of Sir Reginald Braybrook, Knight, by whom he had a Daughter, Elizabeth, married to John Lord Scroop, of Massam; (fn. 22) to his second he had Isabell, Daughter of Sir Thomas Aylesbury, and Aunt and Co-heir of his Grandchild Hugh, Son of his Son John, which Hugh Aylesbury died without Issue 2 H. 6. his other Aunt and Co-heir being Elianor, the Wife of Humfrey Stafford, of Grafton.
This Sir Thomas Chaworth, by this Match, was entitled to the Inheritance of the honourable Families of Aylesbury, Pabenham, Engaine, Basset, of Weldon, and Kaynes, and better enabled to make the Park here, which he had the King's Licence to do 24 H. 6. who likewise granted him Free Warrant in this Place, whereby it is very probable that he was the chief Builder of that strong House, which from thence forward was the principal Mansion of his worthy Successors, and in our Times made a Garrison for the King, which occasioned its Ruin, since when, most of it is pulled down and removed, except the old uncovered Gatehouse, which yet remains a Monument of the Magnificence of this Family. (fn. 23)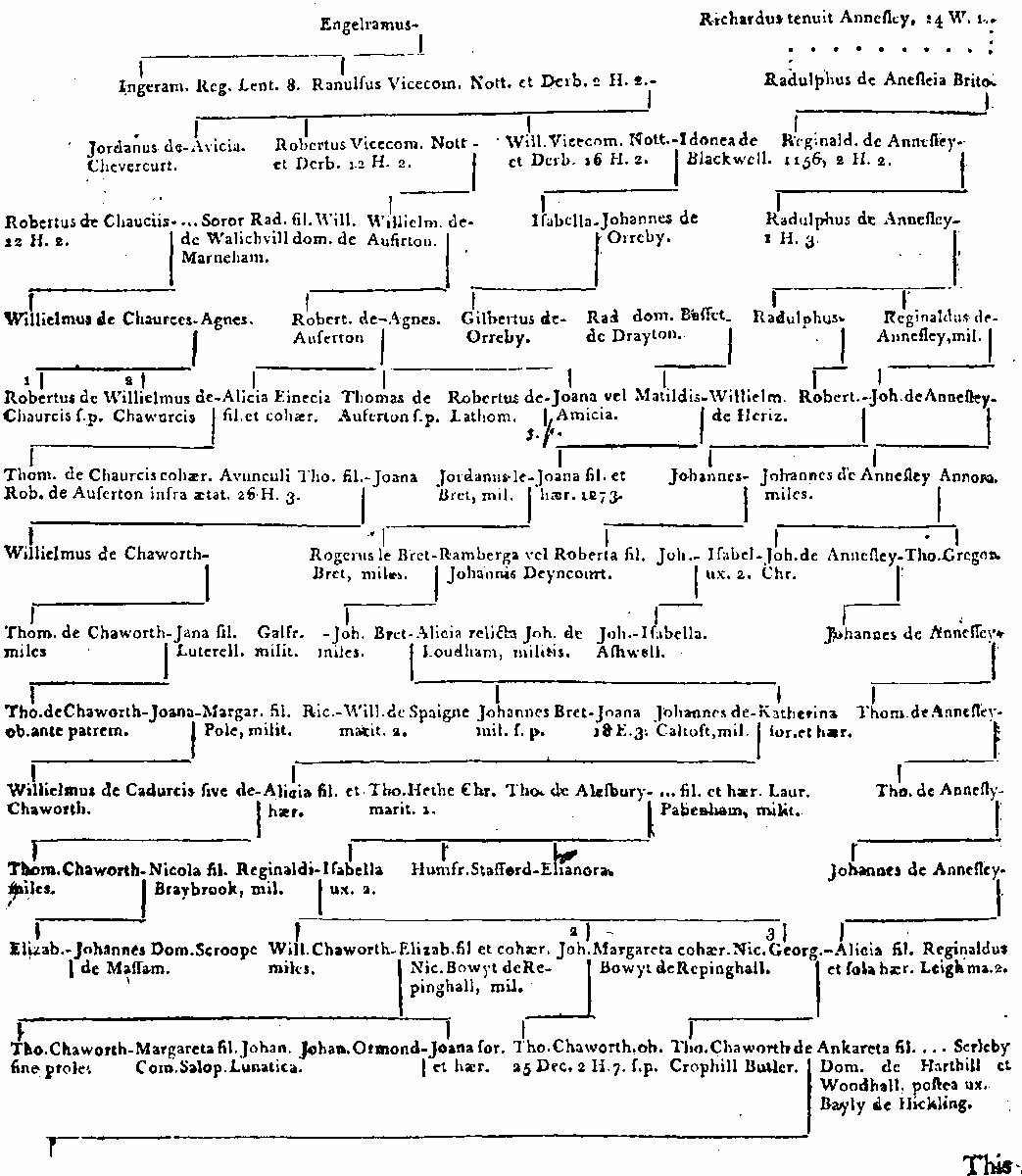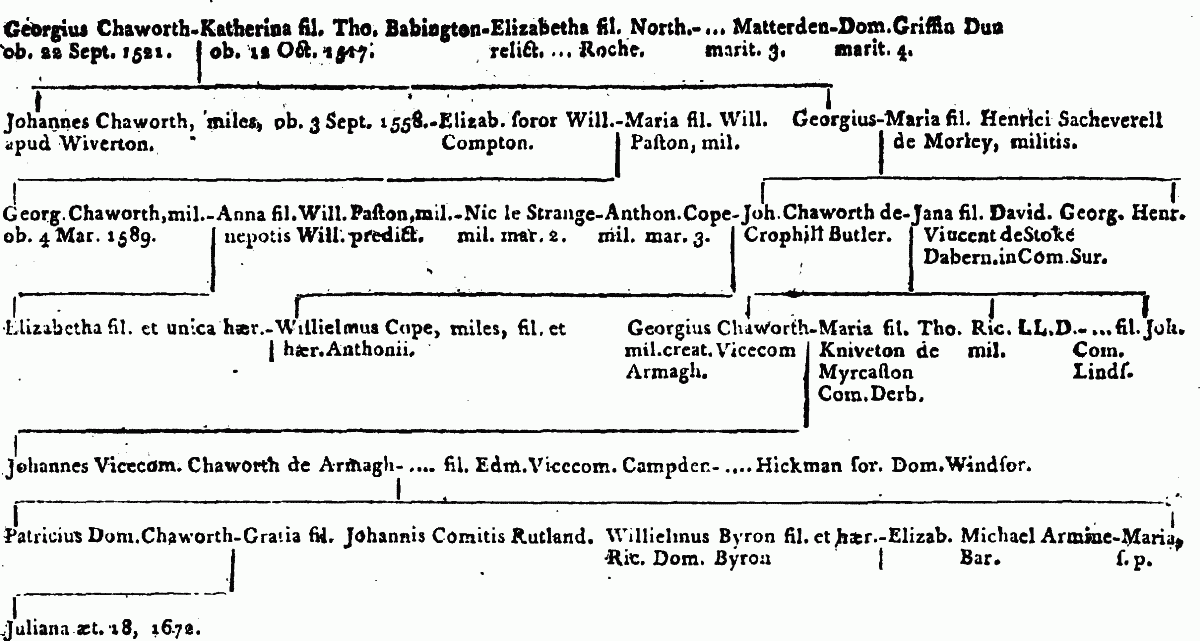 This Isabell, his latter Wife, brought him a numerous Issue, his first Son, Sir William married Elizabeth, and his second Son, John Chaworth, Margaret, the Daughters and Co-heirs of Sir Nicholas Bowit, of Repingale, Knight, by whom each of them had a Son named Thomas, who died childless; but Sir William (whose Son Thomas had to Wife Margaret, the Daughter of John Earl of Shrowsbury, who proved lunatick) had also a Daughter, called Joane, married to John Ormond, who was buried at Alfreton, 1507, and left by her three Daughters and Heirs; Elizabeth, married to Sir Anthony Babington, of Dethick; Anne, to William Mering, without Issue; and Joane, first Wife of Thomas Denham, of Eythorp, of Buckinghamshire, and afterwards of . . . . FitzWilliams.
His third Son, George Chaworth, married Alice, the Daughter and sole Heir of John Annesley, of Annesley, in this County; afterwards the Wife of Reginald Leighe: by her this George had Thomas Chaworth, of Crophill-Butler, who married Ancareta, Daughter of . . . . Serleby; after Wife of . . . . Bayly, of Hickling: she brought him a Son called George Chaworth, who was Husband of Katherin, the Daughter of Thomas Babington; (fn. 24) she died the 12th of October, 1517, and was buried at Langar, as her Husband also was, where they of this Family have a Burying-Place, in the North Cross-Isle of the Church, but he married another Wife before, called Elizabeth, the Daughter of . . . . North, and the Relict of L . . . Roche; afterwards married to . . . . Matterden, and at length to Sir Gryphin Dun; by her this George had a Son Thomas, and died the 22d of September, 1521. By his first, the said Katherin, he left many Children. His eldest Son, Sir John Chaworth, by Mary, the Daughter of Sir William Paston, had Sir George Chaworth, who, by his Lady Anne, the Daughter of Sir William Paston, Nephew of the former, left Elizabeth, his Daughter and Heir, married to Sir William Cope, Son and Heir of Sir Anthony Cope, her Mother's third Husband; her second was Sir Nicholas le Strange. By this Match Sir Anthony Cope now inheriteth Marneham, the most ancient Inheritance of the Chaworths in this County, where I shall have Occasion to mention the elder Part of this Descent, and to rectify some Errors in the Collections of Mr. St. Low Kniveton, printed in the second Volume of the Monasticon Anglic. p. 607, and of others not printed, concerning the same, and now proceed in this modern Part to George Chaworth, (Brother of Sir John, and second Son of the said George and Katherin Babington) who married Mary, the Daughter of Sir Henry Sacheverell, of Morley, in Darbishire, Knight, and had by her many Children, as John Chaworth, of Crophill-Butler, George, Henry, &c. John's Wife was Jane, the Daughter of David Vincent, of Stoke-Dabernon, in Surrey, who also left him a plentiful Offspring.
His eldest Son, Sir George Chaworth, who married Mary, the Daughter of Thomas Knyveton, of Myrcaston, in Darbishire, was created Viscount Chaworth, of Armagh, in Ireland, 1627, 4 Mar. 3 Car. 1. and was Father of John Lord Chaworth, who married . . . ., the Daughter of Edward Viscount Cambden, by whom she had Patricius Lord Chaworth, the present Owner.
Joceus de Spalding, 13 E. 3. ought 33s. 4d. of the Custody of two Parts of eight Mess. sixty-five Acres of Land, twelve of Meadow, and 14s. 7d. Rent, with the Appurtenances in Wyverton and Barneston, which were Hugh de Garthorpe's, then in the King's Hand, by Reason of the Minority of William, his Son and Heir, from the 12 E. 2. (fn. 25) This was some of Sir Richard de Wiverton's, I suppose.
About the Year of our Lord 1257 many Mentions are made in the Ledger-Book of Thurgarton, of the Church of Wiverton, though it may, possibly, be interpreted of Langar Church, or Tithebyes, for I never could see any Thing else which could satisfy that there was a Church at Wiverton; (fn. 26) there was a very good Chapel in the House, now ruinous with it; and besides it there are no more Houses, so that the Church and Town have a like Fate, the Place of either not very discoverable, the necessary consequence of Inclosure of good Land in these Parts.
[Throsby] Titheby & Wareton (or Viverton)
LORDSHIPS are small: together, I am told, they bring in 1000l. per annum, owned by the late Mr. Chaworth, a descendant of the unfortunate Mr. Chaworth, who lost his life in a duel with Lord Byron.
Wareton gate-way stands in an open plot of ground, within half a mile of the village of Titheby, which consists of 18 dwellings. Near it stand some farm-hovels. The ground about it shew, that formerly there were some considerable buildings. Sir Thomas Chawworth, in the reign of Henry the Fourth made here a park. In the civil wars this seat of the Chaworths was made a garrison for the king, since which time it has fallen into decay.
The church of Titheby is dedicated to the Holy Trinity, and is small; it is topped with boards in the form of a gardener's hand-glass, but not so respectable in appearance. These boards inclose two small bells. The arms mentioned by Thoroton, and the altar tomb, are remaining; but on the latter is no inseription.
A man of the village informed me, that in taking down a stack of chimnies at Wareton, some years since, were found some very curious stained tiles; but that he and the workmen were ignorant of their use: none of them were preseved that he knew of.
The curacy is in the gift of the Chaworth family: Bacon says, it's clear yearly value is 14l. 11s. 1d. and that it is a member of Cropwell rectory.
Leland says,- - -"Half a mile ere I came to Langar, I came by Sir John Chawworth's manor-place, called Warton-Hall;"- - -which, Thoroton informs us, came to the Chawworth's, by marriage, in the reign of Richard the Second.