Pages 201-209
Thoroton's History of Nottinghamshire: Volume 1, Republished With Large Additions By John Throsby. Originally published by J Throsby, Nottingham, 1790.
This free content was digitised by double rekeying. All rights reserved.
LANGAR & BARNESTON, AND ST. AUBREY'S (or, ST. ÆTHELBURGA'S).
These Towns went together before the Normans came, as they have done ever since, and do still. In King William's Time they were the Fee, and a great Part of the Demesne, of William Peverell. (fn. 1) But before that Time Godric had a Manor in each Town, and for that in Langare was rated to the public Payment of the Geld at two Car. four Bov. ½. The Land being sufficient for six Ploughs, or so many Carucats. There William Peverell had in Demesne three Car. fifteen Sochm. upon six Bov. of this Land, nineteen Vill. six Bord. having eleven Car. two Mills 5s. and five Acres of Meadow. There [1. Francus Homo] one Frenchman, or Freeman, had one Car. In King Edward the Confessor's Time the Value of this was 5l. but in King William's was improved to 10l. having Soc in Wivreton. In Barnestune Godric and Azor had each Man his Hall, and each paid the Geld, then in Use, for four Bov. and seven-eights. The Land was four Car. (fn. 2) There William Pevrell had in Demesne three Car. seven Sochm. on four Bov. of this Land, seven Vill. six Bordars, having four Car. ½. There were thirty-six Acres of Meadow. In King Edward the Confessor's Time this was but 10s. in the Time when the Conqueror's Survey was taken, it was 4l. Value.
In each Town there was a considerable Share Soc to Granby, of the Fee of Walter de Ayncurt, viz. in Langare as much as was rated to the Geld. at four Bov. and an Half. The Land was two Car. There eight Sochm. one Border, had two Car. and six plough ing Oxen. There was Half a Church, and thirteen Acres of Meadow. In Bernestune, that which was Soc to Granby, paid the Dane-geld for Half a Car. The Land was two Car. There five Sochm. one Bord. had two Car. two draught Oxen, and eleven Acres of Meadow.
William Pevrell, at his first Endowment of Lenton Priory, which he founded in the Time of King Henry the First, gave two Parts of all his Tythes, which that House enjoyed here accordingly; and the Church of Langar, with all it's Lands and Tythes, and one Villan, holding a Virgat (or Yard) of Land. (fn. 3) William Peverel, his Son, who suc- ceeded in this Inheritance, was, it seems, rather for King Stephen than King Henry the Second, who, when he wrote himself but Duke of Normandy and Angeou, gave to Ranulph Earl of Chester, amongst many other vast Possessions, the whole Fee of William Peverel, unless he could acquit and clear himself in the said Duke's Court of his Wicked- ness and Treason. (fn. 4) But I do not find that the Earl of Chester enjoyed any thing here of that Gift, for the Sheriffs accounted in the Pipe Rolls for the Farm of Peverell's Land, (fn. 5) being in the King's Hands several Years, in the Beginning of the Reign of King Henry the Second, until about the nineteenth, that Robert Fitz-Randalf Lord of Au- serton made his Account, wherein he mentions Langar and Clifton to be before that Time (it is said, 9 H. 2.) given to one Gerbod de Escalt, as Horncastle, in Lincolneshire, also was. (fn. 6)
Gerard de Rodes was the next Owner of these Lands, that I have seen, who had them of the Gift of King John: (fn. 7) but I think he only confirmed them; for in the Pipe Roll, of the first Year of his Reign, they are mentioned, as if King Richard the First had so disposed them before. (fn. 8)
Raph de Rodes succeeded this Gerard, to whom the Prior and Convent of Lenton, having remitted the Custom of tything his Corn here at Langar, after it was brought into the Barn, and, out of their Liberality, agreed to take it in the Field; (fn. 9) this said Raph did, in the third Year of the Reign of King Henry the Third, make his Acknowledge- ment thereof, and engage himself, that if they should have any Loss by so doing, they should enjoy their ancient Custom again of tything at the Barn; and this he did in a full Chapter before W. de Roderham, Archdeacon of Nott. to whose Jurisdiction and Con- straint, if he should fail, he submitted himself, without Appeal, by a sealed Instrument, as the Custom then ordinarily was in such like Cases. The Prior and Convent likewise granted him, and his Lady Berta, to have a Chapel within their Court at Langar, pro- vided the Chaplain should be presented to the Parson of Langar, and swear not to hinder the Mother-Church, and to be liable to be suspended by the Parson if he did; and that the Lord and Lady should come and hear Divine Service at the Church on all the Festivals, except there was manifest Cause of Hinderance, but to have no Bell in the said Chapel.
There was an ancient Church, or Chapel, in the Fields of Langar, called St. Athel- burga's, or St. Aubrey's, which was upon Deyncurt's Fee, and was given to Thurgarton Priory, as Greneby Church was, to which Parish it properly belonged; (fn. 10) for this Raph de Rodes gave the Priory of Thurgarton 2s. a Year, to be taken of Richard, Son of Thurkel, of Barneston, or of whomsoever should hold those two Bovats, or Oxgangs, he then had, to be free from paying small Tythes to the Church of Granby, for a certain Grange which stood near Giselkirk, (the old English Name of St. Aubrey's) Part whereof stood in the Parish of Grandby.
There was a Matter of Question between Sir William de Rodes, Rector of Langar, and the Prior and Convent of Thurgarton, concerning certain Obventions of the Church of St. Athelburga, without the Town of Langar, but the Parties appearing in the Church of Wiverton the Tuesday after Palm-Sunday, in the Year 1257, they agreed, partly, to divide the Subject of the Question between them.
There was an Agreement made also in the Court of Sir Raph de Rodes, at Langar, before the whole Soc, the Knights and Freemen of the said Raph being present, and Witnesses, between the Prior of Thurgarton, and the Parishioners of the Fee in Langar and Berneston, that they should all bring home the said Prior's Tythes, and keep them safe till they should be carried to their proper Place, for which the said Prior gave them 3s. of Silver, yearly at Lammas. (fn. 11)
Sir Gerard de Rodes was Son and Successor of Raph, and had one Son called by his own Name, Gerard de Rodes Lord of Melles; and another named John, who, 13 E. 1. passed away to Sir Robert de Thibetot, and Eve, his Wife, and Paganus, their Son, the Manor of Langar and Barneston, and also the Homages of Gervas de Wileford, for the Manors of Clifton and Wilford, and of Henry de Perpunt and his Heirs, of the Manor of Barton, and of Robert Luteral, of the Manors of Brigford and Gameleston, and of Edmund de Deyncurt and his Heirs, which Gerard, Son of Gerard de Rodes, his Brother, granted to him, the said John de Rodes, on whose Seal, circumscribed with his Name, is a Lion Rampant, debruised with a Bendlet. (fn. 12)
There are divers Seals, of the largest Size, of some of this Family in the Chartulary at Clifton, with their Images on Horseback, on one Side, and on the other SECRETUM, with a Lion Rampant upon a Shield, and one within a Bordure.
Eva, the Wife of Robert de Tibetot, was Daughter of P. de Cadurcis. (fn. 13) Robert de Tibetot had Free-Warren granted, 18 E. 1. in Langar, and Barneston, and Bentley, in Yorkshire.
This Robert de Tibetot had a Son named Robert, who, 23 E. 1. was to marry the Daughter of Raph de Tony; (fn. 14) but his Son and Heir was Paganus, before mentioned, who, about 26 E. 1. married Agnes, the Daughter of William de Ros. (fn. 15) He confirmed to the Priory of Thurgarton all their Lands and Tenements, Rents and Possessions, within his Demesne at Langar, Barneston, and Wiverton, and particularly, all their Concerns in the Chapel, or Church, of St. Ethelburga the Virgin, sinate and founded within his Demesne of Langar, called in English Giselkirke. (fn. 16) In the Year of our Lord 1314 he was slain at Scrivelin, amongst many other English Nobles, in the Battle against Robert de Brus, where the Scots were Conquerors. (fn. 17) The next Year after, or sooner, the King, 8 E. 2. pardoned Thomas de Veer for marrying Agnes, the Wife of this Pagan Tibetot, without Licence, on Condition that he found twenty Men at Arms at Karliol, from Lammas then next following to the Feast of All Saints, to defend those Parts against the Scots. (fn. 18)
King Edward the Second, Nov. 21, that same Year, viz. 8 E. 2. for a thousand Marks granted to Barth. de Badlesmere the Custody of certain of the Lands of this Paganus de Tibtot, by Reason his Son and Heir John was under Age. (fn. 19) This Barthol married this John to his Daughter Margaret, (or Elizabeth, as some Copies) which afterwards proved to be one of the four Sisters and Co-heirs of his Son, Sir Giles Badlesmere, whereof another was married to William Lord Ros; another to John Vere Earl of Oxford; another to William Boun Earl of Northampton. (fn. 20) By her this John de Tiptot had a Son called John, who died, without Isse, under Age, 33 E. 3. (fn. 21) but he had another called Robert, on whom this Manor was settled, 22 E. 3. (fn. 22) who married Margaret, the Daughter of William de Ayncout, and did his Homage 41 E. 3. His Wife was, after his Death, married to John Cheyne. (fn. 23)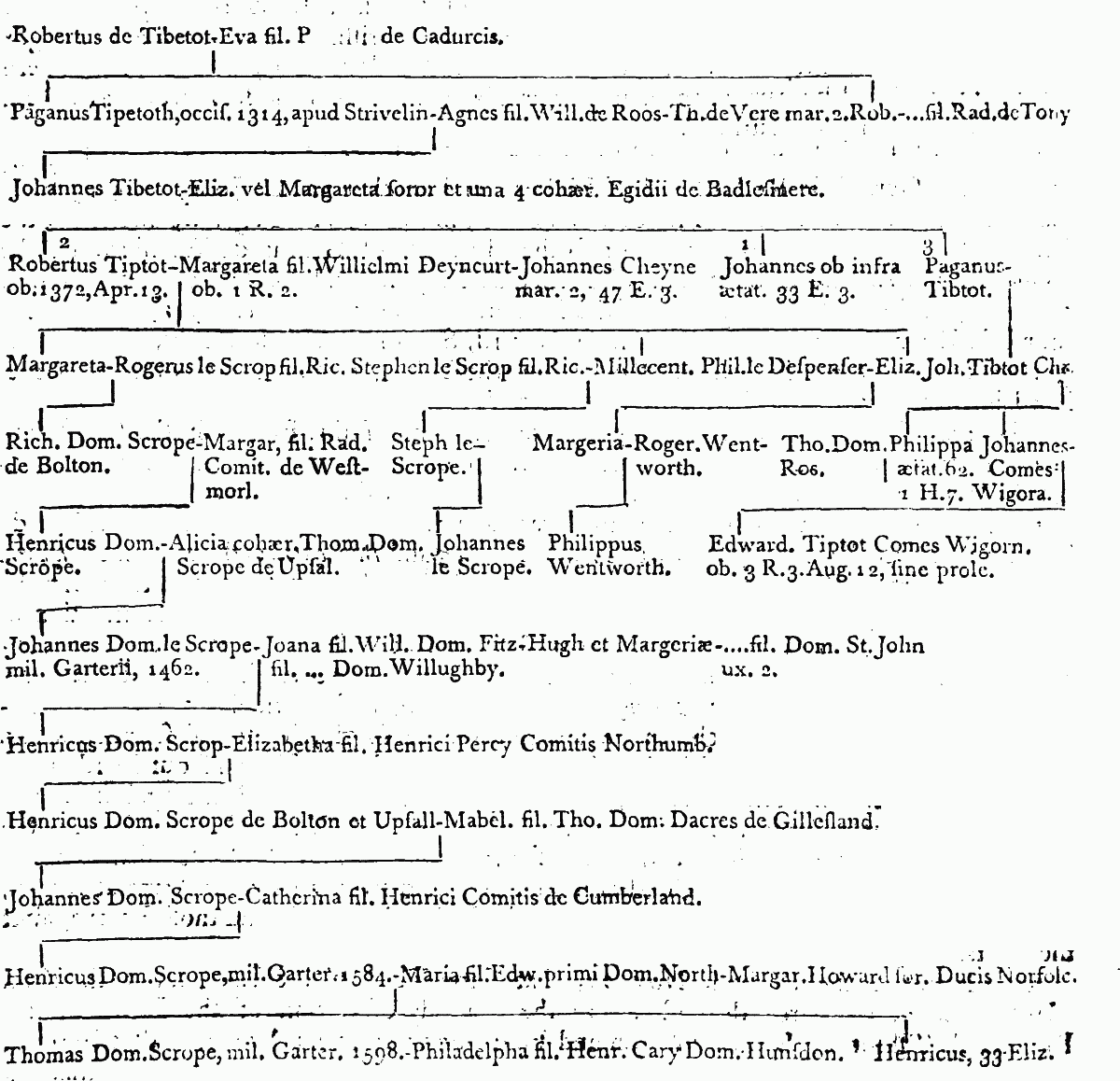 King Edward the Third, Aug. 7, in the forty-sixth Year of his Reign, committed to Richard le Scrop the Custody of all the Lands which were this Robert Tibetot's, then dead, until the full Age of Margaret, Millicent, and Elizabeth, his Daughters and Heirs, together with their Marriages. (fn. 24)
Margaret was married to Roger le Scrop, of Bolton, Son of Richard, whose Posterity thereby enjoyed this fair Lordship; (fn. 25) Millicent to Stephen Scrop, Son of Richard also, and afterwards to Hugh, or John, Fastolf; Elizabeth to Philip le Dispenser, who by her had a Daughter named Margery, married to Roger Wentworth. (fn. 26)
The Lands were many and great Lordships:- - -Barowe, in Sussex; Oxendale, in Gloucestershire; Secryngdon, in Bedfordshire; Siberton, in Kent; Overton, in Rutland; Bentley, in Yorkshire; Hameldon, in . . . . .; &c.
Roger le Scrop, Chr. when he died held this Manor jointly with Margaret, his Wife, and 8 H. 4. left Richard le Scrope his Son and Heir, or sooner. (fn. 27) On the Seals of Roger and Stephen le Scrope, and Philip le Dispenser, circumscribed with their Names, 9 R. 2. are yet visible, on Roger's a Bend, and likewise on the said Stephen's, with a large Mullett added to the Top of the Bend; on Philip's is Barry of six a Canton Ermine, with a File of three Labels, two in the said Canton, or rather Quarter (for it is a large one), and the other towards the Sinister Part of the Escutcheon. (fn. 28)
This Manor descended, as the Genealogy shews, transcribed out of the Ceiling of the great Gallery at Langar, from Richard Lord Scrope to Emanuel the last Lord Scrope, created Earl of Sunderland, who married Elizabeth, the Daughter of John Earl of Rutland; but having no Issue by her, he settled it, and the Rest of his Estate, upon his natural Issue, which he had by Martha Janes, yet living; of which, his only Son, John, died unmarried the last of July, 1646, aged about twenty Years; but his three Daughters, which by that Means divide the whole Inheritance amongst them, are yet living, Oct. 2, 1672.
Mary, the eldest, was first married to Henry Cary Lord Lepington, eldest Son and Heir of the Earl of Monmouth; but he leaving her a Widow, without Children, she is since become the Wife of Charles Lord St. John, of Basing, eldest Son and Heir of John Marquis of Winchester, and by him hath Issue.
Elizabeth, the second Daughter, is Wife of Thomas Earl Rivers; and Annabella, the third, of John Howe, second Son of Sir John Howe, of Compton, in Gloucestershire, Baronet, by whom she hath many Children. Her eldest Son, Sir Scrope Howe, Knight, hath lately married the Lady Anne, Daughter of John Earl of Rutland, and is Heir-Apparent of this Manor, which, in the Division, fell to the Share of his Mother; to whom our present Sovereign, King Charles the Second, by his Letters registered in the Office of Arms, bearing Date the first Day of June, 1663, in the fifteenth Year of his Reign, in Consideration of the good and acceptable Service done and performed by John Howe, of Langar, Esquire, her Husband, and for a Mark of his especial Grace and Royal Favor, granted and ordained that she, the said Annabella, should be had, taken, and esteemed as the Daughter of an Earl of this Kingdom of England; and that for and during her natural Life she have, hold, use, take, and enjoy the Stile, Place, Degree, Precedency, and Privileges thereof, in as full and ample a Manner, as if she had been the legitimate Daughter of Emanuel late Earl of Sunderland, with a Precept of Obedience to all and every of his Majesty's Subjects; (fn. 29) since when she is usually stiled the Right Hon. the Lady Annabella Howe.
Oliver de Eyncourt released to Raph de Rodes thirty-one Bovats of Land, and fifteen Tofts in Langar and Barneston, (fn. 30) which he had bought a Writ of Right for in King Henry the Third's Time, for which the said Raph gave him 50s. of Land in Barneston; which, together with his other Lands there, and some other in Braunceton, in Lincolnshire, the said Oliver gave to the Priory of Thurgarton, to find two Chaplains to celebrate for him, his Ancestors, and Successors for ever.
Richard de Wiverton, Knight, gave also three Bovats in Barneston and Wiverton, and two Acres of Meadow in Berneston, with his Body, to the said Priory of Thurgarton, to find a Secular daily to celebrate Divine Service, at the Altar of our Lady there, for his Soul and his Wife's. (fn. 31)
Thomas Attebrig, 10 E. 3. had Licence to give 63s. 6d. Rent out of Langar and Wiverton, to make a Chauntry in the Church of St. Andrew, in Langar. (fn. 32)
Queen Elizabeth, 7th of June, in the thirteenth Year of her Reign, granted to Henry Lord Scrope, of Bolton, the Lands late belonging to Thurgarton in the Fields of Langar and Barneston. (fn. 33) And to John Dudley and John Aiscough, 29th of January, 17 Eliz. the Tythes in the Parish of Langar, in the Tenure of Sir John Chaworth, Knight, at 12l. per Annum, late belonging to the Priory of Lenton. (fn. 34)
These Tythes, I suppose, Mr. Howe purchased of the Lord Dunbar, as he hath since done a Mess. and some Lands of Moses Foxcroft, Son of John, Rector of Goteham, which were Henry Flower's, of Langar, and by Henry Walker, a Captain for the King in the unhappy Wars, and Anna, his Wife, Sister and Heir of Thomas Flower, Heir of the said Henry, sold to the said Mr. John Foxcroft; so that now the whole Lordships of Langar and Barneston (except the said Mrs. Walker's House, and some little Meadow, which was her Ancestors', the Flowers) is become the Possession of Mr. Howe, who hath made a convenient Park of the Closes which he hath found nigh the House, which is well stored with Deer, much better than the Towns are with People, where so considerable Parts of the Fields are inclosed; the too common Fate of good Land in this County.
A Quare impedit, 6 H. 6. was recovered by Guy Fayrfax and William Akworth, Plaintiffs, against John Elingham, Prior of Lenton, and Thomas Smith, Clerk of the Advowson of the Church of Langar. (fn. 35)
The Rectory of Langar (which hath but the third Part of the Tythes) was 10l. and the Lord Scrope Patron. (fn. 36) It is now 10l. 7s. 11d. Value in the King's-Books, and Mr. Howe, Patron.
In the South Cross-Isle is a fair Tomb for Thomas Lord Scrope and his Lady, whereon lie their Effigies at full Length; at the Feet whereof is the Figure of their Son Emanuel kneeling, in much less Proportion; the Top, or Canopy, of the Tomb (whereon are their Arms, with Quarterings) is supported by tall Pillars of black Marble, well polished.
In the Windows on that Side is Arg. a Saltier engrailed Gules, Tiptoft. And in some Places Azure a Bend Or, Scrope, quartering the former.
On the Lord Scroop's Tomb.
On the North-Side, in two Tables:- - - The Right Hon. and Noble Lord, Thomas Lord Scroope, Baron of Bolton, Masham, and Upshall, of the Most Noble Order of the Garter, Knight, Lord Warden of the West Marshes, Steward of Richmond and Richmondshire, and Bow-bearer of all his Majesties Parks, Forests, and Chases within the same, lyeth here buried, and died the 2 day of September, Anno Dom. 1609.
On the South-Side, in two Tables:--- The Right Honourable Thomas Lord Scroope, &c. married the Right Hon. Lady Philadelphia, daughter of the Right Hon. Lord Henry Carie, Baron of Hunsden, Lord Chamberlain to our late Queen Elizabeth her Majesties Houshold, who died the 3 of Feb. 1627, and had Issue only one Son, Emanuel Scroope.
At the Feet of the Tomb this:---Emanuel Scroope, Son and Heir of the Right Honourable Thomas Lord Scroope, and of the Right Honourable Philadelphia, his Wife, was, after his Father's Decease, Lord Scroope, and then Earl of Sunderland.
In the Body of the Church, upon the North Wall, Ermines (viz. sable poudered with white), a Cinquefoyle Ermine, (or counterchanged). Under it is written:
In Memoriam bonæ Vitæ et Mortis Henrici Flower nuper de Langar avi, et Thomæ Filii et Hæredis ejus, quoram Animæ apud Deum, et Corpora in ista Ecclesia sepulta remanent. Henricus Filius et Hæres prædicti Thomæ per Katherinam Filiam Georgii Chaworth, Ar. Fratris Johannis Chaworth, Militis, fieri fecit, Anno 1600, et obiit postea die Mensis Anno Dom. . . .
In the Body of the Church, the South Isle, Mr. Howe hath made an arched Vault of Brick, for a Burying-Place; where yet there only is laid Annabella, his second Daughter, who was a Virgin of a most excellent Disposition.
In the North Cross-Isle there is a low Vault, the Burying-Place of the Chaworths; on the East Wall whereof, over an old Tomb, is written:
By this Tomb-Side lyeth George Chaworth late Lord of Wereton and Anesley, Son and Heir of Thomas Chaworth, of Cropull-Butler, and Father, by Katherin, his first Wife, of John Chaworth, Knight, and George Chaworth, Squyre, and of Anne, Dorithy, Elizabeth, and Katherine; and Father, by Elizabeth, his second Wife, of Thomas Chaworth only; which George, the Father, died 22d Sept. anno 1521, and the said Katherine, his first Wife, buried under this Tomb, she dyed 12 Oct. 1517, for whose Souls of your Charitie say a Pater Noster and Ave Marie.
The Arms there quartered are Barry of ten Arg. and Gules, three Martletts sable, Chaworth, Azure two Chevrons Or, Alfreton, (but almost ever used for Chaworth). Arg. a Scutcheon encompassed with an Orle of Cinquefoyles sable, Caltost. Gules a Fesse double Dancè between ten Billetts Or, Brett. Paly of six Arg. and Azur. a Bend Gules, Annesley: with which last is quartered the two Chevrons only, and they impale Babington. Arg. ten Torteauxes, with a File of three, and sometimes five Labels Azure.
Hic jacet Johannes Chaworth, Miles, Filius Georgii Chaworth, Ar. qui ob. apud Wiverton, 3 die Sept. Anno Dom. 1558, et habuit duas Uxores, viz. Elizabetham prius nuptam Waltero Rodnei, Militi, suit Soror Willielmi Compton, et obiit fine Exitu, et Mariam quæ fuit filia Willielmi Paston, Militis, et habuerunt 14 Liberos, et ob. anno et mense supradictis et una cum eo hic sepelitur.
Over this Tomb, upon the Wall, is---Here lyeth buried Sir George Chaworth, Knight, Son and Heir of Sir John Chaworth, Knight, the said Sir George having Issue Elizabeth, his sole Daughter and Heir, not five Years old when he died, which was 4 Martin, an. 1589, by Anne, his Wife, the Daughter of Sir William Paston, Knight, surviving him; she was next married to Sir Nicholas Straunge, Knight; and afterwards to Sir Anthony Cope, Knight.
Upon the Side of this Tomb is writ:---Henr. Chaworth, Ar. Fil. et Hær. Georgii Chaworth, Ar. Fratris suprascripti Johannis, ac proximus Hæres masculus supra nominati Georgii Chaworth, Militis, posunt.
In the Windows, Az. two Cherons Or, quarter with Arg. two Lyons Passant Gules; over the first is written Lathum; and over the Lions . . . . ndolf . . . Randolf. Chaworth quarters the Chevrons, over which is written Lathum and Chaworth transposed, &c. several Mistakes of the Glazier or Painter.
Scroope with a File of three Labels Arg. impaling the two Chevrons quartering Caltoft, and they impale with Fitz-Williams Lozengy Arg. and Gules. And Fitz-Williams empales the two Chevrons quartering Caltolft, and Azure a Cross Argent, Alesbury, &c.
[Throsby] Langar & Barneston
LORDSHIPS are old inclosure, owned by Earl Howe. Here are about thirty dwellings in the former; one of which, exclusive of Lord Howe's seat, is occupied by the Rev. Mr. Gregory, the present rector; a gentleman whose astronomical pursuits are spoken of with much respect. He has lately erected an observatory near his house, which has order and embelishments without, as well as usefulness within.
The parsonage-house was built by a Mr. Sherrard, about 50 years ago, and is a very respectable one.
A boy was unfortunately killed at this place, in the year 1773, by a servant of Lord Howe firing at a mark, fixed on the summer-house; the ball struck the lead, glanced thence, and killed the poor boy on the spot, who stood at a different angle.
The church of Langar, which is dedicated to St. Andrew, is a fair structure; but a little out of repair. It has a nave and two side isles, and a tower with five bells. The monuments and inscriptions mentioned above, by Thoroton, remain; and that of Lord Scrope's, who died in 1609, is in high preservation, and done in no inferior stile: the figures of this nobleman and lady are a fine display of case, grace, and beauty. Here are the busts of Lord Viscount Howe, who died in 1712, and of Lord Viscount Howe, who died in 1734.
Patron of the living is Lord Howe. In the king's-books 10l. 7s. 11d. Yearly tenths 1l. 0s. 9½d. supposed value nearly 300l. per annum. Archiepisc. pro. Syn. 8s. pro Prox. 7s. 6d. val præter port. pri. de Lenton et Thurgarton in mans. cum gleb. ibidem per ann. 1l. &c. The king presented in 1695. Scroope Lord Howe 1714. Lord Viscount Howe 1753 and 1776.
Branston is a small village near Langar.
Langar-Hall,
THE seat of Earl Howe, stands about three miles from Bingham, adjoining the church of Langar, into which there is a communication. Here are now no field embellishments of note; no attractions of beauty that surround many of the country dwellings of our nobility: instead of the beautiful oak, and the groups of variegated foliage adorning the gentle swells of the earth, and sporting deer; you behold the hedge-row, some illformed trees, sheep, and dairy cows. It is probably, by the appearance around it, become the abode of shepherds, or a shepherd's master, like many others in the kingdom which were once the dwellings of splendor and hospitality. The noble Earl, it's owner, who deservedly stands high in national same, I am informed, but seldom visits it; and no wonder, for the roads about it, in many places, must be intolerable in the winter. (fn. 37)
The views from the eminences, in this part of the country, are many of them delightful; the rich vale of Belvoir, which affords such plentiful harvests of corn, abounds with villages scattered over it's surface in pleasing variety. The fine extensive amphitheatre, which is seen in an opposite direction, capped by Belvoir-Castle, seen at the distance of eight or ten miles, grandly lighted up by the sun-beams in August, gives the liveliest sensations.
The building is, at least, of two periods: I have chosen that view which gives it an air of grandeur, modern-built, where there is the most regularity in it's formation.
Leland's words are---"In Langar village, hard by the church, is a stone house of the Lord Scrope's, embattled like a castle."---Here was formerly a fine park stocked with deer.