Pages 210-214
Thoroton's History of Nottinghamshire: Volume 1, Republished With Large Additions By John Throsby. Originally published by J Throsby, Nottingham, 1790.
This free content was digitised by double rekeying. All rights reserved.
GRANBY & SUDTON
In Graneby, before the Conquest, Hamine had a Manor rated to the public Geld for one Car. and a Half. The Land was twelve Car. There afterwards Walter de Ayncurt, whose Fee it was, had in Demesne four Car. forty-four Vill. nine Bord. having ten Car. There was a Priest and a Church, and one Mill 2s. two Hundred Acres of Meadow. In the Confessor's Time this was 12l. when the Conqueror's Survey was taken 20l. Value, having Soc in Bernestune, Langar, Wivreton, Hecheling, Chinelton, and Crophill, and Wivreton. Here was another Manor, which Algar, the Earl had, and discharged it to the public Tax for three Car. The Land of it was sufficient for ten Ploughs, or ten Car. (fn. 1) This, when Doomsday-Book was in making, was the Fee of Osberne Fitz- (or Son of) Richard, and Robert de Olgi then held it of him, and there four Car. twenty-two Sochm. fourteen Vill. eight Bord. having ten Car. A Priest and a Church, two Mills 10s. and ten Acres of Meadow. In the Confessor's Time the Value of it was 8l. then 15l. having Soc in Wivreton and Salterford, which last Place was rated to the Dane-geld as six Bovats, and was then waste; yet had a Berew in Coleton, and Pasture Wood one leuc. long, and four qu. broad. I should have imagined this Coleton to have been Coleston-Basset, but that the only Name which is left of Salterford is in the Forest nigh Calverton; which, by Reason also of the Wood, makes it more likely to be that; and, I suppose also, one of these Churches was St. Ethelburga's, or St. Aubrey's, nigh Langar, which was in Deincourt's Fee, as in that Place may be observed; in which Family both these Fees were soon united, and so long continued, this being the principle Seat of the Lords D'Ayncourt in this County, or any other, that I have known.
Walter de Daincourt gave his Tythes of Cotes (now Cotham) of Turgaston, of Greneby, of Hikaling, of Cnapthorp, and some other Places, to the Abbey of St. Mary's, at York, to which his Wife Matildis was also a Benefactor. (fn. 2)
Raph de Aincurt, whom I suppose to be Son of this Walter, mentioned in DoomsdayBook, founded a Religious House at Thurgarton, (fn. 3) on which, at the Foundation, by the Advice and Entreaty of Thurstin Archbishop of Yorke, he bestowed all Thurgarton and Fiskerton, and the Park by Thurgarton, and all his Churches, viz. of Graneby, Cotes, Nottss. Swaffeild, Haneworth, Scaupewic, Kirkeby, Braunceton, Timberland, Blaunkeney, Linc. Elmton and Langwach, Derb. for his Soul's Health, and his Sons and Daughters, and of Basilia, his Woman, and all his Ancestors; excepting that the Canons should pay yearly 10s. of his Gift to the Infirm of Stokes (Hospital of St. Leonard), &c. the Witnesses were the Chapter of St. Mary, of Suwell, Robert Fitz- (or Son of) Hubert, William de Heriz, Richard de Kiriell, Robert de St. Audoeno, Hervev. the Clerk, and others.
Raph Dayncurt gave to the Church of All-Saints, at Graneby, the Toft, and Croft Acke, in pure Alms, his Son Robert being a Witness; (fn. 4) but I think this might be Son or Grandchild to the former: for his Son who succeeded him in the Inheritance of the Barony was Walter, (fn. 5) who by the Consent of Oliver and John, his Sons and Heirs, in the Year 1140, was a Benefactor to the Monastery of Kirkstead, in Lincolneshire, and John, his Son, by the Consent of Aelicc, his Wife, likewise in the Year of our Lord 1169. (fn. 6)
This John Lord Dayencourt gave to God and the Church of St. Mary, at Belvoy, one Carucat of Land here at Granby, for the Souls of Oliver, his Brother (who was slain in the Battle at Lincolne, in the Time of King Stephen), and of Walter, his Father, who had granted it before. (fn. 7) This John lived long, and had a Son called Nicolas, besides his Son Oliver, who was his Heir, who died 3 Joh. (fn. 8) and who had one Wife named Amabilis, and another Matildis Pecche, Mother of Roger de Ridewar; (fn. 9) but whether of them was Mother of his Son, Oliver Deincourt, who was in Minority 13 Joh. (fn. 10) and afterwards Father of John Lord Deyncourt, who paid his Relief, 30 H. 3. (fn. 11) and was Father of Edmund Lord Dayencourt, I find not, but, in the mean Time, suppose Amabilis.
Edmund considering that his Sirname and Arms, after his Death, in the Person of Isabell, his Daughter and Heir, were likely to be laid aside and forgotten, and zealously affecting the contrary, obtained Letters Patent, 10 E. 2. (fn. 12) for the good and laudable Services he had done to King Edward the First, and to that King himself, to settle all his Manors, Lands, and Tenements, which he held of the King in Capite, on whomsoever he pleased; which he did accordingly on William, the Son of John de Ayencourt, who entered on this Lordship the 20 E. 2. (fn. 13) after the Death of the said Edmund, by Reason of a Fine between him, the said Edmund, and Mr. Oliver Dayncourt, and John Dayencourt, of Parkhall, Derb. as his Cousin and Heir, being then above twenty-six Years of Age, and was summoned to the Parliament, as Baron of Blankeney, 6 E. 3. (fn. 14) and was, amongst others, 33 E. 3. assigned to stay with King John of France, in the Castle of Hartford. (fn. 15) William Dayncourt, Son of his Son William, was found his Cousin and Heir, 38 E. 3. (fn. 16) This William, by Alice, his Wife, had Raph, his eldest Son and Heir, and it seems was dead in, or before, 5 R. 2. (fn. 17) for the Lands of William Deyncourt, Chr. deceased, in the counties of Bucks, Nott. Derb. Linc. Northampton, were to be seized, 3 Nov. 5 R. 2. into the King's Hands, in whose Custody Raph, his Heir was, 18 Jun. which Raph died without Issue, under Age, and John, his Brother, second Son of the said William, succeeded. (fn. 18) Which John married Joane, Daughter and Heir of Robert Grey, of Rotherfeild; and by her had William, the last Lord Deyncourt, who married Elizabeth, Sister of John Viscount Beaumont, (who was afterwards married to Sir Thomas Nevil) but died under Age, without Issue, 5 Dec. 1 H. 6. (fn. 19) leaving his two Sisters his Heirs; Alice, who married William Lord Lovell, eighteen Years old; and Margaret seventeen, who was wedded to Raph Lord Crumwell, but left the whole Inheritance to her Sister, 33 H. 6. who, after the Death of her Husband Lovell, married Sir Raph Boteler: but Sir John Lovell succeeded here, whose Son and Heir Francis being attaint, this Manor, with divers others of the Lord Deincurt's ancient Lands, were, by King Henry the Seventh, granted to Sir John Savage, Knight, and the Heirs Males of his Body, in the first Year of his Reign. (fn. 20)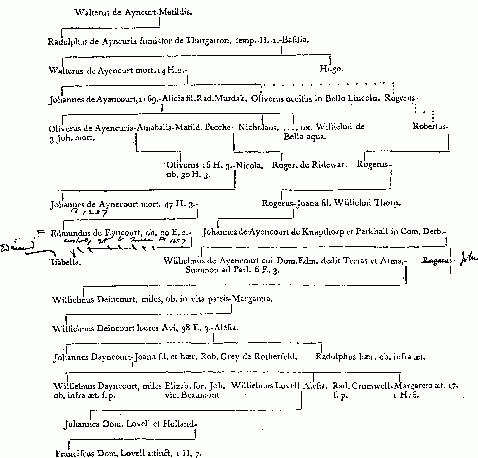 Morton and Parkhall, or Parkhouse, near Northwingfeild, in Darbishire, the ancient Residence of the Deyncourts, Owners of Knapthorp before they came to be Lords, became the Possession and Inheritance of the Family of Leek, of Sutton, in Scarsdale, whereof they are now Earls, which gave the greater Occasion of Sir Francis Leek's being created Lord Deincort, in Memory of this illustrious Stock of worthy Persons, otherwise almost forgotten.
The last Sir John Savage, and Sir Thomas Savage, the late Viscount Savage's Son, (fn. 21) sold the Demesnes of this Manor, and the Royalties of Sir John Mauners, Knight, Grandfather to the Right Honourable John Earl of Rutland, the present Owner; and parcelled the Farms and Tenements amongst divers and sundry Freeholders, whereof some have Part of the Hall Land; so that it seems the Earl hath not all the Demesnes.
I have not found any Thing concerning Sutton distinct from Granby, of which it is a Member.
The first John Lord Deyncourt gave to William de Bella Aqua, in Frank-Marriage with his Daughter, 4l. Land; (fn. 22) viz. two in Cressewelle, and two in Sutton, which is of the Soc of Granebi; and the Service of Half a Knight's Fee in Hokertun, with all the Common of Elmeton.
Roger de Alneto gave to God and the Church of St. Peter, at Thurgarton, the Tythe of his Mill here at Granby, (fn. 23) for his own Soul, and his Wife Alice's, &c.
The Abbey of St. Mary, at York, in the Year 1352, agreed to take of the Priory of Thurgarton ten Marks yearly for their Portions of Tythes in Granby, Hickling, and Cotum, (fn. 24) being two Parts of the Tythe Corn of the Demesne, which was heretofore Walter Deincourt's, in this Place, and in Hikling; and in Cotum two Parts of the Tythes of the Demesne Lands of the Lord of the Town.
John de Ayencourt, 36 H. 3. had Free Warren, Market, and Fair here; which last remains still on All Souls Day, 2 Nov. (fn. 25)
Edmund Lord Deincourt, Son of this John, granted to the Priory of Thurgarton, (fn. 26) that at the Election of a new Prior, they should only send their Letter by two of their Canons to him for his Approbation, before he be confirmed by the Archbishop, if he be resident in any of his Manors of Blankeney, and Braunceton, in Linc. of Graneby, in Nott. or Elmeton, and Holmesfield, in Derb. but if he, or his Heirs, be absent from all these Places, then to the Lady at Graneby; or, in her Absence to the chief Servant, or Bailiff; or, in Want of such, to the Vicar or Chaplain of Graneby; and so, if it should happen that the Barony should descend to Daughters, &c.
There were five Mess. and five Bovats of Land in Granby and Sutton, settled by Fine, 18 E. 3. (fn. 27) on William, Son of Richard de la Launde, for Life; Remainder to William, his Son, and Isabell, his Wife, and the Heirs of their Bodies, Remainder to Thomas, Brother of William, Son of William, and the Heirs of his Body; Remainder to the right Heirs of the said William, Son of Richard de la Launde.
The Rectory was appropriated to the Priory of Thurgarton, and granted, 18 Eliz. to Roger Mauners, Esquire, and his Heirs, (fn. 28) and is now the Inheritance of the said Earl of Rutland.
Walter Grey, Archbishop of York, made the Vicarage here only to consist of the Altarage, (fn. 29) unless it should seem necessary to augment it, which now it certainly doth. It was ten Marks when the Prior of Thurgarton was Patron, (fn. 30) and is now 6l. 3s. 6d. ob. in the King's-Books; and not more in the common reputed real Value: too little to sustain a married Priest.
[Throsby] Granby & Sudton.
GRANBY is a small village, and small lordship, open field: the principal proprietor the Duke of Rutland. A Mr. Hall and Mr. Frost possess estates here.
This place gives title of Marquis to the eldest son of the Duke of Rutland, and stands in the vale of Belvoir.
The church is dedicated to All Saints; and has a tower-steeple, with five bells. It ranks with those of the middle class.
Patron of the living the Duke of Rutland. Incumbent the Rev. Mr. Hough, of Redmill, in Leicestershire, in the commission of the peace. Bacon says, clear yearly value of the vicarage 26l. 14s. 8d. Yearly tenths 6l. 3s. 6½d. Archiepisc. pro Syn. 6s. Archidiac pro Prox. 7s. 6d. Val. in mans. ibid. per ann. 5s. in dec. lan. agn. porc. anc. pul. vac. vitul. &c. The Duke presented in 1704, 1720, and 1756. Pri Thurgarton, Propr.