Pages 218-225
Thoroton's History of Nottinghamshire: Volume 1, Republished With Large Additions By John Throsby. Originally published by J Throsby, Nottingham, 1790.
This free content was digitised by double rekeying. All rights reserved.
ORSTON.
In Oschinton King Edward the Consessor had a Manor rated to the Geld for three Plough Land. The Land was ten Carucats. (fn. 1) There the King (William) had three Car. and three Sochm. on one Car. of this Land, and nineteen Vill. eleven Bord. having fourteen Car. There were a Church and two Priests, having one Car. and one Bov. and one Hundred and eighty Acres of Meadow. This Manor in the Time of King Edward was 30l. in Number [ad numerum], in King William's but 20l. Value, having Soc, or Berews, in Scarrington, Stantune, Turvertun, Screvington, Coleston, and Aslacton.
It continued in the Crown till King Richard the First granted to William de Albem Lord of Belvoyr, (fn. 2) to whom King John granted and confirmed it also, in the fourth Year of his Reign; together with 5l. in his Sockage of Wilberdston and Stoke, in the County of Northampton. (fn. 3)
William de Albini the third, for the Soul of Agatha, his Wife, but chiefly for the Soul of Margery, his former Wife, gave to the Monks of Belvoyr, out of every Acre of his whole Demesne in all his Territories of Belver, of Wulsthorp, of Botelesford, of Oskinton, and Stokes, one Sheaf of whatever Kind of Grain, as well Wheat as Rye, Barley, and Oats, or Beans, and Pease, or any other Corn; (fn. 4) to which Gift were Witnesses, William de Albiney the fourth, Odinellsu, Robert, and Nicholas, his own Sons.
William de Albini, of Bevir, 2 H. 3. gave Account of the Scutages of the Fees of thirty-three Knights, and of the Fees of three Knights, of the Inheritance of his Wife, and of two Knight's Fees in Oskinton, of the Gift of King Richard. (fn. 5)
King Henry the Third, in the sixth Year of his Reign, commanded the Sheriff not to exact [Album] the White Rent of William Daubigny out of the Manor of Oskinton, (fn. 6) because the King gave it to him to hold by Knight's Service.
By an Inquisition taken 26 H. 3. (fn. 7) it appears, that William de Albini held in the Town of Oskinton, in Demesne, thirty-two Bovats of Land, every one containing sixteen Acres of Arable Land, and two Acres of Meadow, and every Oxgang, or Bovat, worth 12s. per Annum. There he had a Windmill of 20s. per Annum: but the Easements of the Houses could not sustain the Houses. There were sixty-eight Bovats held of him in Orskinton, in free Socage, and twenty Bovats in Thurverton, in like Manner. Here he had also View of Frank-Pledge, and Pleas, and other Cases happening in Reliefs, and the like. Roger Bozon held of him in Scherinton, Screventon, Coliston, Dalinton, Staunton, and in Orskinton, 10l. Land for the Service of Half a Knight's Fee. William de Audeley held likewise of him in Scherinton 5l. Land, for the fourth Part of a Knight's Fee. Richard Hotot held of him 20s. Rent, for the fortieth Part of a Knight's Fee; and William de Huntindon 20s. Rent in Oskinton, for the same Proportion of the fortieth Part of the Service of a Knight's Fee.
Isabell, the Wife of Robert Lord Ros, was found his Daughter and Heir in 36 H. 3. (fn. 8) having been sometimes in the King's Custody, I suppose while she was under Age, but she lived pretty long, for she was alive Nov. 17, 27 E. 1. (fn. 9) when that King confirmed to her, by the Name of Isabell de Ros Lady of Belver, the Gift she had made to her Son Nicholas de Ros, of this Manor of Orston, held of the King in Capite, which Nicolas de Ros, in the Record of Nomina Villarum, (fn. 10) 9 E. 2. was certified to be Lord of it: but it shortly after reverted to the Lords of Belvoyr, and with them continued till our Memory. Therefore, seeing that Place overlooks, and gives Name and Honour to a chief Part of our Country, viz. the Vale of Belvoyr, it cannot be very impertinent in this Place to insert the Descent, and give some short Account of the illustrious Owners of that Place, notwithstanding what will be done by my excellent Friend Mr. Dugdale, in his great Work of the Baronage of England; or in a particular one which was almost ready for the Press at the Death of the last and Most Noble Frances Countess of Rutland, May 19, 1671; but, for Want of such a Mother and Nurse, is like enough to be abortive, and make no further Appearance.
I shall begin, therefore, with the great Norman, Robert de Totneio, esteemed the Builder; who founded a Priory near his Castle of Belvidere, and made it a Cell of St. Alban's. (fn. 11) To the Endowment of Tythes and Lands which he made to it, his Son Berengerius was a Witness; which Berengerius de Todeni, the Book of Doomsday shows to have been Lord of divers Manors in this County of Nott. But it seems his Father out-lived him; because, after having buried his Wife Alice, he, the said Robert, for her Soul, by the Consent of his Sons William and Geoffrey, gave a Carucat of Land in Sapertun, to the Church of St. Mary, at Belvoyr; and that William was his Son, and Heir of his Honour, who I think was called William de Albini Brito, from his being born in England; (fn. 12) notwithstanding in the Charter of Confirmation, made by Thomas Lord Ros, there seems to be two Persons; however he was a great Baron in the Time of King Henry the First, and Witness to many of his Charters, (fn. 13) particularly in the Year of our Lord 1133, 33 H. 1. as in several Places of the Monasticon Angl. may be observed. (fn. 14) He seems to be the Son of Matild de St. Liz, Sister of Walter, Son of Robert, Son of Richard Earl of Clare, Son of Gilbert, but the Time will scarcely bear it; therefore we may rather suppose she was his Wife, and Mother of William de Albini, his Son, (fn. 15) whom I have sometimes seen called also Brito, as his Father was; (fn. 16) yet it appears William de Albeni Brito (if that be not this second William too) had another Wife, called Cecilia, who, together with himself, and his Son and Heir William, were Benefactors to Thorney Abbey; (fn. 17) and to his Gift were Witnesses Roger and Robert, his Sons, and his three Nephews, Oliv. Son of his Brother Galfr. Iwan, and Gauf. de Cabivin; one of his Deeds is to Alexander Bishop of Linc. in the Time of H. 1.
When the first William died, I find not; but I suppose both him and his Son William dead 14 H. 2. for in the Pipe-Rolls of that Year, I find, (fn. 18) though he be there named for paying the Scutage for the Aid, for marrying Maud, the King's Daughter, for thirty three Knight's Fees, and for four ½ more of new: yet William Basset, the then Sheriff of Warewich and Legrecestershires accounted for 26l. 16s. 11d. of the Issues of the Honour of Belvier, and for providing for the Children of William de Albineio thirty-nine weeks, and one month 15l. and 21d. by the King's Writ, it may indeed be otherwise, but I find no more of him afterwards.
William de Albeni the second was called sometimes Meschines, (fn. 19) and had two Wives, Adeliza his first, and Cecilia his second, by whom he had his Son and Heir William de Albeni the third, who was abroad with King Richard the First, in his Army in Normandy; and therefore had a Quittance for his Scutage, 6 R. 1. in the Counties of Bucks and Bedford. (fn. 20)
It appears, 10 R. 1. and 1 Joh. (fn. 21) that he gave six Hundred Marks to have Agatha Trussebut, with her Inheritance: she was his second Wife: but I do not find he had Issue by her. By the Consent of William de Albini the fourth, his Son and Heir, he founded an Hospital at the Bridge of Wass, between Offington and Stanford, (fn. 22) for the Health of his own Soul, and her's the said Agatha, and for Margaret's, his former Wife; his Sons William de Albini, and Odinellus, Nicolas, and Robert de Albini, were Witnesses.
William de Albini the fourth, (fn. 23) for the Health of the Soul of the noble Lord William de Albini, his Father, and the Soul of Margery de Umfravile, his Mother, and the Souls of his own Wives Albreda [Biset] and Isabel, confirmed to this Church of St. Mary, of Newstead, by Uffington-Bridge, what his Father had given. Isabella, this last William's only Daughter and Heir, who was the Wife of Robert de Ros, is said to be buried in this Newstead in the Year 1301. (fn. 24)
The first Ancestor of this Robert, that I know of, was Peter de Ros, who married Adelina, the youngest, as William de Bussey did Hawisia, the eldest, and Nicholas de Trailey, Albreda, the second, of the three Sisters and Heirs of that great and potent Baron Walter de Espec; who having an only Son by his Wife Adelina, called also Walter de Espec, slain, in the Flower of his Youth, by a Fall from a swift Running Horse, (fn. 25) which Kind of Creature the young Man loved too well. He, by the Consent of King Henry the First, in the twenty-second Year of his Reign, and of Adelina, his own Wife, and by the Consent of his Nephews, the Sons of his Sisters, of which William de Bussey, Jordan, and Roger de Bussy, Sons of his eldest Sister, Hawisia; Galfr. de Trayly, William, Nicholas, and Gilbert de Trayly, Sons of Albreda, his second Sister; and Everard de Roos, and Robert de Roos, Sons of Adelina, his youngest Sister, were Witnesses to his Charter of Foundation, founded the Priory of Kirkham, in Yorkshire; to which he gave the Right and Patronage of seven Churches in that County and Northumberland, to be appropriated; and eleven Hundred Marks of Land and Rents in the same Counties: and in the Year of our Lord 1131, by the like Consent, and to which Charter of Foundation his said Nephews were likewise Witnesses, he founded the Abbey of Rivall, in Yorkshire also; to which, amongst other Things of his very ample Endowments, he gave all their Easements in his Manor and Forest of Helmestac, to wit, Materials and Wood for their proper Uses, &c. which I mention to interpret the Word Easements, mentioned before in this Chapter; and to note, that in the Time of Henry the First, a Subject might have a Forest, or something then called so. In the Year 1136 he founded the Monastery of Wardon, and took a Monk's Habit at Rievaulx, two Years before his Death, which was 1153.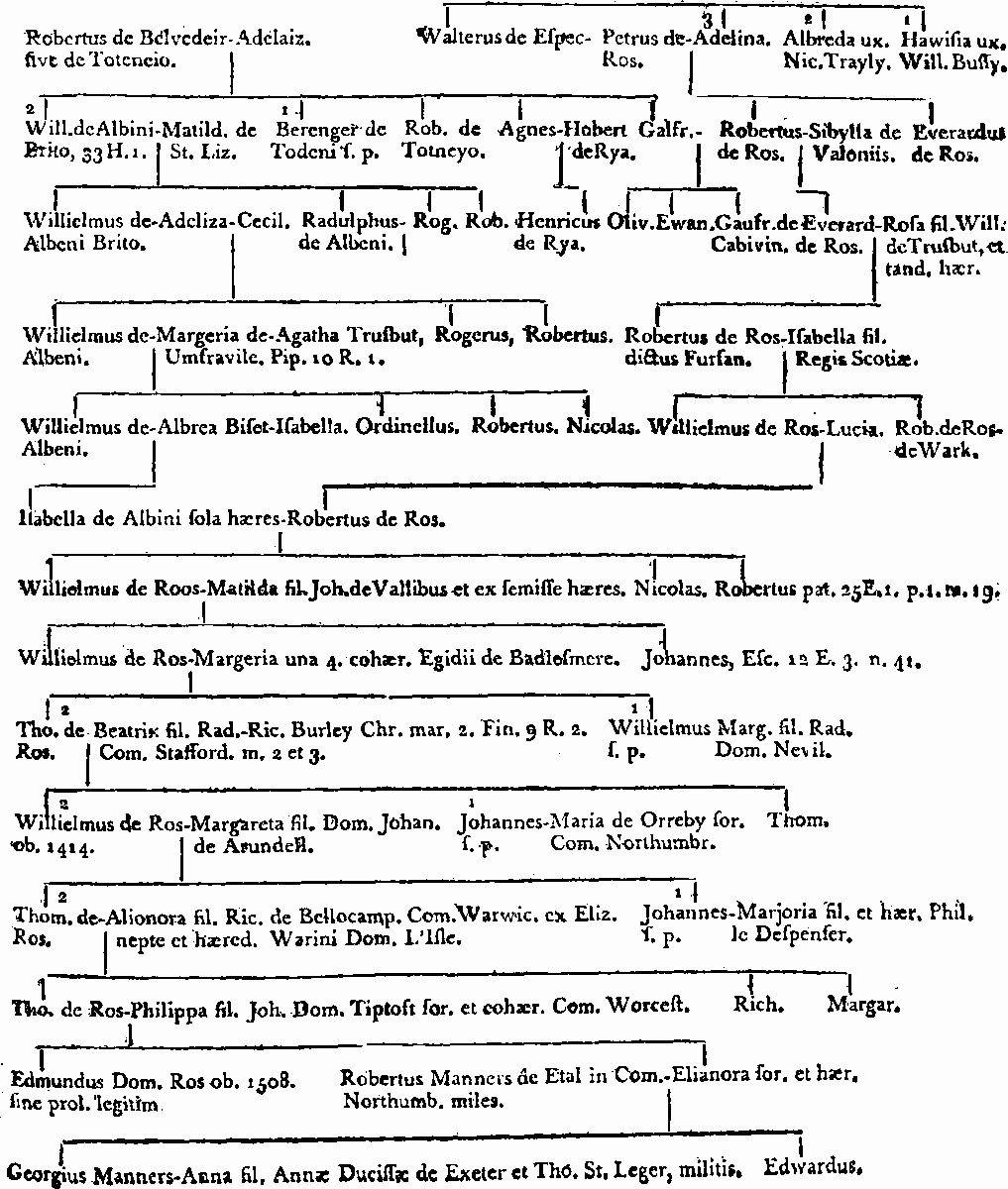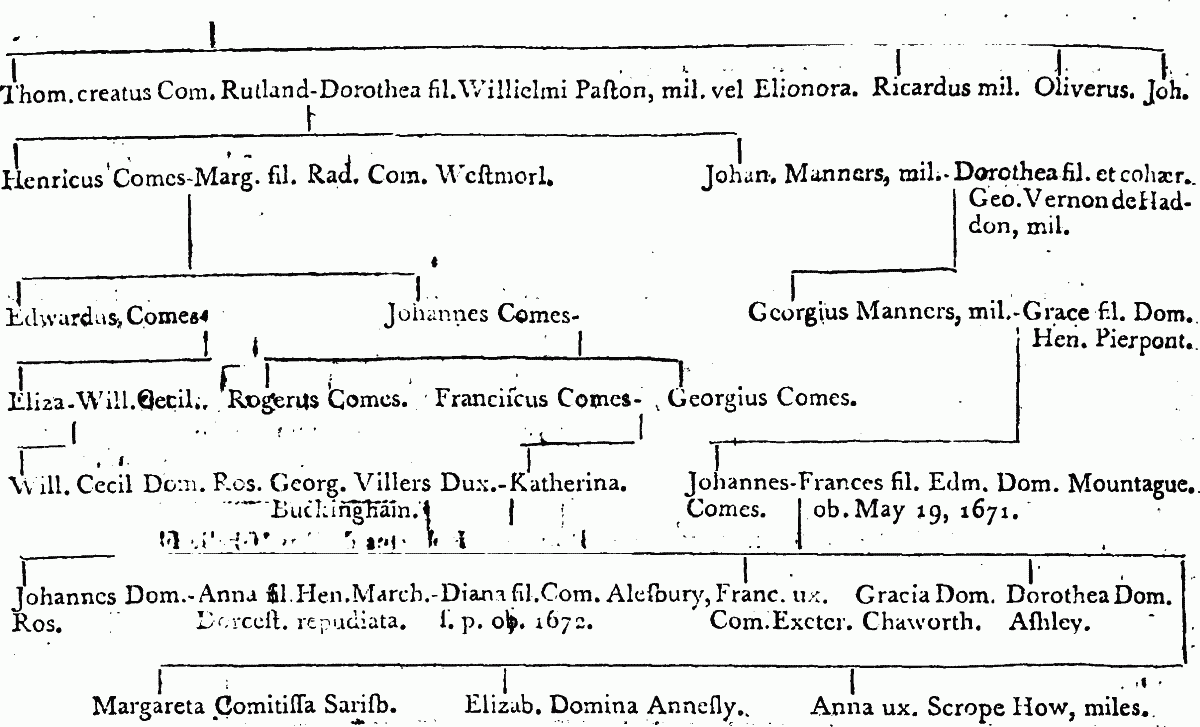 It is not unlike but that he might be most kind, and settle the greatest Share upon his Sister Adelina, because such vast Possessions descended from him to the Lords Roos; and he gave her the Advowsons of his Monasteries. Her Son Robert de Ros married Sibylla de Valoniis, and by her had Everard de Ros, who married Roesia, the Daughter of William de Trusbut, Son of Gaufr. Fitz-Pagan; and after the Death of her Brothers Richard, Gaufr. and Robert de Trusbut, Coheir together with her Sisters Hillaria and Agatha, before mentioned, not only to her Father's Estate, but also to her Mother's, who was Widow, and called Albreda de Harcurt, Daughter of Roysia, one of the Daughters and Coheirs of Pagan Peverell, who was Standard-Bearer to Robert Curthose, the Conqueror's eldest Son, in the Holy Land. (fn. 26) Her Sisters, the said Hillaria and Agatha, failing of Issue, her Posterity, the Lords Roos, became also Barons of Trusbut; her Son and Heir was Robert de Ros, called Fursan, who married Isabell, Daughter of the King of Scotland; and by her had two Sons, William and Robert.
This Rob. Fursan built the Castles of Helmesly and Wark, and gave to the Templars the Preceptory of Ribstan, in Yorkshire. To his Son William he gave the Castle of Hemnisly, with the Appurtenances and the Advowsons of the Monasteries of Kirkham, Rivalle, and Wardon, and to his Son Robert the Castle of Warke, with the Appurtenances; and a Barony in Scotland, to be held of William, his Brother, and his Heirs, by Knight's Service. Which William de Ros, Son of Robert Fursan, had by his Wife Lucia, Robert de Ros, the fore-mentioned Husband of our Isabella de Albini, who besides their Son Nicholas, spoken of before, and Robert, and other Children, had William de Ros, their Heir, who married Maud, the Daughter and Coheir of John de Vaulx; and his Son William de Ros married Margery, one of the Coheirs of Gyles Baddlesmere, mentioned in Langar, and begot on her William, Thomas, Margaret, and Maud. William de Ros married Margaret, the Daughter of Raph Lord Nevill, Earl of Westmerland, but died in the Holy Land without Heirs, and Thomas, his Brother, succeeded him, who married Beatrice, Daughter of Raph Earl of Stafford, and by her had John, William, Thomas, Robert, Elizabeth, and Margaret. John de Roos had to Wife Mary de Orrebe, Sister to the Earl of Northumberland, but died at Cyprus, going towards the Holy Land, without Issue Male, and William de Roos, his Brother, succeeded, who by his Wife Margaret, the Daughter of Sir John de Arundel, had John, William, Thomas, Robert, Richard, Beatrice, Alice, Margaret, and Elizabeth. John de Roos, his Son and Heir, married Margery, the Daughter and Heir of Philip De- spenser, but died in France on Easter Eve 1421, with his Brother William, without Issue, and Thomas de Roos, their Brother, inherited, and married Elianor, Daughter of Richard de Beaucamp Earl of Warwick, by whom he had Thomas Lord Ros, born Sept. 7, 1427, 6 H. 6. who married Philippa, the eldest Daughter of the Lord Tip- toft, and Sister and Coheir of the Earl of Worcester, of whom he begot Edmund, Ali- anor, Isabell, Margaret, and Jone.
In this Thomas Lord Ros's Time, he being attaint, this Manor of Orston, (fn. 27). amongst others, was granted, by King Edward the Fourth, to John Earl of Shrowsbury, but Edmund, his Son, being restored, 1 H. 7. it came again to the Family: and Elianor, eldest Sister of this Edmund, who died without Issue, 23 Oct. 1508, brought it, toge- ther with her great Inheritance, to the Family of Maunors, of Northumberland, her Husband being Sir Robert Maunors, by whom she had George, Edward, Elizabeth, and Cicely.
George married Anne, the Daughter of Anne Duchess of Exeter (sister of King Ed- ward the Fourth), by her Husband Sir Thomas St. Leiger, by whom he had Thomas, created, by King Henry the Eighth, Earl of Rutland, and a numerous Issue besides. Earl Thomas had likewise many Children.
His eldest Son, Henry Earl of Rutland, by his Wife Margaret, Daughter of Raph Earl of Westmerland, had Earl Edward, whose Daughter and Heir Elizabeth was mar- ried to Sir William Cecill, and had Issue William, who claimed to be Lord Rosse, and King James determined that he should be Lord Roos, of Holdernes, and have the an- cient Seat of the Lord Ros in Parliament; (fn. 28). but that the Title of Lord Ros, of Ham- lac, Trusbut, and Belvoyr, should still remain to Francis, then Earl of Rutland, who was Brother and Heir of Earl Roger, Son of Earl John, Brother of Earl Edward.
This Earl Francis was a very great Man, and Father of Katherin Duchess of Bucking- ham, to whom he gave Hemsley-Castle, and the ancient Yorkshire Lands, and likewise this Manor of Orston, which shortly after was sold, and thereby became the Possession of Robert Earl of Kingston, and now remains the Inheritance of the Right Honourable Henry Marquis of Dorchester, his Son and Heir.
Francis was followed in the Earldom of Rutland by his Brother George; who, dying without Issue, lest it to the Right Honourable John, the present Earl, who was Son of Sir George Maunors, Son of Sir John Maunors, second Son of Thomas, the first Earl of this Family, which Sir John married Dorothy, the Daughter and Coheir of Sir George Vernun, of Haddon, in the County of Darby, from whom that Manor and divers others are descended to this Earl; who, together with his Countess Frances, the Daughter of Edward Lord Mountague, of Boughton, hath rebuilt this Castle, pulled down by Ordinance of Parliament during the Rebellion, and made it a Monument of their Magnificence.
The Posterity of Roger Bozon, before named, continued their Possessions here till after that Family was broken into Coheirs (as in Screveton may be noted), and then it was sold, and likewise became the Inheritance of the said Earl of Kingston, and with his Family continueth.
William Rufus gave this Church, with what belonged to it in the Time of Edward the Confessor, to the Church of St. Mary, of Lincoln, and Robert, the Bishop, and all his Successors, in perpetual Possession. (fn. 29) And the Dean and Chapter of the Cathedral Church of Lincolne still have, and of ancient Time had, the whole Rectory of Orston, which was confirmed to them also by William de Albini, the first Owner of this Lordship of that Name. (fn. 30)
R. the Dean and Chapter of the Church of Lincolne granted five Bovats of Land in the Territory of Horskinton (Temp. Joh. vel H. 3.) to Robert, Son of William de Derebi, and his Heirs, paying 10s. a Year; (fn. 31) as in those Times was usual. The Dean and Chapter, 3 E. 3. (fn. 32) claimed Emendation of the Assize of Bread, and Ale broken, of their Terants in Orston; and Richard (or rather Nicholas) de Ros, at the same Time, a Court-Leet in his Manor of Orston.
Mr. John Kerchevall holds the Tythes and five Bovats of Land in Lease of the Church of Lincolne, as his Ancestors have done; he hath two Bovats and ten Oxgangs, and some Inclosure Freehold. Six Oxgangs and two Cottages were sold by his Father, (John) or his Grandfather Hugh, to Mr. Welby, of Hather.
There are very many small Freeholders: William Maltby hath six Oxgangs, John Marshall five, John Cliff four and a Half, John Challon four, William Clark three, formerly Mr. Kerchevall's; Mr. Halford, of Weston, in Rutland, Owner of Part of Aslacton, two and a Half, Henry Norman two and a Half, William Wright two, Robert Braunfton three, formerly Beanes, &c.
The Vicarage was 12l. and is now 12l. 4s. 7d. in the King's Books, and the Dean and Chapter of Lincolne Patrons, who have augmented it since the King's Return. It serves the Cures of Thoroton and Scarington.
In Orston Church were collected by Mr. St. Lo Kniveton,---Gules, two Chevrons Or. —Azure, six Flowers de Lis Or.---Gules, three Water Bougets Arg. Lord Ros.
Upon a plain Stone:-- Here lyeth the Body of John Kerchevall, Son unto Heugh Kerchevall, ob. 9 Apr. 1597.
[Throsby] Orston
LORDSHIP is open field, and contains 1800 acres of land. Principal land-owner is Mr. Pierrepont, who is lord of the manor.
The village is considerable; and the church is reputed the mother-church of Scarrington, Thoroton, and part of Staunton: it is dedicated to St. Mary. The body of the church is ancient; but the tower was rebuilt not more than about thirty years ago: in it are four bells.
Orston, Scarington, and Thoroton are worth, together, about 100l. per ann. now under the Rev. Mr. Clements. The Rev. Mr. Fell, a resident, is the officiating minister at these respective places. Staunton, which Thoroton mentions below, has only a chapel, served by the Rev. Mr. Fell also, worth 10l. per ann.
Patrons the Dean and Chapter of Lincoln. Bacon says clear yearly value 44l. 6s. King's-books 12l. 4s. 7d. Archiepisc. pro Syn. 8s. Archidiac. pro Prox. 7s. 6d. Val. in mans. sive gleb. ibid. per ann. 3s. 4d. in quad. augment. per ann. 4l. 6s. 8d. dec. lan. agn. vac. vit. &c. The Archbishop presented by lapse in 1782.
[STAUNTON lieth in Newark Hundred, but a good Share of it is a Berew, or Hamlet, of Orston, and payeth all Sorts of Duties with it in Bingham Hundred. It belonged to the Priory of Haverholme, in Lincolneshire, but since the Dissolution is become the Inheritance of Staunton, of Staunton, and therefore I shall refer it to that Place.]