Pages 225-228
Thoroton's History of Nottinghamshire: Volume 1, Republished With Large Additions By John Throsby. Originally published by J Throsby, Nottingham, 1790.
This free content was digitised by double rekeying. All rights reserved.
THOROTON.
Thurverton & Torverton.
This Town was ever a Hamlet, or Berew, of the Soc of Orston: the Book of Doomsday shows, that it was assessed, or rated, to the publick Payments of those Times as twelve Bovats. The Land being, before the Conquest, esteemed four Carucats. When the Survey in the Time of King William was taken, there were one Sochm. sixteen Villains, one Bord. having seven Ploughs, Carucats, or Ploughlands; there was also then a Priest.
It is most reasonable to conjecture, that the Posterity of that Sokman (or Freeholder, as we now call him) took their Sirname from this Place; howbeit, the first that I have any good Authority to six any Time, to a Certainty, was Roger de Thurverton, (fn. 1) a considerable Owner and Resident here in the Time of King Henry the Third, who had a Son, called William de Thurverton, living till towards the latter End of the Reign of King Edward the First, and another called Roger.
William, together with his Wife Matilda, (fn. 2) 32 E. 1. did make a Demise of certain Lands in Newton to one Raph del Clay, of Bingham, for twelve Years, which the said Matilda, and Margaret, her Sister, held by Right of Inheritance; which I conclude, with very good Probability, was from Walter de Boyvill, their Father, who was resident at, and Owner of some Lands in Torlaston, and of the Family of Warinus de Boyvill, of Cotgrave, (fn. 3) for I have only one other Deed, which is without Date, but the Witnesses show it to be about the latter End of Henry the Third, concerning those demised Lands; by which Alesia, the Daughter of William Bellard, of Herdeby, gave to Walter de Boyvill, her Nephew, and his Heirs, those and some other Lands in Newton, and some in Carcolston, and a Croft there, called Tuc Croft, reserving for herself 40s. a Year for her Life. The Croft in Carcolston was afterwards called Boyvile Crost; and I have a Close there which yet bears the Name of Bellard, or Bullard, Leyes. (fn. 4)
This William de Thurverton outlived Galfr. his Son, as I suppose, whose Son Ro- bert, and Marjory, his Wife, passed away some few Acres in Orston, by a Deed without Date, (fn. 5) though in the Time of Edw. 2.
This Robert had a Brother called Hugh, (fn. 6) who in his latter Time became a Clergy- man, and was Parson of Kilvington, whose Son John hath on his Seal to his Deed, bearing Date at Thurverton 1360 (which yet remains amongst my own Evidences), a Fesse be- tween three Hunter's Horns; in Imitation, I guess, of the Family of Otringham, in Yorkshire, with which there was some Intercourse about those Times, but whether any Marriage or no, I cannot certainly say. (fn. 7)
This Robert's Son was Roger de Thurverton, who, in the Beginning of King Ed- ward the Third's Time, had to Wife one Lecia, (fn. 7) and was Father of several Sons, Roger, a Clergyman, and John; but William de Thurverton was his Son and Heir, who married Agnes, one of the Daughters and Coheirs of John Morin, of Carcolston, who was Son and Heir of Robert Morin, of Kilvington, and of Joan, his Wife, eldest Daughter, and, at length, Coheir of Oliver de Lovetot Lord of Carcolston; by whom inheriting some Lands in Carcolston and Screveton, they, the said William and Agnes, made the latter a Dwelling for Richard de Thurverton, their Son; f. and, 15 R. 2. passed to him their Lands at Kercolston, reserving to themselves, out of them, five Marks per Annum during their respective Lives.
Agnes, I find, was living 1 H. 6. very old, which gave further Occasion for her Pos- terity to continue their Residence at Screveton, and so to neglect and diminish their Pa- trimony here; which was done so effectually in a few Generations, that, 13 H 8. Robert Thoroton, then removed to Carcolston (where I shall place the whole Descent), (fn. 8) passed all his Lands and Tenements, in the Town and Fields of Thoroton, to George Barret, his Ancestors having parcelled away a considerable Part before. His Grandfather, Robert Thoroton, of Skreveton, suffered a Recovery of eight Acres here, 4 H. 7. to one Thomas Orston. (fn. 9)
John Barret, of Horbling, in the County of Lincolne, about 36 H. 6. (fn. 10) married to his second Wife Margaret, one of the Daughters of Thomas Staunton, of Staunton, in this County of Nott. Esquire. This John we suppose to be Grandfather of the beforenamed George Barret, as we guess Thomas might be his Father; but certain it is, that Richard Barret, of Thoroton, his Son, married . . . . . one of the three Sisters and Heirs of Richard Claxton, Son of Edmund Claxton, of Balderton, (fn. 11) by whom he increased his Patrimony here, and at Oxton, in this County; and had also his Son and Heir Richard Barret, who to his first Wife had Katherin, the Daughter of Thomas Shipman, of Scarrington; to his second, . . . . ., the Daughter of . . . . . Brookesby, of Kilvington; and to his third Dorothy, Daughter of . . . . . Bingham. By his first he had George Barret, of Thoroton, who first married Anne Beaumont; and, after her Decease, Anne, Daughter of John Savile, of Oxton, by whom he had Richard, who, by Frances, Daughter of John Owtram, of Carcolston, his Wife (Cousin German to my Grandfather, Robert Thoroton) had my Kinsman Thomas Barret, the present Owner, and other Children, Richard, George, John, Frances, and Anne.
Johannes Barret de Horbling. Com. Linc.-Margareta sil. Tho. de Stunton ux. secunda.
Thom. Barret.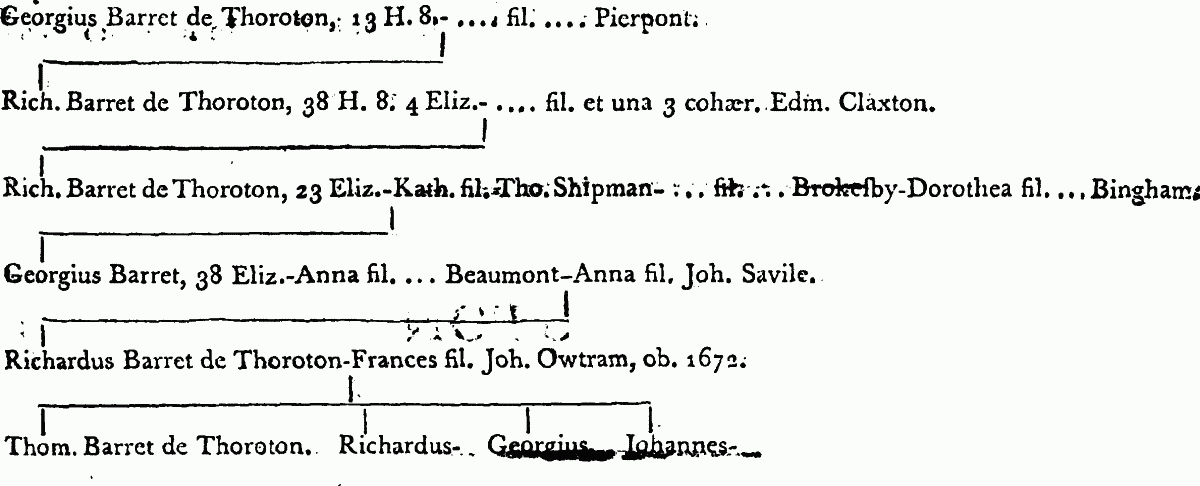 My Cousin Barrett had about twenty-one Oxgangs, and I hold the Tythes and Glebe, with the third Part of the Tythes of Screveton, &c. by Lease under the Dean and Chapter of Lincolne, as a Portion or Part of the Rectory of Orston; which I had of Sir Edward Lake, Baronet, and he of the Marquis of Dorchester, who held during the Life of Nicholas Timperley, of Norfolk, Esquire.
Here were some Lands given to the Priory of Haverholme, the Tenants whereof pay some Rents, and suit the Court-Leet at Staunton, sometime belonging to that Priory, to which, Part of a Farm of four Oxgangs also belonged, and was bought of William Staunton, Esquire, by one . . . . Sprigge; it was lately the Inheritance of Grace, the Daughter and Heir of William Sudbury, of Sutton-upon-Trent, (fn. 12) first married to Gilbert Radford, my School-Master; then to William Thorold, who died 1658, and left her four Sons and a Daughter: Richard Thorold, the eldest, married Anne, the youngest Sister of Thomas Barret; but the third Husband of that Grace was John Meringe, Son of William, Son of John Mering, and Dorothy, his Wife, Daughter and Coheir of John Smith, of Sutton-upon-Trent, afterwards married to Nath. Lodge. This Mr. Mering had a Son William by this Grace, on whom the Farm was settled; but she hath, since his Death married another Husband, one . . . . Fancourt; in it now dwells Henry Hall, the Son of Mr. Henry Hall, who hath lately sold his Farm of four or five Oxgangs to . . . . Marriot; the Rest of the Freeholders are but very few, and very small: yet some Land here was belonging of Belvoyr Priory, and some very little to Sibthorp College.
This Church is dedicated to St. Elena the Queen.
[Throsby] Thoroton
LORDSHIP is open field land. The principal land-owners are Robert Lowe, Esq, of Oxton; Rev. Charles Wilde, rector of St. Nicholas' church, Nottingham; and a Mr. Carver, of Birmingham. . . . . Carpenter, Esq. some time since resided in this village, and kept a pack of hounds.
The church is small, and has a spire steeple, with only two bells. In it are no interments of note.