Pages 228-232
Thoroton's History of Nottinghamshire: Volume 1, Republished With Large Additions By John Throsby. Originally published by J Throsby, Nottingham, 1790.
This free content was digitised by double rekeying. All rights reserved.
SCARINGTON.
This was also a Berew of Orston, and rated to the Dane-geld at two Car. The Land three Car. (fn. 1) There the King (William) had two Ploughs, or Car. and twentythree Villains, and four Bordars, having five Car. and a Half.
The chief Court of Orston had been anciently and is still divided, saving that all appear at Orston on St. Thomas' Day; else there have ever been, and yet are, two distinct Courts kept; one now in Screveton for those in Scarington, Carcolston, and Screveton, &c. the other at Orston, for Orston, Thoroton, &c. and that Neighbourhood. That of Scre veton in the 19 E. 1. (fn. 2) and I believe before that Time, was kept at Scarington, and since too, for I have an old Writ by me of 10 E. 3. directed to the Bailif of Robert de Whatton, of Skerington.
It seems it was purchased of Roger Boson, (fn. 3) named in Orston, by Robert Bardolf, and Lora his Wife; which Robert, 33 E. 1. left Amicia, his Daughter and Heir, then thirty Years old, and the Wife of Ingeram Belet: it was then called the Soc of Scarington, as I have seen it since called the Soc of Screveton; at length it returned again to the Lords of Orston, with whom it continues. It was, together with that fourth Part of a Knight's Fee, mentioned in Orston, which William de Audeley had here; Roger de Whatton's, in the 27 E. 1. who was younger Brother of Sir Richard de Whatton, Knt. (fn. 4) which was then called de Scarington, and had married Joan, the Relict of Robert Moryn, one of the three Sisters and Co-heirs of John, Son of Oliver de Lovetot, of Carcolston, named before in Thoroton, by whom he had Lands, and a Son called Richard de Whatton, who married Agnes, Daughter and one of the Co-heirs of Alice, (fn. 5) who had been Wife of John le Palmer, of Nottingham, before spoken of in Wiverton; by which Agnes, the said Richard de Whatton, had Parcels of Land in Bingham, Wiverton, and Titheby, formerly of the Possessions of Sir Richard de Wiverton, Knight. (fn. 6) All which, together with a considerable Part of his other Inheritance, were by Fines, 10 H. 5. and after, 2 H. 6. by Margaret, who had been the Wife of Sir William Bagot, Knight, and Sister and Heir of Robert Whatton, passed to Margaret, who had been the Wife of Sir Thomas de Rempston, Knight, and her Heirs, viz. the Manor of Skeryngton, with the Appurtenances, eighteen Mess. one Toft, forty-six Bovats of Land, one Hundred and forty Acres of Meadow, 13l. 4s. and 8d. ob. Rent: the Rent of a Pair of Gloves, and three Grains of Pepper, in Skerington, Bingham, Kercolston, Wiverton, Tytheby, Kneveton, Aslacton, and Whatton. John de Knyveton, and Agnes his Wife, held one Part, and Joyce de Plumton another, for Life. There is mention also of Maud and Margery, after whose Decease, all should come to the said John and Agnes, if they chanced to over-live the said Joyce, Maud, and Margery, for their Lives; the Reversion to the Lady Bagot, who conveyed it to the Lady Rempston, before named, who it seems had a Son (besides Sir Thomas Rempston) called Robert Rempston, Esquire, who died seized of these Lands about 16 E. 4. (fn. 7) Thomas Cheyno, Esq. then aged above twenty six, and Isabella Stapleton, aged fifty Years, being at that Time his Cousins and Heirs.
I cannot learn what Relation this John Kniveton, and Agnes his Wife, had to these Whattons; but I perceive, 2 H. 4. (fn. 8) there was a Recovery of these Lands wherein they were Parties. The 10 H. 4. (fn. 9) there was one, which was the Execution of a Fine levied, Hill. 4 R. 2. between Robert Skipwith, Son of John de Whatton, and Alice his Wife, Complainants, and Robert Smith, of Bautre, Deforcient, of the Manor of Skerington, and the very same Lands. And again, 11 H. 4. (fn. 10)
In the Division of Rempstons Lands, between Stapleton and Cheyne, this Manor it seems was of Stapletons Part: for 4 H. 8. Thomas Stapleton, and Elizabeth his Wife, suffered a Recovery of it, (fn. 11) and it was not long after in the Family of Eltoft, of Knot tingley, in Yorkshire, but continued not there: for Thomas Shypman, 9 Eliz. suffered (fn. 12) a Zecovery of it, and called to Warrant, Edmund Eltofts, Esq.
(fn. 13) Thomas Shipman was Son of Richard, and had by Isabel Hutchinson, his Wife, three Sons, Richard, Thomas, and William. Richard, by Elizabeth Bruntz, his Wife, had Elizabeth Shipman, who carried this Manor to Gervase Armstrong, her Husband, a younger Brother of the House of Rempston, and the most excellent in Hawking, Hunting, Fishing and Fowling, that ever I knew. He married a second Wife, Fortune Pacy, and by her had very many Children; whereof George, his eldest reproved a vile Parliament Soldier for swearing and cursing, and was by him stabbed to death, and left two Daughters and Heirs, by his Wife —, the Daughter of — Aufeild; afterwards married to Captain William Warburton: one of them is now the Wife of Richerd James, and the other of — Parker, who inherit the Tithes, and six Oxgangs of Land, and two little Closes, and one called Haverholme or Hareham Close, in Aslacton, by Scarrington. But by his first Wife, the said Elizabeth Shipman, the said Gervase, had Thomas Armstrong, who married Mary Enderby, by whom he had Gervase, bred abroad beyond the Seas, and divers other Children, to whom this Manor doth still belong.
Richard Shipman, Father of the first-named Thomas, was Son of William Shipman, of Scarrington; and had also a Son named William, Father of Thomas Shipman, who was a very prudent Man, and raised a fair Estate. He married Philippa, one of the Daughters and Co-heirs of John North, of Lowdham, by whom he had several Children. To —, his Daughter married to Richard Marshall, of Brandon, in the County of Lincolne, he gave a great deal: yet left his Son and Heir, William Shipman, a considerable Estate here, and in Aslacton, with the Rectory of Whatton, and Lands in other Places, as Flintham, Torlaston, Carcolston, &c. Some of the Lands lying in the Territories of Scarrington and Aslacton, (which are much intermixed) were heretofore the Inheritance of a Family, who had their Name from this Place, of which I have seen three or four Descents: Roger, Father of John, Father of John, (fn. 14) Father of Roger de Skerington, who lived in the Time of Edward the Third, and of a third John also, and some others. It seems to me that Nicholas de Leek, of Scarrington, had this Land in the Time of Henry the Fourth; and that afterwards it was Bingham's, of Carcolston. There were some Lands likewise purchased of the Cranmers, of Aslacton.
This William Shipman to his first Wife had Elizabeth, the Daughter of — Kendall, of Smithesby, by whom he had two Daughters; his second Wife was Sara, Daughter of — Parker, Alderman of Nottingham, by whom he had many Children.
Thomas Shipman, his eldest Son, a good Poet, and one of the Captains of the Trained Bands of this County, the present Owner, married Margaret, the Daughter of — Trafford, Esquire, who brought him a good Inheritance at Bulcote, about three Miles distant, settled upon her by her Grandfather, Simon Wood, whose Daughter and Heir, Margaret, was her Mother: she hath born him several Sons.
The Tythes of Scarrington, Part of the Rectory of Orston, are held by Mr. Thomas Porter, of Blyth, to whose Father old Mr. Hugh Kerchevall sold his Interest in them by Lease, as he did in two Oxgangs of Glebe, belonging to them, to William Oliver, who had also Freehold here, now sold to Thomas Castledine. The present Occupant of the Tythes is Thomas Jalland, who married my Sister Mary, and hath a pretty Freehold here, and in Aslacton and Carcolston; his Cousin, William Jalland, or Chalon, hath a Farm likewise. The rest of the Freeholders are not considerable.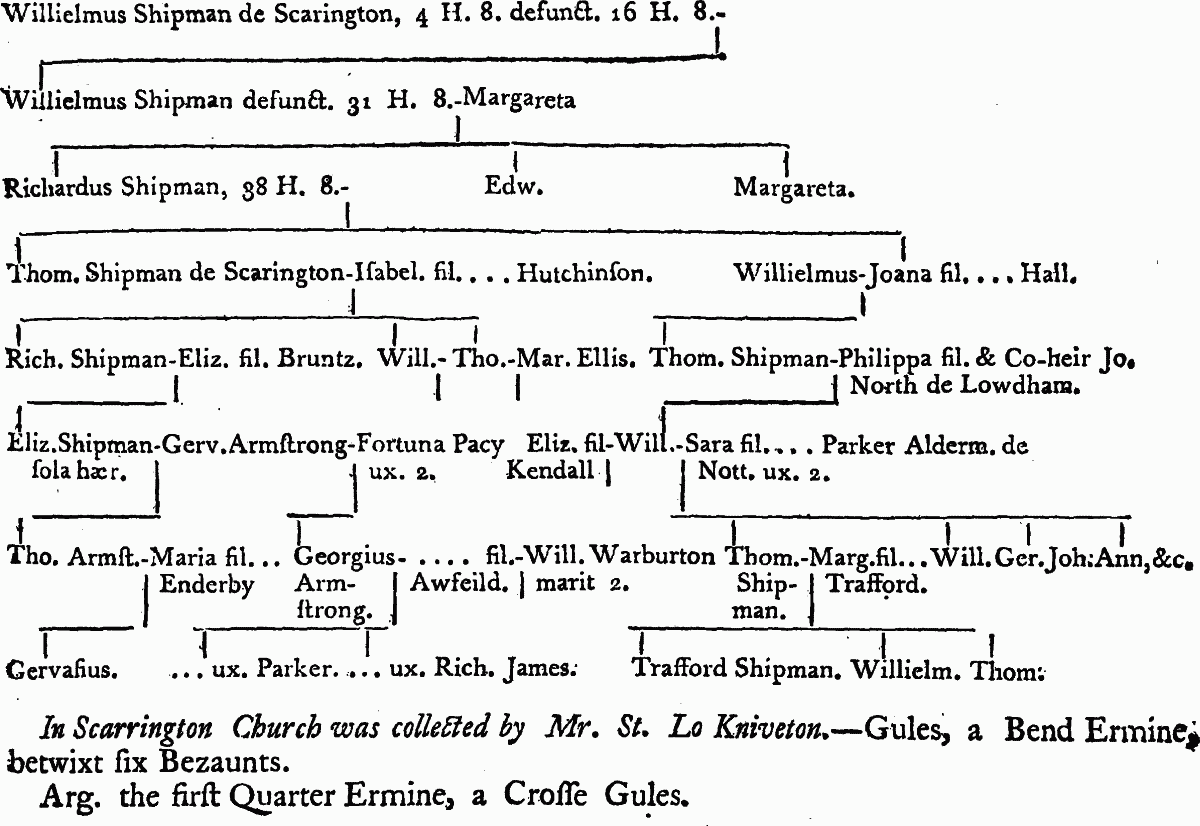 In Scarrington Church was collected by Mr. St. Lo Kniveton.—Gules, a Bend Ermine, betwixt six Bezaunts.
Arg. the first Quarter Ermine, a Crosse Gules.
[Throsby] Scarrington
LORDSHIP was lately inclosed. Lord of the manor Charles Pierrepont, Esq. who is a principal owner also. Another principal freeholder, since Thoroton's time, was — Vavasour, Esq. of Bingham, who sold his portion to Mundy Musters, Esq. late of Colwick, who disposed of it to John Wright, Esq. banker, of Nottingham, in whose hands it now remains.
There is nothing in the village or church of note; the latter has a spire steeple, with three bells, and Bacon says it is a chapel to Orston.