Pages 232-244
Thoroton's History of Nottinghamshire: Volume 1, Republished With Large Additions By John Throsby. Originally published by J Throsby, Nottingham, 1790.
This free content was digitised by double rekeying. All rights reserved.
CARCOLSTON.
In Coleston, of the Soc of Orston, antient Demesne the Land of King Edward the Confessor, there was a Portion rated to the Dane-geld at four Bovats, and four Acres. (fn. 1) The Land was then esteemed to be one Carucat. There, in King William's Time, were five Sochmen, (or Freeholders) who had one Carucat and an half: Four of these five Sochmen, whereof I am for one myself, remain visible to this Day; the Land of the fifth hath been long dispersed into several Lands. That Carucat and half, in Doomsday by a Rental of Orston, renewed 16 H. 8. (fn. 2) appears to be above nine Score Acres, of which the Heirs of Thomas Cheyney, (named in Scarington) whose Land was formerly Whattons, and descended from the Family of Cheyney (which had it by Inheritance from that of Rempston) to William Lord Vaux, of Harrowdon, who 8 Eliz. sold it to William Alvey, held thirty nine Acres; Richard Whalley, formerly the Leeks', and before them Kirktons' forty-four Acres; Richard Bingham, now Mr. Brome's, thirty-six Acres; and Robert Thoroton, thirty-two and a half: The chief Rents of them, respectively, amounts to 2d an Acre; the fifth Share is now amongst Dr. Brunsell, William Arnall, and Thomas Wilford, and some others.
But the principal Manor in Coleston, was the Fee of Roger de Busli, which Ulviet had before the Conquest, rated to the public Payment of the Dane-geld, at six Bovats and one Acre. The Land being then returned to be five Carucats. There afterwards, Roger, the Man or Tenant of Roger de Busli, had two Carucats in Demesne, thirteen Sochm. three Vill. seven Bordars, having eight Plows or Carucats; there was seventeen Acres of Meadow. This in the Confessor's Time was valued at 30s. in the Conqueror's at 40s.
Another Manor here was, which Tori, Lord of Aslacton, and many other Towns in this and other Counties, had, in which he was succeeded, after the Normans came, by Walterus de Ayncurt, whose Fee it was, and whose Man or Tenant, Walchelin, who held Aslacton also of him, held it; (fn. 3) being rated to the Tax at two Bovats and an half, and one Acre. The Land one Carucat. Here one Bordar plowed one Bovat: and here was three Acres of Meadow; this was 10s. Value in the Confessor's Time: when the Conqueror took his Survey but 5s.
That Roger, before named, who held that of Roger de Buslie's Fee here, held several very considerable Manors of him in this County besides this, viz. at Flintham, Wisoe, Gresthorp, Normanton, Clifton below Newark, Tireswell, Gringley, Walkringham, and Wirksop, as the Book of Doomsday manifesteth; in all which he was succeeded in the Time of King Henry the First, (fn. 4) by William de Luvetot, a very great Man; who by the Consideration and Consent of Emme his Wife, and their Children, (which Emme I therefore conjecture, was Heir of that Roger) did, amongst the rest of the Churches of his Demesne, of the Honor of Blyth (the seat of the said Roger de Busli), give this Church of Colestonto the Priory of Radford, by Wirksop, which he then founded; and besides his other Endowments, gave to it the tenth Penny of all his set Rents, both in Normandy and England.
(fn. 5) Richard de Luvetot, Son of the said William the Founder, by the Consent of his own Son and Heir, William, confirmed and enlarged his Father's Gifts, as here in Colestun, the Church and two Bovats of his Demesne, with one Dwelling-house. In Wyshou also two Bovats of his Demesne, and the like, which Matilda de Lovetot, Daughter and Heir of the latter William, and Wife of Gerard de Furnivalle, also confirmed.
Yet the first William de Lovetot had another Son besides Richard, called Nigellus, whose Barony lay in Huntingtonshire, having only five Knights Fees, of the Honor of Blyth, added to it, as by the red Book in the Exchequer is manifest; (fn. 6) which five Knights Fees in this County, lay all on this South-side the River Trent. And the said Richard and his Posterity, who had also Sheffield and Halomshire, in the County of York, inherited only those Lordships of the first William, Lord Lovetot's, which lay on the North-side that River in this County, of which Wirksop is the Chief; which accordingly descended through the Lords Furnivalls, Nevill, and Talbots, Earls of Shrowsbury, to the present Duke of Norfolk, as in Wirksop more particularly will be declared.
Nigellus de Lovetot had his Seat at Wishou, as in the Notes concerning that Place may be observed; as also the Confirmations both of himself and of his Sons, as particularly that of his Son Richard, who by the Consent of his Brethren, Roger, Nigellus, Robert, and William de Lovetot, his other Sons, confirmed the Gifts of his, and their Ancestors, to the said Priory of St. Cuthbert, at Radford, by Wirksop; (fn. 7) to which Robert de Lovetot, who it seems had his Residence here, so as to be called of Coleston, by the Consent of Hugh, his Heir, gave the Church of Coleston, and the whole Village or Town of Sloswick.
(fn. 8) His next Successor here, (whom I suppose Son of Hugh) was Robert de Lovetot, who held a Knights Fee in Carcolinson, of the Honor of Tikhill, (fn. 9) whose Son and Heir was Oliver de Lovetot, who had a Son called John, who died about 26 E. 1. (fn. 10) seized of this Manor or capital Messuage, and Lands in Flintham, &c. leaving his three Sisters his Heirs. (fn. 11) Joan first married to Robert Morin, of Kilvington, and then to Roger de Whatton, called in several Records, Roger de Skerington, from his Interest, or Residence there, at that Time having that Manor of Scarington; Isabel, the second Sister, Wife of Ranulf Morin; (fn. 12) and Alice the youngest, then Wife of William Morin.
The said Roger de Skerington, and Joan his Wife, and the rest of the said Sisters and Heirs of the said John de Lovetot, with their said Husbands did Homage, and had Livery of their Lands, 27 E. 1. (fn. 13) and divided them; and 28 E. 1. paid Relief for a Knight's Fee here, held of the Honor of Thekil.
(fn. 14) To Roger de Whattor, King Edward the Second committed the Manor of Keselingbury, which was Warinus de Insula's, and the Rent, which John de Insula had there, being forfeited for Rebellion; but upon the said John's making Fine to the King, he had Order to deliver it back the same Year, viz. 16 E. 2. so that I suppose neither he nor his Posterity was much the richer for it. His Interest here, which he had by the Division of this Manor, went with Scarrington: in which Share happened to be some of the Lands of Deincourt's Fee also, which descending to Cheyney, (as in Scarrington may be observed) came, amongst others, to William Vaux, Lord Harowden, before-named, who, 20 Jan. 8 Eliz. (fn. 15) sold it, being three Closes, and twelve Oxgangs of Land, to William Alvey, for 161l. 13s. 4d. who settled it on Robert Alvey, his younger Brother, whose Son, Robert Alvey, sold two Meadow Closes (of which his said Father had good Share, at the Inclosure of this Lordship, whereof he is said to have been a principal Promoter) to Robert Earl of Kingston, which are now the Marquis of Dorchester's. And his Son, the third Robert Alvey, sold about half the remaining Part to Henry Sherwin, of Nottingham: and not many Years after, viz. about 1669, the rest to Isaac Hodgekin, of London, Vintner.
(fn. 16) Ranulf Morin, who married Isabella de Lovetot, the second of the Co-heirs, had a Son named John, and he one called Thomas Morin, of Carcolston. And William, who had to Wife, Ales, the youngest of those Co-heirs, had by her, Robert Morin, Lord of Kilvington; but further I find not of them; for John de Gloucester, Son of Roger, and Nephew of Henry the Clergyman, (who had also a Share in the Manor of Sutton-upon-Trent) was possessed of the greatest Part of this Manor of Carcolston, (by Purchase I suppose) in the former Part of the Reign of King Edward the Third, as by the Fine of Wishou, 11 E. 3, and 13 E. 3. between Lovetot and Willughby; and by Evidences in my own and several of my Neighbours Hands appeareth: and with that Family of Gloucestre continued till the Time of King Henry the Seventh. Henry de Gloucester being the last that I have met with, who suffered a Recovery of this Manor and Sutton-upon-Trent, 20 H. 7. (fn. 17)
There is a broken Window in the east End of the north Isle of this Church, wherein was left, Agnetis, and William Mering, Militis; and the Arms which I guessed to be Gloucester: Sable, a Chevron between two Martlets, and a crosse Croslet Botony Fitchy, Arg. which makes me conclude that Sir William Meringe, Knight, married Agnes, the Heir female of this House: and the rather, because upon his Grandchild, Sir William Merring's Marriage with Margaret, the Daughter of Thomas Cave, of Stanford, 38 H. 8. (fn. 18) this Manor and Sutton, amongst the rest, were to be settled; and the 4th and 5th of Ph. and Mar. Sir William Meringe, by Fine, passed it to Edward Byfeild; and he, by another Fine, 7 Eliz. to Robert Bulby; which Robert, or Nicolas Bulby, or both, conveyed it to Richard Whalley, of Screveton, Esquire, towards the latter Part of Queen Elizabeth's Reign, who having near or about that Time, viz. 38 Eliz. bought of Sir Francis Willoughby, of Wollaton, and Dorothy his Wife, for the Sum of 220l. another Manor then in Lease to Richard Owtram, and Dorothy his Wife, and John their Son, for their respective Lives, at the Rent of 4l. 13s. 7d. per Annum, and Inheriting some other Lands here from his Ancestors; he prevailed with the rest of the Owners, though they were neither very few, nor very inconsiderable, to inclose the Fields; after which, I do not find that either he or they, or any of them, ever found any great Improvement in their Fortunes or Conditions, though the Rents were much increased; nor have their Posterity much Reason to brag, most of them having resigned their Shares to new Purchasers: Mr. Whalley's being, together with Hawksworth and Flintham Grange, made collateral Security for the quiet Enjoyment of Sibthorp, which he sold not well freed from Incumbrances it seems, became by that Means at Length the Inheritance of the Earl of Newcastle, who being driven out of the Kingdom, in the Time of the late Rebellion, his Son, the Lord Maunsfeild, with others, his Trustees, sold all the said Lands and many others, towards Payment of Debts and raising Portions, whereby Peneston Whalley, Esquire, Grandson and Heir of the said Richard, became Purchaser of the Manor, and those Lands on the east Part of the Lordship, which lie before and behind his House, as Francis Hacker did of those lying in the west Part towards Bingham; which latter Parcel (belonging to Willoughby's Manor) was by the King's Favor, upon his Return, (Col. Fr. Hacker, then proving Attaint) restored, and still remains the Inheritance of his Grace the now Duke of Newcastle, who during his Life, enjoys Mr. Whalley's Part also.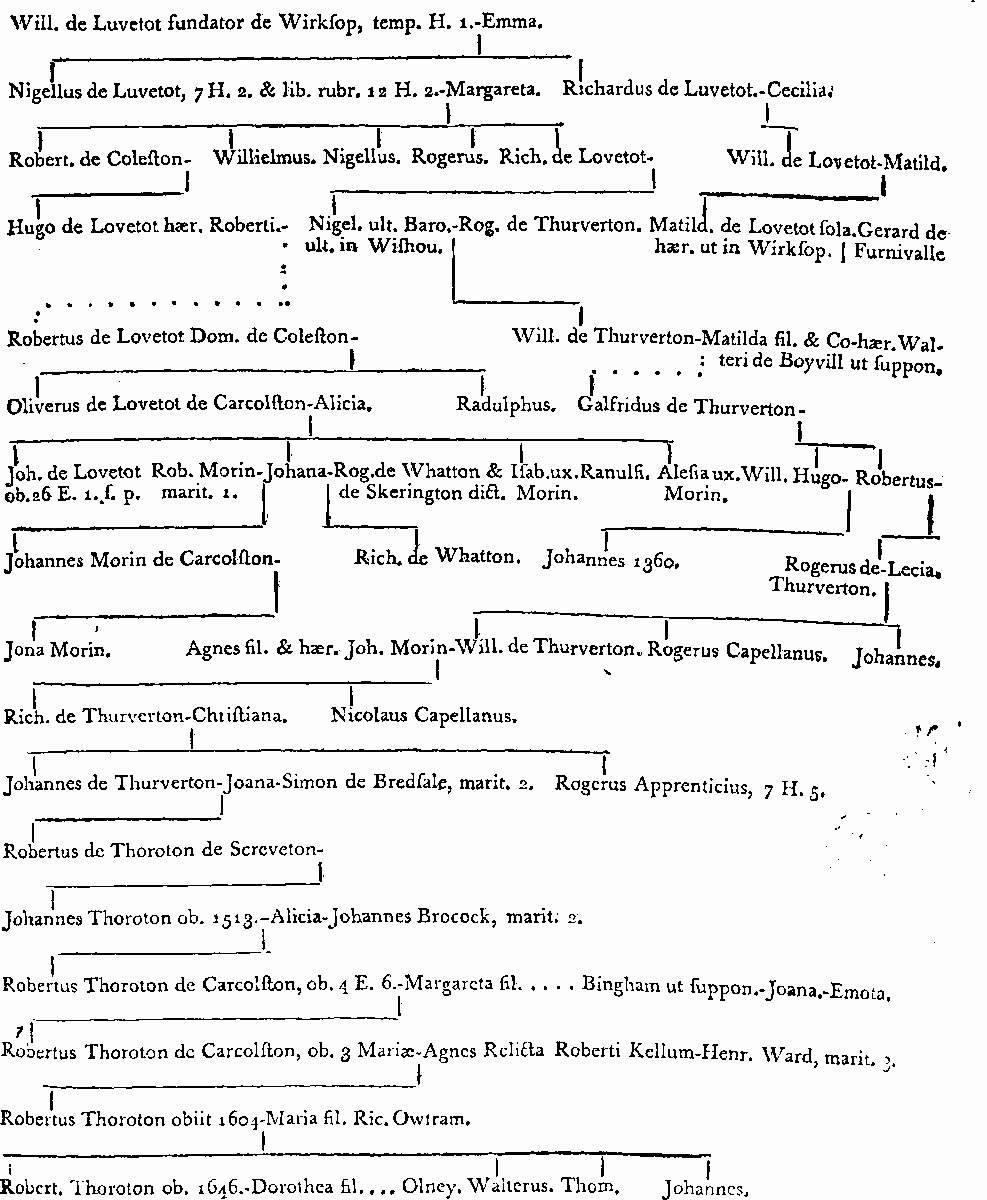 Richard Whalley, his Grandfather, before-named, sold the Scites of both these Manors. That of Willoughbye's, which is called the Hall-Close, to Mr. Brome, it lying near his House. The other, which was Bulbye's, and lies over the Way north from the Church, is through many Hands come to Thomas Wilford, the present Owner. The said Mr. Whalley sold likewise, several Messuages, and some Lands, to — Thurbarne, or Fairbarne, he to — Lathom, he to Mr. Shipman, of Scarrington, whose Grandchild hath sold them to Richard Porter, of Bingham, the present Owner.
(fn. 19) William, Son of William of Coleston, (called Lord or Loverd) held half a Knight's Fee of the Honor of Tikhill, but immediately of the Lovetot's of Wisoe. Roger de Lovetoth (who was High-Sheriff of these Counties, 39 H. 3. &c.) (fn. 20) did release, by his Deed, without Date, to William de Colliston, for the Sum of 20s. the Suit of Court to Wisho, from three Weeks to three Weeks, which he ought for that he held of him in Colleston, reserving his Attendance there only twice a Year, upon Summons timely given to him and his Heirs, at the Court next after Michaelmas, and that after Easter; to which were Witnesses, Robert de Torlaston, John Barry of the same, Simon de Aslacton, Henry de Houthorp, Nicholas de Schiventon, Robert de Rempston, Robert de Lovetoth, of Colleston, Oliver his Son, Roger de Fanecourt, William de Sceflet, &c.
William, Son of William de Colleston, married Alice, the Daughter of Sir Robert de Burstall, Knight, (fn. 21) and had many Children, Ralph, Mr. John, Robert, and others.
In 16 R. 2. (fn. 22) I find that which was Robert Lored's, to be Edmund Willoughby's, which Family I suppose, obtained it about the Time, (or shortly after) that Sir John de Lovetot had sold his Interest in Wishou, which was Confirmed by Robert de Lovetot, his Son, 31 E. 3. to Sir Richard de Willoughby, the Elder, the great Advancer of that Family, with which this Manor continued till Mr. Whalley bought it, as before is mentioned.
Sir John de Lovetot, the Elder, Father of John, before named, and Brother of the said Roger the Sheriff, by his Deed not dated, (on the Seal whereof within the Circumscription of his Name, (fn. 23) is his Image on Horse-back, in a long Coat, with his Sword drawn in his right Hand; and upon his Shield, on his left Arm, a Lion Rampant, and likewise upon the Cloathing of his Horse,) passed to William de Weston, Rector of Kercolston, a Messuage lying between the Parsonage, and the Common Moor, or Green, which the said Parson, who was Son of Sir Richard de Weston, Knight, settled upon Mr. John, (fn. 24) the Son of William Lord, before named, and 80 E. 1. ten Acres more on the said Mr. John, and Alice his Wife. John, Son of Mr. John, had a Son, called Robert, who married Agnes, the Daughter of John de Scarrington, and after her, one named Margaret; after whose Decease and his own, these Lands were estated on John Lord of Gyleston, and Alice his Wife, who had a Daughter & Heir called Margaret, married to Hugh Wymbish, who 25 H. 6. gave this Messuage and all his Lands in this Town of the Soc of Orston, to John Arnall, and Elizabeth his Wife, and the Heirs of John, whose Heir male William Arnall, still enjoys it.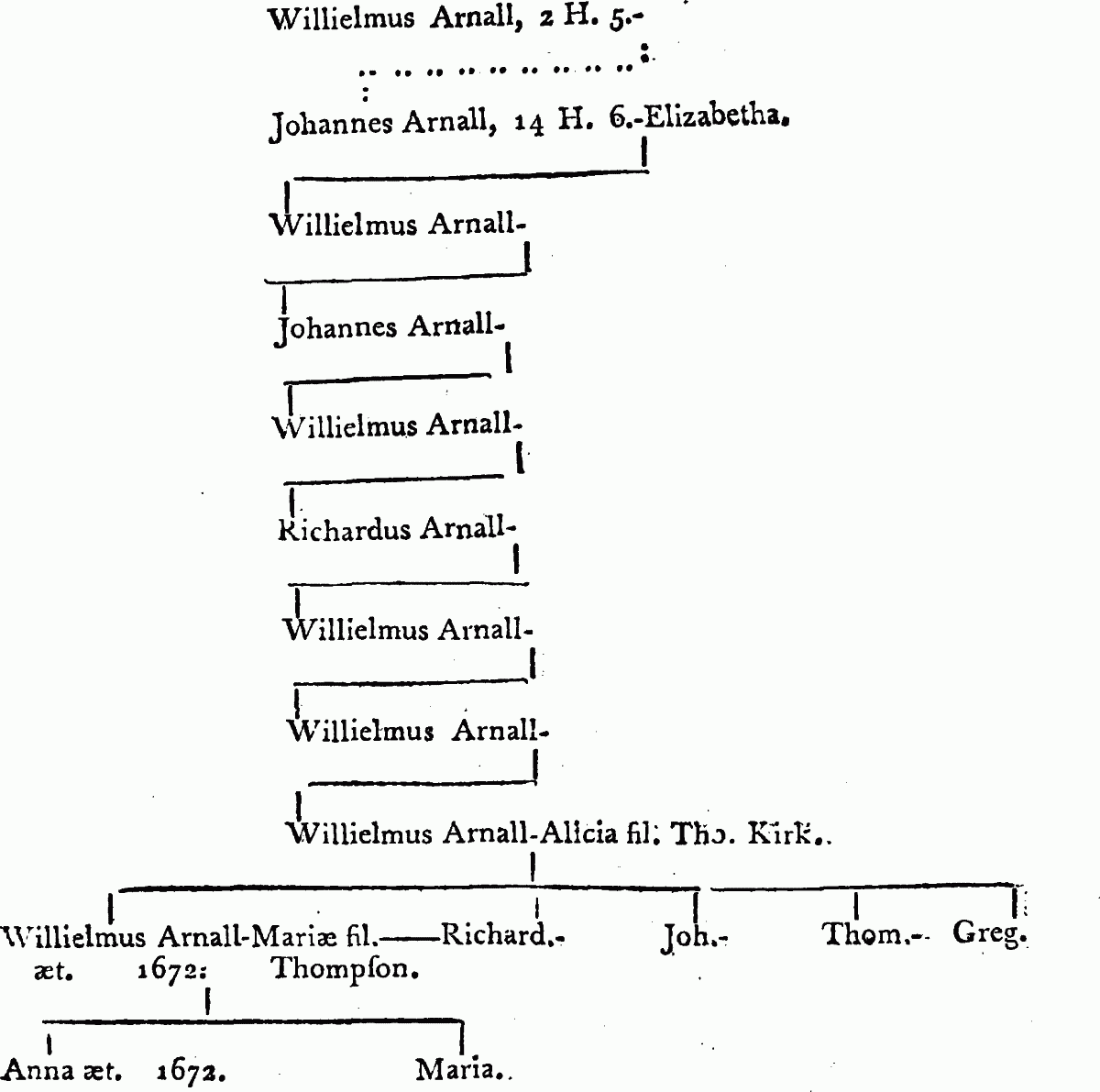 Who succeeded Walkelin, before spoken of in that Manor, which was of the Fee of Walter de Ayencurt, immediately, I cannot say. Jordan de Coleston, (fn. 25) held it by the Service of half a Knight's Fee, and his Son Gilbert after him, who had a Daughter named Alice, (fn. 26) and certain Sons, one named Roger, but no mention is further made of his Posterity that I can find; but of the Heirs of Gilbert de Carcolston in general.— Oliver de Lovetot's Wife was Alice, (fn. 27) and most of the Lands of that Fee, were amongst his, as by that Share which Roger de Whatton had, and at length came to the Lord Vaux, may in some other Place be noted; however it is Evident, that several Persons of Note had Interest here very anciently. (fn. 28) Robert de Somerville, Lord of Oxton, whose two Daughters and Heirs were married to Walter de Strelley, and Hugo de Capella (as in that Town will be shewn) confirmed to Robert, Son of Randolf de Colston, the Land which his said Father Randolf had, viz. Ketellescroft (the greatest Piece of old Inclosure in the whole Lordship, heretofore banked on the Sides with broad Walks, and lying near the Capital Messuage or Manor-House to which it doth still belong,) and an Oxgang of Land, which was Tokes, for which the said Robert de Somerville, was to have the yearly Rent of Six Shillings, and four Capons of the said Robert, Son of Randolf, whose Step-mother Hawisia was to hold Ketelcroft for her life, and to pay her Son in-law Two Shillings and two Capons yearly. Philip de Paunton, Knight, (fn. 29) gave to Thurgarton, to sustain the Pitance of the Canons there Fifteen Shillings, and six Capons yearly Rent of William, Son of Reginald de Kercolston, and Three Shillings and two Capons of William, Son of Lecia of the same, with their Homages, Services, Wards, and Reliefs, &c. Some of the Demesne, and some of the Tenements likewise which belonged to this Manor, were of the Soc of Orston, and lay in Screveton, as partly appears by a Fine levied in the Court of Roger de Boun, (fn. 30) (or Bozon) at Screveton (being that which belongs to Orston) wherein divers Fines have been levied by the King's Writ, as this was. 41 H. 3. And the High Sheriff before spoken of, Roger de Lovetot, and Four other Knights, viz.— Adam de Novomercato, Henry de Bec, Roger de Alneto, and Ralph de Charnels, came accordingly to see Right fully held by the said Writ, between Roger de Fanecourt, of Coleston, and Robert, Son of Thomas, and Thomas, Son of the said Robert of Screveton, concerning a Toft, and two Bovats of Land, excepting one Acre, in Screveton, which after their disavowing, they acknowledged to hold of the said Roger, and then agreed to increase the old Rent of Three Shillings and Four-pence per Annum, to Four Shillings, which is the only Chief Rent now left to this Manor, and is paid by Richard Howytt, who is also to appear at Orston Court, on St. Thomas's Day only, by the said Fine. Sir Gerard de Fanecourt, Knight, (fn. 31) who held in many other Places, Lands of Deyncourt's Fee, and was a great Benefactor to Thurgarton Priory, to which he gave the Rents, Homages, Services, Wards, and Reliefs, of divers of the Tenants of this Manor both in Screveton and this Town, exchanged it with Oliver de Lovetot, for his Lands in Hickling, which he also gave to the same Place, as in that Town is manifested.
Cecilia, (fn. 32) married to Walter Cuily, Laderina, the wife of William Tesserand, Elizabeth, and Amicia, the four Daughters and Heirs of Hugo de Capella, in 6 E. 1. recovered their Seisin of five Tofts, six Bovats, Six Shillings and Four-pence Rent, and two Capons in Screveton, Kercolston, Herdeby, Hertewell, and Cherton, and William de Stokes, and Brian de Herdeby were amerced; and against Oliver de Lovetot, 3s. and two Capons Rent in the same Towns.
Oliver de Lovetot settled the Capital Messuage, (fn. 33) with Garden and Dove-cot, and all the Lands he had of the said Sir Gerard de Fanecourt, in this Town, and out of it also, viz. one Messuage, one Cottage, and four Bovats of Land, &c. in Screveton, with all their Appurtenances, on Joan his Daughter, and the Heirs of her Body lawfully begotten, in which Deed he mentions a Custom of making a Feast every third Chirstmas, which it seems the three Manors did by Turns, and had several Lands which contributed thereto by their Tenure.
This Joan, the eldest Daughter of Oliver de Lovetot, was married to Robert Morin of Kilvington, as before is said, and by him had a Son, called John Moryn, and other Children, Robert and Emme, and the 22 E. 1. was a Widow: she continued not long so, for to her second Husband she had Roger de Whatton, before spoken of, who 19 E. 2. passed all the Lands he held in Kercolston, (fn. 34) and Screveton, by the Law (or Courtsey) of England, after the Decease of Joan Morin, his quondam Wife, to her Son John, Son of Robert Morin, of Kildington, which she the said Joan had of the Gift and Feoffment of Oliver de Lovetot. Those Lands she had by Inheritance from her Brother, he made a Shift to secure to his own Posterity.
(fn. 35) The Jury, in 10 E. 2. found it not to the King's Loss, if he granted Licence to Raph, Son of Henry de Kilvington, and to Alice his Wife, to give or enfeoff Richard, Son of Roger de Whatton, in two Messuages, fifty-eight Acres of Land, sixteen of Meadow, and 28s. Rent, with the Appurtenances in Kercolston, held of the Honor of Tikhill.
(fn. 36) John Morin lived here most of his Time, which gave this Place the Name of Moryn-Hall; he, 14 E. 3. infeoffed Raph de Bredon, a Clergyman, and Richard, Son of Thomas of Carcolston, in all his Lands here, and at Screveton, and Alverton; to which deed, as to divers others of his, the Seal is Quarterly, the first and fourth Party per pale, deeply indented, on the second and third, each a Flower de Lis. His said Feoffees, 23 E. 3. settled those Lands on him the said John Morin, for Life; afterwards to his Daughters and Heirs, Joane and Agnes, and the Heirs of their Bodies. Agnes was married to William, Son of Roger de Thurverton, with whom continuing at Theroton, they both, 15 R. 2. passed their Estate here to Richard their Son, then dwelling at Screveton, reserving five Marks per Annum Rent, during their respective Lives, as in Thoroton is already said.
This Place became ruinous by the Absence of the Owners, who continued their Residence at Screveton, for the most Part. Richard's Son was John, who lived at Thoroton, 9 H. 6. and 16 H. 6. and had Interest in the Tithes there, belonging to the Church of Lincolne, but his Son, Robert Thoroton, was most at Screton; for he, together with Joanc, the then Relict of Simon de Bredsale, whom I suppose his Mother, 3 E. 4. demised this Moryn-Hall, in Carcolston, to William Arnall, for eight Years. So that neither this Robert, nor his Son John, (though I find them both sometimes said to be of Carcolston, were constant here; but Robert, the Son of John Thoroton, 10 H. 8. conveyed this Moryn-Hall, to Henry Bingham, and others, for a Jointure for Margaret, his Wife, and made it habitable, by laying Thatch upon the Slates, where any were left; in which Condition it descended to me Robert Thoroton, who, in the Year 1666, Part of it being not to be mended, pulled it down and built it new, not in the very same Place, but a little north-westward, to join it to a Messuage in old Time called Tokeplace; which in the Time of Henry the Third, was Sir Roger de Alneto's, and remained to his Son, Roger de Launey, 23 E. 1. and lasted in that Name till 12 H. 4. that Roger Launey, and Maud his Wife, passed it, with another less one, to William Arnall, whose Son and Heir, William, (fn. 37) passed it away to Robert Gourton; and his Son John, 13 H. 7. to Robert Wilkinson; his Son Richard, 2 H. 8. to Thomas Bowdon; Otwell Bawdin, 1 E. 6. to John Brandreth, whose Son Christopher gave it, 40 E. to his Son Thomas, and he to his Brother Roger, who sold it in King James's Time to my Grandfather Robert Thoroton, and I have sold Part of the Lands, with some other of our old Inheritance, to Samuel Brunsell, D. D. Rector of Bingham, who hath also bought a Messuage, and certain Lands of William Kirke, which in the Time of Richard the Second, were Robert Chaworth's, and lasted in that Family three or four Descents, where the said Doctor hath built a. brick House, being very near Sreveton. Church, of which he was also Rector.
At the south-west End of the Town lying next Bingham, is situate a Messuage, which in the Time of Edward the First, was the Dwelling-place and Inheritance of John-inle-Willughes, (fn. 38) and continued in that Name two or three Descents more.
There were Covenants 4 E. 3. made between the last John-in-the-Willughes, who had then to Wife Anneys —, and William, his Son and Heir, on the one Part, and Richard de Strouxton on the other, to whom this was conveyed, but not long after was the Binghams. In the Year 1392, 16 R. 2. Maud, the Relict of Thomas de Bingham, of Kercolston, passed her Interest in all the Lands which were of the Gift of Robert, Son of John-in-the-Willows (which Robert was Parson of Freton, in Norfolk) to Raph, Son of Thomas de Bingham.
(fn. 39) This Raph had two Brothers, both named John, whereof one might possibly be the Father of Sir Richard Bingham, the Judge, who was very much concerned in all the Affairs of this Family, in his Time, 3 E. 4. He passed these Lands to John, Son and Heir of Raph, in whose Posterity they lasted till they were purchased by William Henson, alias Hall, in the Beginning of Queen Elizabeth's Time; to which William, John Bingham, of Glaston, in the County of Rutland, 2 Eliz. was bound in 300l. to perform certain Covenants. Gregory Henson, his Son and Heir, lived to see the Lord ship inclosed; and his own only Son William Henson, buried at the Age of twenty-six Years, May 4, 1604, unmarried; but his Daughter, called Alice, he married to Gervase Annesley, of Ruddington. who left only Daughters by her, so that the said Gregory Henson married her again to Thomas Brome, of Caunton, and entailed all these Lands on Henson Brome, and Gregory Brome, her Sons, (except a Close called Beresmore, which he gave to the Poor, and another called Sharp-Close, which he gave to the Church of Carcolston). Henson Brome died before his Parents, a Batchelor. Gregory, his Brother, married Mary the Daughter of William Palmer, of Southwell, Esquire, by whom he hath left a Son Gregory too, now almost of full Age, 1672, to inherit the Estate, being with the fore-mentioned Hall-close, and Pilkinton's Farm, which also lay near the House, and was purchased by the said Gregory Henson, a very pretty Seat.
Besides these there was at the Inclosure of the Lordship, William Tenman, whole Lands since passed through several owners; — Wilford, and — Hamerton, till at length they were purchased by John Machin, and Mr. Edward Winter, Vicar of this Church, and divided between them, chiefly by the Lane called Tenman-lane, which leads to the Fosse-way from the Town. Mr. Winter's (whose Father Robert Winter was Vicar here also, and a forward Man at the Inclosure, having married the Widow of — Ward, a Freeholder) remain to his Son Edward; but John Machin's is parcelled away: one Close by the Fosse-way being sold by his Son Lancelot, to whom he gave it, to the said Mr. Porter, of Bingham; and the next to it by Edward his Grandchild Son, of his Son Robert, to Thomas Wilford, who had to his first Wife Ellen, the Relict of James Johnson, Vicar here; and by that Match was better enabled to purchase that Ward's Land, which he did of — Flint, who went into New-England.
Mr. Johnson was between the two Mr. Winter's, and the most famous country Schoolmaster of his Time: he wrote a Book of Epigrams in Latin, printed at London, by John Beale, 1615.
Thomas Wilford hath also purchased the Scite of the principal Manor, of one Henry Willmot, where was a House which Mr. Whalley made of the Materials of the Parsonage-house, and intended (as the People of that Time reported) for an House of Correction, which the said Thomas Wilford hath pulled down, and sold the Frame of Wood to Geo. or John Gunthorpe, of Hickling, to set up there after the burning his old one.
Henry Billidge had also a Farm, which Thomas, his Grandchild, Son of William his eldest Son, sold to — Wileman, whose Son is yet Owner of it. This Thomas Billidge was a Servant in the Earl of Newcastle's Family, as his Brother William was in Sir John Harpur's: which William was reputed stour Man, and was a Captain in the late Wars, in which he died; a little before which, his said Brother Thomas went to Goa, in the East-Indies, on the Account of Sir William Cortin, where he stayed about seven Years, and then came hither, and got a Matter of a Thousand Pounds, or more, for his Land, and returned into those Parts, where he became rich, and died in a few Years, leaving his Friends and Relations Legacies, and the Poor of this Town 100l. as it is said: but Mr. Blake, who married his Sister, and got most of his Estate, hath not yet performed his Will in that Particular.
Richard Kirk, a Romanist, had likewise at the Inclosure, which he resisted to the utmost, a considerable Share, which he was forced to convey to his Brother Thomas, and died in Prison. Thomas Kirke, of Flintham, eldest Son of that Thomas, retains some; his youngest Son William sold some to William Jackson, of East-Bridgford, and the rest, with the House, to the said Doctor Brunsell.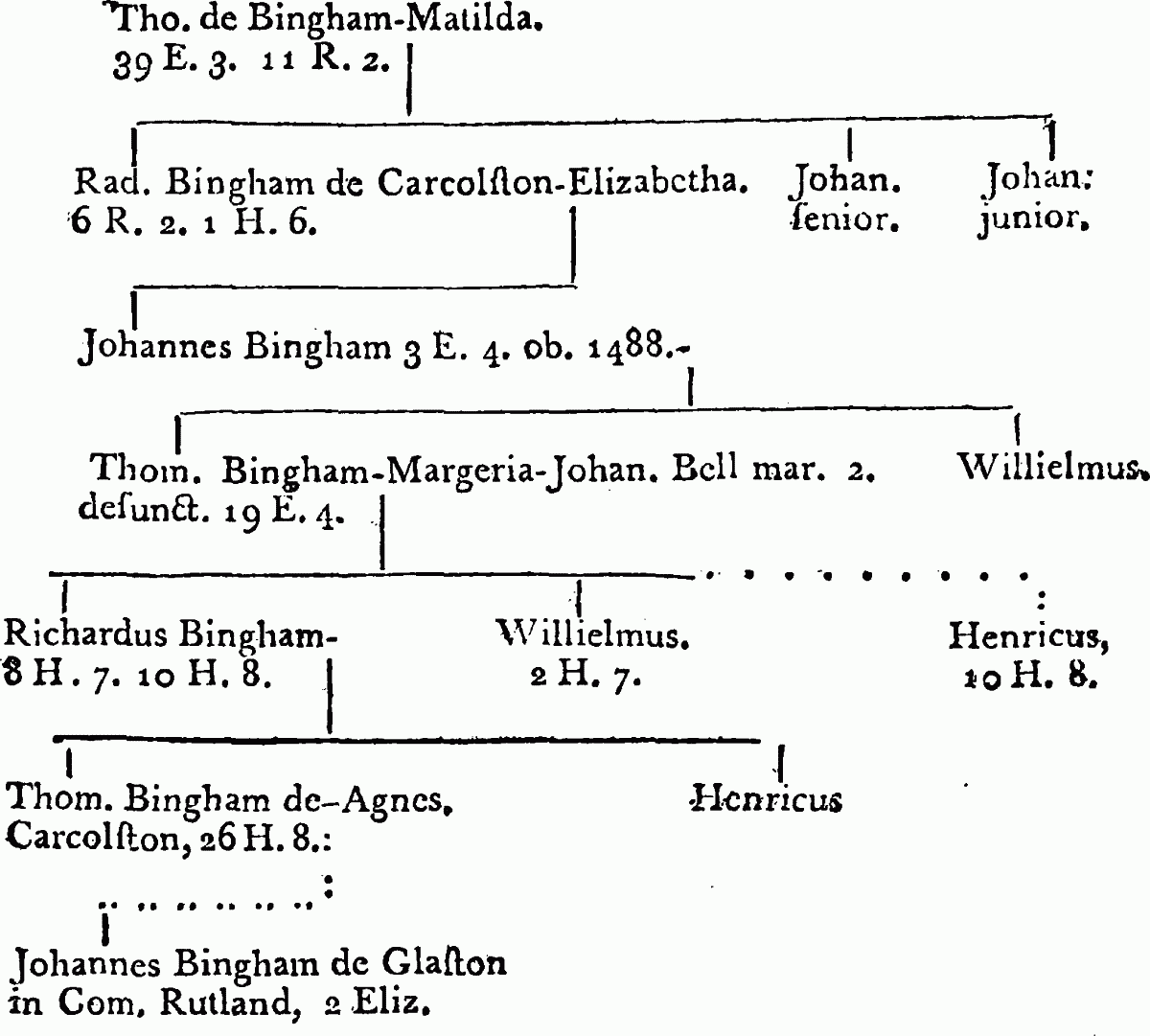 The Rectory was appropriated to the Priory of Wirkesop, in the Year 1349. And the Prior compounded with the Dean and Chapter of Lincolne, (fn. 40) for what concerned the Tithes here of Orston Soc, for 4l. per Annum; which in Case of Non-payment they were to distrain for at Gringley and Walkringham.
(fn. 41) John Bellowe, and Robert Bigott, had Licence, December 17, 37 H. 8. to alienate the Rectory and Advowson of the Vicarage of Carcolston, late belonging the Priory of Wirkesop, to Richard Whalley and his Heirs. The same Persons had another Grant, 22 Nov. 38 H. 8. (fn. 42) together with the Tithes of Corn and Hay within the Town and Fields of Screveton, then in the Tenure of the said Richard Whalley, late belonging to the said Priory of Wirkesop, which Parcel of this Rectory in Screveton, amounts to one Third of two Third Parts of the whole Tithes there, and remains to Pen. Whalley, Esq.
The Tithes at Carcolston are his Grace the Duke of Newcastle's: but being charged with 20l. per Annum to the King, and that 4l. due to the Church of Lincolne, are for the most Part of no great Value besides.
(fn. 43) The Vicarage was ten Marks when the Prior of Wirksop was Patron. And is now 6l. 1s. 10d. Value in the King's Books, and the Duke of Newcastle Patron.
In the Church were lately, in an upper Window.---Barry of six Arg. and Gules, a File of three Labels azure.
Or on a Fesse Gules, three Waterbougets Arg. Bingham.
And Arg. five Fusells in Fesse Gules, Newmarch.
An Party per pale Arg. Gules, and Sab. a Lion Ramp. Arg.
And Arg. upon a Bend sable, between six Crosse Croslets, Gules, three Besants, Whatton.
And Sab. a Chevron between two Martlets, and Crosse Croslet botony fitchè Arg. Gloucester, I suppose.
Written on the Wall.
In piam memoriam Sanctissimi viri GREGORII HENSON, Exemplar sanctæ qui vix imitabile vitæ, Qui veræ speculum religionis erat: Chi[..]ais, Lethophagis, Triadi, Sex, Mille, Triuni, Qui legavit agrum, corpus, and hinc animam: Hic jacet & merito, reparator scilicet ædis, Mortuus, & vivus, qui suit, est, & erit.
And upon another Wall.
Here lieth the Body of Gregory Henson.
Qui nunc emeritæ permensus tempora vitæ, Adscriptus Divûm cœlicolumque choro est.
Ob. . . . .
Upon the Top of a Buttress in Freestone, is cut on the Outside,
A Fesse between three Hunters Horns, quartering a Lion Rampant. And quarterly Party per pale indented, and a Flower de Lis: Thoroton, Lovetot, and Morin.
And under that.---Dec. 12, 1646. Regi & Ecclesiæ fidus Robertus Thoroton totius paterni cognominis pervetusti jam superstitis parens & decus, ab antiquis hujus villæ dominis Lovetotis, scilicet, per Morinos, hæreditariè genus & terram ducens, juxta Robertum Thoroton patrem Anno 1604. Peste mortuum, Mariam Owtram matrem, & Dorotheam Oldney uxorem ejus, hic infra sepultus suit, Anno ætatitis suæ 77. Cujus octo liberi, viz. 1. Robertus qui ex Anna Chambers conjuge providissima hic etiam Anno 1660. inhumatâ genuit Robertum Thoroton, M. D. virum Annæ Boun, Mariam triennam filiolam, Anno 1655. submersam & hic conditam, hic usque lugentis, Elizabetham, Richardum, Gerversiam, Mariam, & Thomam. 2. Alicia. 3. Richardus. 4. Johannes, pater Johannis, Roberti, Rogeri, Franciscæ, Henrici, Mariæ, Thomæ, Willielmi, Dorotheæ, & Annæ. 5. Maria. 6. Thomas. 7. Dorothea. Et 8. Francesca adhuc supersunt, 1664.
[Throsby] Carcolston
LORDSHIP is old inclosure. Lord of the manor, the Duke of Newcastle. The principal land-owners Mr. Bonnell, of Duffield, and Robert Lowe, Esq. of Oxton.
Dr. Thoroton informs us, above, that be owned a portion of this lordship, and built a residence for himself there, which is now standing. When I visited this place in 1792, I made a sketch of the house, (which is now partly in ruin) as an object of some Importance to the admirers of the great Nottinghamshire Historian. The village is small.
The church is dedicated to St. Mary, has a nave and two side aisles; a good chancel, well lighted, and a handsome tower, with 4 bells. Here remains most of the inscriptions mentioned by Thoroton. In addition are these: Near the altar, Thomas Hall, vicar, is remembered, who died in 1727. A piece of loose broken brass, which I saw lying in a recess, near the altar, bears these lines:
O Henson, Remember thy End, Feare deathe, Feare Judgment, Feare Hell also Here is the place wherein thou must lye And be consumed to dust truely.
Hic Jacet Gregorie Henson 1613.
Mr. Gregorii Henson, who is remembered here as a liberal benefactor to both church and poor, was buried in the north aisle in 1616.
In the chancel are three handsome recesses, and the holy-water stock very perfect. In the church-yard the wife of an inhabitant of this place is remembered, who was killed at Nottingham fair, by a random shot from the military, about thirty years since, sitting by his cheese, during a riot about the high price of that useful article.---His name was William Egglestone.
Patron and Incumbent of the living, Rev. Mr. Key.
Bacon says clear yearly value 30l. 14s. 8d. King's book 6l. 1s. 10d½. Archiepisc. pro Syn. 4s. Archidiac. pro Prox. 7s. 6d. Val. in mans. cum 1 bov. ter. gleb. per annum, 1l. 2s. in decim. lan. agr. porc. anc. columb. &c. Pri Wirksop, propr. Richard Porter, Esq. 1728, 1731, 1750.