Pages 244-252
Thoroton's History of Nottinghamshire: Volume 1, Republished With Large Additions By John Throsby. Originally published by J Throsby, Nottingham, 1790.
This free content was digitised by double rekeying. All rights reserved.
SCREVETON.
And Kirketon.
Besides that which was of the Soc of Orston, which in the Consessor's Time was rated to the Dane-geld at one Carucat. The Land then esteemed three Carucats, where in the Conqueror's Time were three Sochm. two Vill. and one Bord. having one Carucat and an half, and eight Acres of Meadow. (fn. 1)
There was a Manor in Screvinton, of the Fee of Odo, Bishop of Bayon, which Toti had, before the Normans came, and paid to the Geld for it as twelve Bovats. The Land was three Car. then, but afterwards Hugh, the Nephew of Herbert, the Man or Tenant of the Bishop, had there five Sochm. and four Villians, and one Bordar, having three Carucats or Ploughs, and six Oxen, and twelve Acres of Meadow. This was 25s. value in the Time of King Edward the Consessor; and when the Book of Doomsday was made, 32s.
There was in Escrevintun, of the Fee of Roger de Busli also a Manor, which before the Conquest was Ordincars, then also Lord of Flintham and Bridgeford, which was rated to the Payment of the public Tax at five Bovats. The Land of it was one Car. There when the great Survey was made by the Conqueror, one Sochm. with one Bordar, had one Car. This in the Confessor's Time was 5s. in the Conqueror's 8s. value.
The Tythes of these three Fees have ever been and are yet distinct. Those of Orston, Soc are the third part, and belong to the Church of Lincolne, as part of the Rectory of Orfton, and are now held by me of the Dean and Chapter. The third Part, of the two remaining Parts, belonging to the Priory of Wirkfworth, with Colefton, which was Roger de Buslie's Fee, and are now the Inheritance of Peniston Whalley, Esq. the rest remain to the Church. And the Custom of dividing the Tythes is at eighteen; the Rector of Screveton hath eight; I for the Church of Lincolne have six; and Mr. Whalley four.
There was a final Agreement made at Nottingham, in the King's Court, the third Day after the Feast of St. Gregory, next after Henry, (fn. 2) King of England, Son of Maud, the Empress, sent his Daughter into Sicily, before William Fitz-Raph, and William Basset, and Michael Belet, the King's Justices, between Hugh, Son of Alan, and between Ingelram, Son of Geoffrey de Screveton, concerning the Advowson of the Church of Screveton, whereof Plea was moved between them, viz. that the said Hugh remised to the said Engelram, the Moiety of the Advowson of the said Church, to be held to him and his Heirs, in Fee of the said Hugh and his Heirs, with the rest of the Fee which he held of him the said Hugh.
(fn. 3) In King John's Time, William de St. Paulo, claimed against Yngeram de Screveton, the Advowson of the Church of Kirketon; and upon that the Abbot of Croxton, came and pleaded, that Yngeram had, by his Charter, given him the Moiety, and brought the Chirograph made in the King's Court, between Hugh, Son of Alan (which Hugh was) Father of the Wife of William St. Paul, in whose Name the said William made his Demand or Claim, which was that before recited.
(fn. 4) There was a Fine, 12 Joh. levied at Dorchester, between William de Hawkefworth, Compl. and Richard Abbat, of Wellebek, and Ingeram de Screveton, Deforcients, of the Advowson of the Church of Screveton, whereby one Moiety was settled on William, and his Heirs begotten on Cecilia his Wife; and the other Moiety on the Abbat, and his Successors, which the said Ingeram gave him, having recovered it in the Court of King Henry the Second, against Hugh, Son of Alan, (which Hugh was) Grandfather of the said Cecilia, which Writing he produced, and it was also the same before rehearsed.
(fn. 5) William de St. Paul, confirmed to his Clerk, Mr. Stephen de Radeclive, 20s. per Annum, to be received of Gilbert, the Clerk, who possessed the Church of Kirketon, as well by his Gifts, as also of the Gift of the Abbat of Wellebeck, as a Pension out of that Church, during his Life, for the good of Peace, which was confirmed to the said S. (there written Simon) in the Vacancy of the See of York, by W. Archdeacon, of Nottingham, and the Dean of York.
(fn. 6) There was a Fine levied, 26 H. 3. between John de Pabham, Quer. and the Abbat of Wellebek, Deforcient, concerning the Advowson of this Church of Kirketon, whereby it was agreed that they should present by Turns; and so it was by another, 10 E. 1. between Thomas Abbat, of Wellebeck, and Robert Bardolf, named in Scarrington; (fn. 7) which Robert, it seems, bought a Bovat of Land, and 20s. Rent, in Kirketon, and the the Advowson of William Hottot.
(fn. 8) Gaufr. de Stokes held sixteen Bovats of Land here of Robert Hotot, and 51 H. 3. was dead; and his Heir John, Son of his Cousin Paul, did the like of Joan Hottot, and was also dead 21 E. 1.
(fn. 9) Jordan de Sutton held here of the Heirs of Hugh de Capella, viz. in Kirketon and Screveton, 60s. and 6d. yearly Rent. John, his Son and Heir was found, 16 E. 1. to be seventeen Years of Age.
But the Main of the Lordship was held by Roger Bozun, in the Time of Henry the Third, sometimes written Boum, mentioned in Orston; he was, in the Time of Edw. the First, succeeded by John Bozon, (fn. 10) who was Son of Raph, to whom William le Hotoft, 33 E. 1. passed some of his Interest here; he was a Knight; and the Lady Gunnora Bozon, his Widow, kept a Court here, 9 E. 3. (fn. 11)
(fn. 12) Sir Hugh Hose, Knight, 35 E. 3. settled the Manor of Screton, and Lands which were Henry Bozom's, on Margaret, who had been Wife of Sir John Bozom, Knight; Remainder to Sir John, Son of John Bozom; Remainder to Hugh Bozom, who proved a Clergyman, and Parson of Fulbeck, in Lincolneshire.
The next Successor of this last Sir John Bozom that I meet with, was Thomas Bosom, of Syreston, who was concerned in this Manor, and Orston, and I think died about 3 H. 6. (fn. 13) and him, I suppose, Father of Henry Boson, named in Lanum, and he of Thomas Bosom, who married Anne, one of the four Sisters and Co-heirs of Sir Gerard Ulvefleett, great Grandchild and Heir of Lora, (or Loretta) Daughter and Heir of Gerard de Furnivalle, Son of Gerard de Furnival, who married Christian Leydet, and was Son of Matilda de Lovetot: by her Thomas Bosom had Henry Bozom, of Syreston, Father of Sir Richard Bozom, of Barrowby; which Henry and Richard, 5 H. 8. (fn. 14) had the Wardship of Robert, Son and and Heir of John Thoroton, then dead, who in his Life Time, held some Lands in Screveton, which come to him by Descent from Oliver de Lovetot, as in Coleston may be seen; but his Son, before-named, who came to Age that same Year, after the Death of Alice his Mother, who married one J. Brocock, before that King's Reign was passed, sold a Mess. and Cottage, and four Bov. of Land, to Richard Arnall, of Stoke, which since that Time were parcelled, and some Part is purchased by Mr. Whalley, and Part by John Parker, the Wheelwright, whose new House is the Cottage.
(fn. 15) Sir Richard Bozom died before or about the 16 H. 8. and left five Daughters and Heirs, by his Wife Dorothy, the Daughter and Heir of James Devyn, of Sireston, who to her second Husband married William Vernon, and left him a Daughter and Heir, who was married to Henry Savile, of Lupsett, in Yorkshire, the King's Receiver General for that County, Progenitor of the present Lord Halifax.
One of the Co-heirs of Sir Richard Bozem was Elizabeth, the Wife of Richard Paynell, of Boothby, in Lincolneshire; another was Margaret, Wife of Sir Richard Clapton, who had a Daughter married to Sir William Cordell, Knight, Master of the Rolls. Another was Alice, Wife of George Poole; another Mary, Wife of John Worsley; another Daughter and Co-heir was Amy, or Agnes, first married to Henry Babington, afterwards to Francis Moore; (fn. 16) which Francis Moore, or his Son, of that Name, sold this Manor to Richard Whalley, Esquire, Grandfather of Peniston Whalley, the present Owner, which thereby made him the entire Possessor (except two or three small Freeholders) of the whole Township, a good Part whereof he inclosed: as his Grandchild and Heir, the said Peniston, did another Part by the Fosse-wayside; since when, viz. 1669, he sold most of it to my Brother Thomas Thoroton, and my Brother-in-Law, John Story, of Kneveton.
The other Manor, called Kirketon-Hall, is and hath been the Seat of the Whalley's, and their Progenitors, the Leeks', and the Kirketons', who had their Name from the Place situate close by the Church; and the House itself is in the very Division of the Lordship of Coleston and Screveton; in each of which, Part of the Demesnes lay. In some Evidences it is called Kirketon juxta Kercolston, but in more juxta Screveton.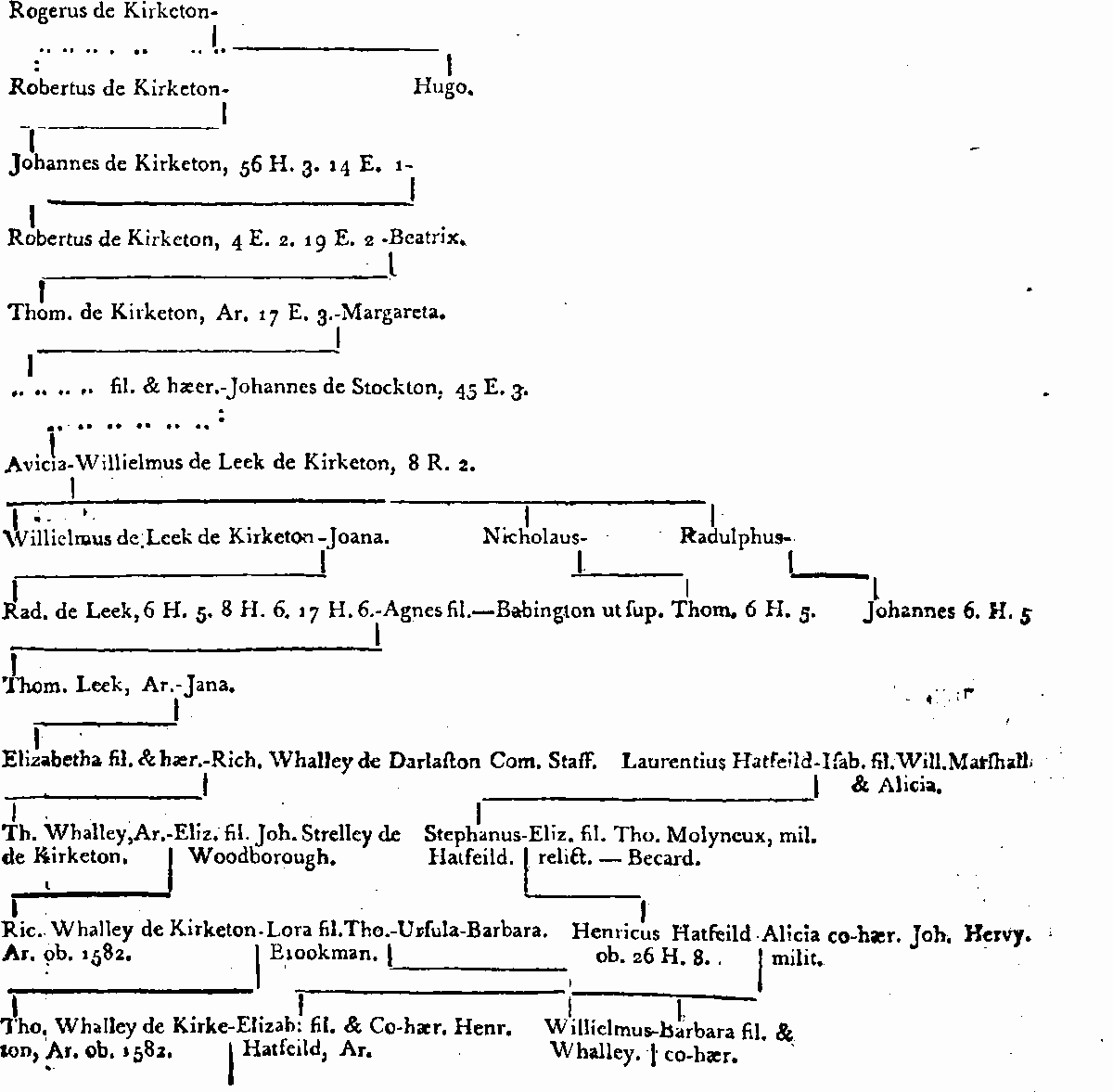 (fn. 17) Roger de Kirketon, to whom Raph, Son of Yngeram de Screveton, passed some Parcells here, is the first that I have met with. Roger had a Son called Hugh; but the next Successor that I can discover was John, Son of Roger de Kirketon, who lived in the latter End of the Reign of Henry the Third, and in the Time of Edward the First. In Edward the Second's Time, Robert, Son of John de Kirketon, was Owner of this Place; (fn. 18) and in Edward the Third's, was succeeded by Thomas de Kirketon, Esquire; to whom, together with Margaret his Wife, 17 E. 3. Thomas de Newmarch, the younger, did convey Lands, which sometime were Henry Bozom's. This Thomas de Kirketon, is said to have had a Daughter and Heir married to John de Stockton, whom I find resident here, 45 E. 3. and that he had Interest in Lands in Caxton, (now Clauston) and Kirkeby Belers, in the County of Leicester, in which latter Place I find Roger Beler did make some Exchange with Adam de Stockton, about the Time of Edward the First, or sooner. Stockton's Daughter and Heir, is supposed to be Avicia, Wife of William de Leek, who 8, R. 2. (fn. 19) enseoffed Sir John de Leek, Knight, Richard de Outhorpe, Richard de Stockton, and Hugh Bozom, Chaplain, in their Lands in Screveton; Kercolston, Kirkeby Belers, &c.
(fn. 20) William de Leek, of Kirketon, 6 H. 5. (or Skreveton) passed Lands in Kercolston, Bingham, Aslacton, and Flawbergh, to Simon de Leek, Raph, his own Son, and Johan, his Wife, to Raph, his Brother, and John, his said Brother's Son; and to Nicolas his Brother, and Thomas, Son of that Nicolas: his Seal to it hath nine Annuletts upon a Saltier, engrailed within a Bordure.
(fn. 20) Sir William Babington, Knt. Simon Leek, Norman Babington, Thomas Nevill, Esquire, William and Robert, Sons of Sir William Babington, 9 H. 6. made Henry Peyto, and John Chaworth, their Attorneys, to receive Seism, of Raph Leek, Esquire, of his Lands in Kirketon, Screveton, Kercolston, Aslacton, Kneveton, Bingham, Newark, Sibthorpe, Tyleston, and Flawbergh, in this County; in the City of Lincolne; in Claxton, and Kirkby, in Leicestershire; and in the City of Caventre, in Warwickshire.
(fn. 20) The Manor of Kirketon, and Lands in Kirketon, Screton, Carcolston, and Aslacton, 17 H. 6. were settled on Raph Leek, and Agnes his Wife, (therefore supposed to be a Babington) and the Heirs of their Bodies; Remainder to William, Son of Sir William Babington.
(fn. 20) Thomas Leek, of Kirketon, Esquire, and Jane his Wife, 18 E. 4. covenanted to marry Elizabeth their Daughter and Heir, to Richard Whalley, of Darleston, in the County of Stafford, Esquire.
(fn. 21) This Richard Whalley made his Will, 1 R. 3. and by it gave Order to his Feoffees, Sir Gervas Clifton, Sir John Babington, Knights, Thomas Leek, Squire, Richard Whalley, Priest, and George Whalley, Gentleman, to dispose the Manor of Darlaston to Elizabeth his Wife, for her natural Life; and after to Joane his Daughter; and his Lands in Lancashire, to the Sons of his Uncle Gilbert Whalley, if he should die without Issue Male himself: which he did not, for 9 H. 7. (fn. 21) Sir Henry Willoughby passed the Wardships of Thomas Whalley his Son, to Thomas Leek, before-named. (fn. 22) This Thomas Whalley married Elizabeth, the Daughter of John Strelley, of Woodborough, and had a Son called Richard Whalley, who had to his first Wife Lora, Daughter of Thomas Brookman; to his second Ursula; and to his third Barbara, who survived him, and married — Burnell, for whom she made a fair Tomb at Sibthorpe; she did here at Screton for her Husband Whalley; which shows he had twenty-five Children by his three Wives; which great number, many of them being very well matched, as one to Sir John Zouch, of Codnor; another to — Bellingeham; another to John Nevill, of Grove, and the like; together with his Imprisonment in the Tower, upon the Account of the Duke of Somerset, Lord Protector of Edward the Sixth, whose Servant he was, and some other Mishaps, might very well be thought to lessen that great Advancement he had otherwise necessarily made of his Family; being by his Relation to, and Interest with, that Duke, easily let in to purchase Abbey Lands; of which, notwithstanding he had a convenient Share, in this and other Counties. To his eldest Son Thomas Whalley, (fn. 23) and his Son William, the eldest by his second Wife, did Sir John Hercy, of Grove, Uncle of John Nevill, before-named, marry also his two Nieces, Elizabeth and Barbara, the Daughters and Heirs of Henry Hatfeild, of Willughby, Esquire, by Alice, one of the eight Sisters and Heirs of the said Sir John; but she was afterwards married to—Markham, by whom having a Son, none of Hercye's Inheritance came to this Family. This Richard Whalley died the 23d of November, in the Year 1583, aged 84 Years, having buried his said Son Thomas the Year before, who left several Sons and Daughters. Richard, his eldest Son, succeeded his Grandfather here, and was a Person of great Parts and Action: he was a Knight of the Shire, and one of the most splendid Sheriffs of the County; but being much incumbered and engaged in Suits, the latter Part of his Time was not prosperous. He had also three Wives: his first was Anne, Daughter of George Horsey, of Digswell; his second, by whom he only left Issue, was Frances, Daughter of Sir Henry Crumwell, of Finchinbrook, by Huntington; and his third was Jane, Daughter of—Stirap; and afterwards married to Edward Coleby. He had two Brothers, Doctors in Divinity, Walter of Pembroke-Hall, and Thomas of Trinity-College, in Cambridge; and John Whalley, another Brother, died a Batchelor, at Screton; his Sister, Elianor, was married to Thomas Draper, of Flintham, whose Son, Richard Draper, married Mary, the Widow of Thomas Whalley, his eldest Son, and by that Means succeeded him here at Screveton, during the Minority of Peniston Whalley, his Grandchild, the present Owner, who married Margaret, the Daughter and Heir of George Ireland, Esquire, eldest Son of Sir Thomas Ireland, of Beausey, near Warington, the antient Seat of the Butlers', in Lancashire, and by her hath two Daughters and Heirs, Elizabeth and Margaret.
Edward Whalley, the Major-General, and Henry, the Advocate, were Sons of this last Richard, and advanced in the War by Oliver Crumwell, their Kinsman. Elizabeth the Sister of Penniston Walley, is Wife of William Ayloff, Esquire, of Basingbourne, but hath no Children.
(fn. 24) The Church of Screveton was 8l. and the Abbat of Welbeck and Mr. Bozom, Patrons. Tis now 6l. 19s. 2d. in the King's Books, and Peniston Whalley, Esquire, Patron.
IN SCREVETON CHANCEL.
The Inscriptions of the Tomb.—Made Anno Domini 1584.
Behold his Wives were number three: Two of them died in right good fame: The third this Tomb erected she, For him who well deserv'd the same.
Both for his life and Godly end, Which all that knows mustneeds commend: And they that knows not, yet may see, A worthy Whallaye loe was he.
Since time brings all things to an end, Let us our selves applye, And learn by this our faithful friend, That here in Tombe doth lye, To fear the Lord, and eke beholde The fairest is but dust and Mold: For as we are, so once was he; And as he ys, so must we be.
In the Chancel is a fair Alabaster Tomb for Richard Whalley, whereon lies his Statue in Armour; and above, against the Wall, kneel his three Wives, L. W. V. W. B. W. under which, and at the End, over his Head, are divers foolish English Rhimes in golden Letters imbossed; and along the Side is, Here lyeth Richard Whallay, Esquire, who lived all the age of 84 years, and ended this life the 23 of November 1583. At the End, in the outside of the Tomb, kneels in Armour, T. W. and over his Head is, Arg. three Whale's Head, sable, with some quarterings, (but not proper) and underneath, on the Side, Whalley impales with Arg. a Bend between two Lion's Heads erased Gules.
On the Top of the east Window, in the Chancel, Arg. A Chevron and a Mullet, pierced in the duxter Point sable, Rempston.
Gules, three Waterbougets Arg. (this is ost.) Lord Ros.
Azure Billettè, and a Fesse Dancè, Or, Deyncourt.
Azure two Chevrons Or, Chaworth.
Below was Arg. on a Saltier's sable, nine Annulets, Or, within a Bordure of the second likewise engrailed, and charged with Croslets patè of the first Leek. And before one in Armour on his Knees, an Helme with a Crest, a Sheaf of Feathers upon the Wreath or Torce, Leek.
In the south Aisle, a plain flat Tomb, without Inscription; in the east Window, by it, was on the lower Part, Party per Fesse Gules, and sable, a Lion Rampant, Arg. (Mr. Kniveton faith) crowned Or: it may be supposed Bellers; then Leeks as before. And in the next pane, Argent a large Tau (or Crosse) Ragulè Gules, supposed Stockton; and under, Orate pro animabus Willielmi de Leek, & Amice de Leek uxorus ejus.
On the Top of this Window is, Arg. a Chief Gules, with a Bendlet Azure, Crumwell.
Rof. again, and Gules, a Saltier Arg. Nevill and Deyncourt again.
And Arg. five Fusills in Fesse Gules, within a Bordure sable, charged with Crosse Crosslets of the first. This is upon a Stone over the Church Door, in the Porch; and upon a little Stump of a Stone Crofs, on a little Hill in the Highway before Mr. Whalley's Gate.
In the North Aisle Windows is, Arg. and likewise Erm. three Birdbolt's Gules, Bozom.
And quarterly Gules, and Or, A Mullet Arg. in the first, Oxford.
England, and that again with file of three Labels Azure.
In the south Aisle Windows, Arg. five Fusils in Fesse Gules, Newmarch.
And Gules, five Fusils in Fesse Or, Newmarch.
And Gules, three Waterbougets Arg. Ros, as before. And Azure two Birdbolts, in Saltier Gules between four Cinquefoils Or.
In the South Aisle of Screton Church, this,
Sub hoc lapide conduntur Illustrium virorum Thomæ & Johannis Whalley Charæ Reliquæ, Quas exuit ille Sexto Non. Maii Anno Do. 1637. Quas exuit hic quarto Iduum Mensis Ju. anno do. 1638.
Uterq. cœlebs Lætas redituræ Animæ Christique Nuptias expectat.
Tantum est Ampliorasi quæras, est ubi consulas.
In Screveton Church. Here lieth Thomas Ireland, Gen. descended from the ancient Family of the Irelands of Hut in Lancashire who died October 1669 aged 76. Or he, or none strict life did superarrogate, For loyalty, old age, with Celibate Hoc pietatis ergo sculpi feci Margaretta Whalley Eodem Stirpe Irlandorum progenita Jan. 16. 1670. det Deus nobis Lucem æternam, Amen.
The Inscription under the Altar. Hic deposeurunt Thomas & Maria Whalley filiolam Martham Charum pignus Scientes cui crediderunt natam & denatum anno Dom. 1624.
Hac sunt Incunabula in quibus Thomas & Maria conjux filiam Tho. Whalley sopitum posuerunt, Natum renatum & denatam anno Dom. 1628. Et denuo nasciturum.
[Throsby] Screveton
LORDSHIP is partly old and partly new inclosure, and is owned chiefly by Thomas Thoroton, Esq. a descendant of the historian Dr. Thoroton, whose dwelling stands near the church devoid of symetry and attraction. This old manor-house belonged, formerly, to the Kirketons', the Leeks', and the Whalleys', in succession; and stands, by Dr. Thoroton's account, "in the very division of the lordships of Coleston and Screveton." Within, however, are some spacious rooms, furnished with several good portraits of the Rutland family. Here are also the fine portraits of Dr. Thoroton and his daughter, copied and engraved for this new edition of Nottinghamshire; the latter at the expence of their present owner, to face this page. Her age 80, and her name Elizabeth, married to a Mr. Turner. The painting by Vandermine.
I had the honor of conversing with Mr. Thoroton when I visited this place, and as the curious are generally inquisitive about the family and descendants of distinguished characters like Dr. Thoroton, I will just observe, that Mr. Thoroton's mind, (now advanced in years) appears clear, intelligent, and serene; and by the testimony of his neighbours, it is rich in acts of benevolence. He served many years in parliament for Bramber, in Sussex; but he has left the bustle of the senate for a life more compatible with his years, apparently about 60. (fn. 25)
The church is a neat structure, dedicated to St. Winifred. It consists of a nave and two side-aisles, and a tower steeple, with 3 bells. Here is a curious old font, in high preservation.
The monuments remain as in Thoroton's time. Those remembrancers of the dead, since placed, are, a little monument near the altar, to the memory of "the loving wife of Thomas Hall, rector;" she was a Whalley, has an excellent character, and died in 1680, aged 24.
Another is erected to Margaret Penniston Whalley, who died in 1675. The same stone informs us, that the Whalleys' and the Irelands' intermarried.
In the chancel, R. I. A. R. obiit Jan. 21mo. 1751. Another, Mary Thoroton, obiit October the 5th, 1753, in the 64th year of her age.
Patron, Thomas Thoroton. Esq. Incumbent, Rev. Peter Thoroton. Bacon says, clear yearly value 43l. 3s. 0d. King's Book, 6l. 19s. 1d. Archiepisc. pro Syn. 4s. Archidiac. pro Prox. 6s. 8d. Val. in mans. cum 4 bov. ter gleb. per ann. 2l. in un. mess. &c. Robert Thoroton, Esq. presented in 1728. Thomas Thoroton, Esq. in 1782.