Pages 253-257
Thoroton's History of Nottinghamshire: Volume 1, Republished With Large Additions By John Throsby. Originally published by J Throsby, Nottingham, 1790.
This free content was digitised by double rekeying. All rights reserved.
FLINTHAM.
Elvuin had a Manor in Flintham, which paid the Geld in the Time of King Edward the Consessor, as fourteen Bovats, and one third Part. The Land whereof was five Carucats. There King William had two Car. in Demesne, five Sochm. four Vill. five Bord. having three Car. (fn. 1) There a Church and a Priest had half a Car. and (there was) sixty Acres of Meadow. Small Wood three qu. and an half long, one qu. broad. In the Consessor's Time the Value was 60s. in the Conqueror's 40s. It seems to have had Soc in Cheneviton.
Besides this of the King's, Roger de Busli had a Manor in Flintham, which Odincar had before the Conquest, and was rated for it to the Tax, or Geld, as six Bovats. The Land whereof was then two Car. There afterwards Roger, the Man or Tenant of Roger de Busli, had two Sochm. three Vill. four Bord. having two Car. This had also Soc in Cheneviton, and kept the old Value 20s. as did another Manor here of Walter de Ayncurt's Fee, which Tori had before, and paid to the Geld for it as six Bov. The Land whereof was also two Car. There one Sochm. seven Vill. and one Bord. had two Car. and twenty-four Acres of Meadow. Raynold, the Man of Walter, had one Car. or Plow; small Wood one qu. long, one qu. broad. The Value of this was also 20s.
(fn. 2) The Abbot of Wellebeck, 14 Joh. ought the King four Palfrey's, for his Confirmation of the reasonable Gift which Agatha, the Daughter and Heir of Hugh Bretel, made of Lands and Tenements with the Church of Flintham.
(fn. 3) Agatha, the Daughter and Heir of Hugh Bretel, who was first married to Galfr. Monachus; and afterwards to Mr. Humfrey, King John's Cook, gave the Church of Flintham, and Pasture for three Hundred Sheep in this Territory, to the Abbey of Wellebeck. (fn. 4) She had a Son named Richard Bretel, whom I suppose to be the Husband of Rhagenildas (by whom he had a Son of his own Name) one of the three Daughters and Heirs of Nicolas, Bastard Son of Paganus de Sanctâ Mariâ, whose legitimate Son, Adam de Sanctâ Mariâ, did confirm to that Abbey seven Bovats of Land, which Hugh Bretel held here, viz. six in Demesne, and the seventh in Service, in the Tenure of William Colstan. This Monastry had Lands of the Gift of divers Persons in this Town; and Free Warren granted, 19 E. 1. as in Whatton and Aslacton may be noted.
(fn. 5) Roger de Mareseye offered himself, 13 H. 3. against Robert de Abrincis, concerning four Bovats of Land in Flintham, which he claimed as his Right to hold of the King in Capite. The Posterity of Auerenches or Auerenge, were Benefactors to Wellebeck, and some of them continued here till Henry the Fourth's Time: then sometimes written Arage. (fn. 6)
This Manor was held in the latter End of the Reign of Henry the Third, and the Beginning of Edward the First, by Sir John de Hose, Knight, of Thomas de Marsey or Mathersey, of the Honor of Lancaster. Nicholas de Wynchford is also said to have held it of that Honor; but the Hose's continued here Lords of this Manor, till Queen Elizabeth's Time; (fn. 7) That John Hosee had a Son called Robert, who dying without Issue, Anne, his Sister, the Wife of John Draper, whose Ancestors had been here resident since the Beginning of Edward the Third, (fn. 8) became one of his Heirs: and (fn. 9) had to her Share the Tenements. The Demesnes are the Inheritance of Mr. John Hacker, by Descent from his Father Richard, who purchased them of —.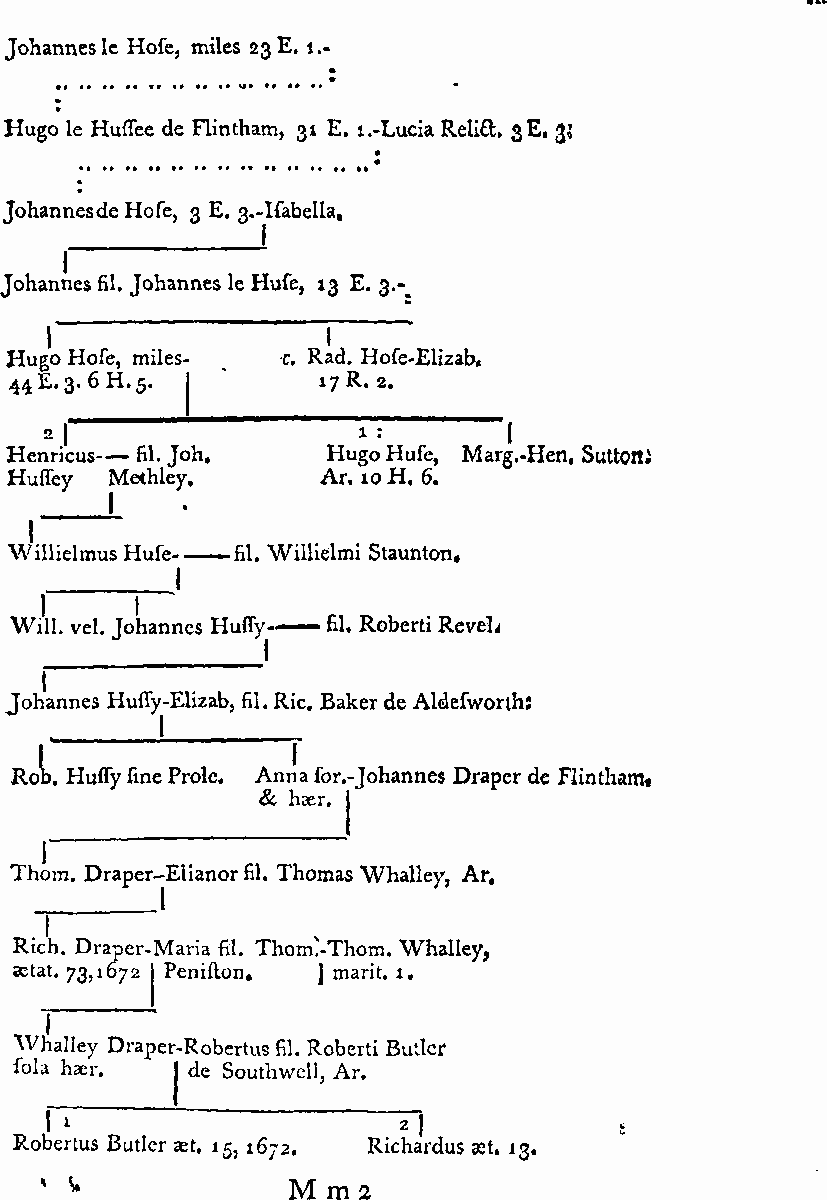 John Draper, by his said Wife, the Daughter of John Hussee, Esquire, had a Son called Thomas, who married Elianor, Daughter of Thomas Whalley, of Kirketon, by Screveton, Esquire, and by her left John Draper, of Grayes-Inne, who died without Issue, as did also Francis and Thomas, his other Sons; so that Richard Draper was at length his only Son and Heir, who married Mary, the Daughter of Sir Thomas Peniston, the Relict of Thomas Whalley, his Cousin German, and by her hath Whalley, now his only Daughter and Heir, Wife to Richard Butler, of Southwell, Barrister of Grayes-Inn, who hath two Sons by her, Robert and Richard.
(fn. 10) The Seal of Sir Hugh Hose, Knight, to an Instrument bearing Date 6 H. 5. is a Lion passant upon a Fesse.
(fn. 11) Philip de Aubeny, 13 H. 3. had a Knight's Fee in Flintham: but whether this or no, I cannot discover,
(fn. 12) That Manor of Roger de Buslie's Fee, was held by the Lovetots, of Coleston: and after them by the Gloucesters.
Galfr. le Fremund is mentioned to have held here half a Knight's Fee of this Honor, viz. Tikhill. (fn. 13) Christian, sometimes Wife of Richard, Son of William de Flintham, released to Galfr. her Son, one Bovat of her Dower, which she retained when he married Avicia, the Sister of Henry de le Fremund, on whose Seal is two Barrulets or Gemmells in Chief: that Name corrupted into Ferryman and Freman.
(fn. 14) Fulco de Hotot is certified also to have held half a Knight's Fee here. Alice, the Relict of Fulco de Hotot, gave to Fulco de Hotot her Son, two Bovats in Flintham, of the Fee of Lovetot, which she had of the Gift of Nic. de Kniveton, her Brother. (fn. 15)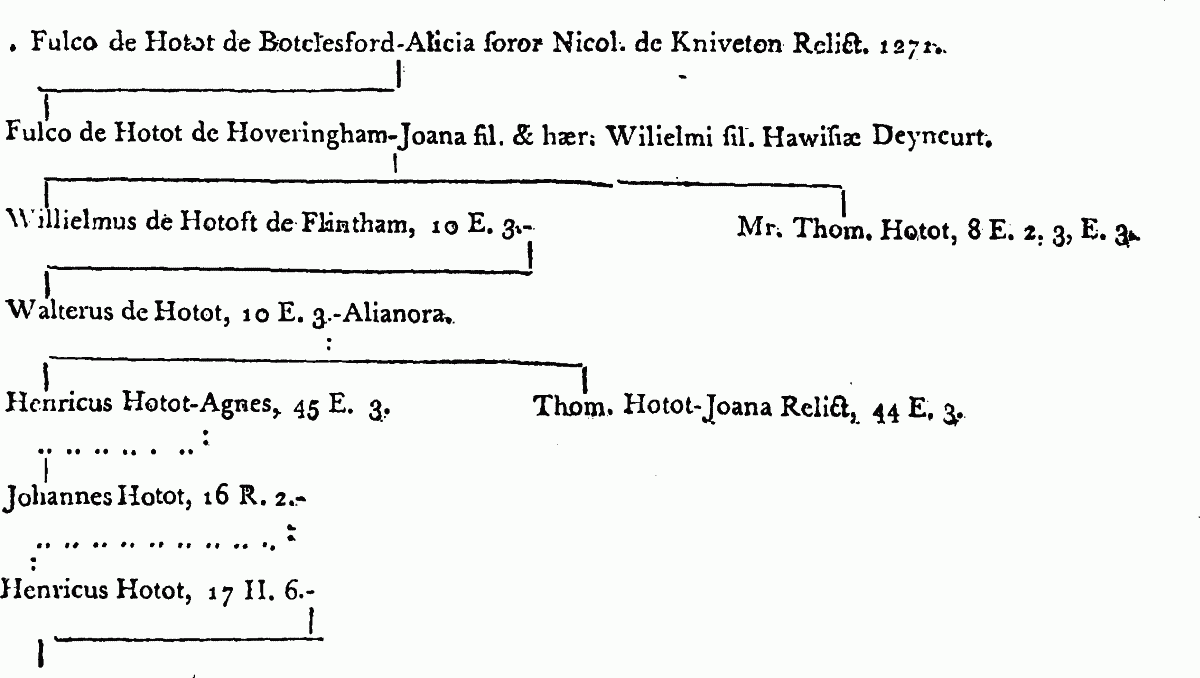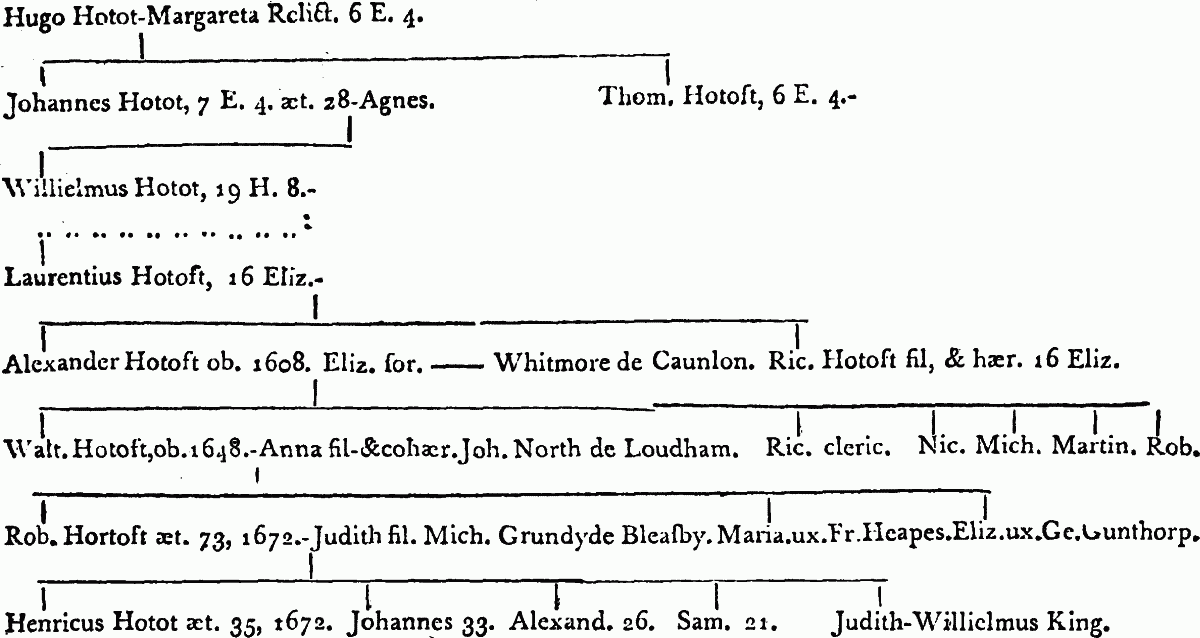 This Family held under Albani of Belvoyr, whereof was Odoardus de Hotot, and Willielmus de Hotot, 5 Steph. Leicest.
(fn. 16) The Jury found John, the Son and Heir of Hugh Hotot, 7 E. 4. who had held one Mess. and three Bov. ¼ in Flintham, of the Wapentake of Bingham, for the Rent of 6d. yearly, and sixteen Acres of the Honor of Tikhill, for 9d. to be then twenty-eight Years of Age.
This Family hath but little Freehold left: Part of their Land was sold to Thomas Shipman, of Scarrington; whose Grandson, Thomas Shipman, lately sold it to John Molyneux, Esq. eldest Son of Sir Francis Molyneux, of Kneeton, Bart.
That of Deyncurt's Fee was held by Hugo de Hoveringham, and the Family of Gousell, as Hoveringham was.
(fn. 17) Raph de Goufell, held half a Knight's Fee in Flintham. Hugo de Hoveringham passed two Bovats to Elias de Fanecurt, and John de Aynecurt, was pledge for the Covenants.
(fn. 18) Walter, Son of Mr. Stephen de Radclive, and Brother of Thomas, Parson of Flintham, gave to Thurgarton Priory, two Bovats and one Quarter, which he had of the Gift of Raph de Barkeword, together with Gilbert, Son of Roger, Son of Colstan, of Flintham, with all his, who held that Land. The Gift was confirmed by Robert de Ayncurt, and Hawisia his Wife.
Robert Aurenge, of Flintham, released to the Prior of Thurgarton, all the Actions he might have against him in his Meadow of Flintham, by Reason of the Fishing of Hesilford.
(fn. 19) Roger Son of Jordan de Flintham, gave to the Abbey of Ruchford, a certain Part of his Land in Flintham, lying between the Land which Robert, Son of William de Flintham, gave; and the Land of Richard, Son of William de Flintham. The Witnesses were Raph, Son of Robert de Gohusle, Robert Morin, and John his Son, Robert, Son of William de Gohusle, Gaufr. de Gorram, and others. Raph de Gousel's Son Walter, was Witness to Robert, Son of William de Flintham's Deed, and so were Richard and Henry de Aurenches, and William Morin, and others. And the said Raph de Gousell confirmed the Gift of Roger, Son of Jordan de Flintham, of the Seat of his Mill.
(fn. 20) The Jury, 8 E. 3. found it not to the King's Loss, if he granted Leave to Alice, the Widow of William Alexander, of Flintham, and John Fader, Chaplain, to give five Mess. sixty Acres of Land, eighteen of Meadow in Flintham and Kneveton, held of John le Hose, by the Service of 20s. per Annum, and Suit to his Court from three Weeks to three Weeks, to a certain Chaplain celebrating in the Church of St. Augustine, of Flintham, for ever.
(fn. 21) At the Assizes at Nottingham, 1 H. 4. Richard, Archbishop of York, recovered his Seisin of Hesilford Ferry, and Hugh Husye, of Flintham was amerced.
(fn. 22) The Church of Flintham was appropriated to the Abbey of Wellebeck, by Thomas, Archbishop of York, about the Year 1389. It now belongs to Trinity College, in Cambridge, to which it was granted, together with the Demesne and Manor of Hoveringham and Flintham, which belonged to Thurgarton Priory, by King Henry the Eighth, (fn. 23) by his Letters Patent, dated 24 Decemb. 38 H. 8.
That College, as I take it, purchased of Arthur Hall, the Moiety of the Manors of Hoveringham and Flintham, with the Appurtenances; whereof there was a Recovery, 5 H. 8. (fn. 24) wherein Humfrey Wingfeild, Esquire, Francis Hall, and others, claimed them against Anthony Wingfeild, Esquire.
The Family of Cooper of Thurgarton, have usually been grand Tenants to the College. But Mr. John Hacker, before-named, is Tenant of the Rectory. Flintham Grange, and the Dovecot of the west Part of it, and all other the Appurtenances, late belonging to the Monastery of Wellebeck, Nov. 22, 38 H. 8. (fn. 25) was granted to John Bellowe, and Robert Bigot, named in Coleston, with that Rectory, &c. And with Mr. Whalley's Part of Carcolston, became the Possession of William Earl of Newcastle, whose Trustee, Sir John Harpur, of Swarkeston, conveyed the Reversion of it after his Decease, to John Story, of Kneveton, and his Heirs.
(fn. 26) The Vicarage of Flintham was 8l. when the Abbat of Wellebeck was Patron. 'Tis now 6l. 3s. 4d. in the King's Books, and Trinity College Patrons.
In the Church south Aisle, upon an old low Stone Tomb, an Effigies of a Knight, and on his Shield, a Lion passant Gardant upon a Fesse, with a small Cressent before him.
In a south Window, Arg. a Fesse between six Martlets, sable, and in several other Places.
(fn. 27) On the Wall was painted, Arg. on a Fesse sable, a Lion passant gard. of the first Hussey.
In the Windows were, Arg. upon a Fesse Gules, three Waterbougets Arg. perhaps Bingham.
Arg. a Chief Gules, a Bend over Azure, Crumwell.
Arg. three Bends Gules, Byron.
Hic jacet Radulphus Prudhom fil. Richardi Prudhom, qui ob. 5 Sept. Anno 1470.
Hic jacet Agneta Prudhom filia ejusdem Richardi, quæ ob. 28 Maii 1471, upon the same Tomb.
[Throsby] Flintham
LORDSHIP was inclosed about sixteen years since, owned partly by Thomas Thoroton, Esq. "Flintham-Hall, in the reign of Elizabeth, was the seat of Hose, or Hussey, afterwards of Hacker and Woodhouse, from whom it came to the family of Disney, and is now the property of Lewis Disney Fytch, Esq. of Danbury-Place, in Essex, to whom also belongs a great part of that fine planted cliff, in this parish, which adjoins to the Trent, and constitutes the most beautiful part of the greatly admired ride between Newark and Nottingham, and was the subject of Bishop Corbett's verse in his Iter Boreale." (fn. 28) — Tibbet, of London, Esq. owns a portion which was formerly in the hands of Major Godolphin.
At Flintham, which stands near to the great Fosse-Road, have been found urns, and Roman coins.
The church, which is dedicated to St. Augustin, has a square tower, with 4 bells, a nave, and side aisle, and is decently pewed. In the south cross-aisle, lays the crosslegged figure represented by Thoroton, called old Butler. It is now very imperfect, its legs are nearly destroyed, and in other parts it has suffered materially.
A monument, in the chancel, remembers Richard Hacker, who formerly inhabited here. He was born in 1584, and died in 1654. A descendant of his, Robert Hacker, founded a school here by his will, in 1729: he died at the age of 78.
John Fernhough, Vicar, died in 1742. John Wakefield, Vicar, died in 1785' aged 68.
Here you have some fine views of Belvoir-Castle.
Patron, Trinity College, Cambridge.—Incumbent, Rev. John Davis. Bacon says, clear yearly value 32l. 0s. 0d. King's books, 6l. 2s. 6d. Archiepisc. pro Syn. 4s. Archidiac. pro Prox. 7s. 6d. Val. in Mans. cum. gleb. ibid per ann. 2l. Dec. lan. agr. proc. anc. pullin. canab. &c.