Pages 24-30
Thoroton's History of Nottinghamshire: Volume 1, Republished With Large Additions By John Throsby. Originally published by J Throsby, Nottingham, 1790.
This free content was digitised by double rekeying. All rights reserved.
RATCLIFFE-ON-SORE.
Doomsday, Radeclive. This Town, whose Name importeth as much as Red Hill, or Bank, situate upon the River of Sore, and nearer the River Trent than Kinston, was also Taynland, and before the Norman Invasion, Osgod was Owner of a Manor which usually then paid to the public Tax, as ten Bovats one Quarter. (fn. 1) The Land was six Carucats. Afterwards Sauvinus (named in Kinston) held it of the King (William) and had two Carucats (or Plows, or Plowlands) nine Villans, three Bordars, having two Carucats.— Here was then a Priest and a Church, and one Mill, 10s. and six Acres of Meadow, the Value then was 60s. but in King Edward the Confessor's Time 100s. It had Soc in Chineston, which hath ever been accounted as a Member of it, and was of the Parish, as was also Thrumpton, which yet was not of the same Fee at all, though the Tithes belonged to this Church of Radclive, which was shortly after this Time, given by one of the ancient Constables of Chester, as appears by the Confirmation of Roger the Constable to the Priory of Norton; which Roger died in the Year 1211. (fn. 2) He mentions John his Father, and William the Younger, who was Son of William, Son of Nigellus, all Constables of Chester, and their Gifts; and amongst the rest, the Church of Radecliveupon-Sore, in Notinchamsire, with all the Appurtenances, and the fourth Part of the Mills of the same Town, and the Tithes of the other three Parts, the Church of Kneshal, and Tithes of the Mills there, and the Tithe of Allerton Mill, in this County. Howbeit, the Family of Picot held this Town, and Kinston of the King in Capite, (fn. 3) by the Serjeancy of keeping Hawks for him of the old Feoffment, viz. in the Time of King Henry the first.
(fn. 4) Peter Picot gave Account of 100l. for having the Land which was Peter Picot's, his Father, in the Time of King John.
(fn. 5) Thomas Picot had free Warrant granted in Radclive and Kineston, 37 H. 3. he is sometimes called Thomas de Hedon, by Reason of his Residence at that Manor of his in Essex.
The Serjeancies here were let out for Rent in King Henry the third's Time, by Robert de Passelewe; several Persons had Shares, and some paid Rent to Thomas Pigot, besides the King's; Elias Pikot held four Virgats for 20s. per Annum, to the King at Michaelmas and Easter.
Letice Pikot, one Virgat for 5s. Ernold the Son of Elias, one Virgat, or Yard-land for 6s. per Annum. Julian, the Daughter of Roger de Hamstede, one Virgat for Half a Mark. John le Hostricer (or the Hawker) held two Virgats for 10s. Rent, and Ser vice to Thomas Pikot for making the Mutes. The Heirs of Thomas le Taylour, William Pimme, and Thomas le Paumer each a Virgat for 4s. and Service to Thomas Pikot, as before. John de Leke three Virgats in like Manner for a Mark. Richard Seaman one Virg. 1-half 1-4th for 4s. Felice, the Daughter of William Pinguant, Anketill, the Son of Thomas, and the Prior of Bredon, each two Virg. Stephen the Cook, one Virgat for Half a Mark, whose Son William brought his Suit against Peter Picot, the Son of this Thomas, 53 H. 3. (fn. 6) for distraining him for 2s. Rent, which he pleaded to be Part of the Half Mark; and said, that neither he nor his Father Stephen ever paid it, but that after the Battle of Evesham, Peter Picot came to Radclive, and exacted it of him, and threatened him of his Life, so that he was forced to pay it for fear.
(fn. 7) The Prior of Norton recovered the Advowson of this Church, 2 E. 1. by Assize and Jury; yet Peter Pigot, Grandchild of Peter, and Son of Thomas, 9 E. 1. claimed it against the said Prior, who called to warranty Henry de Lacy, Earl of Lincoln, who came and defended the Right, by the Body of a certain Free-Man of his called John, the Son of Richard de Baynbrigg, but there was no Judgement upon the Duel. This (fn. 8) Peter was a Knight, and dead 14 E. 1. He held, besides this Lordship, Lands in the Counties of Kent, Essex, and Hertford, of all which, his Son John was then found to be his Heir, and twenty-four Years old; but John Picot, 22 E. 1. (fn. 9) was also dead and his Brother Peter, then of the Age of thirty Years and upwards, was found his Heir.
(fn. 10) Roger de Bathesworth, Robert de Monteney, Peter Picot, and William de Montecaniso were, 29 E. 1. Parceners of the Inheritance of Stephen de Somory.
A Fine was levied, 6 E. 2. between Raph Basset, of Drayton, Compl. and Peter Picot, Deforc. of the Manor of Radclive-upon-Sore, with the Appurtenances, except one Mess. one Virgat, and sixteen Acres of Land. The third Part of this Manor was then Thomas Barkbyes, in Right of his Wife Helewisa, who held it in Dower, the Reversion of which, the said Peter did pass to the said Raph Basset, and his Heirs likewise; this was in Eastern Term. (fn. 11) Another Fine was passed in Trinity Term, and another in Michaelmas, the same Year, wherein Raph Basset settled the Premises, both Possession and Reversion upon Peter Picot and Joan his Wife, for both their Lives; which after the Death of Peter Picot, 8 E. 2. was again confirmed in Court to Joan his Widow, by the said Raph, Thomas Barkby, and Helewisia consenting, and there doing her Fealty.
(fn. 12) Peter Picot died, seized of the Mess. Virgat, and sixteen Acres of Land, Parcel of the Manor of Radclive, 7 E. 2. Simon Sieuville, the Son of Margery, one of the Sisters, and Isabella Touke, the other Sister of the said Peter, being then found his Heirs; Simon forty, and Isabella sixty Years old, of whom the said Raph had that Land also the next Year after, viz. 8 E. 2. (fn. 13)
(fn. 14) In the 35 E. 1. Peter Picot and his Heirs, were to have View of Frank-Pledge, Assize of Bread and Ale, Pillory, Tumbrell, Infangetheof, and Gallows in their Manor of Radclive, for a certain Rent yearly paid to the King, by the Hands of the Sheriff. This Family of Pigot had Interest at Barowe, in Leicestershire, where I find Alexander Pigot, and Robert, and others resident in the Time of H. 3. E. 1. and E. 2. &c. Peter Picot gave Account of Barow, 27 H. 2. and 30 H. 2.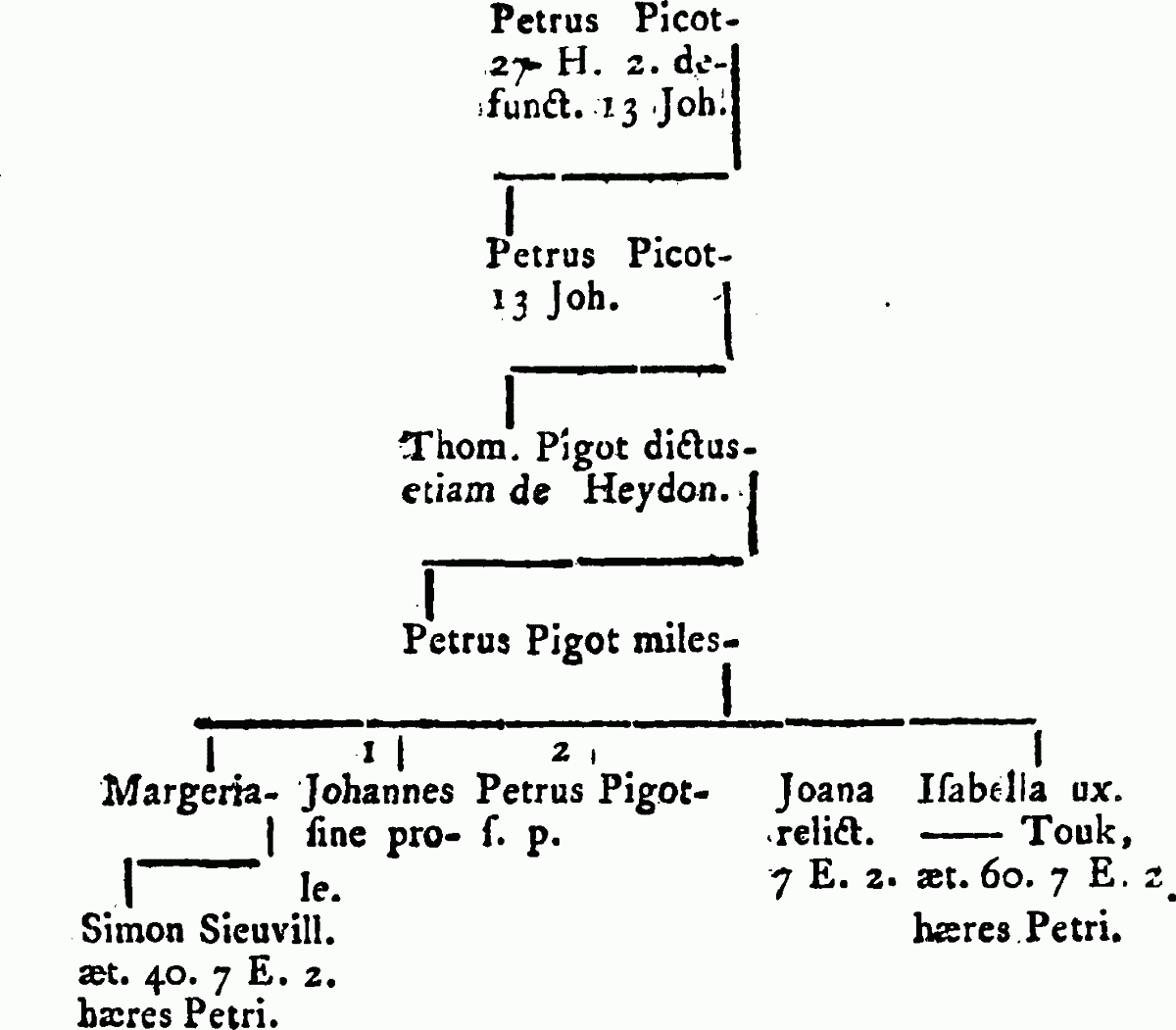 (fn. 15) The Jury, 33 E. 1. found it not to the King's Loss, if he granted John de Byern Leave to enfeoff Mr. Richard de Hertford, and Peter, the Son of Robert de Herteford, and the Heirs of Peter in two Mess. and thirty-two Acres of Land in Radclive. Nor, 9 E. 2. (fn. 16) to the King's Loss, to grant to Roger de Raumpaine, and Cecily his Wife, to give one Mess. and one Virgat, and to Peter de Herteford to give two Mess. and thirty Acres of Land to Thomas de Barkeby.
Thomas de Radclive-upon-Sore, 8 E. 3. (fn. 17) settled one Mess. two Virg. of Land here upon himself, and Alice his Wife, and the Heirs males of their Bodies; and for want of such, to Adam de Cradeley, and Joan his Wife, and the Heirs of their Bodies, Remainder to the right Heirs of Thomas; besides which this Thomas had a Mess. and Carucat of Land here and in Kinston. (fn. 18) Thomas de Ratcliff-on-Sore, late UnderSheriff of Nottingham, 13 E. 3. gave Account of 17l. 6s. 8d. of the Fines, for divers Transgressions charged upon him, his Pledges were John de Mounteney, and Thomas de Neumarch, Knights.
Raph Lord Basset, of Drayton, by his Testament, Jan. 16. 13 R. 2. gave certain Manors, Lands and Tenements, and amongst others, this Raddive to Sir Hugh Sherley, his Nephew, and the Heirs males of his Body, on Condition, that he and they should bear his Name and Arms, and for want of such, to William de Stafford, Brother of Edmund Earl of Stafford, on the like Conditions; and for want of such Heirs or Conditions, to John de Grey, Brother of the Lord Grey, on the like; and after him to Sir William Lisle, as before. Sir Hugh Shirley performed not the Conditions, nor did he quietly enjoy the Lands of the Lord Basset, so devised by the said Will; (fn. 19) Edmund Earl Stafford (being through an old Intail made of them by Ralph Lord Basset, his Grandfather, in 13 E. 3. found Heir to the rest) opposing him therein. Howbeit there was an Agreement at length, and though the said Earl, and Sir Hugh were both slain in the Battle of Shrowsbury, 4. H. 4. before it was sealed, yet the Feoffees of the Lord Basset, 2 H. 6. released all their Interest here and in Colston-Basset, in this County, and in the Manors of Rakdale, Willowes, Radclive-super-Wreke, Barrow-super-Sore, Dunton and Watton, in the County of Leicestershire, of West-Halle and East-Halle in Sheldon, in the County of Warwick, unto Sir Raph Shirley, Son and Heir of Sir Hugh, and the Heirs Males of his Body; which Sir Raph had his Residence at this Manor of Radclive, 10 H. 6.
This Manor was granted with some others, 1. R. 3. (fn. 20) to Sir Gervas Clifton, as Part of the forfeited Lands of Henry, Duke of Buckingham. Yet Edward, Duke of Buckingham, 5. H. 8. (fn. 21) suffered a Recovery of the Manor of Ratcliff-on-Sore, and Knesale.
After the Attainder of Humpry, Duke of Buckingham, this Manor came to Sir Richard Sacheverell, Knight, who left it to Raph Sacheverell, his Brother, or near Kinsman; in which Name and Family it continued, till Henry Sacheverell, Esquire, the last Owner thereof (who purchased also from the Crown, the Rectory impropriate there that lies in Ratcliff) estated the same on Sir Thomas Hutchinson, his Sister's Son; but he out of Tenderness to his Cousin Elianor, the Wife of Roger Columbell, Esq. the sole Daughter and Heir of the said Henry Sacheverell, his Uncle, agreed to divide it between them; and so one Moiety of this fertile inclosed Lordship remains to the Heirs of John Columbell, Son of the said Elianor, who married — Hickman, Sister of the present Lord Windsore, who now takes Care of her Children; and the other Moiety was by Colonel John Hutchinson, eldest Son of the said Sir Thomas, sold to Alderman Ireton, Brother of Henry Ireton, the great Instrument in the unhappy Wars. This Elianor, after her Husband Columbell's Decease, married her Servant William Hasard, who proved a good Husband to her, and a kind and faithful Father to her Children; they dwelt in an House built at the Red-Hill, by the Side of the River Soure, between Radclive and the Trent.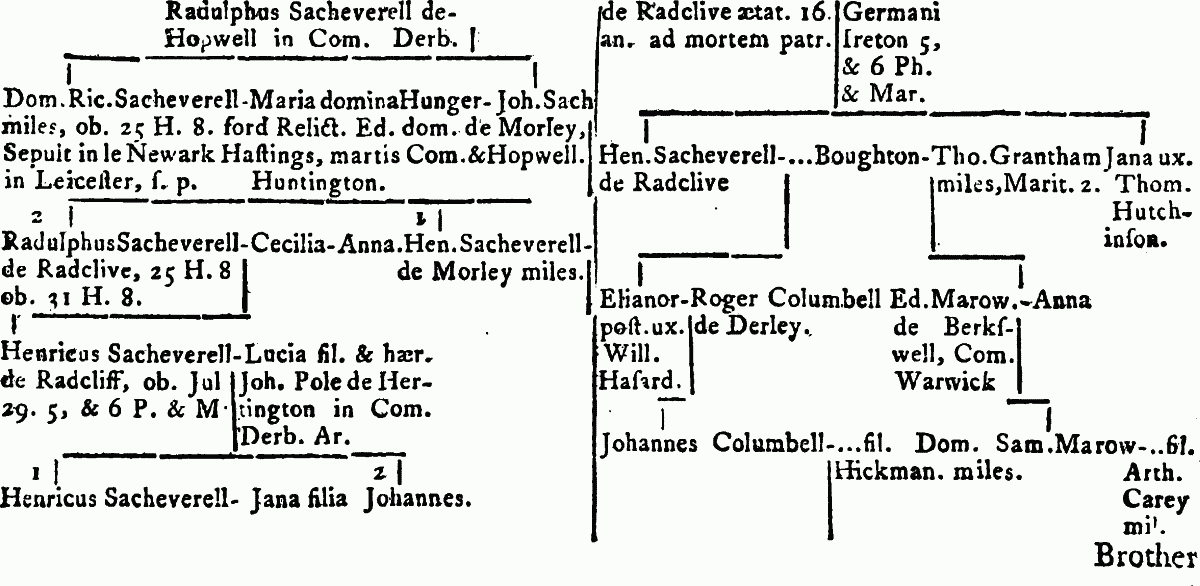 (fn. 22) The Abbat and Covent of the House of the blessed Mary of Norton, in the County of Chester, 11 H. 4. released to the Prior and Covent of Burscogh, and their Successors, all their Right in the Advowson of the Church of Radclive-upon-Sore, sometime John de Winwicks.
(fn. 23) The Vicarage is in the King's Books 61. 13s. 4d. and so it was valued, when the Prior of Burscogh was Patron.
Upon a Tomb in a little Chapel on the North Side of the Church.- - -Hic jacent Radulphus Sacheverell, Ar. nuper Dominus de Ratcliff-super-Sore, and Cecilia and Anna Uxores ejus; qui quidem Radulphus ob. 14, Ang. 1539, and prœdicta Cecilia ob. 27, Jun. 1538, and prœdicta Anna migravit ab hot sœculo.—
Upon a fair Tomb in the Chancel.- - - Here lieth the Bodies of Henry Sacheverell, Esq. and Lucy his Wife, Daughter and Heir of John Pole, Esquire; which Henry died 29 Jun. 1558, and Lucy died 10 Febr. 1554, upon whose, &c.
Upon a plain Stone.—Hic jacet Elizabeth Uxor Anthonii Babington Ar. filia and una hœredum Johannæ Ormond, filiœ and bœredis Willielmi Chaworth Militis, ac unius Consanguinaeum and hœradum Roberti Lathome, — Caltost, Johannis Bret, Thomæ Aylesbury, Thomæ Keynes Militum, ac Rad. Basset, and Johannis Engaines, Barnonum; quœ Elizabetha ob. 28 Nov. anno 1505.
Upon another plain Stone close by that.—Hic jacet Isabella quondam Uxer Johannis Babington, de Dethick, Ar. ac Domini de Kinston, qaæ obiit 18 Mar. Anno Dom. 1486.
In the Chancel upon a plain Stone.—Hic jacet Jacobus Damport filius Domini Thomæ Damport Militis, qui obiit 15 Die Aprilis, Anno Dom. 1458.
Upon a Stone near that for a Child.- - -Hic jacet Jacobus Eadmunson, filius Edwardi Eadmunson, qui Jacobus ob. 27 Dec. 1519.
Upon another plain Stone somewhat higher.- - -Cygyst Johan. file and heire Tho. Basset Fitz S. John Basset de Br—la feme Sir Raph Shirley Fitz and heire Hugh de Shirley.
Upon a plain Stone in the Body of the Church.- - -Hic jacet Thom. Fyndern Ar. and Eliz. Uxor ejus, filia Rad. Sacheverell Ar. qui Tho. ob. 24 Sept. Anno Dom. and Eliz. ob. 1574.
[Throsby] Ratcliff-upon-Soar.
THIS Lordship, which is now in the possession of Ashton Curzon, Esq. of Hagley, in Staffordshire, contains about 1000 acres of land, old inclosure. Some part of it is a stiff clay; but that towards the Soar is boggy; but Mr. Hickingbottom, a reputable grazier here, has much improved it by under-draining. The whole lordship is now divided into three farms, which are rented by J. Chamberlain, Esq. who has a considerable estate in Sutton-Bonington, and Segrave, in Leicestershire. Mr. Hickinbottom and Mr. Bosworth, who owns estates in Leicestershire.---Winking-hill, in this lordship, produceth lime-stone, and Red-hill excellent alabaster, which is used for ornament: At Kedleston-hall, in Derbyshire; Staunton-Harold, in Leicestershire; and Stanford-hall, in this county, are some beautiful columns of this rock: chimney-pieces also from it adorn the houses of many gentlemen in town and country.---At Red-hill there have been frequently discovered human bones; old coins also, some of which were of gold and silver. A Themas Baker who was at the digging up a large heap of human bones, found something like the shape of a coffin handle, and a glass similar to a wine glass, standing on a pedestal elegantly gilt with gold; but it broke with taking out of the earth.
The village, an inhabitant informs me, is wet and cold in the winter: the floods often enter their houses, and agues, in consequence, are frequent among the inhabitants. It contains about 30 dwellings. John Chamberlain, Esq. the late high-sheriff for this county, lives in a good house at Redhill. It appears suitable to the idea every one must have of the house of a gentleman grazier.
The Church has a nave and two side ailes, 3 bells, and an ordinary spire. In the chancel is a monument to the memory of "Henry Sacheverell, Esq." who died in 1600. This lordship belonged to that gentleman, and on the death of his last wife (Lady Grantham) it descended to the Pigots. It was afterwards sold to Sir Nathaniel Curzon, Bart. of Kedleston, who in the year 1719. pulled down the old manor-house, excepting the dining-room, which is now used for a barn, and erected the present large farm-house, on the spot now occupied by Mr. Hickinbottom. Thomas Hickinbottom died in 1766, and a William Chamberlain in 1777. Most of the tombs are here that are mentioned by Thoroton, and the Stones; but the latter much mutilated. The former were never worthy particular observation. We are told by a stone in the church-yard, that a Robert Smith died at the age of 82 years, in the year 1782. On the foot of the stone is wrote in humble verse,
Fifty-five years it was and something more, Clerk of this parish he the office bore; And in that space, 'tis aweful to declare, Two Generations buried by him were.
In this church-yard also are two old body-stones, on which are no inscriptions, nor any other marks, excepting a large cross.
The river Soar, which runs close to this village, was made navigable to Loughborough about 12 years since. It is said that this river produceth the best pike in England.
In this place is a free-school for the education of six poor children of the village.
Register begins in 1591. I was unable to gather any account from the earliest pages, they being not legible; there appeared to be about 11 bap. and 9 burials, in 5 years. The last five years 17 bap and 12 burials.- - -Increased bap. 6, burials 3.
Patrons.---Ashton Curzon, Esq. or the heirs of the Duke of Kingston.---Incumbent. ---The Rev. Richard Dodsley, Esq. of Willington, in Derbyshire. In Bacon 19l. 19s. 7d. Tenths 9s. 3d. Vic. dedicated to St. Mary. Archiepisc pro Syn. 4s. Archidiac. pro. prox. 7s. 6d. Valet in mans. cum. gard in. ibid. per ann. 4s. Pans. rec. pri. de Thurgarton 1l. 10s. dec. porc, &c. Prior. Thurgarton, Propr. The King presented by Caps in 1740. The Duke of Kingston in 1771.
A worthy friend of mine, in this place, who signs his letters to me, "A Subscribes" and to whom I am under particular obligations, says, "The church is very old, and was reared by hands, which have ages ago been mouldering into dust. It is a very large structure: Kingston and Thrumpton once parished to this place, for which there is now a small allowance paid from those parishes to this annually: The vicarage is now 27l. per annum."