Pages 30-36
Thoroton's History of Nottinghamshire: Volume 1, Republished With Large Additions By John Throsby. Originally published by J Throsby, Nottingham, 1790.
This free content was digitised by double rekeying. All rights reserved.
THRUMPTON.
Doomsday, Turmodeston. So called from Turmod, some old Owner 'tis like. In it before the Conquest Leuvin and Elvod were rated at seven Bov. to the Tax for their Manor. The Land whereof was two Carucats.
There Roger de Busli, whose Fee it was, had one Carucat, three Sochm. two Villans, two Bordars, having one Carucat and an Half; this in the Confessor's Time was valued at 40s. in the Conqueror's at 20s.
Here was another Manor of William Peverell's Fee, which before the Conquest, Stapleuvin (Owner also in Stapleford) had rated to the Geld at three Bov. 1-Third.— The Land one Car. There afterwards four Sochm. had one Car. and five Acres of Meadow. This kept the old Value 5s. 4d.
Here was another Parcel Soc to Edwalton of the Fee of Hugh de Greatmaisnill, rated to the public Tax at one Bov. and an Half. The Land was one Car. There were two Sochm. two Bordars, with two Carucats (or Plows) and three Ares of Meadow. It lay in Sandiricua (or Sandiacre) on the other Side the Trent, in Darbishire.
That of Buslie's Fee was held by the Family of Putrell, (fn. 1) who had their Seat here, and continued Owners till 5 Jac. that Tho. Poutrell, and John his Brother, Sons of Walter Poutrell, conveyed it to Gervase Pigot, Gent. Grandfather of Gerv. Pigot, Esq. the present Owner 1672. It was with Upton in the Clay, and some others the Fee of Raph Tilly, who 'tis likely enfeoffed Putrell. (fn. 2) Richard Putrell gave to God and the Church of St. Peter at Thurgarton, the Gift which Gilbert his Predecessor of Thurmeston gave, viz. Half a Carucat of Land of his Demesne, with a DwellingHouse, and a Common of Pasture. His Successors here usually paid the said Prior 5s. per Annum, for four Bovats of Land. and one Toft.
(fn. 3) Reginald Basset and Richard Puterel released all their Right and Claim to the Ad vowson of the Church of Thurmodeston by Fine, 12 Joh. to Ranulph, Prior of Norton, and his Successors.
Peverell's Part was held by the Family of Stapleford, of Heriz, Lord also of that Place, with the Heir female whereof it descended to Teverey, being three Messuages, twenty-one Bovats, and twenty Acres of Meadow. (fn. 4)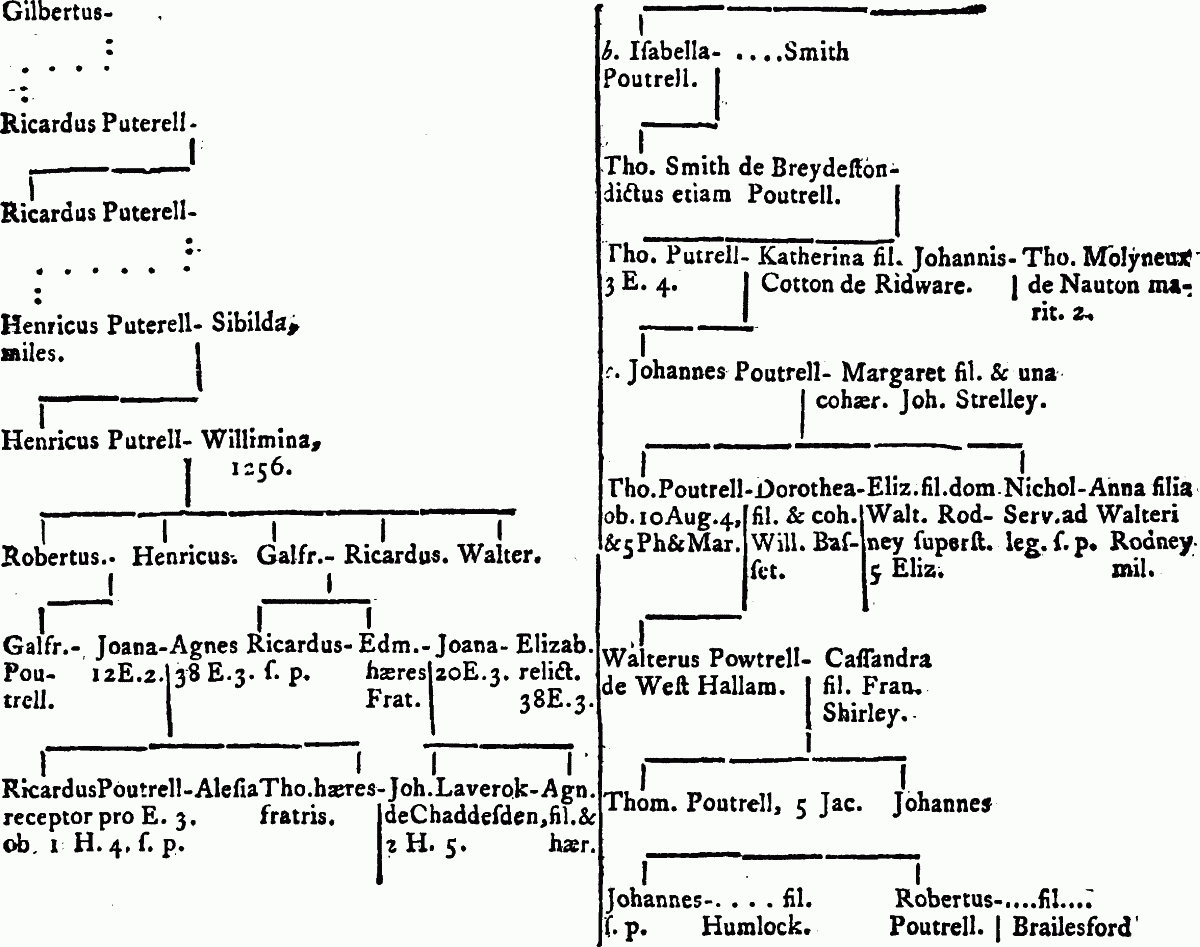 The third Part, or Share, it seems, went with Sandiacre; (fn. 7) for Richard de Riston, Son of William, Son of Andrew de Rixton, conveighed three Bovats of Land into Turmodeston, to John, the Son of William de Leke (which continued long with that Family). To this Deed were Witnesses Peter de Sandiacre, Samson de Stretleg, Robert de Stapleford, Richard his Son, Richard Putrell, Richard his Son, Peter Son of Richard de Stanford, Richard de Trowell, Stephen Son of Richard de Kineston, Thomas and Anketill his Brothers, John de Touke, Robert Son of Gocelin, Raph Rossell, William de Boves, Roger de Bromley, Richard de Potloc, and others; it is sealed with his Image on Horseback. And Albreda, the Daughter of Peter de Sandiacre, by another Deed, in the Custody also of Gervase Pigot, Esquire, passed likewise three Bovats. I suppose the same to the same Person, and had the same Witnesses.
(fn. 8) Reginald Marc was certified to hold twelve Bovats in Thurmodeston worth 60s. which he bought of Reginald Basset; and John de Leke three Bovats worth 15s. by Richard de Rixton. Reginald Marc gave his to the Knight's Hospitallers; and there he is said to be infeossed by Richard de Risseton.
(fn. 9) It was by the Jury at Thrumpton, 20 Dec. 25 E. 3. returned not to be to the King's Loss, if he granted the Prior and Brethren of the Hospital of St. John of Jerusalem, in England, License to give their Manor of Thurmeston, to Sir John Waleis, Knt. in Exchange for the Manor of Dalby, in the County of Leicester; and that here was then one Mess. with a Close adjoining worth 16s. one Hundred and fifteen Acres of arable Land worth so many Shillings; twelve Acres of Meadow, 2s. the Acre, and 24s. yearly Rent; and that Hugh de Meyvill had the Mesnalty of the Manor of Thurmeton, between John Waleis and the King.
About the Year 1261, Sir Henry Putrell, of Thormoudeston, Knt. granted three Virgats of Land to Henry his Son, for three Score Marks of Silver, to acquit him from Judaisme, (Usury).
(fn. 10) Aymo de Trunberch, Knt. (who married one of the Heirs of—Tilly) confirmed, 45 H. 3. to Henry, the Son of Henry Putrell, and to Guillimina his Wife, six Virgats in Thurmeton. On his Seal is a Chief, charged with three Roundels.
Henry Putrell, with the Consent of Willimina his Wife, settled the capital Mess. and eight Virgats of arable Land, in Thurmeton, upon Robert his Son; and in Defect of Heirs of him, to Henry, Geoffry, Richard, and Walter, his other Sons respectively, and their Heirs, paying the said Henry, their Father 20l. per Annum, during his Life.
Robert Putrell, of Thurmeton, 12 E. 2. settled upon Geoffrey, his Son, and Joan, his said Son's Wife.
(fn. 11) John Munchensy, 38 E. 3. settled on Geoffrey, Son of Robert Putrell, and on Agnes, his Wife; and after the Death of Geoffrey, to Richard Putrell, who was a very considerable Man, and some Kind of Receiver under King Edward the Third: He died, 1 H. 4. without Issue. His Seal is a Fesse between three Cinquefoiles.
John Laverok, of Chadesden, and Agnes his Wife, Daughter and Heir of Edmund Poutrell, Brother and Heir of Richard Poutrell, Son and Heir of Geoffrey, Brother and Heir of Robert Poutrell, Son and Heir of Henry Poutrell, and Willimina his Wife, passed, 2 H: 5. all their Right in Thrumpton, to Sir Raph Shirley. But there was another Claim which carried it, viz. Henry Putrell, had Issue Robert, he Geoffrey his Son and Heir, whose Son and Heir was Richard, whose Brother and Heir Thomas Poutrell, had a Daughter and Heir, called Isabel, from whom Thomas Smith, of (fn. 12) Breydeston, claimed as her Son and Heir; and after him, 3 E. 4. Thomas Poutrell, his Son and Heir.
Maud, who had been Wife of Sir Gervase Clifton, Cousin, and one of the Heirs of (fn. 13) Raph Cromwell, late of Cromwell, Knt. and Robert Ratcliff, and Joan, his Wife, Cousin, and the other of the Heirs of the said Raph, convey by Fine, 7 E. 4. the Manor of West-Hallam, with the Appurtenances, one Mess. two Bovats, four Acres of Meadow, and fifty of Pasture, with the Appurtenances in West-Hallam and Bapurley, and the Advowson of the Church of West-Hallam, to Thomas Poutrell, Raph FitzHerberd, and William Poutrell, and the Heirs of Thomas Poutrell. West-Hallam is still the Seat of the Family in Derbishire.
(fn. 14) King James, by his Letters Patent, dated 9th July, in the second Year of his Reign, granted to Gervase Pigot, Gent. the Rectory of Ratcliff-on-Sore, in Thrumpton, and the Chapel of Thrumpton, with all its Rights and Appurtenances, &c.
He came from Weston-upon-Trent, in Darbyshire, not far from this Place, and acquired most of this Lordship, some belonged to the Family of Willoughby; and here was a Family had their Name from the Place, which had—Bovats. His last Wife is still living; she was Sister to Sir Thomas Milward, the Judge; by her he left an only Son, Gervase Pigot, Esq. who hath inclosed the Fields, and very much improved and adorned the Seat, so that 'tis now as pleasant and convenient both within and without, as can reasonably be wished; and there is no other Freehold now left, except—Chamberlain, and Richard Widdowson.
This second Gervase, was a Person of great Parts, both natural and acquired. He was in mourning for Mary, the Wife of Robert Burdet, Esq. eldest Son of Sir Francis Burdet, of Formark, his only Daughter by his first Wife, one of the Co-heirs of St. Andrew, of Gotham, when he was made High-Sheriff of this County, upon which Occasion, he had for his Men black Liveries, with small silver Trimming, which fitted them for their last Attendandance upon him to his Vault, on the north Side of the Chancel, at Thrumpton: which happened shortly after the Summer Assizes, 1669. His Sobriety, Ingenuity, Generosity, Piety, and other Virtues, few of his Rank will ever exceed, if any equal. Mr. Dugdale, Norroy, in the latter End of his Visitation of this County, begun in 1662, upon Sight of a Note left in the House by old Mr. Samuel Roper, and some other probable testimonial Circumstances, judged he was descended from a Branch of the Pigots, of Ratcliff, in this Parish, and therefore granted him and his Descendants, to bear the Arms of Sir Peter Pigot, viz. Azure a bend Lozengy Or, deeply ingrayled between six Martlets Or, whereas before this Family used the three Pickaxes, as most of the Name do. He made a. Monument in the Chancel, by the Door of his new Vault, whereon he caused to be written,
Gervasius Pigot Armiger Edmundi unigenitus qui fuit Thomæ Natu secundus (Defuncto vero seniore fratre Sine prole Ricardo Fato primus) Margaritam primam duxit uxorem; Johanis Haford de Kegworth generosi Filiam & hæredem; Qæ cessit fato, improlis, non improba, Die Januarii xxix, Anno Domini MDCIII.
Janam secundam Johannis Bradshaw de Burton-super-Trent Armigeri filiam: Cui Janæ vitœ Janua Per mortem aperta est (Duabus filiis, Elizabethâ Et sui nominis Janâ relictis) Die Februarii IIII. Anno MDCXI. Franciscam tertiam Gulielmi Milward de Eaton In Agro Darbiensi, Armigeri, Natu minimam;
Cujus unica proles. Gervasius superstes Quem patrum patrimonium, ante acto tempore, Antiquum licet & lautum; Nec non nomen eorum in hisee Comitatibus Darbiœ, Leicestriœ, & Nottinghamiœ, Maxime vero apud Radcliffe-super-Sore, In hujusee Thrumptoniœ vicinio Sub rege Johanne, Hen. III.
Atque tribus Edvardis succedaneis Equestri florens or dine, Haud olim miminisse juvadid, Ideoque potius, quam majorum imagines (Relictâ matre) patris reliquias, Tantum non quinquagenar ii, Recolit heic reconditas Vicesimo octavo Octobris die Anno Christi incarr. MDCXVII.
Terras reliquit Prædicti Gervasii relicta (Attamen bacterrâ tegitur) Francisca Mensis Die
Gervasius Secundus Primi filius Tertii & quarti pater, Duos genuit Gervasios ex nuptis duabus; Prima quarum, patris sui soboles fuit prima MARIA.
Trium co-hœredum Johannis Saint- Andrew de Goteham, Armigeri, Enitia pars Quœ partem bonam elegit ab initio Ab eânon ablatam Licet (prob dolor) ocyus à viro Ablata fuit suo Anno œtatis vicesimo secundo Salutis MDCXLIII.
Die secundo mensis Februarii, Ut uno eodemque celebretur die.
Beatæ virginis, atque nuptæ beatæ Purificatio Mariæ.
Secunda, quæ nulli secunda fuit ELIZABETHA.
Simonis, Edmonds Senatoris vicecomitis Nec non Majoris Londini denuo electi Dilecta filia Quum nondum vigesimum octavum implevarat Annum Quinto Septemb. Kalend. decessit die Anno Æræ Christianæ MDCXLIX.
Ambarum progeniem infra quære: Quarum memoriæ sacrum hoc posuit, Qui Beatarum reliquias hic tristè deposuit, Et (Deo permitente) Eodum condi tumulo disposuit, Donec rediret immutatio sui, Sperans dum spirat Insolabilis maritus.
Qui majorum insignia Annos plus minus ducentos Intermissa (Ut pro magis notis jampridem gestis, Antiqua maximè antiquiùs gesta, Traderit posteris imposterum gestanda) Ab edaci tempore recuperavit, Anno Dom. MDCXLIX. ætat. suæ LIII.
Mensis Aug. die IX. Diu sperans, expiravit demum, Et cum duabus præmissis præcharissimis Dormivit in Domino utriusque Dominus Gervasius Pigot, Armiger.
Mensis Marti die tertio Anno Æræ Christ. 1656. Ætatis suæ 14. Migravit de vita Francisca.
Maternam Hæredem remanet Maria Rob. Burdet, Armiger Marita.
Mensis Martii die Octavo Anno salutus 1642. Ætatis suæ III. Concessit fato Gervasius.
Materni nominis hæres Elisabetha.
Secundi ventris partus Secundus Et hæres paturnus Gervasius.
On the other Side of the Chancel on the Wall by the South Door.
Winifreda Edmundi Pigot Armiger Natus Maxima Radulphi Coppindale de Coppindale-Tower In Beverley generosi Uxor unica Migravit è vitâin vitam Temporaneâ æternam Mens. Apr. die. quinto.
Cujus reliquiœ cum suorum reliquiis Gervasi & Elianoræ Prœmissorum Postmissi Ricardi Et (si placeat Deo) Eranciscæ expectantis (Mater cum fillis, in terra matre) Quam proxime hix conduntur.
[Throsby] Thrumpton.
Near this place the rivers Soar and Trent unite. The Lordship since Thoroton's time has passed thro' the following hands. 1696, Eliz. Wid. and Executrix of Gervas Pigot, son and heir of his second wife, sold the manor of Thrumpton, with the lands, &c. thereto belonging to John Emmerton, of the Middle Temple, London, Esq. And the said John, by his last will, bequeathed the same to John Emmerton Wescomb Emmerton, (youngest son of his nephew, William Wescomb, Esq.) who is the present possessor; and who purchased in 1766, the freehold, late Chamberlain's, in Thrumpton. This Gentleman owns all the lordship, which contains 1200 acres, except a small freehold in the possession of Mr. R. Widowson. The soil of this lordship is, in the upper part, a rich clay; but towards the Trent it is more sandy, and very fruitful. Mr. Emmerton's estate in this lordship is divided now, I believe, into only two farms.
The mansion of the Pigots, of which Thoroton has given an engraving, remains; (see it noticed as a seat) besides which, there are about 17 houses and a few cottages in the village.
The chapel, which is dedicated to All Saints, consists of one aisle, and a low tower with 4 bells. Pigot's monument is remaining; who, Thoroton says, "acquired the lordship." It is somewhat remarkable that his son and successor should inclose the lordship, and by other means very much improve it, and also the dwelling-house, to the advantage of his successor; and he, regardless of his own interest, and the gratitude he owed his predecessors, should sell the house and lordship, and expend every shilling of the money they sold for.
Register begins in 1679. Bap. the five first years 15. Bur. 15. Bap. the five last years 13. Bur. 10. Decreased Bap. 2. Bur. 5.
Patron of the living John Wescomb Emmerton, Esq. Incumbent, Rev. William Beetham, who enjoys it as a stipend of about 30l. per annum. In Bacon 27l. 10s. certified value. Chapel to Ratcliff-upon-Soar. Prior, Norton, Propr.
Thrumpton-Hall.
The seat of John Wescomb Emmerton, Esq. stands adjoining to the village of Thrumpton, on the banks of the river Trent, within 7 miles, south-westwardly, of Nottingbam. Although this dwelling retains much of the old form; it has, in the hands of the present possessor, undergone considerable repairs, and has been much improved. A building is now erecting upon one of the eminences, (of which the country hereabouts abounds) which will command extensive and beautiful views of the circumadjacent country. Some of the near objects are romantic, and help much to diversify and ornament this feat: the water which serpentines smoothly along the gently slooping grounds behind, and the bold eminences, patched here and there with gorse and the wild thorn, in front, contrasted with the pleasure grounds, delight the eye, and are fine appendages; to me, they were a sufficient recompence for travelling over some of the worst roads I had ever met with; but I might not find the best road. (fn. 15)
This dwelling is rather small; but it has, I am informed, internal elegance and convenience. Had there been any pictures of note here I should have been happy in seeing them. I was there at a late hour, and had scarcely time to finish my drawing, or I should, however, have taken the liberty of asking leave to see the rooms.
The annexed view shews the House as it is seen nearly in Thoroton's elevation. (fn. 16)