Pages 36-44
Thoroton's History of Nottinghamshire: Volume 1, Republished With Large Additions By John Throsby. Originally published by J Throsby, Nottingham, 1790.
This free content was digitised by double rekeying. All rights reserved.
GOTEHAM.
Doomsday, Gatham. A Dwelling or Home of Goats. The chief Manor in Gatham, before the Norman Invasion, Story had, who is named already in Normanton and Sutton, who had likewise a Manor in Stantune, and one in Cavord, (Keworth) in this Wapentake, in all which he was succeeded afterwards by R. Earl Moriton. This was assessed, or rated, usually in those Times to the public Tax, or Geld, as two Carucats, three Bovats and an Half, and five Acres. The Land was six Carucats. There Earl R. had in Demesne three Carucats, three Sochm. twenty Villans, two Bordars, having nine Carucats, and four Score Acres of Meadow. The Value in the Time of King Edward the Confessor, of this was 60s. In the Time of King William, when his Survey was made, 40s.— It had Soc in Leche. Here was another Manor of the Land of the Taynes, which Godrick, (who had also one in Leke) had before the Conquest, and paid for it to the Geld, as three Bovats and an Half, and one Acre. The Land was one Carucat, afterwards it was Waste, and Sauvinus (named in Kinston) had it, and twelve Acres of Meadow; in King Edward the Confessor's Time it was valued at 10s. in King William's at 2s.
This Town came afterwards to be of the Earl of Leicester's Fee; and it seems either had, or was thought fit to have a Castle, because amongst those Convents, (fn. 1) upon a Truce between Ranulph, Earl of Chester, and Robert, Earl of Leicester, made in the Presence of Robert, the second of that Name, Bishop of Lincolne, and certain Persons of Note, on each Part, viz. on the Earl of Chester's Part, Richard de Lovetot, William Fitz-Nigell, and Ranulph the Sheriff. On the Earl of Legrecester's Part, Ernald de Bosco, Gaufrid the Abbat, and Reginald de Bordineio. Among many other Things it was agreed, that neither the Earl of Chester, nor Legrecester should, or ought to fortify a Castle (Firmare Castrum aliquod) between Hinchelai and Coventre, nor between Hinchela and Hardreshil; nor between Coventre and Donington; nor between Donington and Leicester; nor at Gataham, nor at Cheneldestoe, (now Kinolton) nor nearer nor between Cheneldestoe and Belver; nor between Belveer and Hocham; nor between Hocham and Rochingham; nor nearer, but by common Consent of both Parties.
(fn. 2) In the Time of King Henry the Second, Hugh de Diva, (of whose Barony it was) and Helawisia his Wife, gave two Parts of the Tythe of the Demesne of Gatham, to the Priory of St. Mary de Pratris, by Leicester, of the Earl's Foundation.
(fn. 3) It appears Hugh de Diva had a Son, called William, who gave the Church of Haddun, to the Abby of Sulby, in Northamptonshire; which William de Diva, I take to be Father of Maud de Dive, (fn. 4) who in the first Year of King John, gave ten Marks, that she might not be compelled to marry: But if she had a Mind, would do it, by the King's Advice (or Counsel.) And I think it more probable, that this William was Father, than Brother to the three Co-heirs of the Barony of Hugh de Dive, nothwithstanding the Inquisition taken at Northampton, before the Justices Itinerant, 3 E. 3.— wherein they are put for the Daughters (though I see no Reason but that they might be the Grand-Daughters) of the said Hugh: For in an old Parchment, which Mr. Pigot, the present Lord of this Place, still keepeth amongst his Evidences, wherein is the Case of the Advowson of the Church, and was written about the Time of King Edward the First; it is thus related:—William de Dyva, who last had the whole Lordship of Goteham intire, begot three Daughters, who were his Heirs, Matilda, Alicia, Astelin, who all in the first Vacancy, jointly presented one Robert de Nottingham to the Church of Gatham, and then made an Agreement, that in the first Avoidance, the Eldest should present; in the Second, the Middle; in the Third, the Youngest. Matilda was the first begotten, and married to Sir Seer de St. Andrea, who in the first Vacuity presented one Seer his Son. Alice the middle Daughter, was married to Sir Richard de Miste gros, and they sold their Right to Sir Simon de Montefort, Earl of Leicester, who presented one Richard de Role. And the said Simon gave his Right, with the Advowson of the Church, to the Ancestor of Sir Thomas de St. Mauro. Astelin was last, and married to Sir Simon de Mistegros, who had two Daughters and Heirs, (fn. 5) Agatha and Alice; Agatha married to Walter de Radinton, and Alice to Raph de Dyve, and they two after the Death of the said Richard, presented one Mr. Peter de Leyk. On the Top of it is, Stipes Willielmi de Dive.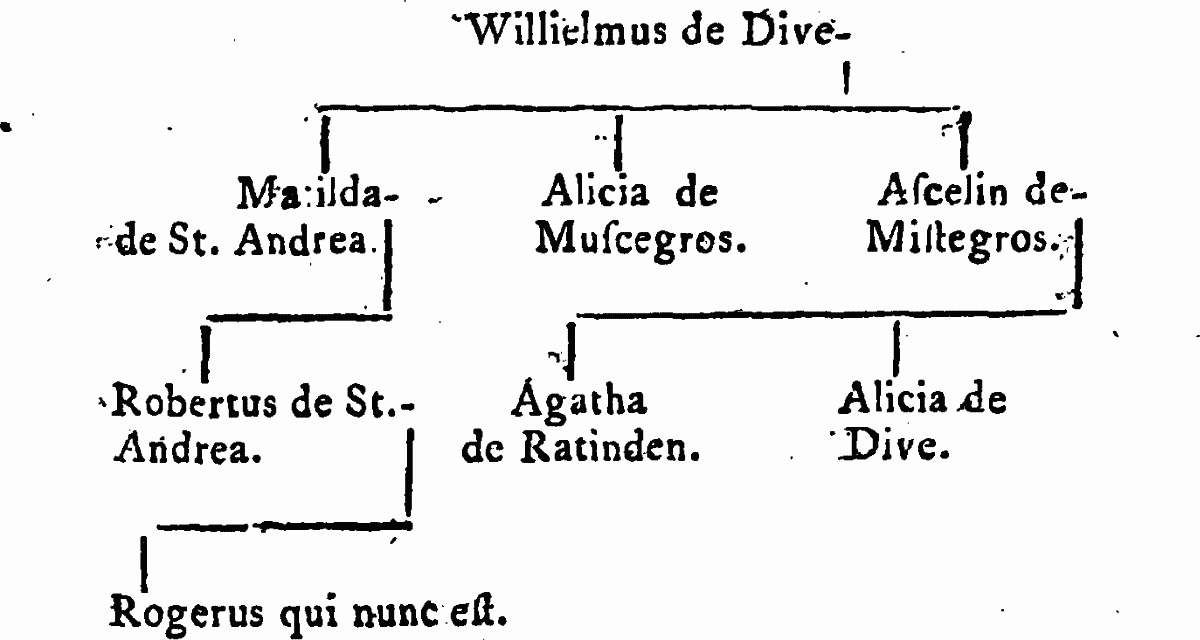 (fn. 6) John, Son of Agatha de Radinden, Cousin and Heir of Alice de Mucegros, 35 E. 1. paid Relief for the sixth Part of the Barony, heretofore, Hugh Dives, &c.
By the forementioned Inquisition, in which the Names also of the Coheirs are a little mistaken, viz. the second is Ascelin for Alice, and the third Agnes for Ascelin, it appears how the Lands in Northamptonshire were parted. St. Andrew had his Purport in Haldenby and Ravenesthorp, and the third Part of the Tenements so Pisseford and Boketon. Richard Mucegros had his in West-Haddon and Holewell, and the like third Part of Pisseford and Boketon, who with his Son Robert, passed them to Simon Mountfort, Earl of Leicester; upon whose Attainder, King Henry the Third gave this Part to Sir Thomas Bray, the King's Seneschal. Simon Mucegros had Brampton, and the like third Part in Pisseford and Boketon, all which were held of the Earl of Leicester. The like Division was made of his Lands in other Counties; as also here at Gotham, where the Family of St. Andrew did chiefly reside; it was a Branch of that of Quincy, and bore Gules, seven Mascles voided 3. 3. 1. Or, with a Label of five Points Azure.
Sir Laier de St. Andr. gave to the Priory of St. Nicholas, of Sandeford, in Barkshire, 5s. (fn. 7) yearly Rent in his Town of Littlemore, for the Health of his Soul, and his Father and Mother's, and for the Soul of the Earl of Winchester, his Uncle, and of Robert de Quinci, Son of him the said Saier, and the said Robert's Brethren.
(fn. 8) Margaret de Quinci, Countess of Winchester, in her Widowhood, after she had done Homage to King Henry, Son of King John, gave 100s. of Land to Sehr de St. Andrea, in Crokeston and Kerdington. Robert de Quency, Earl of Winchester, and Constable of Scotland, gave to Robert de St. Andrea, Son of Sehr de St. Andrea, 100s. sterling, yearly to be received, out of his Præpositure and Firm of Brakley, until he gave him 100s. in Land or Rent in Scotland; the Witnesses, Sir William Manduit, and William his Son; Ernald de Bosco, and Ernald his Son; Seher de St. Andrew, Philip Lovel, William de Bosco, &o. (fn. 9) (fn. 10), (fn. 11), (fn. 12)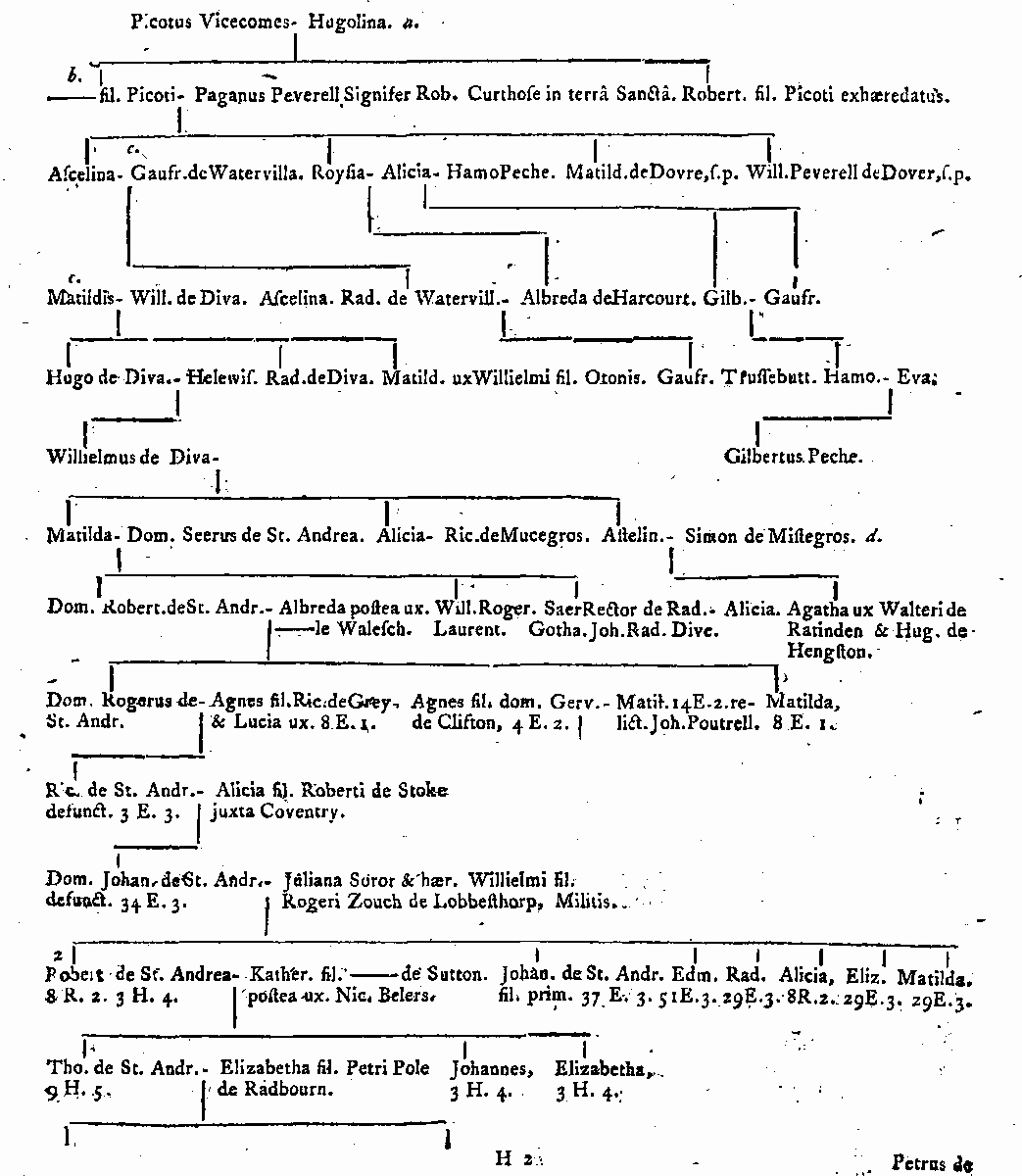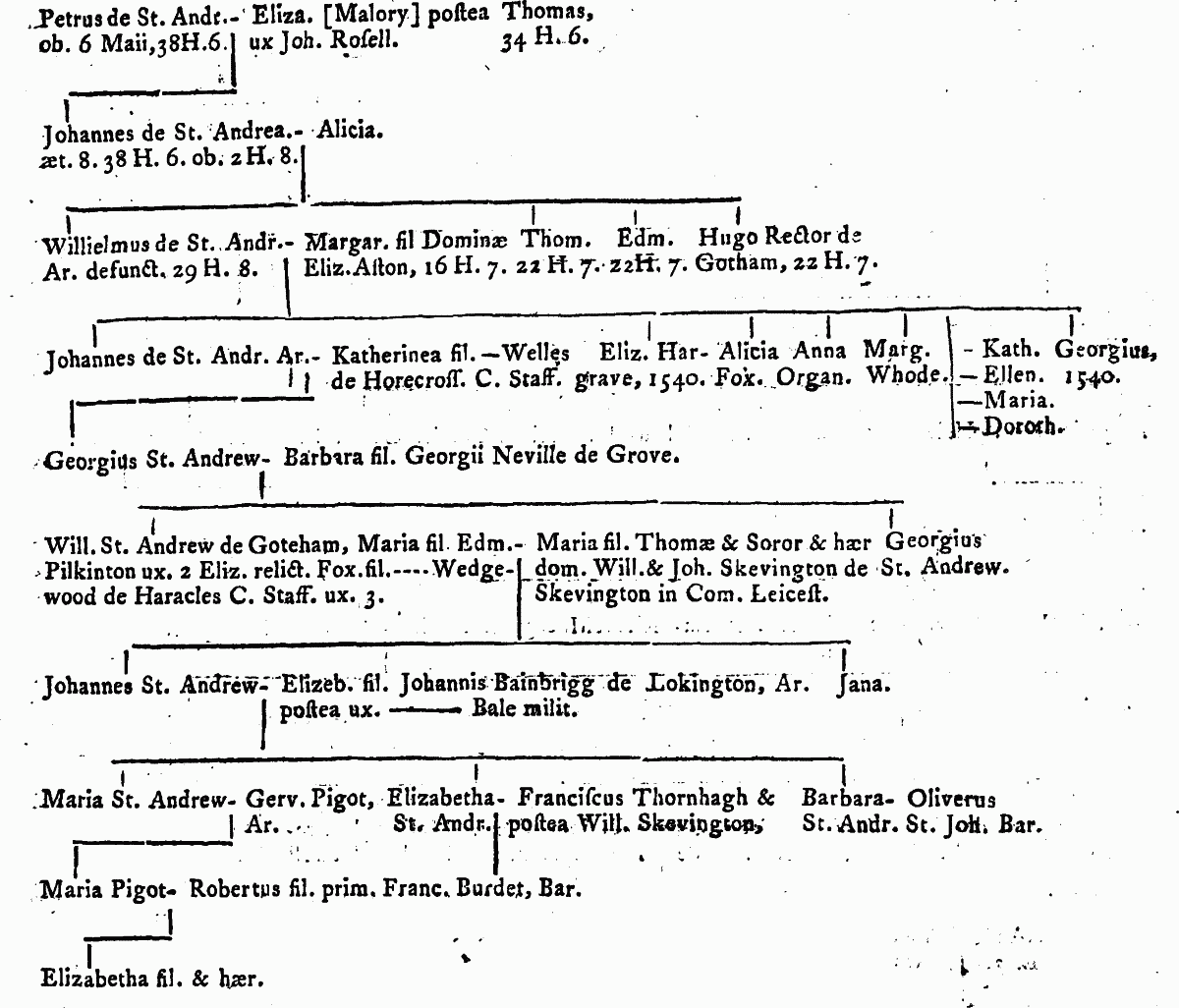 (fn. 13) Simon de Musegros, and Ascelin his Wife, made Hugh de Rempstone his Attorney, against Nic. de Albin, and Maud his Wife, Leodegar de Diva, Raph de Estun, and Albreda his Wife; Agnes de Neuthorp, Thomas, Son of Peter, Hugh, Son of Oto, and Robert Despencer, concerning Customs and Services of his Hold in Gatham, Sutton, Keworth, &c. in the County of Nottingham, 11 H. 3.
(fn. 14) Hugh de Hengston, and Agatha de Ratingden his Wife, about 9 E. I. passed all their Manor of Gotham, to Roger de St. Andrea, and Agnes his Wife, and their Heirs, in Exchange for the Manor of Sipfeud; with whose Posterity two Parts of this Town have since continued.
(fn. 15) At the Instance of William Fitz-William, King Edward the First, granted Roger de St. Andrew, a Charter of Free-Warren in Gotham, in Nottinghamshire; in Haddon, in Northamptonshire, and Hengeston, in Cambridgeshire, dated the fourth of August in the fifth Year of his Reign.
(fn. 16) In the 25 E. 1. Laurence de St. Mauro, who held the other third Part of Goteham was dead; and his Son and Heir, Nicolas twenty-eight Years of Age; between whom and Roger de St. Andrew, there was a Fine levied, 31 E. 1. (fn. 17) concerning the Advowson of this Church, viz. that the said Nicholas and his Heirs should have one Turn, and the said Roger and his, two.
(fn. 18) Thomas de St. Maur (or Seymour) who had upon his Seal two Chevrons, and a File of five Labels, and held a capital Messuage in Goteham, commonly called WestHall, and 50s. Rent of Assize, &c. was dead, 32 E. 3. and John Worthy found his next Heir, viz. Son of Beatrix Worthy, Sister of the said Thomas. (fn. 19) John de Worthe, Knt. by Fine, 50 E. 3. and afterwards, 2 R. 2. by another Fine granted to John Samon, of Nottingham, the third Part of the Manor of Goteham, and the Advowson of the third Part of the Church of the said Manor, excepting 102s. 6d. Rent, in that third Part of the said Manor, which yet he granted, together with the Homages and whole Services of Samson de Strelley, Knt. John Fraunceys, and Agnes his Wife, and many others, to have to the said John Samon and his Heirs. John Samon, at the Assizes at Nottingham, 8 H. 4. (fn. 20) recovered his Seizing of 32s. Rent Service in Goteham, from Henry Nevill, Knt. Robert Nevill, and William Draper.
(fn. 21) Robert Nevill, 9 H. 6. was found to have died seized of four ruined Messuages, forty Acres of Land, eleven Acres of Meadow, in Goteham; four in Kinston; and as many in Thrumpton, and that John Nevill was his Heir.
By an Inquisition taken at Nottingham, Oct. 29, 5 and 6 Ph. and Mar. it appears, that Henry Sacheverell, of Ratcliff-upon-Sore, then dead, had this Manor (or Share) of Gotham, which since B. it seems was purchased in by — St. Andrew, and in the Division was allotted to Barbara, the youngest Daughter and Heir of John St. Andrew, married to Sir Oliver St. John, Bart. who sold it to Gervase Pigot, of Thrumpton, Esq. possessed of the principal Part of this Township by his Marriage of Mary, the eldest Daughter and Co-heir of the said John St. Andrew, which he settled upon Mary, his only Daughter by that Wife, whom he disposed to Robert Burdet, Esq. and she bore him an only Daughter, named Elizabeth, the Heir of that Part; but Mr. Pigot left this to his Son and Heir Gervase Pigot, of Thrumpton, Esq. the present Owner.
Elizabeth, the middle Daughter and Co-heir of the said John St. Andrew, was married to Francis Thornhaugh, Esq. eldest Son of Sir Francis Thornhaugh, of Fenton, and by him hath Issue, but her Purport of St. Andrew's Inheritance is not here: She is since become the Wife of William Skeffington, Esq.
(fn. 22) The Freeholders of this Town are not very considerable; yet there is one Spencer, whose Ancestors have held some Thing [two Yard-Land, I think] and been resident here since the Time of Sir Saher de St. Andrew, about the Beginning of the Reign of King Henry the Third.
(fn. 23) The Church in the King's Books is now 19l. 8s. 6d. 0b. Before the Dissolution of Monastreys, when Mr. St. Andrew, and Mr. Salmon were Patrons, the Value was 24l.
In the Church on a plain Stone. - - - (fn. 24) Hic jacent corpora Johannis Santandra, Ar. & Aliciæ uxoris ejus; qui Johannis ob. in festo St. Lucæ, 1510. & dicta Alicia ob. 14 Apr. 1509.
Upon it a Chevron between three Waterbougets.
Upon another plain Stone.- - - Hic jacet Dominus Heugo Santandra, qui quondam fuit Rector de Gotham, ob. 20 Apr. 1528.
On another.--- Hic jacent corpora Willielmi St. Andra, Ar. & Margaretæ uxoris ejus; qui Willielmus ob. 3 Dec. 1565. & dicta Margareta — rather 1535.
St. Andr. there impales with Arg. a Fesse sable, and three Lozenges in the chief sable, Afton.
Upon a Tomb. --- Here lieth the Body of George St. Andrew, Esq. which departed this Life 27 Aug. 1584. This George had to Wife Barbara Nevill, by whom God sent him Children, Gervis, William, George, John, Francis, Winifrid, Jane, Barbara.
[Throsby] Gotham
STANDS upon a rock of alabaster, betwixt Thrumpton and Bunney. The Lordship, which contains about 2000 acres of land, belongs almost wholly to Pen Ashton Curzon, Esq. Since Thoroton's time it has been in the possession of Charles Jennings, Esq. of Gopshull, in Leicestershire; from whom it descended to Mr. Curzon, who is lord of the manor. (fn. 25) It is an open field; the plough land is a stiff clay, and the meadow is boggy. As I passed over it I saw asses, women and children loaded with water, taken from an eminence near a place called Cuckoo-Bush. I have been told that they have no springs in the village; but upon enquiry I found it an error; they have water, but not fit for many purposes. The meadow is a large track of land which contains near 800 acres, and appears marshy.
This meadow, and others adjoining, form an extensive valley on the left, as you approach Gothamfrom Clifton. The valley and the surrounding hills form a grand amphitheatre. Sovereigns, who can behold with delight contending armies in the act of slaughter, might here indulge themselves to the utmost of their wishes: by placing their dependent slaves (called soldiers) in the valley, which they might look down upon advantageously from an eminence, cutting each other's throats.
Cuckoo-Bush above-mentioned, tradition says, was planted or set to commemorate a trick which the inhabitants of Gotham put upon King John. The tale is told thus:--"King John passing through this place, towards Nottingham, intending to go over the meadows, I have just described, was prevented by the villagers; they apprehending that the ground over which a king passed, was for ever after to become a public road. The King incensed at their proceedings, sent from his court, soon after, some of his servants to enquire of them the reason of their incivility and ill treatment, that he might punish them by way of fine, or some other way he might judge most proper. The villagers, hearing of the approach of the king's servants, thought of an expendient to turn away his majesty's displeasure from them: When the messenger arrived at Gotham, they found some of the inhabitants engaged in endeavouring to drown an eel, in a pool of water; some were employed in dragging carts, upon a large barn, to shade the wood from the sun; others were tumbling their cheeses down a hill, that they might find the way to Nottingham for sale; and some were employed in hedging in a cuckoo, which had perched upon an old bush which stood where the present one now stands; in short they were all employed in some foolish way or other, which convinced the king's servants that it was a village of fools. Whence arose the old adage; "The wise men," or "The fools, of Gótham."
The village contains 68 dwellings. Poor-rates 4s. 6d. in the pound.
The Church, which is dedicated to St. Laurence, has a nave and two side aisles, with a heavy spire, and 3 bells; and is kept very clean. The chancel has been lately taken down and rebuilt, at the expence of the widow of the late Rector, the Rev. John Lightfoot. - - - John Bridges. rector, who died in 1710, was presented by the then Duke of Newcastle. John Foxcroft, rector, died in 1662.--- In the south aisle is a neat monument to the memory of Thomas Borrow, Esq. who was forty years Recorder of the Borough of Derby. He died in 1786, aged 77.---John Borrow, Esq. died in 1707, aged 73.---Samuel Martin, M. A. who died in 1775, aged 75, has a black monument to his memory.---William Bridges, M. A. Rector, has a stone, no date.---The monuments mentioned by Thoroton are here; but some of the stone inscriptions are gone.
The patrons are alternately the Duchess of Portland, Ashton Curzon, and John Thornhaugh Hewitt, Esqrs. Incumbent, the Rev. Mr. Kirkby, resident; supposed worth nearly 300l. per annum. In Bacon 19l. 8s. 6½d. Yearly tenths 1l. 18s. 10½d. a Rectory.--Archiepisc. pro Syn. 4s. 7s. 6d. Val. in Mans. cum. or. gardin. pom & columbar. ac circa 30 acr. ter. gleb. ibid. per annum 1l. 10s.—William Skeffington, jure Uxoris presented in 1673. Duke of Newcastle, 1674. Heyne Caythorp, 1710. Charles Jennens, Esq. 1746. Duchess of Portland, in 1776. The Clerk informed me that the old Register could not be found. The Rev. Mr. Kirkby was from home when I was there. The last five years were bap. 60. buried 58.
I cannot leave this place without describing the circumadjacent views from the hills hereabouts. One eminence presents you with the views of Belvoir-Castle, WollatonHall, Clifton, Lincoln, Nottingham, Derby, and the Peak-Hills. On a more southern rise of ground, Charley-Forest, and Mr. Dashwood's House, at Stanford, have a pleasing effect.
The wood on the side of the hills, and the valleys below, near this village, are well stored with Pheasants, Woodcocks, Hares, Foxes, Wild-Ducks, and Snipes. And the villagers I found as wise as their neighbours.
The words of an humble Poet may here be applicable.
Tell me no more of Gotham Fools, Or of their eels, in little pools, Which they we're told were drowning; Nor of their carts drawn up on high When King John's men were standing by, To keep a wood from browning.
Nor of their cheese shov'd down the hill, Nor of their cuckoo sitting, still, While it they hedged round; Such tales of them have long been told. By prating boobies young and old; In drunken circles crown'd.
The Fools are those who thither go, To see the cuckoo-bush I trow, The wood, the barn, and pools; For such are seen both here and there, And passed by without a sneer, By all but errant fools.