Pages 44-54
Thoroton's History of Nottinghamshire: Volume 1, Republished With Large Additions By John Throsby. Originally published by J Throsby, Nottingham, 1790.
This free content was digitised by double rekeying. All rights reserved.
LEKE.
Doomsday, Leche. So called from the passing of the Water (or Leaking) from the Saxon Leccian, to water, or moisten, which is done by a small Brook in this Place to both the Hamlets, or Townships, of Great, or East-Leak, and Little, or West-Leak. On the north Side of this Lordship, on a Knoll, called Court-Hill, near the Bounds of Gotham, about a flight Shot from Cuckoo-Bush, the Hundred Court hath been kept.
Here was in Leche Soc to Gatham, as much as paid the Geld for two Bovats of Land, and some belonging to Stanford, of Robert Fitz-William's Fee, which was one Bovat, ad Geld. The Land four Bovats. There two Sochm. had one Carucat. In Leche, before the Conquest, Godric (who had also one in Plumptre) had a Manor which was taxed to the Dane Geld, as two Bovats three Quarters. The Land was four Bovats.- - There afterwards, Ernulph the Man, or Tenant of Roger de Busli (fn. 1) (whose Fee it was) had two Carucats, two Vill. with Half a Car. and eight Acres of Meadow. In the Time of King Edward the Confessor, the Value of this was 40s. in King Wil-liam's but 10s. The principal Manor in Leche, before the Norman Invasion Suivard had, and for it paid the Tax, as two Carucats. The Land of it was then for six Plows, or six Carucats. There Henry de Ferrariis had afterwards in Demesne four Car. sixteen Sochm. sixteen Vill. having seventeen Car. (or Plows) There was a Priest and a Church, one Mill, 2s. and fifty Acres of Meadow, small Wood, two qu. long, one broad. This in the Confessor's Time was 6l. in the Conqueror's 7l. Value. To this Manor lies the Berew Leech, where were two Car. ad Geldam. This lies in Plumptre Hundred.
Robert (de Ferrariis, Grandchild of Henry, before named) Earl of Nottingham, gave to (fn. 2) Alan de Leca, the Nephew of Elfast, the Town of Leche, where the Mother Church is, with all the Appurtenances, and twelve Bovats of Land in his the said Earl's Leche, which were the said Alan's Parents, and in Stantun, as much as belonged to the said Earl's Fee, and divers other Lands in the County of Leicester; for which the said Alan gave the Earl sixty Marks, and a certain bay [Baucham] Horse. The Witnesses to this Deed, were Hugh, Son of Sewal; Richard the Chaplain; Hugh the Chaplain of Aukenvill; and Ausketill the Clerk; and Roger the Clerk; and William, Son of Nigellus; Henry, Son of Sewaldus; Rodbert the Steward [Dapisero] of Livet; William, Son of Herbert; Nicholas, Son of Elsin; Galfr. de Bachepuz; and Walter de Montegumeri.
In the Year of our Lord, 1141, (fn. 3) Alan de Leica was a chief Witness, when this Earl Robert offered his Knife on the Altar for confirming the Gift of the Tythes, of the Rents of the new Borough, which his Father and he had increased at Tuttesbury.
Harald de Leke gave to the Church of Kale, (fn. 4) and to the Canons there serving God (afterwards removed to Repandon) one Carucat of Land in Leke, and likewise three Acres in the same Town, and also released to the said Canons, the Work of IX. of their men of Huntebothe, one Day in a Year, which they were wont to do to the said Herald, for his Pasture of Staunton. (fn. 5) Herald de Leec gave to the Hospital of St. John of Ferusalem, one Acre in Stanton. (fn. 6) Richard, Son of Harald de Lecha, by the Consent of his Men of Stantune, gave to the Church of St. Arduls, of Bredon [a Cell of St. Oswald, of Nostell, in Yorkshire] certain Lands, that the Prior and Covent should always find, at their own Charge, a Chaplain, ministering at Stantune; and William Earl Ferrers, as Earl Robert had done before, gave to the Church of Bredon, amongst many other Things, 20s. yearly Rent out of West-Leke, or Jordan de Toc's Leke.
(fn. 7) This Family of Leke, it seems, changed their Residence to Staunton, in Leicestershire, and from thence had their Name; the Heir general whereof carried that Manor to the Family of Shirley, who still enjoy it; and Sir Robert Shirley, Father of the present Sir Robert, built a Church there, wherein he lies buried.
(fn. 8) Robert de Notingham, Canon of Sarum, gave to the Church of the Holy Trinity, of Repyndon, all his Land in Sutton and Bonyton-upon-Sore, together with the Land, which he had of the Canons of Repindon, in Sutton, while they staid at Kale, in Exchange for two Virgats, and one Bovat in Westerleke, all which Land the said Robert computed to two Carucats.
(fn. 9) The Family of Touk were ins offed by Robert de Ferrariis, before 12 H. 2. of which in the red Book, in the Exchequer, there is Mention of Humfrey de Toka, having one Knight's Fee; and William de Tolka, the fourth Part of one. Here Jordan, Robert, and Walter Touk, were in their several Times to pay for a Knight's Fee. (fn. 10) There was a Fine levied before the Justices Itinerant, at Nottingham, 24 H. 3. be tween Galfr. de St. Mauro, and Robert de Tuke, (fn. 11) of the fourth Part of Half a Knight's Fee, in Westerleke, which Philip de Toke held.
(fn. 12) William, Son of Philip de Touc, of Leke, granted and confirmed to Raph Bugg, of Notingham, his Wind-Mill, in Westerleke, with the Scite of the said Mill and Chi minage, and the Suit of all his Men, &c. excepting that he should grind his own Corn, at the same Mill, as freely as he did at the Water-Mill of the said Raph. The Witnesses were John de Leyk, Robert de Rempston, Gervas de Wilford, &c. the Seal within a Circumscription of his Name, is, a Chevronel, between three Horse-Shoes. John de Touke, Son of Sir William de Touke, of Leyk, remiesed; 14 E. 1. (fn. 13) to Geossrey Bug, of the same, all his Right in the Fishing of the Water of Leak, &c.
There was a Fine levied at Nottingham, 9 E. 1. between Galfr. Son of Raph Bugge, quer. and Richard de Bingham, imped. of the Manor of Westerleke, (fn. 14) with the Appurtenances, thereby recognized, to be the Right of the said Galfr. as that he had by the Gift of Raph Bugge, Father of the said Richard; to have to the said Galfr. and the Heirs of his Body, Remainder to the said Richard and his Heirs, for which the said Galfr. gave him a Sparrowhawk, and was to pay him one Penny yearly at Easter. By another Fine, 31 E. 1. it appears, that Galfr. Bugg had one Mess. one Mill, five Bov. of Land, and an Half, and seven Acres of Meadow in Esterleke. (fn. 15)
Galfr. Bugge, Lord of Leke, demised to William de Thurminton, and Avica his Wife, 34 E. 1. (fn. 16) a Toft and Croft, &c. for their Lives, so that they should ever grind all their Corn and Malt at his Mill, and bake at his Oven, and suit his Court, &c. The Witnesses were Sir Henry Sutton, Rector of the Church of St. Leonard, of Lek; John le Touk, of Lek; Nicholas, Son of Sir John de Lek; Henry, Son of the said Sir John; Gilbert, Clerk of the same, and others. In 19 E. 2. by a Fine between Galfr. de Bingham, and Reginald de Sibthorp, Parson of Strelley, the Manor of Westerleyk, with the Appurtenances; (fn. 17) and five Mess. one Mill, seven Virgats of Land, and 30s. Rent, with the Appurtenances in Esterleyk and Thurmeton, were settled on the said Galfr. for Life; then to Richard his Son, and the Heirs of his Body; Remainder to Galfr. Brother of Richard, and the Heirs of his; Remainder to William, Brother of Galfr. and his; (fn. 18) Remainder to the right Heirs of the said Galfr. de Bingham: So called, I guess, because Sir Richard de Bingham, his elder Brother, was dead, without Heirs very legitimate, as in Bingham, and other Places may be observed; and it seems his Son was so sometime named too; for Galfr. de Bingham is certified to have paid 20s. for Half a Knight's Fee in Westerleke, 22 E. 3. towards the Aid to make the King's Son a Knight, as Richard Botiller did then 10s. for the fourth Part of a Knight's Fee, (fn. 19) which he held in Esterleke. Yet I find Galfr. Bugge, Lord of Leyk, all or most of the Time of Edward the Third, and the 49 E. 3. he made a Feoffment of all his Lands here to the Parson. He married Margaret, the Daughter and Heir of Robert de Champaine, of Thurleston, in the County of Leicester, and Margaret, his Wife, (fn. 20) on whom Roger de Stoke settled that Manor and Lands in Wikingeston, by which Margaret, the said Galfr. Bugg, had a Son Edmund Bugg (Lord also of this Place in the Time of Richard the Second) who left a Son called Baldwin Bugg, who died without Issue, and so this Manor descended to the Posterity of Margaret his Sister, first married to Richard Turvile, and after to Reginald Moton.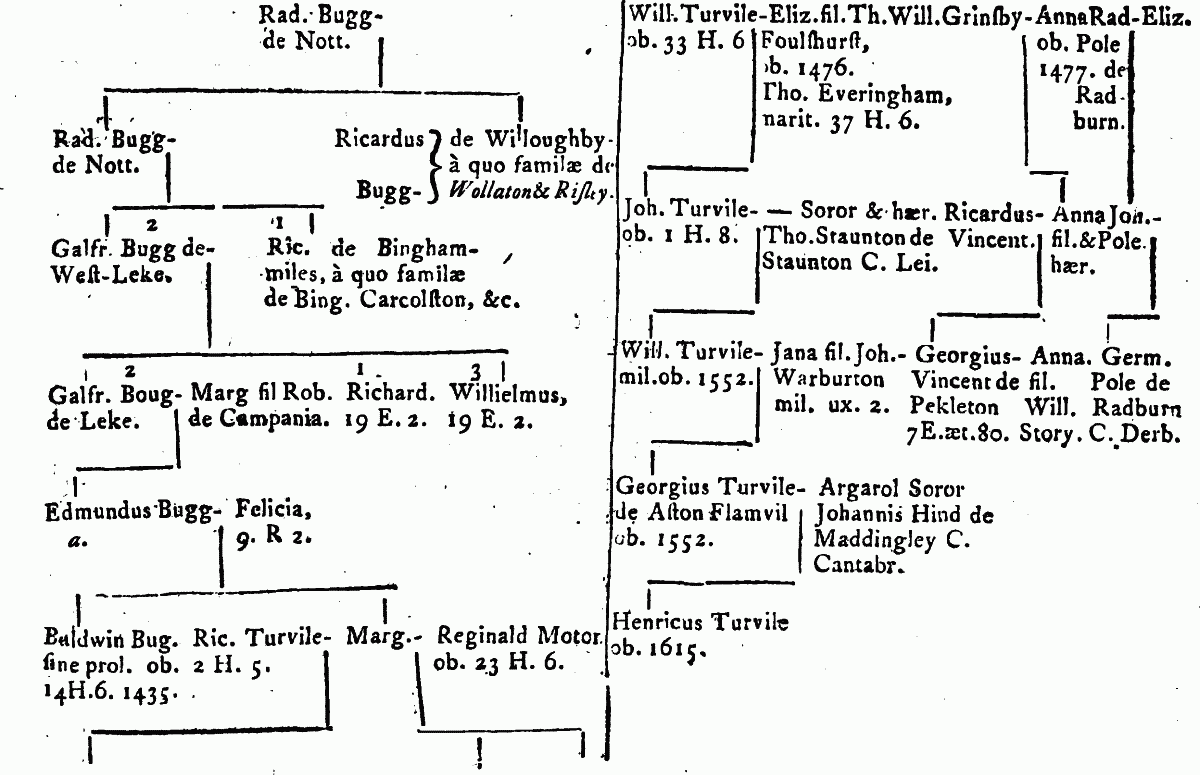 (fn. 21) (fn. 22) Henry Turvile, 28 Eliz. sold this Manor of West-Leke to John Manners, Esq. who 30 Eliz. sold it to Francis Harwar, who together with Elizabeth his Wife, by their Deed, dated 21 Nov. 36 Eliz. exchanged it with Richard Mansfeild, Gent. for DaneHall, in the Parish of Caunton, in this County; whose youngest Son, Thomas Mansfeild, married Millicent, the Daughter of William Sacheverell, of Barton, by whom he had Richard Mansfeild, the present Owner of this Manor, and also of two Farms and three Cottages held of it, descended from the Family of Ferrers, (fn. 23) to Sir Walter Devereux, of Castle-Bromwich, who sold them, 21 Jac. He hath likewise another Manor held of this for 10s. per Annum, which belonged to the Family of Leke, who also performed the Service of the fourth Part of a Knight's Fee. This Richard Maunsfield, 1662, married Elizabeth, Daughter of Sir Thomas Richardson, and Sister of Thomas, Lord Richardson, and by her hath Millicent, Thomas, Elizabeth, and Joyce.
(fn. 24) Alan de Lec, by the Consent of his Son and Heir, Henry, gave certain Lands in Westlec, to the Canons of Calc; to his Deed the Seal is still very perfect, having the Figure of an armed Knight on Horseback upon it. He, and Heraldus de Leca, and Richard his Son, and several of the Family, severally confirmed the Church of Leke to those Canons, which the Lords Ferrars confirmed likewise.
The first, besides Alan, Harald, and Richard of this Family, from whom I can perfectly draw a Genealogy, is William de Lecha, (fn. 25) who performed the Office of Sheriff of Nott. and Derb. for Hugh Bardolf, the third and fourth Years of King John's Reign, as Reginald de Carduil did the fifth; and himself the said William de Lech the sixth, for William Briewere. In the tenth of King John, Reginald de Cardoil, and Isabel his Wife, by Fine, passed to Jordan de Toka three Virgats, (fn. 26) (or Yard-land) in Leka, and twenty-two Acres in Abbotrewong, and 5s. Rent issuing out of one Virgat, of Yard-land, which William de Leka held; whose Son John de Leke (named in Thrumpion) was a Knight, and so was John his Son (fn. 27) (named in Widmerpole). After whose Death, 32 E. I. Galfr. Bugge, of Westerleke, took Security of Nicholas de Leyke, (fn. 28) his Son and Heir, concerning the Reliefs of Sir John de Leyk, Father, and Sir John, Grandfather of the said Nicolas de Leek, for fourteen Yard-land, or Virgats, held of him the said Galfr. who then released the said Nicolas and his Heirs, their Suit to his Court and Mill for 10s. per Annum, at Martinmas, and Pentecost. There was a Fine levied, (fn. 29) 10 E. 2. between John, Son of Nicolas de Leyk, Querent, and Simon de Sibethorp, Deforcient, of eight Mess. and fourteen Virgats (or Yard-land) in Westerleyk, thereby settled for Life on the said John, Son of Nicolas de Leyk; afterwards on John his Son, and the Heirs Males of his Body; Remainder to Thomas, Brother of the last named John, and his, &c. This John, the elder, (fn. 30) died about 17 E. 2. as in Kinston is noted, where he held eight Yard-land, as he did a certain Manor, and fourteen here, and some in Bafingfield, and Saxendale, &c. John the younger his Son was then above fifteen Years old, who about 34 E. 3. (fn. 31) left Alan de Leek his Son and Heir, who the Year following, viz. 35 E. 3. (fn. 32) was at Kt. but I want further Light to discover his Posterity. Thomas de Leyk, Knight, held a Knight's Fee in Cotes (viz. Cotham) 38 E. 3. and Simon de Leek was a Knight in that Time, (fn. 33) yet I cannot perfect the Descent as I would in this Place, where the next Thing I note must be a Fine, 10 H. 4. between Richard de Leek, and Elizabeth his Wife, Quer. and John Bereford, Parson of the Church of Leek, Deforc. of thirteen Mess. sixteen Virgats, and two Acres of Land, forty-four Acres of Meadow, with Pasture for six Oxen, in the Hall Lesue, and 25s. Rent, with the Appurtenances in Esterleke, and Westerleke, with the Homages and Services of Peter de Godeham, William Attemilne, and John Legett, and their Heirs, thereby settled on the said Richard and Elizabeth for Life, Remainder to John Leek, Chr. and Isabel his Wife, and the Heirs Males, of the Body of John; and for want thereof, to Isabel, the Wife of John Bonyngton, and the Heirs of her Body, Remainder to the right Heirs of the said John Leek. There was the same Term another Fine levied, between John de Leek, Chr. and Simon his Son, Quer. (fn. 36) and Richard de Leek, and Elizabeth his Wife, Deforc. of five Mess. four Tofts, eleven Bovats of Land, sixteen Acres of Meadow, and 11d. Rent, with the Appurtenances in Saxendale, Byngham, Wireton, Carcoston, and Aslacton, settled on the said John and Simon, and the Heirs of John. Simon was his eldest Son, and married Joan the Daughter and Heir of Sir John Talbot, of Swannington, in Leicestershire, the Relict of Sir Thomas Malory, Knt. as in Kilvington is noted, by whom he had only four Daughters. John Leek, his second Son, married Alice, the Daughter and Heir of John Grey, named in Hicling, who brought a great Increase of Lands to this Family, and was Mother of William Leek, (fn. 37) who about 37 H. 6. died, seized of of Leek's Manor here. and Lands in Saxendale, &c. leaving John, his Son and Heir, whose Posterity is mentioned in Landforth: But Thomas Leek, of Haslond, second Son of the said William; and his Posterity, were usually stiled Leek, of Leek; and inherited here, though the other Line of Sutton, in the Dale of Darbishire, had to do here also, as in Landforth, and other Places may be observed. His Son was John Leek of Hasland, who died 21 June, 37 H. 8. (fn. 38) leaving Raph Leek, his Son and Heir, twenty-one Years of Age the third of May then past. Raph was Father of Thomas, and Gertrud first married to Anthony Serleby, then to George Chaworth, who claimed to be Heir of her Brother, slain about 41 Eliz. by — Samon, without Issue; but he had a natural Son, called Thomas Leek, who bangled away his Estate, and died an old Man in Prison, 2 Car. 2. having been brought over from Ireland in the Beginning of the long Parliament, to Witness against Thomas Earl of Strafford; he is said to have left a Daughter, married to one — Bull. (fn. 34) (fn. 35)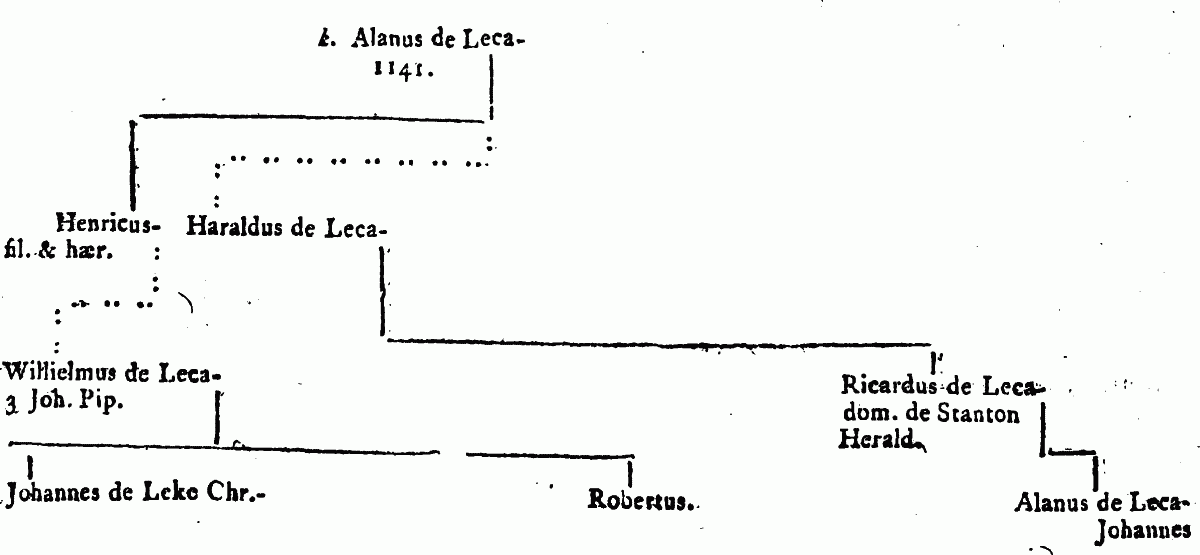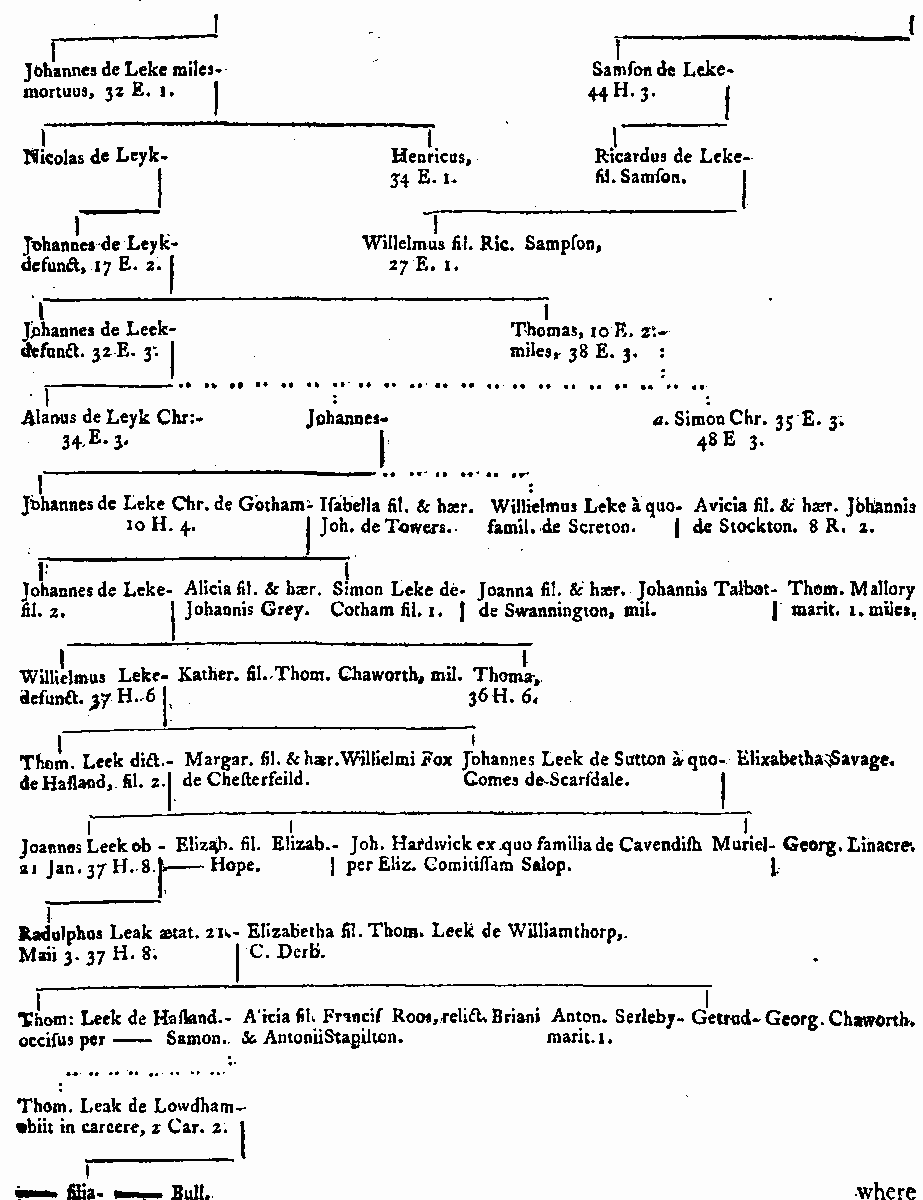 (fn. 39) Elias de Staunton, 9 E. 1. offered himself the fourth Day, against Thomas de Meverell, and Agnes his Wife, Roger de Mercinton, and Elianor his Wife, Raph de Munjoy, and Isabell his Wife, Henry de Kniveton, and Isabell his Wife, John de Crendon, and Johan his Wife, Richard de Draycote; and Agnes his Wife, and Thomas de Lokesle; in a Plea, that they, together with Roger de Botiller, and Marjory his Wife; should acquit him of the Service which Edmund, the King's Brother, exacted of him for his Freehold in Esterleke, which he held of them the said Thomas, Agnes, Roger, &c.
(fn. 40) By a Fine, 12 E. 2. between Richard le Botiller, and Mary his Wife, Quer. and William de Stocton, Cler. Def. eight Mess. and four Virgats, and one Virgat of Land, with the Appurtenances in [Esterleke, or] Great-Leke, were settled on the said Richard and Mary, and the Heirs of their Bodies, Remainder to the right Heirs of Richard.
(fn. 41) By a Deed dated at Esterleke, the Thursday next after the Feast of the Conversion of St. Paul, 4 E. 3. and after enrolled Robert de Jorce, Knt. settled on Sir John de Leek, Parson of the Church of Humberston, and Richard his Son, and the Heirs of the Body of Richard, 39s. 1d. 0b. with the Appurtenances in Esterleke, together with the Homages and Services of Sir William de Staunton; John, Son of John, Son of Simon; William, Son of John, Son of Simon, and divers others, particularly expressed; with Remainders over to William, and then to John, Brothers of the said Richard. and likewise to Beatrice, and then Maud, Sisters of the said Richard, which Form of Entail is several Times repeated, by several Persons of several Parcels in Esterleke.
(fn. 42) A Manor in Esterleke, 2 H. 5. was settled on Roger, Son of Raph Pare, and on Joan his Wife, and their Heirs; and Thomas Staunton, the Elder, of Sutton-Bonyngtonupon-Sore, Esq. 18 E. 4. (whose Son and Heir was Thomas Staunton) passed his Manor in Esterleke to the said Raph Pare and Roger, amongst many others, viz. Sir Richard Neele, the Justice, John Babington, Esq. Chr. Neele, &c.
(fn. 43) Raph Pare, of Great-Leake, in the County of Nott. Yeoman, was outlawed in the County of Stafford, concerning a Plea of Debt, 30 H. 6. which Outlawry was afterwards annulled by the Grace of the Court in Michælmas Term, 31 H. 6. because the said Raph alledged, and the Jury found, that he was a Gentleman born.
(fn. 44) His Seal of Arms was a Chevron engrailed between three crosse Crosselets, which was affixed to his Deed, bearing Date July 7, 21 E. 4. wherein he conveyed the Manor of Hermeston, in the County of Lincolne, to Robert Cosseby, and Isabell his Wife, Daughter of him the said Raph, and Heir to his Wife Isabell, her Mother, Daughter and Heir of John Blake, of Hermeston. (fn. 45) This Isabell married to her second Husband Thomas Griffith, and the said Robert Cosbe being dead, the 7 H. 8. herself died seized, 34 H. 8. of a Manor in Great-Leak, or Esterleke, and five Mess. three Cotag. one Hundred Acres of arable Land, forty Acres of Meadow, and thirty of Heath, and 4s. 4d. Rent of Assize, in Greak-Leak, held of the Honor of Tutbury, by the Service of the twentieth Part of a Knight's Fee, and 6s. 8d. Rent, Richard Cosbe, Son of her Son John Cosbe, being then her Heir, and above twenty six Years of Age.
This Manor came afterwards to be the Possession of the Family of Armstrong, of Rempston.
(fn. 46) The Family of Rempston had some Lands in West-Leke, which descended to Bingham, as in Bingham and Rempston may be observed, and were by John Stapleton, about the latter End of Queen Elizabeth's Reign, sold to Bar. Rag, and George Bird the Tenants, whose Posterity still have them; this paid 17d. yearly, or 13d. and a Pair of Spurs, of a Groat to the Manor of West-Leke, which, as also Cosbye's, in Great-Leke, is of the Fee of Tutbury, in the Bailiwick of prima pars Agard; which Family of Agard, of Foston, antient Bailiffs to the same, and now Farmers, have by Patent a Court-Leet here, and at Bingham, with Weyfs and Streys, and Felon's Goods, &c.
(fn. 47) The Advowson of the Church of Great-Leak, 8 E. 1. was determined to belong to the Prior Repingdon. And the Archbishop of York had a Mandate, notwithstanding the Claim of John de Beningworth, Elias de Staunton, and Geoffrey, Son of Raph Bugg, to admit a fit Person to that Church upon the Presentation of the said Prior.
(fn. 48) Reymund, Cardinal of Sancta Maria nova, 11 E. 2. was Parson of Leyk; and so was John D'Avenant, who died Bishop of Salisbury, and had been Chaplain to the Earl of Huntington.
(fn. 49) The Rectory was valued at 30l. when the Prior of Repyndon was Patron: Now the Earl of Huntington is; and the Value in the King's Books is 25l. 4s. 7d.
(fn. 50) In the Church Windows in Little-Leak, were Leak's Arms, sable six Annulets Or, 3. 2. 1. (now five or nine upon a Saltier engrailed) there also Or upon a Fesse Gules, three Water Budgets Or, all over a bend Azure. Geoffr. Bug. Arg. upon five Fusells in Fesse, so many Scallops, the Colours are worn out.
Gules three Bends Argent. Or on a Fesse Gules, three Water Budgets, Ar. Bingham, or Bugg.
There is now upon Mr. Maunsfield's Monument, Arg. on a Chevron between three Manches sable, three Amulets, Or. which impales also one with Ermine and Gules of six Bars. R. Maunsfeild, and Ester Hussy, two with Arg. on a Fesse Gules, Cotised Wavy sable, three Crescents Or. Fran. Mansfeild, and Norice Dod. three with Arg. on a Saltire Azure, five Water Budgets Or. T. M. and Millicent Sacheverel, 4. with — on a Chief .— three Lions Heads erased, R. M. and Elizabeth Richardson.
The Inscription is this.—Anno Æræ Christianæ 1624. Annoque ætatis 75. 3. idus Augusti. Animam Deo creatori reddidit Richardus Mansfeild, Gen. hujus Manerii Dominus. Uxorum habuit Jacosam Thomæ Paget de Barwel comitat. Leicestriæ, Gen. filiam. Ex qua liberos Richardum, Franciscum, Thomam, Mariam, Doroth. & Keth. suscepit. Quorum Thomas natu minimus è societate Templi Interioris, J. C. Ex Millecent uxore sua Gulielmi Sacheverel de Barton, Arm. filiâ, filium unum & hæredem Richardum, qui Elizabetham, Thomæ Richardson Equitis Aurati hæredisque apparentis Baroniæ Cramond Regno Scotiæ filiam in uxorem duxit, tresque filias, Mariam, Franciscam & Millecent, reliquit, & obiit 4 Maii, Anno 1638. æt. 50.
In the Chancel, on two Grave-Stones lying together.—Hic jacet Ed. Bigland Sacræ Theologiæ Baccalaureus hujus Ecclesiæ Rector, qui obiit Aug. 2. ætatis suæ 75. Anno 1650,
Here lieth Mary Bendish his Wife, who died March 9, in the 68 of her Age, An. 1652.
[Throsby] West-Leke and East-Leke.
THE Lordship of the former contains 2000 acres of land, old inclosure. The principal proprietors are Lord Middleton, and — Bird, Esq. The former I believe is lord of the manor.
The village consists of about 34 dwellings, one of which is the remains of an old manor-house, a part of it only is inhabited by a villager. The last family, I am told, who lived in it, was that of Chadwick.
The Church, which is dedicated to St. Helen, has a nave, side aisles, two bells, and is a low structure. In the chancel wall is a mutilated figure of a Lady, in stone.—Here is a monument to the memory of Thomas Mansfield, Esq. once lord of the manor; he died in 1741–2. Evelyn, (it says) his nephew, had gratitude for his memory, and erected it. Edward Bigland, Rector, died in 1650.—Thomas Mansfield, Esq. died in 1741. Another Thomas Mansfield, Esq, has a monument to his memory, who died in 1706.— George Chadwick, Esq. died in 1722.—Robert Hemington, M. A. died in 1774, aged 64: He was son of Lieut. Col. Hemington, of the first Regiment of Foot Guards.— In a nich of the north wall, near the pulpit, lies an old figure in stone, well preserved; and near the door is one seemingly much older. The monument for Richard Mansfield, mentioned by Thoroton, remains. The arms are over the monument (see Willoughby.) In this church is a light little font; but there stands, near it, some offensive lumber.
The earliest Register begins in 1616. Bap. the five first years 18, buried 20.—The last five years bap. 21, buried 14. Increased bap. 3, decreased burials 6.
East-Leke.
Is a large Lordship, open field. Principal proprietors Sir Thomas Parkyns, Bart. and a Mr. Hardy, an inhabitant of this place. The king is the reputed lord of the manor.
There are 80 dwellings in this village, which lies low: the principal inhabitants are farmers.
The Church, which is dedicated to St. Mary, has a spire steeple, 4 bells, 2 side aisles, and is kept clean. The seats, or rather benches, in the church, are ancient; on one, under the reading-desk, is a good figure of a Pelican, carved, feeding its young. The Clark of the parish, who was rather chatty, informed me that he was nearly the same age of his venerable master, who was then 80 years old; and I add with pleasure, old in good works.---In the church-yard is a good tomb to the memory of John Bley, citizen of London, but born in this village; and it is pleasing to relate, that he built the charity-school, and purchased a piece of land, at the expence of 450l. towards its support. At his death he bequeathed 10l. to every farmer, and 5l. to every cottager; and likewise 10l. to the poor of every village, bordering upon the lordship. He died in 1731, aged 57 years.
The Register of this place I did not see.
Patron of the Living of West-Leke cum East-Leke, Lord Rawdon. Incumbent, the Rev. Mr. Ellis. Supposed worth about 300l. per annum. Bacon 25l. 4s. 7d. Tenths 2l. 10s. 5d½. Archiepisc. pro Syn. 6s. Archidiac. pro pro prox. 7s. 6d. Valet in mans. in West-Leke cum gleb. per ann. 2l. in 1. mess. cum gleb. in East-Leke per ann. 16 decim. Frances Stanhope, widow, presented in 1717. Earl of Huntingdon in 1737, and 1770.
In riding from this place to Stanford, on the road to Leicester, (whither I was going the evening of the excursion) you have, on the right, a fine and extensive valley view; the inclosures, from the point of view, from a rich woody country, with here and there a break of beauty; here a gentle swell, and there a taper spire leads your eye to the extent of the valley, which is bounded by the Derbyshire hills, softened into the clouds; just underneath which sits All Saints tower, in Derby, visible to an indifferent eye.