Pages 54-58
Thoroton's History of Nottinghamshire: Volume 1, Republished With Large Additions By John Throsby. Originally published by J Throsby, Nottingham, 1790.
This free content was digitised by double rekeying. All rights reserved.
COSTOCK.
In Doomsday Cotingstoche and Cortingstoche, and since Curtlingstoc. So named from some Saxon Owner Corting or Curtling, and Stoche which as Stow, signifies a Seat or Place. In it were several Manors, whereof two Godric and Algar had before the Conquest, and for them paid to the Geld, as thirteen Bovats. The Land of them was but thirteen Bovats, and said to be in Cotingstoc and Rempeston. There afterwards Roger de Busli (fn. 1) had two Sochm. on two Bovats of this Land, and three Vill. with one Plow or Car. One Car. of this Land was then waste; there was thirty Acres of Meadow; this in King Edward the Confessor's Time was 40s. but then in King William's but 12s.
Fulco de Lisoriis and his Wife Albreda, gave to St. Mary of Blyth, (fn. 2) and the Monks of that Place (founded by the said Roger de Busli) one Carucat in Curtingestok for the Soul of Goisfrid his (Dapiferi) Steward, and of his Wife Richildis, who held it of the said Fulco. This Land he gave to buy Fish before Christmas; the said Fulc likewise gave to Blith those two Bovats of Land in Cortingestok, which he had retained, all which was confirmed by Robert de Lisoriis his Son, and Albreda, the said Robert's Daughter, his Grandchild, and by her Son John, the Constable of Chester, by the Name of all the Land they had in Curtingstok, which Ascelimus, (fn. 3) Prior of Blith, and the Convent gave to the Church of Geroldon in Fee, reserving 8s. a Year Rent for all Services, to which Abbey William de Bouis, Son of William de Bouis, whose Family held a Knight's Fee of the Honor of Tikhill, (fn. 4) and also had their Seat here, gave four Bovats, and two Bovats in this Town, and Robert de Cheverecourt, of Wyverdby, confirmed all of his Fee in Rempeston, and Cortelyngestok.
Robert de Chevrecourt, 2 H. 3. (fn. 5) ought one Mark for the summoning Alexander de Cortlingstok, to restore him the Custody of the Land and Heir of William de Bowes.
John de Bowys, and the Abbot of Geroudon, (fn. 6) for half a Knight's Fee in Cortlingstok, 22 E. 3, to the Aid for making the King's Son a Knight, paid 20s. whereof John paid 15s. 6d. and the Abbot had a Writ to discharge him from the 4s. 6d. remaining. This was, before that Time, William's, Son of Philip de Cortlingstock, but they paid for another Half of a Knight's Fee, which was sometime Thomas de Bowys, and for that John paid 13s. and the Abbot stopped 7s. with his Writ; and one Stephen de Weston, and the said Abbot had a fourth Part of a Knight's Fee here, which was sometime John's, Son of John de Cortlingstok, for this Stephen paid 7s. and the Abbot 3s. which he discharged with his Writ.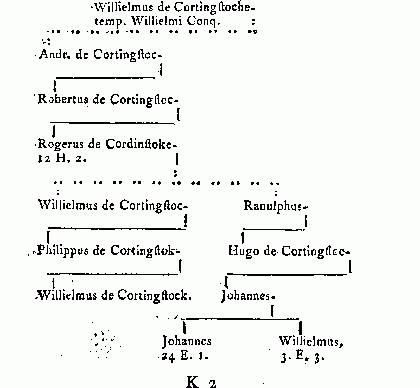 That which the Family of Cortlingstok held, I take to be of Rad. de Burun in this Place, where Seric and two Brothers had a Manor before the Norman Change, which was charged to the Geld, (fn. 7) as fourteen Bovats, the Land then fourteen Bovats. There afterward William, the Man, or Tenant of Raph de Burun, had three Car. and one Sochm. on two Bovats of Land, and nine Vill. and four Bord. having five Car. or Plows. There was thirty Acres of Meadow. This in the Confessor's Time was 40s. but in the Conqueror's 30s. Andrew (probably Son of this William) gave two Bowats of this Land to the Priory of Lenton, which Robert, (fn. 8) confirmed and gave his Churches of Cortingstoc and Rempeston to the said Priory with a great Curse upon his Heirs, if any of them should annul his Gift, which was confirmed by Roger de Burun his Lord, and likewise by Roger, the said Robert's own Son, (fn. 9) who held two Knights Fees of the said Roger de Burun, 12 H. 2.
William Brieware (fn. 10) (who in the Time of King John had the Fees of Roger de Burun) confirmed to the Abbey of Geroudon, the Gifts of Philip, Son of William de Cortingstock, and of Ranulph de Cortingstock, and Hugh his Son.
Philip de Cortingstoc, in the beginning of the Reign of Henry the Third, (fn. 11) is certified to hold two Knights Fees of Patricius de Chaurcis, in Cordingstok and Rempeston, of the old Feoffment. William de Cortlingstok, (fn. 12) the Son of Philip de Cortlingstok, gave a Tost in this Town to the Prior and Covent of Lenton for two Shillings of yearly Rent, which he and his Ancestors were wont to pay them for two Bovats of Land here, together with the Advowsons of the Churches of Cortlingstok and Rempeston, which they held of them.
John, the Son of John, the Son of Hugh de Cortlingstok, 24 E. 1. (fn. 13) recovered Seisin of one Mess. and one Car. of Land here, and two Mess. and one Virgat at Rempeston. William, Son of John, Son of Hugh de Cortingstoke, released to William de Weston, and Agnes his Wife; (fn. 14) Robert, Parson of Staneford, and to sundry others, and to John de Segrave, and his Heirs, all his Right in two Mess. two Carucats, and one Virgat of Land, and two Acres of Meadow, with the Appurtenances in Cortlyngstoke and Rempeston, which the said John de Segrave had of the Gift and Feoffment of Sir John de Segrave his Father, and by the Grant and Confirmation of Stephen de Segrave his (the said younger John's) Brother, besides all his Right in the Rents and Services, which the said John had in the Town of Cotegrave; this bore Date at Nott. the Wednesday next after the Feast of St. Martin, 3 E. 3.
There was a Fine levied, 22 E. 3. (fn. 15) between Richard de Willoughby the elder, Knight, Quer. and John, Son of John de Segrave, Def. of four Mess. two Tofts, thirteen Bovats, and ten Acres of Land, ten Acres of Meadow, 20s. and 8d. Rent, and the fourth Part of one Knight's Fee, with the Appurtenances in Cortelyngstoke and Rempeston, and Cotegrave, by that made the Right of the said Richard, together with the Homages and Services of John de Rempeston, and others.
Here was another Parcel of this Town Soc. to Clifton, (fn. 16) the great Manor of William Peverell's Fee, which paid to the Tax of that Time for one Bovat. The Land was one Bov. There one Sochm had one Plow or Car. and two Acres of Meadow. Here was also a Manor, which Fredghis had before his Time, which was charged to the Geld as two Bovats; the Land being two Bovats. There Goduvin, under William Peverell, had one Car. (fn. 17) (or Plow, or Plowland) two Vill. or three Acres of Meadow. This in the Confessor's Time was 10s. when the Survey was taken in the Conqueror's 5s. 4d. Value. William Peverell, (Son of this William, I suppose) gave thirteen Bovats of Land here to Geroudon Abbey; or else confirmed thirteen Bovats, which Sampson de Strelley gave, in whose Family some Parcels of Land here continued long.
The Prior of Durham, 3 E. 3. (fn. 18) claimed View of Frankpledge of all resident on his Fee here, amongst other neighbouring Towns, as Normanton, Bonington, Kinston, Barton, Remston, and Goteham.
The Jury, 16 R. 2. found it not to the King's Loss, if he granted Raph de Crumbewell, Knight, (fn. 19) and Richard de Outhorpe, Chaplain, Licence to give two Mess. one Virg. and twelve Acres of Land, two Acres and one Rood of Meadow, and 37s. Rent, with the Appurtenances in Nottingham, Rempston, Cortlingstoke, and Boney, to the Prior of Kirkeby upon Wretheke.
There was an Inquisition taken 29th Oct. 36 H. 8. (fn. 20) after the Death of William Waring, Gent. who died 19 Febr. 33 H. 8. seized in Fee of one Hundred Acres of Land, eighty of Pasture, and forty of Meadow in Cortlyngstok, late belonging to the Monastery of Garrowden. Thomas Waring his Son and Heir was thereby found to be seventeen Years old, at the Time of his Father's Death. Sir George Parkyns purchased Lands here of Arnald Waring, Esquire, afterwards Knight; who had them together with Thorp Arnald, in Leicestershire, by Descent from his Ancestors.
Robert Hall purchased also of John Horton, and Mary his Wife, who had Licence to alienate four Mess. (fn. 21) two Cotag. six Tofts, six Gardens, four Orchards, three Hundred Acres of Land, &c. 22 Sept. 9 Eliz. and had a Recovery in Michaelmas Term, (fn. 22) at which Time there were others for less Parcels, as John Leek, and William Bolton, against William Leek; and the same against Robert Leek, who called, &c. John Bowes. William Leek, Owner in Costock, was Father of William, Father of William Leek, of Wimswould, in the County of Leicester, Esquire, now living 1674, a Lawyer of great Repute and Worth.
The Church of Cortlyngestock, viz. the Rectory, when the Prior of Lenton was Patron, (fn. 23) was 12l. Now Mr. Gabr. Armstrong is in his Place, it is in the King's Books but 7l. 18s. 4d.
[Throsby] Costock
LORDSHIP contains 1100 acres of land, inclosed about the year 1760. A Mr. Woodroffe, an inhabitant, is a principal proprietor. Sir Thomas Parkyns, Bart. owns the high field farm, which lets at the low rate of 100l. a year for 4000 acres. Sir Thomas is the lord of the manor. John Plumptre, Esq. owns that portion of the lordship which was formerly in the hands of the Hallowes.
The village contains 33 dwellings, one of which is inhabited by the Rev. Mr. Beaumont. His house might be coveted by a Right Rev. it possesses neatness, convenience and enough of elegance to make it desirable; and its possessors are a courteous Lady and Gentleman. I speak from experience.
The Church, which is dedicated to St. Giles, is barn roofed, one aisle, one bell, with a dove-house steeple. Daniel Roberts, rector, died in 1768, aged 59. Richard Barnard, rector, died in 1783, aged 63. John Basford died this year, 1790, at the advanced age of 94. In the chancel window are two heads, painted glass. And in the foundation of the church wall, without, lies (probably) part of a figure of the founder of the church.
Patron of the living, Sir Thomas Parkyns, Bart. Incumbent the Rev. Mr. Beaumont, resident: supposed worth 150l. per annum. A rectory. In Bacon 7l. 18s. 4d. tenths 15s. 10d. Archiepisc. pro Syn. 4s. Archidiac pro Prox. 6s. 8d. val. in mans. cum gleb. ibidem per ann. 16s. Ann Parkyns, spinster, and Roby Sherwin presented in 1708. John Wiseman, Gent. in 1752. Sir Thomas Parkyns, Bart. in 1768 and in 1783.
Earliest register begins in 1588. In the five first years bap. 19. bur. 20. In the last five bap. 37. bur. 18. Increased bap. 18. Decreased bur. 2.