Pages 58-62
Thoroton's History of Nottinghamshire: Volume 1, Republished With Large Additions By John Throsby. Originally published by J Throsby, Nottingham, 1790.
This free content was digitised by double rekeying. All rights reserved.
REMPESTON, or RAMPESTON.
That which was of Roger de Buslie's Fee here, I perceive was held by the Family of Boues of Costock, for there was a Fine levied at Nott. 9 E. 1. between Roger, Abbot of Geroudon, Quer. by Fryer William de Hemington his Monk put in his Place, and William de Boues, of Cortinstok, upon this, (fn. 1) that the said William should hold to the said Abbot the Fine made in the Court of King Henry the Third, before the Justices at Westminster, between Simon, sometime Abbot of Geroudon, Predecessor of the said Abbot, Quer. and the said William, that he should acquit the said Abbot of the Service which the (Custos) Warden of the Honor of Tykehill, exacted of him concerning his Freehold, which he held in Rempeston, of the said William, viz. seven Virgats of Land, with the Appurtenances, for which he, the said Warden, distrained him to suit the Court of that Honor from three Weeks to three Weeks, toward the Castle twice in the Year, to pay 2s. 6d. Halfpenny Farthing, for a certain Palsrey; 14d. for common Fine, 2d. for the Meat of a certain Watchman, and 1 cl. ½ Aid to the Sheriff, all which the said William as mean between him, and that Honor discharged him of, for which the Abbot released all the Damages he had sustained till that Time.
In Rampeston William Pevrel had a Manor, (fn. 2) which before Fredgis had, and paid for it as six Bovats to the Geld: the Land was six Bovats. There five Vill. had one Car. and fifteen Acres of Meadow. In the Time of Edward the Confessor, this was 10s. in King William's 5s. 4d. Value.
Rad. de Burun had also a Manor here, which before was Ulchecels, who for it to the Dane-Geld paid as for 6. Bov. The Land of it was 6 Bov. it was then in K. Wil. Time waste, and was valued at 2s. in the Confess. it was 10s. There was ten Acres of Med. Tis likely this was held by the Family of Rosell, which had Lands here, and at Cot grave, and Denhigh, in Darbishire, of the Fee of Raph. de Burun. Richard, Son and Heir of Robert Rosel, (fn. 3) of Rempeston confirmed his own and his Ancestors Gifts of Lands to Geroudon. Hugh, the Son of Galsr. de Rempeston, gave to the same Abbey five Bovats in this Town, and confirmed all it had of his Fee. John Crisp, 17 E. 2. (fn. 4) claimed Lands here, as Son and Heir of John his Father, and Petronilla his Mother, to whom the said Lands were given by Ranulph de Cortlingstok, and to the Heirs of their Bodies; but the Jury finding they had alienated some of the Lands before the Sta-, (fn. 5) tute de Donis Conditionalibus, and some after, he only recovered the latter, and the Tenants whom he impleaded kept the former.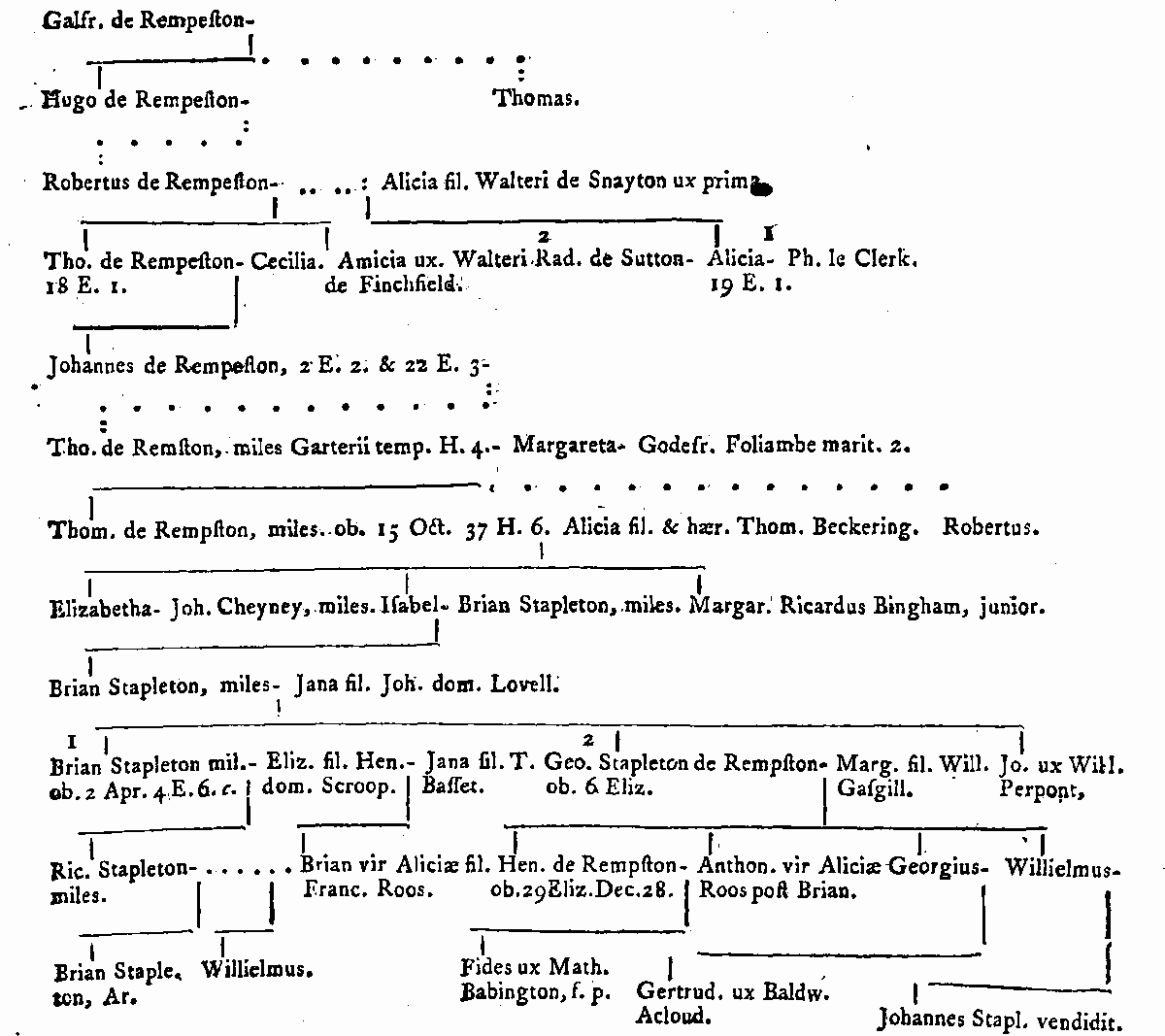 Here was a Family which had their Name from this Place, and became of very great Note in the beginning of King Henry the Fourth.
Robert de Rempeston who lived in the Time of King Henry the Third married, for his first Wife, (fn. 6) Alice the Daughter of Walter de Snaynton, who gave him two Mess. and five Bov. in Rempstin in Frank-marriage, but he had only a Daughter by her called Alice: His Son Thomas de Rempston, who succeeded him here, was by another Wife. The Prior and Covent of Lenton, (fn. 7) by their Instrument dated 1267, granted that Robert de Rempston might have a Chantry in his Chapel of his Manor of Rempston, so as he did not admit the Parishioners to hear Divine Service in Prejudice of the Mother Church, and that his Chaplain should swear fealty to the Rector. John de Lymar, of Stanton, (fn. 8) and Cecily his Wife, 2 E. 2. levied a Fine of five Mess. twenty three Bovats of Land 40s. Rent, and the third Part of a Mess. with the Appurtenances in Rempeston, to John, Son of Thomas de Rempeston. John, Son of Thomas, held the fourth Part of a Knight's Fee in Rempston, (fn. 9) 22 E. 3. and then paid 10s. for it to the Aid to make the King's Son a Knight. The next whom I could observe to succeed here was Sir Thomas de Remston (possibly Son of John) He was, 1 H. 4. Constable of the Tower of London, (fn. 10) and Admiral towards the West Parts, 2 H. 4. His Constableship he had in the fourth Year of that King, Nov. 14, and in the seventh Year also, June 20. He was also Knight of the Garter. (fn. 11) His Son Sir Thomas Rempston, the younger, had Respite of Homage, Nov. 19, 4 H. 6. and had to Wife Alice, the Daughter and Heir of Thomas Bekering, and of Isabel his Wife, (fn. 12) Daughter and Heir of Sir Robert Breton, of Walton, in the County of Darby. This younger Sir Thomas died 15 Oct. 37 H. 6. and left Elizabeth, then Wife of John Cheney, Esquire, (fn. 13) (after Knight) Isabel, of Sir Brian Stapleton, Knight, and Margaret, Wife of Richard Bingham, the younger, his Daughters and Heirs. He lies buried in the midst of the Chancel at Bingham, whereof he was also Lord, as in that Place will be noted, which Manor, as this of Rempston did, it seems fell to the Family of Stapleton, which made this the Inheritance of a younger Son, viz. of George Stapilton, of Remston, second Son of Sir Brian, Son of Isabel Rempston, before named, which George died Mar. 25. 6 Eliz. seized of this Manor, and divers Lands, and 5l. Rent in Rempston, (fn. 14) Wodeborough, Stanford, Bradmere, Costock, Great and Little Leek, and Newton in Fee-Tail to him and the Heirs Males of his Body; he had divers Sons, Henry, Anthony, George, William, whereof William only had Issue Male, viz. John Stapilton, who sold these Lands to - - - - Feld; and he to Gabriel Armstrong, and so this Place became the Seat of that Family, with which some Interest here still continueth. Henry Stapleton of Rempston, made his Will 8 Mar. 25 Eliz. (fn. 15) and died there 28 Dec. 29 Eliz. leaving Faith his only Daughter and Heir, to whom he gave all these Lands by his said Will. She was Wife of Matthew Babington, and died 1 Jun. 31 Eliz. (fn. 16) without Issue at Cussington, in the County of Leicester. Anthony Stapleton married Alice, the Daughter of Francis Roos, of Laxton, (named in Burton-Force) the Relict of his Cousin Brian Stapleton, but I think he had no Child.— Gertrud, the Wife of Baldwin Acland, the Daughter of George, the Brother of Henry Stapleton, would have been his Heir; (fn. 17) the said Henry had this Manor of Rempston, one Mess. four Virg. and an Half in Little-Leek; one Virg. in Great-Leek; one Mess. two Virg. in Costock; one Virg. in Bradmere; two in Stanford; one Mess. four Virg. and one Cotag. in Burton-on-the-Wolds, in Leicestershire; one Mess. two Virg. in Waltham-on-theWolds; and one Mess. and Close in Wimsewold, in that County, all then esteemed Parcel of the Manor of Rempston, and the Manor of Woodborough, and fourteen Virg. 36s. Rent, and five Mess. &c. belonged to it.
(fn. 18) Richard Hebbe claimed against William Pegge, and William Bowes, 38 H. 6. one Mess. three Tosts, four Virg. of Land, and eight Acres of Meadow in Rempston. There yet remain some of that Name, who have Freehold there.
(fn. 19) The Rectory was valued at twenty Marks, when the Prior of Lenton was Patron, it is now 13l. 2s. 6d. in the King's Books, and Gabriel Armstrong Patron.
In the Church.—Here lieth Henry Stapleton, Esq. (fn. 20) Patron of this Parish Church of Rempston, who gave ten Pounds, for ever, to the Use and Help of the Husbandmen of the same Town; he was the first Son of George Stapletune, Esq. He lest behind him Elizabeth his Wife, Patroness, when they had lived virtuously together 26 Years, and Faith, their only Daughter. He departed this World in the true Faith of Christ 28th Dec. 1586.
Upon the Tomb Arg. A Lion Ramp. Sable impales with Arg. 3. Broad Arrow-Heads Or, Phœons Sable, upon a Chief Sable, a Hound Argent, upon the Lion is a Crescent for a Difference, and in the other Coat a Mullett.
[Throsby] Rempston
Lordship was inclosed about the year 1768. Principal Proprietor and Lord of the Manor, William Gregory Williams, Esq. of Serlby-ball, Yorkshire. It contains about 1100 acres of land.
The Village stands upon the great road between Loughborough and Nottingham, 4 miles from the former and 10 from the latter. It contains 45 dwellings, two of which are good hunting seats; one is occupied by Mr. Saville, near the church, and the other by Mr. Goodgyere. Here also is an old manor-house, occupied by a farmer; some time since by Capt. Williams.
The Church, which is dedicated to All-Saints, is newly built; has a tower steeple with 5 bells, handsomely pewed, and makes a tolerable fair shew without, as well as within. It was consecrated in the year 1773. An inscription on it says, it was built in 1771. It was erected out of the materials of the old church, called, St. Peter's-inthe-Rushes, and from those of a chapel, in this village, which had been long in difuse. The people retain their prejudices for the old burying ground: few, at present, are inclined to lay the bones of their departed friends in the new, in preference of the old church-yard. The latter lies about half-a-mile distant from the former, in the field. In the old burying ground are two tombs, one for an Archdeacon of Nottingham, of the name of Marsden, Rector, who died in August, 1748, at the advanced age of 90. The other is for a Mr. Davis.
Patron, Sidney Coll. Cambridge. Incumbent, the Rev. Mr. Bell. A Rectory. Supposed worth 260l. per annum. In Bacon 13l. 2s. 6d. Tenths 1l. 6s. 3d. Archiepisc. pro Syn 4s. Archidiac pro prox 6s. 8d. Val. in mans, cum gleb. ibid. per ann. 1l. in dec. garb, &c. John Bellamy, Esq. presented in 1702. Sidney Coll. Cambridge, in 1748.
I only saw the latest Register: in it there appears to have been about 40 bap. and 26 burials in 5 years.