Pages 62-68
Thoroton's History of Nottinghamshire: Volume 1, Republished With Large Additions By John Throsby. Originally published by J Throsby, Nottingham, 1790.
This free content was digitised by double rekeying. All rights reserved.
WISHOU, or WISOE.
Probably an Hill of Plants, or Custom Hill. In this Place before the Normanscame, Estan, Elsi, and Gladwin, had three Manors, (fn. 1) which were assessed to the public. Geld for three Carucats. The Land was three Car. There afterwards the Great Roger de Busli had a Man or Tenant, called Roger, who had three Car. in Demesne, and fifteen Villanes, five Sochm. on six Bovats of this Land, and one Bord. having ten Plows or Car. There was a Church. The Value in the Confessor's Time of this was 45s. in the Conqueror's 48.
In the Time of King Henry the First, William de Lovetot, who held a Barony in Huntingdonshire, (fn. 2) and was also Lord of Sheffield, in Yorkshire, founded a Priory at Radford, near Wirksop, his principal Residence in this County, to which he gave, amongst other Things, all his Churches, which he held of the Honor of Blyth, the Seat of Roger de Busli, whereof on this South Side the River Trent were only the Churches of Coleston, Wilgeby, and Wishou. His Son Richard de Luvetot had Sheffeild and Wirksop, and the Lands on the North Side Trent, in this County. Nigellus de Lovetot, another of his Sons, had the Barony in Huntingtonshire, (fn. 3) viz. ten Knights Fees, and five Knights Fees of the Honor of Roger de Busli, which lay on the South Side Trent, in this County. This Nigellus accounted, 7 H. 2. (fn. 4) for twenty Marks of his Knights in Cambridge or Huntingtonshires, by his Certificate 12 H. 2. which he, as other Barons did, at that Time sent in to the King. It appeared that of his whole Barony none were enfeoffed since the Death of King Henry the First. (fn. 5) Those five Knights Fees of the Fee of Blyth, one was held by Robert de Jorz; another by Robert, Son of Ernulf; half one by Robert, Son of William; another half by Galfr. de Estanton; of another, William Picot held two Parts, (fn. 6) Richard de Cliston the third, and the said Nigellus de Lovetot himself had one in his own Hand. He gave to the Church of St. Cuthbert, at Radeford, two Bovats out of his Demesne in Wishou, one on that Part which is at (or near) Boney; the other at (or towards) Withmerepol. The Witnesses were Robert de Luvetot, and Hugh de Lovetot, and Henry de Luvetot, &c. and Roger de Ay, Son of Roger de Luvetot.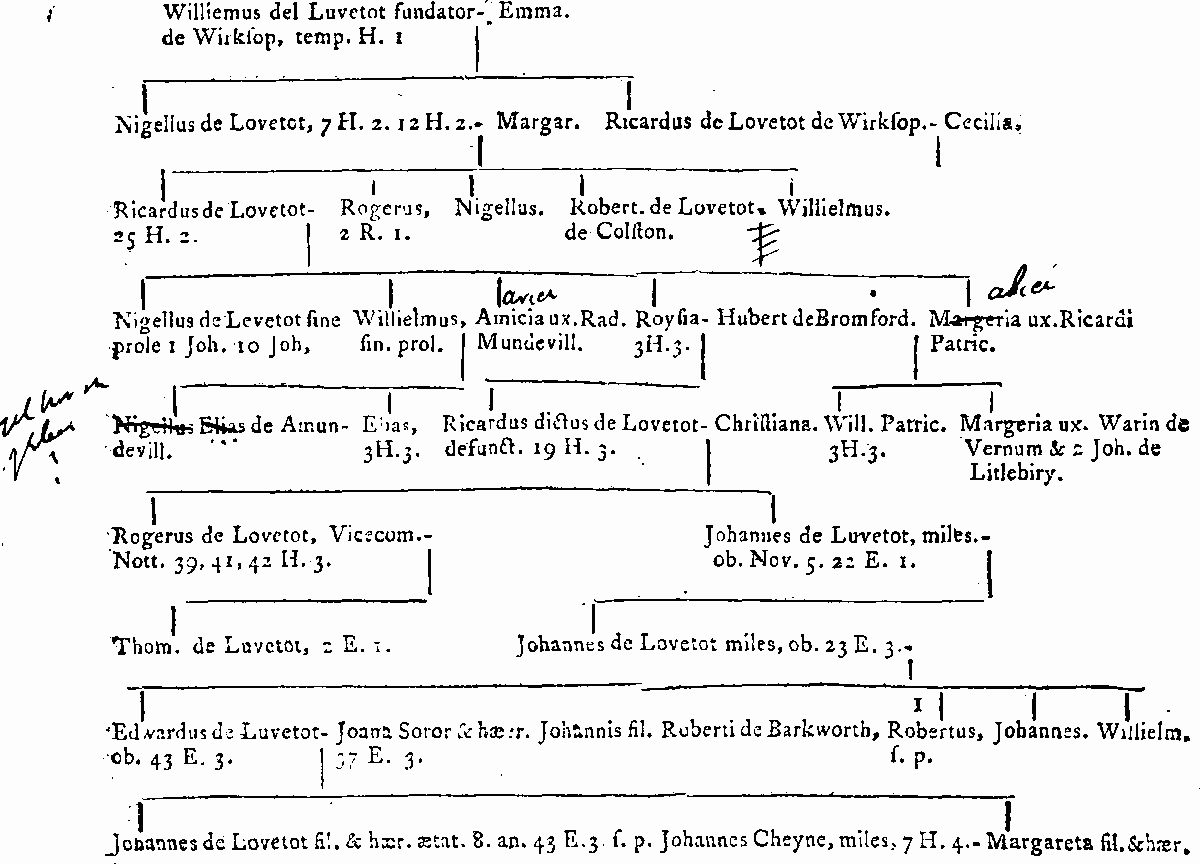 Richard de Lovetot, 25 H. 2. accounted for 100l. and two War Horses for the Fine of his Father's Land, (fn. 7) and the Sheriff of Cambr. and Hunt. 33 H. 2. (fn. 8) gave Account of 10l. of the Honor of Richard de Lovetot, of the Scutage of the Knights that went not with the King in the Army for Galwei. The King, 2 R. 1. pardoned 20s. of 100s. of the same Scutage to Richard de Lovetot, (fn. 9) who was then gone to Jerusalem. Richard de Luvetot, a son of Nigellus de Luvetot, by the Consent of his. Brethren Roger, Nigellus, Robert, and William de Luvetot, confirmed all the Gifts of his Ancestors, to Wit, of William de Luvetot his Grandfather, and of Nigellus de Luvetot his Father, and Richard de Luvetot, his Uncle, and of William de Luvetot, (fn. 10) his said Uncle's Son his Cousin, to God and the said Canons of Radeford, and further gave them ten Acres of his Demesne of Wishowe, and a Mess. and Croft, as they held them of his Father till his Time. Roger de Lovetot, his Brother, (fn. 11) did the like in the same Words almost, and added to them one Bovat of his own Gift in Wishowe, viz. that which was Lesthens. Nigellus (fn. 12) granted to the same Canons the Church of Wilgheby, and Robert de Lovetot (fn. 13) gave them the Church of Coleston, and the whole Town of Stoswik. Roger de Lovetoot, (fn. 14) 3 R. 1. ought 100l. for Relief. Nigellus de Luvetot, 9 R. 1. (fn. 15) ought 200. m. for a Fine of the Land, which was his Father's He gave Account, 3 Joh. of L. m. for ten Knights' Fees which he held of the King in Capite, and for five of the Honor of Tykehill. Nigellus de Luvetot, 10 Joh. (fn. 16) gave Account of 27l. and three m. of Gold for himself and his Brother, for Relief of there Lands. (fn. 17) They were Sons of Richard de Lovetot, last-named; and William the Brother of Nigellus, dying without Issue, left him the Inheritance, who being a Clerk, left it to the Posterity of his three Sisters; but we must Note, that their Grandfather Nigellus de Lovetot is omitted in that Place of the Monasticon, the Author of that Register of Peterburgh, being mistaken by Reason of the two Richards, whereof one, viz. the Uncle, was Son of William, as in the 51st page of the same Book, may easily be observed. (fn. 18) The first Sister Amica, (fn. 19) was married to Raph de Mundevil, who begot on her Nigellus Mundevil, and Elias. Upon Nigellus de Mundevil's Seal is three Chevrons. (fn. 20) The second, Rosia, was married to Hubert de Bromford, who begot on her a Son, by Name Richard, who held the Sirname of his Mother, viz. of the Ancestors of Lovetot. The third was Margery, married to Richard Patrick, who begot on her a Son, named William, and a Daughter called Margery. She was wedded to William (it should be Warin) de Vernon, on whose Seal is a Fesse between three Flowers de Lis. (fn. 21) William, the Brother of Margery, gave her his whole Purpart, and she after the Death of Warrinus de Vernun, married John de Littlebiri, who with her, 43 H. 3. levied a Fine to Richard Earl of Glocester, of one Mess. and one Carucat of Land in Sutho, and of the Homage and Service of Peter Cordon, Thomas de Hotetot, Robert Fleming, and of Robert de Lovetot, for the Lands they held in Wyhewik, Pokethorpe, and Thirning, and of the Homage of the Prior of Huntington, &c. Nigellus de Mundevil did the like, &c. Elias de Amundevil, Hubert de Bromford, and Rohesia his Wife, and William Patric, Heirs of Nigellus de Luvetot, 3. H. 3. (fn. 22) cught 100l. for Relief of the Land which was his, the said Nigellus each of them fifty Marks.
(fn. 23) Nigellus Mundevill, William de Sheffeild, and Roger de Lovetot, were certified to hold a Knight's Fee here in Wisoe, of Alice, Countess of Ewe, Lady of Tykhill, of which each Part went by the Name of the Manor of Wisoe, so making three again as there were before the Conquest. That Richard de Lovetot (Son of Roysia and Hubert de Bromford) had to Wife Christiana —, and was dead 19 H. 3. (fn. 24) left his Son Roger de Lovetot, then within age, who was High-Sheriff of these Counties, 39, 41, and 42 H. 3. (fn. 25) and passed the Manor of Wishou to Robert de Derley, reserving 10l. per Annum, to him and his Heirs. (fn. 26) Thomas de Lovetot, 2 E. 1. was his Son and Heir, and succeeded his Father, the said Roger, in this Place. Sir John de Lovetot, Knight, Brother of Roger, last named, was sometimes called Clark, because of his Learning in the Law, I suppose, for he was one of the Judges of the King's Bench, and conveyed to William de Henovere (fn. 27) the Custody of the Heir and Lands of Robert de Derley, then dead, viz. 9 E. 1. in Wisoe and elsewhere, which the said John had of the Grant of the fore-mentioned Thomas de Lovetot, who recovered the same against the King, in the King's Court, before himself and the Council. John de Lovetot (Son of Sir John) (fn. 28) by Fine, 11 E. 3. and 13 E. 3. passed to Richard de Willoughby, and Joan his Wife, four Knights' Fees, and 10l. Rent, with the Appurtenances in Wisowe, Kercoston, Eyleston, Flintham, and North-Clifton, together with the Homages and Services of Matilda de St. Andrea, Thomas de Widmerpole, and Elizabeth his Wife, William Deyncourt, Roger de Whatton, John de Gloucester, Gals. de Staunton, Thomas de Golhall, John, Son of John Pigott, of Dodington, Henry Torald, William de Asteley, and Isabel his Wife, and John, the Son John de Hose, and their Heirs, for the Tenements they held of the said John de Lovetot: To hold to the said Richard and Joan, and the Heirs of Richard. Robert, the Son of John de Lovetost, (fn. 29) by his Deed, dated on Thursday in Whitsun-Week, 31 E. 3. released to Richard de Willughby the Elder, Knight, all his Right and Claim in ten Pounds Rent, issued out of the Manor of Wisow, and five Knights' Fees, which the said Richard had of the Feoffment of John de Lovetost, his Father.
It appears that Edward de Lovetost, (fn. 30) 30 E. 3. was Son and Heir of this John (Robert having no Issue), and had a Daughter and Heir called Margaret, married to Sir John Cheyney, Knight. This continued long to the Family of Willoughby, which they had from these Lovetosts. (fn. 31)
Patrick's Part, I suppose, came to W. de Sheffeild, Nephew to Nig. de Lovetot, possibly by a second Husband of his Sister Margery, (if he was not his own natural Son, and so called as the Pope doth) however he gave him, by that addition of Nephew, five Virgats of Land in the Town of Wishow, viz. (fn. 32) that which Raph de Budney held, &c. The Witnesses to this Deed were William Picot, William de Villariis, Richard de Leca, William de Bowis, Hugh de Rempeston, Thomas de Rempston, Reginald Picot, Hugh his Brother, Robert de Luvetot, William de Valle, Rad. Gard. William de Wandreshelf, Richard de Wishou, the Clerk, and others. (fn. 33) The said Nigellus de L. gave by another Deed to the said William de Shefeld, fourscore and one Acres of his Demesne in Wishoe. To this were Y vo de Heriz, Helias de Marten, Rad. de Jorge, Gervas de Somervill, Galf. de Somervill, Hugh de Rempston, Wm. de la Valle, William de Bradewar, Walter de Wisho, Richard de Greinvill, William de Waldeschef, and Henry his Brother, &c. Richard de Lovetot, of Wishowe, (fn. 34) gave to William de Shefelt, the whole Meadow of his Demesne upon the Wald of Wishowe, viz. that which lay between the Meadow of Wærin de Vernun and the Men of Wishow; William gave him four Marks of Silver for it. The Witnesses were John de Heriz, Helias de Martini, Hugh de Rempston, Philip de Cortingstok, William de Waldeself, William Brodney, Walter de Wishou. Warinus de Vernun, and Margery his Wife, also passed Lands to this William de Sheffeld: (fn. 35) Witnesses Nigellus de Mundevill, Richard de Lovetost, William Waldeseiff, &c. Margery, who had late been Wife of Warin de Vernun, confirmed to William Sheffeud, that which William, Father of the said William, had of the Gift of the said Warin de Vernun in Wishou, Witness John de Lytlebyri, &c. William de Shefeud, 22 E. 1. stiles himself Lord of Wishou, (fn. 36) and upon his Seal of Arms within the Circumscription of his Name had a Lion Rampant, and above the Shield a Crescent in Imitation of Lovetot's Lion perhaps.
There was a Fine levied, (fn. 37) 35 E. 1. between William de Shefeld, Quer. by Durand de Wydemerpol put in his Place to get or lose, and Mr. Raph Barry, Deforc. of ten Mess. two Hundred and forty Acres of Land, six of Meadow, 20s. and 6d Rent, with the Appurtenances in Wisowe and Willughby, whereof nine Mess. two hundred and sixteen Acres of Land, six of Meadow, with the Appurtenances, were settled after the Decease of William on Thomas, Son of Nicholas de Wydemerpol, and on Elizabeth his Wife, Daughter of the said William, and the Heirs which the said Thomas should beget on the Body of the said Elizabeth, Remainder to the right Heirs of Elizabeth. Thomas, Son of Adam Walkelin, of Thorlaston, (fn. 38) and Margery his Wife, Daughter and one of the Heirs of William de Schefeld, of Wishou, released to Thomas de Wydemerpole, and Elizabeth his Wife, and the Heirs of their two Bodies, their whole Purpart of the Service, &c. in Wishou. Thomas, the Son of Nicholas de Wydemerpole, (fn. 39) and Elizabeth his Wife, 16 E. 3. settled on Robert their Son, and Alice his Wife, &c. This continueth still with the Family of Widmerpole.
Mundevil's Part, I guess, was, 28 E. 1. (fn. 40) by Richard Ayleston, for the Sum of 370 Marks paid beforehand, conveyed to William de Berge, Archdeacon of Berks, for his Life, and after to John, the Son of Sir Robert Poutrell, Knight, and his Heirs.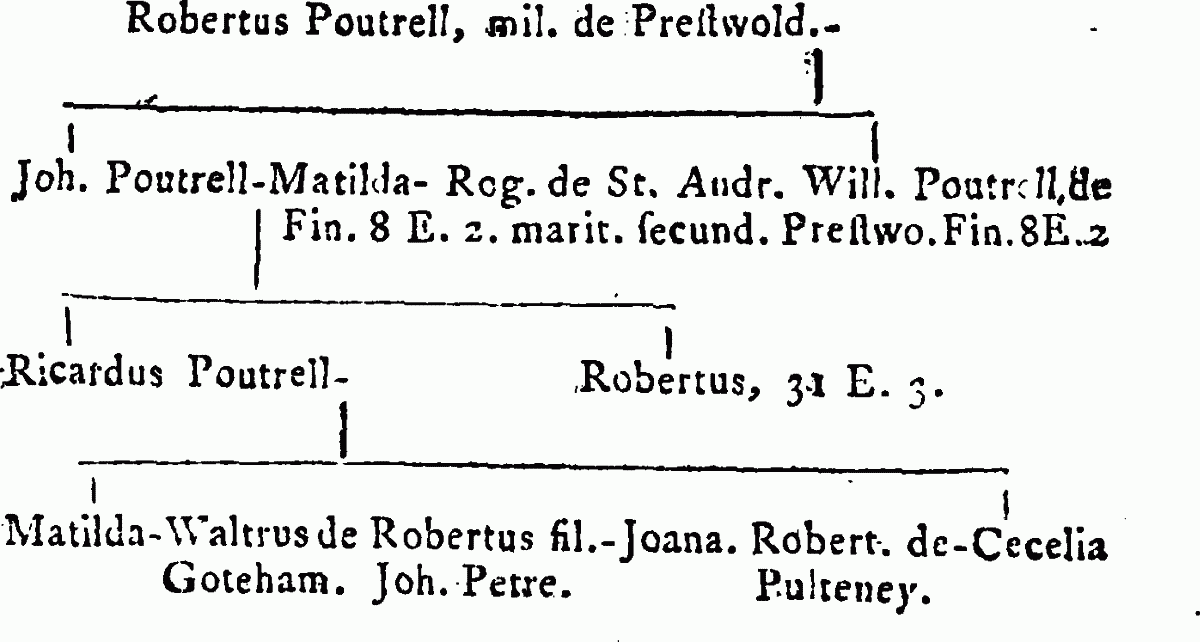 This John Poutrell had to Wife Matilda, afterwards third Wife of Sir Roger de St. Andrew, of Goteham, and two Sons, Richard Poutrell, who paid together with the Abbat of Gerondon, 22 E. 3. (fn. 41) for a Knight's Fee here 40s. whereof he paid 35s. and the Abbat discharged the other five with his Writ, and Robert Poutrell. (fn. 42) Richard had three Daughters and Heirs: Maud married to Walter de Goteham, Joan the Wife of Robert Pert, and Cecily of Robert Pulteney, of whom about 32 E. 3. Sir Richard Willughby purchased it, and his Son Hugh, the Clerk, Progenitor of the Family of Risley, about 11 R. 2. passed it to Robert Armestrong, of Thorpe, in the Clotts, whose Son John Armestrong married Felice, the Daughter of the said Hugh, (fn. 43) afterwards Wife of Raph Bingham; she was said to hold a Knight's Fee in Wissawe, which sometimes was Elias Maundevill's. The Family of Armstrong still inherit at Wishou
Alice, the Wife of William Thrumwin, Senior, who held a Virgat of Land at Canock, Staff. (fn. 44) held jointly with her Husband twelve Bovats in Wishow, and a Windmill, &c. 24 E. 1. of Thomas de Rempston by a Penny a Year, and Suit of Court at Tickhill Castle; and at Wishow Court from three Weeks to three Weeks.
(fn. 45) Nigellus de Lovetot gave one hundred and also twenty Acres of Land in Wishow. (Margaret his Wife joining at the latter Parcel) and 3s. Rent; Nigellus his Son gave 20s. Rent there, and Elias de Amundevill, the Nephew of Nigellus de Lovetot, gave four Acres and an half of Meadow to the Abbey of Gerondon, in Leicestershire.
The Church or Rectory of Wissall, alias Wishawe, (fn. 46) late belonging to the Priory of Wirksop; and all the Lands and Tenements belonging to it, King Edward the sixth, Jan. 2, in the sixth Year of his Reign, among other Things, granted to Thomas Re and George Cotton.
The Vicarage was eight Marks Value when the Prior was Patron, (fn. 47) now in the King's Books it is 4l. 11s. 0d. ob. and — Stopford, Esq. Patron.
In the Church of Wishow.—Hic jacent Johannes Armstrong, Gen. & Johanna, ux. 3. ejusdem, Johannis; qui quidem Johannes obiit 4 die mensis Julii, Anno Dom. 1485. & prædicta Johanna ob. in festo decollationis St. Johannis Baptistæ, Anno Dom. 1483.
Upon the Tomb is Arg. two Bars Azure, the uppermost charged with two Cinquefoyles, the other with one Or, Teverey.
Hic jacent Thom. Armstrong, Ar. fil. Johannis Armstrong, de Wysowe; qui quidem Thom. ob. 1 die Januarii, Anno Dom. 1513.
Hic jacent Philippa Armstrong, ux. Tho. Armstrong. fil. Ric. Villers.
Upon a fair Tomb.—Here lieth the Bodies of Hugh Armstrong, Esq. and Mary his Wife, Daughter of Henry Sacheverell, of Ratcliffe-upon-Sore, which Hugh died the 22d Dec. 1572, and the said Mary died 20th Maii, 1562. About the Tomb are his Daughters Matches. Turvile Or, three Chev. varry impales with Armstrong, three dext. Arms Armed, and the Hands open. Fitz-Herbert gules three Lions Ramp. Or, with a Label of three Points and a Crescent impales with Armstrong. Raynes Cheque gules and Or upon a Bendvert, a Moor's Head between two Annulets Or, and a Canton Ermine with a Mullert Or in the Middle, impales with Armstrong.
In the Window, Arg. on a bend Azure, three Flowers de Lis Arg. Poutrell.
[Throsby] Wishou
LORDSHIP is divided: James Sketchley, Esq. of London, and some of the principal inhabitants own each a portion. It is a small lordship, open field. The manor, some say, belongs to Sir Thomas Parkyns, Bart.
The village consists of about 50 dwellings.
The Church is dedicated to the Holy Trinity; has 2 aisles, a spire steeple, with 3 bells. It ranks with the indifferent; the floor is intolerable. The tomb of Hugh Armstrong, mentioned above by Thoroton, is here. John Chamberlain died in 1703. William Sharp, Minister, and Catherine his Wife, were both buried in one grave, in the month of September, 1654. The above mentioned William Sharp was presented to the vicarage of Wishou, Anno Dom. 1603, by Henry Worral, Esq. and continued Vicar 51 years, as appears by his presentation and burial. After his death there was no Vicar there till 1702, but the place was supplied as a Curacy, for the most part, by the Vicar of Bunny; and in the said year 1702, Thomas Rathborne was inducted by virtue of a patent from Queen Anne, bearing date May 12, 1702.
Patron, Lord Gosford, of Ireland. Incumbent, the Rev. Mr. Davenport, of Ratcliffe. Supposed worth 30l. per annum. It is ranked in Bacon among the Livings discharged, at 20l. 0s. 0d. Archiepisc. pro Syn 4s. Valet in mans. cum 10 acr. ter. gleb. ibid. per ann. 8s. in. an. pens. rec. de prior. de Wirksop 1l. 6s. 8d. in dec. lan. &c. Pri. Wirksop. propr. Hon. Phillips Savage, 1713. Arthur Acheson, Esq. in 1751. Sir Archibald Acheson, Bart. 1774.
Register begins in 1655, but confused at the beginning. In five years now there appears to be baptised 38, and buried 19.