Pages 265-270
Thoroton's History of Nottinghamshire: Volume 1, Republished With Large Additions By John Throsby. Originally published by J Throsby, Nottingham, 1790.
This free content was digitised by double rekeying. All rights reserved.
WHATTON.
Watone.
THIS Town, so called from the watry Situation, on the River Smite, being close by it, which sometimes continues longer full of Water than other swifter Rivers do, unless the Channel be very well cleansed, was, before the Norman Invasion the Land of one Ulf, who was charged to the Tax for his Manor here, as two Car. and an half. The Land being then accounted sufficient for nine Plows, or nine Car. (fn. 1) There Robert, the Man or Tenant of Gislebert de Gand, whose Fee it afterwards became, had three Car. twenty-eight Vill. twelve Bord. having nine Car. and one Mill, 4s. and eighty Acres of Meadow. There was one (Molaria ubi molefodiunt) of three Marks of Silver, which I know not how to render, except it be Marle.
In these Parts, Mold signifies fat Earth, almost in Powder, fit to receive Seed. There have been Marle-Pits at Whatton, but that Husbandry hath been long disused hereabouts. There is only a thin blue shelly sort of Stone; and perhaps there may have been Plaister like that of Paris, in this Lordship, which there is in divers near it, at Elton, Sutton, Orston, Crophill, Langar, &c.
The Value of this Manor was in the Time of King Edward the Confessor, 20l. but when King William made his famous Survey for the more easy regulating the Taxes which should be raised, 16l. having Soc in Hochesword and Haslacheton: 'tis the highest Value that I have observed for so little a Lordship, but the Soil is very good.
'Tis very probable that the Posterity of that Robert, before-named, had their Surname from this Place, for I find Sir William de Watun, (fn. 2) Lord of this Place, a Benefactor to the Monastery of Blyth, very near this Time; William de Novoforo likewise; and Adam de Novomercato confirmed the Gifts of his Ancestors, which Family became superior Lords to the other, and held immediately of Gaunt.
Adelina, the Daughter and Heir of Robert de Whatton, gave the Church of Whatton to the Abbey of Wellebec, to maintain the Hospitality thereof, for the Souls of her said Father, her Mother Beatrix, and William de Heriz her Husband, who was living about 20 H. 2. (fn. 3) but in 22 H. 2. his Brother, Robert de Heriz, who was his Heir, was amerced for trespassing on the Forest.
(fn. 4) Adam de Novomericato confirmed the Gift which Adelina had made, and so did Adam de Novomercato, his Son; to whom, in the Year 1241, William, the Abbat, and the Convent of Wellebek, (fn. 5) gave that Place of Meadow, which lay between the Holme of the said Sir Adam, and the Causeway of Aslacton, which belongs to the Chapel of Aslacton, for that Place which lay by the Water-Mill of Whatton, between the Dam and the Sik, by the Land of the said Abbat, saving to the said Sir Adam, his Turbary, &c.
Henry de Novomercato, Son of this Sir Adam, confirmed to that Abbey, all their Lands and Possessions they had in his Fee in this Parish of Whatton, and out, and so did Thomas de Novomercato, Son and Heir of this Sir Henry.
This Thomas produced a Charter of Free Warren, granted to him and his Heirs, in all his Demesne Lands here, by King Edward the Second, dated at York, the 12th (fn. 6) (fn. 7) Nov. in the tenth Year of his Reign, which was allowed in Eyre, 3 E. 3. before William de Herle, and his Fellows, Justices at Nott. the Monday after the Feast of St. Martin. So was not the Abbat's of Wellebek, granted by King Edward the First, dated also at York, 5 Apr. 19 E. 1. (fn. 8) because it had not been well used here in Whatton, Aslacton, Flintham, Kniveton, nor Dulecotes, and Styrap, though in all their other Places it was, and therefore the Abbat made Fine to the King of forty Shillings, and had it restored in these also.
(fn. 9) This Thomas Newmarch, then called the elder, because his Son was also Thomas, had Market and Fair granted, 12 E. 3. as well as Free-Warren in this Lordship.
(fn. 10) Which said Thomas Newmarch, his Son, left it to Hugh Newmarch, his Son and Heir, who, by Fine, 1 R. 2. settled this Manor on himself and his Wife Alina, and the Heirs of their Bodies, with Remainder to the right Heirs of the said Hugh.
(fn. 11) The Lands which were Margaret's, who had been Wife of Richard Reynes, one of the Daughters and Heirs of Hugh Newmarch, Chr. 8 July, 11 H. 4. were to be seized. But Elizabeth, Daughter and Heir of the said Hugh, was married to Raph Newmarch, Son of Robert, Son of Adam, Son of Adam, Son of John, Owners of Bentley, in Yorkshire, (fn. 12) which afterwards descended with this Manor.
(fn. 13) This Raph and Elizabeth Newmarch, had a Son called Robert, who had an only Daughter, named Elizabeth, married to John Nevile, of Althorp, in the County of Lincolne; whom the said Elizabeth, her Grandmother, over-living her said Son Robert, had a Mind to disinherit, and thereupon enseoffed John, Duke of Norfolk, and Raph Laventhorp, Clerk, of this Manor, and by that Means thought to convey it to Thomas Newmarch, Esquire, and the Heirs of his Body: But the Duke, after the Death of Leventhorp, not liking the Design, conveyed it to the Grandmother for Life; the Remainder to the said Elizabeth, the Wife of John Nevile, and the Heirs of her Body; who accordingly succeeded, and left a Daughter and Heir, named Joane, the Wife of Sir William Gascoigne, Knight, (fn. 14) by whom she had a Son called Sir William Gascoigne, Knight, who died seized of this Manor, and the said Manor of Bentley, in Yorkshire, amongst many others, 4th March, 2 H. 7. His Son, Sir William Gascoigne, 4 H. 7. was above nineteen Years old, when the Inquisition was taken.
(fn. 15) There was a Recovery suffered of this Manor, 27 H. 8. and William Gascoigne, the elder, Knight, called to Warrant.
(fn. 16) It was sold by one of the Gascoigne's, to Sir Thomas Stanhope, Knight, Grand- father of Philip, first Earl of Chesterfield, whose Grandson, Philip, the second Earl, now enjoys it.
(fn. 17) In Adelina's Time, the Daughter and Heir of Robert de Whatton, there were left Males of the Family, viz. Walter de Whatton, and his Sons Richard and Robert, and William, the Son of Richard; but who was Father of Sir Richard de Whatton, Knight, and Roger, his Brother, who lived in the Times of Edward the First, and Edward the Second, I could never yet discover.
(fn. 18) Richard de Whatton, and Agnes his Wife, intailed Lands and Rents here, by Fine, 3 E. 2. on themselves for Life; then to Robert, their Son, and the Heirs of his Body; and in Default of Issue of Robert, to their other Sons, Roger, John, and Richard, successively in like Manner. Robert had a Son, called John, living in the latter End of the Reign of Edward the Third, and after; (fn. 19) but much further I cannot trace this Descent, except Robert Skipwith, mentioned in Scarrington, who lived in the Time of Richard the Second, and Henry the Fourth, was this Man's Son, and changed his Name.
Sir Richard de Whatton lies buried in this Church, under a well-cut Stone Tomb, whereon is his Portraiture, with his Shield, having his Arms embossed upon it, which the Windows also show to be Argent on a Bend Sable, between six Crosse Crosletts Gules, three Besants; his Name was on the Side, where yet some gilding is visible.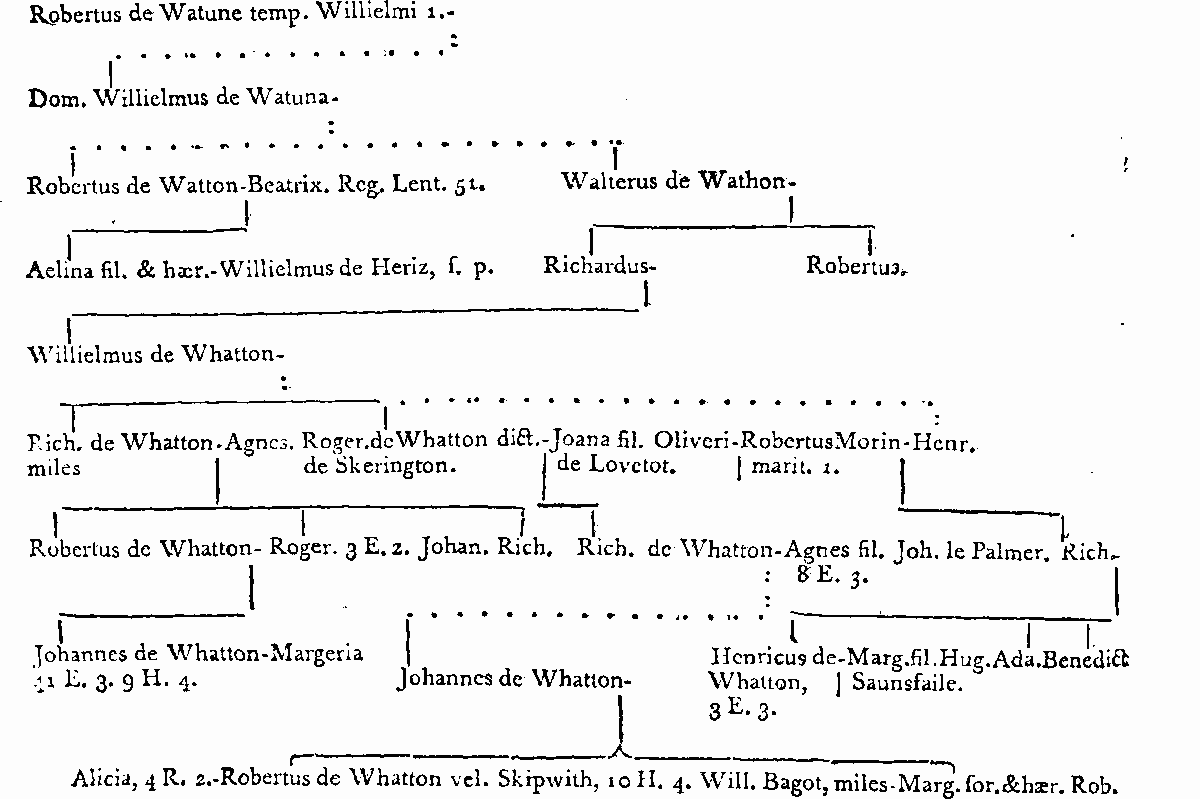 What appears concerning his Brother Roger's Posterity, is noted also in Scarrington.
(fn. 20) There was a Fine levied, 9 H. 4. between John, Son and Heir of Robert de Whatton, and Margery, his Wife, Quer. and John de Knyveton, and Agnes, his Wife, Deforc. of five Mess. 160 Acres of Land, 30 of Meadow, and 20s. Rent in Whatton, whereby they were settled on John and Margery, and the Heirs of their Bodies; Remainder to the right Heirs of John de Whatton.
Richard, Son of Henry de Whatton, 3 E. 3. settled by Fine, a Mess. and four Bovats of Land, and 16 Acres of Meadow, in Whatton, (fn. 21) on Henry, his Son, and Margaret, the Daughter of Huge Saunsfail, and the Heirs of their Bodies; Remainder to Adam, and his; Remainder to Benedict, and two other of his Sons.
How these Lands passed I have found no further light certainly to determine.
Thomas Savile, Gent. and John Hanston, in a Recovery, 10 Eliz. (fn. 22) claimed against Edmund Stevenson, Gent. and John Blodworth, 4 Mess. 4 Cottage, 4 Tofts, 1 Dovecot, 6 Gardens, 400 Acres of Land, 100 of Meadow, and 200 of Pasture, with the Appurtenances in Whatton and Bingham, and called John Blythe, Esq. The next Year, Brian Stapleton suffered a Recovery of 4 Mess. 3 Cottages, &c. (fn. 23) 200 Acres of Land, &c. in Bingham, and called to Warrant the said John Blythe, Esq.
Mr. Whalley's Manor of Whatton, which was Sir Maurice Denny's, is mentioned in Hawkesworth, I suppose was sold to some of the Gelsthorps', whereof William Gelsthorp hath now eight Oxgangs, and three Cottages; and Francis Cook five; which were heretofore purchased of Mr. William Gelsthorp, of London; (fn. 24) eight Oxgangs more were bought of — Gelsthorp, of Fishlake, in Yorkshire, whereof four are John Jalland's, and four the Heirs of Francis Haines, and were lately Peter Gelsthorp's, Son of James.
Queen Elizabeth, 7 Jun. in the twelfth Year of her Reign, granted Licence to Thomas Cranmer, Esquire, (fn. 25) to alienate the Rectories and Churches, with the Right of Patronage of the Vicarages of the said Churches of Whatton and Aslacton, to Nicholas Rosell, and Robert Brookesby, and the Heirs of Nicholas.
Sir John Molyneux sold twelve Oxgangs, accounted Parsonage Land, whereof Robert Clark hath 9 and 2 others; and the said Francis Cooke, 3. He likewise sold 12 Oxgangs of other Land; 6 to Henry Cooke, father of Thomas, father of the said Francis, and of Thomas Cooke, his elder Brother, Chief Constable of this Hundred, the present Owners, my Kinsmen, by their Mother, the Daughter of Edward Oldney, of Hawton. Six Oxgangs more were sold to Thomas Sawell, whereof three remain to his Grandchild, Richard, Son of Henry.
The Tithes were purchased by Thomas Shipman, of Scarrington, whose Grandson, Thomas Shipman is the present Owner, and hath half an Oxgang of Land also.
(fn. 26) The Vicarage of Whatton was ten Marks, when the Abbat of Wellebeck was Patron. 'Tis now 5l. 6s. 8d. in the King's Books, and Thomas Shipman, Esquire, Patron.
In the Church, in the north Aisle, near Sir Richard Whatton's Tomb, whereon was his Name on the Side, is another plain one, whereon is,
Hic jacet Thomas Cranmer, Armiger, qui obiit 27 Maii, 1501, cujus animæ propitietur Deus. Amen.
Upon it.---A Chevron between three Cranes — Cranmer.
And, Arg. on five Fusells in fesse Gules, each an Escallop Or, Aslacton. Which is also in the Windows; and so is
Arg. five Fusells in fesse Gules, Newmarch.
And, Arg. on a Bend sable between six Crosse Crosletts Gules, three Bezants, Whatton.
And, Gules, A Lion Ramp. with a Bordure engrailed Arg.
And, Sable, A Chevron between ten Crosse Croslets Arg.
In the Middle of the east End of the south Aisle, lieth one well cut in Alabaster, in Mail, and rich Armour: upon his Helmet, the Head and Part of the Body of a Griffin, compassed with a Coronet; on the Border, by his left Cheek is, Adoramus te Christe and on the right, Jh'e...A...Newmarch at the Head; below is five Fusells in Fesse; and on his Breast, and at the Feet, that impailing a Chief, and three Crosse Crosletts Botony Bitchè; on the Sides, are eighteen several Shields of Arms, embossed, . . . A Chevron, and file of three Labels . . . a Lion Ramp. . . . Quarterly two and three fretty a Bend . . . two Chevrons . . . A Lion Ramp. with double Queve . . . A Lion Ramp. amongst Cinquefoils . . . a Fesse, with a File of three Labels . . . three Pickaxes . . . Six Roundels three, two, one, these are on the south Side. On the north Side is, Barry of six, three Roundels in Chief. Quarterly per fesse indented. Parry per fesse, in the upper Part, two Mullets of six Points, pierced. A Chief, and three Crosse Crosletts Botony Fitchè . . . a Fesse between three Cinquesoils. Ermine, a Chief indented. . . . Three Bends: two others are broken away.
(fn. 1) There was in a Window, Gules, a Lion Ramp. Arg. crowned Or; the Crest an Eagle's Head, betwixt the Wings sable, coming out of a Crown. Arg.
(fn. 1) Galfr. Archbishop of York, appropriated this Church of Whatton, to the Abbey of St. James, at Welbeck, saving always a Competency for the Vicar that should minister, viz. the third Part.
[Throsby] Whatton
FIELD has been enclosed lately. It contains 1100 acres of land. Lord of the manor, and a principal proprietor, the Earl of Chesterfield. Other freeholders are Mr. Cole, of Normanton, and Messrs. Hall and Hardwick, manufacturerers, Nottingham, who lately purchased the great tithes.
This is a decent village. The church has a spire steeple, with 5 very musical bells, the tower of which stands in the centre. It is dedicated to St. John, of Beverly. The monuments are nearly the same as in Thoroton's time.
Impropriator of the living, Mr. Foulgham, a gentleman of Yorkshire. Incumbent, Rev. Mr. Newsam. Worth about 100l. per annum. In Bacon, clear yearly value 28l. 10s. 0d. King's books, 5l. 6s. 8d. Archiepise. pro. Syn. 6s. Archidiac pro Prox. 7s. 6d. Val. in mans. cum gled. ibid. per ann. 11s. in decim. lan. agr. porc. anc. pul. &c. William Shipman, Esq. presented in 1725. John Hewitt, Esq. 1763, and 1781.