Pages 271-283
Thoroton's History of Nottinghamshire: Volume 1, Republished With Large Additions By John Throsby. Originally published by J Throsby, Nottingham, 1790.
This free content was digitised by double rekeying. All rights reserved.
BINGHAM.
AFTER the conquest this became wholly the Fee of Roger de Busli; before which Tosti had a Manor here, rated to the Geld for three Car. two Bov. and and an half. (fn. 1) The Land was then five Car. There Roger had in demesne four Car. twenty-six Vill. five Bord. fourteen Sochm. having twelve Car. and an half. Pasture wood one leu long, and eight qu. broad. In King Edward the Confessor, and King William's Time, this was 10l. Value, having in Nivuton, as much as paid the Tax for three Bovats.— Here were also, before the Conquest, two Manors, which Hoge and Helga had, and were rated for them as five Bov. ¾. There one Sochm. eight Vill. one Bord. had one Car. and twenty-four Acres of Meadow. In the Confessor's Time, this was 20s. in the Conqueror's but 13s. It had Soc. in Scelford, which Part had Soc in Bingham; there three Sochm. had one Carucat, or Plow-land.
(fn. 2) Roger de Busli, at his Foundation of Blyth Priory, which was in the Year 1088, gave to it, two Parts of the Tithes of the Hall, of Bingham, which, in the Copy of the foundation Charter, printed in the Monast. Angl. Vol. 1, p. 553, is omitted by the fault of some Scribe.
(fn. 3) William Paganel, Husband of Avicia de Romeilla, and Father of Adeliza, Wife of Robert de Gaunt, was the next Owner of this Place, who, by the Advice of Thurstan, Archbishop of York, who lived in the Time of Henry the First, founded the Prior of Orar, in Yorkshire; to which William de Vavassur, who 32 H. 2. gave Account of the new Farm of the Land of the said William Painell, paid 13s. 4d. which he had Allowance for, as he had for 40s. laid out in the Repair of the Houses of Cartorp, and Bingham, by the King's Writ, Rot. Pip. 32 H. 2.
(fn. 4) Avicia de Romilli gave to God and the Church of St. Peter, of Thurgarton, in pure Alms, for her own, and Childrens Health, and for the Soul of William Painell, and for the Souls of her Father and Mother, and of her Brothers and Sisters, BurMilne, with the Multure of Bingham and Waterholm.
(fn. 5) Hugh, the Son of Clement de Bingham, gave 6d. ob. Rent, out of a Toft, which Roys. Daughter of Cecily, his Sister, held of him in Bingham; and 12d. Rent, out of other Lands there, to Alan, the Chaplain, Son of Geoffrey, Son of Philip de Wyneston, who gave them to God, and the Canons of Thurgarton.
(fn. 6) Richard, Son of Robert, 6 Joh. gave ten Marks, and one Palsiey, for having Seisin of fourteen Bovats of Land, with the Appurtenances in Bingham, and of the Service of — Bovats of Land, with the Appurtenances in the same Town, which were in the King's hand, whereof Robert de Bingham, Father of the said Richard, died seized, &c.
Fouke Painell held the Barony of Bingham, by the Service of a Knight's Fee; he enfeoffed Hugh de Bingham. (fn. 7) and John de Cruce, for that Service. Afterwards Fouke was disseized of that Barony, by Occasion of the King's Precept, de Terris Normannorum, and that Town, was given to Henry de Bailiol for 40l. Land, and the Service of Hugh and John, still kept in the King's Possession.
(fn. 8) The Town of Bingham was found to be an Escheat of the Land of the Normans; and that Colwinus de Lettris, and his Brother, had it of the Gift of King Henry the Third, and of King John his Father. Nicholas de Lettres had a Patent for this Manor, 14 H. 3.
(fn. 9) William de London had the King's Presentation to the Church of Bingham, which before was Roger's, the Son of the Earl of Saunty, then made Bishop, viz. 10 H. 3.
(fn. 10) The Manor of Bingham, 19 H. 3. was granted to William de Ferrariis.
(fn. 11) But in the 50 H. 3. the King granted it in Fee, to Raph Bugge, whose Son, Richard de Bingham, was a Knight, and is mentioned in Leek and Clipston.
There was a Suit in the Spiritual Court, between the Monastery of Blyth, and Robert, the Parson of Bingham, (fn. 12) for that he had carried away in the Year 1280, the Tithes of the Sheaves, growing on the antient Demesne of Sir Raph de Bingham, and his Ancestors, in the Fields of Bingham, whereof the said Monastery was antiently possessed, &c. which Controversy was agreed, that the said Rector, and his Successors, should pay four Marks yearly, in the Name of a Farm, to the said Monastery, by the Consent of Sir Richard de Bingham, the Patron, 1284.
This Sir Richard, was resident here, (all or) most of his Time, and had by one Alice Bertram, three Sons, William, Richard, and Thomas; on William he settled this Manor, and Clipston, and Lands in Outhorpe, Kinalton, Cotegrave, Notingham, and Rotinton: and the Advowson of the Church of Bingham; and in the latter end of his Time married her, as may be gathered out of the Fines he levied concerning these Lands, 34 E. 1. 1 E. 2. 2 E. 2.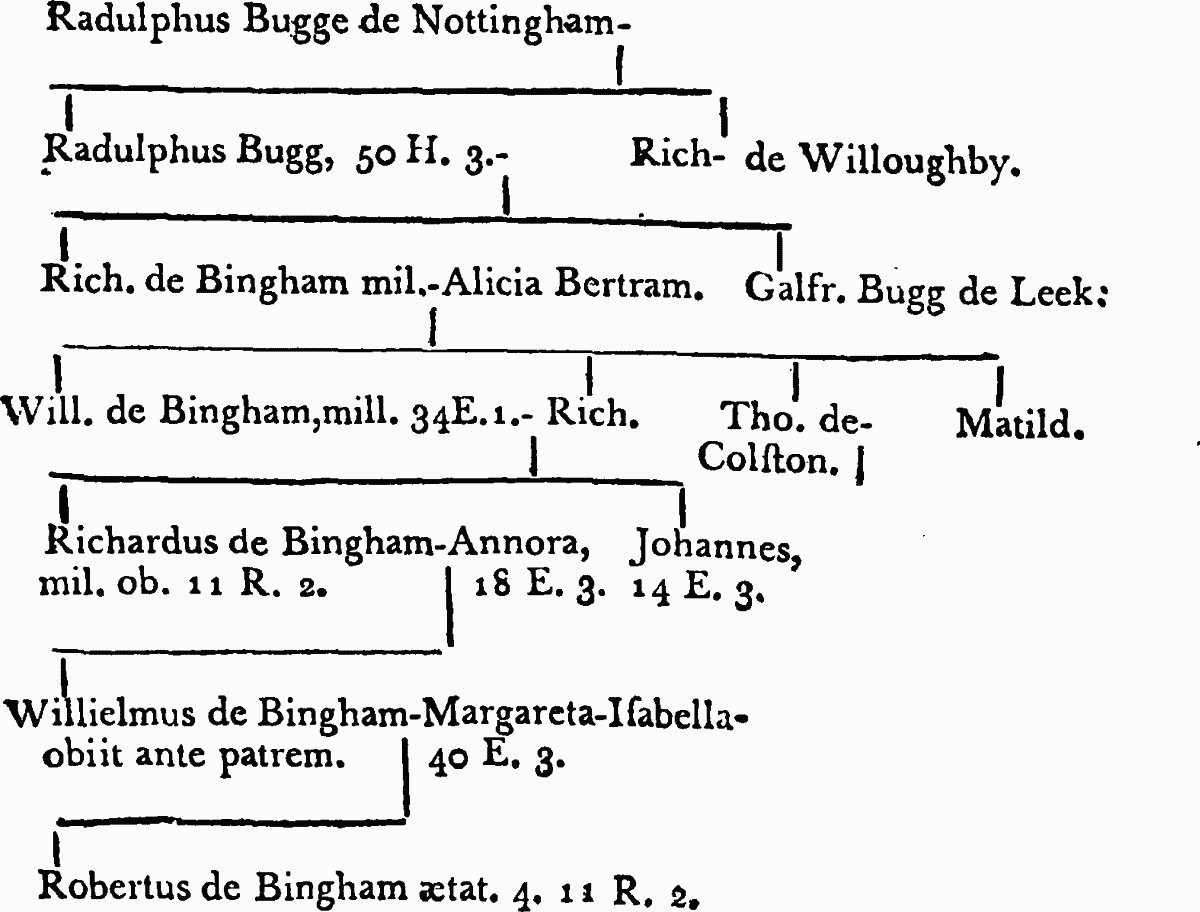 (fn. 13) In the 29 E. 1. the Jury found it not to the King's, nor any others Loss, if Sir Richard de Bingham gave five Marks yearly Rent, out of Nottingham; (fn. 14) nor if he gave, 1 E. 2. a Mess. and one Acre of Land here, to a Chaplain celebrating Divine Service in the Chapel of St. Elen, at Bingham.
(fn. 15) Alice, who had been the Wife, and William, the Son, of this Sir Richard, 3 E. 3. claimed a Market every Thursday, and a Fair at Bingham, for six Days every Year, viz. the Eve and Feast of St. Simon and St. Jude, and four Days following, which was granted to them 8 E. 2. (fn. 16) and the Heirs of the Body of William, together with Free Warren in Clipston and Kinalton.
(fn. 17) A Fine was levied, 21 E. 3. between William de Byngham, Chr. Quer. and Roger de Eynecourt, and Matilda, his Wife, Deforc. of one Virgat, and two Acres of Land, and 7l. and 21d. ob. Rent, with the Appurtenances in Bingham, Neuton, and Sibethorpe, and the Advowsons of the Church of All-Saints, and the Chapel of St. Elen, of Bingham, thereby settled on the said William, and the Heirs Males of his Body; Remainder to Richard, Brother of the said William, and his, &c. and for want of such to Matilda, Daughter of Richard, Son of Raph Bugge, and her Heirs.
Sir Richard de Bingham, Chr. succeeded as Son and Heir of this William, as in Clipston may be seen, and had a Son called William, whom he over-lived, who left Robert, his Son, about three or four Years old, at the Death of his Grandfather, the said Sir Richard, which was about 11 R. 2. (fn. 18) the Thursday before St. Matthew's Day, at West-Chester.
This young Robert, it seems, lived not very long, for there was a Fine levied, 1 H. 4. (fn. 19) between Thomas de Rempston, Chr. Complainant, and Richard, late King of England, Chivaler, Deforcient, of the Manors of Bingham and Clipston-o'-the-Hill, by Plumtre, thirty-two Mess. thirty-three Virgats of Land, fifty Acres of Meadow, and 100s. Rent, with the Appurtenances in Clipston aforesaid, Codgrave, Kynalton, Outhorp, and Neuton, and the Advowson of the Church of Bingham, whereby the Premises were settled on the said Sir Thomas Rempston, and his Heirs. Isabell, who had been the Wife of William Bingham, held Clipston for her Life; and Joane, who had been the Wife of Sir John Pavely, then held Bingham for her's; after whose Decease it was to come to William Arundel, and Agnes, his Wife, for their Lives, if they over-lived her, but after all those Lives, to the said late King, and his Heirs.
This Sir Thomas, by Margaret, his Wife, had Sir Thomas Rempston, who married Alice, the Daughter and Heir of Sir Thomas Beckering, by Isabell, his Wife, one of the two Sisters and Co-heirs of the younger Sir John Loudham, Knight, and lies buried in the Middle of the Chancel at Bingham, under a fair Alabaster Tomb, whereon lay the Effigies of himself and his Wife, but is now almost defaced: He died about 37 H. 6. and left three Daughters and Heirs, (fn. 20) Elizabeth, the Wife of John Cheney, Esq. Isabel, the Wife of Sir Brian Stapleton, Knight; and Margaret, the Wife of Richard Bingham, the younger, Esquire; which last Pair, I think, left no Issue.
This Manor fell to the Family of Stapleton, with Rempston, as in that Place may also be noted, with several other Lands; and was by Brian Stapleton, Esquire, sold to Sir Thomas Stanhope, Grandfather of Philip, the first Earl of Chesterfield, whose Grandson and Heir, Philip, the second Earl, now enjoys it. (fn. 21)
(fn. 22) The Book of the Forest of Shirwood, shows that Haywood, (a Piece of the Forest between Oreton and Blidworth) was Raph Bugge's, of Nottingham, and descended to Sir Richard de Bingham, and belongs to the Town of Bingham, and still it remains to the said Earl accordingly, who hath disposed it to old Mr. William Stanhope, his great Uncle.
(fn. 23) There were very many Recoveries and Executions of the Fine forementioned, in the 1 E. 2. (fn. 24) concerning this Manor, and the rest of Bingham's Lands, in the Time of Edward the Fourth; whereof Sir Brian Stapleton, and Elizabeth, his Wife, 2 H. 8. suffered one also; and 17 H. 8. was an Execution of the said Fine of 1 E. 2. between the first Sir Richard de Bingham, and Alice, his Wife, &c.
(fn. 25) Adam Bugge, 8 E. 1. for eighteen Marks of Silver, acknowleged one Toft, and one Bovat of Land in Bingham, to be the Right of Hugh, Son of Silvester de Bingham.
(fn. 26) There was a Fine levied, 11 E. 2. whereby William, the Son of Eustachius de Bingham, settled two Mess. and thirty Acres of Land, on himself, and Agnes, his Wife, and the Heirs of their Bodies; for Want of which, one half to his Son Robert, and the other to his Son William, and the respective Heirs of their Bodies; Remainder to the said William, Son of Eustachius.
(fn. 27) The Guild-Hall of St. Mary, in Bingham, and the Lands belonging to it there, were granted 18 May, 7 E. 6. to Thomas Reeve, and George Cotton, Gent. of which there were several Grants to others, in the Time of Queen Elizabeth: as there was 22d June, 17 Eliz. to John Sonkey, (fn. 28) and Percyvall Grimston, (amongst other Things) of the Close in Bingham, wherein stood the Chapel of St. James, and of St. Helen's Close, &c.
(fn. 29) There was a Portion allotted for a Vicarage at Bingham, about the 26 E. 1. which, within two or three Years after, was consolidated with the Rectory, with which it continues.
(fn. 30) The Rectory of Bingham, was 44l. and Mr. Stapleton, Patron. 'Tis now 44l. 7s. 11d. in the King's Books, and the Earl of Chesterfield, Patron. Several of the Rectors have been removed to Bishopricks, Abbat, Hanmer, Wren, successively.
In the Middle of the Chancel, on-Sir Thomas Tempston's Tomb, was, Arg. A Chevren, with a Mullet or Cinquefoil, in the dexter Point sable, Rempston, impailing Cheq. Arg. and Gules, a Bend sable, Bekering; which was also in the Windows, but in some made Lozengy.
In the Church, a Stone Tomb, and one of Alabaster, now under a Seat, (Mr. Richard Porter's, I think, the only considerable Freeholder in the Lordship) whereon lie the Statues, cross-legged, of some of the Bingham's, with their Shields, whereon is embossed, three Waterbougets on a Fesse.
[Throsby] Bingham.
IN consequence of a mistake at the press, the printer having made page 277 what should have been 275, I will precede my account of this place with a continuation of the Whatton's pedigree, (a family that lived in the neighbourhood of Bingham) see page 268, which I had reserved for additional collections; by which means the paging of the book will be moreperfect.
When Robertus de Whatton changed his name to Skipwith 10 H. 4, it is said he went and resided at Coates Com. Lei.; but Camden page 447 says the family of Skipwith came out of Yorkshire.
Henricus de Whatton who married Marg. fil. Hug. Ada. Benedict Saunsfaile had Rich. de Whatton Mil. 31 E. This Richardus had two sons: Johannes de Whatton Mil. Com. Lei. 12 H. 4, and Robertus, who had a dau. married to Rob. Farnham of Querndon Com. Lei.
Johannes de Whatton had a son Robertus de Whatton, Ar. 9 H. 5, and a dau. Alicia. This Robertus de Whatton Ar. had a son named Johannes de Whatton Ar. 11 E. 4, who had four sons viz. Robert de Whatton Ar. born 14 E. 4, at Long Whatton in Com. Lei.---Jeffery de Whatton Ar. born 16 E. 4. --- William Whatton and Ambrose. The issue of Robert and Jeffery are as follows.
Robert had a son Robert 21 H. 7, whose descendants follow.
Robert the son of the last named Robert was married to Marga. dau. of --- Abney of Wilsley Co. Derby. (It should seem, by an inscription in Long Whatton church, which says, "Here lyeth the Bodies of Robert Whatton, Gent. and Margaret his wysse, which Robert deceased the 10th Sept. and she the 16th Sept. 1577," that they both were buried there. And by another inscription in the said church that Robertus de Whatton Ar. 9 H. 5, mentioned above, was also buried there. This says "Pray for the souls of Robertus de Whatton Arm. which deceased the V. day of March, Anno Dom. 1452. On whose soule I H U have mercy, Amen.) This Robert and Margaret had two sons George and Robert, and the former married ---- dau. of Stanley Sutton Arm. Nottinghamshire; the latter Mary dau. of ----- Hensor of Stamford, D. D. George had issue Robert, who married Ann dau. of John Cole of Stamford, who had Robert and Alice, who intermarried with Robert Wilsheir of Harborough.
The issue of Jeffery second son of Johannes de Whatton Ar. time of Edward 4. was Eliz. intermarried with Wm. Eyre; and Jeffery Whatton 23 H. 8, who had issue Will. and Thomas, both at Newton Linford Com. Lei: the latter had a son Wm. who died at Humberstone in Com. Lei. testator, who devised his estates to charitable uses, which were afterwards, under a decree of chancery, sold and part of the money given by the King to the Leicester Infirmary. The former William, had a son John, married to Sence Pendury, dau. of ---- Penbury, Esq. of Loseby Com. Lei.
The union of John Whatton and Sence Penbury brought issue William and John: the former married to Ann dau. of Tildesley Monk of Whitwick; and the latter Cath. dau. of Tho. Babington of Temple Rothley. (This John who intermarried with the Babington family lived in the Newark Leicester, and was an Esquire of the body of Charles the first. He died in 1656, and was buried in St. Martin's church Leicester, where a handsome monument remains to his memory.) He had by Cath. Babington a son, Sir John Whatton, Knight.
William Whatton who married Ann dau. of Tildesley Monk, had issue William and Mary. William was of Newton Linford, and married Lucy dau. of Thomas Babington Esq. Temple Rothley. Mary intermarried with Wm. Rolleston. The former had issue William who married and settled in London, Thomas, John, Matthew, Babington, Tildesley, Henry, a student in Trin. Col. Cambridge, and Cath.
Babington Whatton, the fifth son, had issue Lucy, William, Babington, Sence, Mary, intermarried with ---- Abel, and Eliz. with ----Hunt.
Henry Whatton, the student at Trin. Col. Cam. who married Mary ----- had issue Henry and William, and three others who died infants, William the youngest of the two had issue William and Ann. With Henry's descent we will conclude this account of the Whatton' pedigree.
Henry married ---- Blount of Nottingham, by whom he had issue Henry, and Eliz. who died an infant. Henry who was born at Nottingham, married in 1746 Catharine Jacues of Mansfield by whom he had issue Eliz, Henry, William, and Jacues who died an infant.
Henry Whatton the eldest son, was born at Mansfield, and is now an attorney at Loughborough, married Eliz. dau. and heiress of John Watkinson, Gent. by whom he has issue Henry Watkinson Whatton, born Dec. 18th. 1782. John Watkinson Whatton, born 22 Aug. 1785. William Whatton and Robert Whatton both died infants; and William Robert Whatton born 17 Feb. 1790.
It appears that Richardus de Whatton, son of Willielmus de Whatton (see Thoroton Page 268) having married Agnes a kinswoman of Willielmus de Heriz. quartered three hedge-hogs; as did also about that time Peirpoint who married Sarah the sister of Sir John Heriz. Mr. Whatton, now of Loughborough, the Attorney, thinks therefore that the three boars in the arms on the monument at St. Martin's Church Leicester for John Whatton, Esq. are wrong; they should have been hedge hogs, which the family use at this time.
Mr. Henry Whatton, of Loughborough, descendant of the antient family of Whattons of Whatton Com. Nott. I am informed, claimed in July 1793 to be lord of the manor of Aslacton, a village bordering on Whatton. He has also lately obtained a licence of the Bishop to make a vault for his family in Loughborough church. On a covering stone of the vault arms, Arg. on a bend sable, between six brass crosslets gules, three bezants or, Whatton:
Bingham
LORDSHIP contains about 3000 acres of land, inclosed upwards of 100 years.--The Lord of the Manor is the Right Honorable the Earl of Chesterfield, whose possessions here, and in the neighbourhood, are very considerable. Dr. Thoroton has informed us from whom this estate passed to the Stanhope family. Here are other land-owners also, among whom are Porter Bonnell, Esq. of Duffield, in Derbyshire, which was formerly part of the estate of the Porters, noticed by Thoroton. (fn. 31) Mr. Needham, of Nottingham, whose father was a native of Bingham; Mrs. Hearne. of Woodhouse, near Loughborough; Mr. Hill, of Melton Mowbray; the Executors of the late Henry Westay, Gent. of East Bridgeford. Several of the under-mentioned freeholders reside on their premises: Mrs. Hutchinson, a widow Lady; Mr. Chettle, Mr. Pacey, Mr. Foster, Mr. Horsepool, Mr. Timm, Mr. Shelton, Mr. Grant, Mr. Lomax, Mr. White, and Mr. Strong.
From the high grounds in this lordship, near the town, you have some delightful views: and I, from one, having visited the Vale of Belvoir, had some pleasing sensations. Belvoir-Castle, and its noble scenery at its base; the Vale below, which extends itself almost beyond the stretch of sight, luxuriant in earthly treasure, and abounding with villages, and a happy people, living under the influence of an illustrious patronage. Bottesford church, (where a race of noble heroes rest) at this distant view; is seen as a fine column in the atmosphere, above every object in the Vale. Nearer objects from this eminence, have attraction, from the diversity of church appearances. Here I made a sketch of Bingham church, (see plate, page 13.) a neat, but not an elegant structure; the scenery in this view is worthy notice.
Bingham is a market-town, but not of considerable magnitude; we may suppose that it was once of more consequence, by its giving name to a Hundred or Wapentake and by the foundations of buildings being frequently discovered. Two chapels once stood in this place.
Bingham stands at the distance of near a mile from the turnpike-road, from Nottingham to Newark, 10 miles from the former, and 11 from the latter. It consists of 200 families, and better than a thousand inhabitants. The market is kept on Thursdays, and the three annual fairs on the 13th. February; Thursday in Whitsun-week, a town holyday; and November 8. Here is a shew of stallions on Easter Thursday; and a large statute for hiring servants, generally the last Thursday in October. The canal from this place to communicate with the Trent, will doubtless be of considerable advantage to the inha bitants, being central, with respect to the fertile vale of Belvoir, and situate in a popolous neighbourhood. A post-office was established in 1790.
The principal building in this place, beside the church, is the rector's dwelling, fitnate between the market-place and the church: it may be classed with the first-rate reverend's dwellings in the county. A pleasure-ground in the front view, adorned with some sprightly trees, shrubs, and evergreens, form a pleasing and cooling shade
The market-place is formed upon rather a large scale.
The church is dedicated to All-Saints, has 6 bells, and built of durable stone; and is a heavy strong building. It consists of a nave and two side-aisles, badly lighted, owing in a great measure, to the upper part of the nave, being in 1584, considerably lowered. The appearance of the original height of the nave is visible now, against a wall of the tower-part of the church. The chancel is spacious and well lighted: over an arch at the entrance of which are Queen Ann's arms, done in stucco work, with other devices: two shields contain the names of the then churchwardens, "John Hutchinson and John Woollow:" beside which are written, "Fear God. Honor the Queen." Date "1711." On the other side of the arch are two cherubs, one hand of each supports a crown of glory: in their other hands an olive branch and trumpet.---Near these are two shields, which contain the following inscriptions.
HENRICUS STANHOPE, Rector, Anno Ætatis, xxiv.
Anno Domini mdccxi.
SAMUEL BRADSHAW, Curatus, Anno Regni, Decimo, Dominæ Nostræ, Annæ Reginæ.
The chancel is handsomely ceiled; and over the altar are other devices in stuccowork: the whole of which, with a marble communion table, was done, the arms excepted, at the expence of the Rev. Henry Stanhope, who was nearly related to the late accomplished Earl of Chesterfield, who died in the year 1773. The monuments mentioned by Thoroton, as being in his time in this place, were partly removed when the alterations took place. Alas! the only things that would have made the church respectable to an antiquary, were destroyed, by the specious but often fallacious name of improvment. In a seat near the chancel, however, there still remains an old trunk of stone, in the human form, without arms, head, or legs.
Near the altar, "Hic Jacet vir admodum venerabilis Samuel Brunsell, S. T P In hac Ecclesia annis fere XL Fidelis Dei interpres qui ex chara sua conjuge Maria Filia Joh. Broughton, Gen. Quatuor genuit Filios totidemq. Filias. ob. Jan. 16.
Sal. 1687. Ætat. 68.
"Henry Stanhope," who was rector 53 years, and died in 1764, aged 76, was buried near the altar. Henry Brunsell, A. M. rector, died in 1707, aged 49. Mary, relict of Dr. Samuel Brunsell, is remembered on the altar wall, "whose great piety and virtue, should never be forgotten," died in 1696, aged 72. Bingham, it should seem, is a likely place for a man to meet with a good wife, if we may judge from the characters of the worthy matrons buried here: the stones speaks high in praise of many of them--One at the church-door says;
"Pale Death can hardly find out such another, So good a wife, so kind a mother; In all her actions so discrete, As she who lies here at your feet."
Near the altar steps lie the remains of the Rev. William Kirkly, rector of Screveton, and vicar of Burton, both in this county. He died in 1782, aged 45 years. On the floor, near the last-mentioned, are these words,
"To prevent a too early infringement on the remains of the dead, this is for information, that F. Æ. Kirkland, son of F. B. Kirkland, by Sarah his wife, is buried here, in the 38th. week of his age. He died June 4th., 1788." "Here lieth the body of George Villiers, son of Mr. Christopher Villiers, of Costock, Gent. and Catherine his wife, the daughter of Sir Robert Markham, Bart. He departed this life in 1718.
Mr Richard Collier, who was celebrated in his Profession as a surgeon, a student, and an historian, has this inscription:
Hic Jacent reliquiæ RICHARDI COLLIER Qui Decessit è vita Maiæ 26, 1788, Ætatis suæ 68, Memoriæ cujus Vidua ejus afflicta Inscribit hanc.
Among a number of other interments here, are those of the Needhams. Mr. John Needham died in 1765, at the age of 71. Simon Shepperson died in 1775, aged 84. Two John Bradshaws are remembered, one in 1721, at the age of 63; and the other in 1751, at the age of 66. Mr. John Markham died in 1730, aged 51. Mr. George Bradshaw died in 1777. Mr. John Bass in 1780, aged 88. Mr. John Ragsdall died in 1723, aged 58. Against the south wall,
"To the memory of Mr. Robert White, mathematician, and author of an annual aftronomical work called the Calestial Atlas, or a new Ephemeris. He resigned this transitory, in hopes of eternal life, June 3, 1773, in the 80th. year of his age, (fn. 32)
"No Epitaph need make the just man fam'd, The good are prais'd when they are only nam'd."
A stone without the church says, "To the memory of Matthew Stewardson, who was a contra-tenor in this parish church thirty-four years, and also a member of the change-ringers' society: He died Sept. 27th, 1780, aged 62 years."
"This stone was erected by the joint contribution of the societies of singers and ringers in this town to perpetuate his memory, and also as a manifest token of their concern for the loss of so valuable a member."
North of the church is a stone to the memory of "Thomas Baxter, many years a serjeant in the ninety-sixth egiment of foot, aged 73 years: and Samuel Baxter, his brother, a singer and change ringer, aged 72, died in the same house on Wednesday the second of December, 1789, and were interred in one Grave, near this place, on the Sunday evening following.
Under an inscription for John Lee, who died at the age of twenty-one, in 1785
"Ye few, who virtue's sacred shrine revere, Pause for a while and pay your tribute here; Where Friendship generous, and Affection warm, Each social sweetness which has power to charm: Sleep in composure, 'till the trumpet's found, Wake them to joys with which the saints are crown'd."
On another stone which remembers Thomas Lee,
"When time's grand period, Heav'n and Earth's o'erthrown, And gasping nature's last tremendous groan; These, when the Stars and Sun shall be no more, Shall beauty to your ravish'd form restore; Then shall you shine with an immortal ray, Improv'd by Death, and brighten'd by decay."
Truths are engraven beneath the inscription to the memory of John Brooks, who died in 1786, aged 63.
"Virtue and vice lie blended here, This bids us hope, that bids us fear: To solve the doubt, and ease our care, God's mercy bids us not despair."
I don't frequently copy hackney'd verses from grave-stones; but having no inclination of climbing up into the steeple to see the bells, I transcribed these, which are beyond the ordinary class of inscriptions, whilst a friend or two went to copy an inscription on the second bell. (See fig. 1, in the plate facing this page.) It reads something like Francis Wattes Made me.
The principal part of the family of Porters were interred within the transept of the north aisle, where they had tombs; but one, Henry Porter, who differed in opinion from his kindred, in religious matters, gave orders that his body should not be laid among them. It was buried, by his direction, against the north wall of the outside of the church. He chose a strong partition to keep himself from his kindred; no less than the foundation of the church. He had a plain tomb erected over his remains.
Bingham is a rectory, in the gift of the Earl of Chesterfield. Incumbent John Walter, M. A.; worth about 700l. per annum. King's book 44l. 7s. 11d. Yearly tenths 4l. 8s. 9½d. Archiepisc pro Syn. 4s. Archidiac pro Prox. 7s. 6d. Val. in Mans. ibidem cum 6 bovat. ter per ann. 2l. 8s. in trib. dom. pertin. rector. per. ann. 18s. 8d. in decim. &c. Mary Brunsell, widow, presented in 1688. Earl of Chesterfield 1711, and 1764.
The oldest register begins in 1598. Baptisms in the last five years, 180, burials 84. By tradition, and in some measure by the register, it appears, that the plague raged at Bingham in 1646. Those it is said, who fell a sacrifice to this malady were buried in a large yard towards the west end of the town. Human bones have been dug up in this place at different periods of time.
At Bingham there was a college, dedicated to the Virgin Mary, valued at the dissolution at 40l. 11s. 0d. per annum.
EVENTS.
ABOUT the year 1768, as a man was digging for stones, at the west end of the town, in a place called Chapel-close, he discovered a stone coffin, wherein were the bones of a full grown person and child, probably a female of distinction, with an infant child. With these were several large silver pins, which, as they were found in different parts of the coffin very likely had been used for the purpose of pinning down the winding-sheet. A large silver ring was also found in the coffin, which it is thought was buried on the finger of the lady.
Coins, I have observed, in page 149, have been found at a place near Bingham, called Castle-Hill; but an extraordinary impression, from a die, in lead, was found in a grave lately, in Bingham church-yard, engraved in the preceding plate, fig. 2.
Thomas Groves was born in this town in the year 1700, and was placed out by his parents, at the age of fourteen, an apprentice to a cabinet-maker; but not liking his situation, he entered as a private in the marines; from which station he rose, by his address and long services, the rank of Colonel. He saw much service, and died in full pay, at the advanced age of ninety years, in 1790; seventy-five of which he served as a good soldier, passing through every station of trust in the army. He died at Newark, where he was buried with military pomp. Since the death of General Oglethorpe, he is supposed to have seen more actual service, than any soldier under the crown.
Bingham, about the year 1710, in one night was set on fire in three different places, but providentially without doing any material damage. Mr. Thomas Patefield, a surgeon and apothecary of this place, who had for some time laboured under a slight mental derangement, was the author of the event. He was arraigned at Nottingham assize for the offence: but on being interrogated in this usual manner, "guilty or not guilty?" He looked round the court, and then in an audible voice repeated the first verse of the 58th Psalm, "Are your minds set upon righteousness, O ye congregation; and do ye judge the thing that is right, O ye sons of men?" The judge, after a few witnesses had been questioned respecting the prior state of his mind, remanded him back to prison, until a proper place of security could be provided for him at home. A place of two rooms was therefore built for him in the middle of the market-place at Bingham, where he was confined the remaining part of his life, (except at a few lucid intervals) being a period of near thirty years. He died in 1739. The place was shortly afterwards pulled down.
About nine o'clock in the morning of Thursday, the 21st of September, 1775, after half an hour of unusual darkness, a ball of fire descended from the South-West, (accompanied by an awful clap of thunder) struck the top part of the spire of the church, where it drove out two or three large stones: the electric fire then descended down the inside of the steeple, killing in its way 13 pigeons and 3 daws. The bells, it is supposed were not injured, owing to the attractive quality of the clock hammer, whence it descended down the wire to the clock, which it stopt; it then forced open the clockhouse door, broke off part of the dial-board, and discoloured the figures thereon; drove out some heavy stones near the clock and from the porch; and threw down with great violence, eleven boys who were therein, three of whom were much scorched: after which a great quantity of smoke issued from the windows of the steeple, which left a sulphurous smell for some time,
Bingham church was broke into by some villains in the night of December the first, 1776, (Sunday) who stole the sacrament linen, and the gold lace from off the pulpitcloth and cushion. By breaking open a box that contained the parish writings, &c. it appeared that they were disappointed of their principal intentions, the stealing the communion plate, which was luckily at another place. This sacrilege was not discovered until the Wednesday following, although the church window, through which they entered, was seen broken on Monday.
It is not a very usual thing to hear the banns of marriage forbidden publicly in a church: it happened here in July, 1791, by the father of the young man, one of the parties, he being under age. But a more singular circumstance once happened in this church, in the absence of the rector, not much to the credit of the officiating clergyman, Delicacy however forbids a particular relation: suffice it to say, that the jolly god, Bacchus, had so bountifully distributed his delicious draughts to the priest, that with much difficulty he read to the end of Te Deum, "O Lord in thee have I trusted, let me never be confounded." He then dropped on his breech, and slept his congregation out of doors. The boys of the town, sometime afterwards, on his leaving the church, saluted his ears with hoots and hisses into the fields.
It should be observed, but it is unpleasant to relate, that the Rev. Mr. Henry Stanhope, who was rector here fifty-three years, and died in 1764, did not officiate for more than three or four years, before a mental derangement took place, and a total deprivation of speech.
Another circumstance I must notice before I close the account of this market-town, which does honor to the efforts of some young men in aid of the poor.
In the severe winter of 1783, and the beginning of the year 1784, they got up and performed several plays and entertainments for the benefit of the poor; which, after paying incidental expences, left a fund of One Hundred Pounds, the interest of which they settled on the poor of this place for ever. The names of these worthy young men deserve to be handed down to posterity, who blended rational amusement with acts of mercy and benevolence.
Mr. John Foster,
Mr. William Foster,
Mr. Thomas Foster,
Mr. Samuel Foster,
Mr. Henry Andrews,
Mr. Henry Lee,
Mr. John Stafford,
Mr. George Baxter,
Mr. Thomas Wood,
Mr. Samuel Walker,
Mr. William Chettle,
Mr. John Strong, jun.
Several other donations are left to the poor respectively by a Mr. Porter; Mrs. Ann Porter; Mary, relict of Dr. Brunsell; Mr. George Bradshaw; Mrs. Elizabeth Bradshaw; Mrs. Ann Tealby; and Mr. Thomas Tealby; the latter lest a small sum for the support of a free-school.