Pages 305-319
Thoroton's History of Nottinghamshire: Volume 1, Republished With Large Additions By John Throsby. Originally published by J Throsby, Nottingham, 1790.
This free content was digitised by double rekeying. All rights reserved.
STAUNTON.
That Part of Stantune which is in Newarke Wapentake, before the Norman Invasion, was the Freehold of Tori, which paid the public Tax of the Dane-geld for it, as ten Bov. The Land being then three Car. There, at the Time when the Conqueror made his Survey, it being then become the Fee of Walter de Ayncurt, (as all or most of Torie's Lands in this County were) in Demesne were three Car. and four Sochm. on one Bovat and an half of this Land, (fn. 1) and eleven Villains, two Bord. having two Car. There was a Priest and a Church, one Mill, 5s. 4d. sixty Acres of Meadow; in the Time of Edward the Confessor the Value was 4l. then 100s. It had Soc in Alureton, Flodberge, and Dallintune, and was then held by Malger, whose Posterity having their chief Residence here had their Name from this Place. and do continue in the Male Line, possessed of it to this Day, Nov. 30, 1672.
(fn. 2) Oliver Dayncourt gave to William de Albeni the younger, the Fee of two Knights, which Galfr. de Staunton held, and which Raph Dayencurt, his Grandfather, gave to the said William's Father, himself adding half a Knight's Fee in Gunwortheby, for which the said William de Albeni was but to do the Service of one Knight, as the rest of the said Oliver's own Men did.
The Stauntons were ever esteemed to hold of the Lords of Belvoyr, by Castle Guard, where Staunton Tower is yet to be found, sufficiently guarded by the strength of its own Liquor, with which the Bottom of it is usually replenished.
(fn. 3) Galfr. de Stanton gave Lands in Kelum, to the Monastry of Rufford, which King Stephen confirmed, viz. five Bovats, by the consent of Beatrix his Wife, and Malger his Son; and confirmed likewife, forty Acres there, which those Monks had of the Gift of Malger de Rolleston. Beatrissa de Muschamp, after the Death of her Husband the said Galsr. de Stantun, for three Marks, and a Cow, which she received of the said Monks, in the Presence and by the Consent of her then Lord and Husband Eudo de Aubeni, confirmed to them the said five Bovats, though they were Part of her Dower. And William, Son of Malger de Stanton, also his Grandfather the said Galfr. de Stanton's Gift.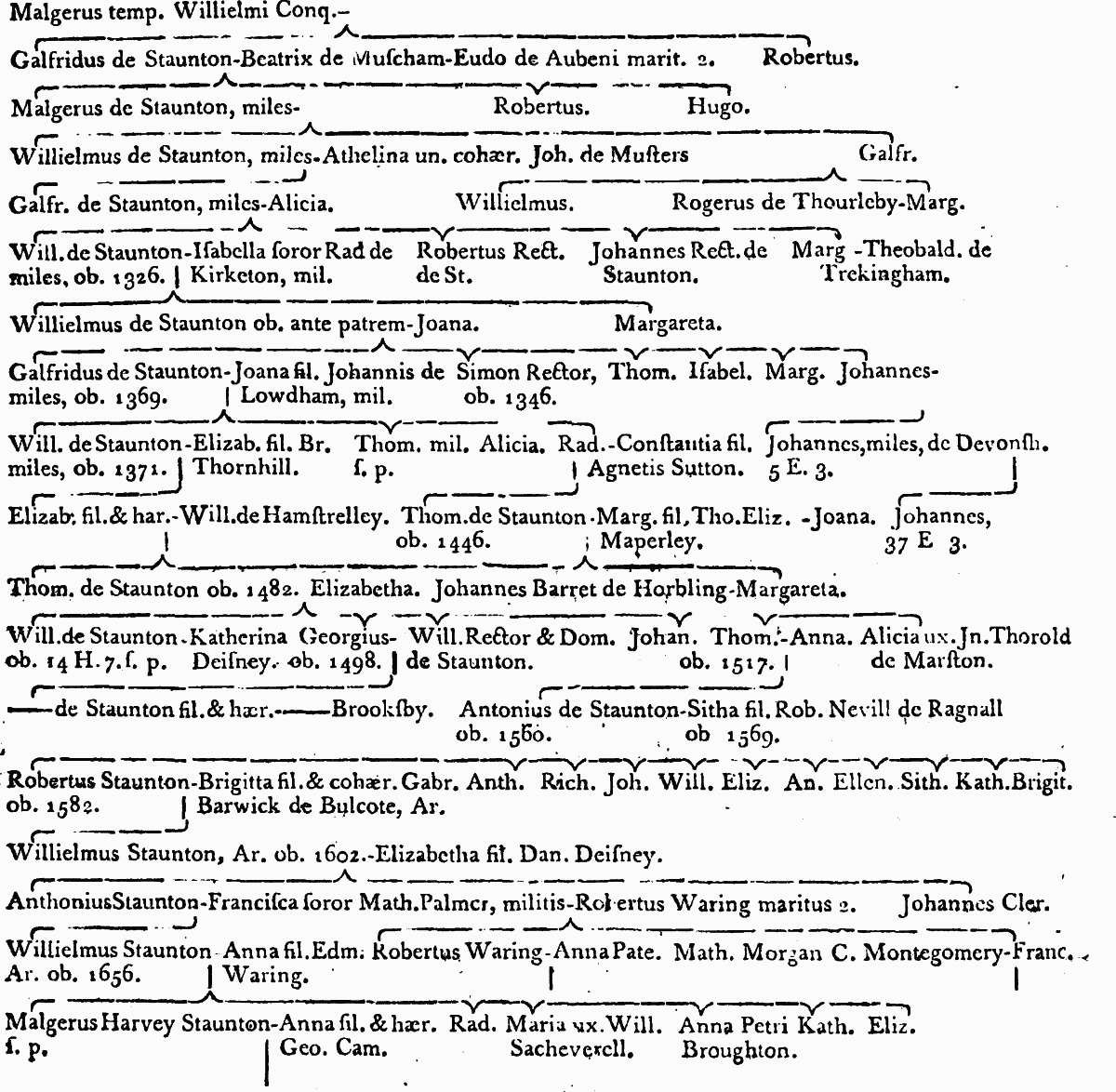 (fn. 4) This William made free Hugh Travers, Son of Simon de Auvringham, and all his Progeny, because he took a Cross for him, and went for him to Hierusalem; so he did also John, the Son of Simon de Auvringham, and gave them to God and the Church of St. Mary, of Staunton, to be in the Protection of the Rector of Staunton.— The Witnesses were, Raph de Orlingberga, Robert de Stokes, William de Houkefworth, Ranulf Morin, Walter de Hou, Richard de Staunton the Parson, William, Parson of Kilvington, Roger, Parson of Elveston, Raph de St. Paul, and divers others. (fn. 5) Athelina, this Sir William de Staunton's Wife, is said to be the second of the three Daughters and Co-heirs of John de Musters, Lord of Bosingham, in Lincolnshire, by which Means part of that Lordship came to this Family of Staunton.
There was an Agreement in the Year 1257, between Sir Galfr. de Staunton, Knt. this Sir William's Son, and the Prior of Haverholme, (fn. 6) concerning many Things to be observed on each Part; to which instrument there yet remains a fair Seal of the said Sir Galfr.'s, having his Name circumscribed; and upon the Shield within, is, Two Bars, and a large Canton., charged with a Mullet of six Points.
(fn. 7) Sir Galfr.'s Wife was Alice, who together with himself, settled the whole Manor of Screvington, in Lincolnshire, on William de Staunton, their eldest Son, and the Heirs of his Body, which they had of the Gift of Thomas Amys, and Christian his Wife, for which the said William de Staunton, was to do the Service for a Knight's Fee and an half, to his said Father and Mother, and if he should have no Issue, it was to go to the Heirs of their Bodies. The Witnesses were, Sir Henry de Longo campo, Knt. Sir Rich. de Huwelle, Will. Morin, Nicholas Morin, Everard de Hall, &c.
William de Staunton, Knight, Son of Sir Geoffrey de Staunton, Knight, gave to Sir Theobald de Trickingham, Knt. (fn. 8) (fn. 9) in Frank-marriage with Margaret his Sister, and to the Heirs of their Bodies begotten in lawful Matrimony. his Rent in Scarthorpe and Silkeby, and certain Homages, Reliefs, and Services, which his Grandchild Sir Geoffrey de Staunton, by his Attorney, John de Staunton, 8 E. 3. at York, claimed against John Asseballoks, of Newark, because Sir Theobald and his Lady had no Issue. The Seal now hanging at Sir William de Staunton's Deed is, two Chevrons, and S. WILLI. DE. STAVNTON, MILITIS, in the Circumference. To this William de Staunton did Raph de Kirketon, Knight, give with Isabell his Sister, in Frankmarriage, all his Land, Rents, and Services, in Kilvington and Wilberdeston, together with the Right of Patronage of the Church of Kilvington: to this Deed were Witnesses, Sir Raph de Charnelles, Sir James Byron, John Hosey, Hugh de Charnelles, William de Sybetorp, Thomas de Hotost.
There was a Fine levied, 8 E. 1. before Walter de Helyun, John de Lovetot, Roger de Leycester, and William de Burneton, between Thomas de Welond, and Margery his Wife, and Richard Son of the said Thomas, Querents; and Alice, who had been Wife of Geoffrey Staunton, Deforc. by Richard de Thistleton, put in her Place to get or lose, of 10l. with the Appurtenances in Asse, Tunstall, Blakeshale, Watsdon and Barleford Kendham, whereby she settled those Lands on the said Thomas, Margery, and Richard, for twelve Years thence next ensuing, without any Rent at all, but afterwards they were to pay her and Heirs 10l. per Annum, and so were John Woland and Thomas, Brothers of the said Richard, upon whom they were entailed for want of issue of Richard.
Sir William de Staunton was a Man of great Action. He was, 6 E. 1. (fn. 10) agreeing with Almeric de Bellafago, concerning some Estate in Sadik, whereof a Plea was between them in the King's Court before Richard de Exon, and his fellow Justices itenerant at Lymeric. The King, 8 E. 1. took him into his special Protection, being to go beyond the Seas. He over-lived his Son William de Staunton, and made his Will 9 Nov. 1312. wherein he gave his Body to be buried in the Church-yard of St. Mary of Staunton, with which he bequeathed his Palfrey, with his Furniture. To William his Son he gave a Ring with a Saphire, and another with a Seal of Cornelyan, likewise a Murrey Cup with a Foot; to Isabell his own Wife he gave a filver Cup, in which was a certain Shield; and a Murray Cup with a Foot to Joan his said Son's Wife; to Margaret his own Daughter he gave like Lagacies; and to Geoffrey his Son's Son a Cup of a Nut, to be an Heir Loome, to John, Simon, and Thomas, Sons of his said Son William; to Isabell his Daughter, and to many Convents of Friars, and to the Churches and Poor of his own Towns he gave something; and to the Friar Elias de Levissingham vis. and viiid. for the first Day of his Sepulture, and the seventh ten Marks, and as much to the Holy Land, that two Foot-men should go the first Passage in his Name, and each have five Marks: to perfect all, he ordered his Ward of Basingham, which he had by Sir Tho. de Multon of Frandon, as long as he should be in his hand with his other Goods. His Executors were Isabell his Wife, William his Son, and Sir Robert his Brother Parson of Staunton, by the Advice of Fr. Elias de Levissingham.
(fn. 11) Sir Geoffrey de Staunton, Knight, was this Man's Grandchild, and was Sheriff of Nottingham and Derby, in the Time of Edward the Third; he married Joan, the Daughter of Sir John de Loudham, and had two Sons by her, Knights. Sir William his eldest Son, was twice married, but left only a Daughter named Elizabeth after her Mother, which Daughter was married to William Hamstrelley, as in Elston is mentioned. Sir Thomas his second Son, had a Wife called Alice, who survived him, but had no Issue, so that this Mannor came to Raph his third Son, whose first Wife Helen left no Children, but Constancia, the Daughter of Agnes de Sutton, his second Wife left many. Thomas de Stanton, Esquire, his eldest, about 4 H. 4. had to Wife Margaret, the Daughter of Thomas Mapurley, and afterwards two others, 2 H. 6. Elizabeth, and 10 H. 6. Joane. Thomas de Staunton his Son, by Elizabeth his Wife, Daughter of — Sleford (as 'tis said,) left many Sons, on whom the Estate was entailed; he had a Sister called Margaret, who, 36 H. 6. was second Wife of John Barret of Horbling in Lincolnshire. His first Son William Staunton, Esq. married Catharine Deisney, but had no Issue, for he left this Manor, 4 Mar. 14 H. 7. to George his Brother, who had a Daughter married to —Brookesby; but after him this Manor went to William his Brother, who was both Lord and Parson of this Place, and left it to his Brother Thomas Staunton (John being dead before). These had a Sister named Alice, married to John Thorold of Barston in Lincolnshire. This last Thomas, by his Wife Anne, Daughter of Thomas Pourment, or Paramour, who had cut on the Brass of her Tomb, a Chevron between three Roses, had a Son called Anthony, who married Sith, Daughter of Robert Nevill, of Regnell. Esquire, and by her had very many Children; Elizabeth, first Wife of Roger North, then of Hugh Thornhil, and after of Arthur Walpole; Ellen, Wife of William Wild, of Nettleworth; Brigitt, of Jerom Brand before-named; Katherin of Richard Marshall; Anne, of William Snow; Sith, unmarried: his Sons were Anthony, Richard, John, William, but his eldest Son was Robert Staunton, Esquire, a very pious and good Man, he married Brigitt, one of the two Daughters and Co-heirs of Gabriel Barwick, Esq. Lord of Bulcote, in this County, by whom he left William Staunton, Esquire, a very good Man too; but he sold his Share in Bulcote to his Cousin, Gabriel Odingsells, for 1500l. to purchase his Cousin Brand's here for 1200l. which were those belonging to the Priory of Haverholm, already mentioned, after which he sold other Lands, as in their Places may be observed. His Wife was Elizabeth, the Daughter of Dan. Deisney, of Norton-Deisney, in Lincolnshire, Esquire, with whom he had 300l. Portion. She after his Death married — Aston, and — Bussy. He left his Son Anthony Staunton under Age, who was Ward to the Earl of Rutland, and the Tradition is that Sir Matthew Palmer, of Southwell, won him at Bowls of Robert Dallington, Servant to Earl Roger, who gave him to that Gentleman 1604, and when he the said Sir Matthew had him, he married him to his Sister Frances, who had to her second Husband Robert Waring, of Wilford, to whom she bare a Son called also Robert Waring, and two Daughters; the elder, Frances, was the first Wife of Matthew Morgan, of Aberhavesp, in the County of Montgomery; the second, Elizabeth, died unmarried, but first to her Husband, the said Anthony Staunton, she brought a Son called William, who married Anne, Niece to her said second Husband, being Daughter of Edmund Waring, of Leycroft, in the County of Stafford, Esquire, his elder Brother.
This William Staunton went with the King to Edge-Hill Fight, and afterwards was a Colonel for him in the Garrison of Newark, which impaired his Estate, as the Parliament Soldiers did his House here, in which they sometimes quartered. He sold some of this Lordship to William Cartwright, the Lawyer, before-named, as after his Death his Trustees did another Part to Dr. James Margetson, now Lord Primate of Ireland. He left many Children; his eldest Son Malger, died a Bachelor, and left his Brother Harvey Staunton, Esquire, the present Inheriter of this Manor, who married Anne, the Daughter and Heir of George Cam, of Tuxford, (by whom he hath Daughters, and may have Sons to continue this most ancient family in the male Line); his Sister Mary is Wife of William Sacheverell, of Barton, Esquire; his Sister Anne, of Peter Broughton, of Lowdham, younger Brother of Sir Brian Broughton; his Sister Catherine, of Mr. Holbrooke, Parson of Edgemond, in Shropshire, Brother of William, the present Parson of Staunton; his Sister Elizabeth, is yet unmarried; and his Brother Raph Staunton, a Scholar in Trinity College, Cambridge; the rest of the Colonel's Children are dead.
(fn. 12) The Rectory of Staynton was 18l. 'Tis now 16l. 13s. 11d. ob in the King's Book, and Harvey Staunton, Esquire, Patron, as his Ancestors have been.
There is a certain Kind of Rhyming Bard-like Pedigree of this Family, made by one Robert Cade; who did the like of the Family of Skessington, and 'tis like for some others; in this he hath transcribed the Epitaphs out of this Church, and therefore it cannot be much amiss to insert it for an example of such like Work, which hath been much esteemed by some Families.
To the Reader.
Good Reader thou which hereon lookes Abandon mynde so haultye, (fn. 13) It may be proved that ys averde, Though thou think it be faultye.
Forget the Basenesse of thy byrthe, Do not the best condem, The Stauntons may compare with thee, And thou canst not with them.
Therefore better I do conclude To rest, and not to ryse, Leest that thou rise and fall againe, By meanes of Enterprise.
Then Petigrewe go shew thy self, Truth lurkes not in the darke, And you that Supervysores are Attentyve be and marke.
Under this is, Stauntons' two Chevrons, with a Fox for the Crest. And Dysneys, three Flowers de Lis upon a Fesse, and a Lion passant gardant for the Crest.
The Stauntons Petygrewe.
O Champion cheese and warlike wight, Of Stauntons stocke the pryme, The and thy sequele I must blase, And Petigrewe define.
Though Haroldes they in noble forte Thy Arms not pende in vaine, Yet somethinge wants that here is writte, As Books and Toumbes shew plaine.
The first Sir Mauger Staunton, Knight, Before William came in, Who this Realm into one Monarche Did conquer it and winne.
At which same time this Mauger Knight, Thrughe feats of Arms and Sheeld, In Marcyall prowe, so valeant was, That then he wanne the Feelde.
In Belvcor Castle was his houlde, That Stauntones Tour is highte, The strongest Forte in all that front, And hiest to all men's sighte.
Unto which Forte with force and Flagge The Stauntons stocke must sticke, For to desende against the Foe, Which at the same coud kicke.
His lodgeinge large in that Turrite, At all times for his ease, He may command both night and day, And no man to displease.
And therefore Stauntons Mannor nowe Whiche in Staunton doth stande, Of Belveor Castle is now helde By tenure of the Lande.
This Staunton Knight gott sure to wife One Emme of worthy same, Also a son that Knighted was, Which Mauger had to name;
Which last Syr Maugre tooke to wife Beautrix both sage and wife, As valeant as his father was In every Enterprise.
Which Lady Beautrix, daughter was To him that then was Lord Of Belvor Castle (in the Vale) As Tombes and Armes accorde;
Which two Sir Knights cross-legged lieth In Male and Armoure fine: Theire superscriptions worne away, Theire deathes are without time.
Yet warlike wightes with helmes on heades In Sauntons Church do lie, Their Soules, no doubt, for noble actes Ascend the Skies on hie.
Before his death this last Knight got Two sons, William and John, And also with Man hood and strengthe The Narre Pasture he won.
The Belveor Lorde said, it belong'd To Northmanton trulie, But this Knight seasde did die thereof As his demaine in Fee.
Sir William Staunton, Knight, was next, Dame Athelin was his wife, Sir Geoffrey Staunton, Knight, their heire, Both voide of vice and strise.
And Sir Henrie his brother was, Who gave himselfe to learne, That when he came unto mans state, He could the Lawes discerne.
And in the same went forward still, And profited muche, I know, At Ynnes of Courte a Counsailer And Serjeant in the Lawe.
And in processe of tyme indeede, A Judge he came to bee In the Common Benche at Westminster, Such was his highe degree.
A Baron wife, and of great wealthe, Who built for Scholers gaine, Sainct Michaels house in Cambridge Towne, Good learninge to attaine;
Which deed was done in the eighteenth yeare Of second Edwarde King, One thousande three hundred twenty foure, For whom they pray and singe.
In which said house the Stauntons may Send Students to be placed, The Founder hath confirm'd the same, It cannot be defaced.
This Lord Baron no yssue had, We cannot remember his wife, Nor where his body Tombed was When death had cut off life.
This Lord Brqon no yssue had, we cannot remember his wife, Nor where his body Tombed was When death had cut off life.
Sir William, the father is Tombed sure In Steuntons Church of olde, And hath engraved upon his Stone Verbatim to behoulde.
Hic jacet Wilelmus de Staunton, miles, & filius Maugeri de eadem, militis, qui obiit (fn. 14) ultimo Maii: Cujus animæ propitietur Deus. Amen.
Sir Geffrey tooke Dame Alce to wife, Four Sons he did beget, Willyam, Richarde, Robert, and John, And also Margaret.
Robert and John were Persones both Of Staunton aforesaide, Margret was married to Trickingham, Which cannot be denaide.
This Robert in the Chauncell li'the Of Staunton to be scene, The superscription Extant there In theis wordes as I weene.
Hic jacet Robertus quondam rector ecclesiæ de Staunto et frater Wilelmi Staunton de eadem, militis, qui obiit nonis Kalend. Maii, Anno domini 1329. Cujus animæ propitietur Deus.
John his brother in like sorte too Lies tumbled under a Stone, The superscription may be seene, It is not all out gone.
Hic jacet Johannes quondam rector ecclesiæ de Staunton, & filius Galfridi Staunton de eadem, militis.
Anno domini this Sir Gesrey One thousand, and also Two hundred fifty, as we reade, And addinge seven thereto.
Rated the Prior of Haverholme, And Neighbours dead and gone, How many Cattell they should put Into the Barre each one:
For which unto the Lord alwais A certaine cheefe in lue, Of olde time call'd their Barre pennyes, Which at this day are due.
The Stauntons also likewise have Common therein yet still, Willowes to cutt, and Fish to take, With other things at will.
Sir Willyam was Sir Gefreys heire, And Isbell was his Spouse, Sister to Sir Raph of (fn. 15) Merton, A Knight of auncient house;
Which Rafe unto Dame Isbell gave Landes greate with Rents they saye, In Kilvington and Wilberdston In Franke-marriage for aye;
Which Sir Wilyam, and Dame Isbell A son between them had, His name Sir Wilyam Staunton was, A Knight both grave and sadd.
Which Sir Wilyam the father hathe On his owne Tombe well writte, As it is here set worde for worde, With his Arms graved on it.
Hic jacet Wilelmus de Staunton, miles, filius Galfridi de eadem, militis, qui obiit nonis Maii, anno domini 1326. Cujus animæ propitietur Deus.
To last Sir Wilyam Joane was wife, They sonnes had foure indeede, Gefrey, John, with Simon also, And Thomas, as we reede.
And John his seconde sonne, we finde, Had yssue John a right, A Devonshire man of courage stoute, Which was a worthy Knight.
But Symon was a learned Clerke Of Staunton Parson he, His life and callinge co-equal, With Menne he did agree.
On Pers'nage grounde he builded much, And those were very large, Houses of office, and Gate-house Were seemly for the charge.
Which Simon when he had ended And done his workes of coste, He left them all and past away, As if labour were loste:
And for his pasport, to be plaine, There's writte upon his Tombe, A great rewarde for such a man For all that he hath done.
Hic jacet Magister Simon Rector ecclesiæde Staunton, et frater Galfridi de eâdem, militis. Qui ædificavit Rectoriam de Staunton. Obiit Idus Septembris, anno domini 1346. Cujus animæ propitietur Deus. Amen.
The last Sir Wilyam wedded was To Joane of beauty faire, In unity they lived longe, Sir Gefrey was their heire.
Which Wilyam died in the year of Christ One thousand, as I gesse, Three hundred fortie addinge one, Not one yeare more or lesse.
Good Sir Gefrey, Sir Wilyam's son, Was wedde to Lady Joane, Daughter to Sir John of Loudham, A Knight now Tomb'd in Stone.
Gefrey with Joane five Children had, Wilyam, Thomas, and Rafe, Well learned John, and Alce also, Christ keep their Soules in safe.
The same John was a good Devyne, God pour'd on him his grace, For he was Parson of Staunton, But death doth all deface.
Alce his own sister husband took, The Lord of Rampton Towne, Stephen Maulovel, a Squire riche, Of worship and renowne.
Alce then was buried in Stauntons Church The Pulpit very neare, The superscription of her Toumbe In theis words follow'th heare.
Hic jacet Alicia, uxor Stephani Maulovell domini de Ramton, et filia Galfridi de Staunton, militis. Que obiit in Kalendis Augusti; Anno Domini 1349. Cujus animæ propitietur Deus. Amen.
Sir Gefrey, Knight, on Mondaie died The sixteenth day, I heare, Of October, the tenth Moneth, Which happeneth in the yeare.
Of Christe one thousande, as I find, Three hundred sixty neene, As writings old can well declare, Which have beene read and seene.
This Gefrey was a learned manne, And well seene in the Lawe, Bothe grave, modest, and wife also, And once Shreve was, I knowe;
And in Election once againe That office to have used, Justice of Peace he long time was, Till life had him refused.
Before whose death Stauntons Lordship, And Basingham, with Lands moe, As Quarington, and Scregenton, With Elston, truth was soe.
He did intial to Stauntons heirs, That males lawfully were, And of the same seased did die, By deeds it may appeare.
And of good Lands in Newark Towne, In Lughborowe without faile, In Leicester Towne in Derbyshire, His right it could not quaile.
The saide Dame Joane, Sir Gofreis wife, Li'the in Sainct Laurence queare, In Stauntons Church, the Deed declaresThe writeinge follows here.
Icy git Jone, que fute la femme Mounsier Gefrey de Staunton, & la fillie Mounsier John de Loudham. Que morust le derayne joure de July, la anne le nostre seignor Christ 1366. Xcic mercie de sa alme.
Dame Cicely, Sir John Lowdhams wife, And mother to Lady Joane, L'the buried in Saincte Laurence quere, Amongst her freendes now gone.
Hic jacet Domina (fn. 16) Cicilia de Loudham, uxor Johannis de Loudham, militis & filia Roberti de Kirkton, militis. Quæ obiit septimo Idus Octobris, Anno Dom. 1344. Cujus animæ propitietur Deus. Amen.
Sir William was Sir Gefries heire, Wives worshipful two had, The Lady Kathrin was the first, Dame Elizabeth full sad:
Elizabeth was daughter deare To Sir Brian of Thornehill, A worthie Knight in his Countrie, His witte did rule his wille.
Sir Wilyam had with El'zabeth, A wife and vertuous childe, Elizabeth she had to name, Both modest chast and milde;
Which El'zabeth his only childe, For Wilyam had no mo, For aye to her his Mannor gave Of Elston, it was so:
And given to wife no doubt she was To hamsterly, a Squire. The writinge writte on Wilyams Tombe Now reade at your desire.
Hic jacet Wilelmus Staunton, filius Galfridi de eâdem, militis. Qui obiit Idus Augstui, Anno domini 1371.
The second sonne of Sir Gesrey, Sir Thomas was the same, And brother to Sir Wilyam he, And heir of Stauntons name,
Wed Alce, but yssue had they none, Which was small comfort then, And in the Church yard lieth colde Emonge the simple menne.
So much he did debase himselfe, To shew his humble minde, That wheresoever his body lay God could his Soule out finde.
This Sir Thomas by his last Wille Gave twenty pounds in deede, To build an Yle in Stauntons Church, Which could not be decreede.
For that same monie was bestow'd, In building the Roofe againe Of Stauntons Church which was decaied, But not as Thomas did meane.
For he will'd the Yle should be made In honoure of our Lorde. And to Sanicte Thomas dedicate, But they could not accorde.
Therefore Sainct Thomas of Canterbury, Loste some part of his righte, To remember the Stauntons deade And buri'd out of sighte.
Dame Alce, Sir Thomas wife, doth lie In the Parish Churche of Stoke, Neere New'rk, the Superscription is Which no manne can revoke.
Here lieth Dame Alce Staunton; over this Toumbe, I pray you, as I have loved you entirely, to our Lorde God, you praie for me: the which died the neenteenth daie of Novemb. In the year of our Lord God 1418. Jesu for thy passion, take me to thy mercie; Lady, for thy pitie have mercy upon me.
Raph, the the third sonne of Sir Gefrey, Sir Thomas was his brother, Was next heir by succession, The Lawe could judge no other.
Which Rase was an Esquier riche, He liv'd and had two wives, Hellen and Constance were their names. Which both led Godly lives.
Rafe begot Thomas and Wilyam, But Thomas he was heire, Who had three wives which discreet were, Margaret that was so faire.
Elizabeth, and Joane also, Three women rare to see: In theim all vertues did abound Faith, Hope, and Charitie.
Rase was Tomb'd in Quarrington, Superscription none there is, Do ye not doubt of his good death, His Soul enjoyeth blisse.
And Thomas lieth in Stauntons quere, And writte over him indeede, As next ensueing this same Verse You plainlie may well reede.
Hic jacet Thomas Staunton, Armiger, filius Radulphi Staunton, Armigeri, qui obiit ult. Kalend. Aprilis Anno Domini 1446. Cujus animæ propitietur Deus. Amen.
Vermibus hic donor, Et sic ostendere conor. Nam sicut his ponor Ponitur omnis honor. Next Thomas with El'zabeth had Five sons I can them name, Wilyam, George, Wilyam, Thomas, John, Then Alce their sister came,
The elder Wilyam, Katherin wedde, Whose daughter? can you tell? The Lordes of Norton Disney sure, By proofe I know it well;
Who though with welth they did abound, Off-springe they both had not, And George his brother wedded was, His wifes name is forgot.
Yet this George a faire daughter had, Whose name we cannot reede, But Maister Bruxbie married her, In Melton dwelt indeede:
And buride George was the fourth of March One thousand, and some moe, Foure hundred yeares ninety and eight, By proofe we find it so.
Alce, Georges sister, a husband tooke John Thorold, a Squire good, In Marston there his living lay,
Who came of gentle blood. Wilyam Staunton the younger call'd, Succeded as heire Male, Who in his former brethrens lives, Marke what I you tell shall,
Well learn'd he was in all the artes, He had a passinge braine, Parson of Staunton he was made, He cared not for gaine.
For beinge both Lord and Parson then He was at extreyme charge, The poor he fed, good house he kept, His livinge was so large.
And after huge and great summs spent; He dide a singleman, And buried is in Staunton Church, His owne Toumbe shewe I canne.
Thomas, the fourth son of Thomas, And brother to the Preest, Was Lord of Staunton by discent, For he was heire male neest.
His wife was Anne, they children had Both Anthonic and John, The yongst was Preest a seculare manne, But marke what else was don,
This Thomas was learn'd in the Lawes, And mervailed of many, For he entailde the Stauntons Landes, Not better donne of any.
That the heires Males might it possesse, Both Staunton Mannor and all, With Kilvington, and Alderton, And Purtnance generall.
Flaubrugh also, and Dallington, Accordinge to intente, As by a Deede which doth declare What Thomas Staunton mente;
Which Deed beares date the fiveteenth yere Of Edward then the Kinge, The fourthe Prince of that name, we reade, Trulie and auncient thinge,
Don in the yeare of Christ our Lorde One thousand hundreds foure, And seventie thereto added right, With twise two and no more.
He builded also the great Barne, Which by the Mannor doth stande, A thousand four hundred sixtie three, Then was it taken in hand.
When Thomas and Anne had runne their race, In Sainct Laurence Quere were laide, The Superscription on their Toumbe Doth followe you mai reade.
Hic jacet Thomas Staunton, Armiger, filius Thomæ Staunton, Armigeri, & Anna uxor ejus. Qui obiit nono die Januarii, Anno Domini, 1577. Cujus animæ propitietur Deus. Amen.
Whiche Thomas and Anne before their deathes Had two sons theim betweene, Anthonie, John, well learned were; John was a Preest I weene,
But Anthonic, a noble Squire, A Lover of the poorc; A stout man and Couragiouse, Well willinge evermore.
He marri'de one of good worshippe, Whom he lov'de as his life, A godlie woman in all respects, Her name was Mistris Sithe;
The elder Robert of Ragnell, A Nevell nott forgott, Her father was, who lov'd her much, There was, no cause whie not,
A good Squier this Nevell was, His liveing great is it, An ancient name of worthiehouse, Whose stocke doth florishe yet.
This Anthonic, and Sithe also, Had children two and neene, All vertuouse, six wedded well, As many children bene:
Richard. Robert, John, and Wilyam, Elizabeth, Anne, with moe, Ellen, Brigit, and Katherin both With Sithe, it must be so.
Richard and John no yssue had, But El'zabeth, truste me, Wed Roger North of Walkringham, And after Whalpole she.
Anne match'd her selfe with Wilyam Snowe, Whose life was shorte we reede, Yet yssue had he to be seene John and Richarde indeede.
Ellen the next wedde Wilyam Wilde, Of Nettelworth Lord he was; After him a yonge man she tooke, Cotes brought it soc to passe.
Ellen to Wilde did bear a sonne, Edwarde we doe him call, The onlie heire of all his Landes, If right may to him fall.
And Brigit, like a woman wise, Was match'd with Jerome Brande Lorde of West-hall or Stauntons Grange, For so I understande.
Though his life shorte, yet children foure, Robert, Wilyam also, Isbell and Anne he did beget, God send them well to do.
Katherin Staunton, Brigits sister, A lovinge housebande tooke Richard Marshall, a proper man Most comelie on to looke.
And Sithe her sister was not wedde, God lov'de her not amisse, The earth her body hath entoumb'd, Her Soule remaines in blisse.
This Anthonic the (fn. 17) brother of Theis godlie children all, Buil'te Stauntons chimney as it stands, And Windowe in the Hall:
And soon after was laide down flatte And chested under stone, Over whose Toumbe you may discerne That their lies such a one.
Hic jacet Anthonius Staunton, Armiger, filius Thomas Staunton, Armigeri, & Sitha uxor ejus filia Roberti Nevell, Senioris de Ragnell, Armigeri (fn. 18) Qui obiit Septimo die Februarii, Anno Christi 1569. Quorum animabus propitietur Deus. Amen Anima Domino Deo meo vivet, Et semen meum serviet ipsi. En Dieu maffie.
Robert Staunton was eldest next, And Anthonies heire by bludde, For he was worthiest of theim all, A famouse Squire and good.
His doings in his Fathers life To small gaine did amounte, Eighthundred poundes then did he o we, And more by just accounte:
Yet in few years discharg'd it all, Without raiseing of Rent; Fewe Leases likewise did he make To furnish his intente.
And or he dide, such order tooke, That thirtie pounds by yeare Soone purchased of Lands in Fee, And left theim to his heire.
Well learn'd he was, and studiouse His Bookes and writeings shewe, His deedes and notes are wonderfull To prove the same most true.
He built the Porch at Stauntons house, And other buildings faire, Towardes the South next the Orcharde, Which remains to his heire.
Hic jacet Robertus Staunton, Armiger, filius & hæres Anthonii Staunton, Armigeri.
Qui quidem Robertus obiit 19 Junii 1582.
Wilyam Staunton, being under age, Is Lord of all his Lande: His mother likewise gave him hers Confirmed with her hande.
To Edwarde Ros Earle of Rutland, This Wilyam warde was founde In Newarke by a Jury juste Thrughe tenor of his grounde;
Which Wilyam in minoritie He so his God dothe fcare, Hundreds of pounds his fathers debte He doth alreadic cleare.
At Schoole he learn'd to serve the Lorde, His learninge stands in steade, Good fathers steppes let him out-trace, And his Bookes often reade.
This Wilyam married El'zabeth, God graunt theym still accorde, Daughter to Daniell Disney, Squire, Of Norton Disney Lorde:
An house of greate antiquitie, As many that I can name, And when that she a mayden was All did commende her same:
Most vert'uslie she was brought up, According to her age, On Instruments she can well plaie, Modest she is and sage.
Both Booke and Needle she can use, And Romaine write full well, With qualities moe she is indu'de, Which were too longe to tell.
In Romaine letters capitall Thy Stauntons Posy trust, En Dieu maffoye writte first above, Which Christians followe must.
The Disneys Posey not forget, Which is, Suffrance doth ease; Then without doubt for to be toulde, Fewe folkes you mai displease.
Nowe farewell Wilyam, with thy Spouse, God graunt worshippe increace, And Nestors years to live on earthe, And youre love not to seace.
God graunt you off springe to your joye, God grant you have his grace, God grant that I may see in heaven You all look face to face:
And all that knowe you saie Amen, No other cause ye have: Yf any thing be done amisse, Free pardon I doe crave.
Finis then Qd. a freende of yours, And servaunt in his trade, Which writeing wrought, and Verse alfoe, His name is Robert C....ade.
The mistakes committed by this Bard may easily be corrected, and pardoned.
In the Church is, Arg. two Chevrons sable, with a Bordure Engrailed, sable also. And without a Bordure for Staunton. And Gules, a Fesse Ermine, between three Waterbougets Arg. or Ermine.
And Gules, a Bend Or.
And Azure, a Fesse Dancè, and Billettè Or, Deyncurt.
And there was also,—Hic jacet Tho. de Staunton, Armiger, filius Thom. de Staunton, Armigeri. Qui obiit nono die Augusti, Anno Domini 1482. (fn. 19)
[Throsby] Stauton
LORDSHIP contains 800 acres of land, inclosed about the year 1763. It belongs chiefly to two maiden ladies, the only surviving daughters of Job Staunton Charlton, Esq. who served in Parliament for Newark many years. He was the last male of this ancient family, and died about fifteen years ago. There are two other freeholds in this lordship, one belongs to the Earl of Besbrough, and the other to John Wright, Esq. banker, Nottingham.
Staunton lies about 7 miles north-east of Bingham. In the ancient family residence, near the church, live the ladies above-mentioned. This dwelling, from the late improvement in and about it, has a pleasing appearance, and the pleasure-grounds possess neatness.
Near the church also stands the chapel, mentioned by Thoroton, belonging to Orston, and now in disuse. The chapel duty being done in the church, by Mr. Fell, curate of Orston, for which there are ten pounds per annum paid by the Charlton family.
The church has a tower with four bells, and is spacious. It is dedicated to St. Mary. On a mural tablet, at the east end of the north aisle, are remembered Gilbert Charlton, Esq. and Ann his wife. He was second son of Job Charlton, of Ludford, in the county of Hereford, Bart. and died in 1706, aged 35. She was eldest daughter and co-heiress of Harvey Staunton, Esq. of this place, and died in 1732, aged 65. (fn. 20)
Besides the old monuments of the Stauntons, and the remembrancers noticed in the note below, there are others of the Stauntons, whose inscriptions are almost obliterated. Upon the east wall, near the altar, "Ann, the widow of the Honorable Col. William Staunton, obiit Nov. 13, 1688; and Ann Sherwin, his daughter, obiit March 14th, 1725, aged 77. She left sixpence a week for dole-bread to the poor" This Col. Staunton, is noticed above by Thoroton. The following is on the north wall of the church, near the chancel,
"To the memory of Jane Degge, 10 years the second wife, and 41 years the widow of Simon Degge, of Derby, Esq. who died 29th of March, 1757, aged 74, and of Harvey Degge, his fifth, her second son, Fellow of Trinity College, in Cambridge, who died 22 of May, 1733, aged 25. He was the grandson, she the youngest of the four daughters and co-heirs of Harvey Staunton, Esq. the last of that beloved family, Lord of this Manor; they both lie under the same grave-stone in the isle opposite hereunto."
"This memorial of the place of the sepulchre of his mother and brother, was erected by Staunton Degge, Rector of the church."
"Whosoever shall be in power here, let these Remains continue undisturbed, until they arise at the Resurrection of the Just, and triumphantly proclaim, O grave! where is thy victory?"
Patron, the Ladies above-named. Incumbent, Rev. George Holt. King's books 16l. 13s. 11d½. Archiepisc. pro Syn. 6s. Archidiac pro prox. 7s. 6d. Val. in mans. ter. gleb. decim. garb. &c. yearly tenths 1l. 13s. 4d½.