Pages 335-340
Thoroton's History of Nottinghamshire: Volume 1, Republished With Large Additions By John Throsby. Originally published by J Throsby, Nottingham, 1790.
This free content was digitised by double rekeying. All rights reserved.
ELSTON.
Elveston.
The Book of Doomesday shows this Town to have been in those Days much divided. One Bov. was of the Soc of Newark, that is to say, Land so rated in the Public Taxation, which was of the Fee of the Bishop of Lincolne, who, besides that, had two Manors here, which, before the Norman Invasion, Leuvin and Pileuvin had, which they discharged in public Levies or Gelds for two Bovats. The Land was then accounted four Bovats. There one Vill. and three Bord. had one Car. There was twelve Acres of Meadow. This part, (fn. 1) when the Book was made in the Time of King William I. kept the former value 10s. Ranesford and Armgri then held it of the Bishop.
Another Part of this Town was of the Fee of Roger de Busli, wherein was a Manor, which Oudencare had before the Conquest, and paid for it to the Dane-Geld as two Bov. The Land was Half a Car. There Norman the Priest had of Roger five Villains, having five Bovats in Car. (or in a Ploughland, or in Tillage), this also kept the old Value of 10s.
The greatest share in Elvestune was of the Fee of Ibert de Lacy, one Part whereof was that wherein Goduvin in the Saxon Times had his Manor, which was Rated to the Geld at six Bovats. The Land being then certified to be (sufficient for three Ploughs, or) three Carucats. This afterwards Armegri held of Ilbert, and there had one Car. (or Plough) three Sochm. on two Bovats of Land, and one Vill. five Bord having two Car. (or Ploughs). There was thirty Acres of Meadow. In the Confessor's Time this was 40s. Value, in the Conqueror's 35s. Another Part was three dwelling houses (mansur.) which Ilbert had, in which were two Sochm. one Bord. belonging to Stoches. They had not the Land. Ilbert claimed upon Bishop Remigius the Land of the Priest, and in Stoches he claimed (or Challenged) the fourth Part of the Town.
The Family of Bussy of Hogham in Lincolnshire, named more particularly in Balderton, had the Bishop of Lincoln's Fee, as will appear by several instances.
(fn. 2) Roger de Buslies, the Lord Lovetot named in Wisou had, and thereof infeoffed the Ancestor of Galfr. de Estanton, in the Time of King Henry the First, for Half a Knight's Fee.
(fn. 3) Geoffrey de Staunton, Son of William de Staunton, Recovered against Sir John de Staunton of Elyeston, Knight, and Amicia, his Wife 15 E. 3. fifteen Bovats of Land in Elyeston, which Walter de Evermue gave to Galf de Staunton, and Alicie his Wife, and the Heirs of their Bodies, who had Issue William de Staunton, and he William the Father of the said Geoffrey then claiming. It was a very great Suit tried in several places, and at length brought into the Parliament, excellently argued on both sides, and the Errors discussed very elegantly.
(fn. 4) This Sir John de Staunton was Son of John, Son, I suppose, of Sir Geoffrey, and dwelt in Devonshire, and had a Son called John also, 37 E. 3. but Sir Geoffrey de Staunton the Plaintiff, who, it seems, carried it, had a Son and Heir called Sir William de Staunton, Knight, as in Staunton is said, who was twice married: his first Wife was Katherin; his second Elizabeth, Daughter of Brian Thornehill, Relict of Henry Musters, by whom he had a Daughter and Heir, called Elizabeth, who was the Wife of William Hamesterley, (fn. 5) who died Seised of a certain Manor in Elyeston about 15 R. 2. called Stouhall Fee, with sixteen Oxgangs of Land held of the honour of Tikhill, and Costhall Fee, and sixteen Oxgangs of Land held of Sir John Bussy Lord of Hogham, William Hamsterley, Son of the said William, being then found her Heir, and sixteen Years of Age.
(fn. 6) William Hamstrelley, the Husband of Cicilia, (the Daughter of Sir John Bussy) slew Thomas Duke of Gloucster, and had a Son called also William Hamstrelley, who had two Daughters, Anne, Wife, of Richard Banister, and Joane, of William Orme, or Orome, who had Hamond Orome, who Inherited this Manor, and was, May 6. 16 E. 4. at Balderton Court, and there acknowledged to hold Gollhall Fee of Sir Thomas Bussy.
(fn. 7) William Hamsterley went into France, and there Died; and he had two Daughters, which the Lady Roos, after the Death of his Wife at Staunton, took Ward, and William Eyton sold them to Raph Banister, whose two Sons Richard and Roger married them; but seems Roger died, and left his Wife for William Orme, before-named whose Posterity continued to our Time, viz. the latter end of King James his Reign; that Captain ---- Orme, (fn. 8) sold his Lands here some to George Lascells, Esquire, who paid to the honour of Tikhill, of which he was Feodary, for eighty Acres of this Land for respite of Homage, &c. as Mr. Wightman did, who paid for thirty, and Mr. Robert Poole, Gent. for his House and seventy Acres; William Bristowe for forty; Alexander Watson for eighty; the Heirs of Robert Greaves for his House and ninety; John Hollingworth for his House and forty Acres; ---- Gamble for nine; Richard Elston for seven, &c. and others who bought the said Mr. Orme's Lands.
Lacies Fee which Arnegrim held, who also held of him in Sibthorpe, came to Sir Stephen Waleys, who, 17 E. 1. (fn. 9) did implead him Robert de Eyleston, that he should do him certain Customs and Services for two Car. of Land in Eyleston, which he held of him by Homage and the Service of 29s. and Suit of Court of the said Stephen in Eyleston from three weeks to three weeks, whereof his Ancestor was seised in the Time of King John, &c.
(fn. 10) Sir John de Depeden, Knight, and Elizabeth his Wife, Daughter and Heir of Sir Stephen Whaleys, 19 R. 2. passed 50s. Rent in Sibthorpe and Elyeston, and some places thereabout, to Sir John Leek, Knight, Richard de Stockton Rector of the Church of Burgh Waley's, and William de Leeke of Kirketon, and the Heirs of William, whose Heir is Peniston Whalley, Esquire, to whom some of the Rent yet remains, viz. 30s. out of Elston, paid by Mr. Lassells Yearly. The Seals show Depedens Arms to be, Ermine on a Chief, three Lioncells Rampant, and Walleys his to be quarterly and a Bend.
(fn. 11) Robert de Eyleston, 5 E. 3. passed by Fine to Richard de Gauy, and Maud his Wife, one Bovat, and two Acres and an Half in Elston.
(fn. 12) There was a Fine, 13 E. 3. between Robert, Son of John de Eyleston, and Elizabeth his Wife, by John de Misterton put in her Place to get or lose, and Hugh, Son of Richard de Thorpe, of the Manor of Eyleston, and the Advowson of the Church, whereby they were settled on the said Robert and Elizabeth, and the Heirs of their Bodies; remainder to the Right Heirs of Robert.
(fn. 13) There was a fine levied at Nottingham, 3 E. 3. between Henry, Son of Laurence de Stoke, and Maud his Wife on the one Part, and Robert de Hickling Vicar of Granby on the other Part, concerning two Mess. three Bovats of Land, twenty-six Acres of Meadow, and 2s. Rent in Eyleston and Stoke by Newark, which were thereby settled on the said Henry and Maud for Life; remainder to Henry Guay of Stoke, and Joane his Wife, and the Heirs of their Bodies remainder to the right Heirs of Henry Guay. To this, Robert de Nuncormesby, and John, Son of Robert de Eyleston, put to their claim.
(fn. 14) There was a Fine, 33 H. 6. and afterwards, 35 H. 6. between Thomas Rempston, Knigh, and Henry Wheteley, Quer. and Nicholas Wymbysh, Clark, and Hugh Wymbysshe, and Margaret his Wife (who was Daughter and Heir of Lord of Elyeston, mentioned in Carcolston) Deforc. of the Manor of Elston, with the Appurtenances, and four Mess. two hundred Acres of Land, thirty of Meadow, ten of Pasture, and 6s. Rent, and the Rent of three Pair of Gloves, and of 1l. of Cummin, with the Appurtenances in Elston, whereby they were settled on the said Hugh Wymbish, and Margaret his Wife for Life; then to Alice, the Wife of John Leeke of Landford, Esquire, for her Life; then to Thomas Leeke, Son of the said John, and the Heirs of his Body; for want of which, to the Heirs of the Body of the said John; and in Default of such, to the Right Heirs of the said Alice.
(fn. 15) There was another Fine, 36 H. 6. between Thomas Leeke of Landford, Quer. and Hugh Golhall of Wodeburgh, and Alice his Wife, Deforc. of the Manor of Elston called Elston's Manor, with the Appurtenances, and the rest of the Particulars as before, which were then settled on the said Hugh and Alice during their Lives, and after on Joane Golhall, Daughter of the said Hugh, during her Life: then to revert to the said Thomas Leeke and his Heirs for ever.
(fn. 16) There was a Recovery, 32 H. 8. wherein Thomas Rooper, and William Wright, Clark, claimed against Francis Leeke, Esquire, the Manor of Elsten, with the Appurtenances, and three Mess. two Cottag. one Dovecote, one hundred Acres of Land, forty of Meadow, forty of Pasture, 8s. Rent, and the Rent of 1l. Cummin-seed, two Pair of Gloves, and a Steel needle, in Elston, Thorpe, and Stoke by Newarke.
(fn. 17) There was a Recovery, 38 H. 6. wherein John Metheley the younger, claimed against John Compton five Mess. two Cottages, one hundred and twenty Acres of Land, forty of Meadow, and 24s. 8d. Rent in Elston, Flintham, and Sireston. (fn. 18)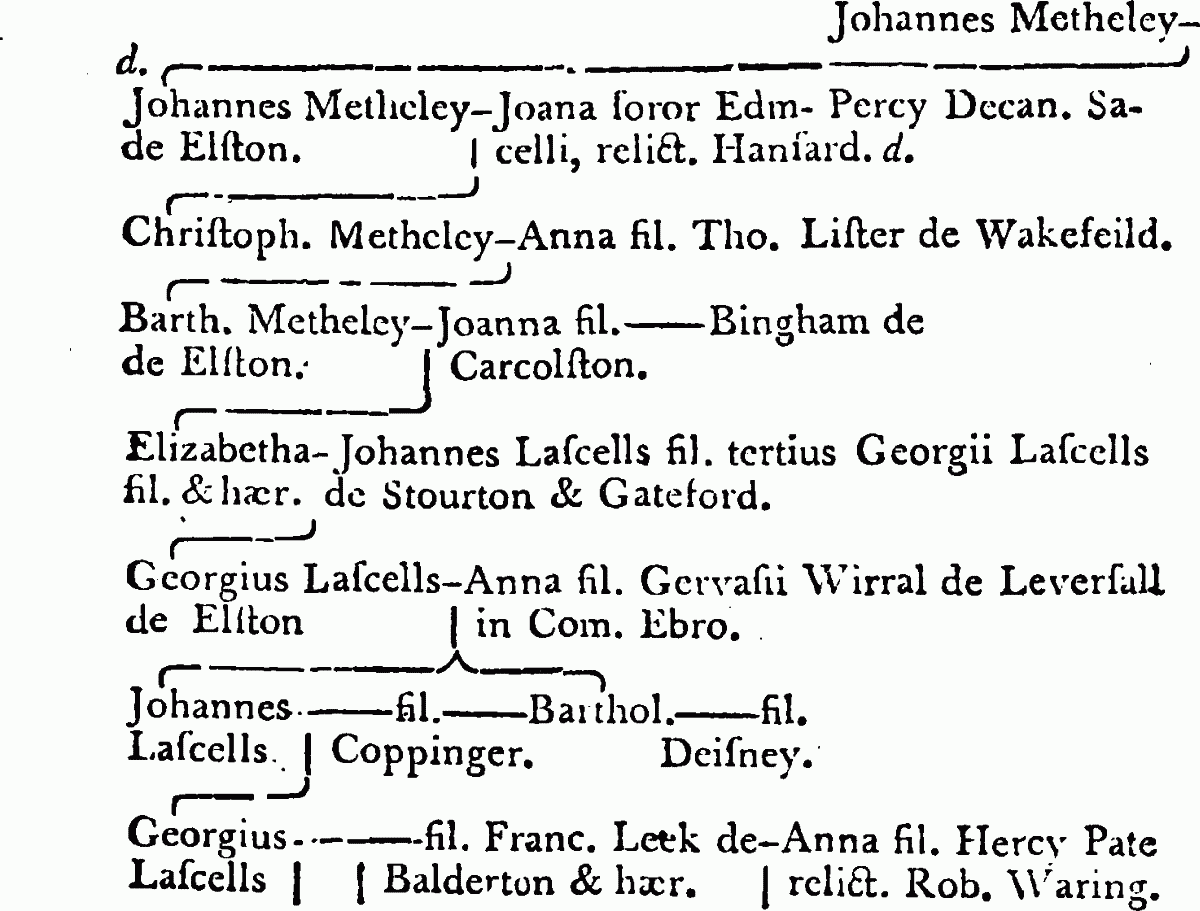 Roper's Manor, which before was Leekes, and Metheleys Lands the Capital Mess. whereof heretofore was called Carues place Manor, are now the Inheritance of George Lascells, Esquire.
(fn. 19) The Rectory of Elston was ten Marks, and some Prebendary Patron. 'Tis now 9l. 8s. 9d. in the Kings Books, and William Wightman, Esq. of Stoke, Patron.
[Throsby] Elveston
LORDSHISP is not large, open field, and more than half of it is owned by Robert Waring Darwin, Esq. who resides in this place in an ancient mansion.
The village is large, and is considered by the inhabitants of two divisions, one of which is called Stoke. Sixty dwellings have common right. Here is an hospital for four women, founded, in 1744, by Ann Darwin.
The church is a neat place of worship, dedicated to All Saints. To a nave and a side aisle, another aisle has been lately added. It has a tower with three bells; five are about to supply the place of the three, by the bounty of R. W. Darwin, Esq. Here are several mural monuments, chiefly to the Darwin family. One informs us that William Darwin, Esq. of Cleatham in Lincolnshire died in 1682, aged 28. Another of the same name, and place, died in 1760, aged 70. William Alvey Darwin of New Sleaford, in the county of Lincoln, and late of Gray's Inn, in the county of Middlesex, Gent. was born in 1726, and died in 1783. Robert Darwin, Esq. Barrister at Law was born in 1682, and died in 1754. He married Eliz. daughter of John Hall, in the county of Lincoln, Gent. by whom he had issue Robert Waring, Elizabeth, William Alvey, Ann, Susanna, John and Erasmus. The neatest monument is placed for Susanna Darwin, daughter of the above-mentioned Robert and Elizabeth. She died in 1789 aged 60. Others of this respectable family are interred in this church.—George Chappell, rector, died in 1766, aged 78, John South, rector, died in 1732, in the 75 year of his age; he was incumbent 30 years.—Over the arch of the belfry.
"John Lassells Esquire, third sonne of George Lassells, of Guileford and Sturton, Esq. and brother to Sir Brian Lassells Knight, married Eliz. the sole daughter and heir of Bartholomew Methley of Elston Esq. and had issue George Lassells, who married Anne the daughter of Gervis Wirral, of Loversall in the county of York, Esq. and she had issue, Anne Lassells, Elizabeth Lassells, John Lassells, Hellen Lassells, Margaret Lassells, and Gervis Lassells, (fn. 20)
Patron Robert Waring Darwin, Esq. Incumbent Rev. John Darwin, king's books, 9l. 8s. 9d. yearly tenths 18s. 10½d Syn. 2s. Prox. 5s. val. in mans. cum ter. gleb per ann. 2l. 17s. 4d. in de dec. garb. &c. Anne Lassells, widow, presented in 1702, Robert Darwin Esq. 1732; Robert Warring Darwin, Esq. in 1766.