Pages 341-345
Thoroton's History of Nottinghamshire: Volume 1, Republished With Large Additions By John Throsby. Originally published by J Throsby, Nottingham, 1790.
This free content was digitised by double rekeying. All rights reserved.
COTHAM.
Doomsday,—Cotes.
Here before the Norman Invasion were divers Manors, one was the Freehold of Leuric, who paid for it to the Dane-geld as three Bovats. The Land then twelve Bovats. This afterwards was the Fee of Odo Bishop of Baion's, whose Man (or Tenant) Wacelinus had here one Car. five Vill. and one Bord. (fn. 1) having half a Car. and twenty Acres of Meadow. This in the Confessor's Time was 40s. Value, in the Conqueror's 30s. Here was likewise of Walter de Ayncurt's Fee, the principal Part of the Township, in which, before the Conquest, were two Manors which Suen and Tori had, who paid the Public Tax for them as nine Bovats. The Land being then certified to be six Car. There afterward Walter had in Demesne one Car. ten Vill. eight Bord. having three Car. There was a Priest and a Church, and six Acres of Meadow. This was in the Confessor's Time 100s. in the Conqueror's 6l. Value, when Doomsday Book was made.
(fn. 2) Walter de Ayencurt gave his Tythes here, and at very many other Places, to the Monastery of St. Mary's, at Yorke, which had a Pension of 24s. per Annum, in the Year 1344, as in the Visitation of William (Zouch) Arch-bishop of York, appeareth. But Raph Deyncourt, (fn. 3) when he founded Thurgarton, gave this Church called there Cotes, as in Granby is said. And in the Year 1352, the Abbat and Convent of St. Mary's ar Yorke, agreed to let the Prior and Convent of Thurgarton, have their Portions of Tythes in the Archdeaconry of Nottingham, viz. two Parts of the Tythes of the Demesne Lands, in Graneby and Hikling, and the like in Cotum, for ten Marks of Silver yearly for ever.
(fn. 4) In the eleventh Year of King John's Reign, there was an Assise, to try if Robert Russell and others, had unjustly disseised Henry de Mar, and Petronilla his Wife, of their Common of Pasture, and Turbary, and Marish in Cotes, and Beninton, which belonged to their Freehold in Cotes. The Jury found that Robert Russell, and Richard the Parson, had carried away Turf, which the Men of the said Richard had wrought, in the Common of the said Henry, and so had disseised him; the rest had leave from the Earl of Chester's Baylys: and that it was always lawful for the said Earl, and the said Henry, to give leave to others to cut Turf.
(fn. 5) In the twelfth Year of King John, Petronilla, the Daughter of Guido de Croun, gave to Paganus, Son of William de Mara and his Heirs, her whole Land of Cotun, reserving two Pound of Pepper yearly Rent. She married to her first Husband Will. de Longechampe, and by him had Henry de Longechampe, (fn. 6) who had a Daughter called Alice, who was Married to Roger Pedwarden. But the said Petronilla, the Daughter and Heir of Guido de Croun, had another Husband called Oliver de Vaux, by whom she had a Son called John de Vaux. (fn. 7)
(fn. 8) There was an Assise at Derby, 53 H. 3. before John le Breton, to try if Stephen, Father of William de Catone, was seised of one Toft, and two Acres of Land in Cotone, which Adam de Horot held, who called to Warrant before John le Bretone, Alane le Breton, who came and summoned to warranty Stephen, the Son of Stephen de Haya. (fn. 9) Walter de Hayea paid 40d. for the eighth Part of a Fee in Coton.
(fn. 10) The Jury, 8. E. 1. found that Roger de Vallibus held in Cotum, sixteen Bovats of the Fee of Dovor, (which I take to be that of Odo Bishop of Bayon,) of Stephen de la Hay, which the said Stephen was wont to hold of the King in Capite, by the Service of finding a Man of Arms, [Armigerum] forty Days, at his own Charge, in the Time of War.
(fn. 11) There was an Agreement made between Roger de Vallibus, and Robert de Cumpton, 8 E. 1. also, concerning Right of Common, in which the said Robert granted, that the proper Goods of the said Roger, might Common in the Territory of Houton, except the Several, after the Corn was carried away, excepting Swine and (Bidentibus) Sheep so that neither his Freeholders, Servants, Villians, nor Cottagers did Common. And another Bargain was then, also made, touching the entering of their Cattle, into both their Territories, as well Houton, as Cotum, and for the Manner of replevying.
(fn. 12) It was adjudged, 10 E. 1. that Roger de Vallibus, and Clementia his Wife, should recover their Seisim of certain Customs and Services, which divers Men and Tenants of Cotum, ought to do for their Land there. Roger de Vallibus, (fn. 13) 15 E. 1. was found to have greater Right to hold sixteen Bovats, (except seven Acres and one Rod) in Cotum, than the King; and that this Manor was held of the Castle of Dover (as before;) but then the Rent was raised to 40s. per Annum, which Stephen de la Hay, g. 11 E. 1 said he was wont to receive out of Cotum, in the Name of Service.
(fn. 14) The Manor of Cotum, by a Fine between John de Ludham, and John de Vallibus at York, 31 E. 1. was settled on the said John de Vallibus, and Constancia his Wife, and the Heirs which he should beget on her Body; Remainder to the Right Heirs of the said John de Vaux. By another Fine at York, (fn. 15) 2 E. 3. between John de Vaus, and Sibyll his Wife, and Thomas de Sibethorpe, Cler. it was settled on the said John and Sibyll, and the Heirs of their Bodies; for want of which, on Arnold, Son of John de Mounteney, and the Heirs of his; Remainder to Robert, Brother of Arnald, and the Heirs of his Body; Remainder to John, Brother of Robert, and his; Remainder to the right Heirs of John de Vaus.
(fn. 16) In the Record of Nomina Villarum, 9 E. 2. John de Monteney, was certified to be Lord of this Place: 'tis possible it might be by the Marriage of, John de Vaus, his Mother.
(fn. 17) Thomas de Leyk, Knight, 38 E. 3. was certified to hold a Knight's Fee in Cotham, of William Deyncourt.
(fn. 18) This afterwards became the Inheritance of that Family, whereof there was said to be two or three Sir John Leeks, the last whereof had two Sons, the Younger of which was John Leek, who married Alice, the Daughter and Heir of John Grey, and was Progenitor of the Earl of Scarsdale, and of Sir Francis Leek of Newark, Knight and Baronet; the elder was Simon Leek, who married Joane, the Daughter and Heir of Sir John Talbot of Swannington, in the County of Leicster, the Widow of Sir Thomas Malory, Knight, and by her had four Daughters and Heirs, the second whereof Margaret, was married to Sir John Markham the Chief Justice, Progenitor of Sir Robert Markham, of Sedgebrook, in the County of Lincolne, Baronet. Elizabeth, the third was Wife to Sir Hugh Hercy, of Grove. Anne, Wife of Richard Willoughby, was the fourth; but Mary, second Wife of Sir Gyles D'aubeney, (fn. 19) was the first, in whose Right the said Sir Giles held, by the Courtesie of England, the Manors of Cotum and Houghton, by Newarke, and left a Daughter and Heir by her called Joane, who carried this Lordship to Sir Robert Markham her Husband, Son of Sir Robert, Brother by their Father Sir John Markham the Elder, one of the Justices of the Kings Bench, to the said Sir John Markham, the Chief Justice, who made the Match. (fn. 20)
In Peverton in the County of Somerset, was this Epitaph.
Hic jacet Domina Maria D'aubency uxor Egidii D'aubeney, militis, quondam filia Simonis Leeke, Armigeri, Com. Nottinghamiæ, quæ obiit 17. mensis Februarii, Anno Domini 1442. Sis testis Christe.
Many make this Simon Leek a Knight, but the Mistake, I suppose, came by reason there was a Knight of that Name, living in the latter end of the Reign of Edward the Third, as in Kilvington may be observed.
(fn. 21) The Family of Markham made this their principal Seat, and were of great Note. Sir John Markham was a Captain at Stoke Field, Anno 1488, (fn. 22) but as the Tradition goes, was an unruly spirited Man, and striving with the People of Benington in Lincolneshire, about the Boundaries of their Lordships which are contiguous, he killed some or other of them, (some have it that he hanged the Priest), for which, retiring, he lay hid at a Place in Lincolneshire, which the elder Sir John Markham, his great Grandfather, had by his Wife Elizabeth, the Sister and Co-heir of Hugh, and Daughter of Sir John Cressy of Hodsak, from them called Cressy Hall, where, as faith my Author Francis Markham, it was his good Fortune to entertain the Lady Margaret, Mother to King Henry the Seventh, who not only begged his Pardon, but married her Kinswoman Anne, the Daughter of Sir George Nevill, to his Son, who was likewise called Sir John Markham, and had a Son by her called John, who died before him, but left a Son born at Sireston, 1536, called Robert; but after her Death he married Margery, the Daughter of Raph Langford, by whom he had a Son named Robert, and a Daughter, married to Robert Moreton of Bawtree, and eleven more Children; after her he married a third Wife, Anne, the Daughter, and likewise Sister and Co-heir of John Strelley, Esquire, the Relict of Sir Richard Stanhope, Knight, and by her had Thomas Markham, who married Mary, the Daughter of Rese Griffin, and was Progenitor of the Markhams of Allerton, and two or three Daughters, and died 1 Eliz. 1558. He was in very great Prosperity, but at length utterly ruined: yet the Earl of Shrowsbury, whom he unadvisedly made his Enemy, helped to raise his Children. His Grandchild Robert, succeeded here, whose first Wife was Mary Daughter of Sir Francis Leeke; his second, Jane Daughter of William Burnell, of Winkeburne, by whom he had Roger Markham. By his first Wife he had many Children. His eldest Son Robert had also two Wives; his first Agnes, Daughter of Sir John Warburton of Cheshire; his second Winifred, Daughter of Robert Thorold, by whom he had Philip Markham, Esquire, who Died 1669, the rest were Dead before.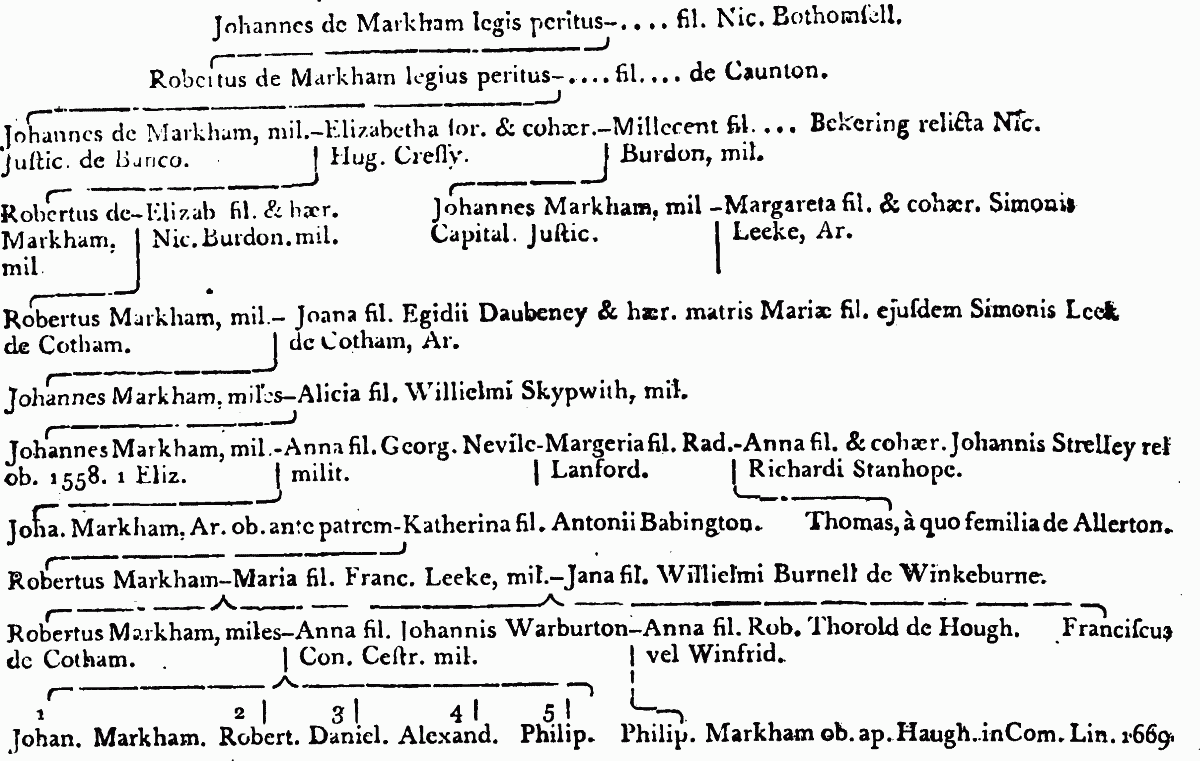 This last Sir Robert was a fatal unthrist, and Destroyer of this eminent Family; he had a Brother called Francis Markham, who was a Soldier and a Scholar: he was admitted into the University of Heidelberg, 12 Feb. 1595. He collected the History of his own Family, and wrote certain Decades of Epistles to eminent Persons concerning the Art of War, which he printed.
This Township is now decayed, the Houses pulled down, and most of it inclosed, being the Inheritance of his Grace the Duke of Newcastle.
(fn. 23) The Rectory of Cotteham and Advowson of the Vicarage, late belonging to the Priory of Thurgarton, 24 Nov. 38 H. 8. were granted to John Bellowe, and John Broxholme, Esquire, together with the Tythe Barn of Cotteham, with the Appurtenance, then in the Tenure of John Markham.
The Vicarage of Cottome was 8l. when the Prior of Thurgarton was Patron. 'Tis now 7l. 18s. 1d. ob. in the King's Books, and, I suppose, the Duke of Newcastle Patron, who alloweth towards 20l. a Year, to one officiate sometimes, but none have been presented of late.
In the Chancel by the North Wall is a good Tomb of — Markham.
In the Windows is, Cheque Arg. and Gules, a Bend sable, Bekering.
And Arg. a Lion Ramp. queve surchè sable Cressy.
[Throsby] Cotham
LORDSHIP contains 1200 acres of old inclosure. The Duke of Portland enjoys the manor, who, I believe possesses it from his ancestors by a marriage with a Daughter of the Countess of Oxford.
The church has a barn like appearance; but it is well lighted. It is topped like a pigeon-house with 2 bells. Under a group of figures, which is not noticed by Thoroton, is this inscription. "Ann daughter of John Warburton, of Cheshire, Knight, wife to Robert Markham, of Cotham, Esquire, died November 17, 1601."
Here reside two respectable graziers who occupy the principal part of the land, Mr. Fisher and Mr. Neal.
Patron the Duke of Portland. Incumbent the Rev. Thomas Wakefield. It is ranged amongst the livings discharged, in Bacon, where, it is said the clear yearly value is 18l. 0s. 0d. King's Books 7l. 18s. 0d. Archiepisc. pro Syn. 2s. Val. per ann. in mans. 4s. in dec. lan. &c. 5l. 3s. 4d. sol. in pecun. per pri. de Thurgarton. Pri Thurgarton propr. The church is dedicated to St. Michael.