Pages 345-351
Thoroton's History of Nottinghamshire: Volume 1, Republished With Large Additions By John Throsby. Originally published by J Throsby, Nottingham, 1790.
This free content was digitised by double rekeying. All rights reserved.
STOKE by NEWARK.
Stoches and Estoches.
This Stoches was very much parcelled in old Time, and so continues; some of it which was rated to the Dane-geld at one Bovat and an Half, was of the Soc of Newark, and of the Bishop of Lincolne's Fee, which some Sochmen held.
Another Part of this Town of Stoches, was the Fee of Walter de Ayncurt, where before the Conquest Tori had a Manor, which was discharged from the Public Tax for six Bovats. The Land was then certified to be two Car. There was afterwards in Demesne one Car. three Vill. five Bord. having Half a Car. and sixty Acres of Meadow. In the Confessor's Time this was 6l. sclo. (or 60s.) in the Conqueror's 40. Osbert held it. And it had Soc in Holton.
Another Part was of Ilbert de Lacies Fee, which Turchill had before, and discharged his Manor to the Geld for five Bovats, though the Land was then known to be two Car. Manfrid held it of Ilbert, and there had half a Car. and three Sochm. five Bor dars, having one Car. and two Oxen ploughing, and sixty four Acres of Meadow. In the Confessor's Time this was 20s. in the Conqueror's 15s. Value.
Another Manor in Stoches, before the Normans came, had Sbernecroc, which he paid for as two Bovats and an half to the Geld. The Land was one Car. This afterwards became the Fee of Berengarius de Todeni, which Raph his Man held, and there had one Car. two Vill. three Bord. ploughing with two Oxen. There was forty Acres of Meadow. This in the Time of King Edward, before the Conquest, was 12s. when King William made his Survey 10s. Value.
Here was a Family which took their Name from this Place, of which I find several, but cannot give an exact Account of them. The County of Nottingham, (fn. 1) 11 May, in the sixth Year of King John, was committed to Peter de Stokes, as long as the King should please. Robert, Son of Stephen, the Knight of Stokes, by the Consent of Margaret his Wife, and Stephen his Son and Heir, gave to God and the Church of St. Peter, at Thurgarton two Selions, or Leyes, by Templecroft, (fn. 2) without the Town of Stoke, towards Newark, to make a Toft, and one Bovat of Land, and all his Meadow in Withenes, and a Path for Foot-men, and Horse-men, to Fiskerton Ferry, over the (Cheveciis) Heads of his great Furlong by the Trent, and the like, which Stephen, Son of this Sir Robert de Stokes, Knight, confirmed.
Here were many Benefactors to the Priory, of whom that Convent got small Parcels of Land. Hugh Blanchard the Chaplain of Stoke, gave Part of a Toft, four Selions of Arable Land, a Rood of Meadow, and the like, which he had of John de Roldeston of Stoke, chief Lord of the Fee, whose Wife Maud, the Daughter of Robert de Harston, in her Widowhood confirmed it; so did William, the Son of the said John de Roldeston. Robert Payn, of Neuwerks, gave a Toft and Croft in Stoke, and some small Rents, and Half an Oxgang of Arable, &c. which Hugh Cundi held of him in Villanage, together with the said Hugh, his whole Offspring, and all his Chattels. Thomas de Bekering, Knight, Son of Thomas, released all his Right and Title in Half a Bovat of Land, which should descend to him by Inheritance, after the Death of Thomas de Bekering his great Grandfather, to the said Prior and Convent. And Roger de Stokes confirmed to them, all the Lands and Tenements they had of his Fee in Stoke by Newark, which Confirmation seems to bear Date 15 E. 2. John the Prior, and the Convent of Thurgarton, passed to Sir John de Munteney, and the Lady Constantia his Wife, a Toft and Croft containing three Roods, lying next the Messuage of the said Sir John on the East in Stoke, to them and the Heirs of their Bodies, paying 2s. a Year: for the Security of which the said Sir John made a Bovat, which Robert Moxly held of him in Stoke, in Villanage to be liable to their Distress.
(fn. 3) Robert de Stokes Paid two Marks for one Knight's Fee here, which I take to be of Deyncourts Part.
The Bishop of Lincolne infeoffed the Ancestor of Dive, Lord of Kingerby in Lincolneshire, who had his Court kept at Balderton, and was succeeded by Bussy of Hogham, as in Balderton more particularly.
(fn. 4) Galfr. de Stokes was found, 51 H. 3. to have held something in Darbyshire of Richard de Sandiacre, and likewise of the Fee of Kinnerby in Stoke twenty Bovats, in Newark four Bovats, and in Balderton eight Bovats of the same Fee; of the Fee of Bekering in Stoke ten Bovats, four in Sireston, and sixteen in Screveton (there noted;) John, Son of Paulinus de Stoke, was found Cousin and Heir of this Geoffrey. And Matilda, Sister of John de Stokes, 21 E. 1. (fn. 5), was found his Heir.
(fn. 6) An Assize, 16 E. 1. came to be recognized before the Justices at Nottingham, if Robert de Stoke the Uncle of Robert de Omesby, and of Robert de Ayleston, was seised of one Mess. one Windmill, one hundred and fifty one Acres of Land, thirty five of Meadow, nine of Pasture, 6l. 9d. Rent, in Stokes by Farndon, which Henry de Gauy, and Isabell his Wife then held, and called to Warrant Stephen de Stokes, who was summoned in Northamptonshire, and came and voided the Warranty, because the Jury found that Isabell had not done him Homage, which she pleaded she did at Siberton.
(fn. 7) In the Record of Nom. Vill. 9 E. 2. Stoke answered for a whole Villa. and Henry de S. Licio, and Isabell de Guay are certified to be Lords of it. The Year before, 8 E. 2. (fn. 8) Henry de S. Licio, had an Ad quod Damnum, that he might give ten Acres and an half to the Master of the Hospital of S. Leonard at Stoke and his Successors, which shews he held of John de Bussy, and he of the Bishop of Lincolne.
(fn. 9) This Hospital is very ancient, for Raph de Aincurt, in the Time of Henry the First, when he Founded the Priory of Thurgarton, excepted 10s. per Annum, of his Gift to the infirm of Stokes; but who founded it I have not yet discovered. It had Lands in Newark, and very many other Towns within the Soc, given by several Benefactors. The Jury, 12 E. 3. (fn. 10), found it not to the King's loss, if he granted Henry, Son of Laurence de Stoke, Licence, to give a Mess. in Stoke, to the said Hospital; nor, 21 E. 3. for John le Veynour of Stoke, nor Robert Moge, to give a few Acres in Stoke, (fn. 11) nor for William, Son of William, Son of Stephen de Stoke, and Simon de Sibthorp, to give 10s. Rent in Stoke, nor for Gilbert, Son of Lene of Holme by Newark, to give a Mess. three Acres of Land, and five Acres of Meadow in Holme aforesaid, to the said Hospital. I have met with very many such small Contributors. Thomas Ogle, Clark, 16 R. 2. (fn. 12), and Alice Porter, a Mess. and half an Acre in Stoke, held of John del Car, in Right of Alice his Wife, who held of the Lord Deyncourt; John Cony another Mess. held of the same Persons, and the like.
(fn. 13) By a Fine at York, 27 E. 1. between William de Westwode, and Maud his Wife, and Henry, Son of the said Maud on the one Part, and Elias de Bekingham on the other, six Mess. one hundred Acres and five Bovats of Land, thirty Acres of Meadow, five of Pasture 45s. 9d. Rent, and Rent of a Pound of Pepper, and a Pair of Gilt Spurs, in Stokes, Sireston, Eyleston, Newark, and Balderton, were settled on the said William, Maud, and Henry. 'Tis like Maud was the Sister of John de Stoke, before-named.
(fn. 14) There was another Fine levied at York, 16 E. 2. between Roger de Stokes, and Petronilla his Wife, Quer. and Robert de Helpeston Parson of Houton, Deforc. whereby the Manor of Stoke was settled on the said Roger and Petronilla for Life; afterwards on Peter, the Son of Nicholas de Wydemerpole, and Alice his Wife, and the Heirs of Peter on the Body of the said Alice; Remainder on Reginald, Brother of Peter, and the Heirs of his Body; Remainder on Maud, Sister of Reginald, and hers; Re mainder to Nicholas de Wydemerpole, and Alice his Wife, and the Heirs of the said Nicholas: these last mentioned in Shelton. Peter de Wydmerpole, and Alice his Wife, by Fine, 17 E. 3. passed to Henry Guay, and Joane his Wife, two Bovats in this Stoke.
(fn. 15) I find Galfr. de Butiler about 8 E. 1. granted for himself and his Heirs, that Richard Ingeram and his Heirs, should have Common for two Cows, in the one hundred Acre Moore of Stoke.
(fn. 16) By a Fine at York, 7 E. 3. Sir John de Mounteney, Knight, settled thirteen Mess. one Mill, nineteen Bovats and an Half, and twenty three Acres and a Rood and Half of Land, fifty two Acres and an Half of Meadow, thriteen Acres of Pasture, and 40s. and 3s. Rent in Stoke, Thorpe, and Eyleston, and the Advowson of the Church of Elyeston, on himself for Life; then to John his Son, and the Heirs Males of his Body; Remain (fn. 17) der to Robert, Brother of John, and his; Remainder to Arnald, Brother of Robert, and his; Remainder to the Right Heirs of Sir John himself.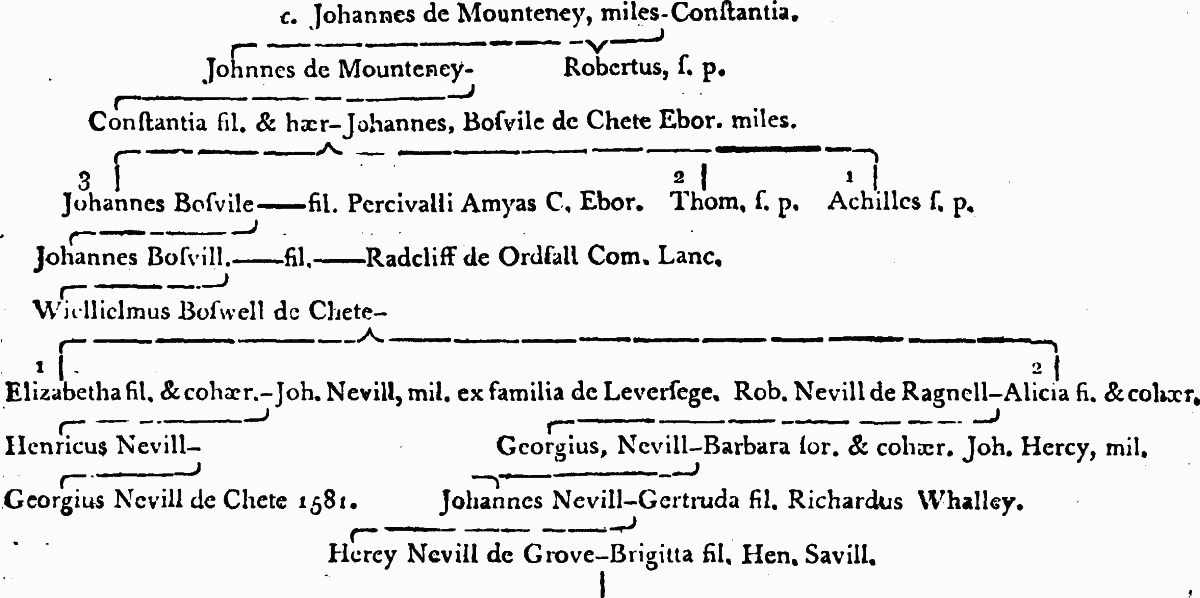 (fn. 18) A Fine was leived of the Manor of Stoke, called the Overhall, 13 R. 2. between Elias de Mydylton, Raph de Staunton, John Bozon, Vicar of the Church of Stoke, Hugh Bozen Parson of the Church of Haukesworth, William de Leeke, and Walter de Topolif, Quer. and Thomas de Staunton, Chr. and Alice his Wife, Deforc, whereby it was conveyed to the said Hugh and his Heirs, Thomas Bozome, Brother of Sir Richard, had his Residence here.
(fn. 19) William Leek of Leek, died seised of six Acres of Land, and two of Meadow in Stoke, about the 37 H. 6. held of Richard Willughby, and Anne his Wife, as in the Right of Anne. She was one of the Co-heirs of Simon Leek, of Cotham; John Leek, was then found to be Son and Heir of the said William. (fn. 20)
(fn. 21) J. Bosvyle, of Stoke, descended by an Heir Female from Sir John de Mountenay, held a Manor in Stoke, called Nether-hall, of Bussy, and some Lands of Richard Willughby. William Bosvyle's Daughter, of Chete, in Yorkshire, called Elizabeth, one of the Co-heirs, married Sir John Nevill; and the other called Alice, brought this Manor to Robert Nevill, of Ragnell, her Husband; and by John Nevill, Son of George, it was sold to — Wightman, whose Posterity still enjoys it.
The Manor of Stoke called Overhall, is the Inheritance of the Honorable Arthur Stanhope, younger Son of Philip, first Earl of Chesterfield.
(fn. 22) Queen Elizabeth, 30 March, in the eighteenth Year of her Reign, granted to John Mershe, Esquire, and Francis Greneham, Gent. amongst other Things, the whole House and Scite of the Hospital of St. Leonard, of Stoke by Newark, and all Houses, Buildings, &c. except two Houses or Cottages in Stoke, called Beadhouses, where two poor People dwelt. Mr. Robert Butler hath some Interest in this, as I take it, and Mr. Philip Lacock, of Woodborough, had considerable Lands here and in Elston, which remain to his Son Charles.
(fn. 23) Francis Viscount Lovell, the Heir of the Lord Deyncourt, was Attaint, because it appeared he was with John Earl of Lincolne, at this Stoke, 20 Day of June, 2 H. 7. where a great Battle was then fought.
The Tythes of Stoke, with some in Elyston, and Sireston, and Codington, belong to the Chancellor of the Church of Lincolne, who is Patron of the Vicarage of Stoke, which was 7l. and is now 8l. in the King's Books: the Vicar serves at all the forenamed Places, which find him Work.
In the Church Windows of Stoke were,
Arg. a Chevron Gules betwixt three Whales Heads (or such like) set foreright, not erected, Sable.
Quarterly per Fesse indented Arg. and Gules.
Gules, a Lion Rampant, Or.
Paly of six Arg. and Azure, upon a Bend, Or; three Jews Harpes, or such like, Sable; this is oft.
Arg. three Fusells, in fesse Gules.
Quarterly Arg. & Gules fretty Or, a Bend of the second.
Markham quartering Leek.
Arg. two Barrulets, and a Palet Gules, impale with Gules a Crosse of four Hearts
Arg.
Arg. a Crosse Croslet Botony Sable.
Arg. three Bird Bolts Sable.
Arg. three Pincers Sable.
Arg. upon a Bend Azure, three Crosse Croslets Arg.
Arg. upon a Fesse Sable, a Lion passant Arg. Hose.
Quarterly Gules and Ermine, upon the first and fourth, a Goats Head Erased Arg. the Horns Or, Moreton.
Arg. five Fusells in Fesse Gules, three Martles in Chief Sable. The same again, with A
File of three Labels Azure.
Gules, three Waterbougets Arg. Lord Ros. Ermine a Crosse engrailed, Gules.
The Lady Alice Staunton's Tomb is mentioned in Staunton.
[Throsby] Stoke
This LORDSHIP is owned by Sir George S. Bromley, Bart. open fields. (fn. 24) The village lies upon the foss, (see page 148) and contains about 60 dwellings. The hospital which stood here, mentioned by Thoroton, was refounded, says Mr. Gough, the 5th and 6th of Philip and Mary, despoiled in the time of Eliz. In this village was born the learned John Lightfoot, in 1602, and who died in 1675.
The church has a broad tower like many others in this part of the country. It is dedicated to St. Oswald, and has 4 bells. The chancel is ancient built, but sadly neglected: it appears to be the abode of pigeons and sparrows. We learn, in this place, that James Banks, of Nottingham, Esq. who died in 1729, aged 69, was buried here. He was a justice of the peace, and had served the office of high-sheriff, for the county. A neat monument, in this church, also, remembers Sir George Smith, Bart. father of the present Sir George S. Bromley. He died in 1769, aged 55.
In the field of Stoke was fought the decisive battle between Henry the 7th, and the army of the pretended young Earl of Warwick, who had been crowned King in Ireland, and came hither, joined by a number of German and Irish forces, to wrest the crown of England from Henry, who had so lately, by the battle of Bosworth, seized it from the hands of Richard 3d. The army of the impostor, whom we are told was an accomplished baker's son, landed in Lancashire, in company with the Earls of Lincolne and Kildare, Lord Lovel and a German general. These were joined by a small body of English troops under the command of Sir Thomas Broughton. This combined force marched towards York, while Henry was advancing to Nottingham. At this place he discovered the Earl of Lincolne's design to march to Newarkupon-Trent, which he was resolved, if possible, to prevent. He therefore marched hastily to that place, and encamped between the enemies army and Newark. The same day the Earl of Lincoln, who commanded the rebel army, advanced to Stoke, and encamped on the side of an eminence. The next day, the 6th of June, or as some say the 16th, Henry offered him battle, his army being drawn up in three lines; the front being composed of his best troops. The battle commenced with determined vigour on both sides, and continued for three hours without either of the armies giving, way. At length by the death of the Earls of Lincolne and Kildare, and other great officers in the rebel army, and the prodigious slaughter made among the German forces, the Irish and English fled from the field of battle, leaving about 4000 dead. This contest and victory cost the King about 3000 slain. The newly made King was taken prisoner, and afterward was honoured with the office of turn-spit in the King's kitchen. Where he took his original name Lambert Simnel.
Patron, Chancellor of Lincoln Cathedral. Incumbent, Rev. Thomas Wakefield. It stands as a living discharged in Bacon, in which the clear yearly value is 36l. 1s. 11d. King's Books 8l. 13s. 0d. Stoke says Bacon, is a vicarage, cum Sireston, Codington, and Elston, Cap. Archiepisc. pro. Syn. 11s. Archidiac. pro Prox. 15s. Val. per mans. 6s. 8d. in decim. molend lan. &c.