Pages 290-298
Thoroton's History of Nottinghamshire: Volume 2, Republished With Large Additions By John Throsby. Originally published by J Throsby, Nottingham, 1790.
This free content was digitised by double rekeying. All rights reserved.
KIRKEBY, and WOODHOUSE.
This place in the great Survey, called Doomsday Book, is certified to be of the Fee of Raph Fitz-Hubert, but before the Conquest in Chircheby, Levenot had for his Mannor Land, (fn. 1) which paid the Dane-geld for ten bovats, being then accounted two carucats. There Raph had in demesne three car. and one sochm. on one bov. of this Land, and 20 vill. and six bord. having twelve car. There was a Church and a Priest, and two mills 3s. and three acres of meadow, pasture wood by places two leu. long, and two broad. In the Confessours time this was valued at 4l. then in the Conquerours but at 3l. Here was another Mannor of the Tayn-land which Alvric had before the coming King William, which was rated to the Geld at two bovats, and the Land of it returned then to be so, viz. two bov. He afterwards held it of King William, and there had one car. This was valued then as before 11s. There was also another bovat which was then wast.
(fn. 2) Henry de Stuteville, about 33 H. 2, gave account of 15l. of the Scutage of the Fee which was parted between him and Hubert Fitz-Raph.
(fn. 3) The wife of Robert de Stutevill (not long after) was in the Kings custody, and of the [Parentela] linage of Edward de Salesbery, on the part of her father, and of the part of her mother of the progeny of Roger de Rennes; she had one Town called Diham, which was her inheritance, which was yearly worth 24l. She had one son and two daughters, their age was not then known to the Jurors. (fn. 4) She was usually named Leonia de Reines, by whom her husband the said Robert de Stuteville had one son called Henry de Stoteville, who inherited the Barony; and another named William, mentioned to be living, (fn. 5) 2 R. 1.
(fn. 6) Afterwards there is mention of the honour of John de Stuteville, concerning the moyety of the Barony of Hubert Fitz-Raph, and that there was paid by the said John for fifteen Knights Fees in Kirkeby, with the appurtenances. (fn. 7)
(fn. 8) About 45 H. 3, Robert, son of John de Stotevill, had Market and Fair, and Fee Warren granted in Kirkeby and Essefeild. It appears, 12 E. 1, (fn. 9) that Robert de Stoteville showed great disobedience and contempt in not coming upon the Kings summons to aid him in the last expedition into Wales, for which the King pardoned him upon his submission, he paying for every Knights Fee which he held one hundred marks, which John de Vescy, John de Evill, and John de Luvetot, undertook he should perform;— the Barons upon the Kings precept, searching the Rolls of Exchequer, found that John de Stotevill, father of the said Robert, held fifteen Fees of the Barony, which was Hubert Fitz-Raph's; and that the said Robert held five Fees of the inheritance of Alianor de Genevere his wife, to whom Roger de Bertram granted and demised the Castle of Mitford, with the Fees and other appurtenances, which made in all twenty Fees. Robert de Stotevile, about 34 E. 1, died seised of the Mannor of Ekinton and Darbishire, and of this Mannor, (fn. 10) leaving his son and heir John de Stoteville twenty-four years of age, who was heir to his mother Alianora de Genevere, wife of the said Robert, to whom Alianor, de Queen of England, the mother of King Edward the first, gave the Castle of Mitford, and diverse Lands (fn. 11) in Northumberland: she died about 4 E. 2.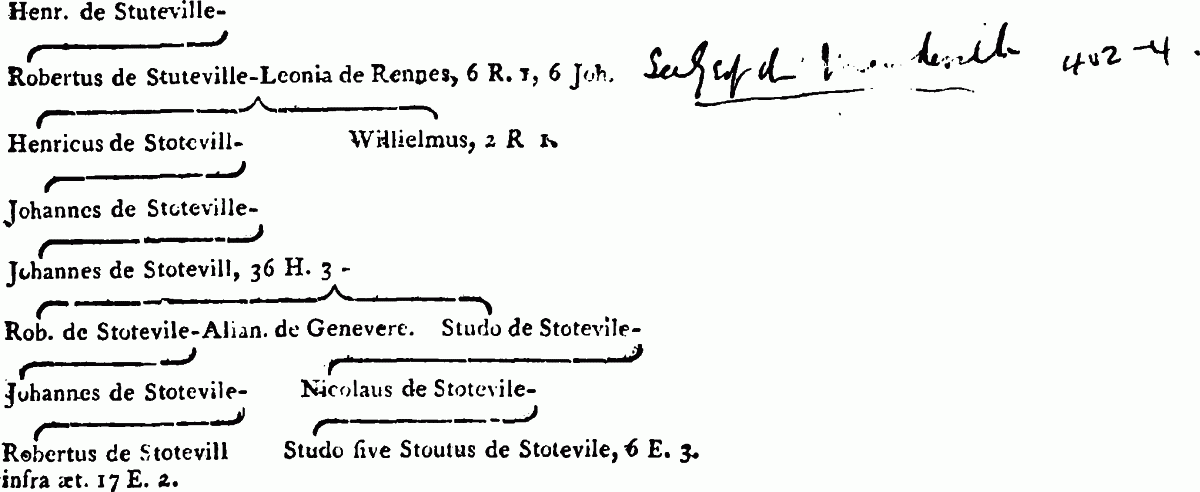 (fn. 12) The Jury, 16 E. 2, found that this John de Stotevilc was to pay out of this Mannor the yearly Rent of 40s. to buy Wine, and 6s. 8d. or a quarter of Wheat of that price, to make Waters (Oblata) to celebrate the Eucharist in the Church of St. Mary at Newstede, which John de Stutevill (Triavus) grandfathers grandfather of this John, then, viz. 10 E. 2, lately dead, charged upon this Mannor, and King Henry, grandfather of that King, in the twenty-ninth year of his reign confirmed; but I suppose it is a mistake for avus, or at most for proavus, and then there must be two Johns, which is all the time will well bear, from 29 H. 3, to 16 E. 2, that this John, son of Robert, was dead, who left his son Robert born beyond the seas his heirs, then aged seven years.
(fn. 13) William, son of Gilbert le Warner of Kirkby upon Ashfeild, 13 E. 3, Jan. 27, made Fine with the King for pardoning the transgression, which the said William and Gilbert made in acquiring certain Tenements of John, son of Robert de Stutevill, Knight, in Kirkeby upon Ashfeild, in the time of the Kings father, and entring them without licence, being held of the said Kings father in capite.
(fn. 14) Thomas de Langton, and Robert de Barton, 13 E. 3, paid 20s. of the remainder of their account of the Mannor of Kirkeby on Asshefeld, which was Lora de Stoteville, an Alien.
(fn. 15) King Edward the third, by his Letter Patents dated 1 March, 14 E. 3, granted the Mannors of Ekinton in Darbyshire, and Kirkeby in this County, which were late John Stotevills, and by the forfeiture of Robert Stotevill, son and heir of John, were come into his hands, together with the Mannors of Louthe and Baliogary, and other Lands in Ireland, to John Darcy, sometimes called le Cosyn, sometimes le Piere, and in some other records le Nevew, and his heirs for ever, who had licence, 21 Jan. 18 E. 3, (when also he had his confirmations of these and many other things) to inclose and make Parks of his woods at Temple Newsom, and Temple Hirst in Yorkshire; at Torkesay in Lincolnshire; Ekington in Darbyshire; and Kirkeby in this County. He was a very great man both in England and Ireland: his principal Seat was at Knayth in Lincolnshire; he is supposed to be nephew of Thomas, and son of Norman, and brother of Philip Lords Darcy of Nocton in that County, the old Seat of that illustrious and ancient family.
(fn. 16) King Edward the second, 15 E. 2, at the request of his well beloved and faithful men Robert Darcy, John Darcy his brother, and John Darcy le Cosyn, of his especial grace granted to them Philip Darcy, and Norman Darcy his Enemies and Rebells, taken and detained in his Prison at Yorke, to be delivered or otherwise disposed according to their wills, saving to the said King the eschaet and forfeiture of their Lands and Tenements, Goods, and Chattels, belonging to him on that occasion.
(fn. 17) John Darcy le Nevew, 21 Aug. 2 E. 3, was constituted Justice and Keeper of Ireland.
(fn. 18) John Darcy le Cosin, 19 Febr. 3 E. 3, is so constituted.
(fn. 19) John Darcy Justice of Ireland, being about to go by the Kings command to the parts of the Dutchy of Aquitaine, Roger Vtlagh, Prior of the Hospital of St. Johns of Hierusalem, 31 May, 4 E. 3, was made by his consent Lieutenant till his return.
(fn. 20) John Darcy was Justice of Ireland, and Thomas de Burgh, Clark, Treasurer of Ireland, 8 E. 3, by the Kings Letters Patents dated at Notingham, 16 July, was made Lieutenant of the Justice of Ireland. as often as he should happen to be absent.

(fn. 21) Anno Domini 1333, William Earl of Ulster, was slain by his own men, viz. by the Maunvilis; and the same year Sir John Darcy Justice of Ireland, went into Ulster, with a great army to revenge the death of the said Earl, but before he came the men of that County had done it; and the Justice with his army went into Scotland to the King of England, who at that time was there in war, and left Sir Thomas Burke his Lieutenant in Ireland. And in the eve of St. Margaret there was a great slaughter in Scotland by the Irish, by the said King in one part, and the said Justice in another, and so was conquered the King of Scotland, and they made Sir Edward Bayloll King of Scotland, and the said Sir John Darcy came again Justice of Ireland, and delivered Walter Bermegham out of the Castle of Dublin.
(fn. 22) John Darcy le Piere, 20 E. 3, had the custody of the Tower of London for his life, but it seems he continued not long, for he died 30 Mary, 21 E. 3, (fn. 23) seized of this Mannor and Ekinton in Darb. of the Reversion of Temple-Newsom, after the death of Mary de St. Paul Countess of Pembrook, and many other Lands and Mannors in Yorkshire, amongst which were the Mannors of Notton and Silkeston, and Lands in Wollay, which were of the inheritance of Emelina his wife, who was daughter and heir of Walter, son of William Heyrun, (fn. 24) Lord of the Mannor of Hadiston in Northumberland, which with Knayth and Torkesey, and many other Lands in Lincolnshire, and other Counties, descended to Sir John Darcy, Knight, son and heir of the said John, and Emelina, then, viz. 21 E. 3, aged thirty years.
(fn. 25) John Darcy of Knayth, 22 E. 3, took the state of Banneret of the King. The next year, 5 Aug 23 E. 3, (fn. 26) he was made Keeper of the Tower of London, which he had for his life: but for the great affection he bore to the person of John de Beauchamp of Warwick, (fn. 27) he passed it to him, seeing that for other businesses himself could not attend the custody thereof, and the King, 26 E. 3, confirmed the same to the said John de Beaucamp, during his life, if he should overlive John the said Darcy: he married Elizabeth, daughter and heir of of Nicolas, Lord of Meinill, and died, 30 E. 3, (fn. 28) the Saturday after the Feast of St. Chad, (fn. 29) leaving John Darcy his son and heir not six years old, who lived not above six years more; but left his brother Philip Darcy to succeed him, who proved his age of twenty-one, 47 E. 3, and died 22 R. 2, (fn. 30) leaving by Elizabeth his wife, John and Philip.
John Lord Darcy left his wife Margaret a widow, and his son Philip his heir under age, 13 H. 4, who before he came to age, viz. 2 Aug. 6 H. 5, (fn. 31) died also, leaving his two daughters, Elizabeth two years old, and Margaret one, his heirs: his wife was Elianor, daughter of Henry Lord Fitz-Hugh, who married to her second husband— Tunstall, by whom she had a son, and died 36 H 6. Her first husbands brother and heir male, was John Darcy Ch. who died 25 Mar. 32 H. 6, (fn. 32) and left his grandson William Darcy, son of his son Richard, his heir, then about four years old.
Elizabeth, the elder daughter and co-heir of Philip Lord Darcy, was married to James Strangways the younger, by whom she had issue; her sister Margery the other daughter was the wife of Sir John Conyers, who in her right had this Mannor and Advowson of the Church: he over-lived her, and John Conyers their son; so that after his death, which was 14 Mar. 5 H. 7, (fn. 33) William Conyers was found his cousin and heir, viz. son of his said son John Conyers, and came to the age of twenty-one years the St. Thomas day before.
(fn. 34) There was a Recovery, 18 H. 7, wherein William Conyers, Knight, and others, claimed against Richard Illingworth, the Mannor of Hardwyk, with the appurtenances, and one mess six hundred acres of Land, sixty of meadow, five hundred of pasture, and twenty of wood, with the appurtenances in Kirkeby, Ashfeild, and Hardwyk, and called to warrant John Illingworth.
This Mannor is now the inheritance of his Grace the Duke of Newcastle. Sir Charles Cavendish his father had begun to build a great house in this Lordship, on a hill by the Forest side near Annesley Woodhouse, where he was assaulted and wounded by Sir John Stanhope and his men, as he was viewing the work, which was therefore thought fit to be left off, some blood being spilt in the quarrel, then very hot betwixt those two families.
(fn. 35) In Kirkeby Woodhouse, Galfr. de Insula confirmed all the Arms which he and his father gave to the Canons of Felley, and all the Land they had, or with his consent could get in his Fee. Hawisia de Dyve in her widow-hood released to Walter the Prior, and the Canons of Felley, (fn. 36) Hugh, son of Herbert of Kirkeby-woodhouse, with all his Chattels, for the health of her soul, and for the soul of Galf. de Insula her husband, &c.
(fn. 37) Reginald de Insula, son of Galfr. de Insula of Kirkeby-woodhouse, in the year of our Lord 1252, at Easter confirmed to the said Canons of Felley, all they had acquired in the times of his Ancestors and his own, saving the Foreign Service as much as belonged to one bovat of Land which Arnald Pugil bestowed on that house. (fn. 38) Reginald de Insula by the counsel and consent of Hawise his wife, gave the said Canons the whole Land which was Ernulphs de Wodhouse: the witnesses to his deed were, Henry, Parson of Ossington, Mr. Silvester of Nottingham, Robert the Parson of Gresseley, Stephen his brother, Henry, Parson of Hukenall, Henry de Stutevill, Reginald de Annesley, Raph his son, William Breton, Juon his son, Ranulph de Wandesley, Galfr. his son, Roger Poer, Ranulph his son, Raph de Gresley, and many others.
Robert de Stutevill also confirmed the gifts of Arnald Pugil, and the rest.
(fn. 39) Nicolas de Insula, 23 E. 1, confirmed a place of a toft amongst other things in Kirkeby-woodhouse, which he had by eschaet after the death of Hugh, son of Roger, son of Herbert: the witnesses were, Thomas de Perors Rector of the Church of Kirkeby, John Torcart, Robert Russell, John Colet, John de Langton, Henry de Pillesley, Robert, son of Reginald, and others.
(fn. 40) Robert le Gaunte of Kirkeby Wodhouse, gave to William and Philip his brothers, and Agnes his neice, as long as they lived, and after their deceased to Henry, son of Gilbert of Kirkeby Wodhous, and his heirs, the toft which he bought and had of his brother Philip, with all the Land which he had or could have of Robert de Insula in the field of Kirkeby Wodhouse, with the meadow butting upon the Park of Kirkeby, in the Storthes, to hold the same of Nicolas, son of Reginald de Insula, and his heirs, paying yearly to the house of Felley 12d. and to Newstede 6d. and to the light of the blessed Mary the Virgin in the Church of Kirkeby 6d. and to the Hospital of Hierusalem 4d. and to the Fabrick of the Chappel of Wodhous 8d. &c. The witnesses were John de Annesley, Nicolas de Insula, Raph Briton, William, son of the Chaplain of Wodhouse, Hugh de Plumptree, Robert Mantell of Wodhouse, Galfr. his brother and others.
(fn. 41) In gathering an aid in the time of Edward the third, after John Darcy had the Mannor of Kirkeby, the Collectors had of Serlo de Brokelstowe for the fourth part of a Knights Fee in Kirkeby Wodhouse, which Nicolas de Insula held in former time. They likewise then had of Richard de Stapleford, Edmund Perpoint, and Robert de Barton for another fourth part of a Fee in the same place, which Richard de Stapulford, Thomas Pereres, and Sibyl Torkard formerly held.
(fn. 42) John Pirpunts of Kirkeby, gave to the Priory of Thurgarton four acres of arable Land, and two Selions in the Territory of Kirkeby, which Agnes his wife after his death confirmed, as did also Robert de Stuteville, reserving 12d. a year for all services.
(fn. 43) Nicolas de Overton, 24 E. 1, recovered his seisin of two mess. six bovats of Land, five acres of meadow, five of wood, and 10s. Rent in Kirkeby in Ashfeild, and John Thorkard was amerced.
(fn. 44) Sir Henry Pierpoint, Knight, 27 H. 6, released to Richard Illingworth and his heirs, all his right in a meadow called Akbrigge near Hardwick in the Parish of Kirkeby in Ashefeild, and in all the Lands and Tenements in the Fields and Gardens of Hardewick aforesaid. Elena his Lady, 31 H. 6, (fn. 45) after his death did the same. Henry Pierpoint, Esquire, 39 H. 6, (fn. 46) son and heir of Henry Pierpoint, Esquire, son and heir of Henry Pierpoint, Knight, did likewise.
(fn. 47) In 20 E. 4, the Custody of two hundred acres of waste in the Forest of Shirewood, the Lands and Tenements of Richard Illingworth, Knight, (mentioned in Bony) called Hardwick Closes, and Akebrigge, and a water-mill called Sutton Mill in the said Forest, between Maunsfeild and Hardwick aforesaid, were committed to Raph Illingworth, and others, for ten years.
(fn. 48) John Strelley of Lindby died seised of three mess. twelve bovats of Land, twenty acres of meadow, and as many of pasture in Kirkeby in Ashefeild, 2 H. 7.
(fn. 49) John Langton of Kirkeby, about 9 H. 6, held when he died one mess. called Langton Place, and six Closes, with the appurtenances, of Elizabeth, and Margery, daughters and heirs of Philip Darcy, by the service of the hundredth part of a Knights Fee. Richard Langton was then his son and heir.
There is an ancient House and Demesnes within Kirkeby called Langton Hall alias Westwood, it was granted out by John Lord Stotevile in Henry the seconds time (I suppose it should be Henry the thirds, and so it first was written) to Richard, son of Hugh de Ruddington, and his heirs, by particular metes and bounds; and shortly after this, Ruddington granted the said Lands to Geoffrey de Langton, reciting the former grant from the Lord Stotevile to him, and that he was in sesin thereof 34 H. 2, (34 H. 3, rather). In Langtons family it continued till Henry the eighths time, that Cuthbert Langton dying without issue (male) it fell to Fitz-Randolph by the marriage of Langtons daughtet and heir, in whose name it continued till of late.
(fn. 50) Cuthbert Langton, 6 H. 8, of Midleton in the County of Warwick, Gent. enfeossed John Markham, John Zouch, Knights, John Willowby, John Fitz-Randolph, Edward Willowby, Nicolas Strelley, Esquire, John Savidge, &c. in his Mannor of Langton Hall Westwood, Lands in Huknall Torkard, Durty Huknall, Maunsfeild Woodhouse, Kirkeby in Ashfeild, and Watnow Chaworth in the County of Nott. and Birchwood in the County of Darby. And there were Covenants of marriage between Christopher Fitz-Randolph on the one part, and the said Cuthbert Langton on the other, for Christopher, cousin of the said Christopher, and Joane, one of the daughters and heirs apparent of the said Cuthbert.

(fn. 51) Some Lands in this Kirkeby belonging to Eelley, 25 Mar. 36 H. 8, were granted to William Berners and his heirs. In the year 1612, Sir Charles Cavendish; Sir Henry Pierpoints, Knights, James Fitz-Randolph, Gent. and John Newton, Senior, Thomas Newton, Christopher Newton, &c were owners. William Newton, son of Christopher or Laurence, died this year 1673, without issue, and left his brother John his heir.
(fn. 52) The Rectory of Kirkeby was 20l. when the Lord Conyers was Patron. 'Tis now 18l. 1s. 8d. value in the Kings Books, and the Duke of Newcastle Patron, and Clement Ellis the worthy Incumbent.
In the Chancel is England and France quartered. And Azure, three Cinquefoiles and Crusuly Arg. Darcy impaling Azure, three Bars gemelles, and a Chief Or, Meinill.— And the Monument of William Coke (of Trusley in Darbyshire) and his two wives, the first the daughter of — Also, in le dale; the second the relict of Mr. Gilbert of Lockhagh.
In an high North Window in the Church:—Sable a Fesse between three Mullets Arg. quartering Paly of six Arg. and Or. And Arg. a Fesse Or between three Escallops Sable. And Arg. two Bendletts engrailed Sable, over them a Fesse Gules.
The is in the same Window the last, Quartering the Fesse and Escallops; and another in the third place broken away; and in the fourth place the first of the former mentioned Coats, viz. Sable a Fesse between three Mullets Arg.
In a low Window in a square:—Barry of four Arg. and Azure.
[Throsby] Kirkby in Ashfield.
Kirkby land is enclosed excepting the forest part, the Portland family principal owners.
In making the turnpike-road, 1789, leading from Kirkby to Pinxton, a village about two miles from the former, an ancient Key was found by the labourers, which is now in the possession of Haymen Rook, Esq. and represented, page 176. In this lordship also was found, near Pinxton, an ancient Ring or Seal, which is the crest of the family of Coke, noticed below. This ring is represented in three points of view, plate, page 225, figure 6.
The village is large; and the Church of a corresponding size, and is dedicated to St. Wilford, it is set off with a spire, it has three bells. In the register of this parish are drawings of two monumental stones, and also a memorandum placed under them. One of which is copied facing page 287, figure 5, with figures thereon; the other is plain and consequently not copied. It appears they were exactly of a size; and by the inscriptions round the border, of each we are informed for whom they were intended.
"Here lieth the Body of William Coke, Esq. Son and Heir of Francis Coke, of Trusley in the County of Darby, Knight, who married Maud, Eldest daughter of Hen. Beresford of Alsop, &c. by whom He had issue 4 sons and 4 daughters. He being of the age of 47 years, March 27, Anno Dom. 1641, Lived Godly and died Comfortably."
The other, which is represented:—"Here lieth interred the Body of Maud Coke, wife of William Coke of Kerkby Hall, in the County of Nottingham, Esq. daughter and Co-heir of Henry Beresford of Alsop, in Ledale in the County of Darby, who Lived Religiously and Died 16 Mar. 1628, Aged 37."
Memorandum informs us:—"At the Feet of Mr. Coke and of his wife, lie the Bodies of two of their Eight Children (that is) Isabella and Henry.—Isabella was buried June 16, 1627.—Henry July 8 Anno 1627, but without any inscription.—Their Mother March 16, 28, and their Father March 31, 41, as appeared by the several Inscriptions respectively, above, and is to be seen in the Chancel on the South side, near unto the door just below the steps of the altar.
In the north side of the church-yard is a monumental stone, represented figure 4, page 287, Papelwick, on the south, figures 7, 8.
Patron in 1765, Duchess Dowager of Portland. Incumbent, Sir Richard Key, Bart. Arch-deacon of Nottingham, R. K. B. 18l. 1s. 8d. Yearly tenths, 1l. 16s. 2d.— Archiepisc pro Syn. 6s, Archidiac. pro Prox. 7s. 6d. Val. in dec. garb. &c. Duke of Newcastle presented in 1700, William Shepard, Gent. 1734.
near Mansfield, in the parish of Pinxton, which parish it should seem, Thoroton considered wholly in the County of Derby, as he has not noticed it; now the village is generally understood to be partly in Nottinghamshire. The scite of Brook-hill House, however, is in Nottinghamshire, which appears by an ancient inquisition held before the governors and keeper of the forest of Shirewood and a special jury in the time of Edward the third. (fn. 53)
Brookhill-Hall,
Brookhill Hall the seat of the Rev. D. Ewes Coke, is situated at the foot of a gentle declivity with a pleasing valley in front and is backed with woods and surrounded by hills, which are seated in an agreeable diversified manner. In addition to these pleasing pictures of nature, two rivulets take their course through the valley, one on each side of the house, and unite at the bottom of the lawn, which affords an opportunity of making three agreeable picturesque pieces of water, one of which appears in the view of this mansion, plate, page 245. (fn. 54)
This family till lately, was of Trusley in Derbyshire, and was one of the oldest in that county.
Adjoining to this place, is Pinxton old Hall, which has been owned by the family of Coke, ever since the time of Edward the third, at which time one of the family married the daughter of Richard Kirkby, of Kirkby, who conveyed it to this family.
In this family is a very ancient register of Pinxton parish, it commences in 1540, some time before registers were established by law, wherein the names of several of this family are mentioned.